Textile Office Interiors |ADHWA-architecture,interiors
About Project:
Following the Client's brief apart from providing the best working environment so as to enable employees to have better productivity with freedom of having an unconventional and innovative design for his office.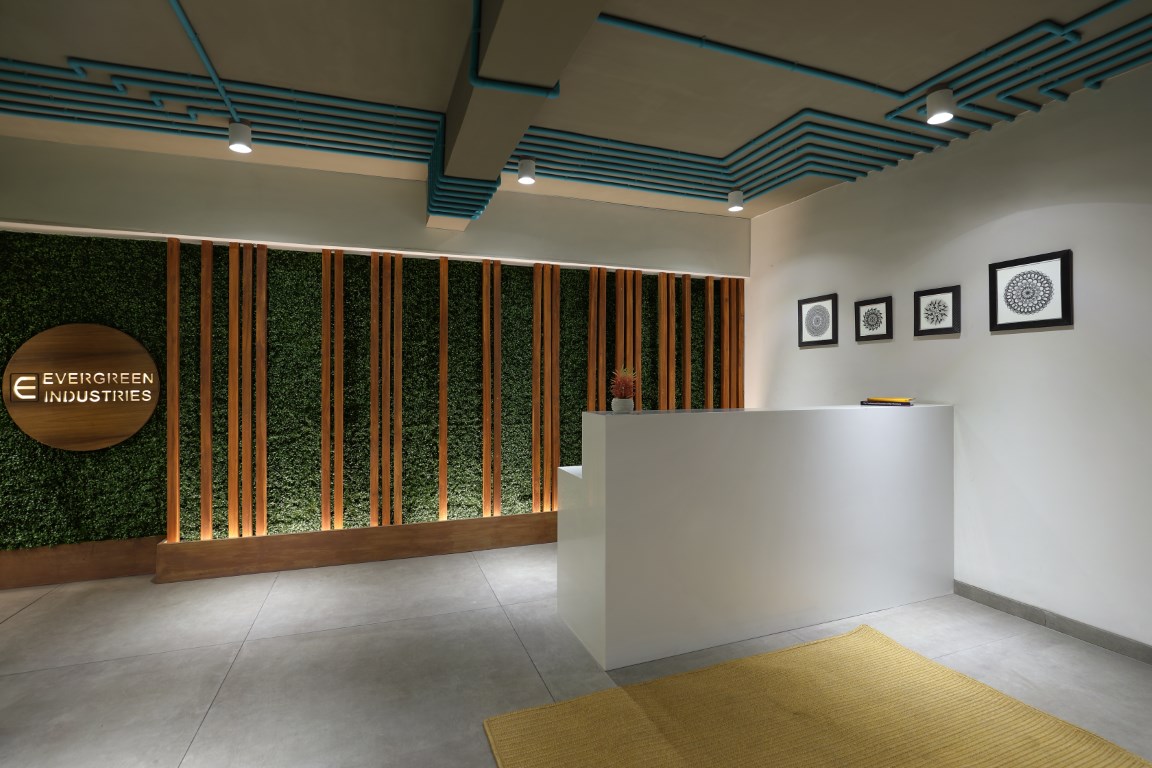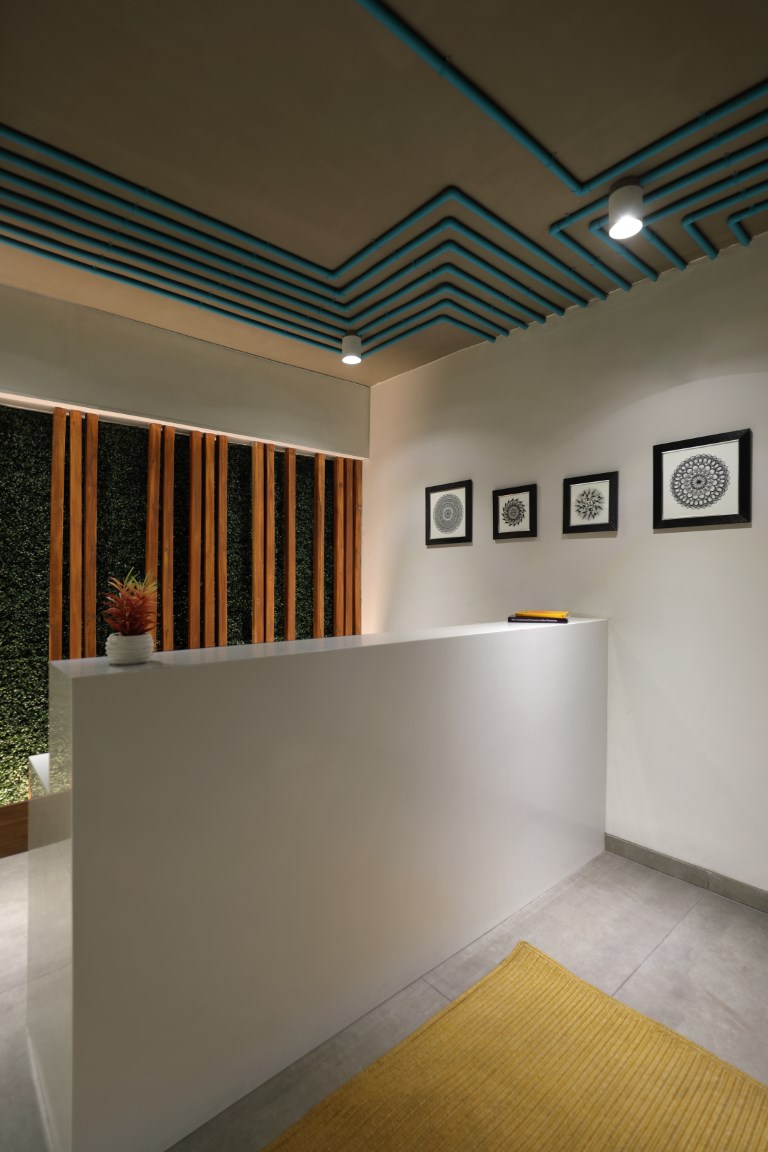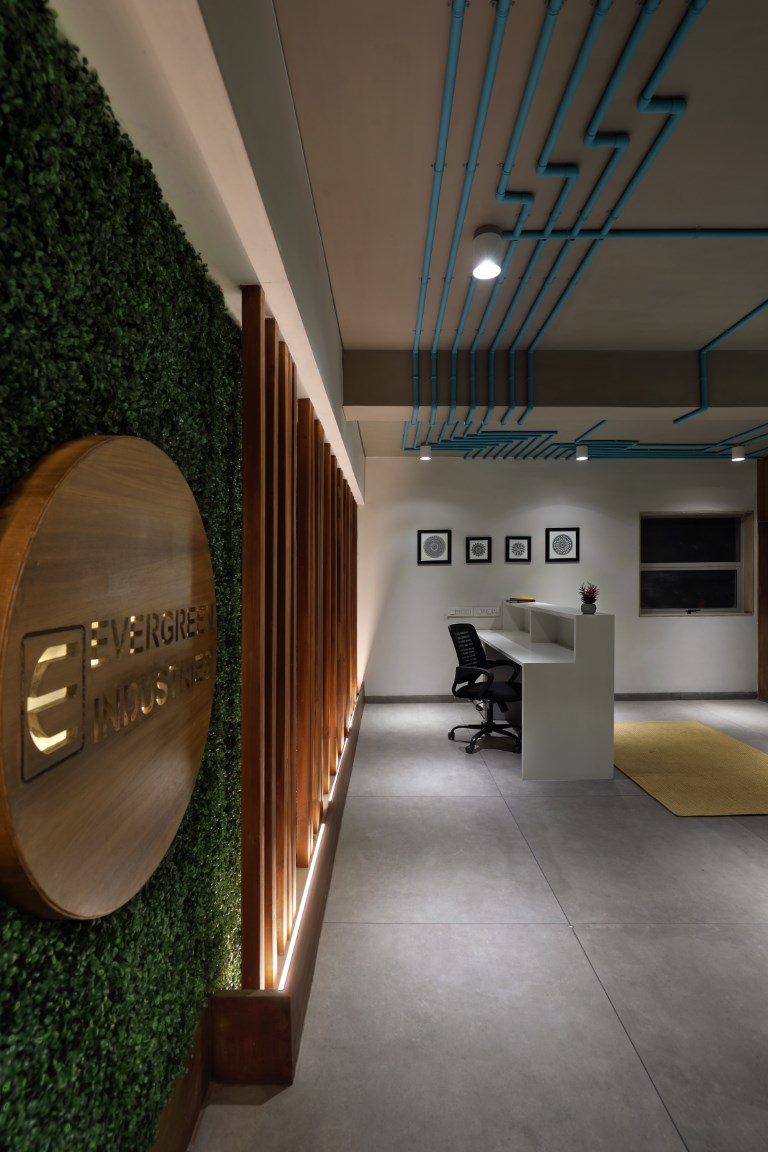 Being in a textile business he was very determined to use maintenance free materials to ensure the hygiene of the laboratories and office space. Also, he was keen to avoid unnecessary coverings in interiors like wall panelings or false ceiling, led us to have the liberty of open ceiling and bright colors.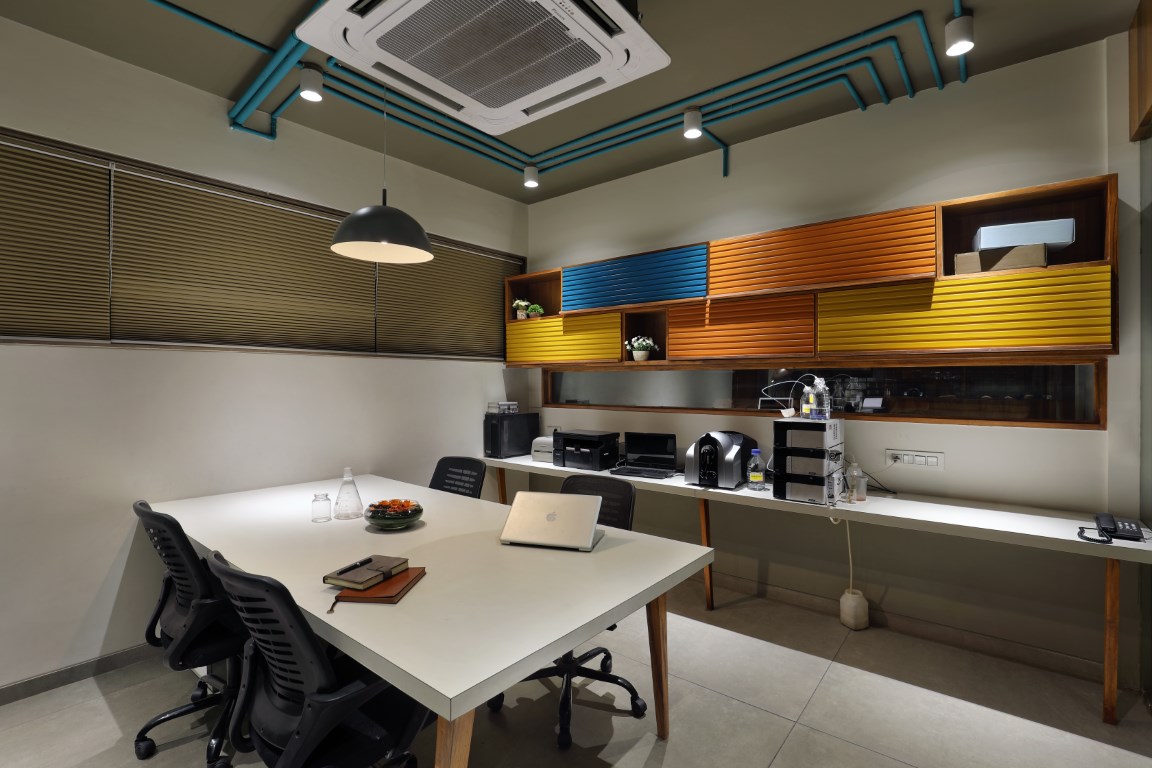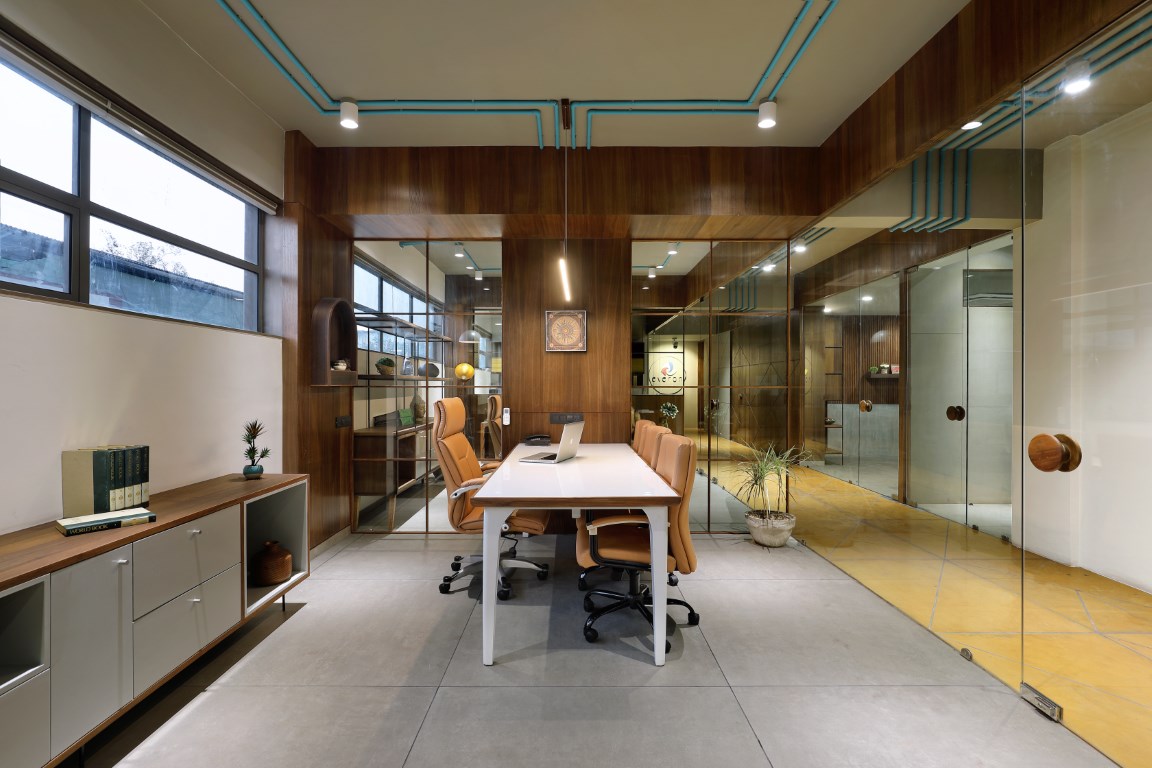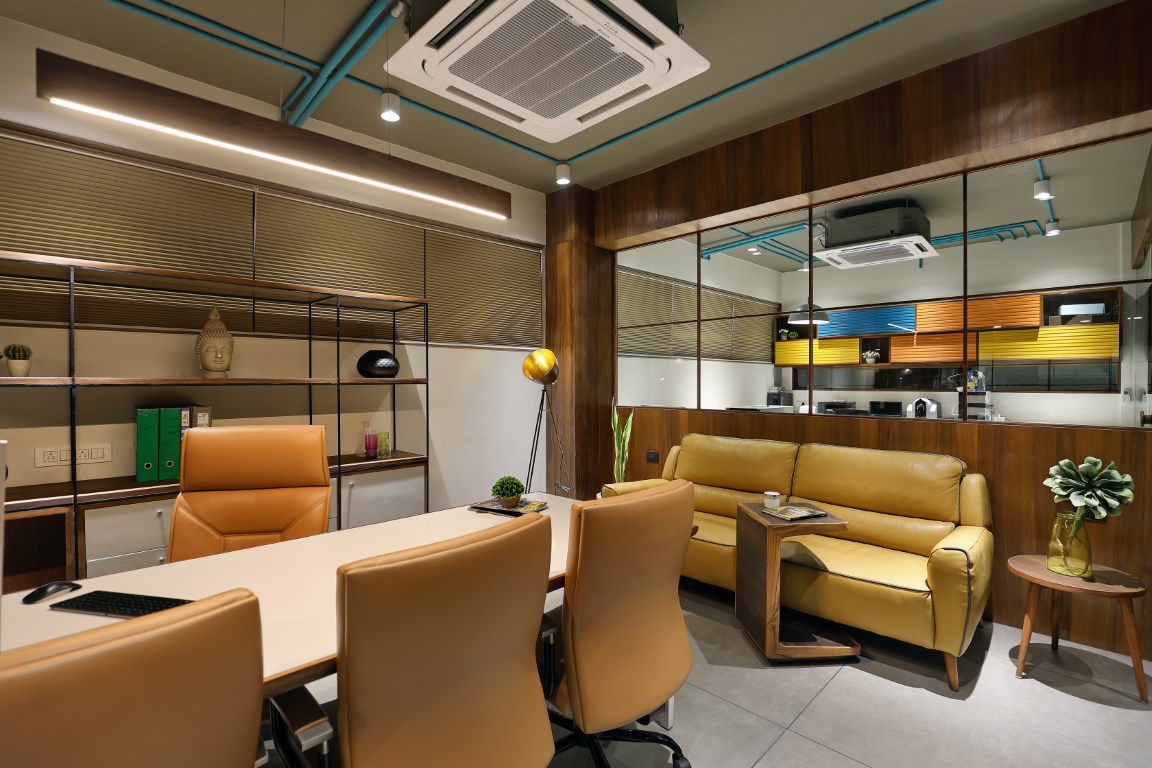 The pop-up colours and usage of lines in various forms, materials, and surfaces were the distinctive features of the project. All the other design factors are the enhancement of these two elements only. For example, Diagonal pattern in Jaisalmer stone in passage flooring resonate with the diagonal sheet pattern and profile light placement of work station's ceiling.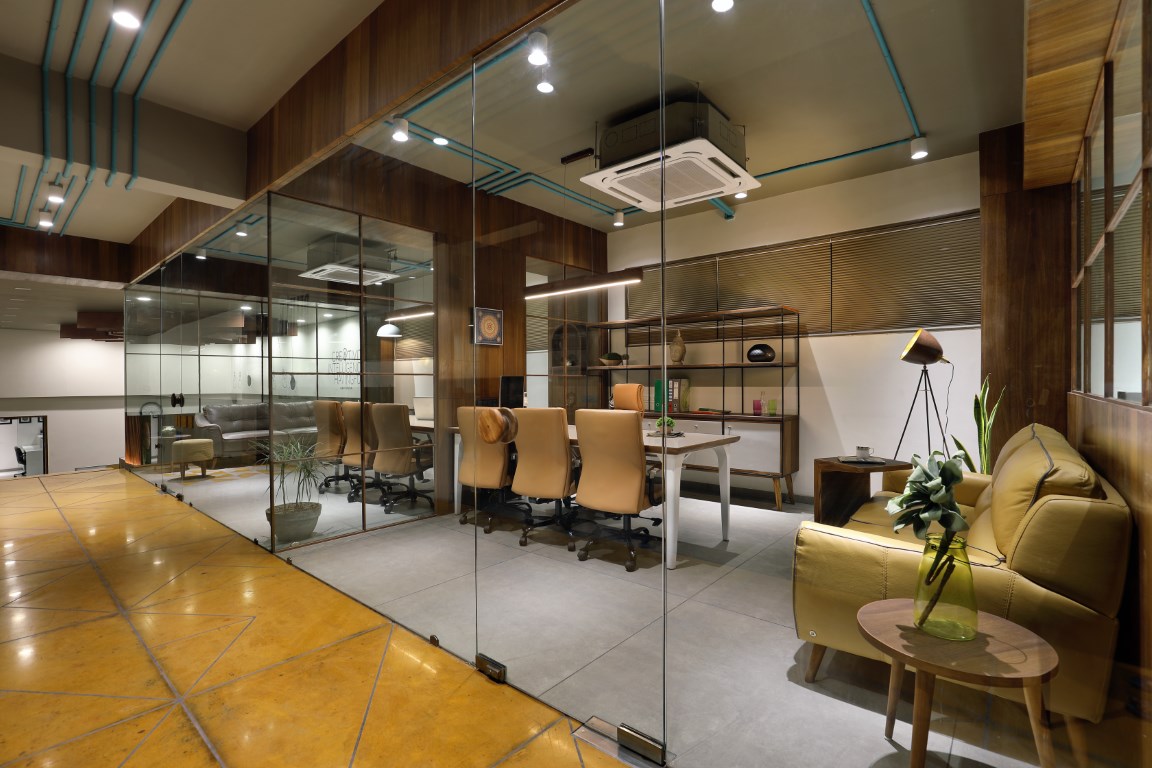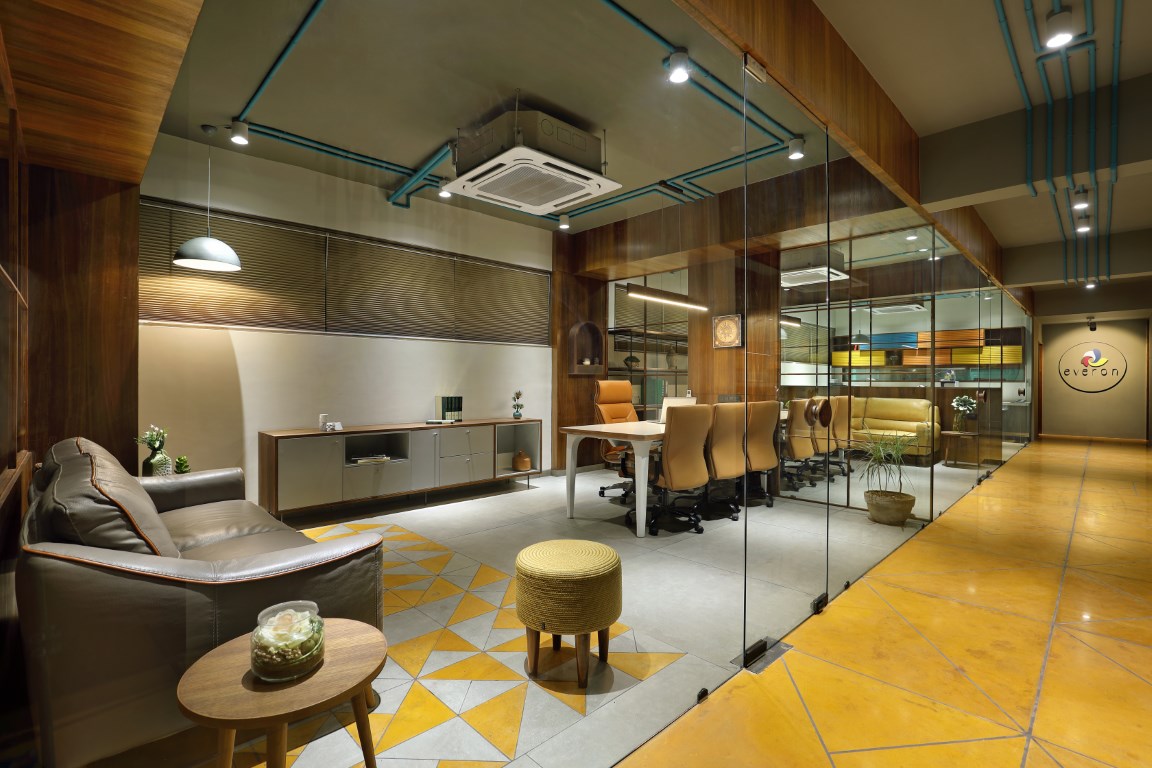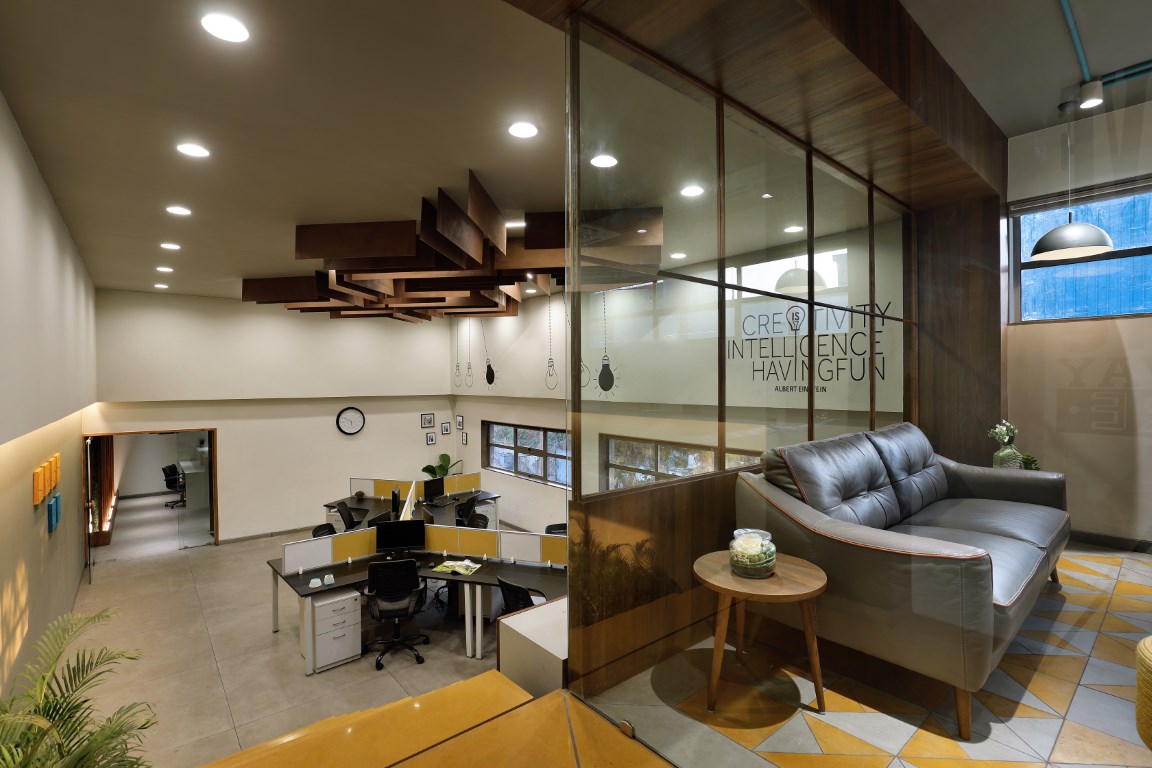 The grove pattern of partitions and open ceiling conduits' lines that are highlighted in blue color carrying forward the sound 'lines legacy' theme. The color scheme is in tandem with the color of the company's logo 'EVERON'.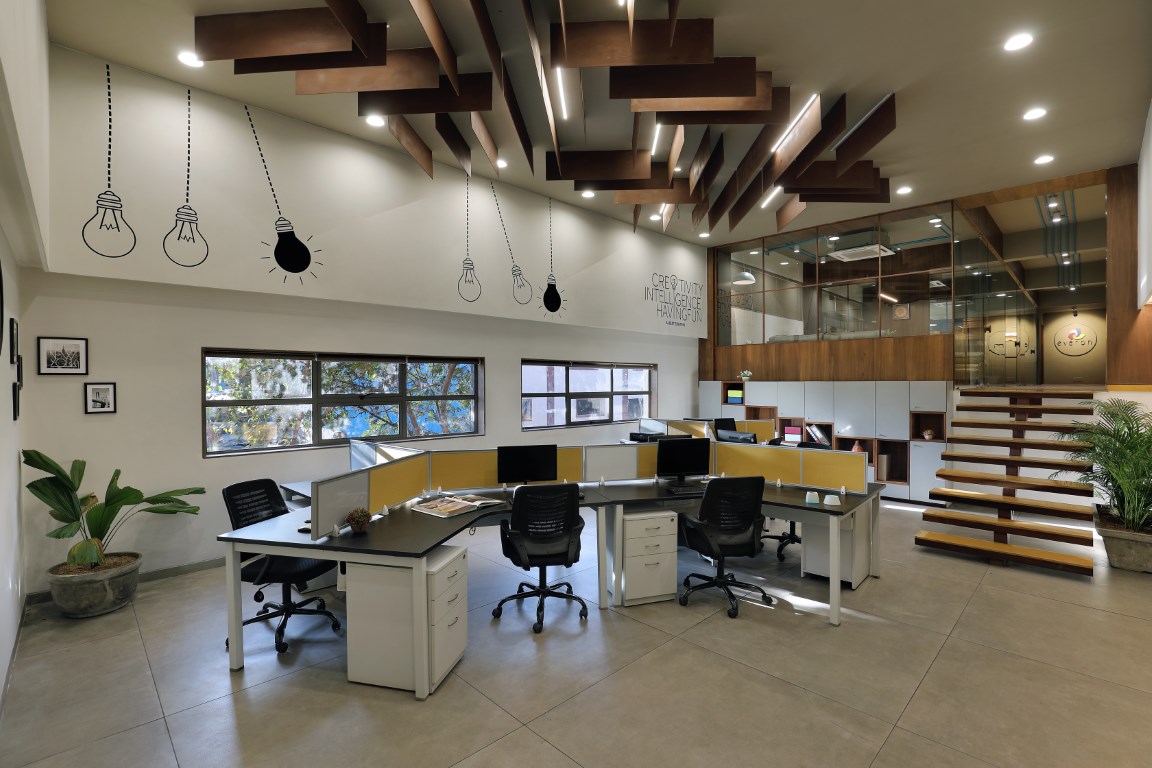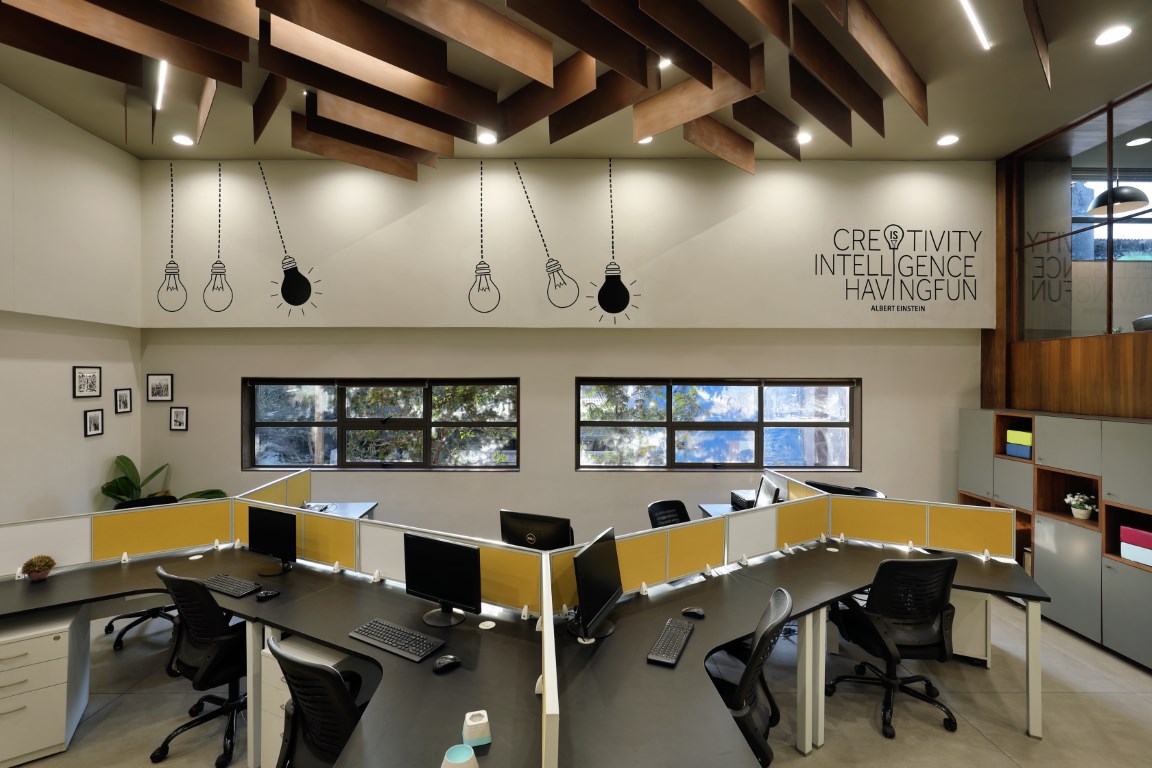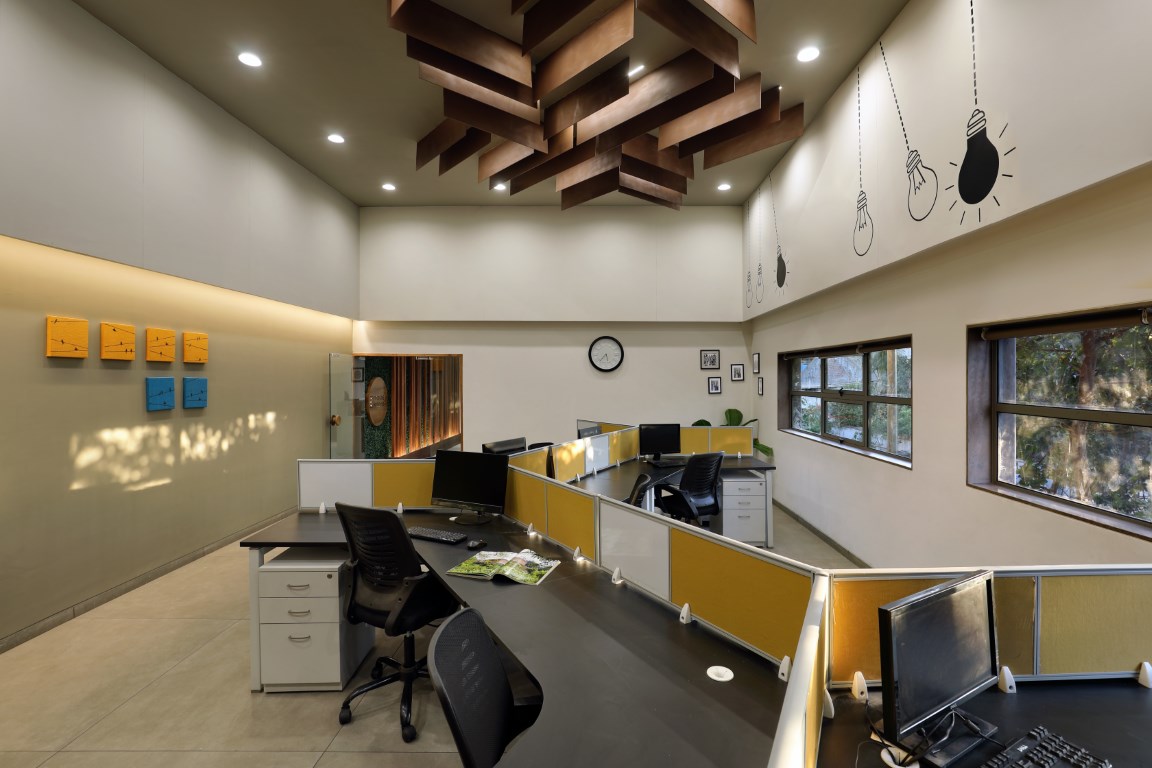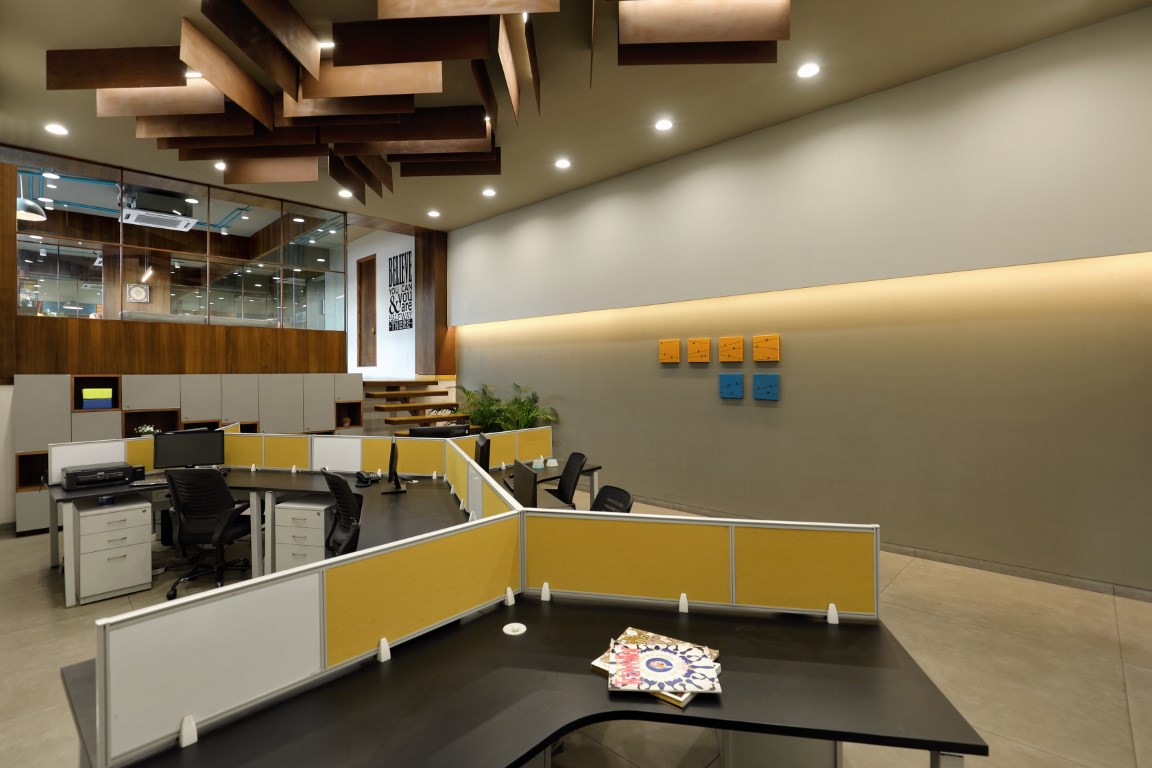 Fortunately, we were involved in the project since its inception; we were able to provide some of the necessary green notes to the space like natural light sources to all the spaces through maximum wall heights, windows in every cabin, working spaces, and laboratories.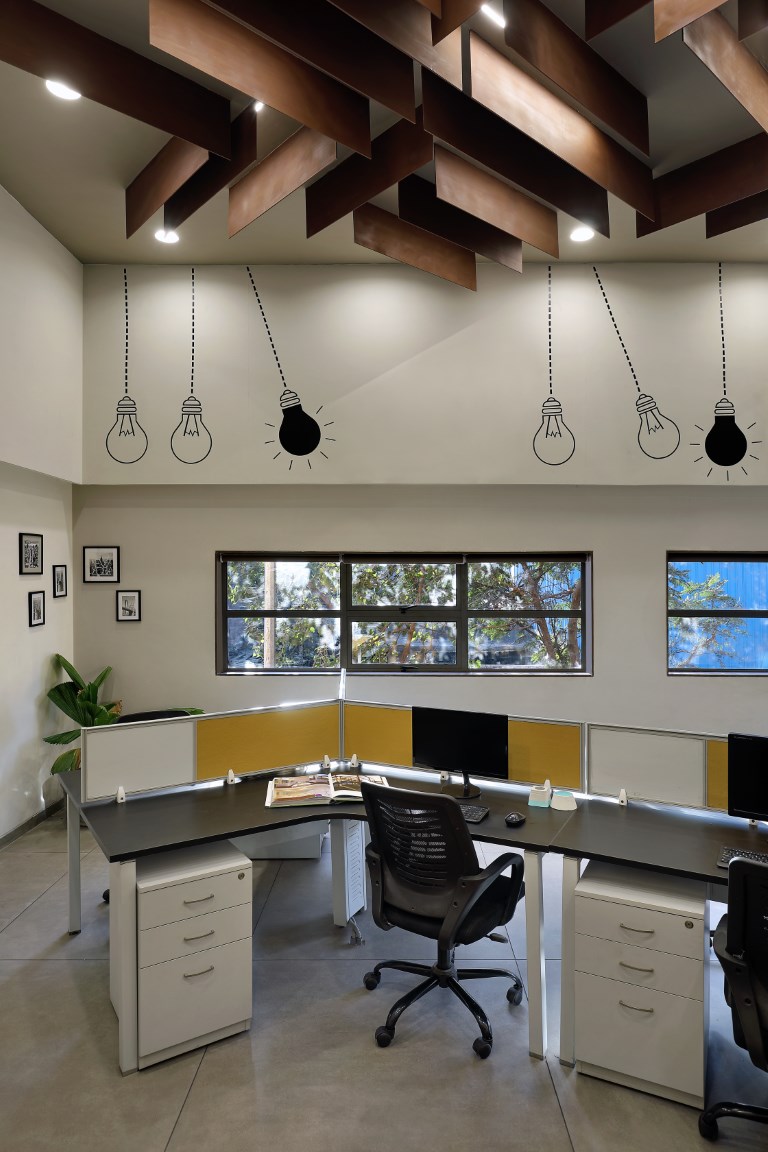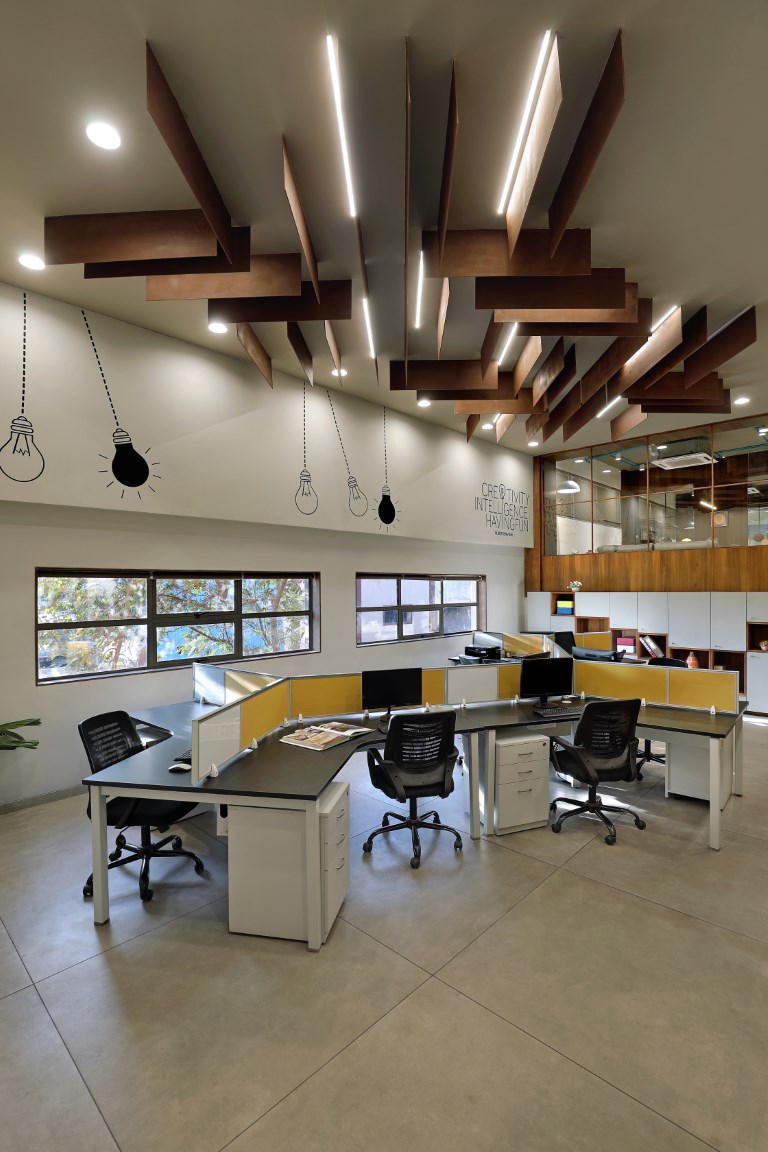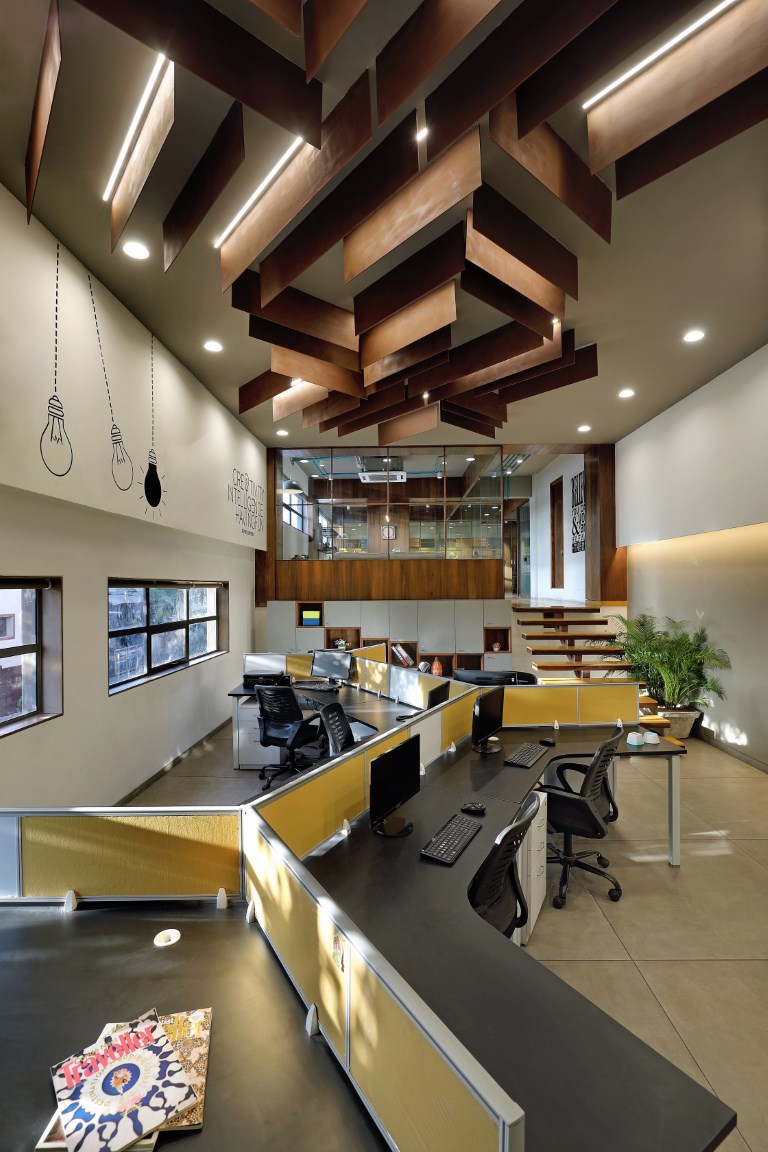 Another distinguishing feature is the volume of the space; it goes from a double height area of the workstation to lower cozy cabins, laboratories, and conference passage. It keeps the upper portion connected with the lower one and the work desks receive its own importance due to double height and the diagonal design pattern of workstation and ceiling.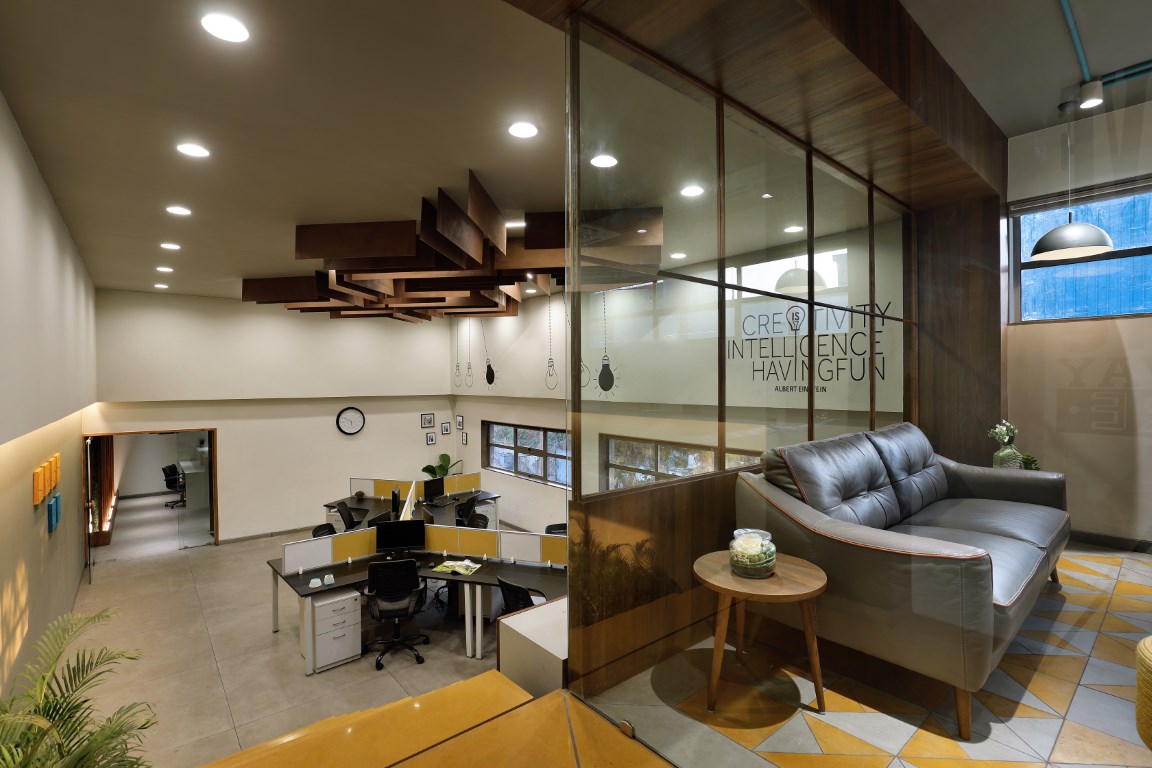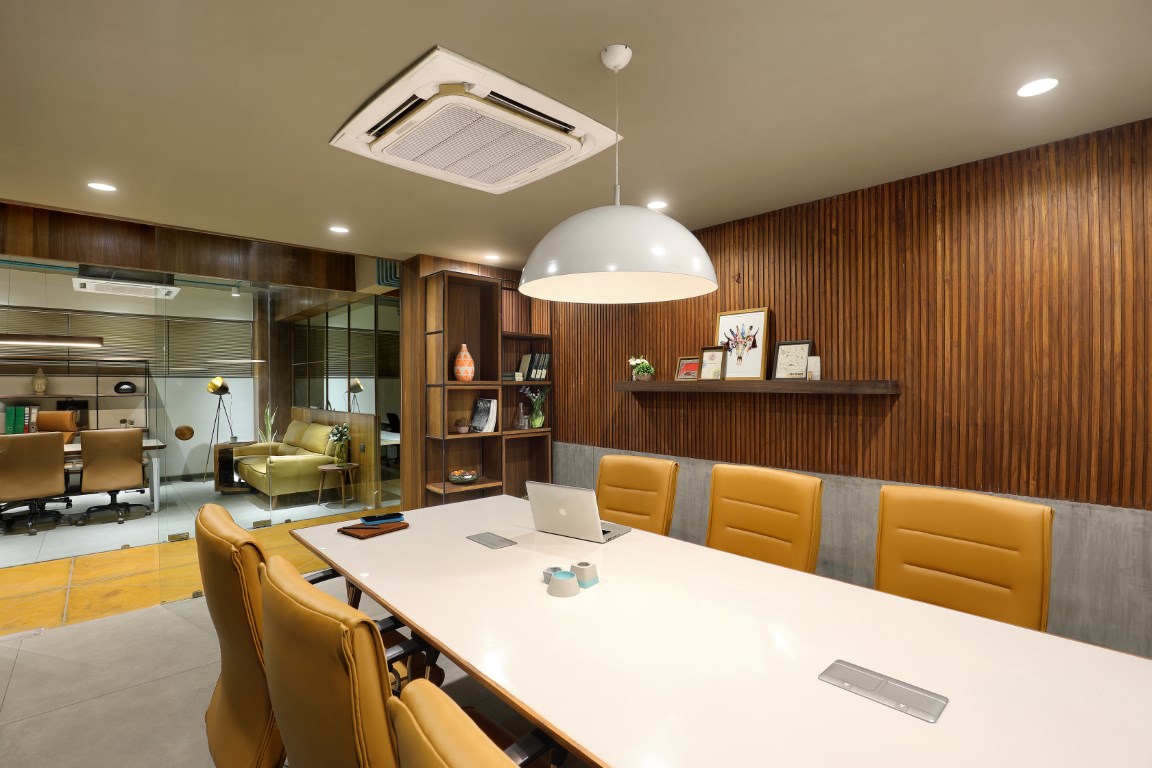 PROJECT FACT FILE:
Name of a designer or designer firm: ADHWA-architecture .interiors, Ahmedabad.
Name of the project: EVERGREEN INDUSTRIES
Location of the project: Vatva, Ahmedabad.
Category: Office space, Commercial
Area: 3000 Sqft.
Project Team:
Ankita Jain – Principle Designer
Dhwanil Patel – Principle Designer
Hirva Gajjar – Interior Designer.
Photography courtesy: Tejas Shah Photography
Email of contact person: [email protected]
About ADHWA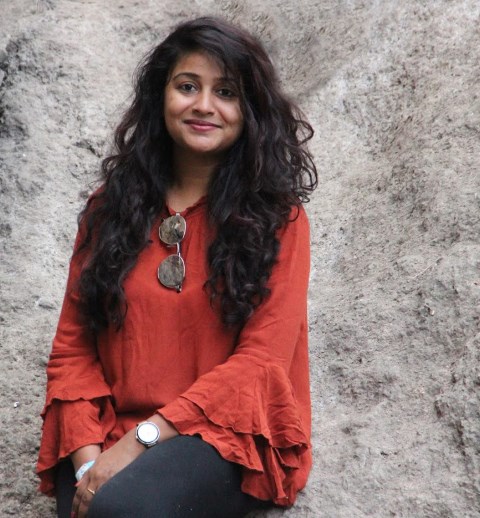 ADHWA architecture. interiors established in the year 2013, owned by Ankita Jain and Dhwanil Patel. The firm provides interior design consultation for all segments including Residential, commercial, Retail & hospitality.
We believe that unlike the solitary pursuits of painting or poetry, the design is, by its very nature, a collaborative process. We encourage and welcome input from our clients. Together we formulate a common vision and come to understand the deeper intentions of the project. This inclusive approach most often yields a broader, richer, more satisfying result.
We do this by appropriately connecting the project to its location and bringing forward a kinaesthetic experience that invites involvement. Out of the project's context and our client's particular needs and desires, each project develops its own identity and character.
Our work celebrates the relationship and interplay of space, light, and material. It is nurturing, enriching, and accessible.