Studio Apartment Interior Adding A Sense Of Sophistication | Studio GASP
We come from a time where spaces are getting smaller but expectations are getting much larger. The Challenge of the Design is the Harmony & compromise one reaches between thoughts & Execution. Our client wanted the interiors to exude a simple & calming appeal wishing it to be perfect Space like a Hotel Suit to escape to, over the weekends.
Designer: Studio GASP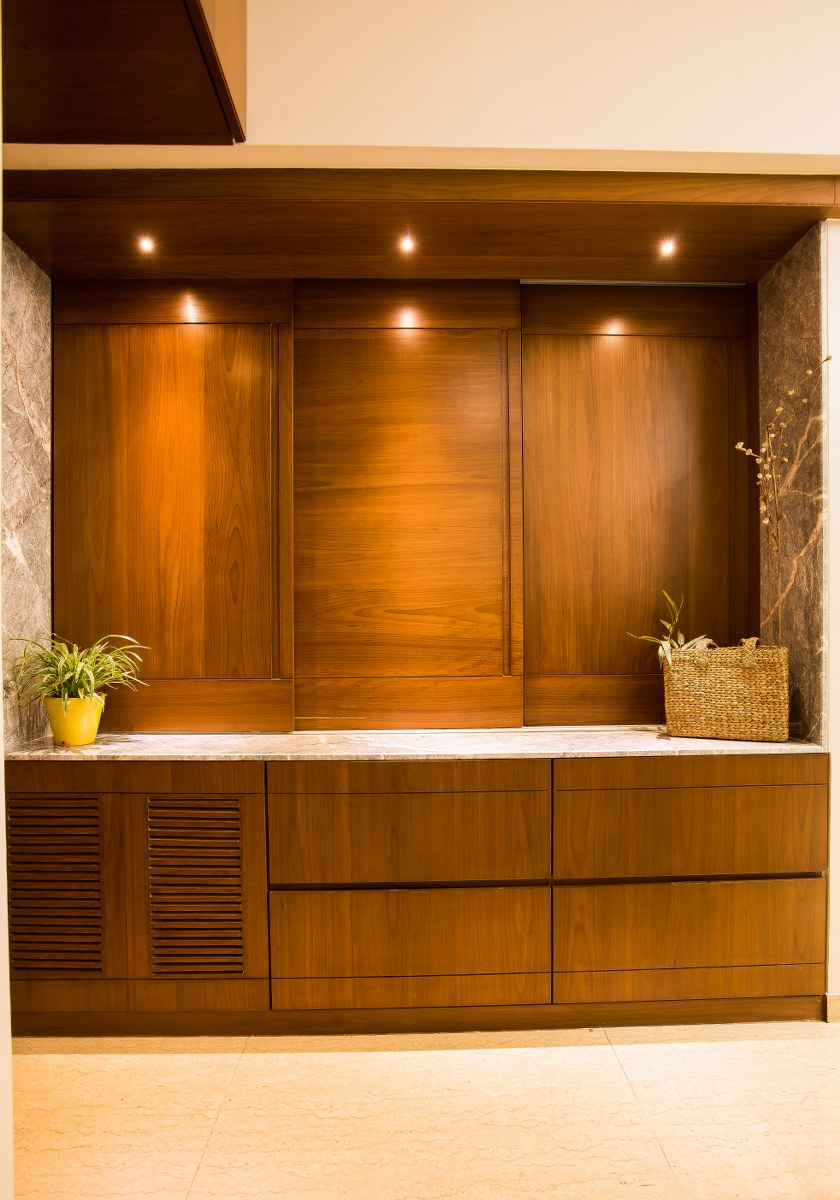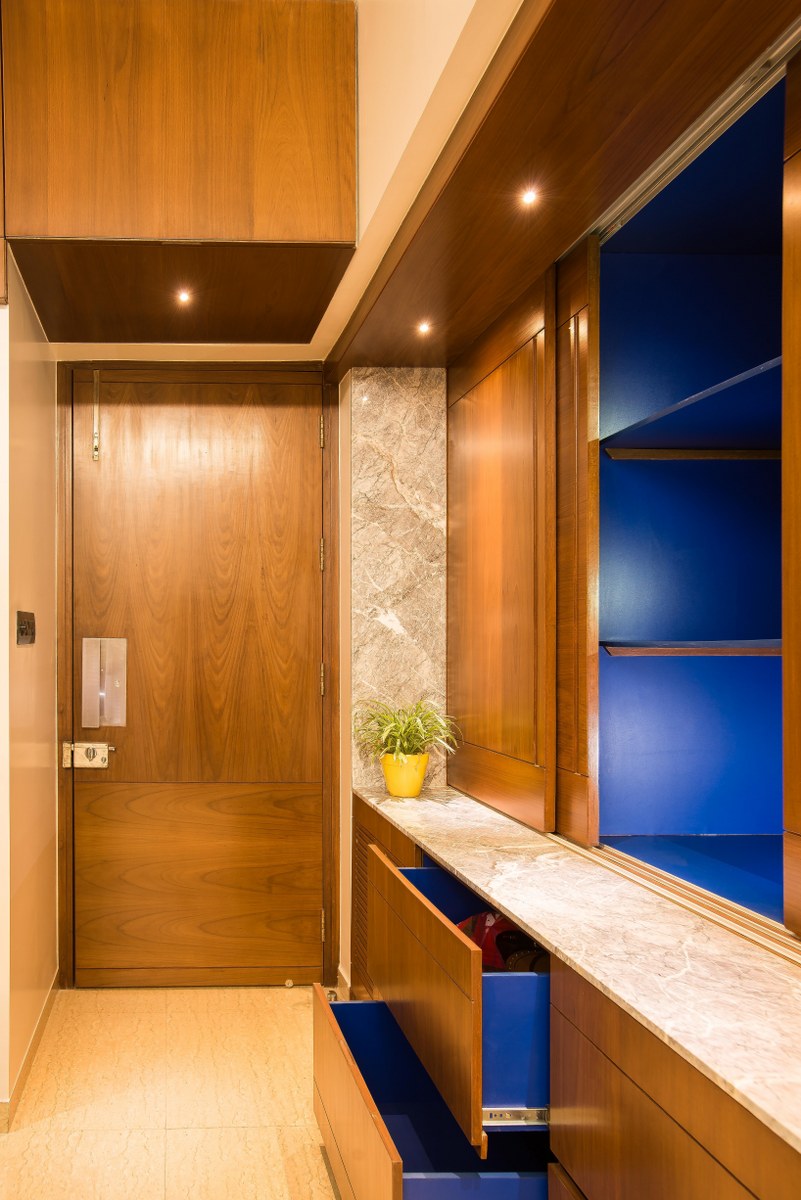 Den_11 is a simple 450 sq feet studio apartment sitting on the 11th floor of a posh locality located in the outskirts of Pune. The apartment overlooks the beautiful golf course and the River next to it. To fulfill the vision of a true bachelor's residence, Firm Modified The Living room Balcony opening & the Bedroom window. The balcony Door & the Bedroom window thus make ever-changing artwork for space. The interiors with a minimal palette of stone and wood.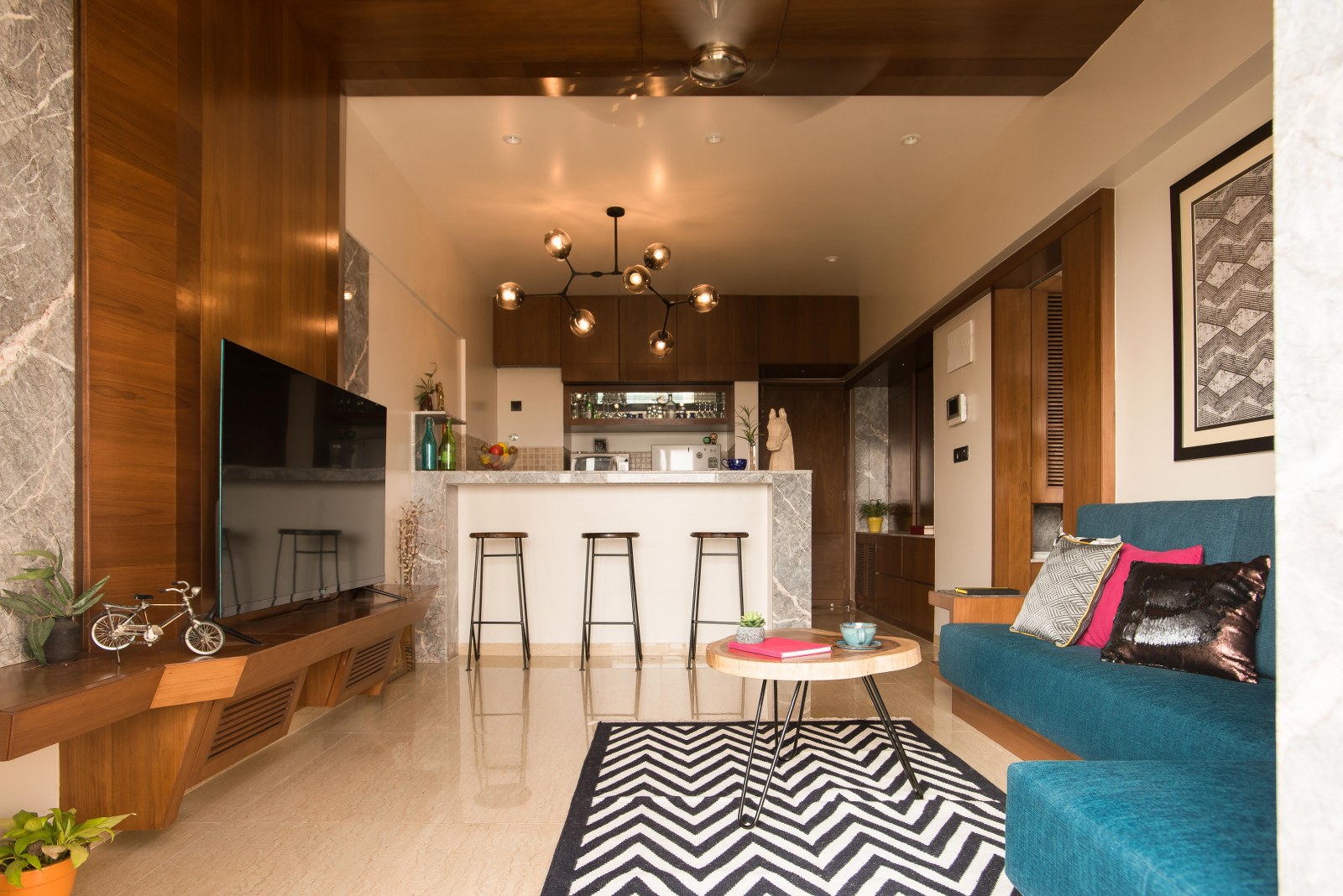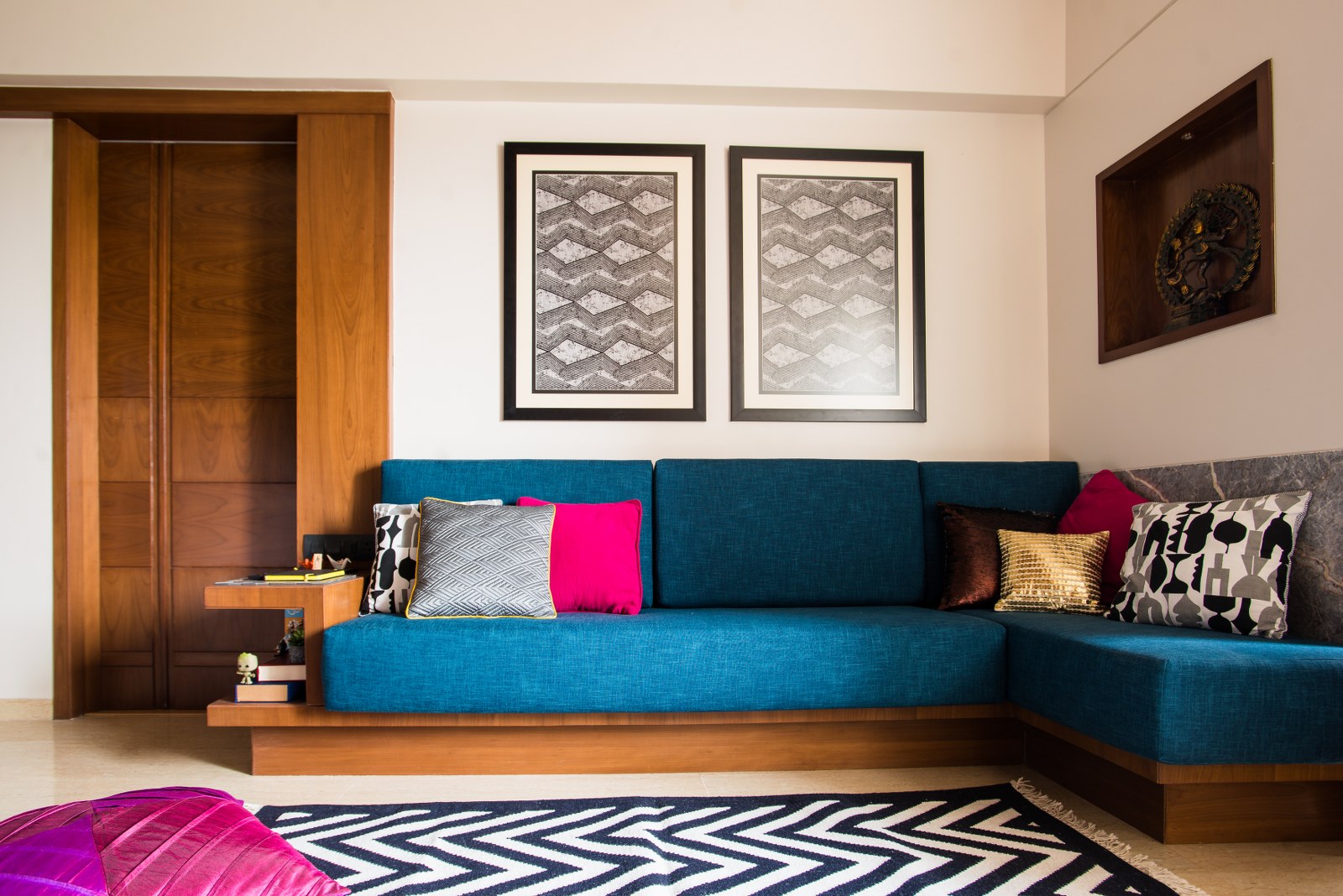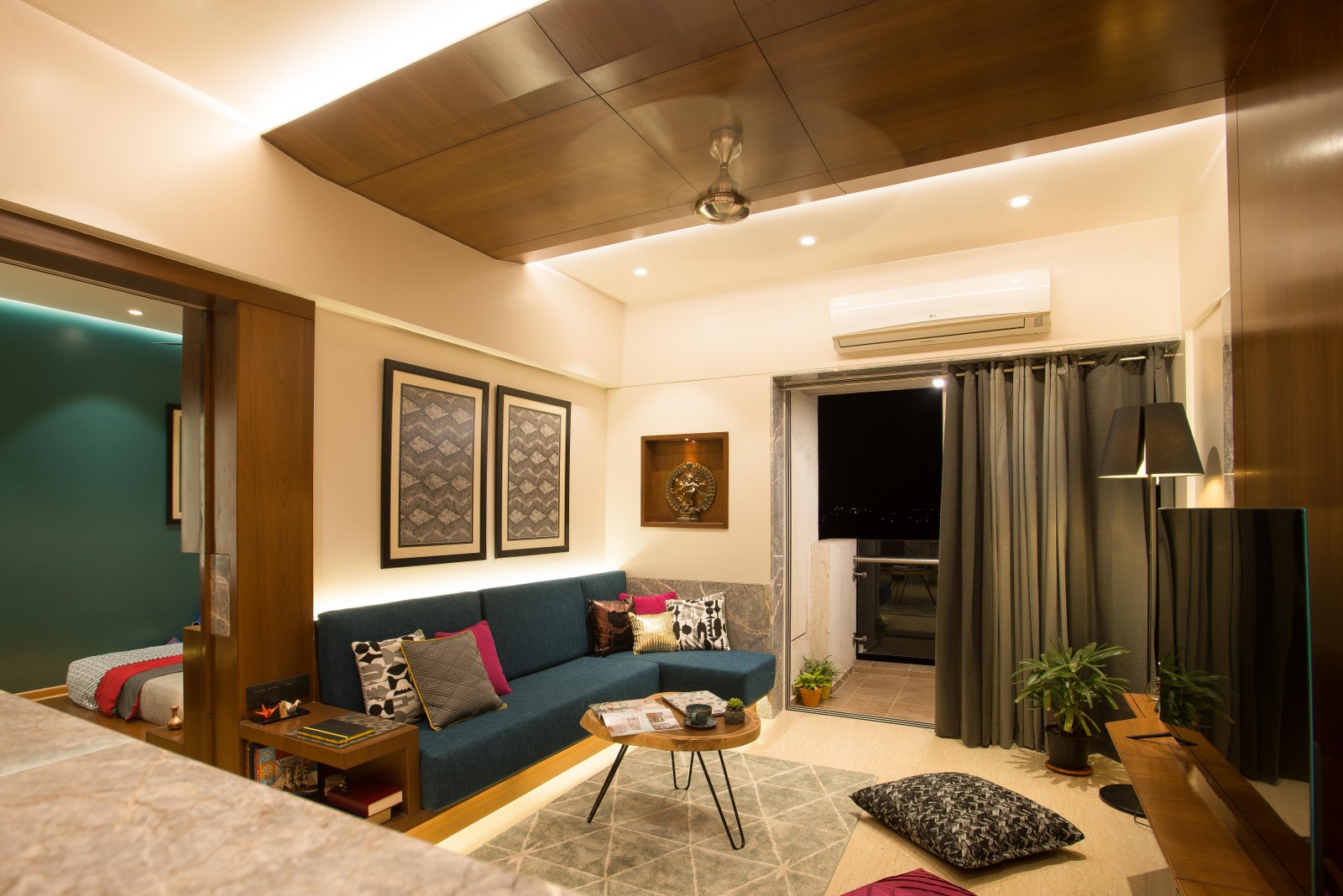 The use of natural materials adds a sense of understated sophistication to this studio apartment. The living has an east-facing Balcony which allows sunlight & air to fill up beautifully. Also, the area attempts to become a mix of a bar and a TV lounge where the client entertains his guests, while a hidden sliding door reveals the sleeping area tucked between warm hints of Teak wood contrasting with the stark grains of grey marble. The Blue laminate inside all the Teak wood veneer Units is like an "element of surprise' in this Studio Apartment Den 11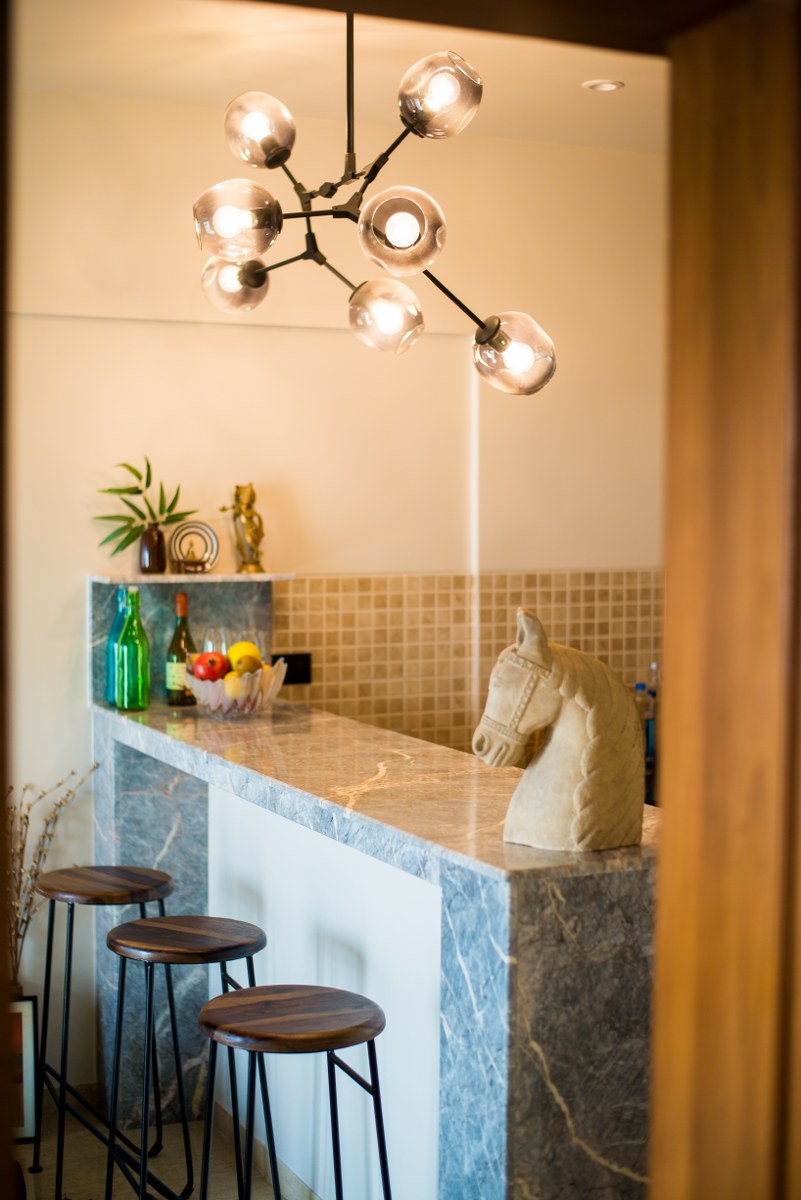 The low Seating by the bed-room window and extension to the bed gives an interesting dynamic for the room to host with the casual, nostalgic arrangements for a group. The combination of skillfully placed Vertical battens with Teak wooden texture with horizontal marble grains Above the Bed headboard gives warmth to the bedroom and the teal color on the wall with wooden Flooring is beautifully complementing each other. The island-based kitchen spills over into the living room which gives a flow that knits all members together and helps provide the uninterrupted conceptualized.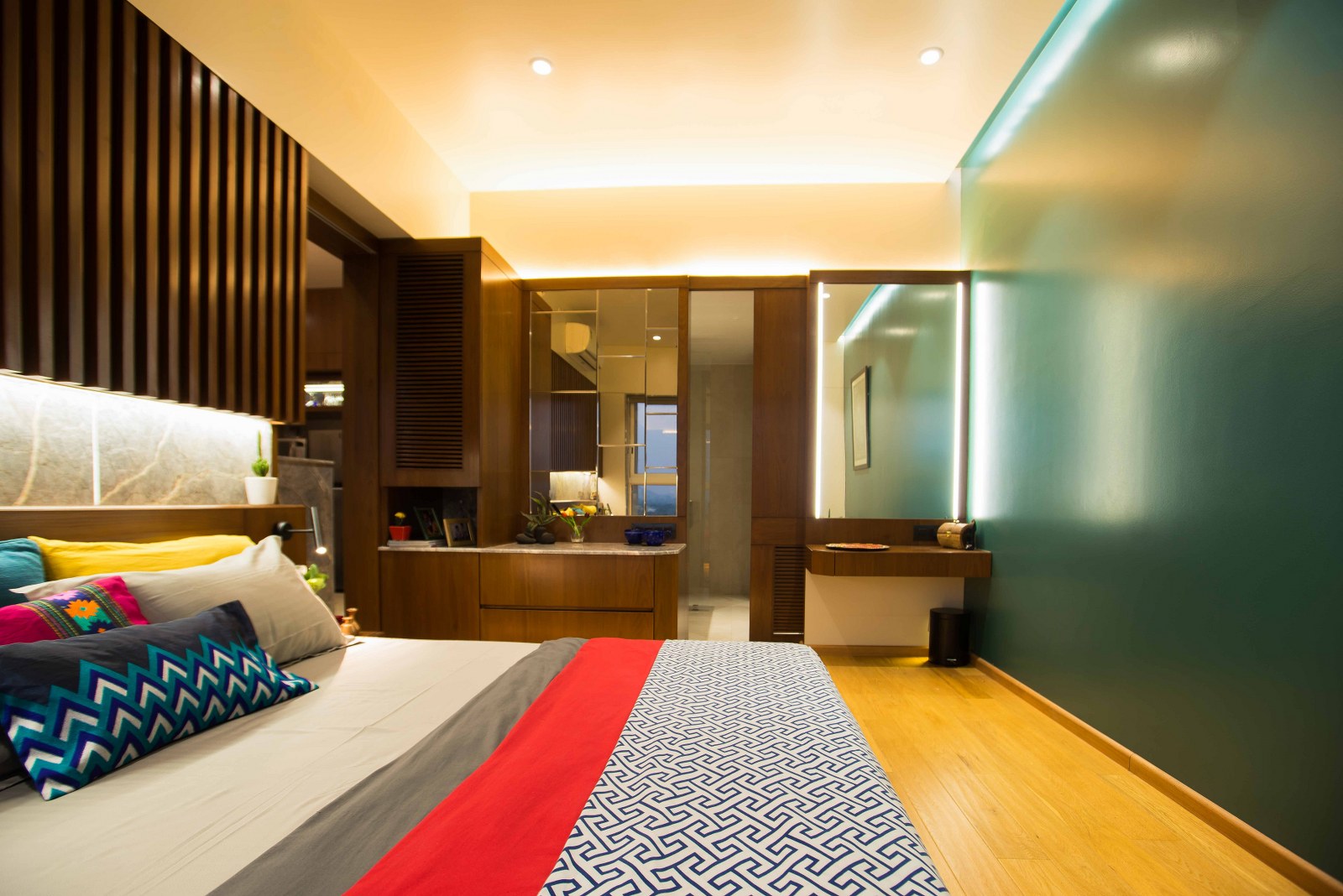 Each detail speaks the entire space is crafted with an influence of contemporary art presented in a modern palette. You will find them throughout the Den, right from the color, furniture selection, to the wall paneling style teamed up with modern artworks and artifacts. The Material pallet is timeless and eventually will age gracefully. The "DEN" as the designers envisioned strives to become a minimalistic and practical escape from the usual hustle and bustle of day to day life. The space celebrates natural material, providing a quiet, comfortable and informal atmosphere for reading, writing or just a movie session.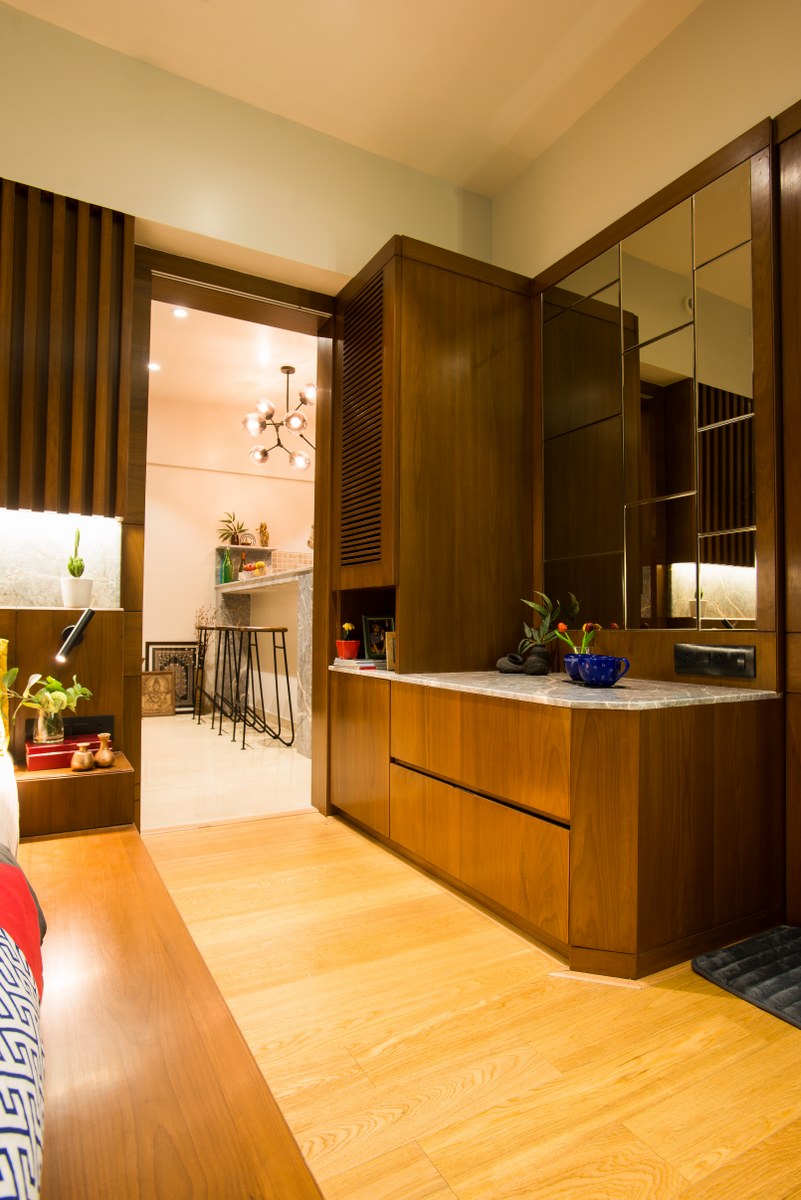 Material Used: Marble, Granite, Teakwood, Veneer, wooden flooring &Glass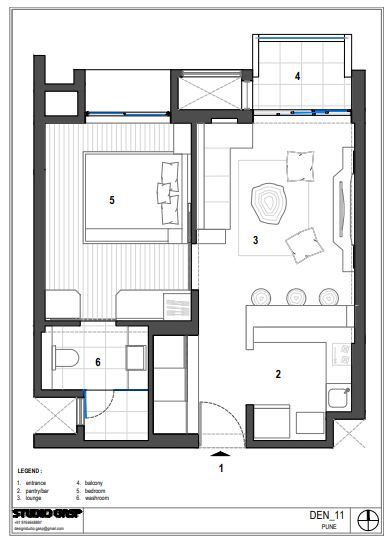 FACT FILE:
Firm: Studio GASP
Name Of Project: DEN 11- Studio apartment
Location: Lodha Belmondo, Pune
Name of the Architect: Gargi Kulkarni pherwani
Year: 2018
Carpet Area: 450 sq.ft
Facebook: https://www.facebook.com/gargi.kulkarni.758
Instagram: https://www.instagram.com/gaspstudio/