&nbsp
Used for exterior cladding, decorative facades and interior surfaces, Trespa® is a high-pressure laminate material fairly new to the world of construction. Manufactured in the Netherlands, architects across the globe have been able to use this material to create unique building exteriors thanks to its adaptability, durability and striking colour finishes.
New Kent Road apartments (London, United Kingdom)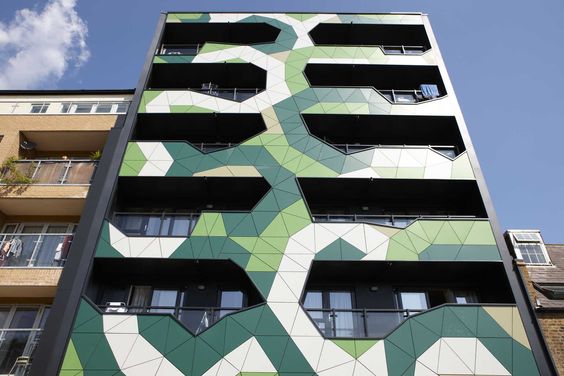 Built in 2012, the exterior facade of 134 New Kent Road was designed by Glas Architects using a mosaic of Trespa® plates. The pattern used reflects the history of this apartment's location as it is situated between the buildings of a former tile factory.
As a result of its intricate pattern, ensuring the tiles and seams were to size required expert craftsmanship. The tight seams can be seen in the image below as well as the coloured screws which match the Trespa® tiles perfectly in order to ensure a smooth appearance.
Chosen for its durability and unique appearance, the exterior of this building also contrasts perfectly with the surrounding traditional architecture, creating a pleasing juxtaposition of old and new.
South Essex College student complex (Essex, United Kingdom)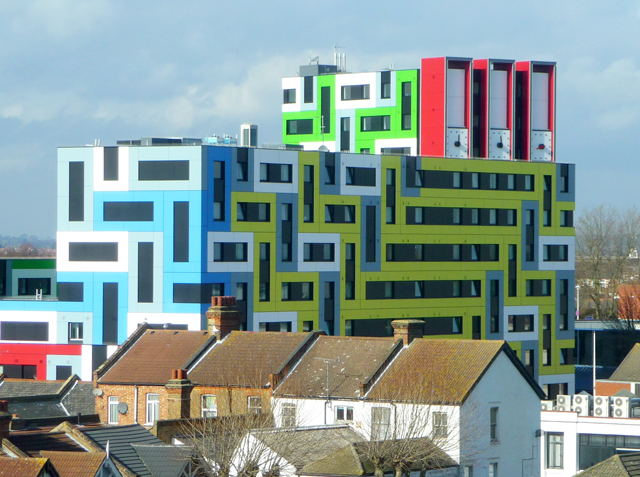 Rectangular Trespa® panels have been used to connect different floors of this building, built in 2010, creating a unique, modern look. Designed by architect Stephen Marshall the bold colours used make this accommodation complex stand out from the crowd. A metal sub-frame was used to fix the plates, to which the plates are attached with blind rivets.
Ca Don José Cultural Center (Canals, Spain)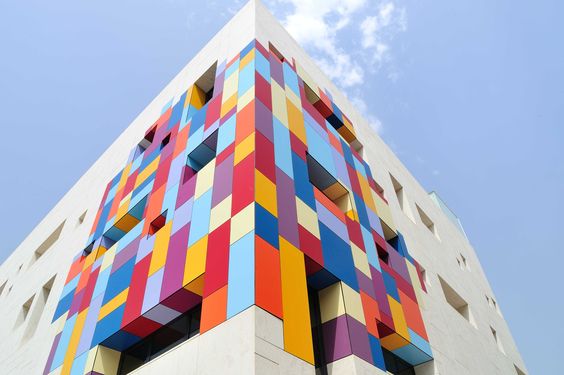 Designed by Hector Luengo Arquitectos and built in 2011, this building uses Trespa® panels in various different sizes and shapes to create a distinctive exterior appearance. Due to the unique shapes needed to create this look, many of the tiles were cut to size from a full Trespa® plate, revealing how durable this material truly is. Furthermore, the weather has had no impact on the material despite the many saw cuts needed to achieve these shapes.
In this particular case, 10 different Trespa® colours were used to create this bold exterior which contrasts vividly with the lightly coloured surrounding materials. As a cultural centre, the diversity of colours used reflects the building's purpose, while also helping it to become a positive visual landmark.
Restaurant La Place (Houten, Netherlands)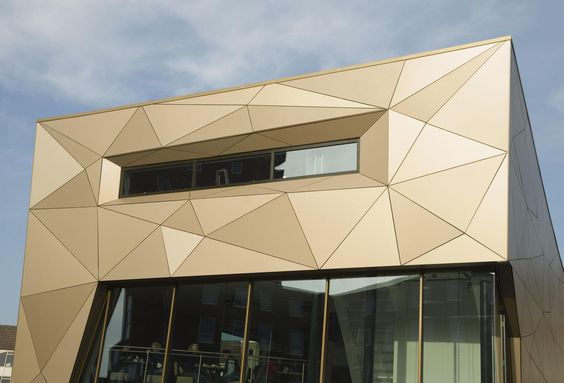 Taking the use of Trespa® to another level, Abbink & De Haas Architectures created this striking exterior using a three-dimensional mosaic design. Despite using just one metallic shade from the Trespa® range, by placing the tiles at different angles, the reflection of the sunlight gives the illusion of various colour shades across the building.
Since these Trespa® tiles were glued to a wooden frame, the architects were given more freedom and were therefore able to use a wider range of complex geometric shapes to achieve this spectacular finish.
This particular example reveals the endless possibilities and unique exteriors that can be created with the use of just this one material.
HEMA (Oosterbeek, Netherlands)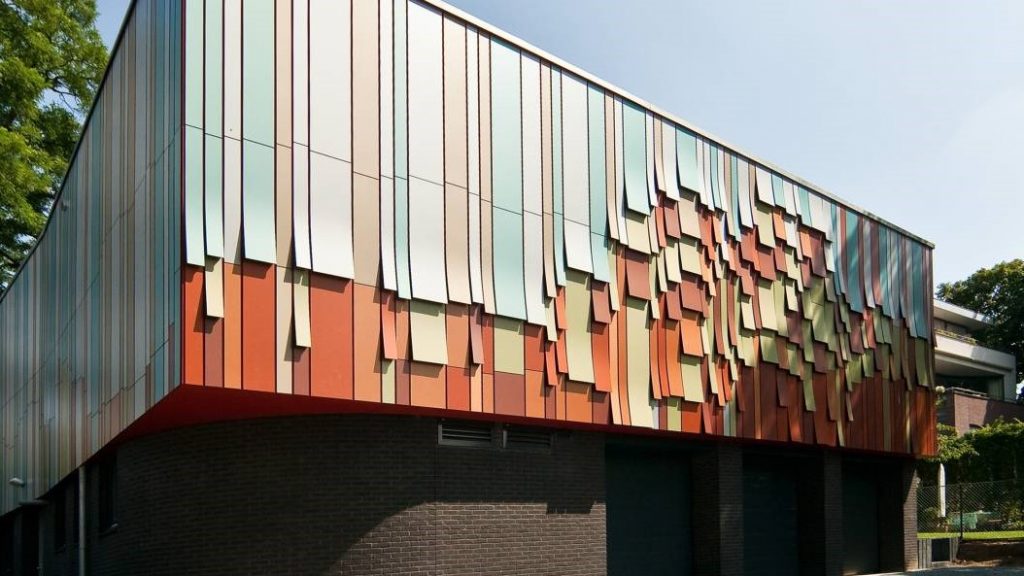 During this department store's renovation, the original facade became visible once again on the street front. Architects from Oosterbeek worked alongside the artist Jan van IJzendoorn to give this building a new look for its newfound prominence.
This is an example of how Trespa® can look when not bonded to flat surfaces. Due to Trespa®'s extensive durability and stability, these three-dimensional shapes are able to withstand the test of time on this facade.
Seven Trespa® colours were used for this design, including five metallic shades. This has made the building extremely eye catching, especially as the sunlight reflects on the surface throughout the day.
These architectural examples using Trespa® for exterior cladding reveal the endless possibilities available to create eye-catching designs, even by using just one shape or colour of this material. Suppliers of Trespa®, like plasticsheetsshop, are able to cut the sheets to size so that they are ready to install upon arrival.