SPDA Office: Industrial Loft Meets Soho Chic | SPDA
"When we started looking for a new space for our expanding office needs, we instantly fell in love with this 11th floor 450 sqft space with a sprawling view of the Gurgaon skyline," says Shalini Pereira, principal designer of Studio SPDA. The best feature of the space were two expansive windows through which natural light came spilling into space. These large windows and the high ceiling brought to mind the typical Manhattan loft associated with the old factory districts of New York City. It became the inspiration for the design concept which the team affectionately dubbed, Industrial loft meets Soho Chic'.
Visit: SPDA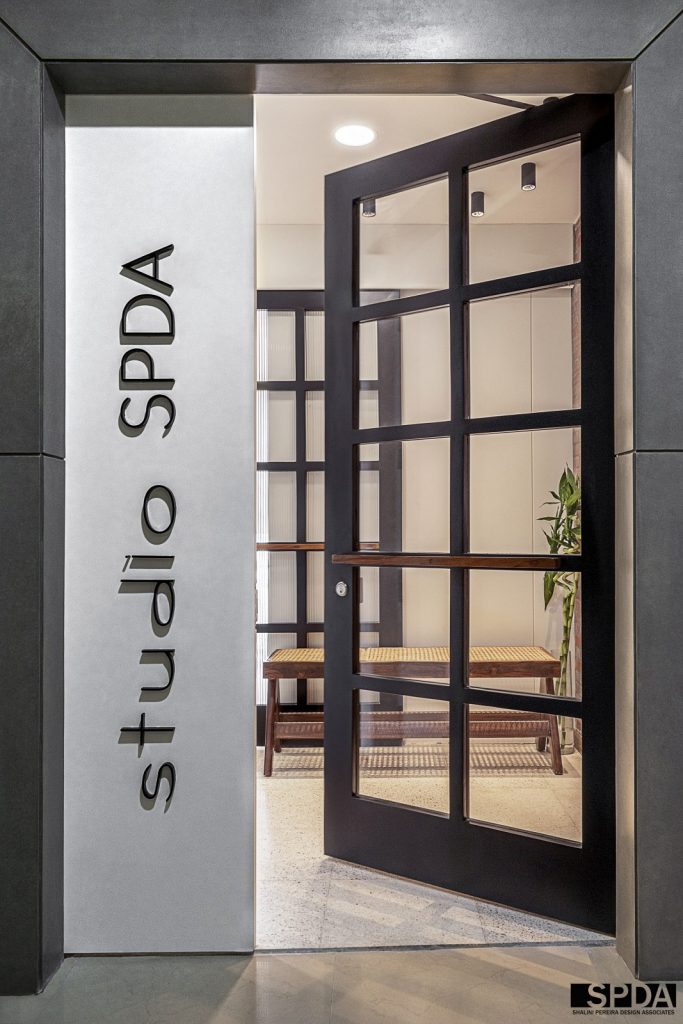 A Loft literally means attic and these spaces were originally factory spaces that were available at low rents, which in turn attracted a bohemian crowd of creative types. So, the idea of loft space for their studio seemed perfect. Loft spaces generally tend to have a lot of different architectural elements like metal trusses, beams, exposed piping as well as materials like exposed brick, concrete, and wood, that seem to work harmoniously together. This played into the team's desire to ensure that the new office also showcased the use of a wide variety of materials to clients.
Open plan office
A lot of things needed to be incorporated into the office space at a functional level. Aside from encouraging interaction, an open plan was essential to ensuring that the space available maximized natural light as well as every inch of space without making the office look cramped. The layout of the studio ensures that there was a natural flow from the entry to a small waiting nook, behind which was housed the Principal designer's cabin. From this small entryway, the office opens out into a studio space that feels almost expansive.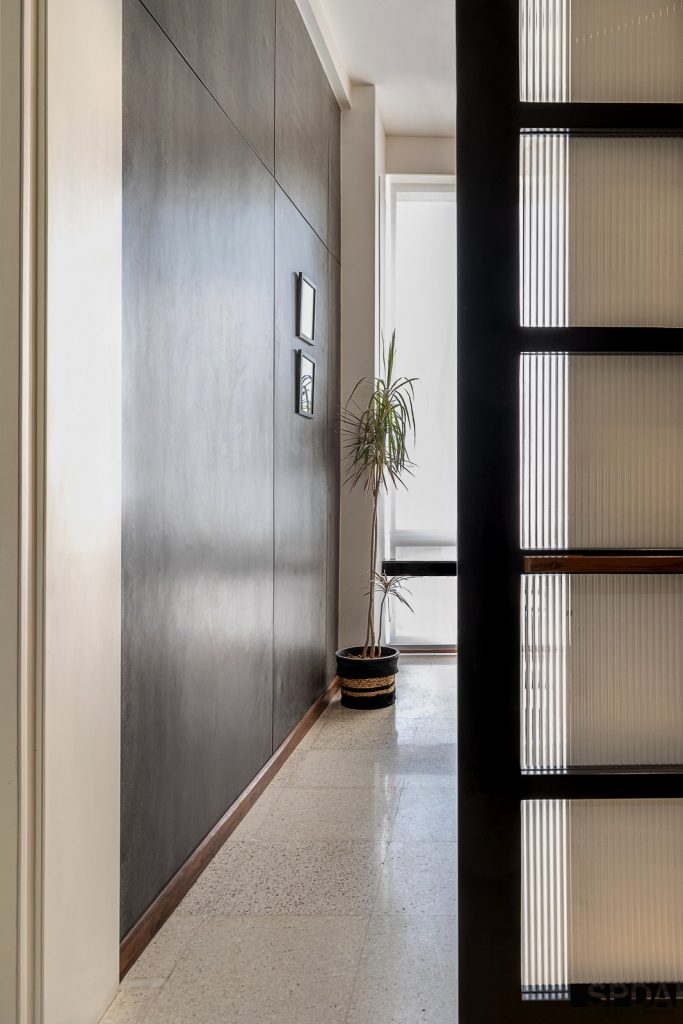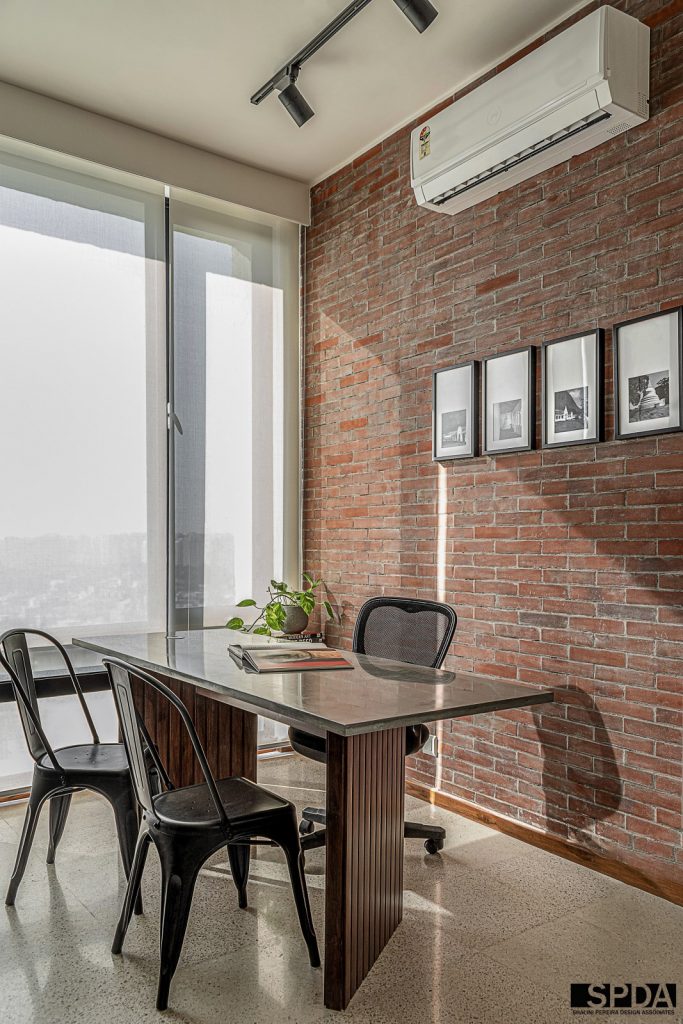 "When space is at a premium, flexibility is key. So, a lot of elements had to serve multiple purposes," says Shalini Pereira. "A storage unit, which we consider the hub of the office, helps partition off my cabin from the main studio and plays a critical role in space management." The main feature of this unit is a huge framed sliding panel of white lacquer glass. The panel works as a presentation board during client interactions and a whiteboard during team meetings.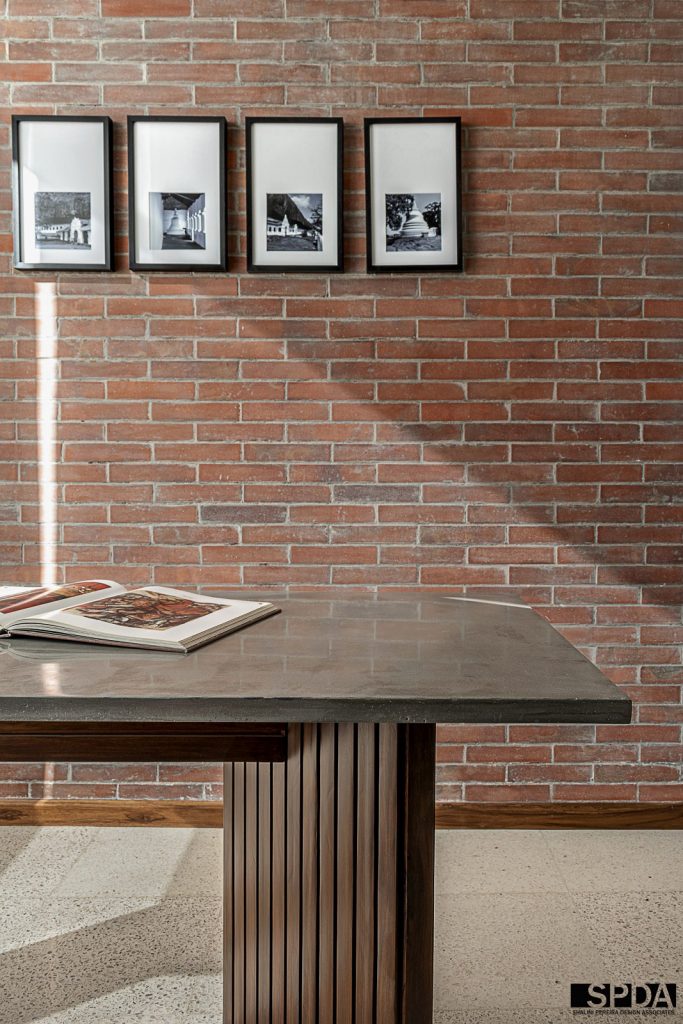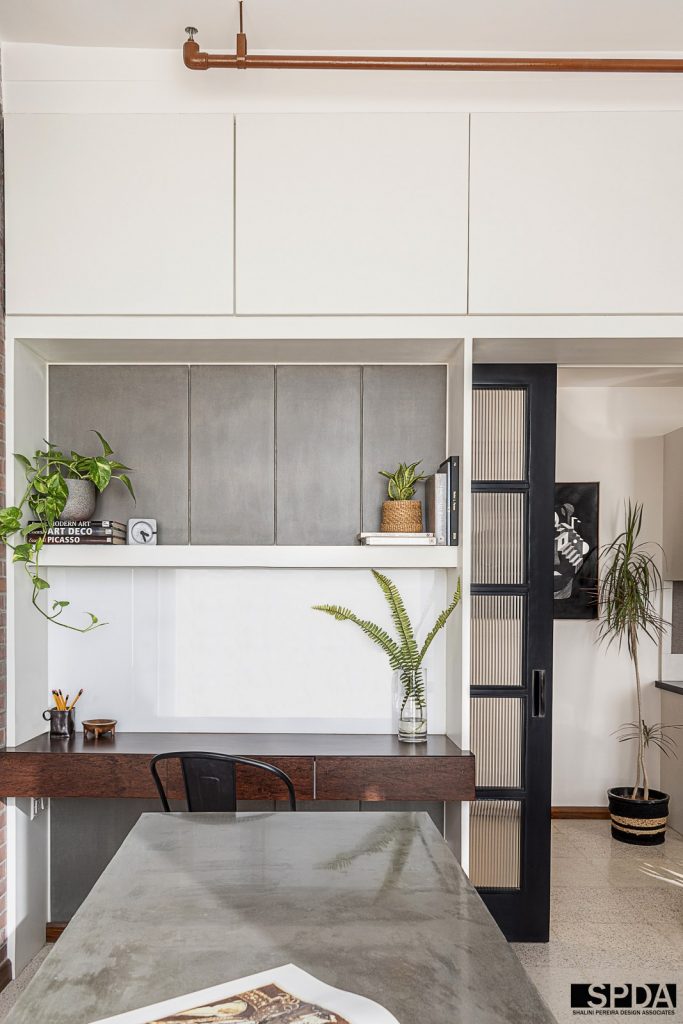 The panel hides the wash area and pantry storage. Beside this is a compact pantry unit that houses office essentials like a kettle, coffee maker, microwave, and a mini-fridge! Next to this is a storage area that holds all the firm's samples, catalogs, and props are used for their site photo shoots. "This multifaceted storage element really allows us to organize our office and is an interesting backdrop for our conference/dining space. We do a lot of project planning here, and also have a lot of laughs at the expense of some of our more difficult clients," jokes Shalini.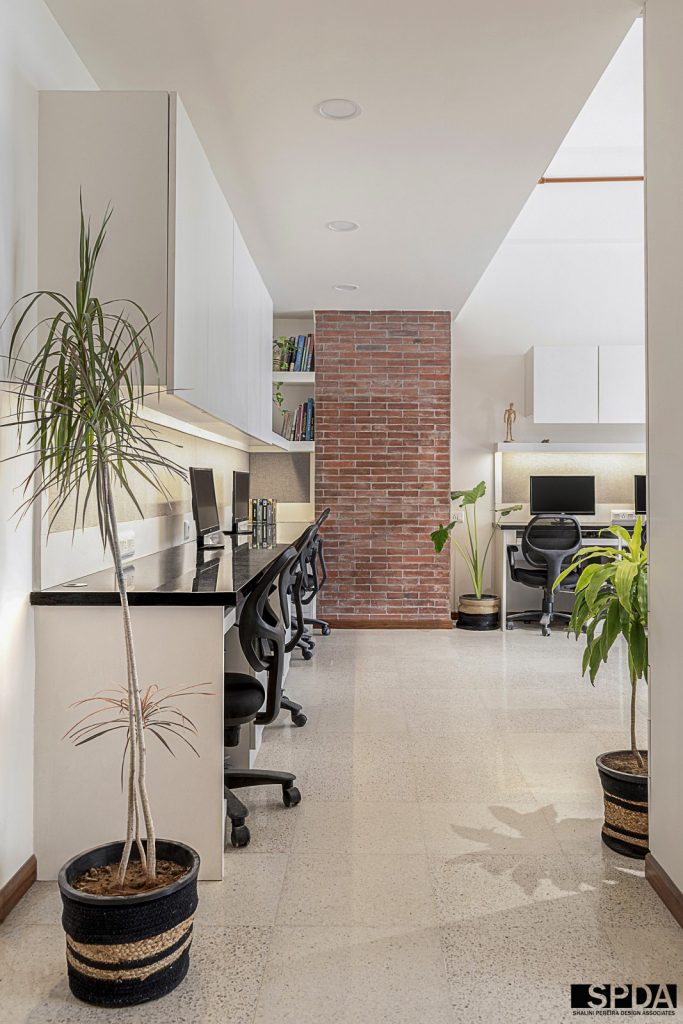 Material palette and color
"We did go a little crazy when it came to playing with materials in this office," laughs Shalini. "The idea was to showcase as many different materials to prospective clients, especially ones that clients are generally apprehensive about, but I think we managed to achieve a balance in spite of this, to a great extent because of the all-white color palette."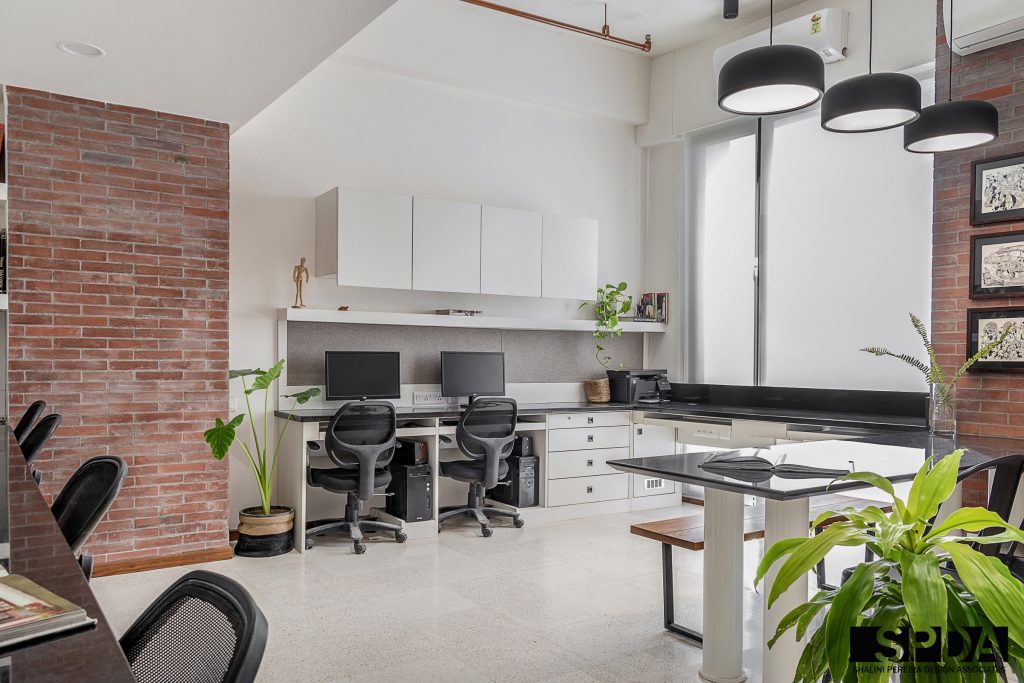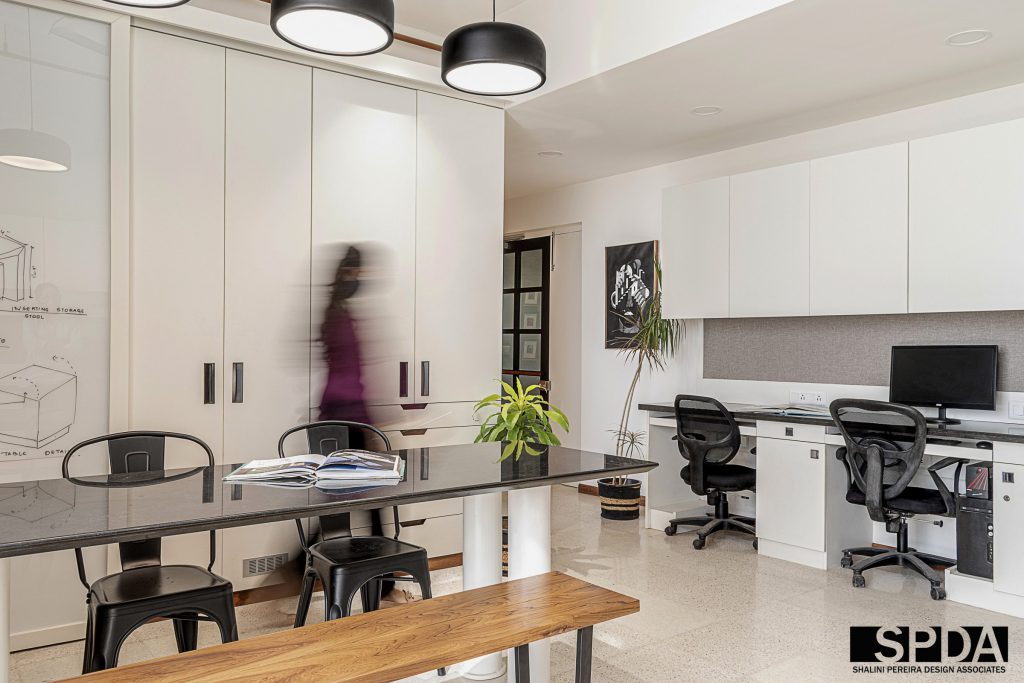 While accent tones of black and grey were incorporated in elements like doors, over-all when it came to color, it was white, white white, all the way. The color white was the common link that held all these disparate materials like exposed brick, polished concrete, wood, and veneer together. "I have always been a fan of exposed brick and we sourced these fabulous brick tiles from a local vendor. The bricks were initially to be painted white, but I fell so in love with them in their natural form that I couldn't bring myself to have them painted over," says Shalini. "The bricks give this overwhelmingly white office its sense of character and warmth."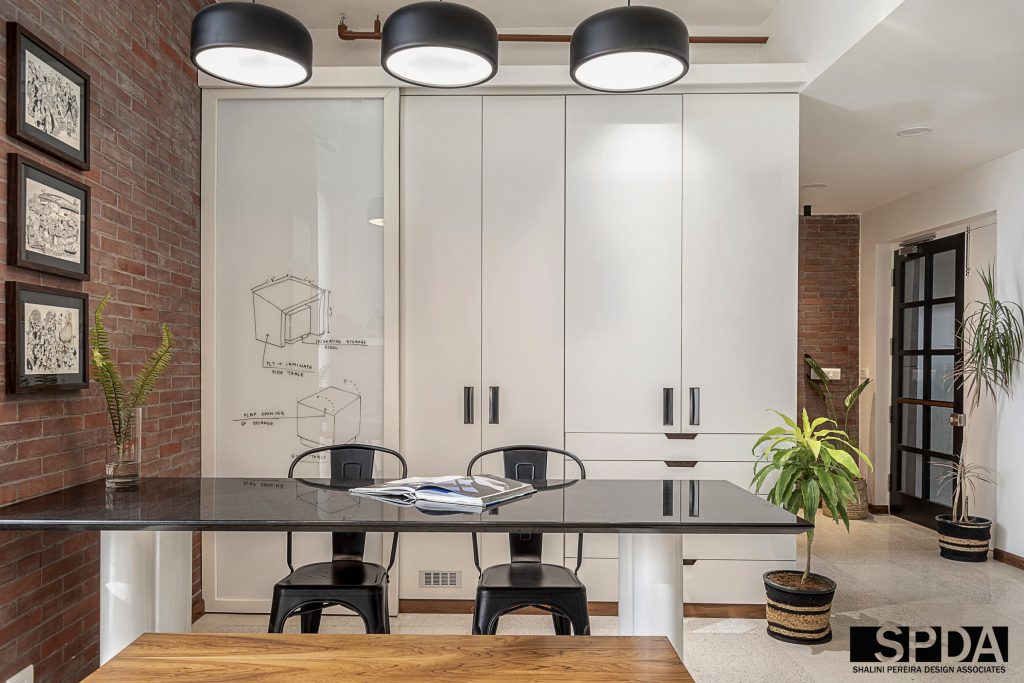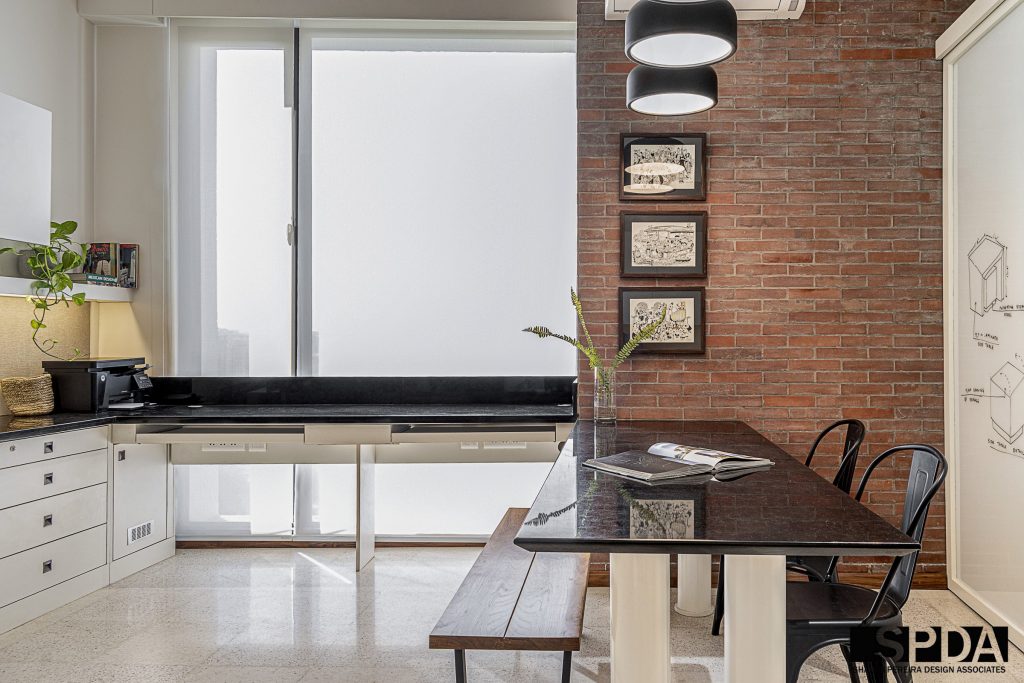 "The white terrazzo tiles for the flooring are an ode to my childhood, and unfortunately I haven't been able to convince any of our clients to use them yet, so I thought, let's start here!" A wooden skirting detail runs through the entire office adding an element of warmth and sophistication and balances of the white quite nicely.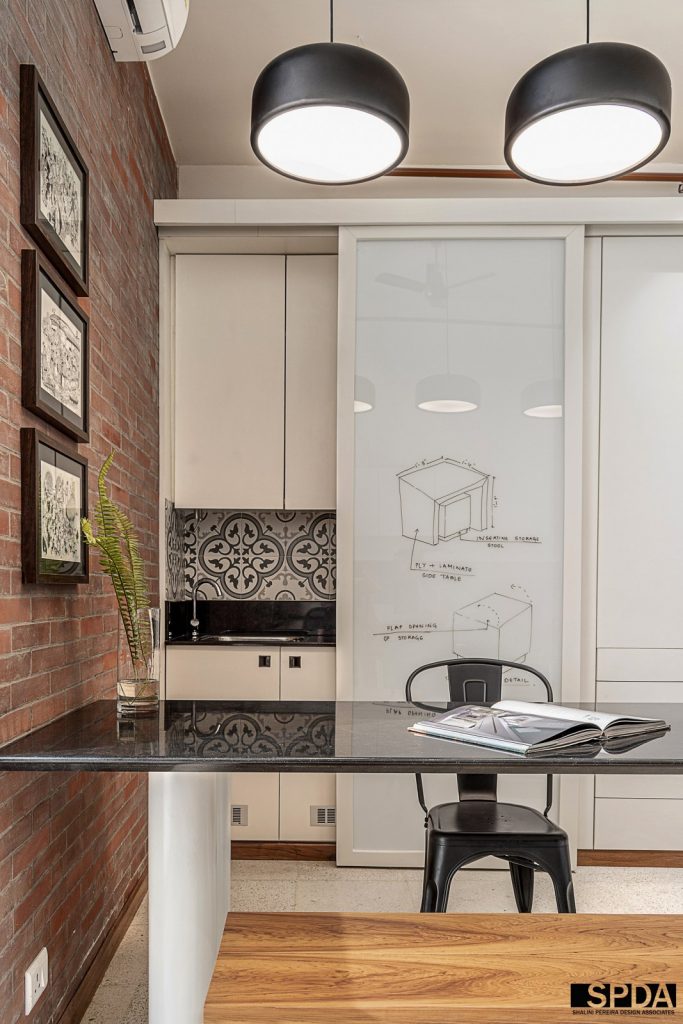 While the theme of exposed brick continues into the principal designer's cabin, there is a slightly more sophisticated feel to this tiny space that still manages to retain its minimal feel in spite of the juxtaposition of several different materials like cement fiberboard, fluted glass, burl veneer, polished concrete, and granite. "I tend to hoard things, so I wanted as little storage as possible within my cabin," joked Shalini. "The small cabin needed to be a calm peaceful space where I could think and work on designs, and it also needed to have a small space where my daughter could sit and work on days she visits the office."
FACT FILE:
Firm: SPDA
Project Type: Small Office
Area: 450 sq ft
Principal designer: Shalini Pereira
Duration: 4 months
Photographer: Anmol Wahi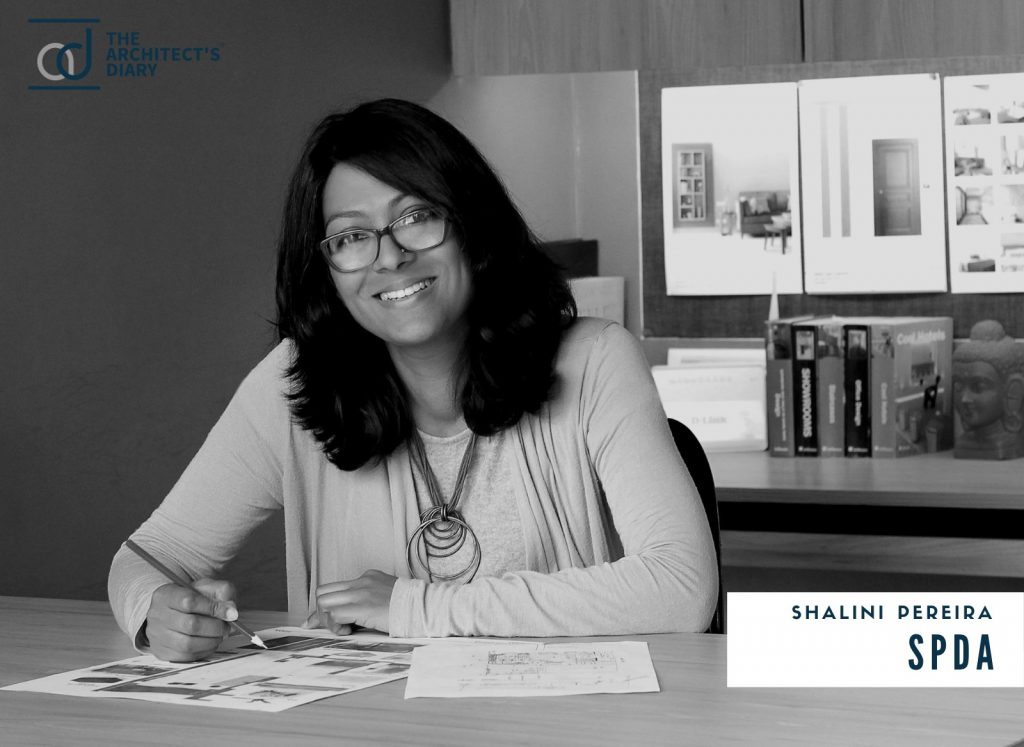 Website: http://www.spda.in/
Facebook: https://www.facebook.com/spda.in
Instagram: https://www.instagram.com/spda_design/