Simple And Contextual Textile Office Design| Sharan Architecture+Design
Sharan Architecture + Design culls out a simple and contextual textile office in Surat, India's hub for textile trade.
As you enter the office, the company name 'Ozone' is emblazoned in brass over a veneer-clad panel. But, look closer and you will find delicate threads gently tugging at the logo – a metaphor to their textile roots.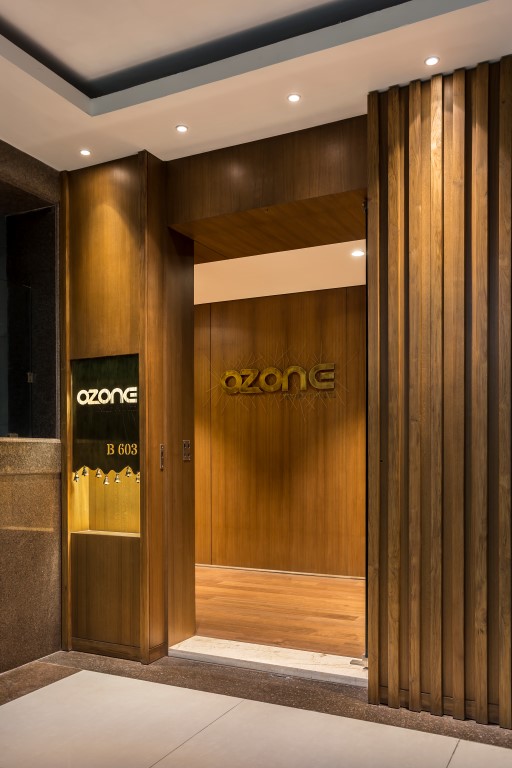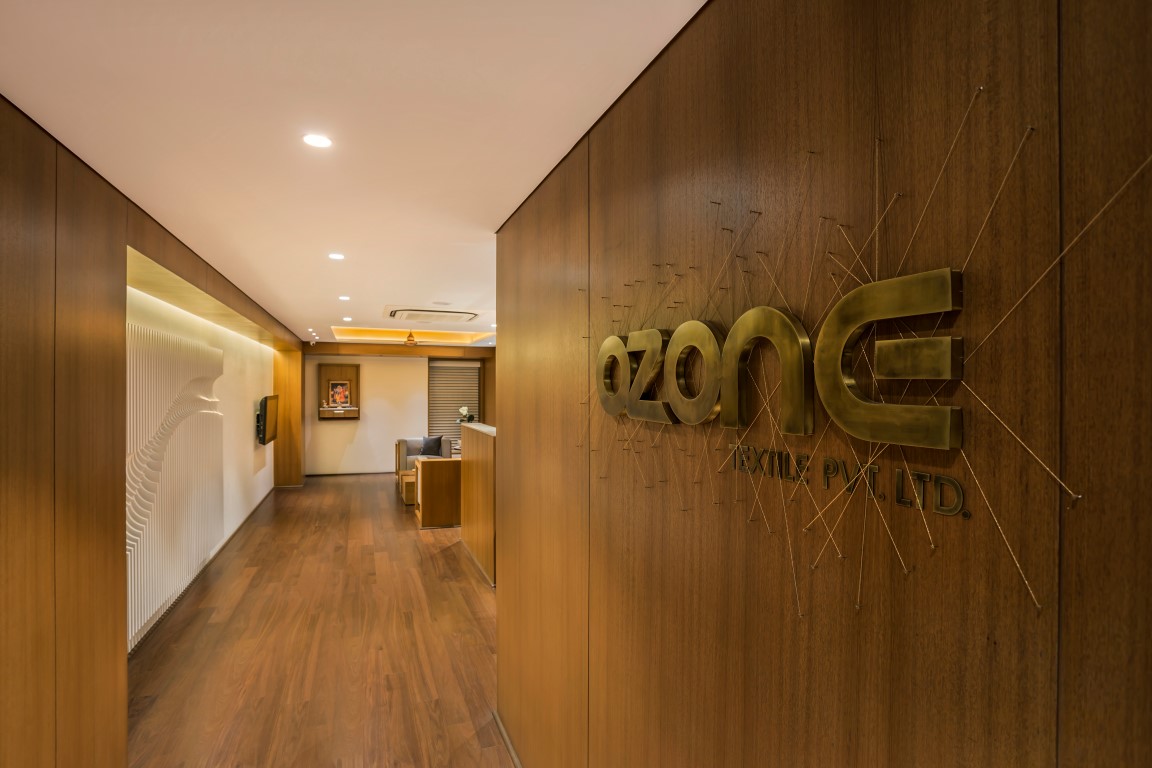 One of the biggest advantages cited by the designers is the client's clarity of thought in what he wanted, immensely helping in designing a large waiting area-cum reception, sales area, workstation, owner's cabin, among-st other perfunctory zones despite working with a compact 1,400 sq. ft. of space!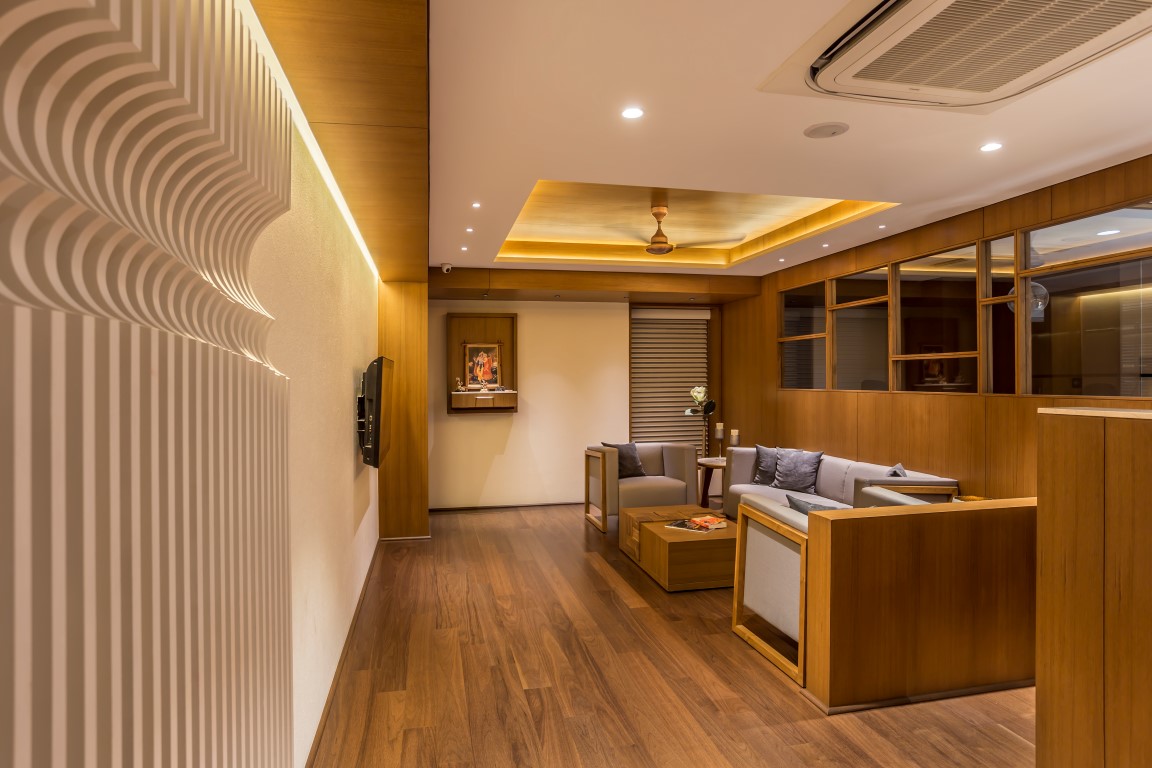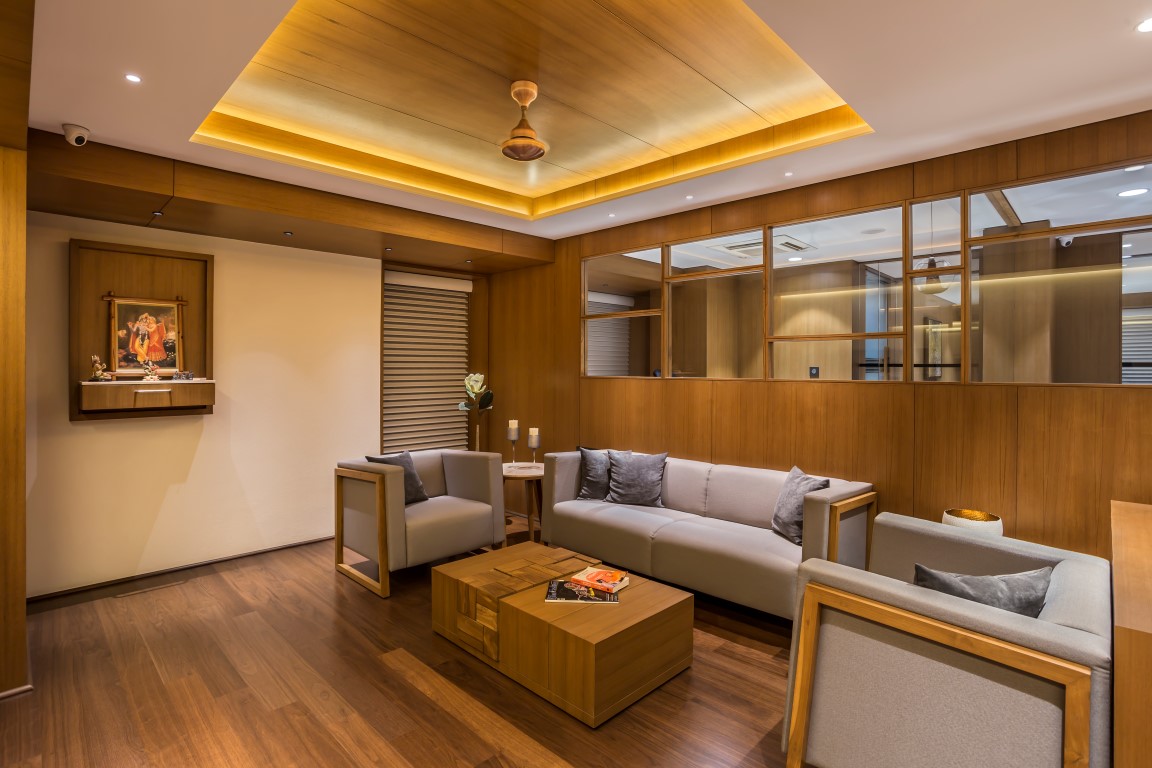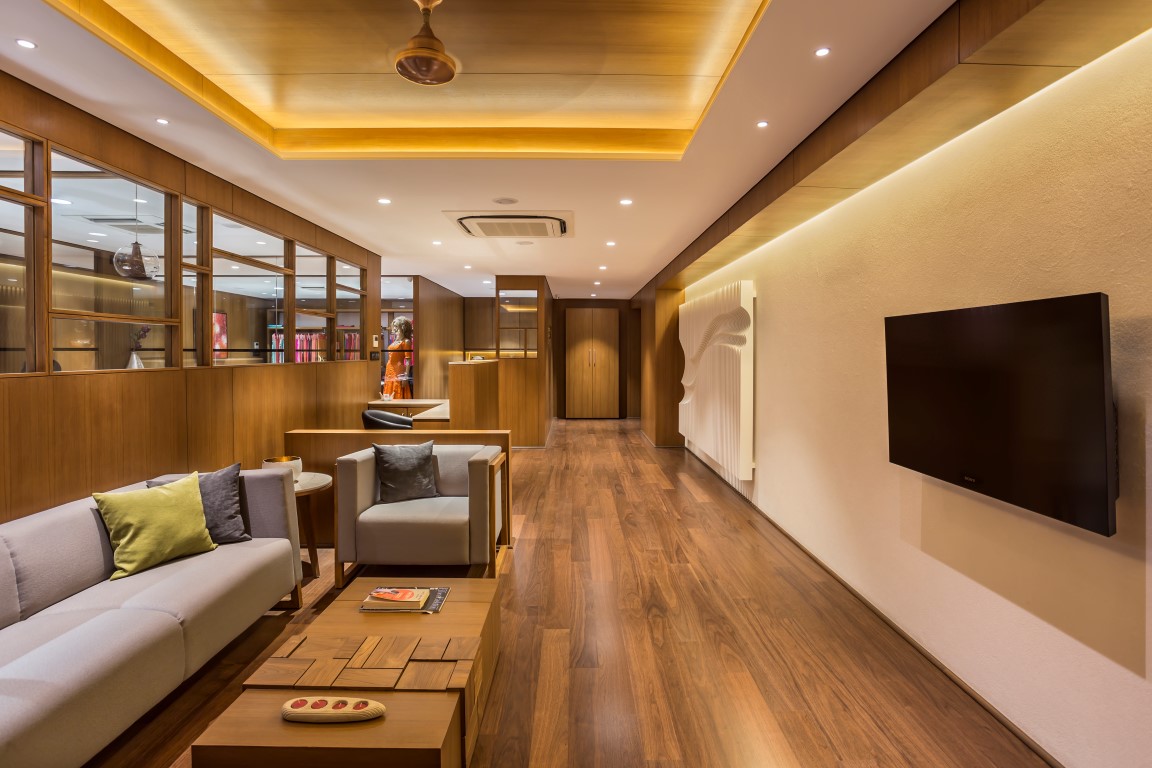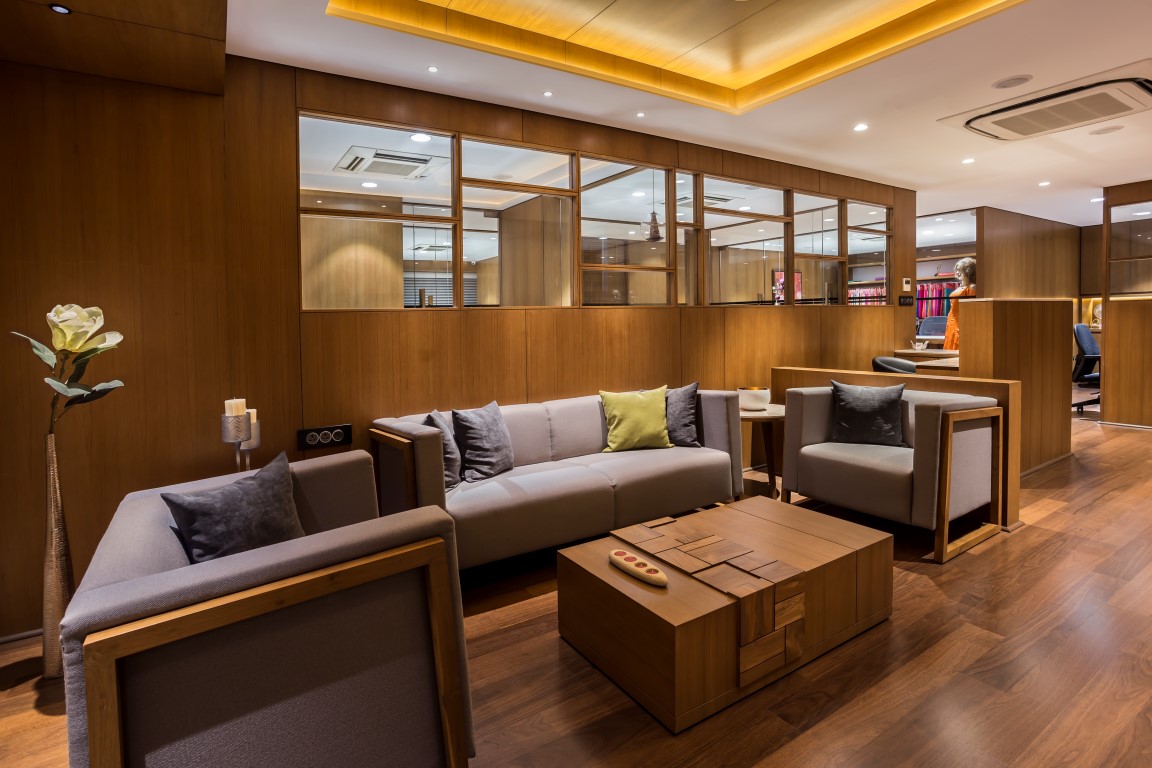 A few steps ahead, in the waiting area, hangs a large mural made of CNC-cut Berge ply finished in white duco paint that is analogous to the undulating soft curves and stiff pleats of fabrics: instantly catching the visitor's eye and allowing the client many moments of pride. This is combated by creating a smaller window in front of the main window, cladding the latter with black-out material on blinds to screen out sunny afternoons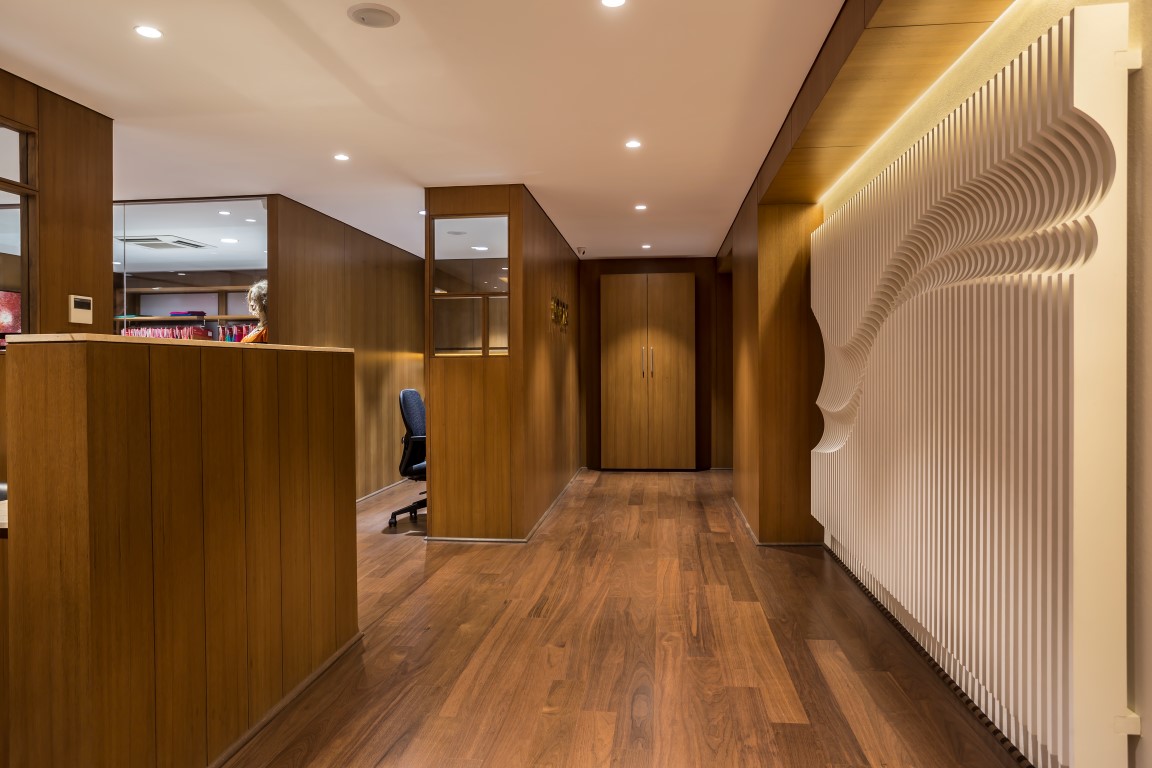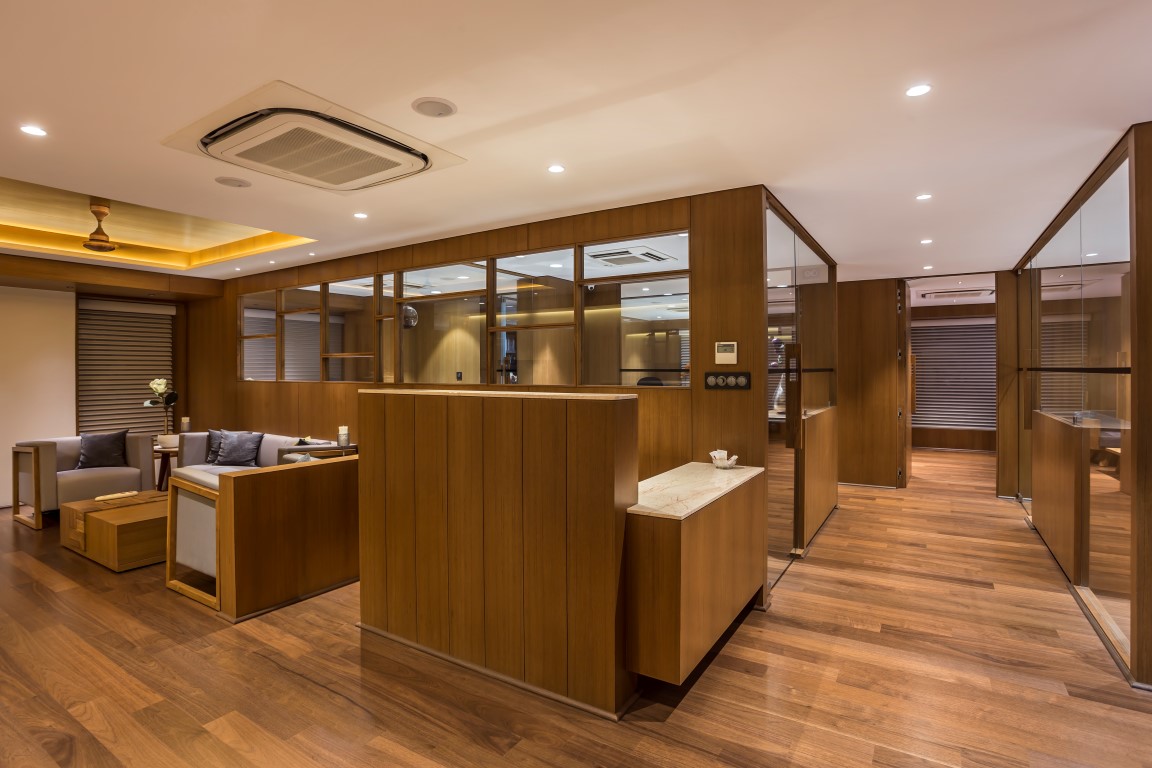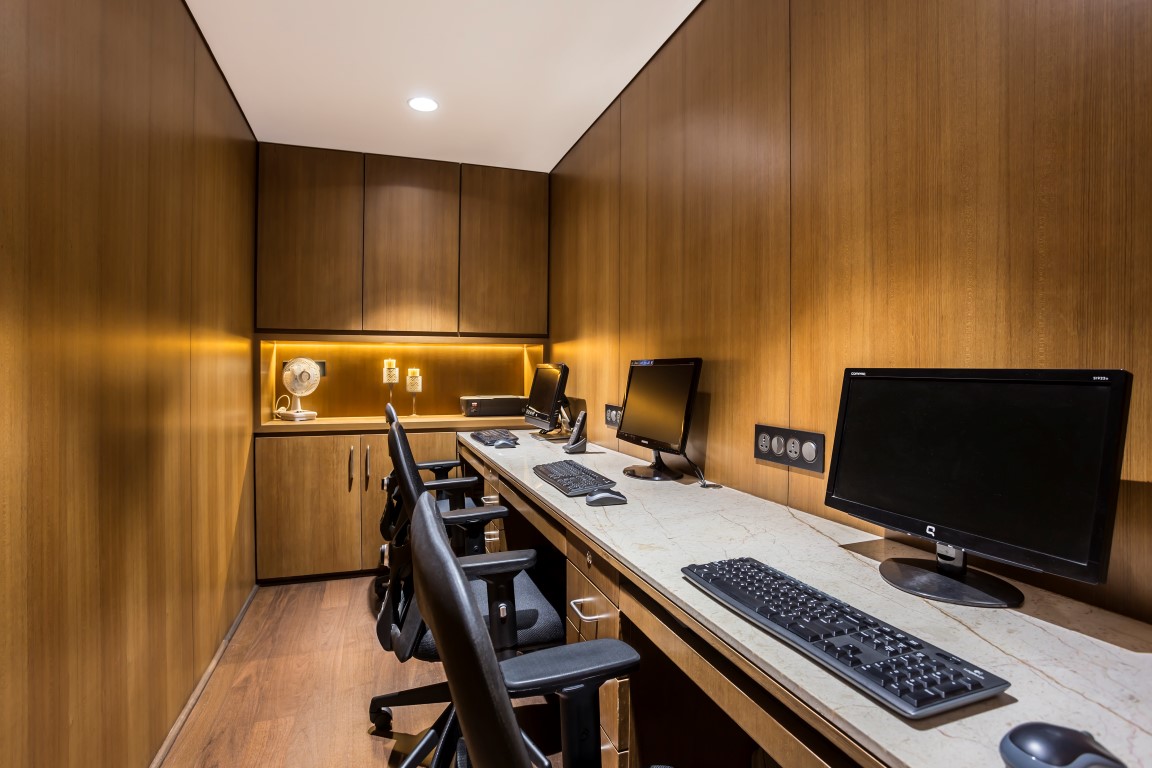 Situated in a city with hot and humid climate year-round and coupled with the site being located on the 6th floor of a commercial building with glass cladding on four sides — copious amounts of sunlight proved to be a challenge.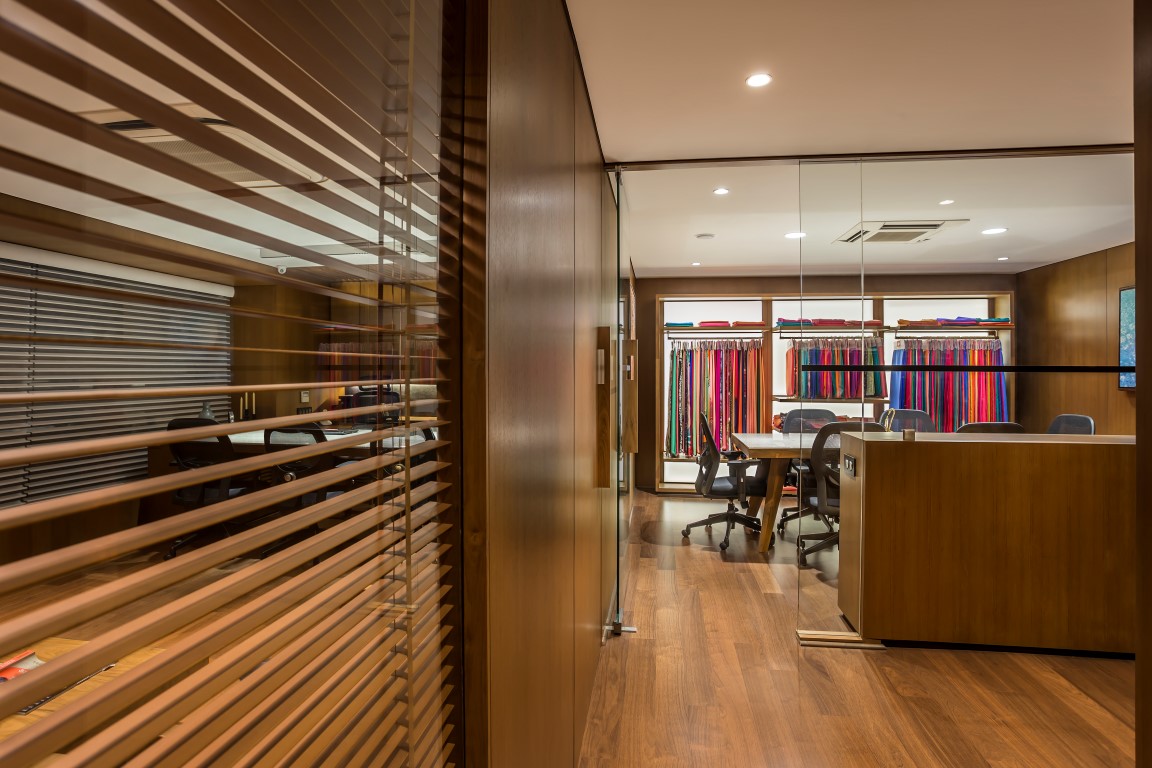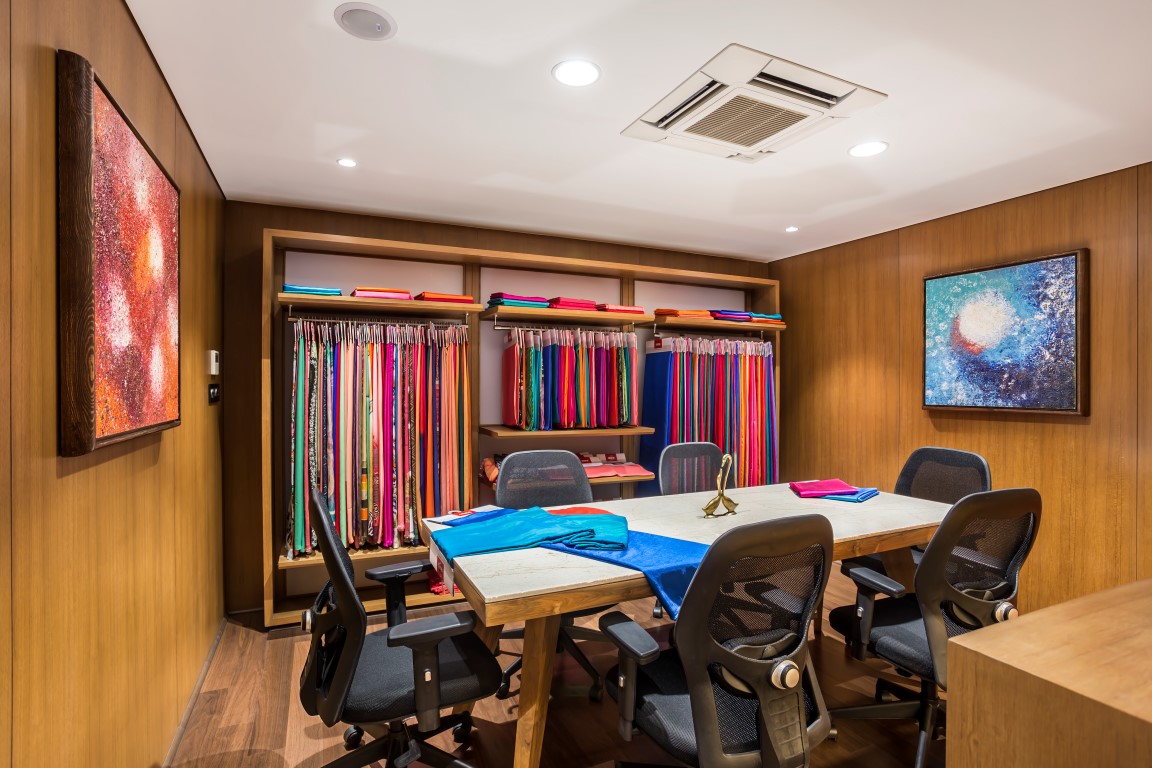 Furthermore, the gap between the two windows acts as a buffer against excessive heat gain. Another important requirement was a focused sales area – the fulcrum of the business. And this is accomplished by using a white acrylic background for the fabric display unit, backlit with white light to correctly display the colors of fabrics – an important consideration in the textile business.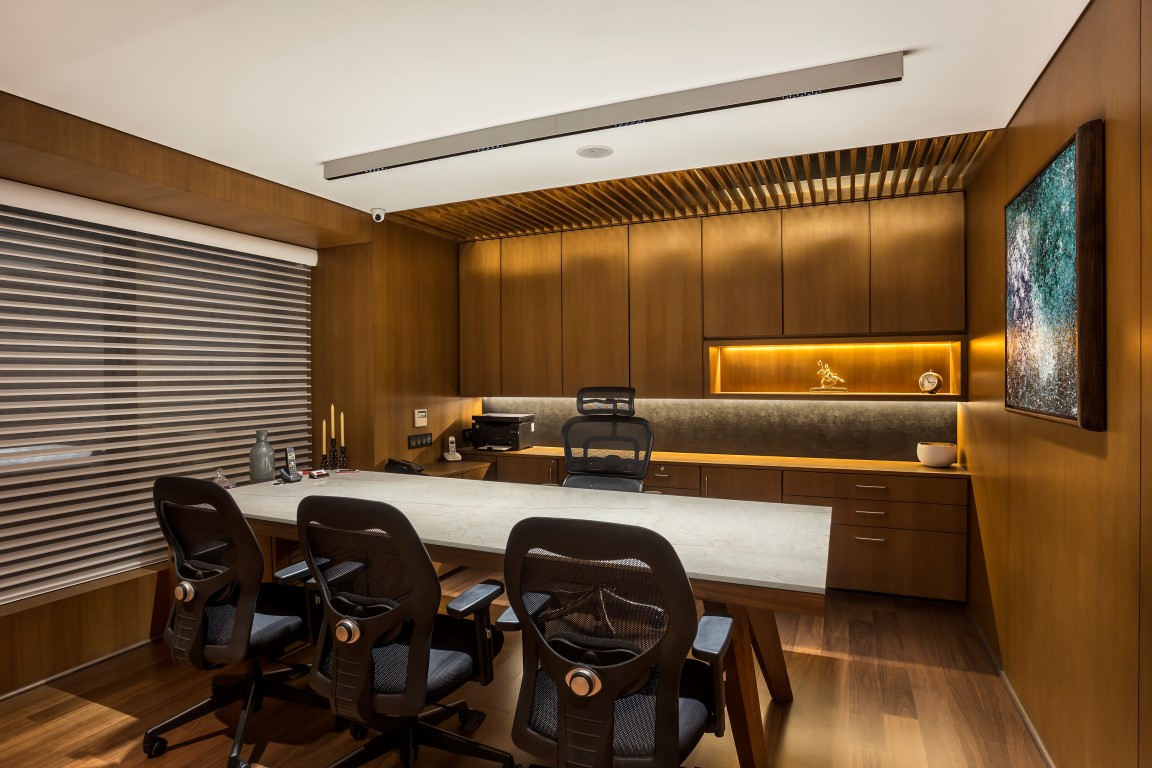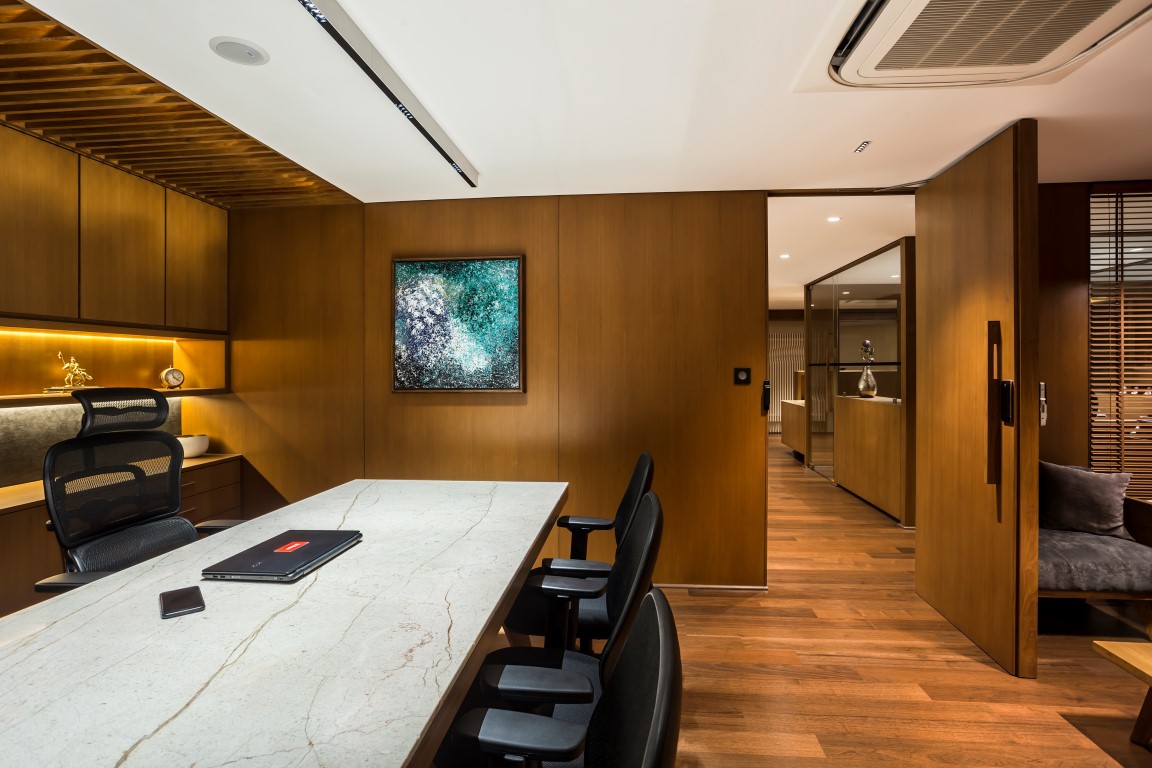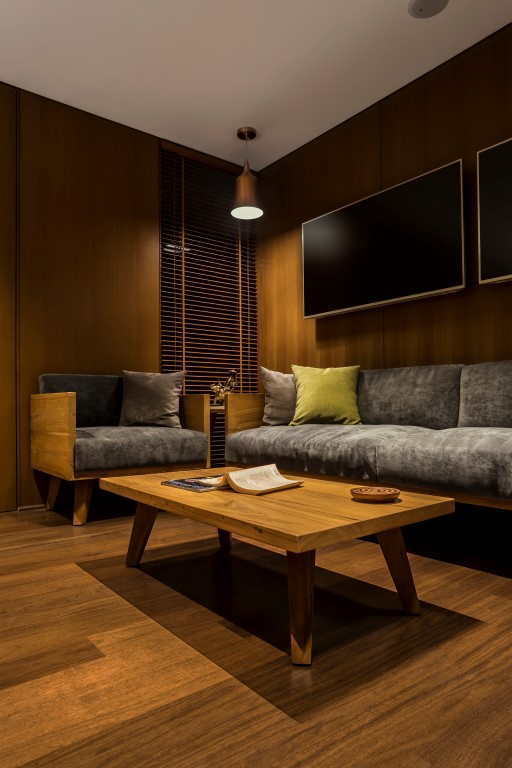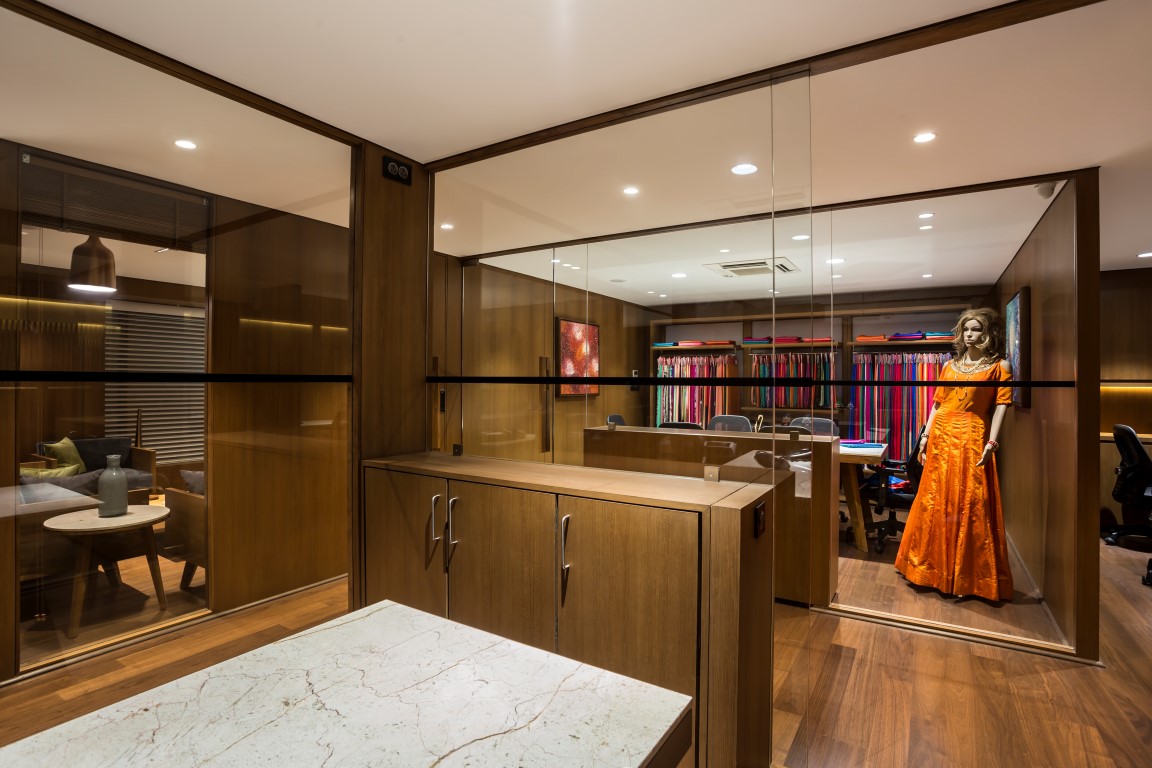 A subdued color palette of greys and taupe intentionally soothes, ensuring zero-distraction from the core business as the products, a few choice paintings, the odd mannequin, and a pop of lime green in the soft furnishings complete the picture. Teak veneer is ubiquitously used to signify durability and becomes a unifying thread throughout the office. Coupled with wooden flooring, the office overall represents a cocoon of elegance and warmth.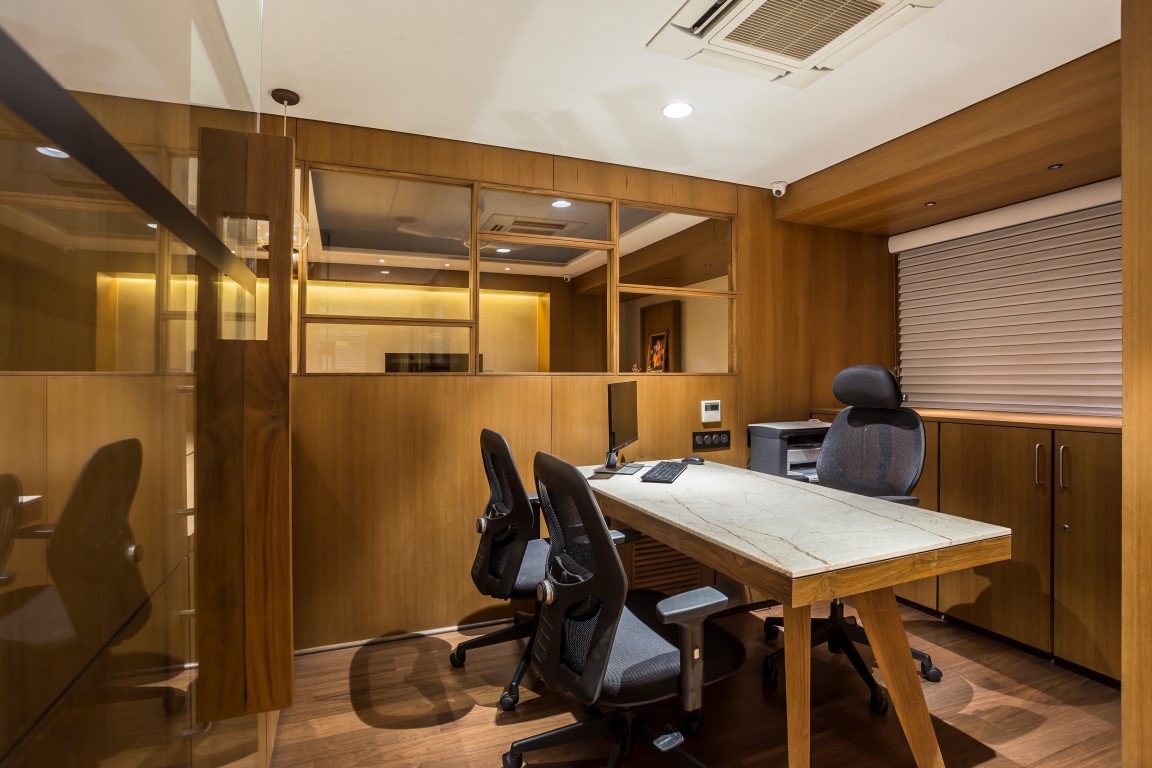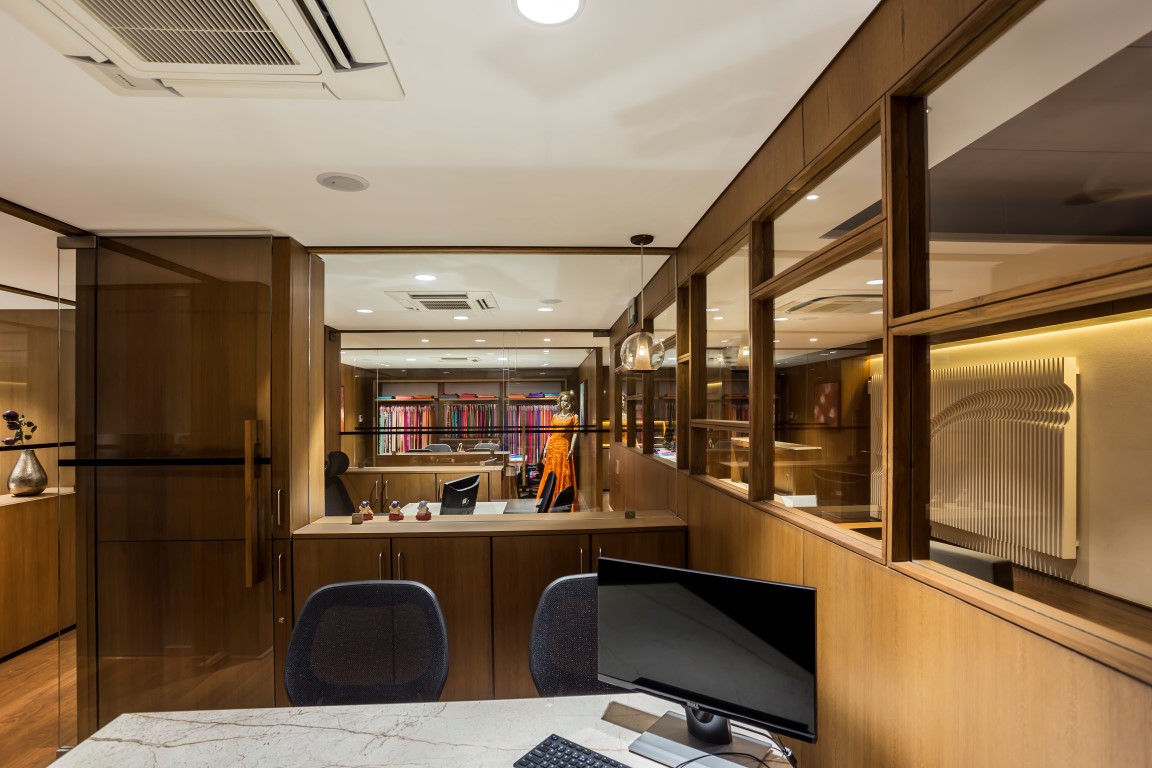 DESIGNER'S VIEW :
"In our experience, wood based interiors are affordable and ultra durable, since wood is a robust, long-lasting material. Whether you opt for hard wood or soft wood there is an innate stability and reliability. Durability also ensures easy maintenance. Waxing, polishing and oiling only needs to be carried out occasionally, and is an under demanding process.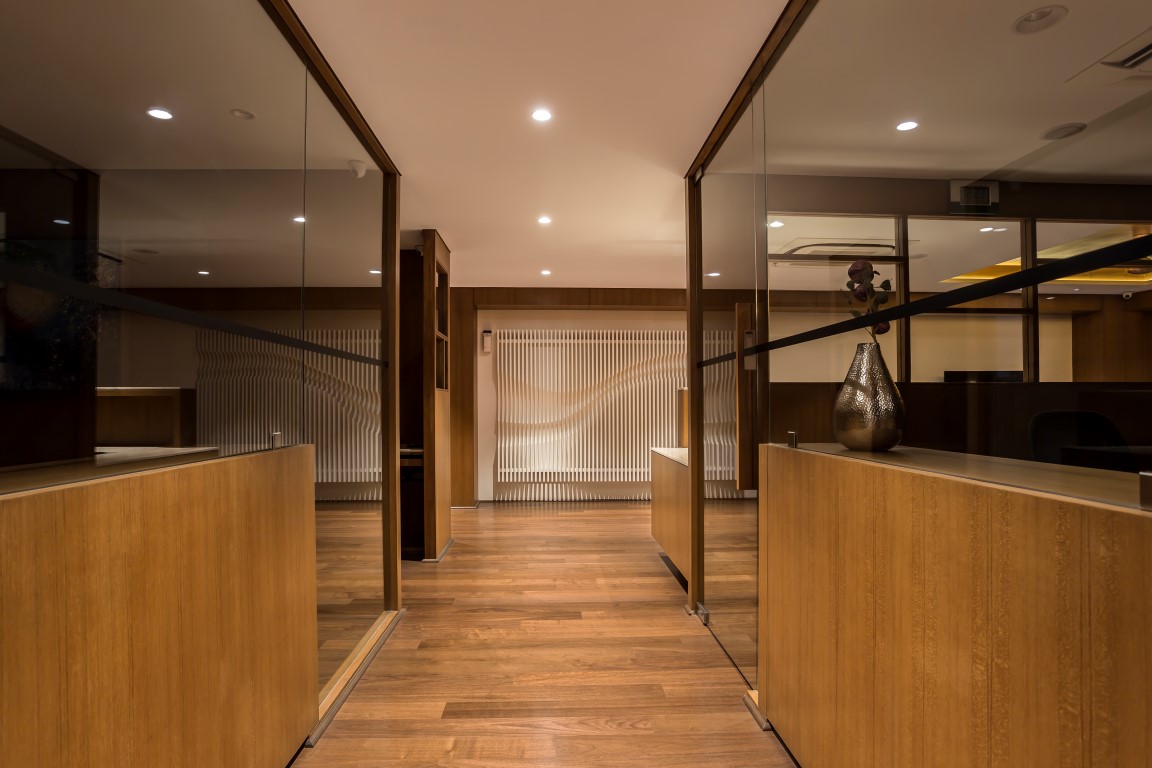 Both the lighter colored and the rich darker hues lend a sense of the natural wood indoors, specially desired for people who live in a high density apartment block in a city. The vast range of colors and tones of wood underline the vast variety available, including the subtle difference in the grains and texture of different species and cuts.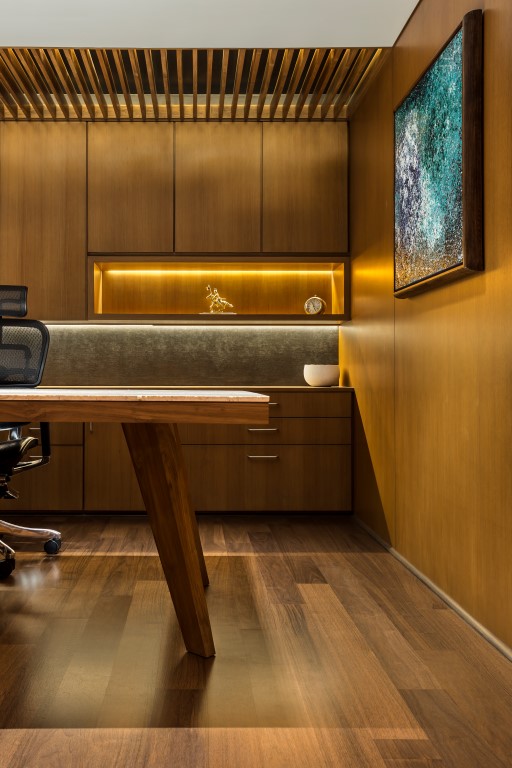 Wood that is responsibly sourced is the only renewable building material and trees harvested for the wood can be replenished by new growth. The carbon footprint that results from the production and processing of wood products is drastically lower than that for another building material."
MATERIAL PALETTE
Veneer: Century
Wooden Flooring: Mikasa (Real Wood Floors), American Walnut
Air Conditioner: Daikin VRV
Lighting: FLOS
Switches: Legrand
Loose Furniture Design: Sharan Architecture + Design.
FACT FILE :
Client:  Mr. Kirit Bhalani
Project: OZONE TEXTILE PVT. LTD.
Design firm: Sharan Architecture + Design
Carpet area: 1,400 sq. ft.
Principal designers: Vipul Sukhadia and Kruti Sukhadia
Location: ICC Building, Majura Gate, Surat.
Photography: Kamal Bengali; courtesy the firm