&nbsp
Salon and Spa Retreat Designed with Simplicity and Grace : Myst | Urban Narratives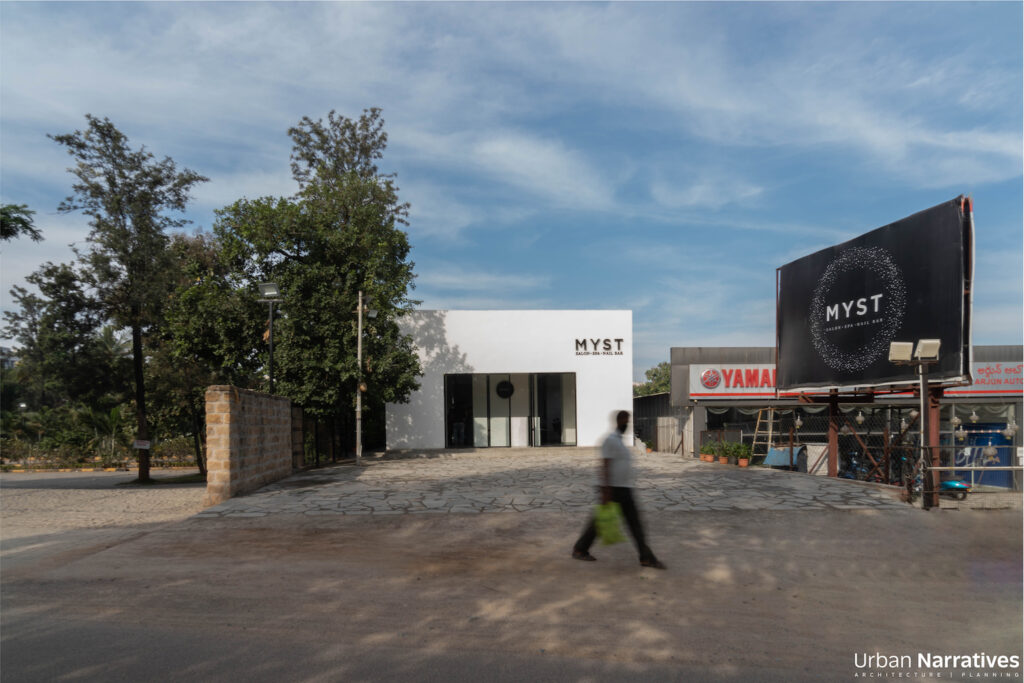 Situated in a crowded and cluttered neighbourhood in the Northern District of the City of Hyderabad, Myst Salon offers an inviting experience that detaches the customer from the commotion of everyday life. Designed as a Salon and Spa retreat, it functions as a getaway place to take time off for self-care and enjoy afternoon tea. Myst treats hairstyling as a creative discipline, incorporating simplicity and grace into its works, taking away the flashy decor. Our goal was to translate their philosophy into tangible concepts, and their pedagogy flows into every aspect of our design.
Visit : Urban Narratives
As we approached our site, the space hosted existing foundations for a much larger salon; however, our client envisioned a more intimate space nestled amid the dense foliage and wanted to dedicate a section of the site to act as a retreat for relaxation. Recycling part of the existing foundations to create an outdoor space that could serve as an event space, we maximised the sense of spaciousness by seamlessly blending the indoors with the outdoors.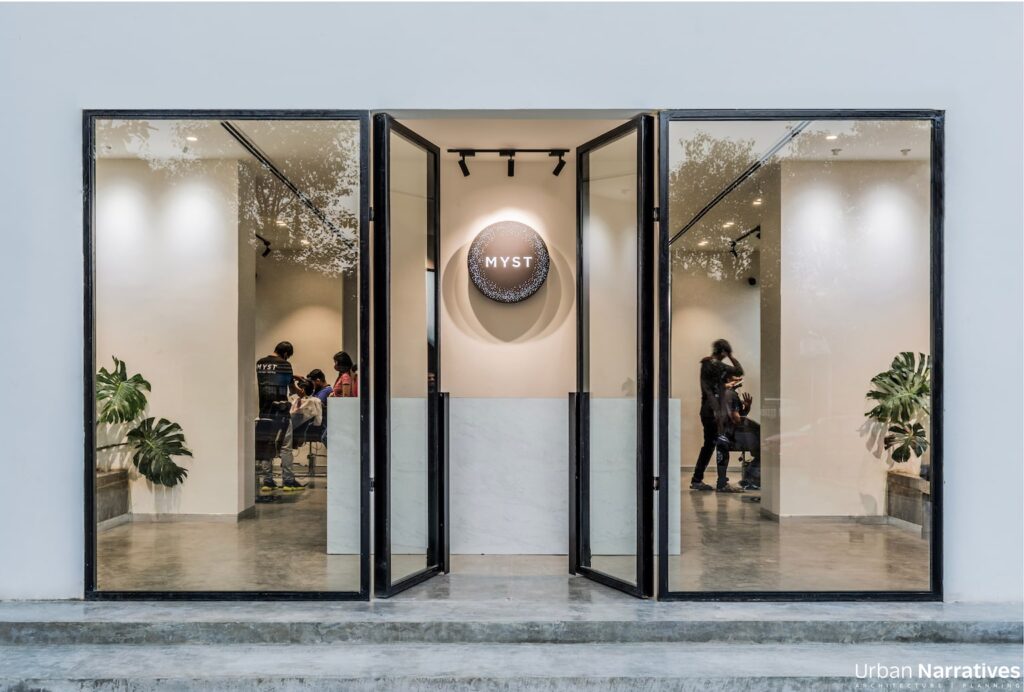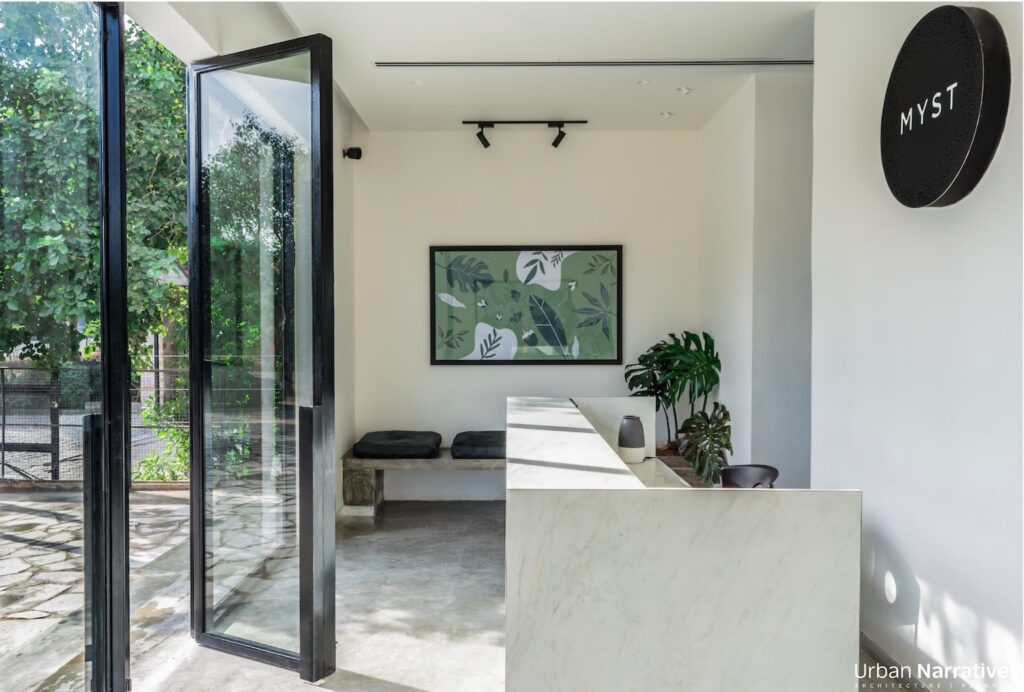 The main entrance, framed by mild steel, is designed with landscaped setbacks to create a circulatory framework that transitions visitors from the urban context to the salon's tranquil ambience. Within the salon, the design of private and semi-private spaces is done by alternating fluted and plain glass. The colour palette is simple, employing black furnishings, white fixtures, and different shades of green for landscaping and art.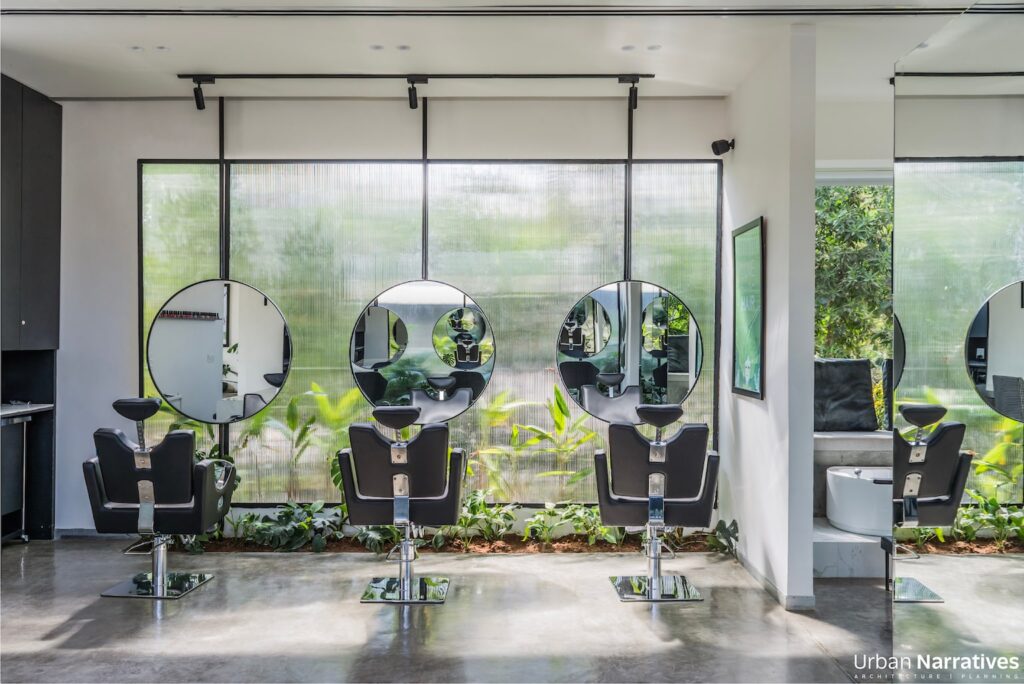 In Hyderabad's history, the early barbers nailed mirrors to dense trees in public spaces and groomed their clients in the shade. Inspired by their approach's simplicity, our design preserves the natural environment and leverages the existing foliage on site. Additionally, once seated, a combination of reflecting mirrors and plain glass create a sense of transparency, blurring the lines between the indoor spaces and the outdoor landscape. This reflectivity is amplified by the make-up room walled by a ribbon mirror that further integrates the spaces.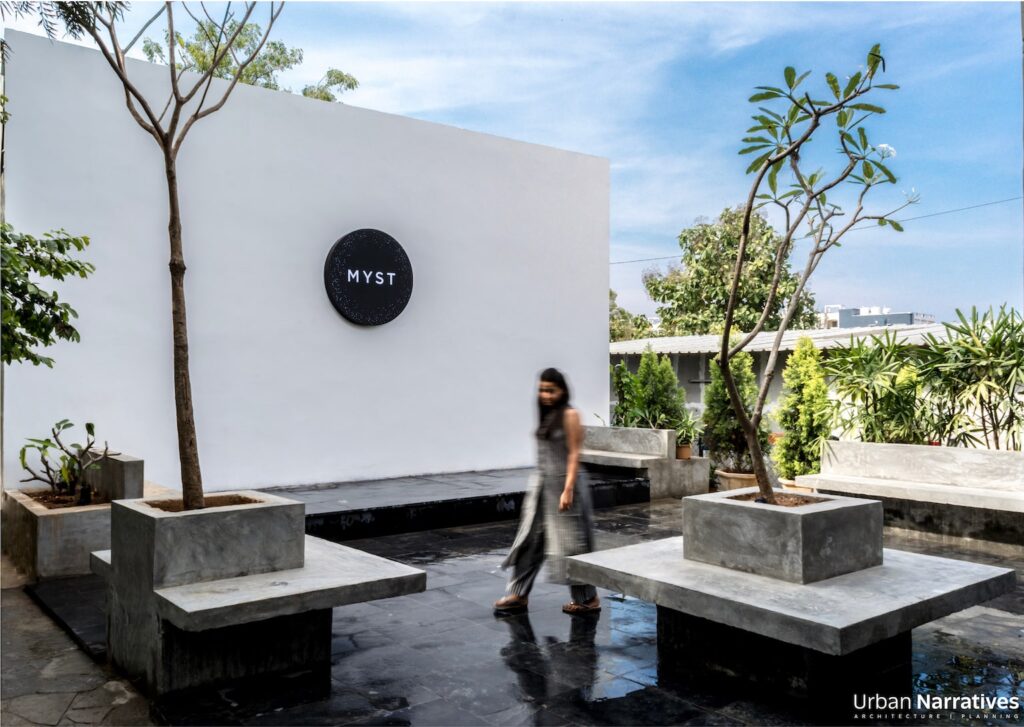 A vital feature of the strategic pockets designed to enhance the user experience hosts bird of paradises, peace lilies and lush Monsteras. Inspired by Henri Matisse's studio, murals dominate seating nooks that reflect the indoor planters. We adorned the outdoor space with Raphy's palms, plumerias, and areca palms offset with tabebuia roses to add a feminine tone to further our designer's reverence.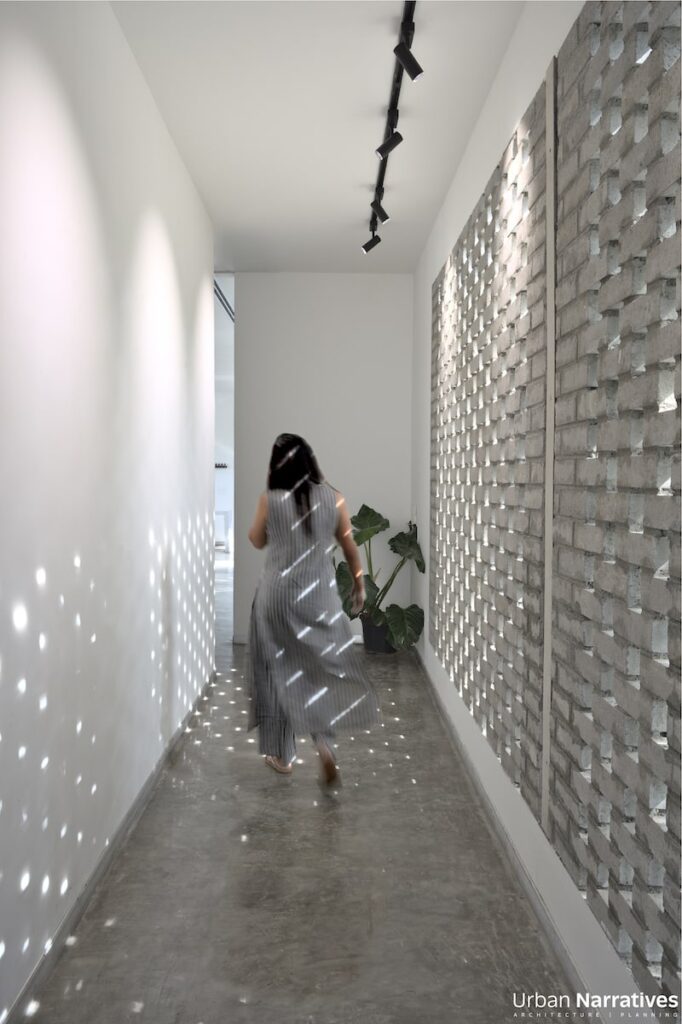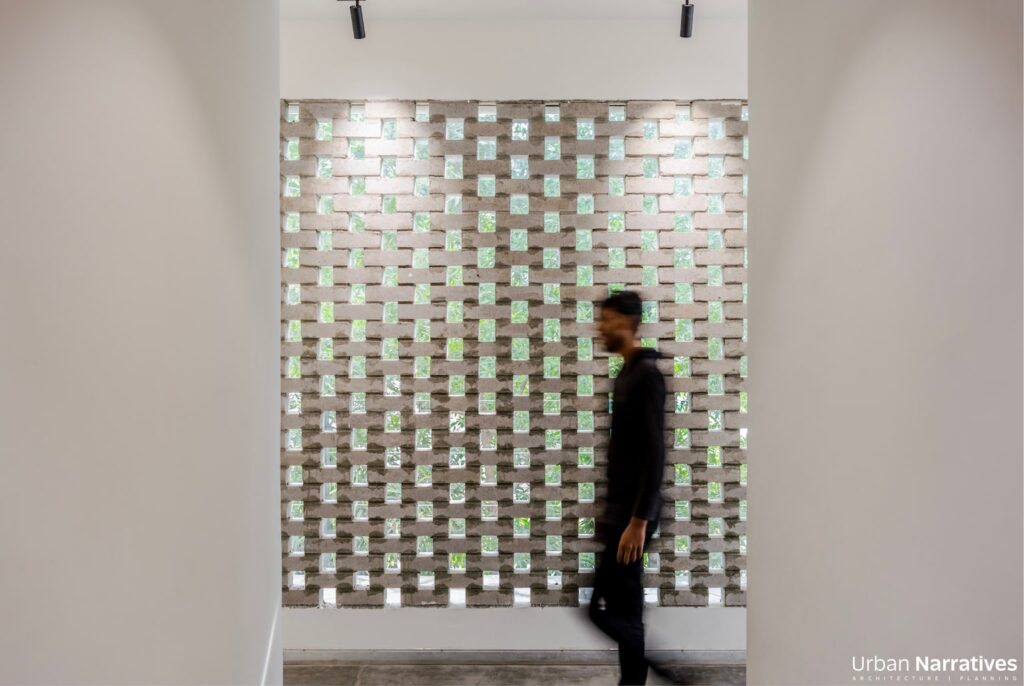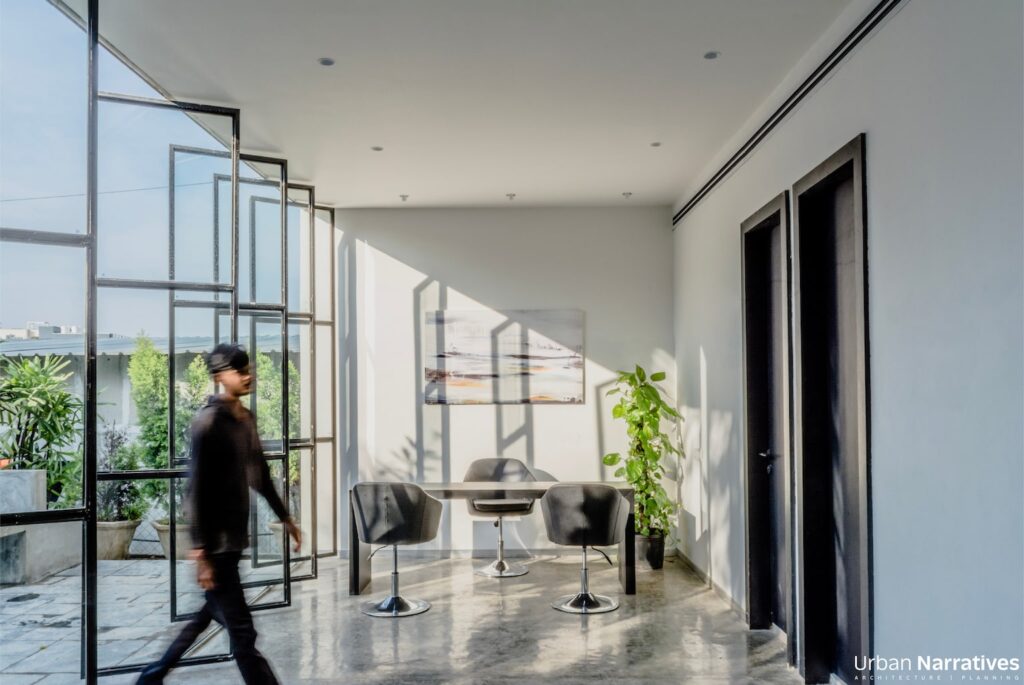 The rugged concrete flooring is juxtaposed with marble to combine a utilitarian function with an ideology that imbues elegance. The corridor leading to the outdoor space is flanked on one side by an exposed brick wall to allow users to visualise the new space's extent gradually. After the salon experience, clients can move through the rotating panels that form the back wall into the outdoor recuperation zone.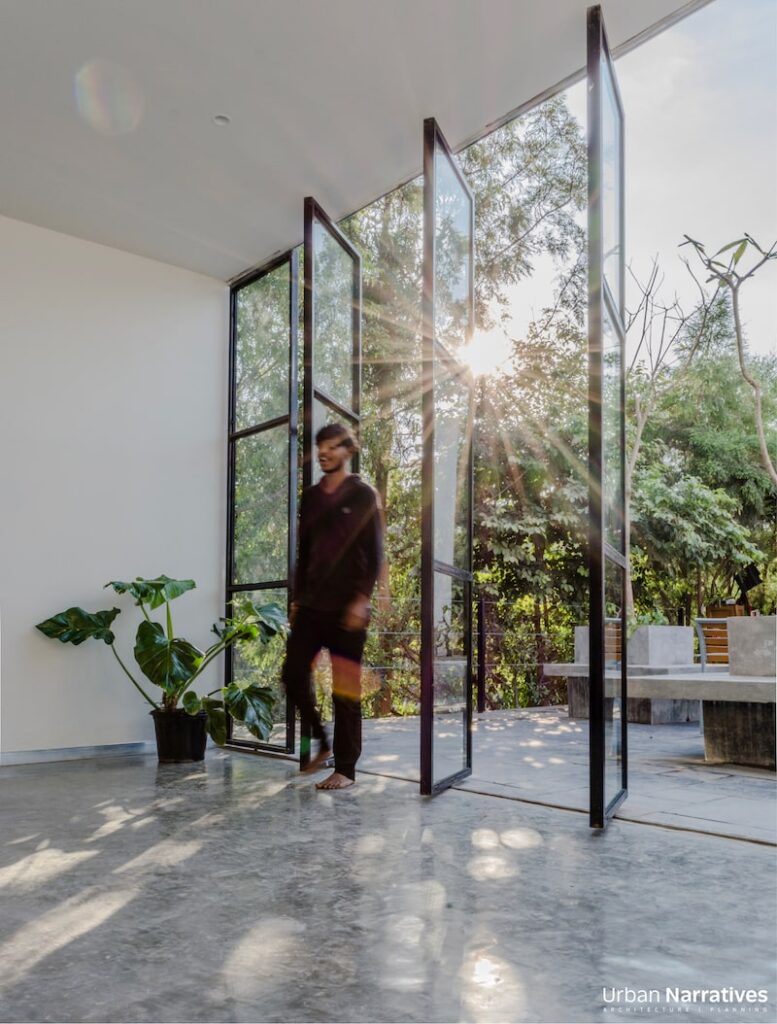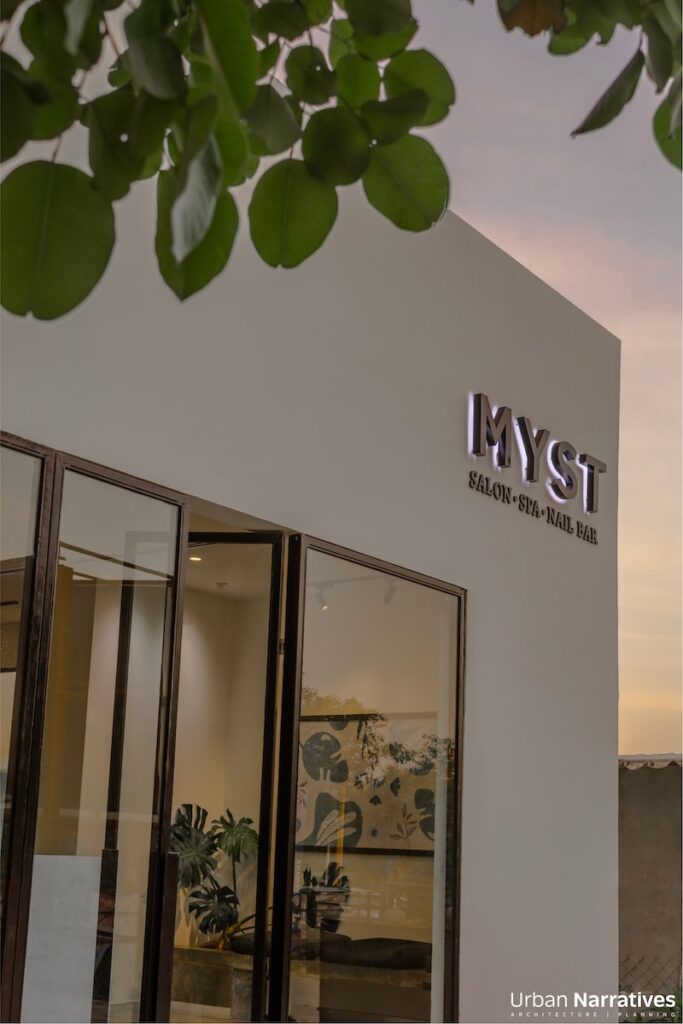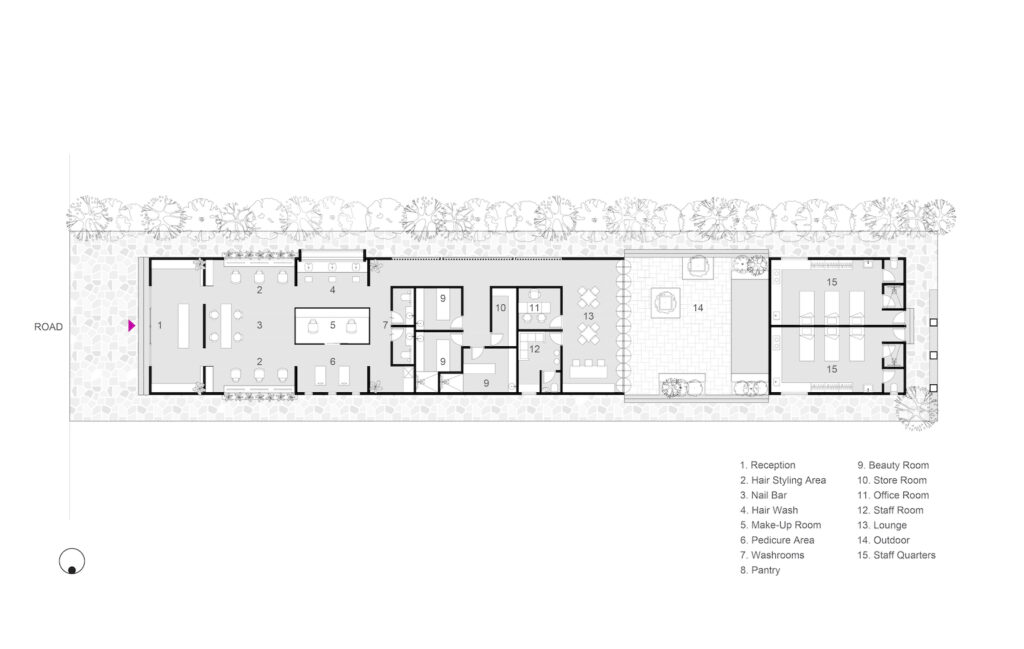 FACT FILE:
Designed by : Urban Narratives
Project Type : Commercial Building
Project Name : Myst Salon and Spa
Location : Kompally, Hyderabad
Year built : 2020
Size: sq feet: 4100 sq ft
Project Cost Appx: 60 lac
Principal Architects : Shashank Rao, Anmisha Reddy
Team Design Credits : Shashank Rao, Anmisha Reddy
Photograph Courtesy: volumes._
Materials and Products: Bathroom Fittings : Kohler | Fluted Glass Saint Gobain | Wall Finishings Asian Paints | Lighting Fixtures : Futura
Firm's Website Link : https://urbannarratives.in
Firm's Instagram Tag : urbannarratives_
Firm's Facebook Page : Urban Narratives