If you're like most people, you've either rented a property/apartment or bought a pre-owned home, or both! But in all scenarios, things just weren't quite the way you wanted them to be. In an apartment or rental property, you can't make any renovations or customizations because it's not your home to do so… With a pre-owned home, it's advised not to make certain customizations because they may hurt your resale value if you planned on moving in the future…
Real estate agents recommend not making home customizations until you've found your "forever home." According to mansionglobal.com, over-customizing your home can make it hard to sell in the future… Yes, this is true, but when you're creating your forever home, you don't have to worry about resale value, right?
So what exactly is a "forever home?"
Well, a forever home means different things to different people but the general idea is that your forever home is the home you don't plan to ever move from, allowing you to customize it however you want without resale value in mind… It's a home specifically customized to meet your needs and wants.
Some people opt to completely build their forever home from the ground-up but you don't necessarily have to always do that. Lots of homeowners will simply remodel their current homes into their forever homes with various customizations and home additions.
By remodeling your current home, your layout would be exactly how you want it to be, your storage space can exceed what you ever dreamed of, and the overall functionality and design of your home would be completely in your hands.
You have the option to customize your home for different stages in your life too… this is what you would call creating flexible design spaces.
A flexible design space is a space that will adapt to your life changes like going from being married to starting a family or even preparing rooms to care for elderly parents. With this home being your forever home, you want to ensure that it's flexible enough to go through the journey of life with you.
If you've reached the end of the road in your house hunting journeys and are ready to settle down, that doesn't mean you have to settle. Your current home may not be what you want it to be but you have all the opportunity in the world to customize it exactly how you want it to be and ultimately transform it into your forever home.
Take a look at some different customizations to get you inspired and help you create your forever home.
Remodeling Customization Ideas to Help You Create Your Forever Home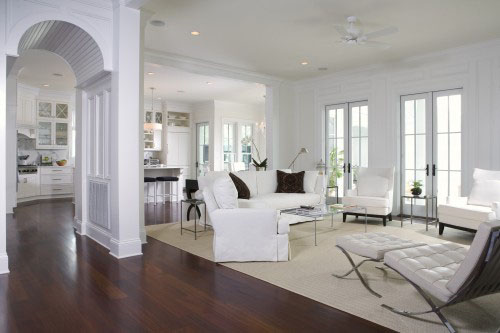 Create an Open Floor Plan
An open floor plan is one of the top features of a home that most potential home buyers look for… the fact that you already own your home means that you can create your own connected space. This is not only one of the great ways to modernize your home but it will also make your home more functional too.
Typically, with open floor plans, it's the kitchen and family room that are adjoined, allowing entertainment to flow freely in one big room. This is a concept that many people love because no one wants to be stuck in the kitchen and miss out on the fun or TV shows because there's a wall separating the two rooms.
But the kitchen and family room aren't the only two rooms you can connect. You can connect two small bedrooms to make one large master suite. To create an open floor plan, you're going to need to find a contractor to help you remove walls safely.
Install a Custom Deck
By having a deck installed to your home, you're going to need to find a custom deck builder. The beauty of decks is that they allow you to take the fun from the inside to the outside. They're especially great if you love being outdoors. You can do everything from hosting cookouts and birthday parties to having a romantic dinner under the stars. Ultimately, your deck is simply an extension of your indoor living space to create a fun and relaxing outdoor living space.
Enhance Your Curb Appeal
Maybe your home is a little on the boring side of things and blends in with the rest of the houses in your neighborhood… Well, you can't have that! Sometimes remodeling your home means customizing your curb appeal as well.
There are several different customizations you can do to enhance your home's curb appeal. You can do small customizations like adding a flower garden or building a stone mailbox. But if you want to really enhance your curb appeal with customizations, you can add a walkway, have a fountain built and installed, or completely change the look of your home exterior.
Create Ease and Functionality
One of the biggest perks of creating your forever home is the aspect of creating it to be user-friendly. Customizations to make your home user-friendly and functional can come in all different types of forms too.
For example, in your kitchen, instead of having all your seasonings and herbs in a standard cabinet, why not have them in a cabinet with a built-in lazy Susan? Or for your shower, why not have a built-in shower seat installed?
All the customizations you make are meant to help make life easier at home. So if you're done house hopping, you might as well make your last home your forever home!