Placid Hues: A Tranquil Studio Space With Minimal Interiors | UA Lab
Inspiration for the Design
Our design approach is always focused on the basic questions of scale, proportions, character, spaciousness, daylight, ventilation, and climatic comfort in the built environment. These aspects inform our conceptual positions and guide our design process. We hold equal strength in the detail design. The choice of different materials is rooted in the basic understanding of "how" these materials will come together. Details are meticulously designed guided by the qualities and character of the material.
Visit: UA Lab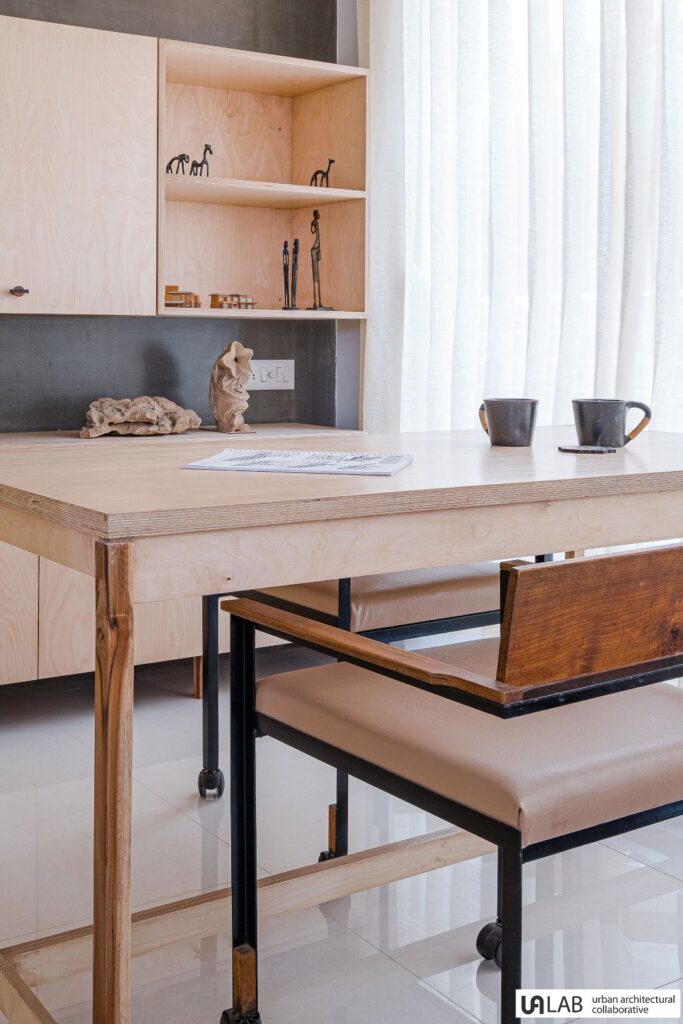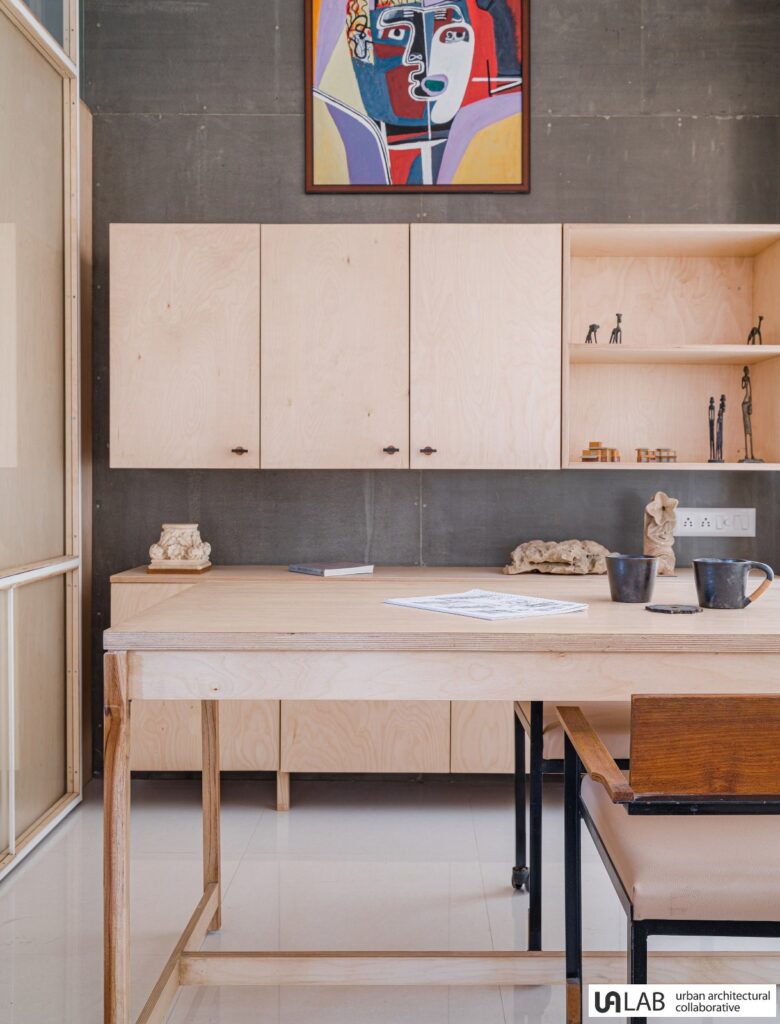 'Placid Hues' is an extension of our studio space conceptually. The later studio space was designed as a part of Work and Living together. The key idea was to create an open plan with a singular monolithic space. That could be easily divided and subdivided according to the functional requirements. We had used single material to enhance the monolithic character of the entire space.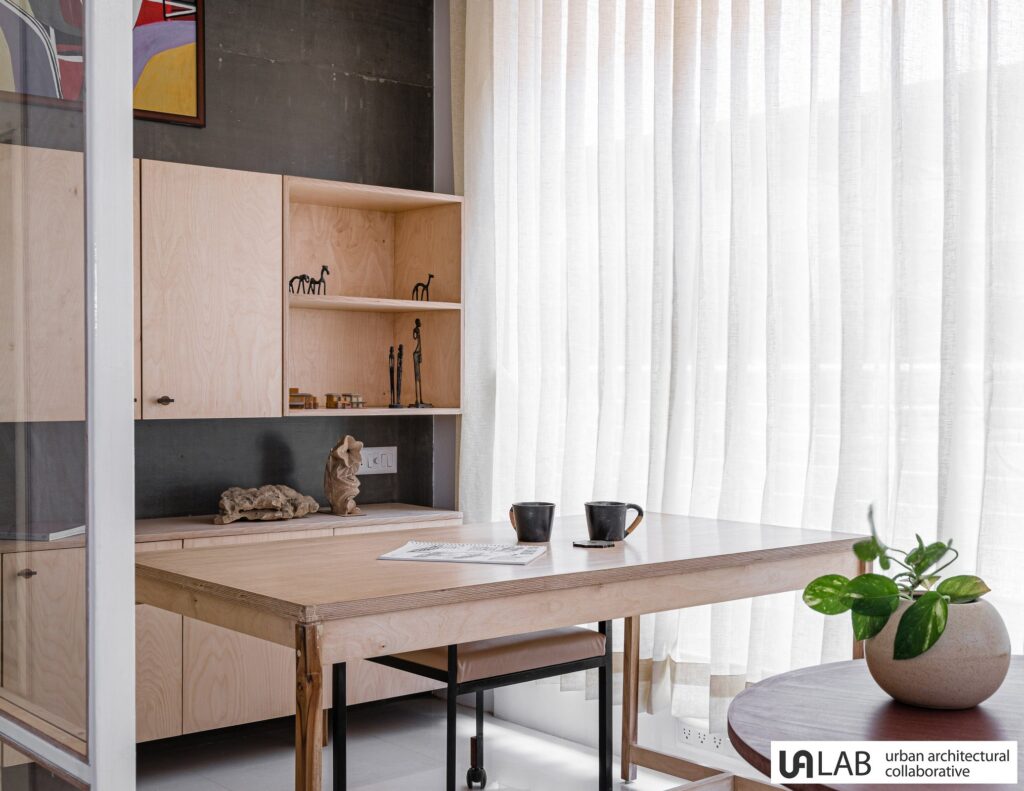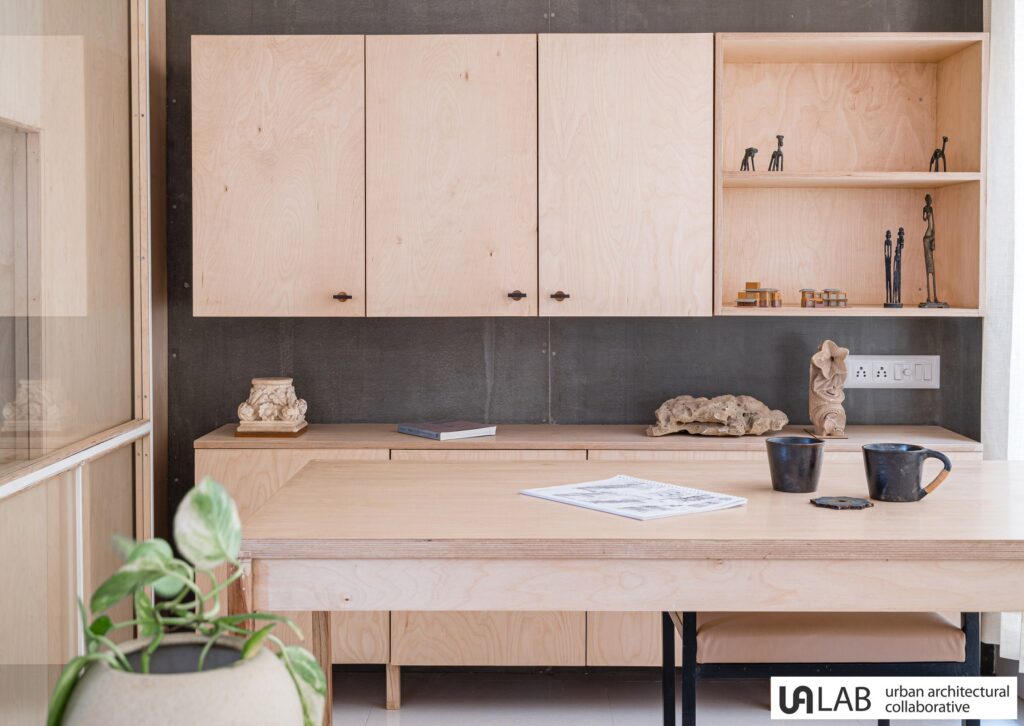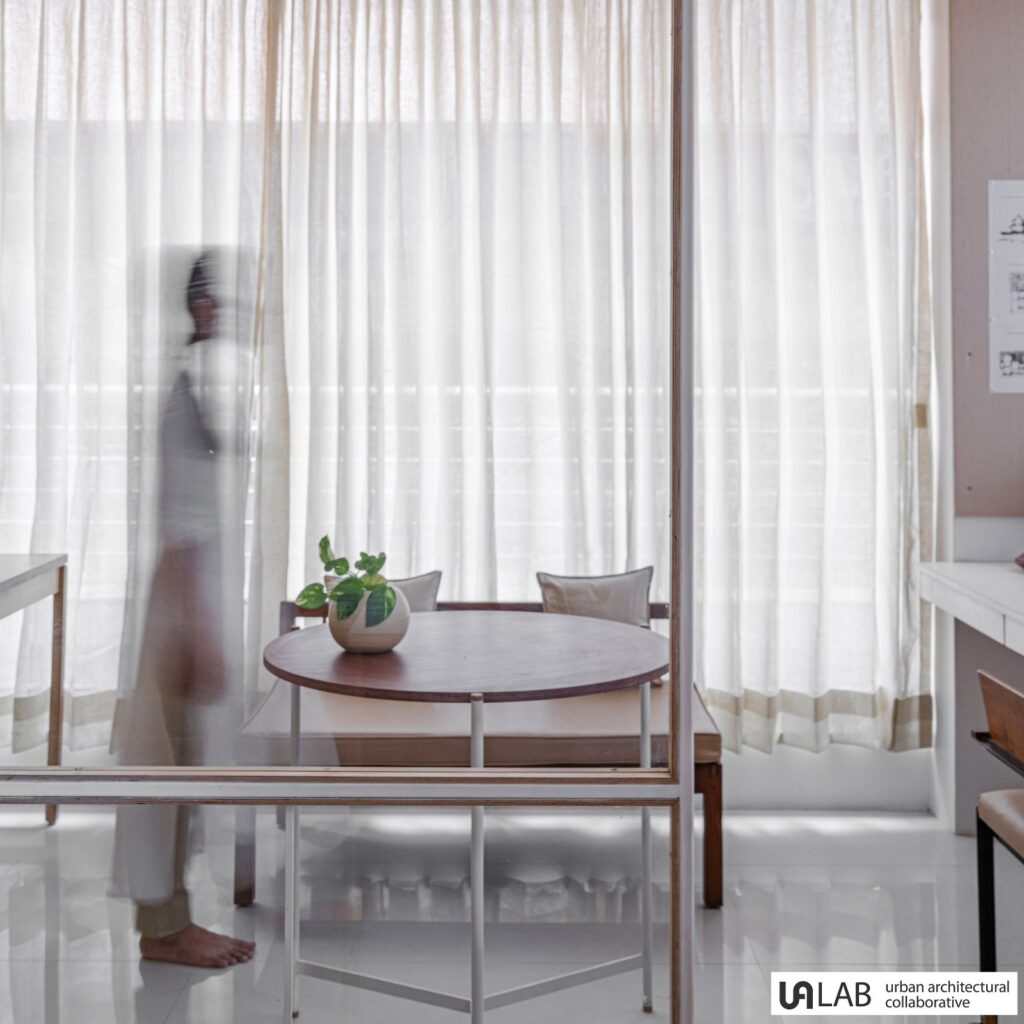 Design Process
The core design idea for the Studio extension remains the same that is to create an Open plan to achieve a singular monolithic space. We wanted a Singular space to enhance the interaction while working. A space layout holding/enveloping a singular space is designed.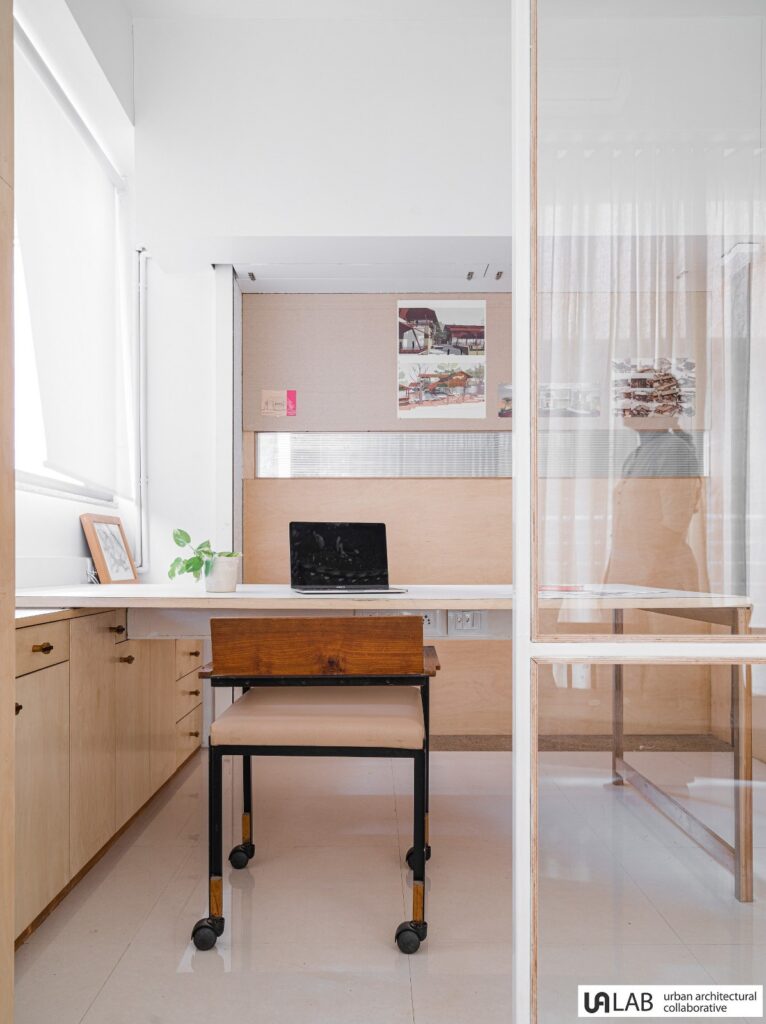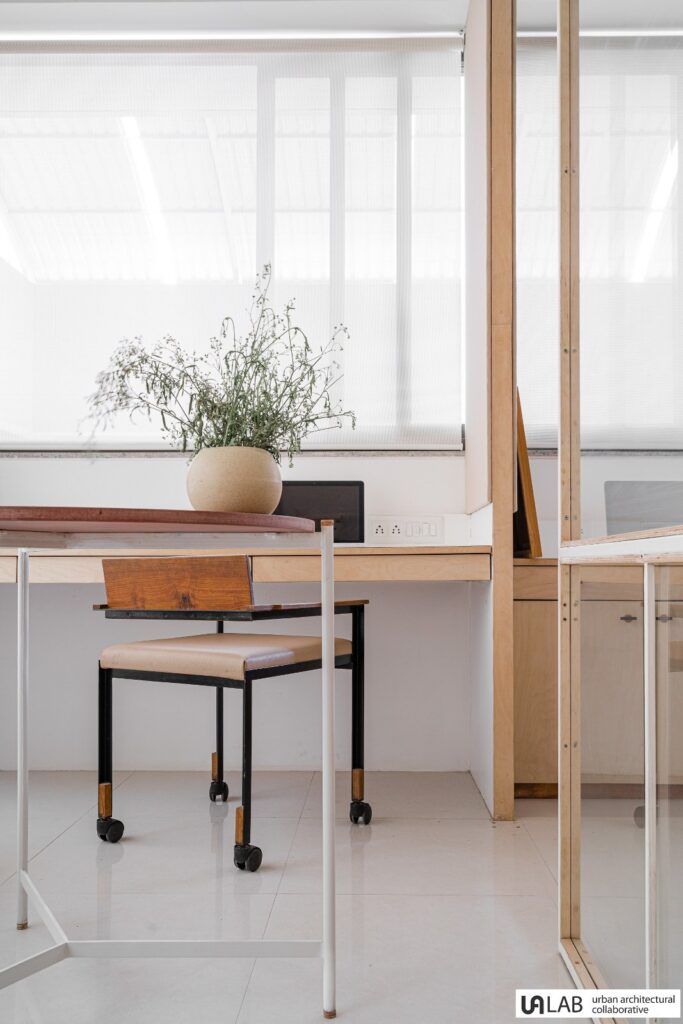 For 'Placid Hues' we wanted a space that is Gentle, Fresh, and Energizing. The language of Cuboids and Planes is used to create and envelope spaces. A single material has been used for the Cuboids and the Planes. This gives a Monolithic character to the singular space. The cuboids are modified into creating storage units. Each of these units is further designed as a series of stacked up cuboids to give a singular character to the designed unit and hence space.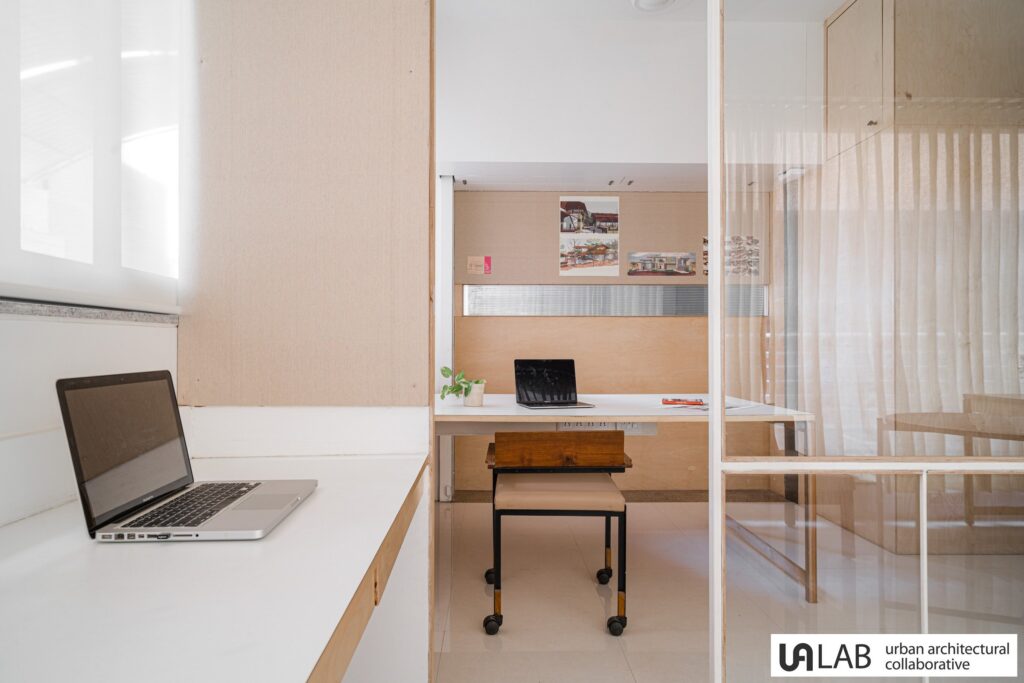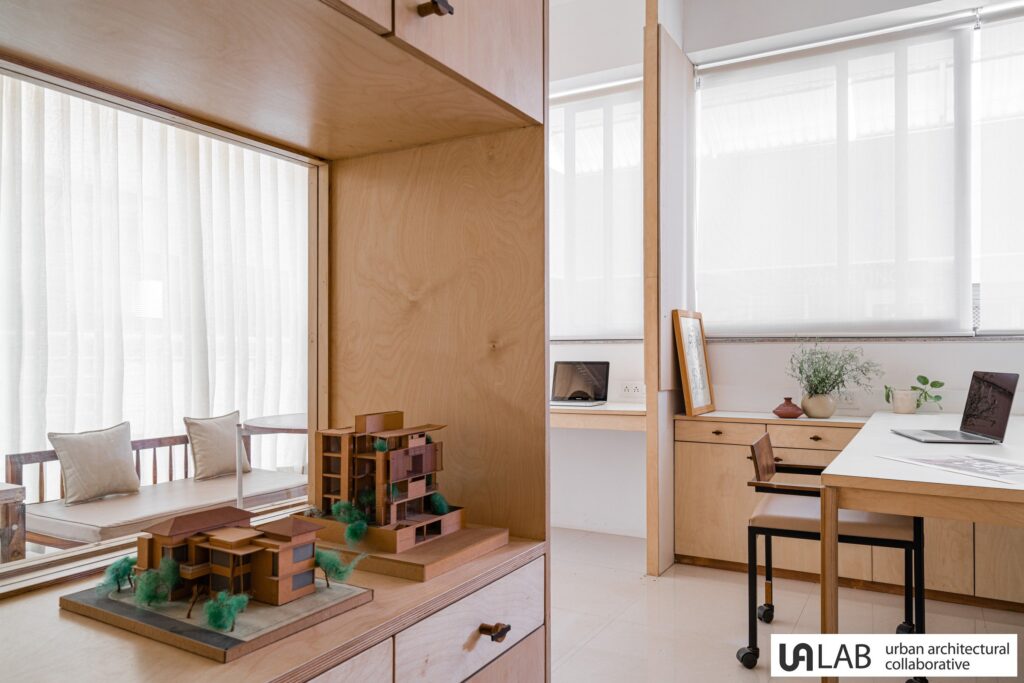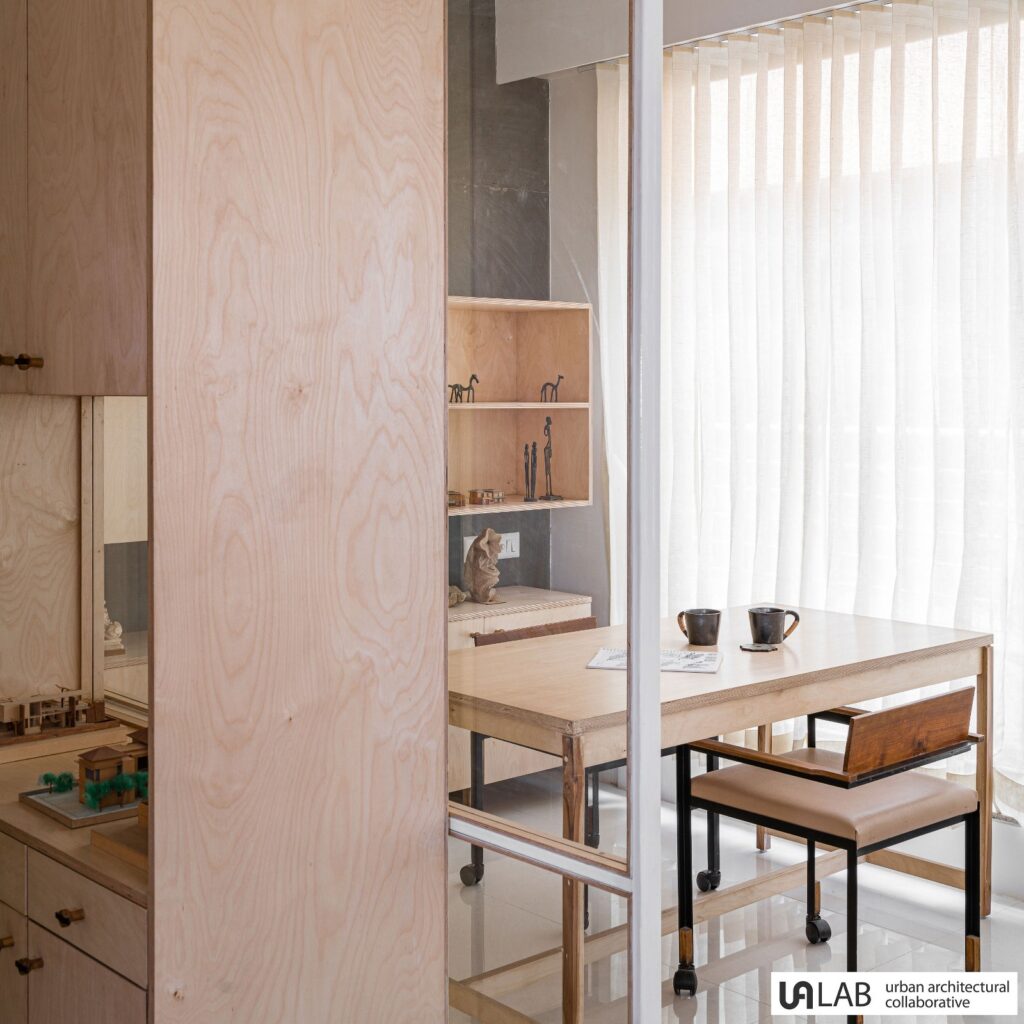 The planes are modified into clear glass sliders, fixed fluted glass doors, and tag boards. They are designed as providing Neutral background to space. The ceiling and the floor spaces are consciously kept continuous. The cuboids and the planes are kept free at the top and the bottom to allow the Ceiling space and the Floor space to remain continuous and uninterrupted.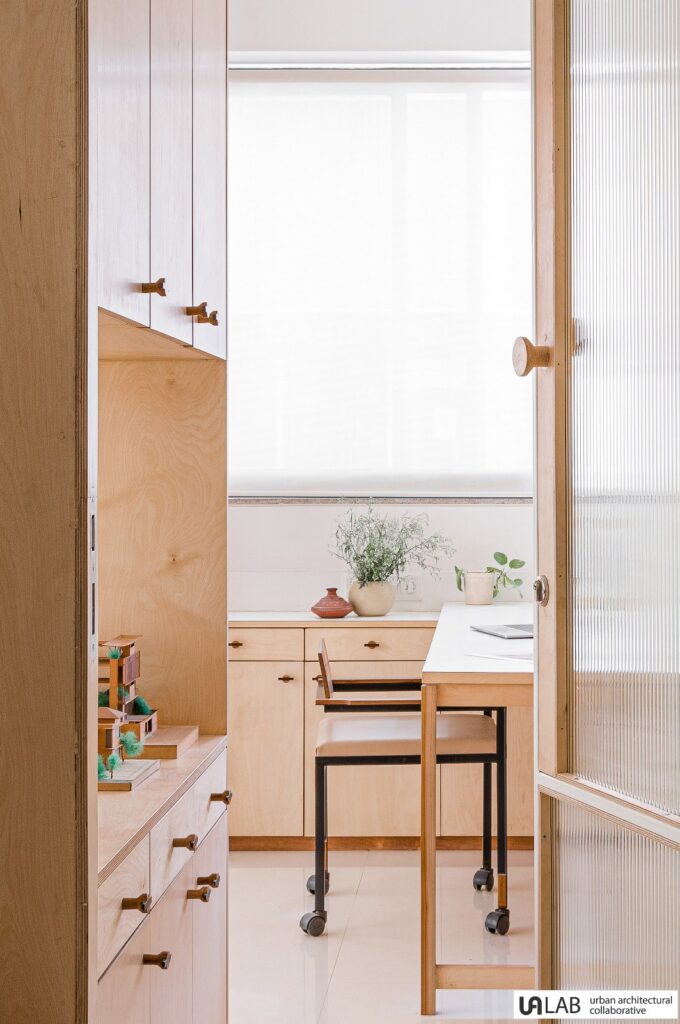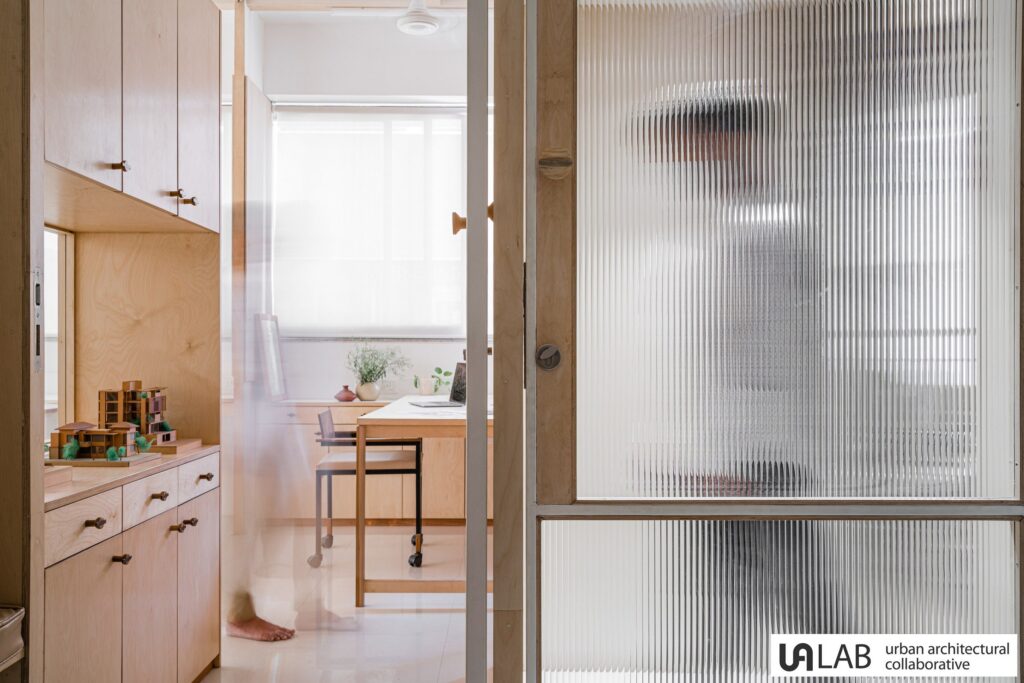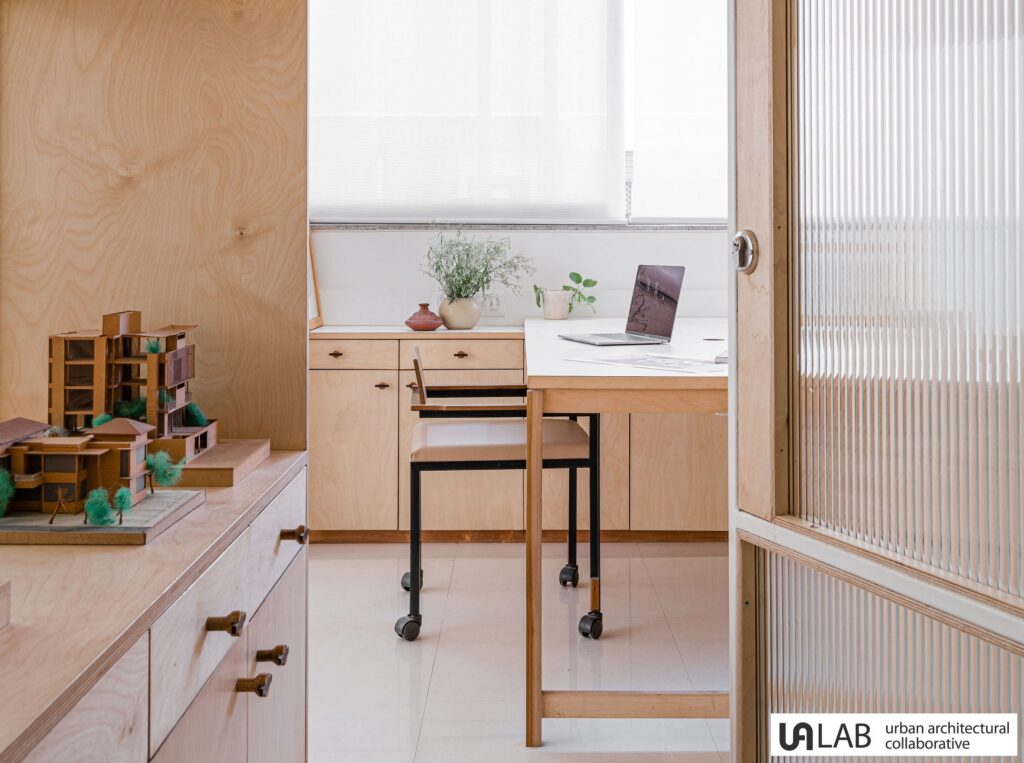 The Studio has a larger opening towards the Northside. There is abundant natural light throughout the day. All the surfaces of the cuboids and the planes are kept plain with neutral tones. The plain surface bounces back maximum light allowing the space to gleam. Each and every part of the studio looks soaked in Natural light throughout the day. It makes the Studio space look placid making it feel fresh and energizing.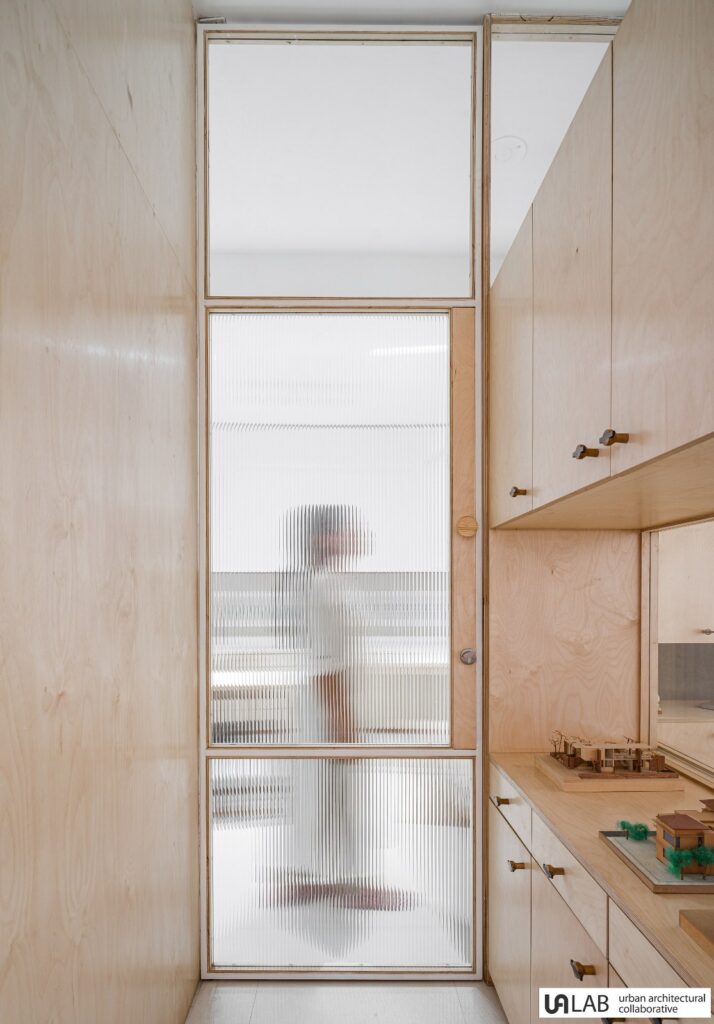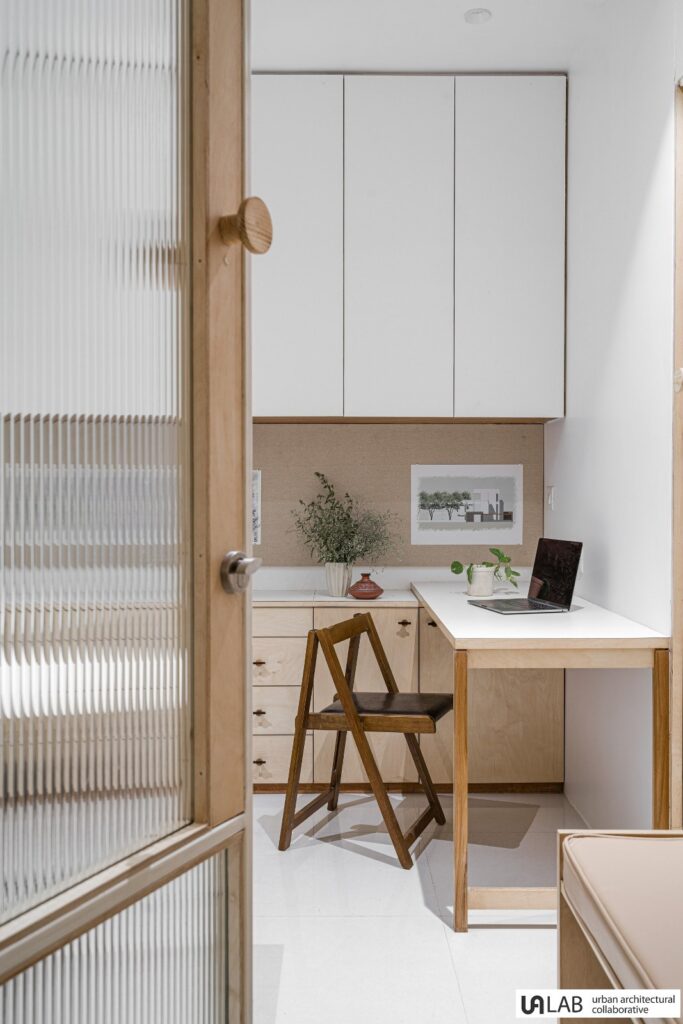 Spatially the minimalistic attitude towards the use of single material combined with an open space layout helps us to achieve a desired tranquil studio space.
FACT FILE:
Architecture Firm: UA Lab (Urban Architectural Collaborative)
Project Name: Placid Hues
Project Type: Office Interior Design
Lead Architects: Vipuja Parmar, Krishnakant Parmar
Completion Year: 2020
Gross Built Area: 34.2 sq. mt.
Project Location: Ahmedabad, India
Photo credits: Inclined Studio
Text: Vipuja Parmar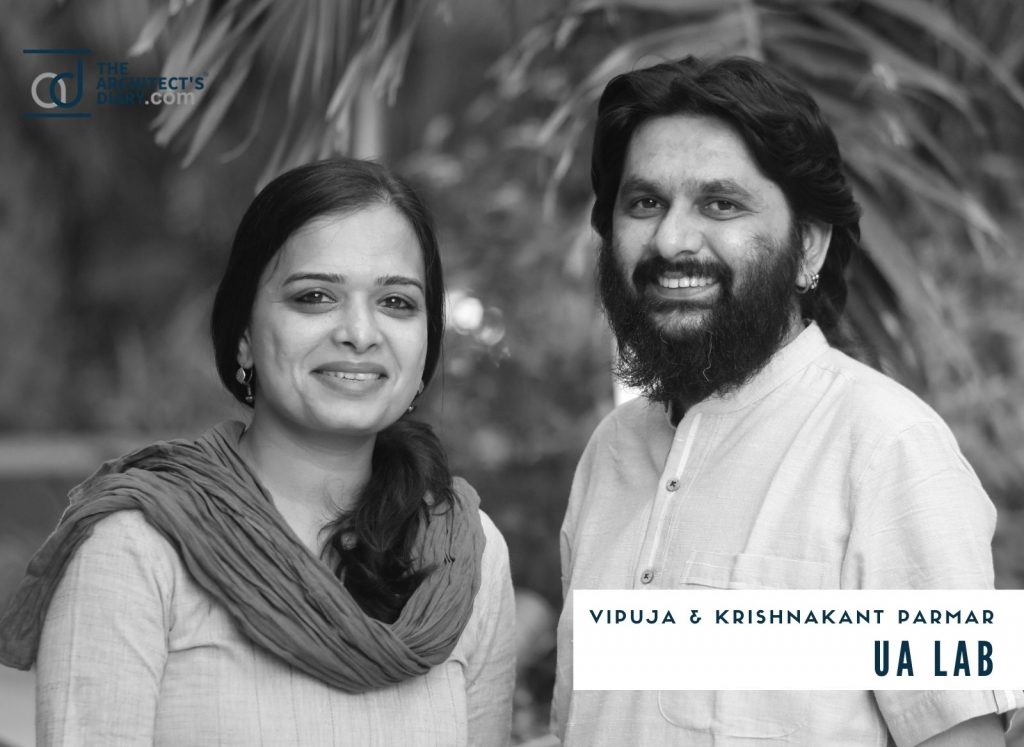 Website: https://ualab.wordpress.com/
Facebook: https://www.facebook.com/UALab.In/
Instagram: https://www.instagram.com/ualab.in/