Clean lines and uncluttered monochromatic concepts immediately came to mind. I wanted to create a mid century modern home soothing and inviting space by keeping simple forms, timeless mouldings and neutral colour. Minimalism and functionality go hand in hand, for example by creating bay windows in all three bedrooms not only allowed additional light to enter the space but also create a window seat to enjoy the nice view of the outdoors with a relaxing reading nook.
Organic Curves and Disciplined Geometry makes for this Mid Century Modern Home | TRE Design Studio
Visit: TRE Design Studio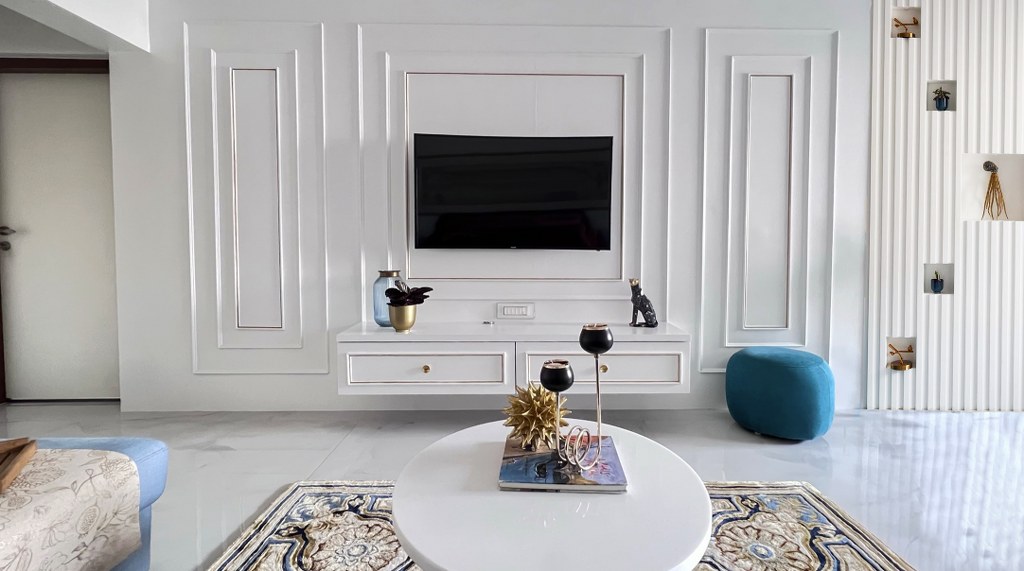 This home features a long living area with a four-seater round dining for an open floor plan complete with a full wall window, a kitchen and three bedrooms.
The main feature is the white accent frame moulding with a hint of gold which brings an additional touch of luxury whilst elongating the space. A modern chandelier diffuse light across the wall, accentuating the moulding.
The compact dual-tone kitchen has full-height upper cabinets, floor to ceiling pantry closet and the full utilisation of all under the counter space.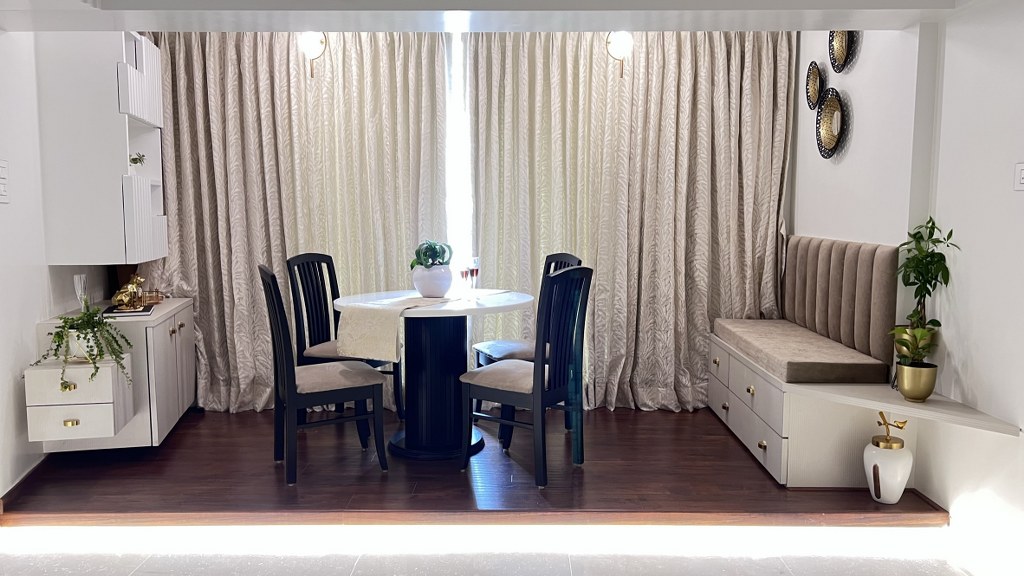 The bedroom passing through the kitchen belongs to their teenage son. The grey themed room features a blend of two textured TV panel with a floating console leading to a study. Note a single side table from The Décor Remedy, it exudes a beige hue in white marble top with iron gold base. Also, another feature adorning the room are two grey rolling shutter storage tucked into the wall to add to its modern classic uncluttered clean space.
The Master bedroom features a refurbished bed with a large upholstered headboard and two mirrors above the side tables with pendant lights and glimpses of wood.
The wall is covered in wallpaper with an attempt to disguise the bathroom and bedroom doors, giving an illusion of a single majestic wall.
The Guest bedroom thrives on the beauty of form of a modern upholstered headboard with vertical channel design, and another refurbished bed with not too many furnishings. The floating console is another refurbished furniture the client wanted to re-use.
USP of this project I think is affordable luxury, each space is thoughtfully designed through optimising available space, without putting additional strain on the budget and still creating something that is Classique and timeless. The client and I shared a similar passion for being ecologically friendly and focused on refurbishing / re-using materials quality materials to provide a new-home feeling without giving up on luxury.
The attached bathroom is all white palette and a massive mirror giving the final look of an airy, clean and sophisticated space to perfectly balance the bedroom.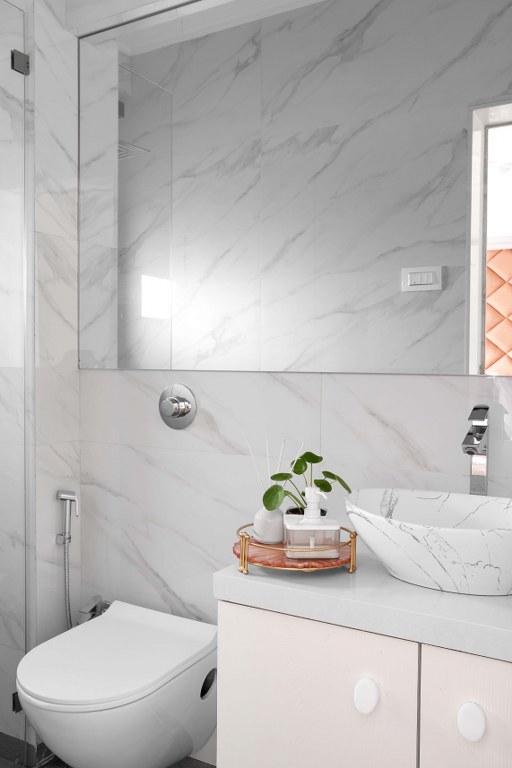 Fact File
Designed By: TRE Design Studio
Project name: Classique Minimalist
Project Type: Residence Interior Design
Built Area: 1100 Sq.ft
Location: Mumbai, Maharashtra
Principal Architect: Karishma Aggarwal Ashar
Interior styling: Mr. Bhavya Prabhakar
Photography Credits: Yadnyesh Joshi
Firm's website link: TRE Design Studio
Firm's Instagram link: TRE Design Studio
For Similar Project>>AMAZING HOMES WITH MID CENTURY MODERN LIVING ROOMS