For a long time in workspace design, open workspace has been promoted widely to increase collaboration, boost productivity and strengthen work relationships. However, research shows just the opposite. The volume of face-to-face interaction in the open workspace, found by Harvard University dropped about 70%. Similarly, the productivity in the open office plunged 15% according to Exeter University. Noise and a lack of privacy are two main reasons why employees hate the open office concept.
Here's the deal: Beyond the employee experience, open workspace does provide for small businesses a family-like feeling at a low cost. However, for your company, the point is always to focus on how to improve the employee experience. This is why the open workspace is dead but turning back to cubicle farms or paying through nose for private offices are not options for small businesses.
So, what is the new solution?
Two office design methods have been proven to solve problems in the current open workspace. –biophilic design, and activity-based working.
biophilic design
This is a design method in architecture that tries to get people more closely to the building. Over 1,600 workers in a recent survey show that in the company the most important thing for them is not whether companies have gym, kitchen, nor a game room, a rest zone. They want more natural light. As such, adding natural lighting or ventilation in the workspace helps create a healthier and more productive environment for people. Your company is full of artificial lighting sources including ceiling bulbs, the screens lights from computers and cellphones. All these pose a potential threat to your health and wellness. Employees feel quite disappointed when sitting in the open workspace and this, as a result, might have a great impact on their productivity. This is the place where biophilic design works its magic as it is considered the natural and therapeutic method in the workspace design. Imagine a workspace witha number of planters, windows with stunning views, and tons of wood furniture.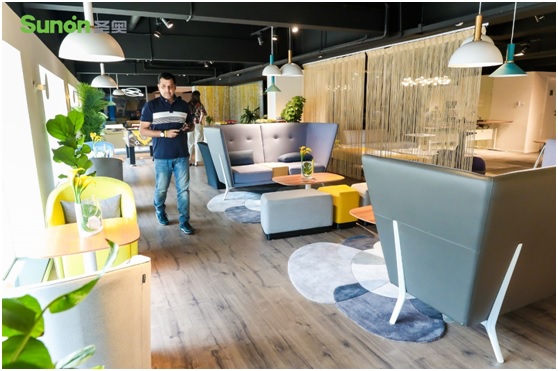 Sunon, a workspace designer is probably the most famous example of this, and it provides all kinds of biophilic office designs for other companies. You want to consider this design too as studies have already shown how beneficial it can be.
Through biophilic design may not fully tackle the issue brought about by open workspace, it does create a crucial atmosphere that each company should consider whether it's open office.
Activity-based working
Employees are now working more flexibly way as technology gets more advanced and capable.In 2020, it is estimated 50% of US employees will spend time working remotely. Such change is happening and the expensive assigned desks would be avoided by more than half of businesses in the future.
Currently, concepts such as hot-desking which enable workers to take the first desk available and desk hoteling which allows employees to book a desk online before they get the office can't help the status quo. Many would ask "How we could get more interactions and efforts of workers from a current workspace?"
A workspace design called activity-based working (ABW) helps tackle this issue. It does divide the workspace into private or public, instead, it focuses on the function. When doing certain activities, workers will go to the space designed to support it.
ABW goes deeper than the dichotomy between public spaces versus private spaces to provide a variety of flexible environments for specific types of activities. When a worker is doing a certain type of activity, they go to the space designed to support it.
There are six types of ABW designed by Gartner's "Create a Catalog of Activity-Based Spaces in the Digital Workplace to Improve the Employee Experience,"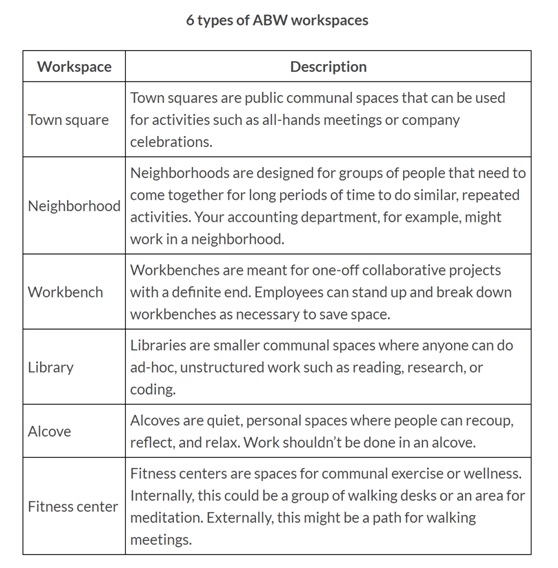 Set up your office today
The office is more than a place to work. It is the most crucial point for employee experience and if small businesses really want to start somewhere, instead of using the old open workplace, take a road that less traveled by, and that would make all the difference.