&nbsp
Gone were the days when money was an only priority while finalizing jobs, now people equally focus on the work environment, culture and office space. In a broader aspect investing in office spaces leads to happy employees and showcasing such positive employees, unique office interiors, facilities and other elements matters a lot, especially during the recruitment process.
The aesthetic look and design of a workspace portray a lot about the culture of the company. Companies like Google, Facebook and Flipkart, are honest examples for space branding. There Brands are perfectly designed for young employees keeping its whole vibe very energetic and youthful.  
What is Space Branding?
It's a process of creating a memorable brand by connecting it emotionally with consumers, designing creative and innovative process by focusing on integral elements that provide a sensory experience.
Space Branding- Creating the First Impression
When you visit a company for an interview, and you observe the workplace is saying a lot about its brand. Portraying Brand culture through branded workplace enhances your theatrical experience. From chairs to cafeteria and desks, everything creates some substantial value.
Company's logo, colour theme, images also play an essential part in space branding.Establishing your brand by putting your logo in lights or displaying your mission statement on the walls of the lobby can go a long way to fostering an exciting and engaging office environment. neon signs for wall decor give your logo an attraction.
Few beautiful space branding examples are Haldirams restaurants, Flipkart office, Mac Donalds, Google etc.
Modern Business is changing
Compared to traditional offices, modern offices are more productive in terms of their space and design. It also acts as a competitive advantage for motivating employees to work with enthusiasm.
What if organizations are small who have fewer resources or space for branding? Well, these organizations pay heed to flexible and freestyle company management and working culture. While today, small scale organizations are taking space branding seriously because they have realized how vital it is in employee retention. The ultimate aim of space branding is to make employees immersed in an environment where they have a sense of pride while working on their KPIs.
Infuse life in your workplace
We spend 8 hrs a day in office if its techie then no specific planned hours so it makes it very important that the workplace should not be dull. It should be vibrant, correct lighting, engaging interior design that leads to employee job satisfaction. Office with bright colours and cheerful interior design helps employees to work on their goals and vision. Infusing life in the office space certainly requires the right amount of brainstorming and skills.
STRATEGIES FOR OFFICE SPACE BRANDING
A fundamental way to get the best out of space branding is to coordinate colours and logos with furniture. Create different design schemes from desk, chairs, to walls.
Enhance communication with employees through various signage displayed in different spaces.
Space branding leads to attractive designs which invoke creativity and sense of belongingness.
Portraying brand story through space branding for effective cultural communication.
Effectively making use of every design element will help to reinforce a company's culture with existing and potential employees, attract fresh talent and demonstrate theembodiment of the corporate philosophy to its constituency.
TWO MAJOR REASONS FOR OFFICE BRANDING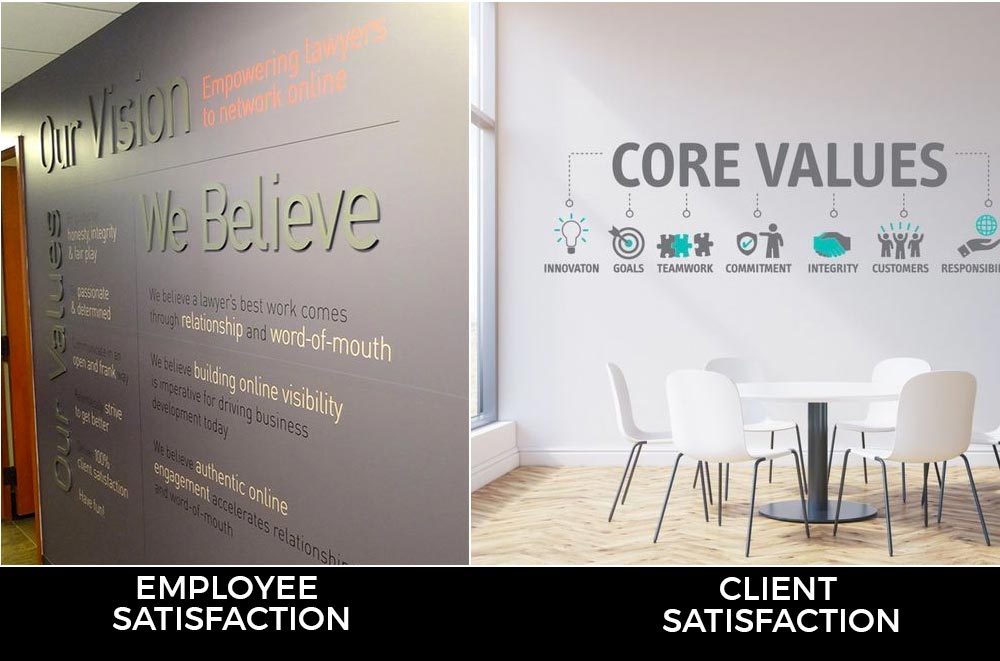 To create Client Satisfaction:
An office space with a chaotic environment will leave your clients confused. Correct space branding will help potential clients, and existing clients build trust and confidence. Productive usage of technology to create a conducive atmosphere is essential. This also encourages you to promote your business and invite new minds to work with your organization.
Employee Satisfaction:
Any company employees are its backbone and sustaining them is a foremost priority for any organization. The simple concept of effective environmental design will lead to impressive results. Companies having creative office space inspire staff to be loyal towards the brand.
Space branding should also inculcate the mission, vision and philosophy of your company. Space branding not only helps your company gain competitive advantage but also create a synergy between employees and eventually, contribute to incremental growth of an organization
Today in 2019, companies are placing a renewed focus on employee retention, rather than just the bottom line on revenues. Branding agency and organizations together can enhance a highly efficient workspace. Focusing on the company's culture and brand story helps attract and retain employees.
Why you need right branding agency?
Role of a branding agency is to balance permanence create flexibility in brand expression and strategically develop spaces in the minds of the customer. When they map a brand identity to a physical space, they focus on reflecting core principles, such as graphic elements or wall finishes. Careful balance helps the brand to remain fresh and relevant throughout its life.
Branding agencies create a consistent and clear expression of what an organization value represents. They determine how to brand the physical workplace, the first discussion between the organization and the agency is to centre on understanding the principles on which organization works and lives. These principles then used to guide team members, clients and visitors experience and create the springboard for all aspects of design.