&nbsp
The Bafna Residence, a duplex apartment in the heart of Pune, designed by Nainesh Mutha Architects, is a charming abode to the Bafna family. The house is spacious and has a sense of elegance and luxury, reflecting the owner's aspirations of their home and elements of modern design house. On the left of the living room is the dining space, the kitchen and a bedroom tucked at the end. An elegant floating staircase leads upstairs and opens into a small family seating space which overlooks the living room. This space further leads into the two master bedrooms of the house.
Modern Design House of Bafna Residence | Nainesh Mutha Architects
Visit: Nainesh Mutha Architects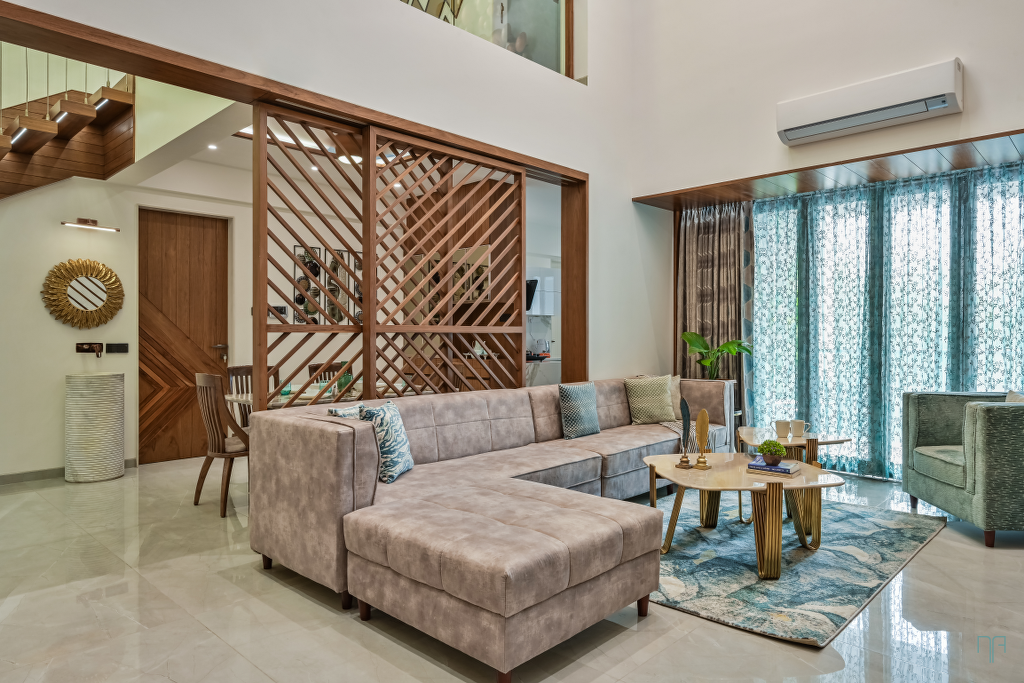 The driving force for the design of the house was the use of an earthy material palette, with a touch of rich metallic finishes. The living room forms the central nucleus of the house. The main, doubleheight wall of the living room is a combination of teakwood and wall-mounted marble-finish tiles. The designers have used the double-height spaces to carefully balance the voids with the two large chandeliers. Moving from one to other, it feels as if space itself is being sculpted in a harmony of light, colours and forms.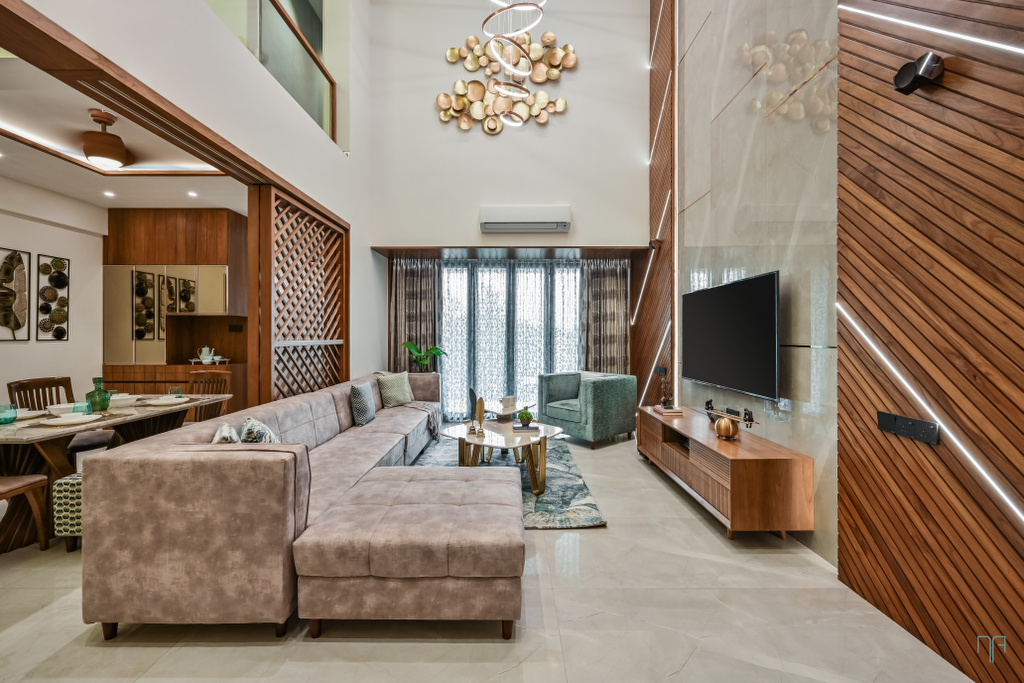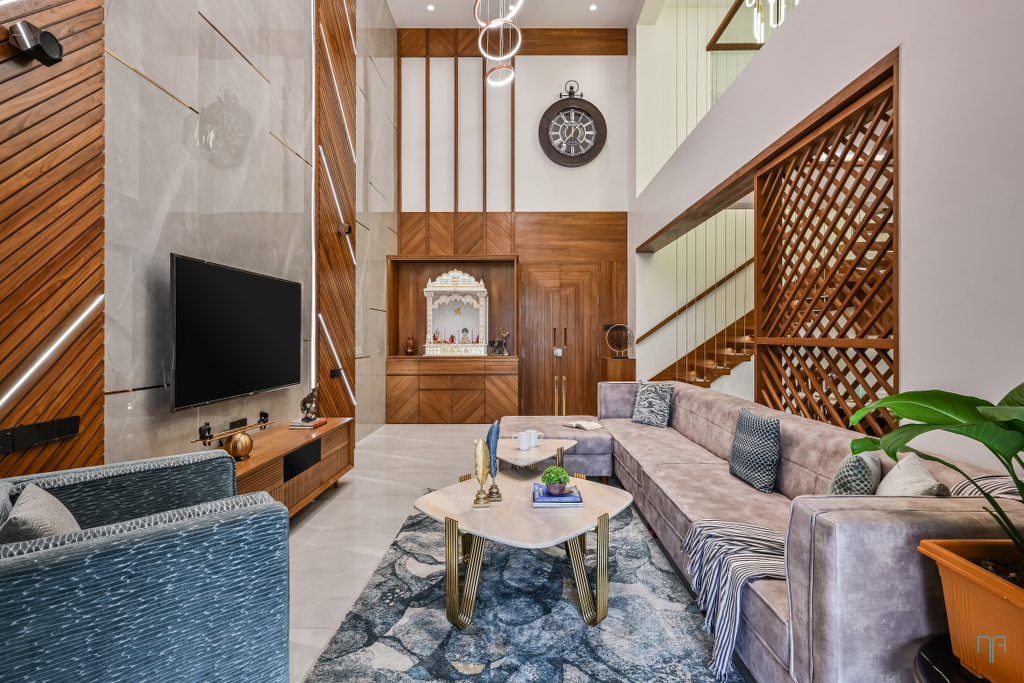 The rhythm of line patterns on wood surfaces, seen behind the TV unit, along cabinet veneers and across doors, repeats in various parts of the house and creates a sense of continuity. Within this palette of wooden tones, grey marble-finish tiles, and white walls, turquoise is the only colour that teases the vision and draws your attention in the form of furnishings and art pieces across the house.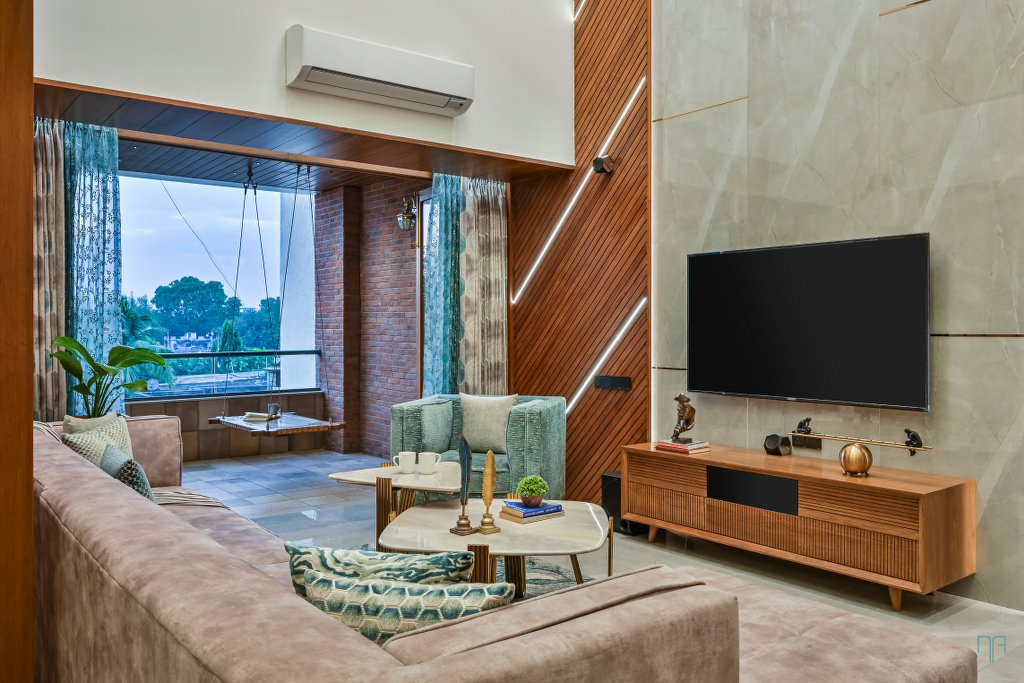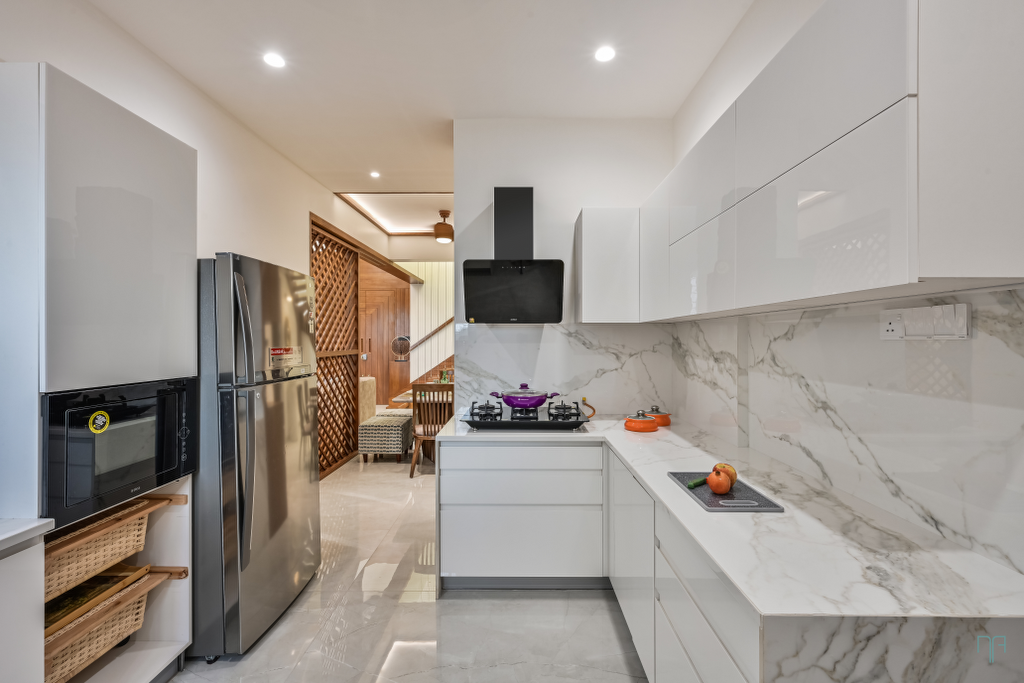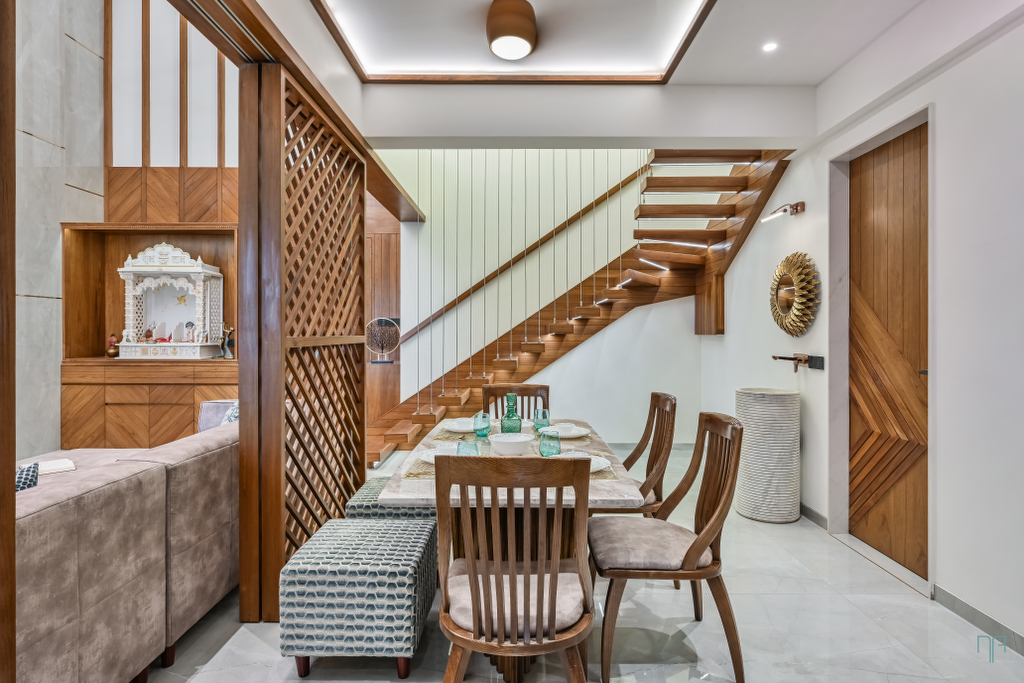 An interesting composition of art is seen in the master bedroom, where above the bed, there is a landscape painting of birds flying away. Along this corner of the wall, the architect mounts small sculptural birds that evoke this sense of freedom from the 2D painting, into 3D forms.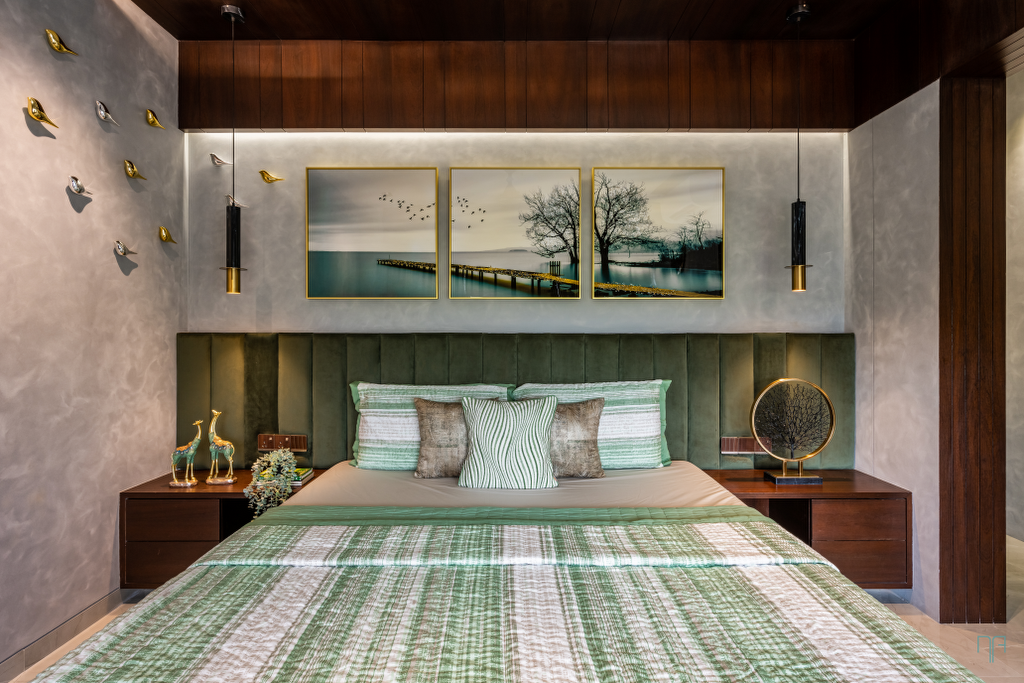 Wood stands out as the design's most prominent feature, used in different finishes and forms, ranging from solid teakwood to teakwood veneer and oakwood veneer. In part, this reflects on the architect's influence of growing up in a family of wood traders. It is clear that the architect understands the material and brings out a balanced composition marrying it with other materials in the space. He says, 'It's not a product that is new today, but it is also not a product that is going to fade tomorrow,' suggesting that it is a material which can always generate newer possibilities. For him, having an intimate knowledge of the carpentry and joinery was the key to a successful project. This allowed him to find interesting ways to eliminate unnecessary hardware elements. For example, all main storage cabinets and wardrobes have been designed to merge seamlessly into wall surfaces, without handles or openers disturbing the composition of textures and materials. Without protruding wardrobes, the storage becomes an intimate part of the room itself.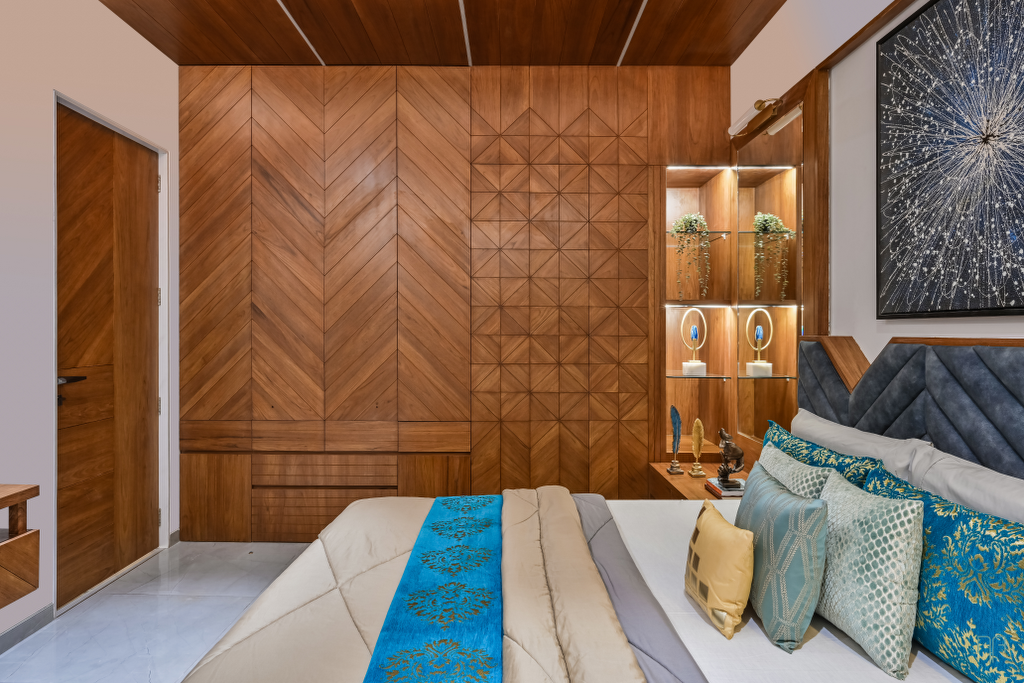 This project, with its exceptional balance of material and sculptural aspects, seems to elevate the idea of elegant living. Rather than an apartment in a complex, it exudes a sense of living in a charming bungalow, with its attached terrace, a large-connected living and dining area, and a beautiful staircase completing this space. It appears all elements of furniture, lighting, materials and surfaces are having a dialogue with each other, and bringing the user into their conversation.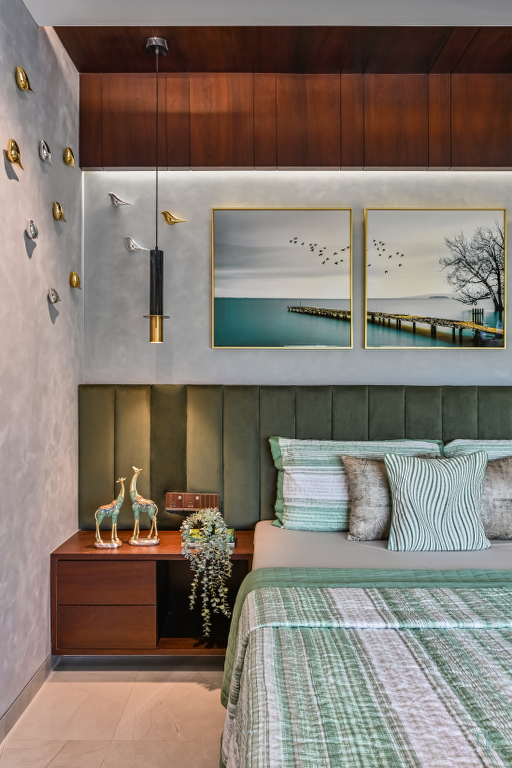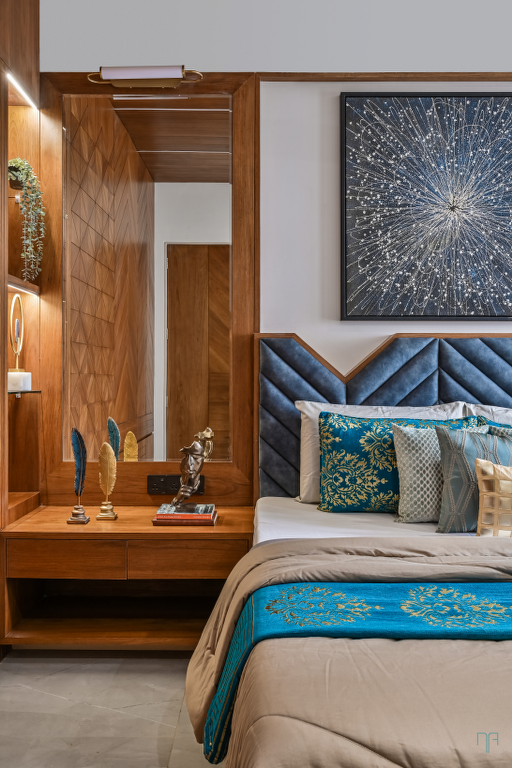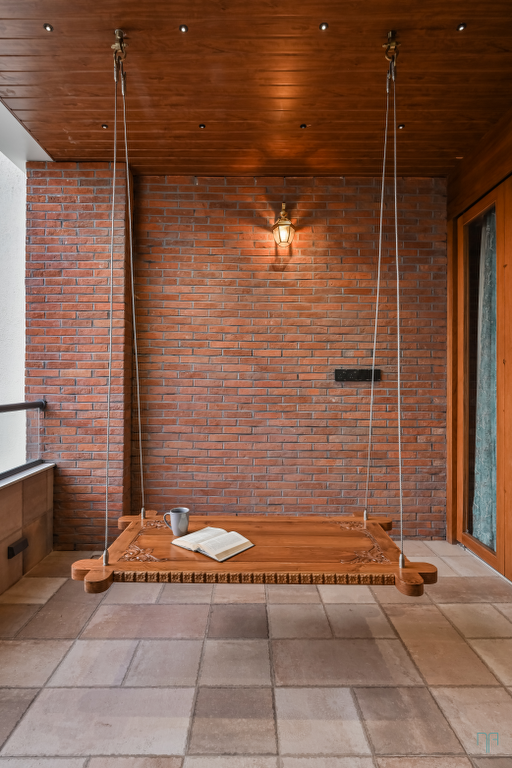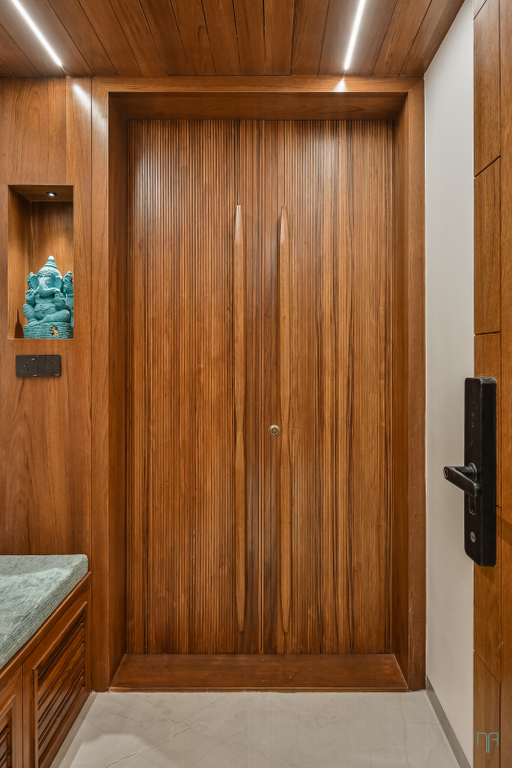 Fact File
Designed By: Nainesh Mutha Architects
Typology: Residence Interior Design
Project Name: Bafna Residence
Client: Rohit Bafna
Location: Pune, Maharashtra
Size: 2050 sq.ft.
Year: 2021
Duration: 10 Months
Project Cost Appx: 90 Lac
Principal Architect: Nainesh Mutha
Design Team: Kushal Kunwar
Content Credits: Aishwarya Morwal
Photography Credits: Noaidwin Sttudio
Products and Materials: Wall Textures: Kemtex | Flooring & Wall Cladding: Grescon | Lighting: Lafit Lighting | Sanitary ware: Aquant India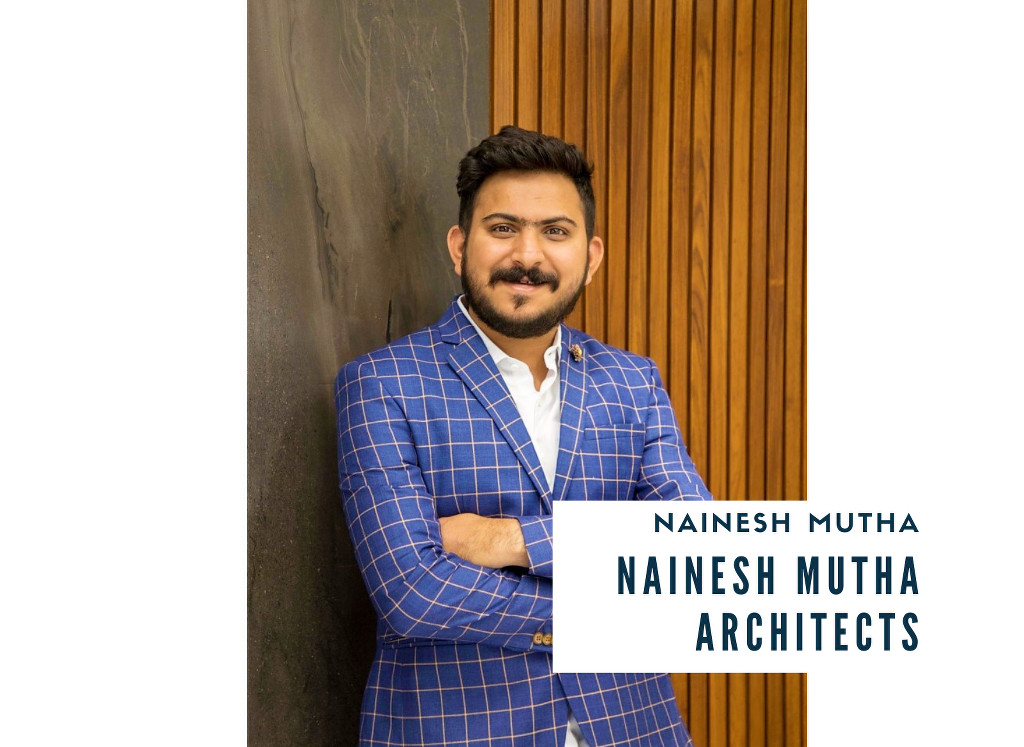 Firm's Website Link: Nainesh Mutha Architects
Firm's Facebook Link: Nainesh Mutha Architects
Firm's Instagram Link: Nainesh Mutha Architects
For Similar Projects >> Minimal Design with Neutral Palette in Contemporary Setting
Disclaimer: No TAD editor is involved in the curation of this content.