&nbsp
Located in the west part of Delhi, this residence is one of the examples of grandeur unfolded. The aim of this project is to bisect a shell structure into each generation accommodate. It is the first floor of a low-rise builder apartment, with an edge of orientation where natural sunlight passes through large windows and classy elements embedded in every corner of the house, which indeed encapsulates luxury to the higher volumes. There are multiple pockets in the house as per the requirement, each pocket has its own materiality, texture, and color but the transition from one place to another is effortless. House is comprised of bespoke products which widen the scope of designers in the context of furniture, doors, kitchens, and floors. Every inch layers up to create oneness.
Modern Design Aesthete and Curation Embellishes Aashirwad Residence in Delhi | Studio Ma:Ya
Visit: Studio Ma:Ya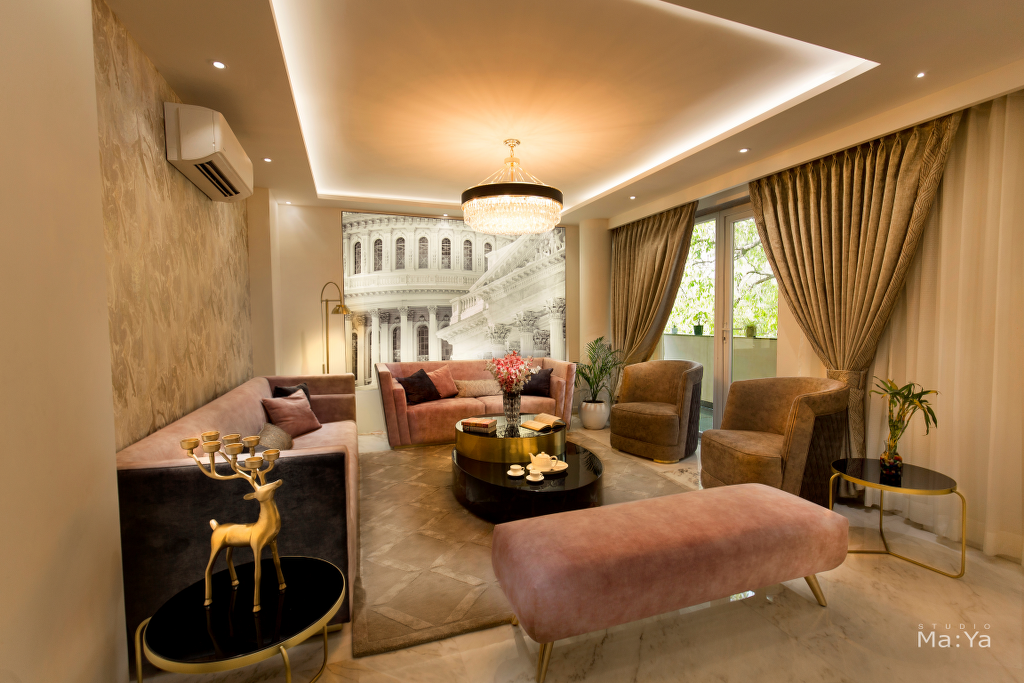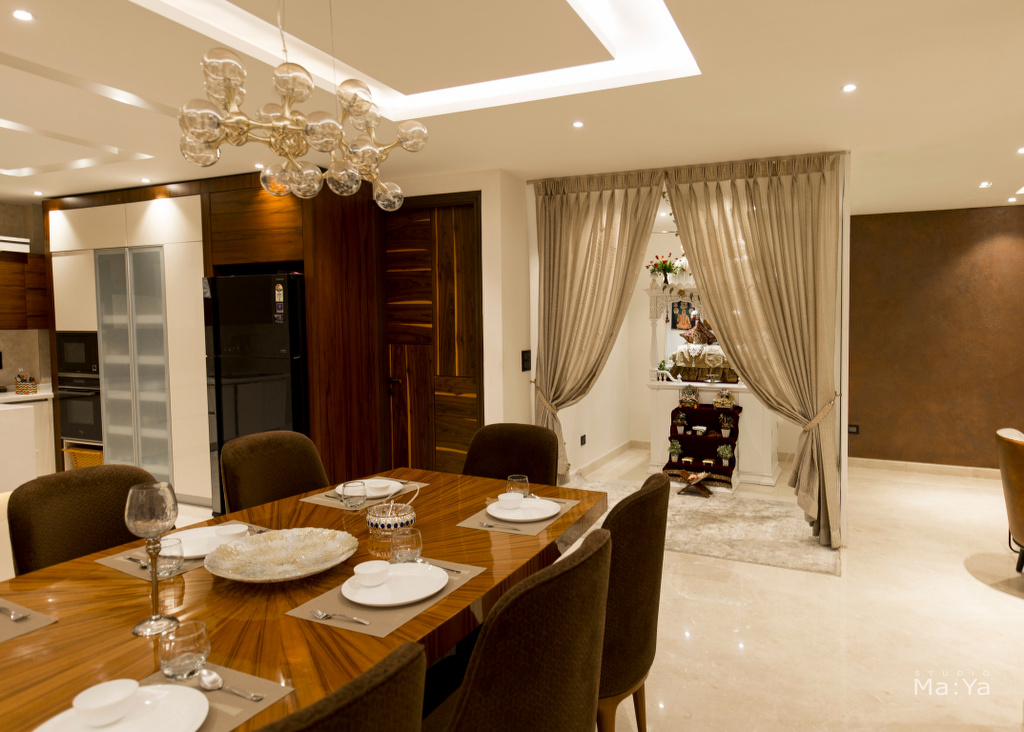 As we walk into the house, we encounter a space that branches out into the various defined spaces. Drawing room to the left of the entrance is an unprecedented curation with an astonishing perspective over the city-wide street, where you will savor the high life that is out of the ordinary citizens' scope. The tallest locations with unhindered perspectives on Punjabi Bagh, take a taste of tea at recreation, tune in to music, and make the most of your night with your family and companions. A sensational backdrop of roman architecture with sparkling crystal chandelier liting the roof flawlessly. Bespoke metal beaded drapes and a hint of gold around, going about as lavish cream to space.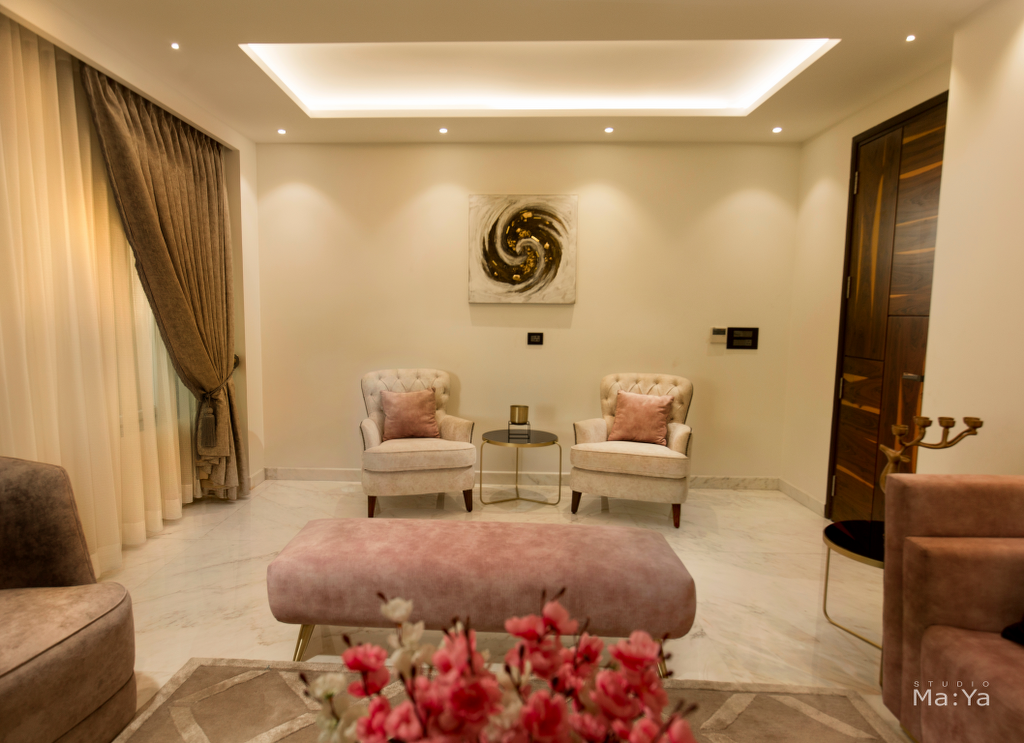 To the right of the entrance is Dinning, which intends to be joy. The pleasure of taking dinners along with friends and family increments incredibly when the insides have been planned brilliantly. The eating territory is structured at the focal point of the house where the entire family radially associates while looking over the woman of the house cooking in a wonderfully completed open kitchen. The eating tabletop with sun-burst design, gotten done with clear tar pulls anybody to sit and encounter the surface. Dark finished custom-made wooden entryways with a smooth completed handle make a stand out from light walls, roofs, and floor, adjusting both style and extravagance to a degree.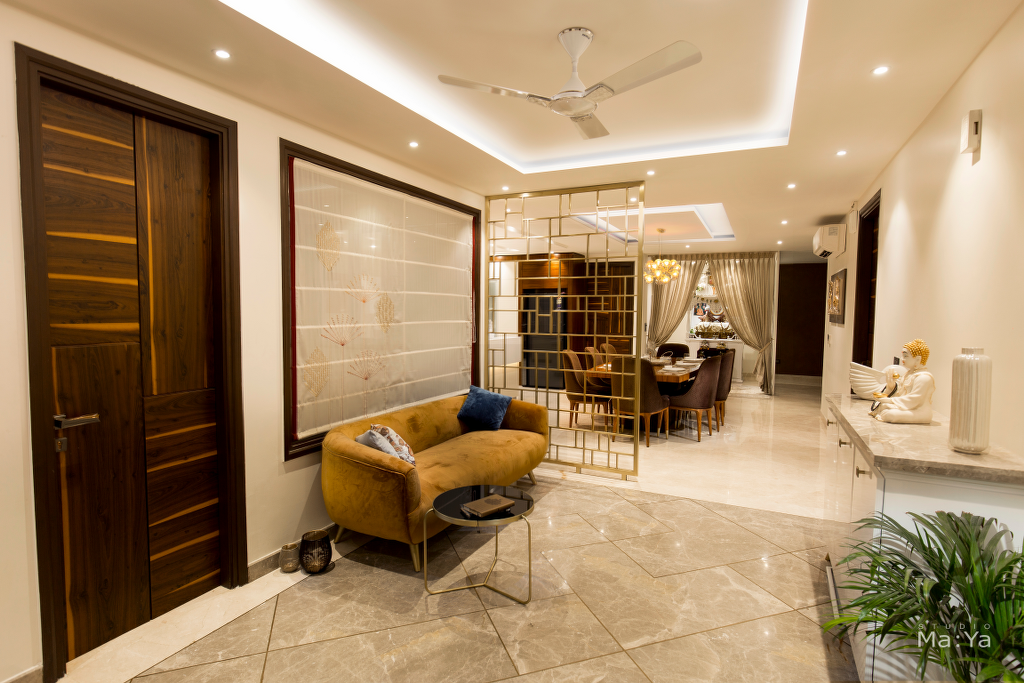 Each room is a sentiment of euphoria experienced when moving into bed toward the finish of an exceptionally difficult day. One ought to consistently feel it while in bed. The love for wood, characteristic light, and rural surfaces of customers encourages us to make an overall look for this room. Each washroom with understated sophistication, Extraordinary elements such as Kohler mirror with the inbuilt speakers, black tile cladding, green wall backdrop, and Kohler faucet with the waterfall effect gives the millennial boost, to the bathroom design serving the client's son. Hidden elements such as Oval shaped backlit mirror, Oval basin, in-set Italian stone pattern, and black Kohler fixtures are key elements to this minimalist bathroom design serving the guests of the house. This design style is an amalgamation of components from various styles, encompassing both aesthetics and user comfort. To encapsulate Studio Ma:Ya's experience with this project, the process was both enlightening and demanding. The benefits and drawbacks of this particular process enabled us in working productively on assessment and monitoring.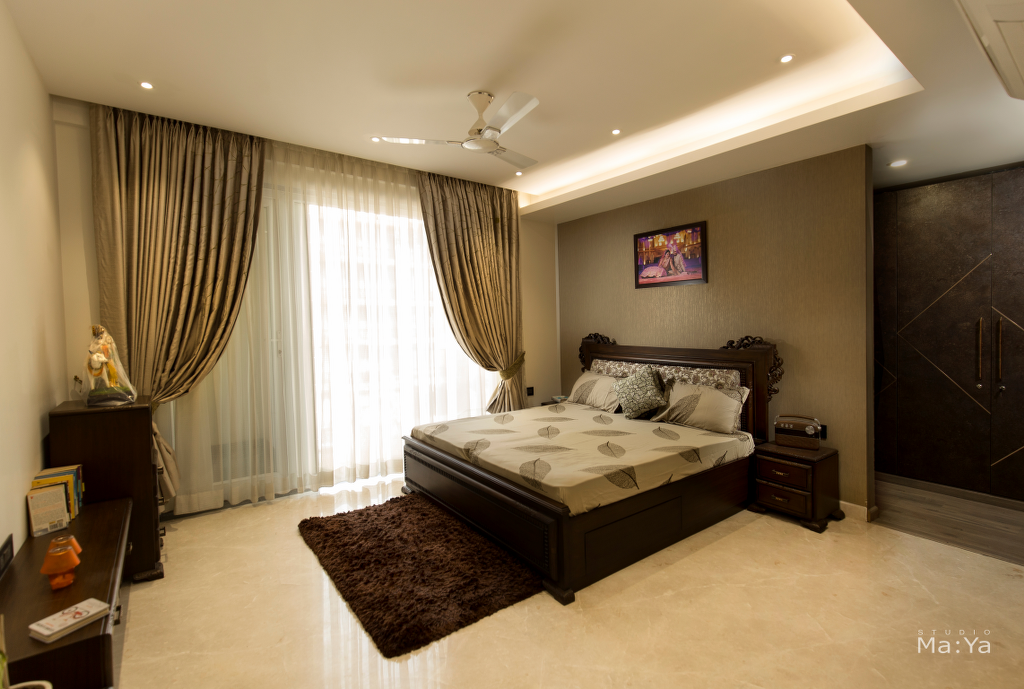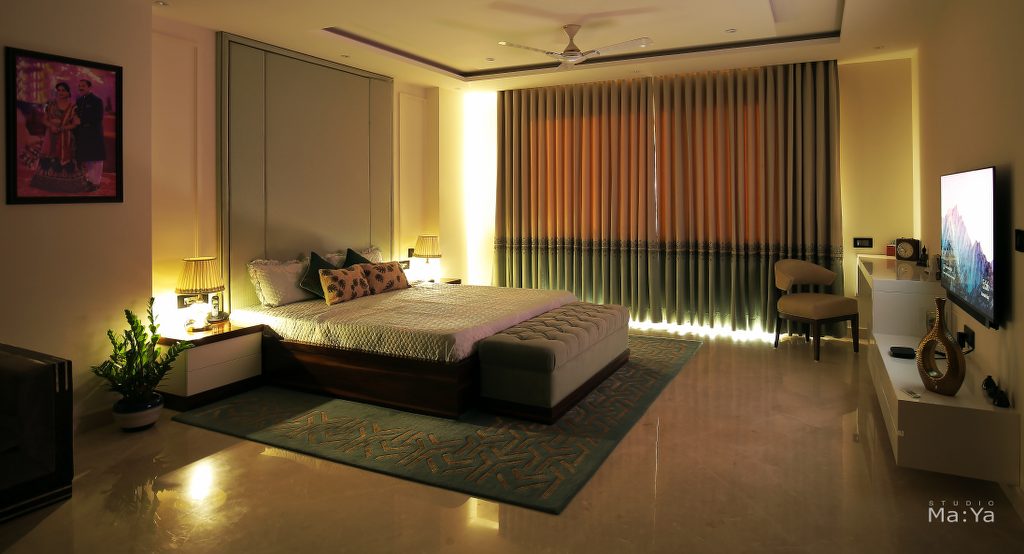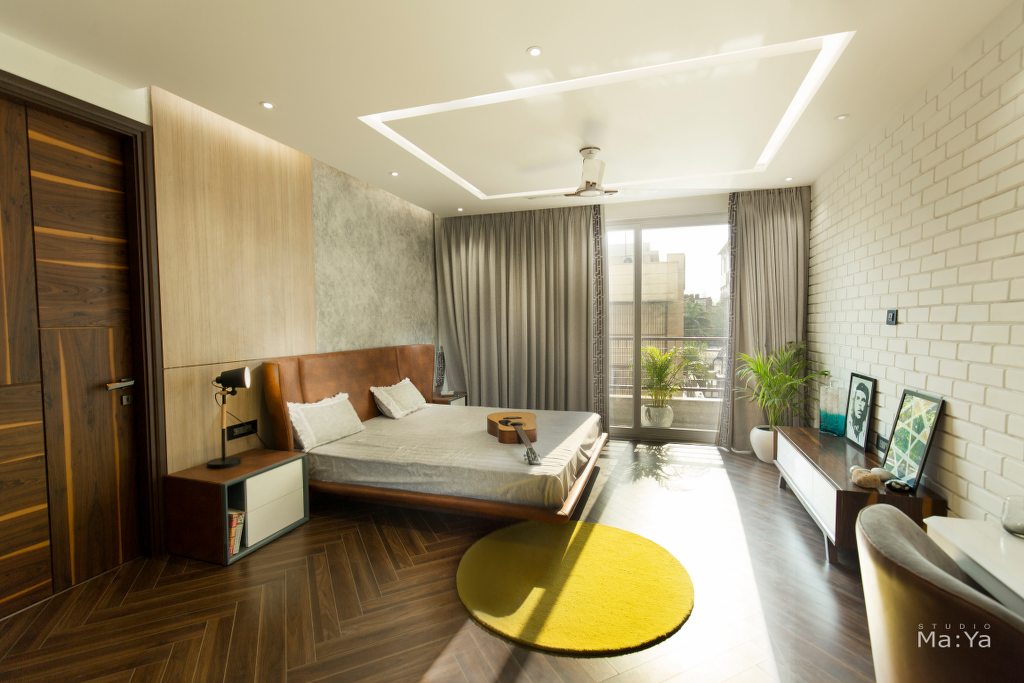 Fact File
Designed By: Studio Ma:Ya
Project Type: Residence Interior Design
Project Name: Aashirwad Residence
Location: Delhi
Year of Completion: 2020
Duration: 1 year
Size: 3000 sq.ft.
Project Cost Appx: 1.2 Crore
Principal Architect: Mayank Yadav
Photography Credits: Vasu Dev
MEP and HVAC Consultants: Sankhya Consultant
Products and Materials: Wall covering/cladding: Oikos Paints | Lighting: Nirvana Lighting | Doors, Partitions and Kitchcen: Guntiers | Sanitaryware: Kohler | Furniture: Galaxy Furniture | Flooring: A Class Marble | Paint: Asian Paints | Glass: Art n Glass | Backlit wall feature: Eurolux Stretch Ceiling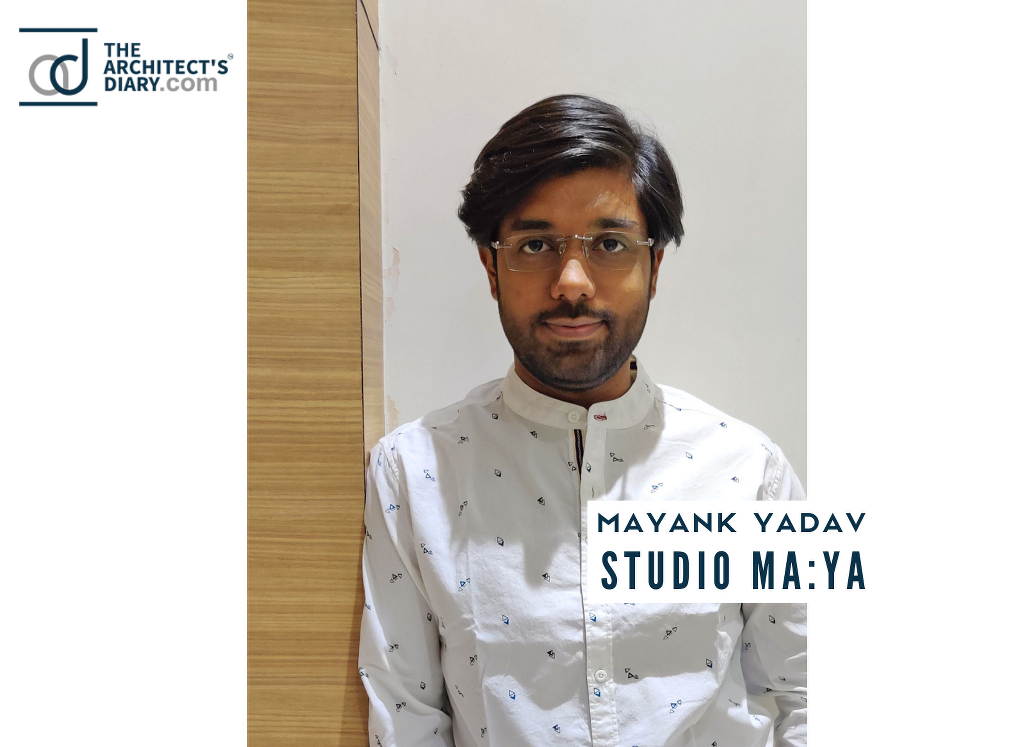 Firm's Website Link: Studio Ma:Ya
Firm's Facebook Link: Studio Ma:Ya
Firm's Instagram Link: Studio Ma:Ya
Disclaimer: No TAD editor is involved in the curation of this content.