&nbsp
Mixed-use Building Crafted With Earthy Palette | Studio Infinity
Initial Phase:
We have known this client for quite some time and have worked on a number of projects for them. So we were involved in this project right from site selection till the final handover.
Visit: Studio Infinity
After seeing a number of sites, we zeroed in on this 4200 sq.ft. plot set amidst a residential neighborhood. It was surrounded by low rise buildings on 3 sides and abutted a narrow street on one side. The large Gulmohar tree just outside the plot was a striking feature that kept on drawing our attention.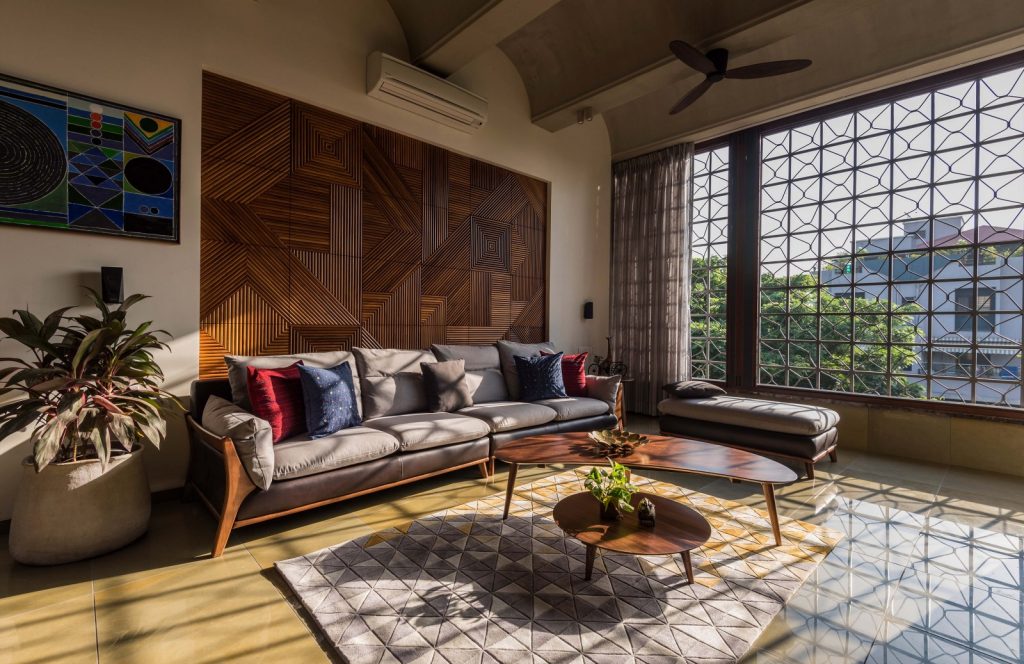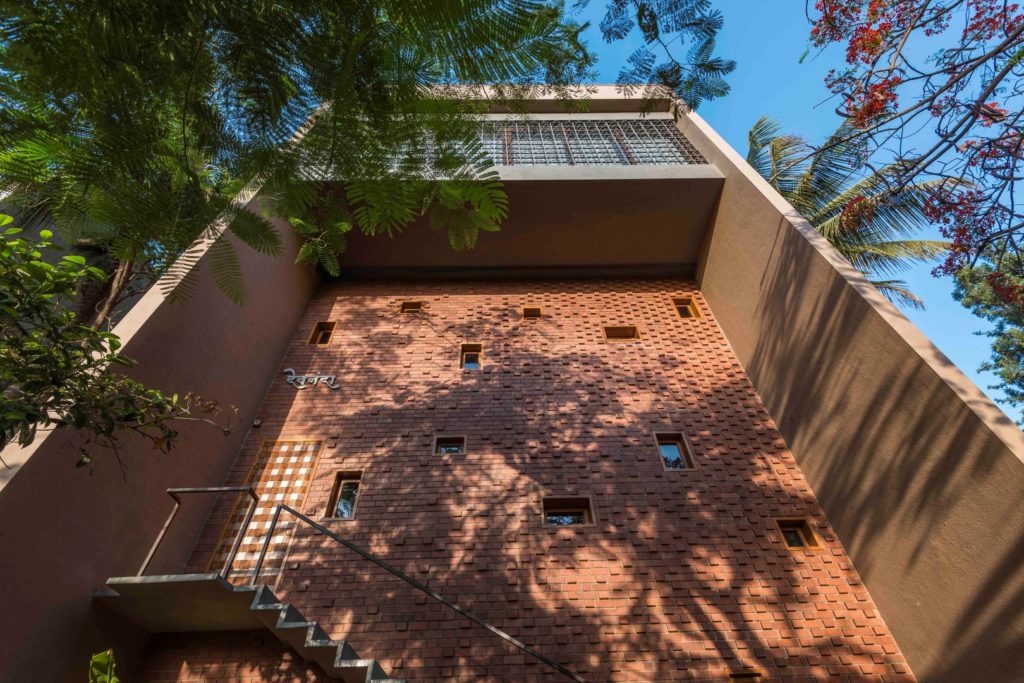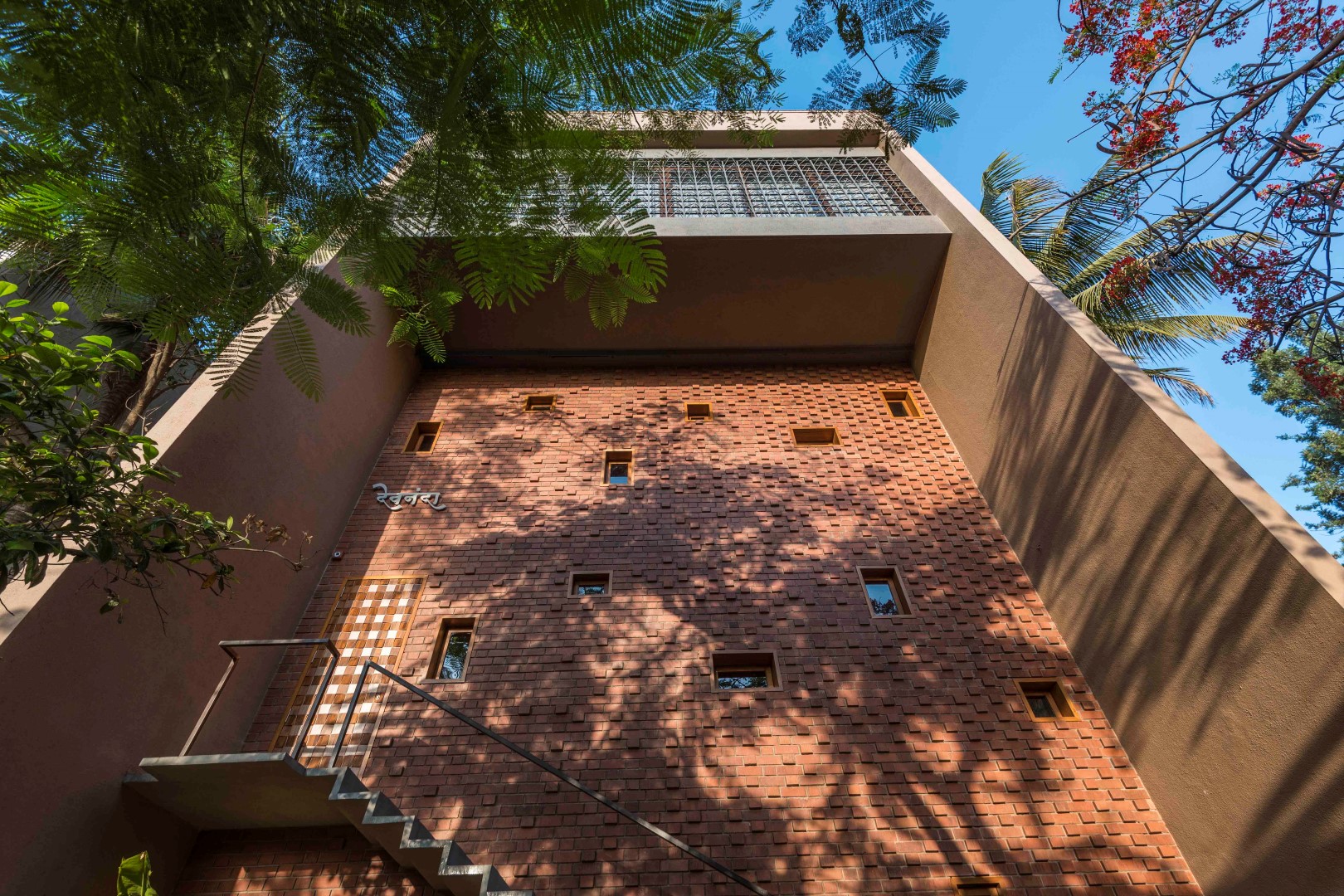 The client's brief was to have a P+3 mixed-use building, with his office on two floors and his residence on one floor. With a floor plate of 1700 sq.ft, we were ultimately designing an apartment for them and that is where the challenge lied. The parents have stayed in ground floor houses all their life and now this was going to be their first experience of staying in an apartment like setup. Moreover, for a family of four, their space requirements were sorted and their brief revolved around having a house that will not give them a feeling of staying in a compact 3BHK apartment.
See Connecting Project >> ADVOCATE OFFICE DESIGN | STUDIO INFINITY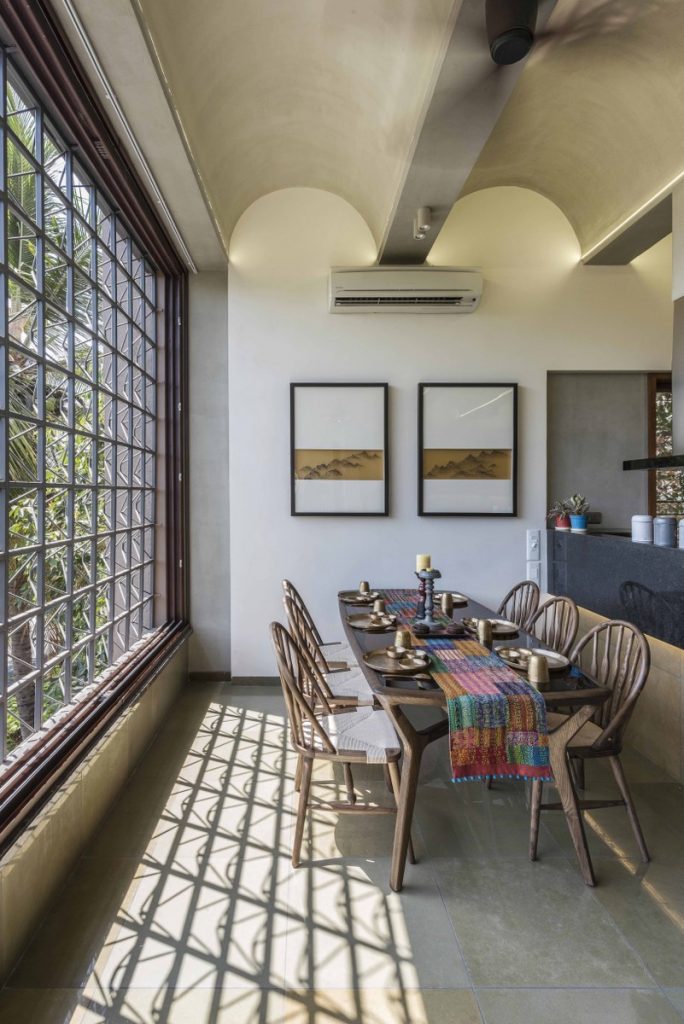 Design Development:
Considering the space at our disposal and understanding the client's outlook, our initial ideas revolved around creating a space that will break away from the typical framework of an urban apartment. We started by segregating the private and common areas of the house. The room placements were governed by the services grid of the entire building. Keeping in mind the client's lifestyle, we decided to optimize the bedroom spaces and increase the common areas.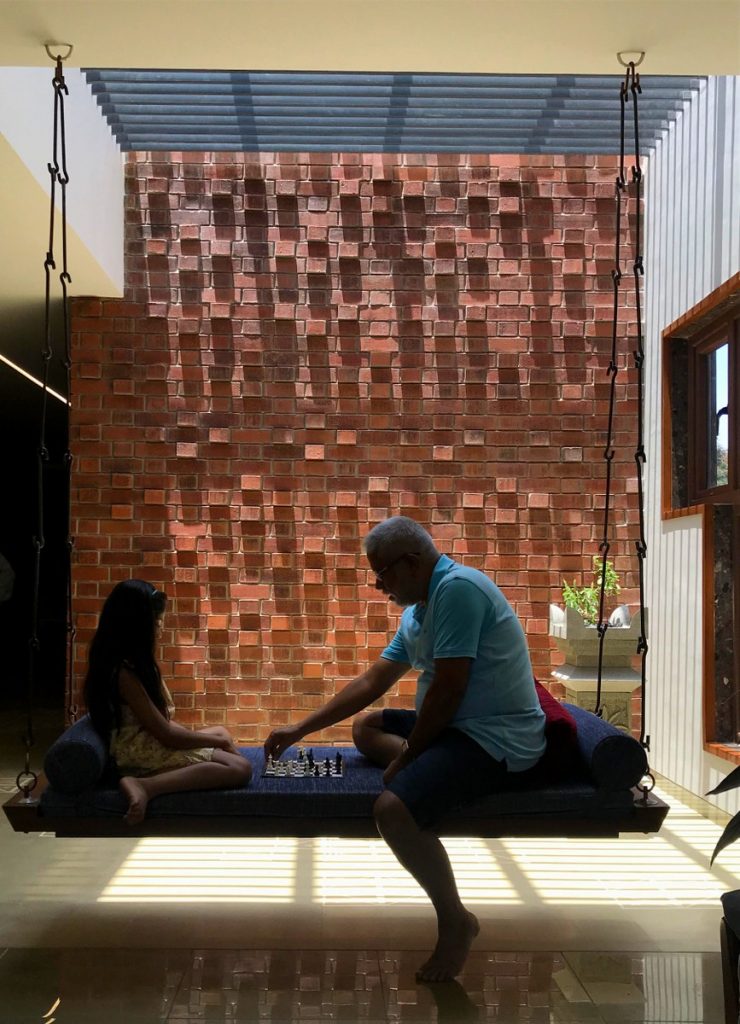 A light court was introduced to help us move away from the constraints of tight space. The patterned flooring and a traditional tulsi Vrindavan was intended to make this space appear and function more like a courtyard. The drama played by shadows cast by the pergola keeps changing the space dynamics throughout the day.
As we were also designing the entire building, we had an opportunity to modify volumes at this level. So making the most of this advantage, we made certain volumetric transformations in the living-kitchen space. A series of Ferro-cement vaults with an increased room height, now defined the spatial experience. To retain the visual continuity of this vaulted room, the divider between living and kitchen was kept low with the intention of having a free-flowing connection, both visual and spatial.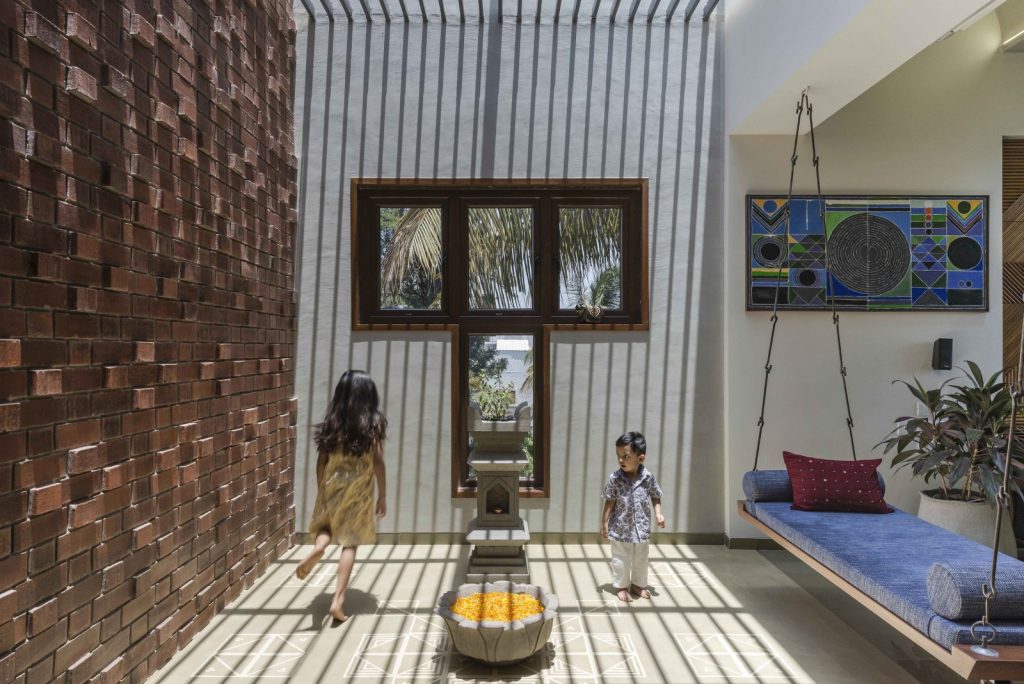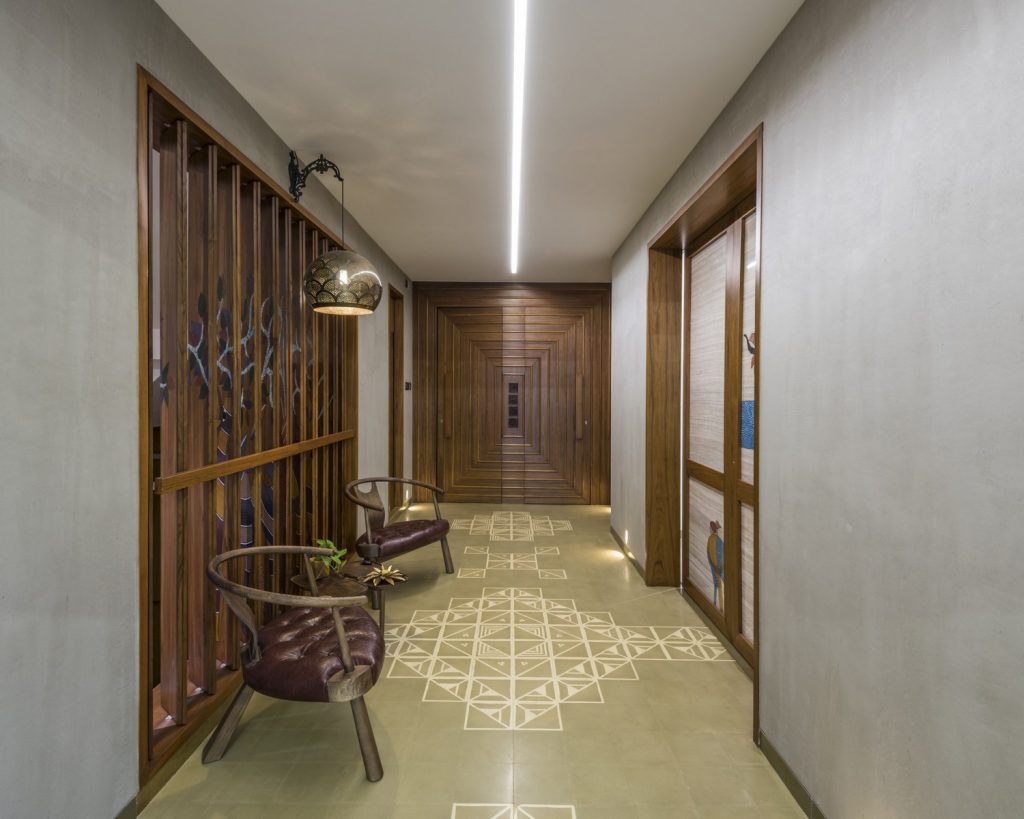 With buildings just 20' away on 3 sides, only the eastern façade gave us a chance to open out. The entire 27' width of this apartment was opened up to a wonderful view of a large gulmohar tree just outside the plot.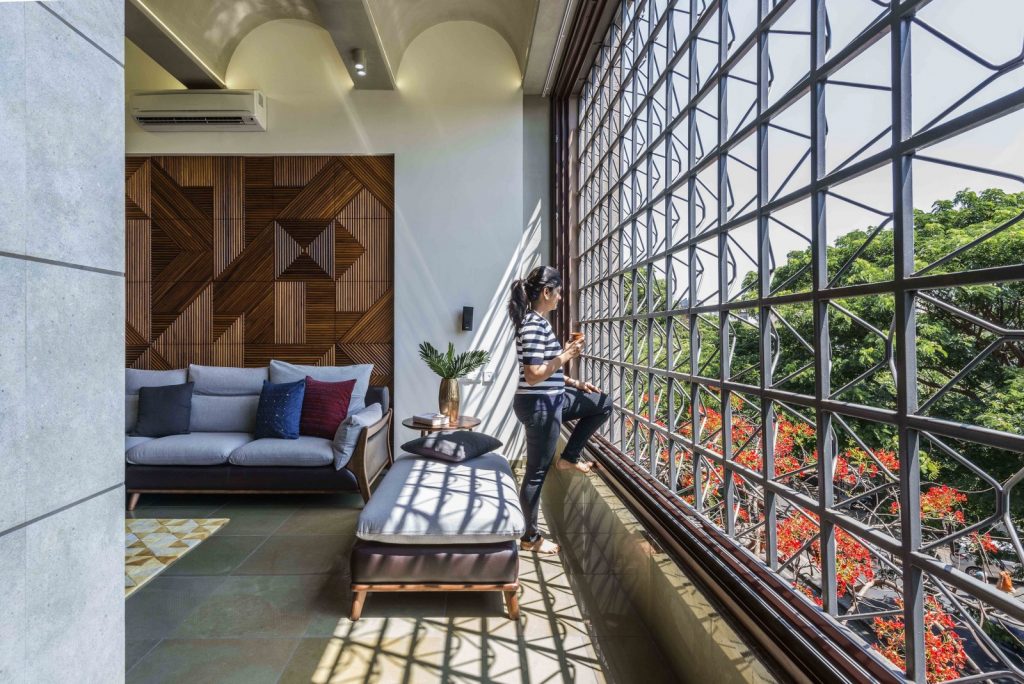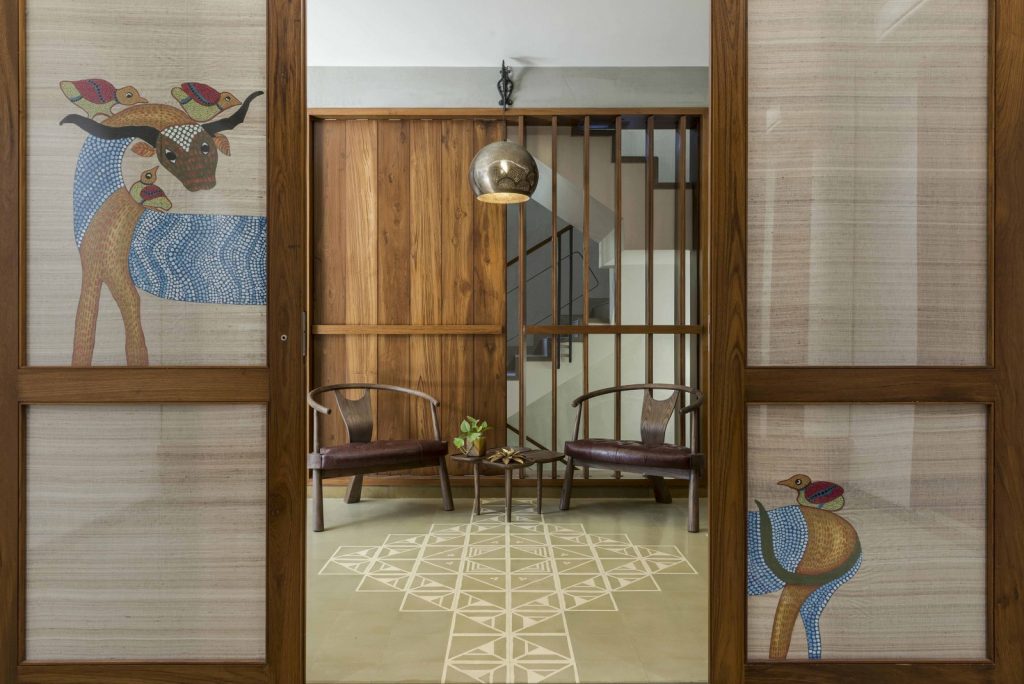 Material Palette:
With an intention to enhance the sensorial experience of the users, our design deliberations focused around conceiving spaces highlighted with subtle textures. Exposed brickwork, Kota floor, Cement tiles, Kavdi work, wooden furniture and concrete finish walls together defined an earthy palette. Restrained use of colours and splashes of greenery formed the basis of the overall design vocabulary.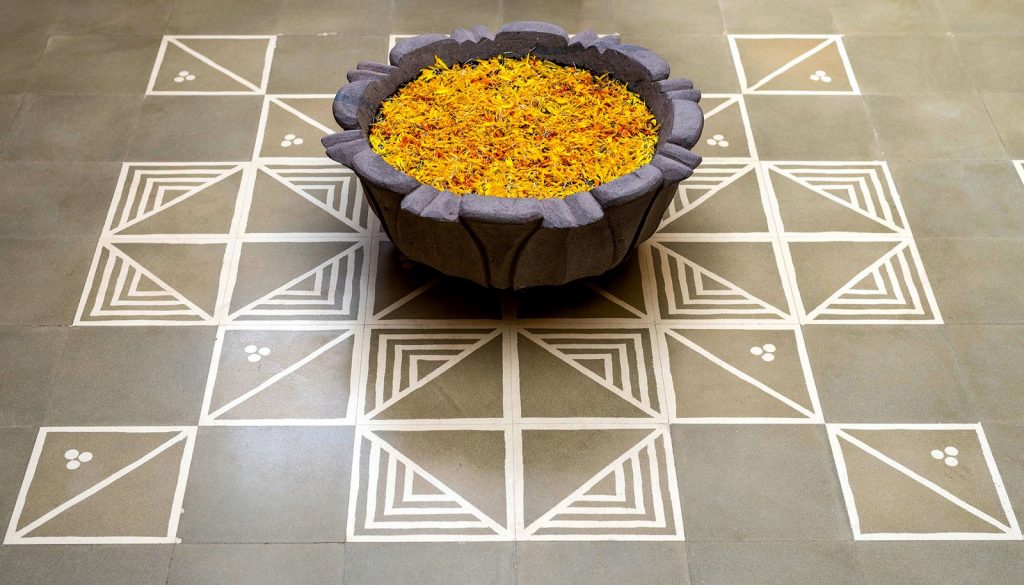 Detailing:
The overall design language and material palette had to be justified with proper detailing. A lot of efforts were put into designing functional and aesthetic elements. Patterns in exposed brickwork, flooring, screens, and customized furniture involved immense amount of detailing, which in turn helped us define a strong sense of aesthetics weaving the entire house together.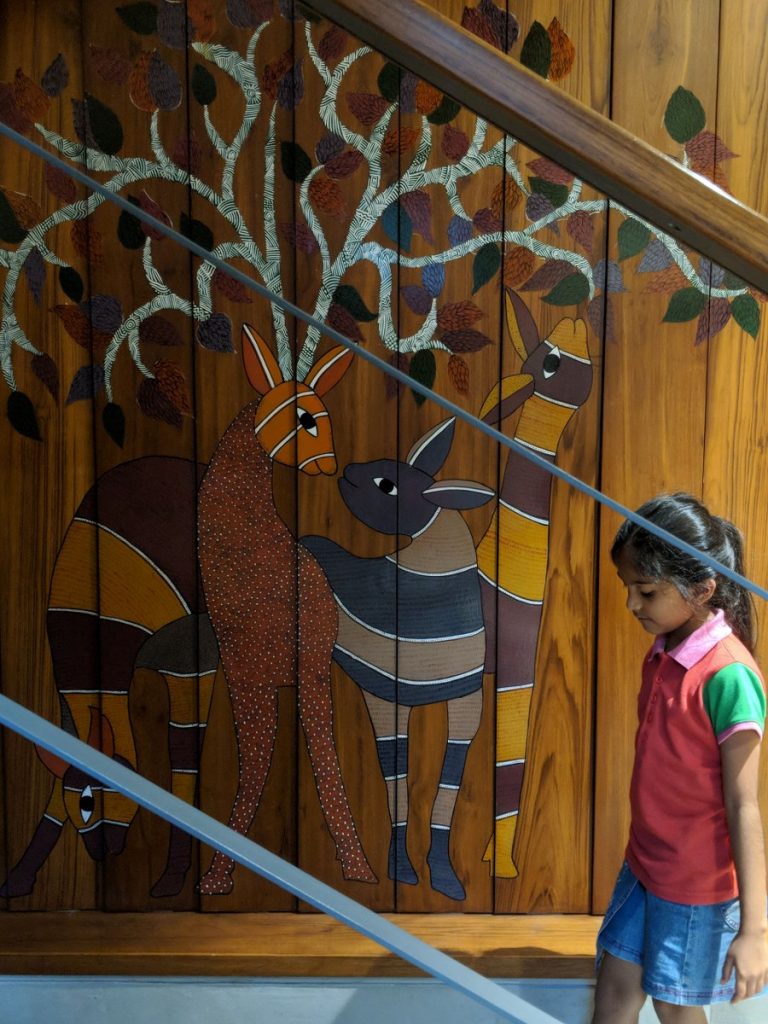 Integration of Art:
Designs for this house revolved around works involving large amounts of hand skills. It is because of these skilled craftsmen of our times we could deliver all that was conceived and imagined. Customization in textiles was done from weavers and manufacturers. The use of traditional 'Gondh Art' had been an integral part of the design process. Strategic use of this art form helped us create interesting aesthetics across the house.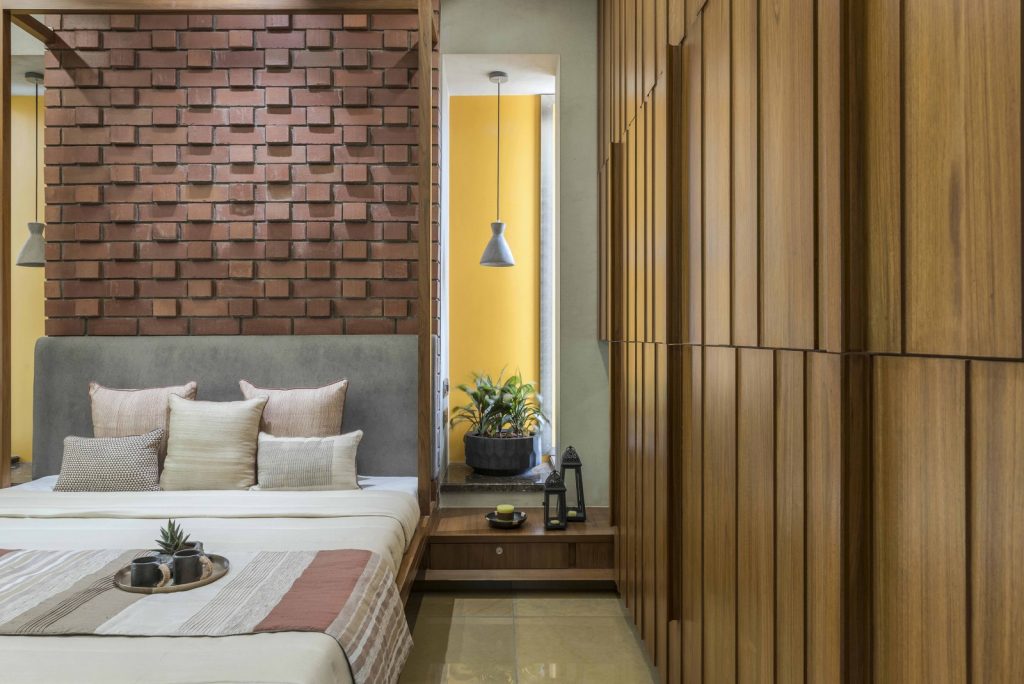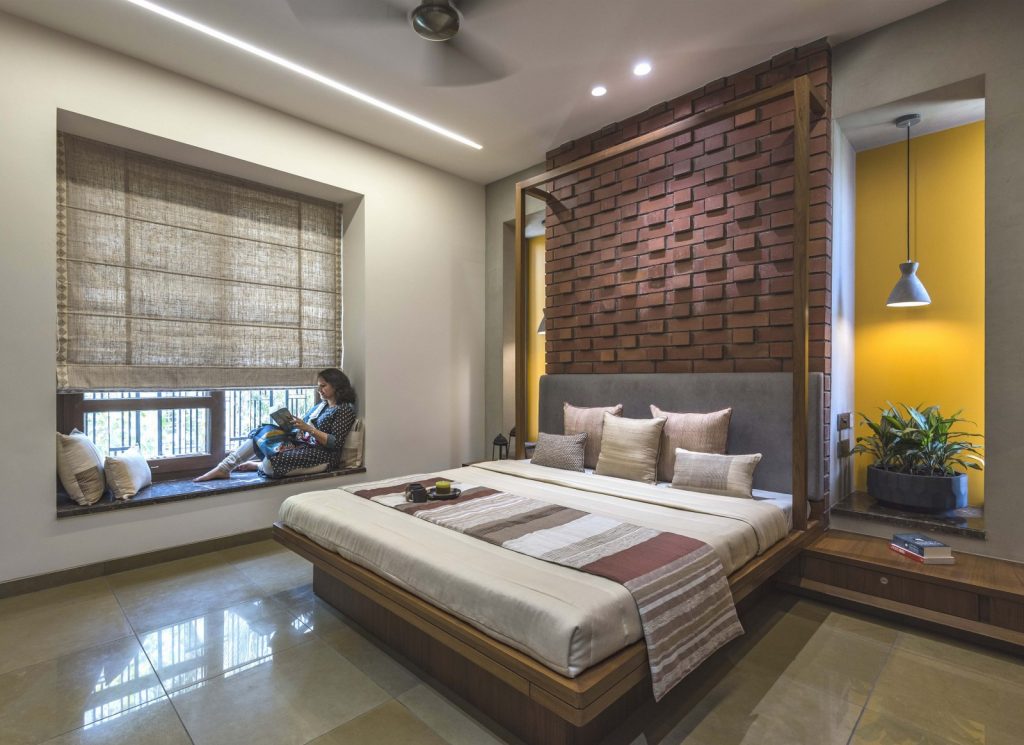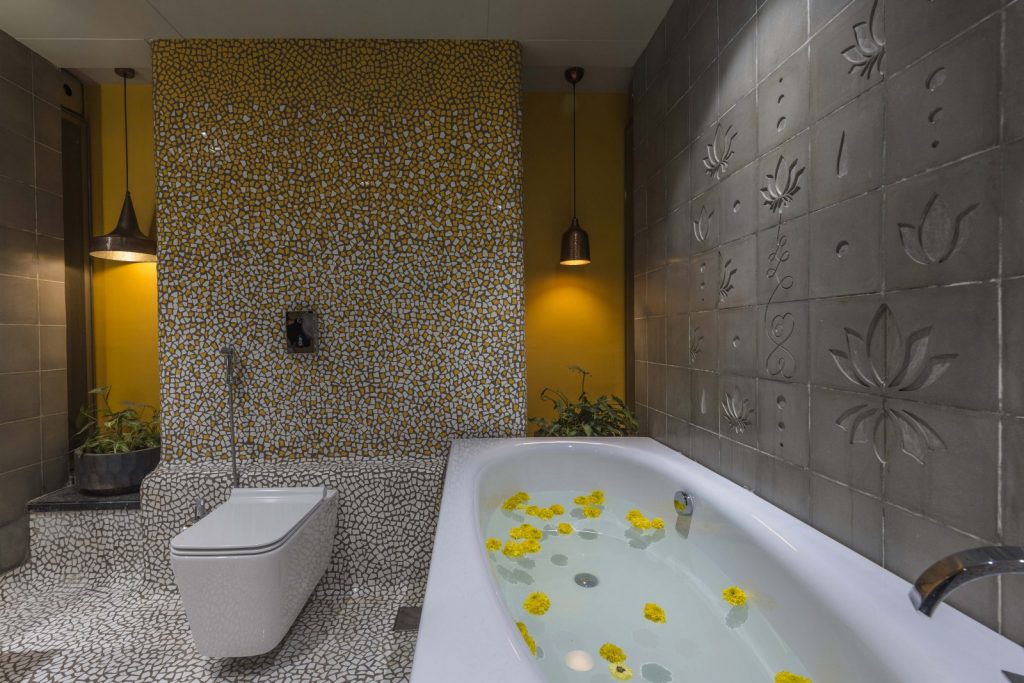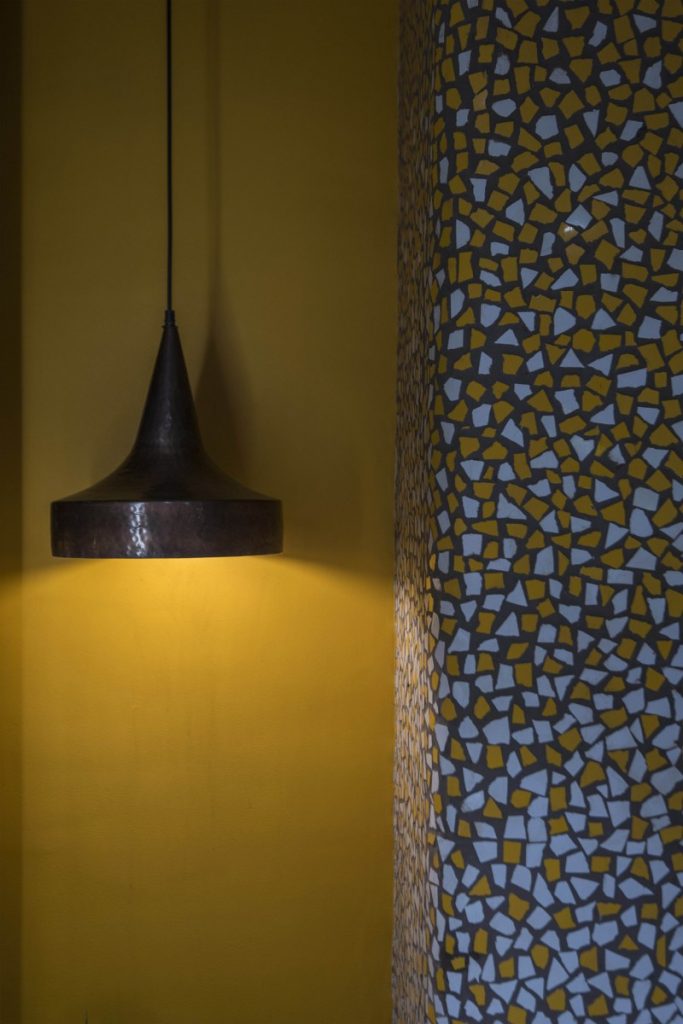 User Centric Approach:
While we kept deliberating on various aspects of design and aesthetics, we were very conscious of the end-user. We intended to make this space a 'HOME' for its users than merely a well-designed 'HOUSE' for our clients. We intended to fuse our designs with their lifestyle. The spaces and furniture were customized keeping in focus every single person of the family.
FACT FILE:
Firm: Studio Infinity
Project Name: Devnanda
Typology: 3BHK Residential Apartment
principal Designer: Tushar Kothawade & Chiranjivi Lunkad
Location: Pune, Maharashtra
Carpet Area: 1700 sq.ft.
Photo Credits: PHX India & Atul Kanetkar
Instagram: https://www.instagram.com/studio_infinity_pune/