&nbsp
Low Lit And Warm Ambience Restaurant | Saajan Architects
As one approaches the restaurant, the patterned tiles cladded on the walls gives a pop of patterns in the overall neutral colour scheme adopted for the entire restaurant. The central wooden ceiling houses a custom made circular glass Light fixture that sheds ambient light in the foyer area.
A 5' high solid screen wall with wood finish veneers delineates the Waiting area from the dining area of the restaurant. The screen wall is adorned with a brass mural of Lord Ganesha.
For the Dining area of the restaurant, a very low lit and warm ambience is created with the help of basic neutral tones, wood finish veneers, beige flooring. The veneers that are used in the entire restaurant which give the rich feel to the entire space are custom made for this particular restaurant.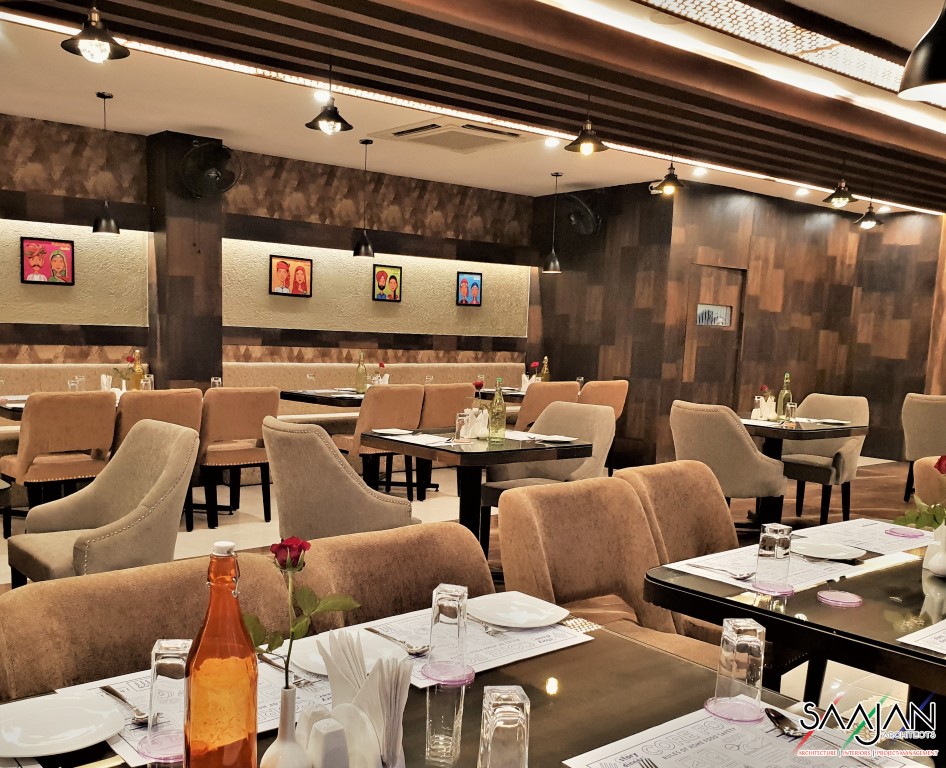 Initially, the restaurant had 40 seatings but after the renovations we achieved a total of additional 30 seatings without compromising on the necessary space requirements.With proper space utilisation a comfortable seating arrangement is achieved. Cosy alcoves are formed lined against either of the walls of the restaurant, each one with a dedicated brass light hanging on top of it. The furnishings too, use the same neutral toned leather fabrics complementing the entire theme of the restaurant.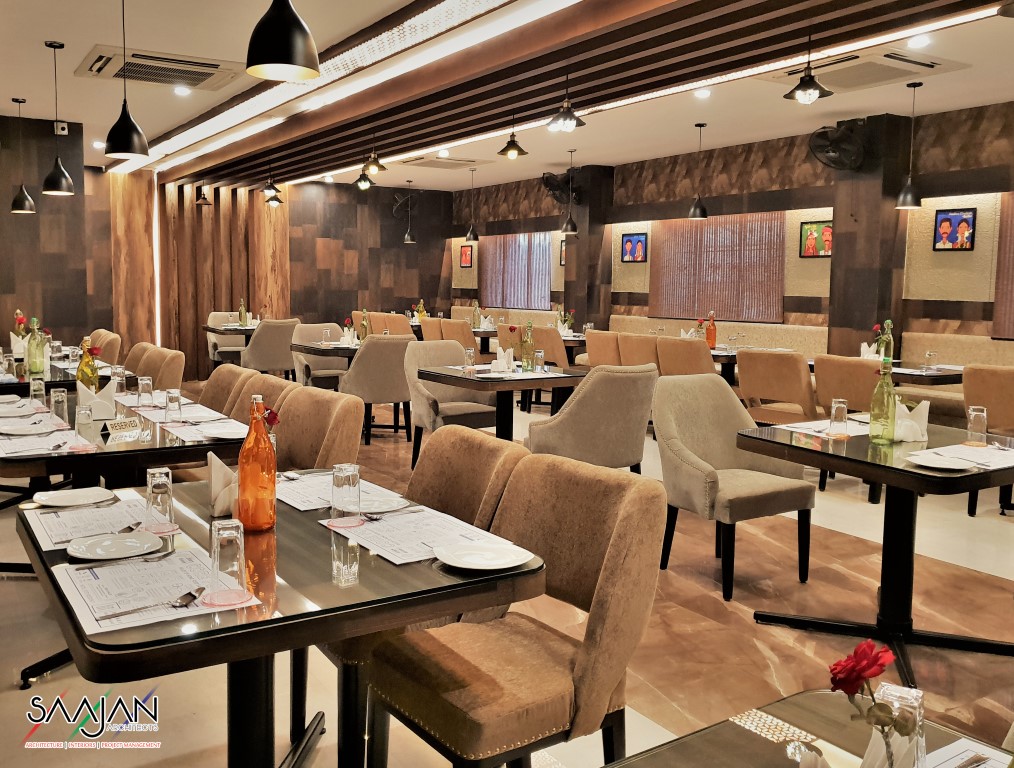 A central C shaped wooden cladding runs along continuously along the walls and ceiling holding it together has different set of hanging lights lighting up the central aisle, A more darker tone of brown is used in the flooring too aiding this c shaped cladding.  In the central space 2 seaters are placed which can be adjusted catering the customer requirements.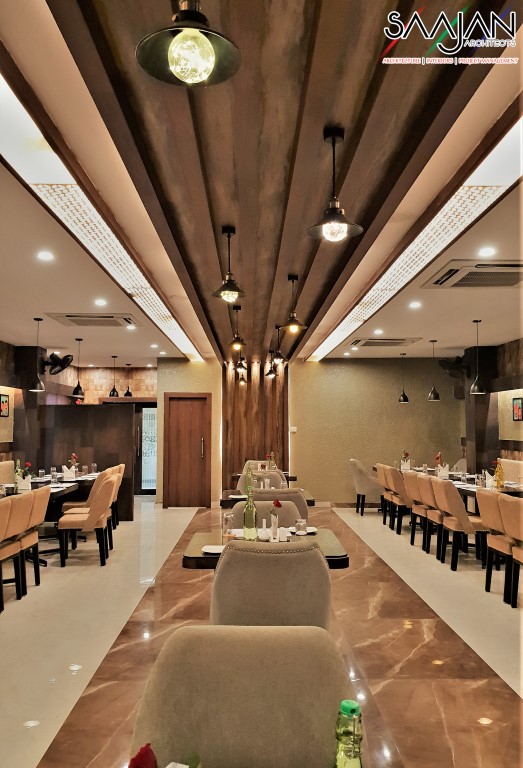 The Walls of the dining area is finished with cream colored textured plaster which evens out the darker tones of veneers used giving the entire  space a more balanced look. These walls form an articulated background for any artifacts to be hung on it.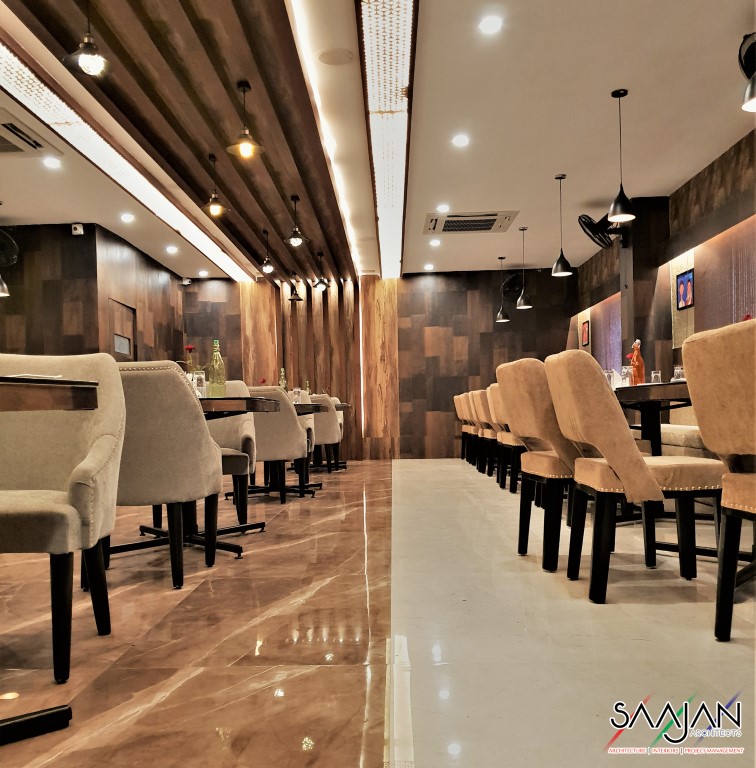 Along with giving a slight glimpse of various regions to the taste buds through the multi cuisine dishes served at the restaurants, a treat for the eyes is given by a colourful display of dressing styles is showcased alongside the walls. These regional paintings add a pop of colour amidst the neutral colour scheme adopted for the entire restaurant.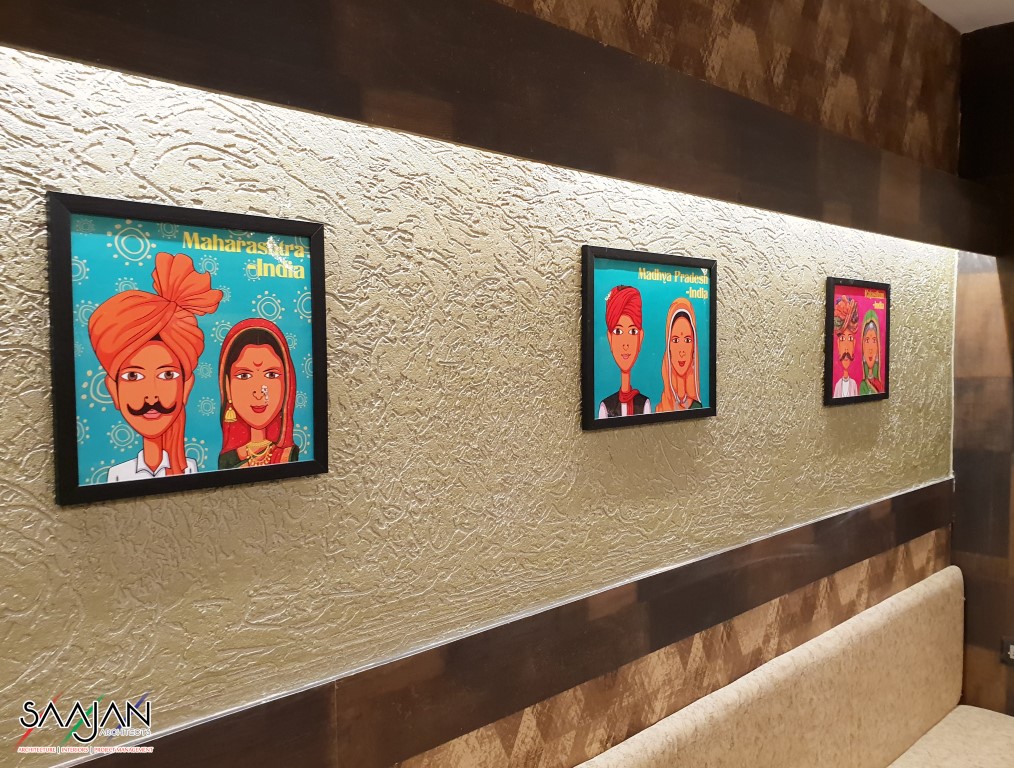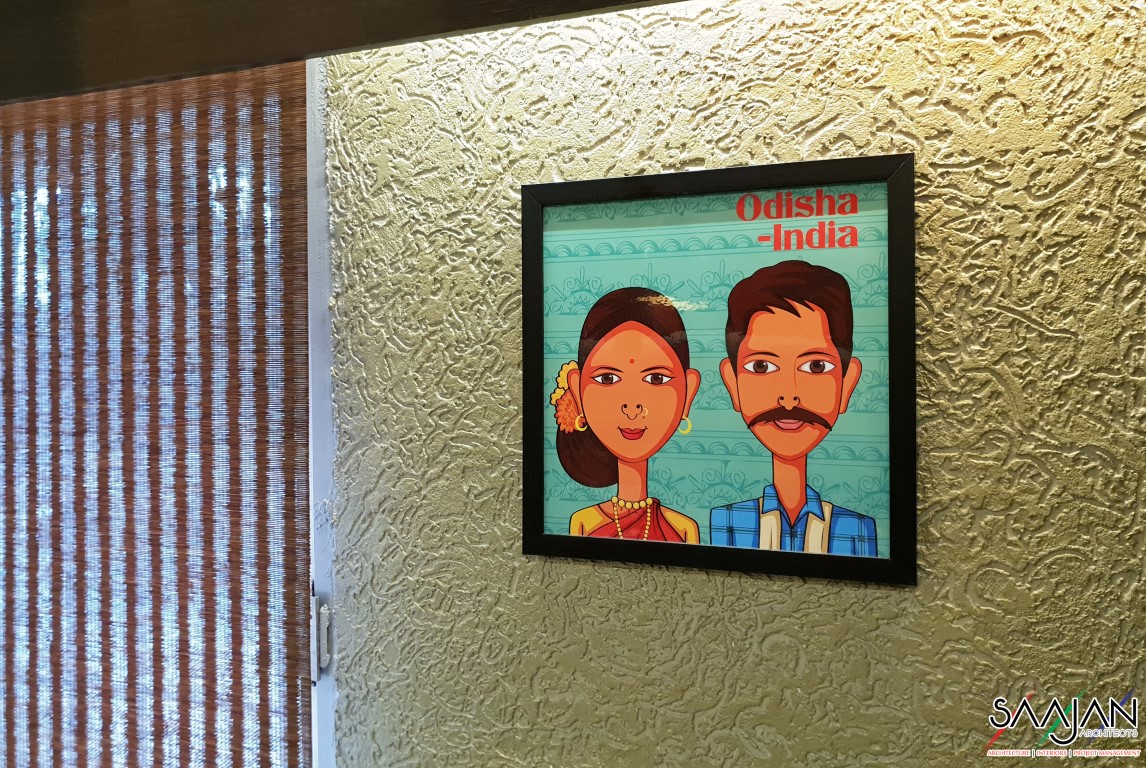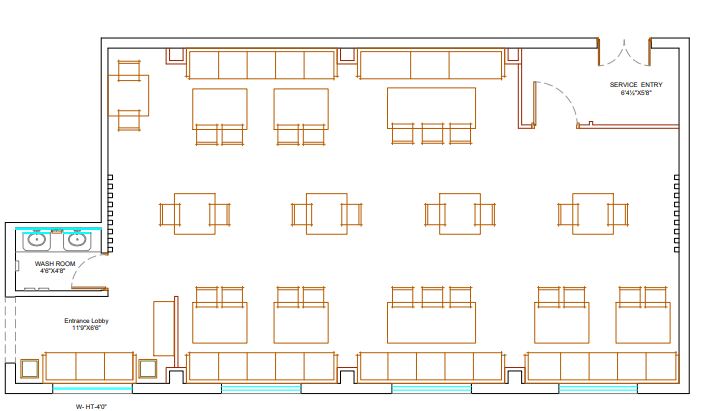 Fact File:
Firm Name: Saajan Architects, Berhampur, Odisha
Client: Mr. K Anil Kumar & K. Sunil Kumar
Project Name: Jhankar Restaurant
Area: 2350 Sqft
Location: Berhampur, Odisha
Contractors: Shyam Associates. Berhampur, Odisha
Design Team: Ar. Saajan Varanasi, Ar. Tata Nagendra, Sarita Jayanti Mishra
About Firm:
SAAJAN ARCHITECTS , founded by Ar. Saajan Varanasi, a graduate Architect from School of Planning & Architecture, New Delhi. The firm is based in Berhampur, Odisha .The people of this firm have always strived to provide Architecture & Interior Design solutions that are bespoke with energy & contemporary design. Their design approach is largely involves an intense articulation of colours as mood makers. Materials & surfaces come together to create the right painting- like composition for a range of various scale.