It's All About Steel | The Inside Story
When Raja Jain, MD of Hyderabad based Samrat Irons Pvt Ltd, a Tata Steel distributor company decided to move his office to Banjara Hills, he envisaged a space which departs from the hierarchical, siloed character of conventional workplaces and that embraces a modern, collaborative one. He also wanted the design to resonate with his passion and sentiment for the steel industry. With this in mind, he got on board the fresh, inspired and unconstrained duo of Raashi Pachisia and Umang Daga from the Inside Story to design and execute the 5500 sqft office seating 60 engaged employees.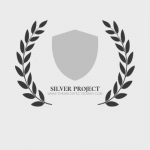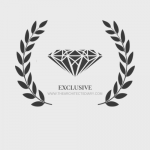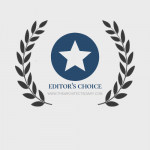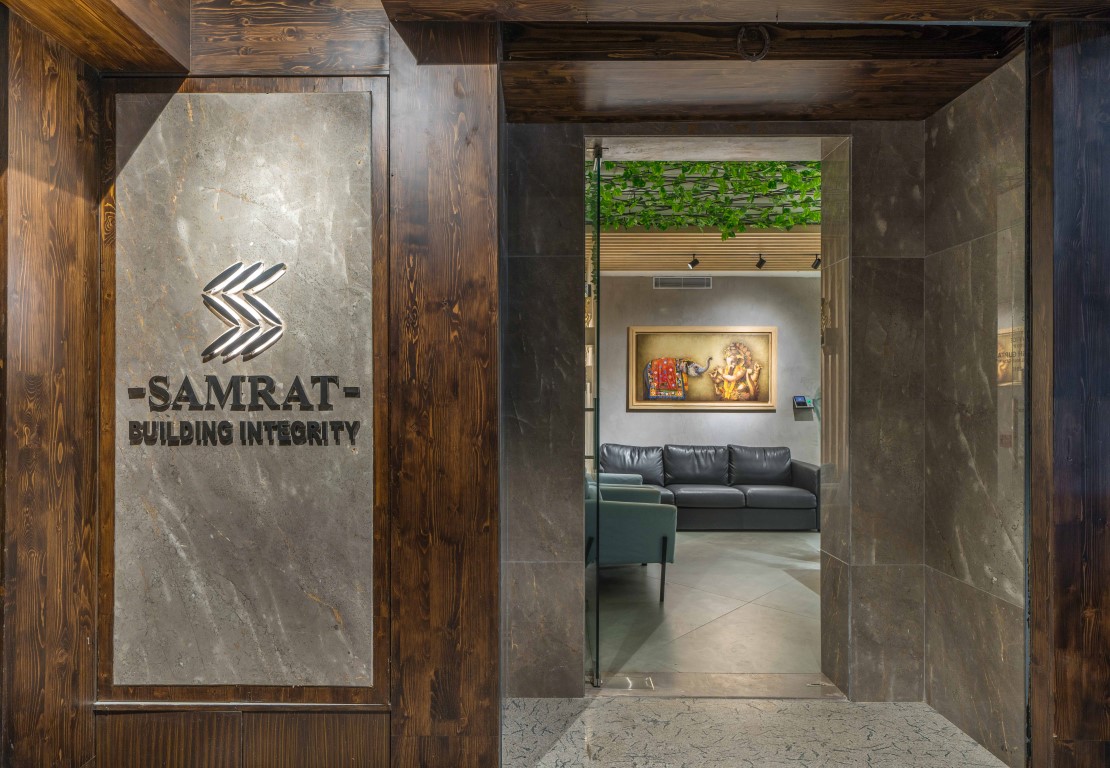 What is most noticeable about this office, and what Raashi spent most of her time on while wearing her design hat is the incorporation of steel into the theme. Walk into the reception and you will see a multi layered metal grid pattern in the ceiling. Continuing inside, grid partitions in metal are hung from the ceiling to transition spaces visually.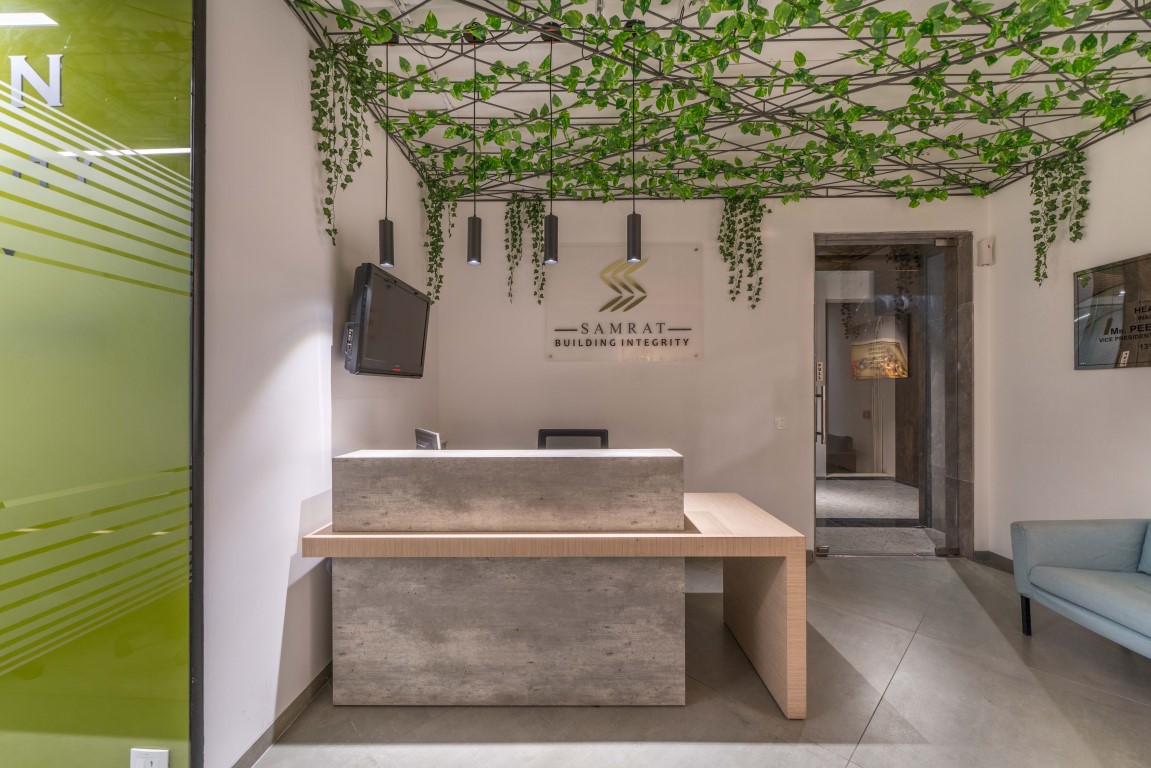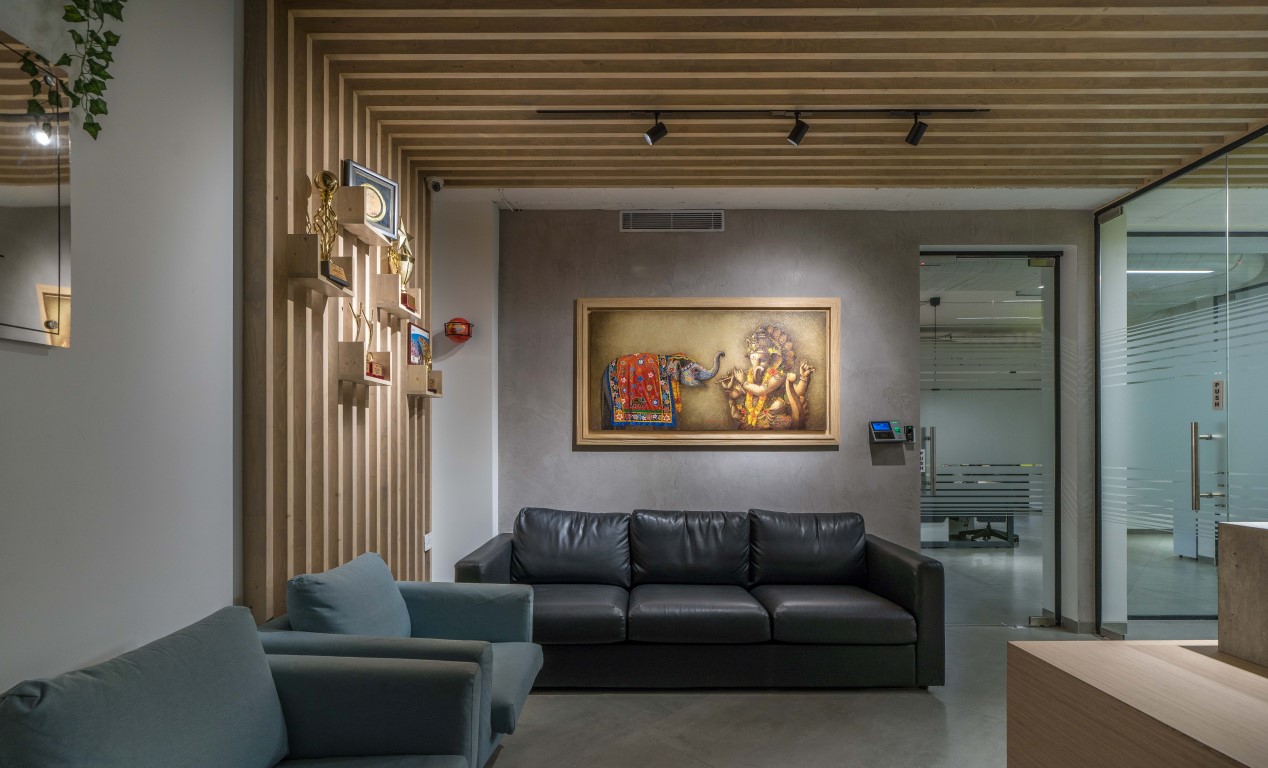 The main meeting rooms are named after two of India's most iconic steel structures made from Tata Steel – Howrah Bridge and Sea Link. Miniaturised, but noticeably large metallic replicas of the bridges adorn the walls.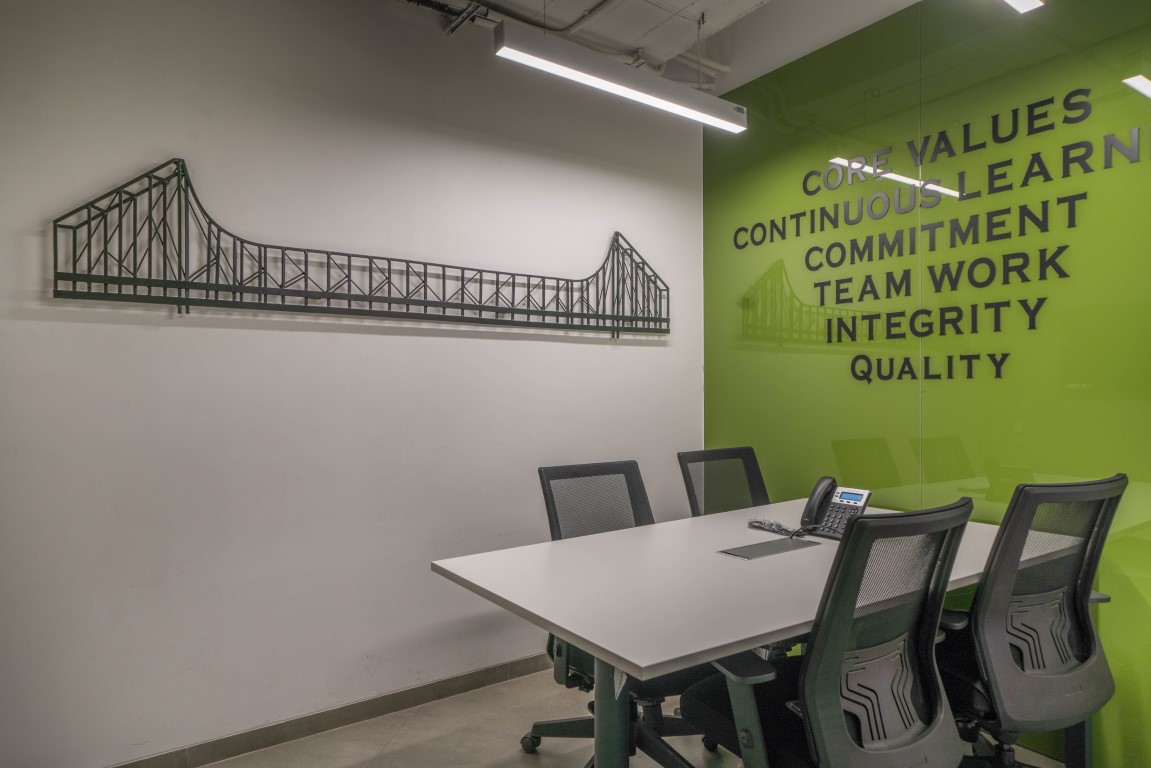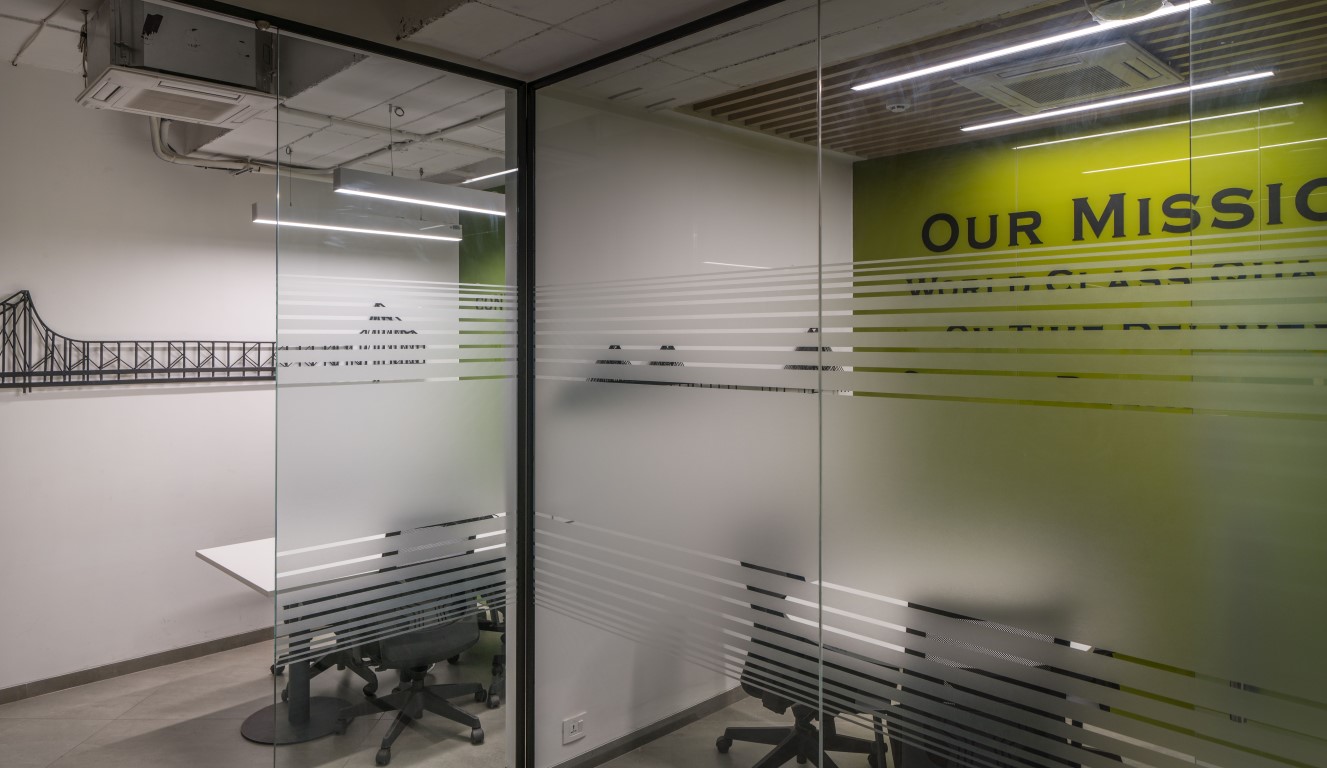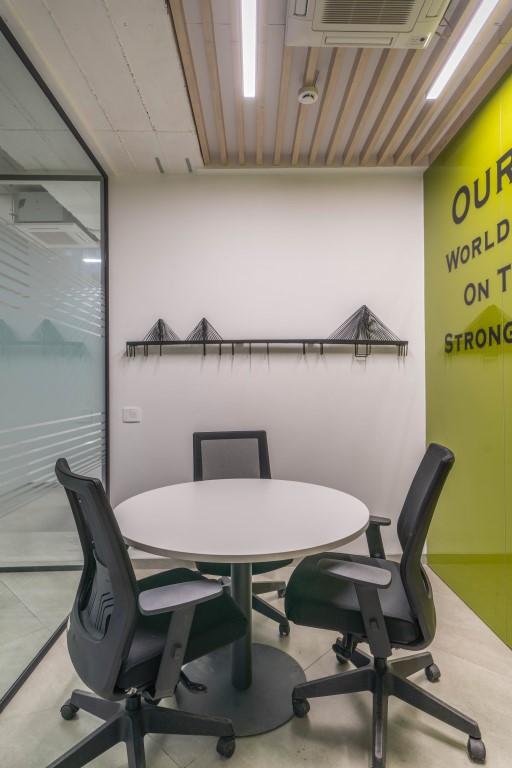 The MD cabin also has a customized metal skyline sculpture behind the desk, complemented by a collage of black and white photographs of steel structures. Extending the concept to leisure spaces, the pantry wall is fabricated with re-purposed blue transport containers.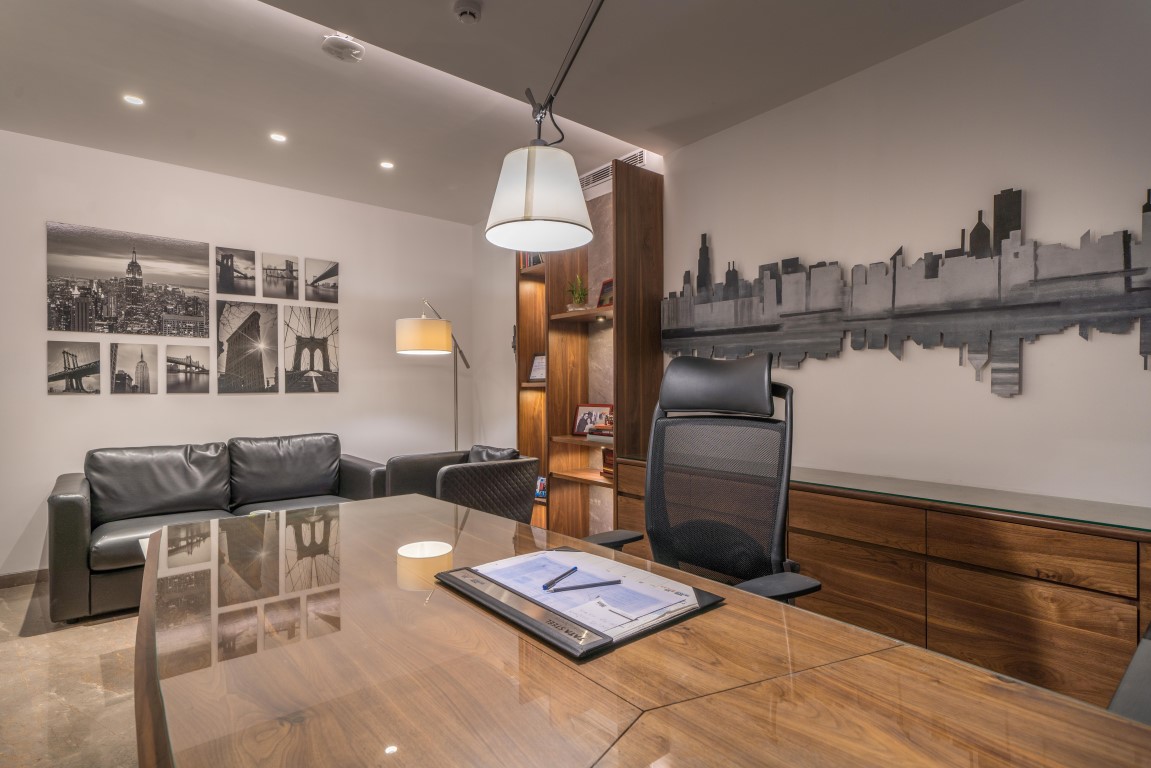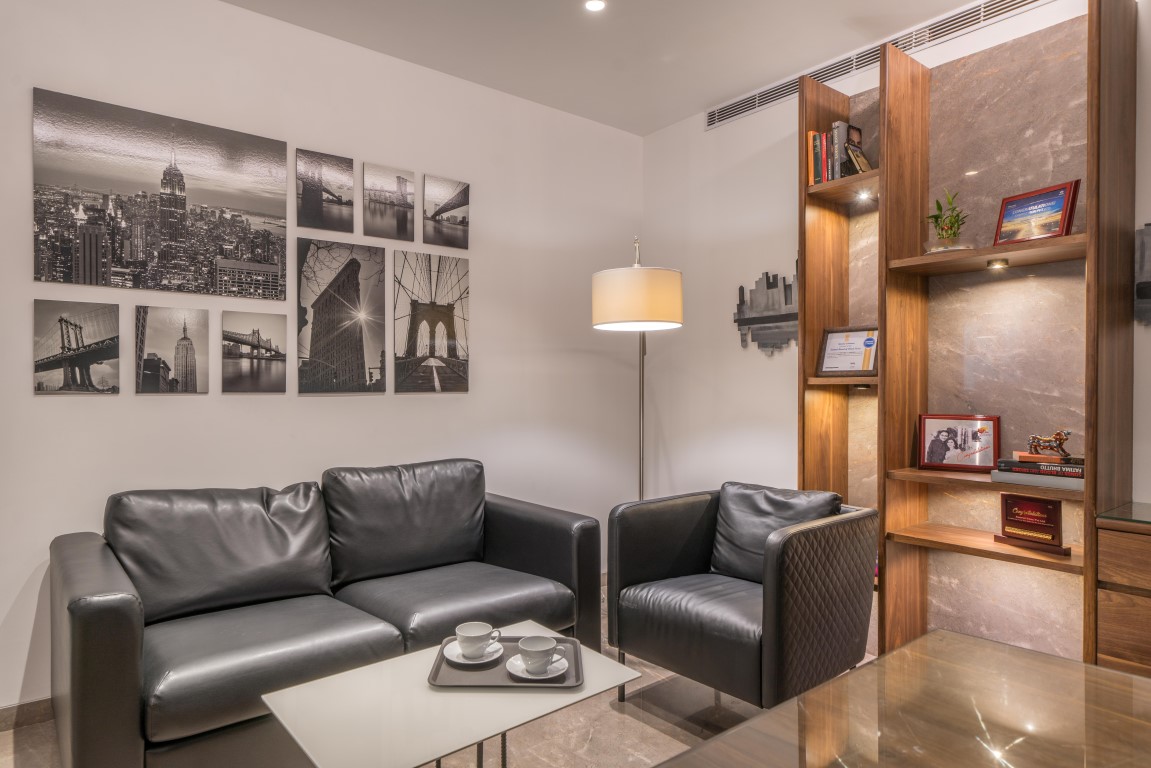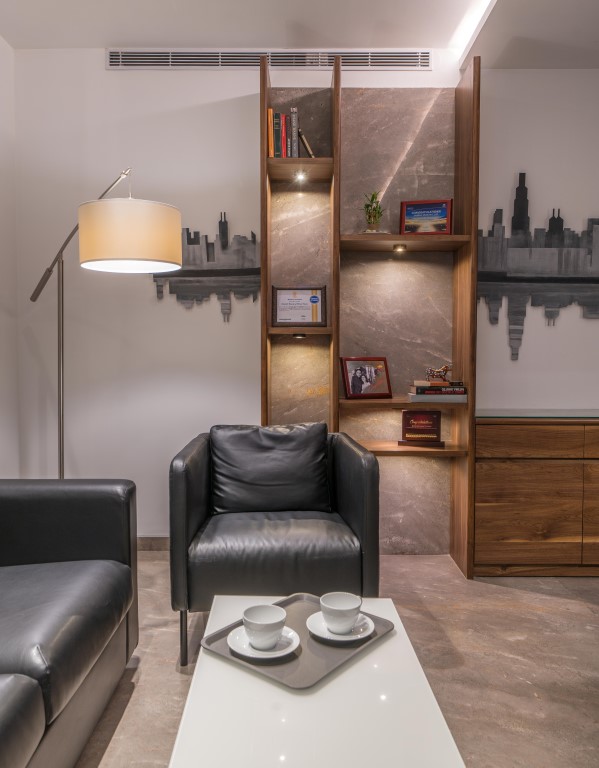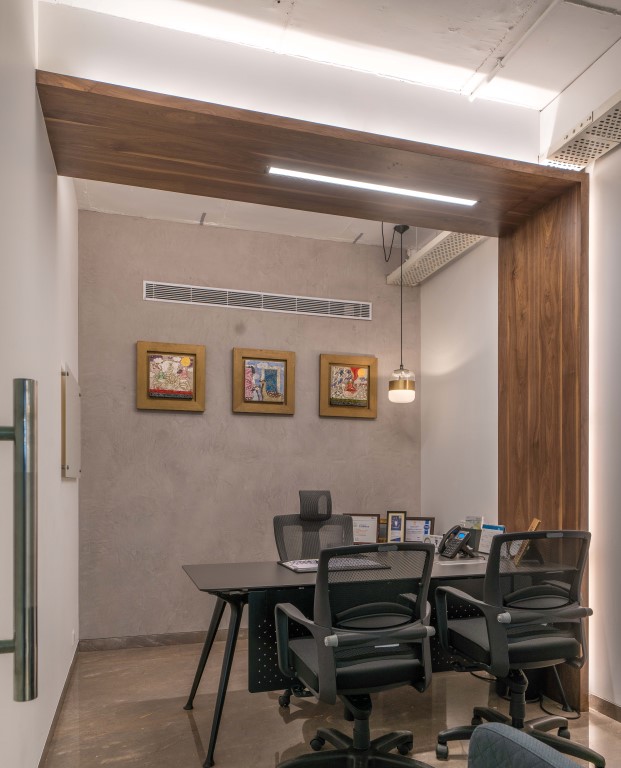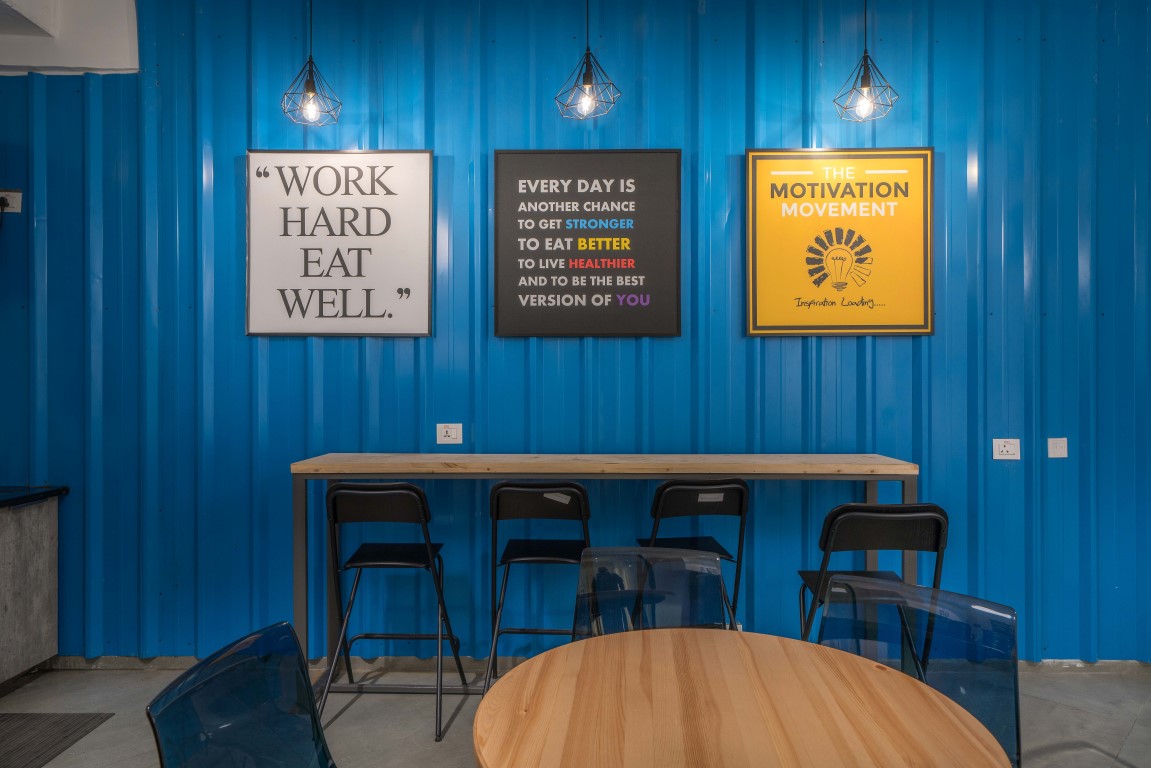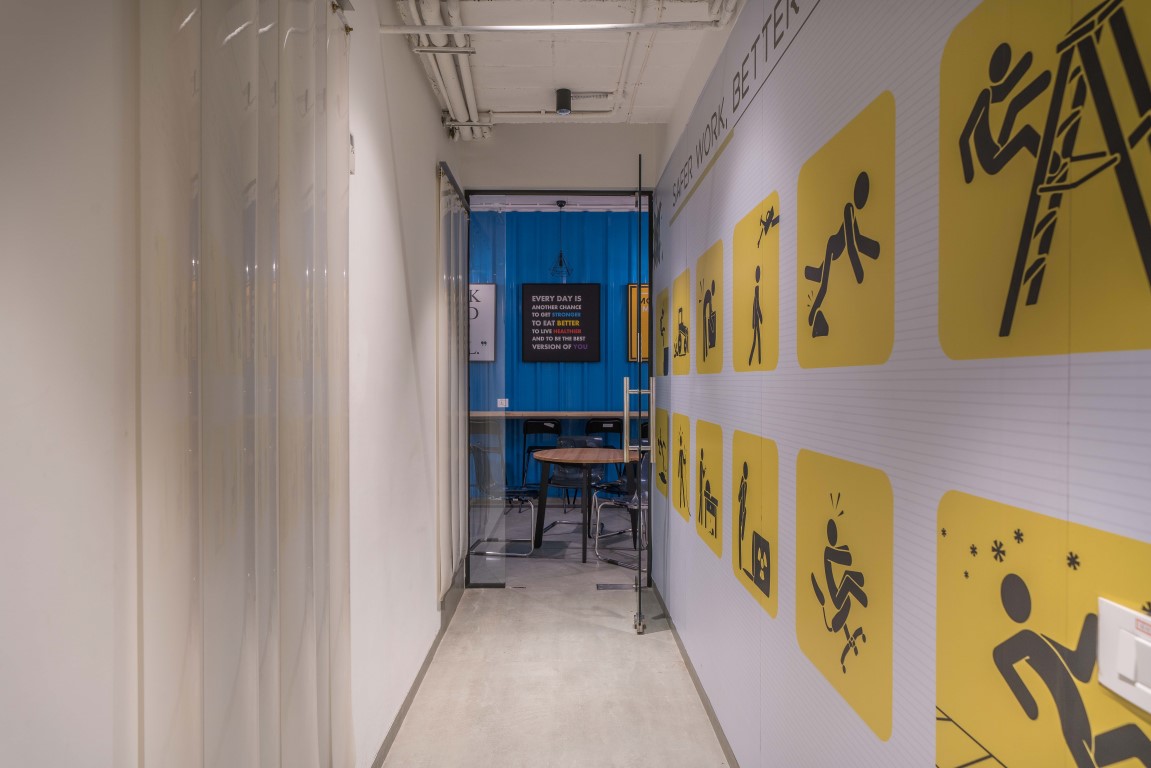 Acing the aesthetics
As the site was being constructed from scratch, Raashi and Umang soaked in the raw industrial feel of the blank canvass. They intentionally let some of that rawness remain by retaining the exposed, concrete ceiling. This rawness is also accentuated by cement floor tiles which flow into wooden and Italian marble flooring used to segregate different functional spaces.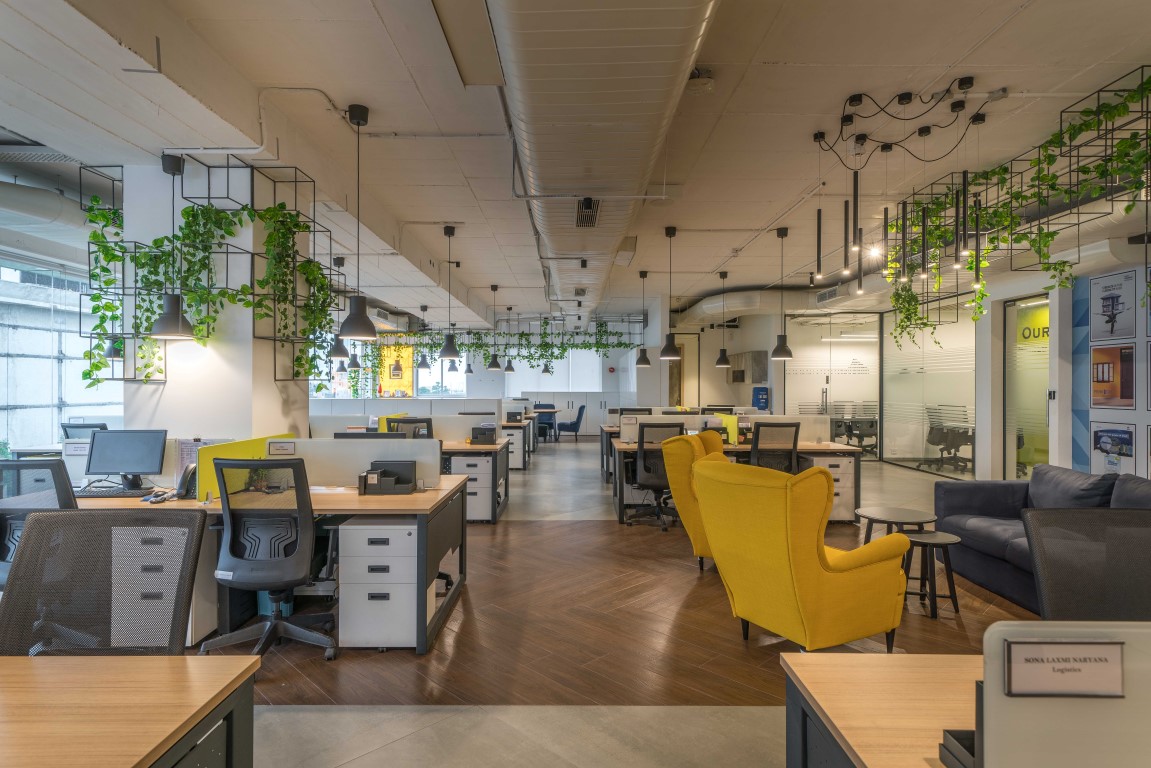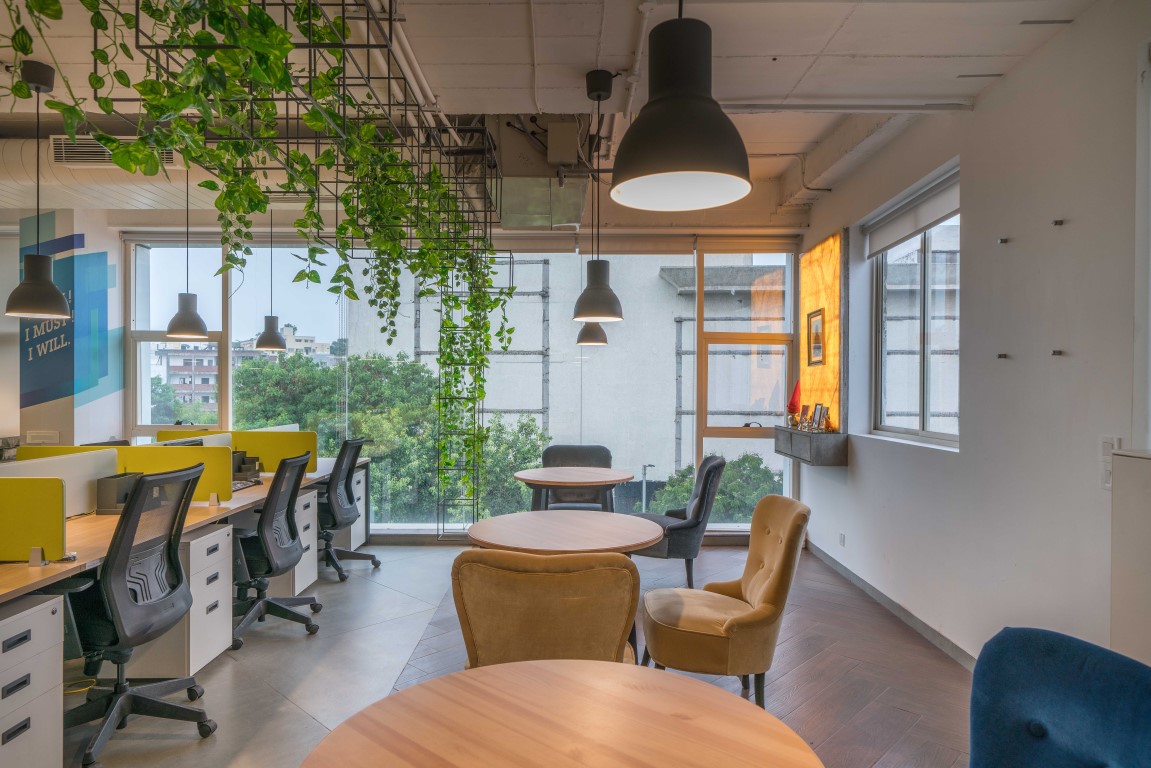 The colour palette draws from the company's logo – mostly bright green- seen in the planters hung from the grid attached to the ceiling as well as the magnetic boards at the oak colored desks.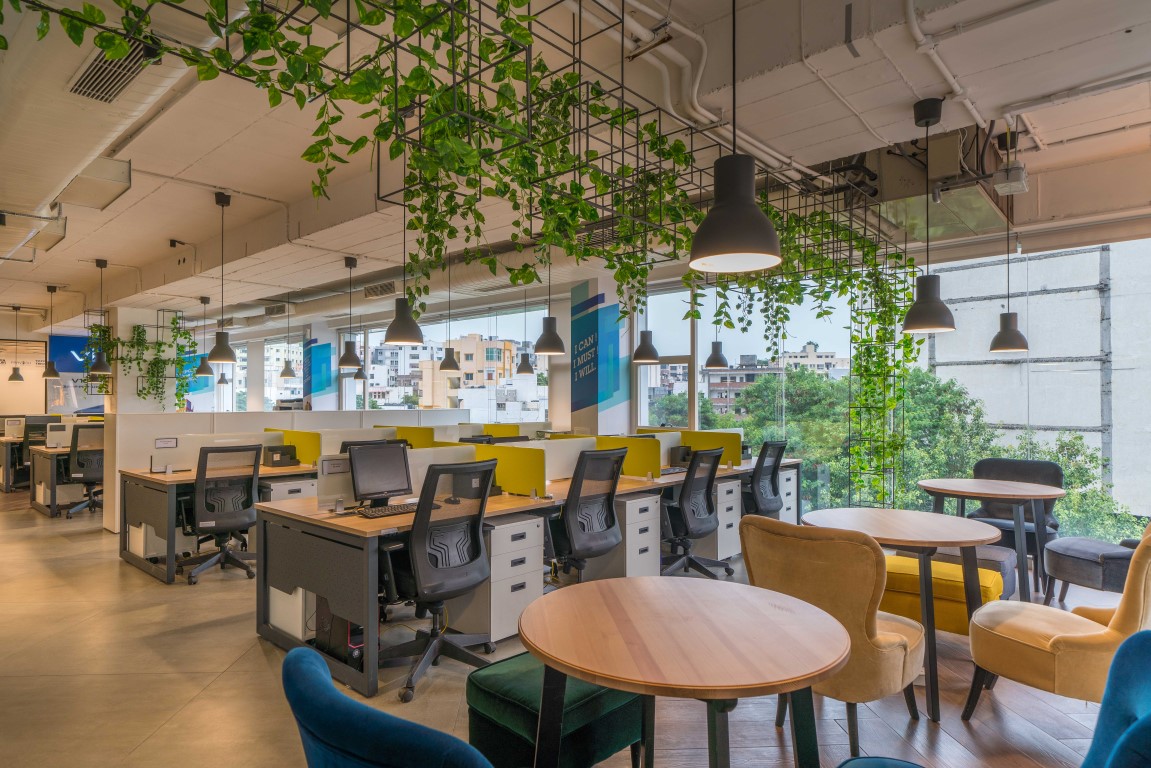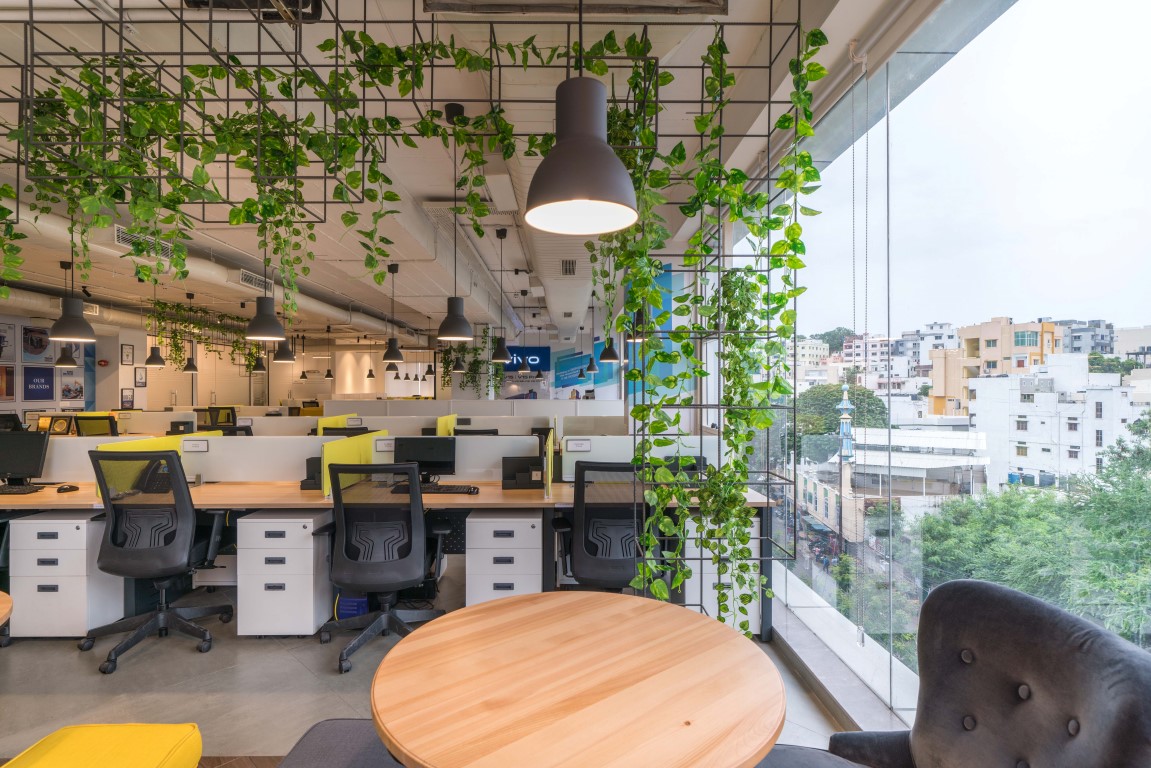 Designing to engage
The entire office has an open, seamless layout that beats intellectual and perceived power barriers. Break out spaces are also created with soft colorful sofas, pouffes and round tables to allow employees to have a fun break. Mood lighting created by low hanging lamps creates a classy touch which Mr.Jain jokingly claims could incentivise people to work longer hours !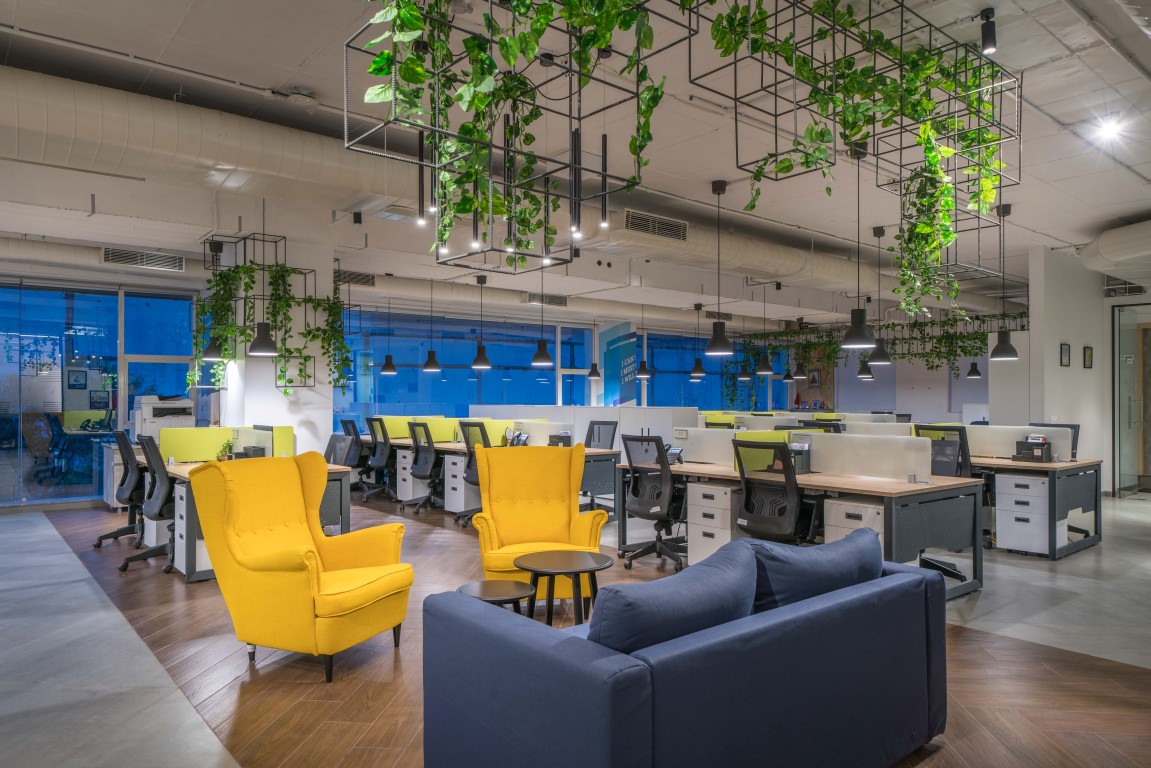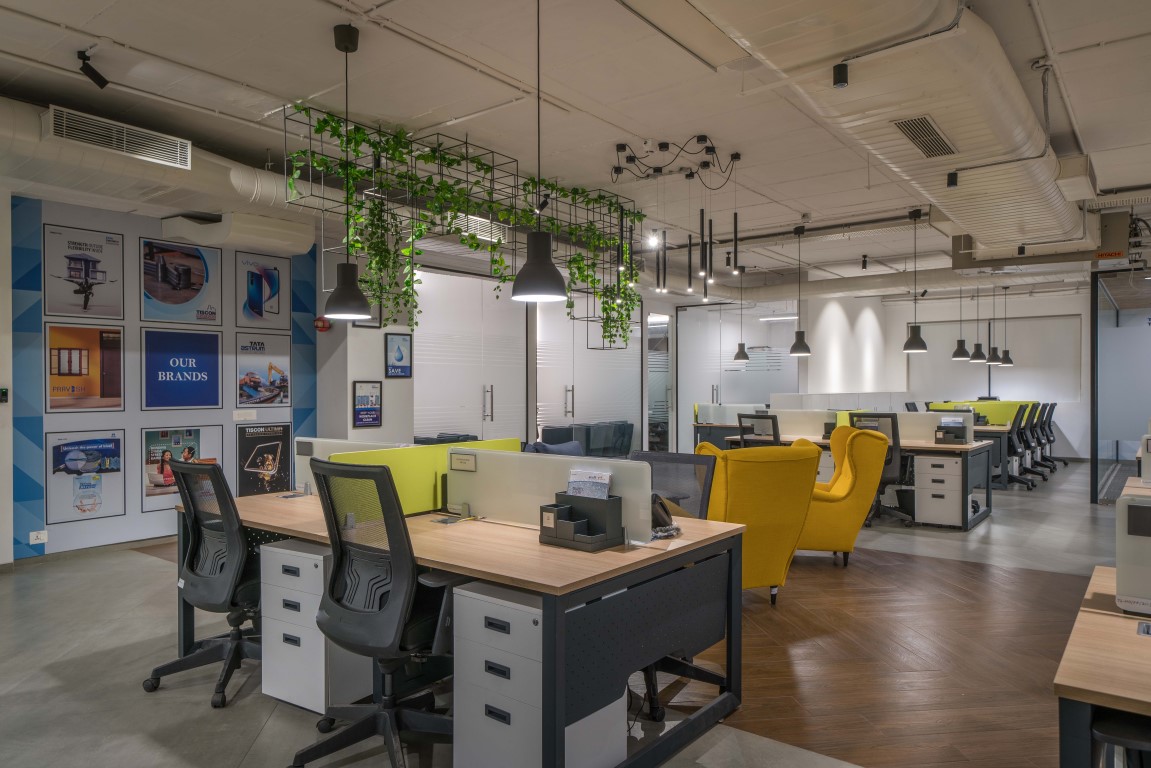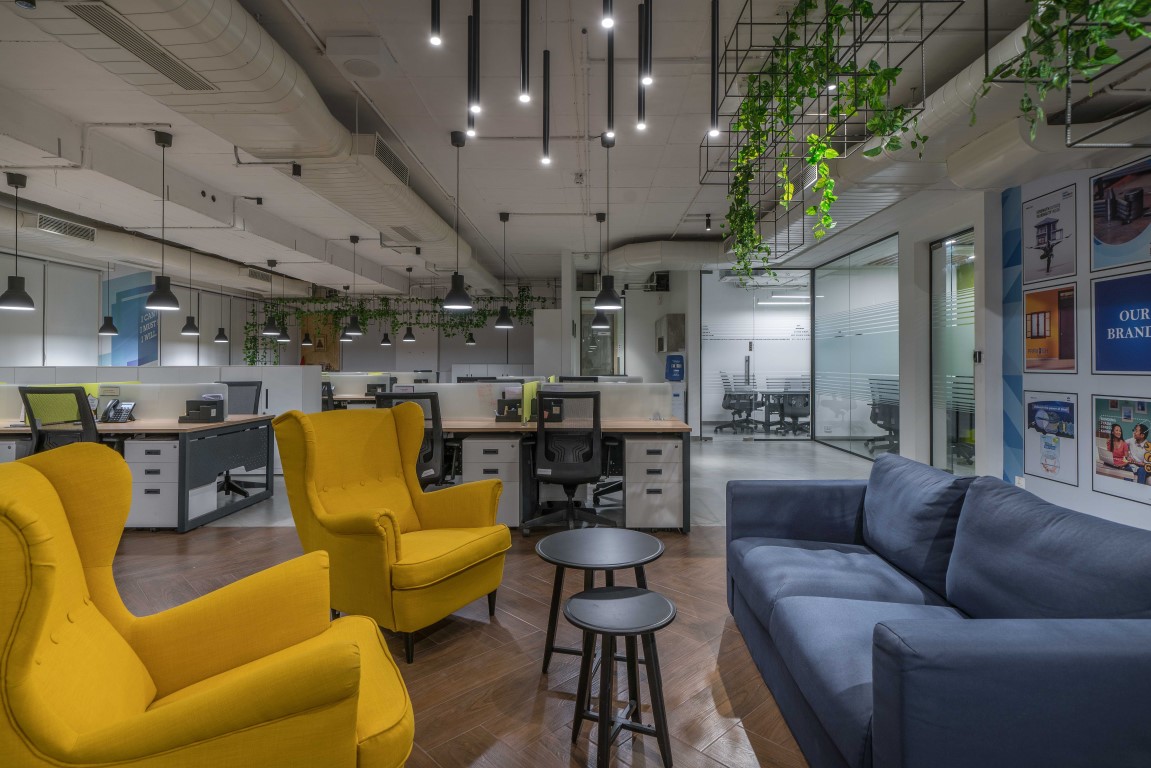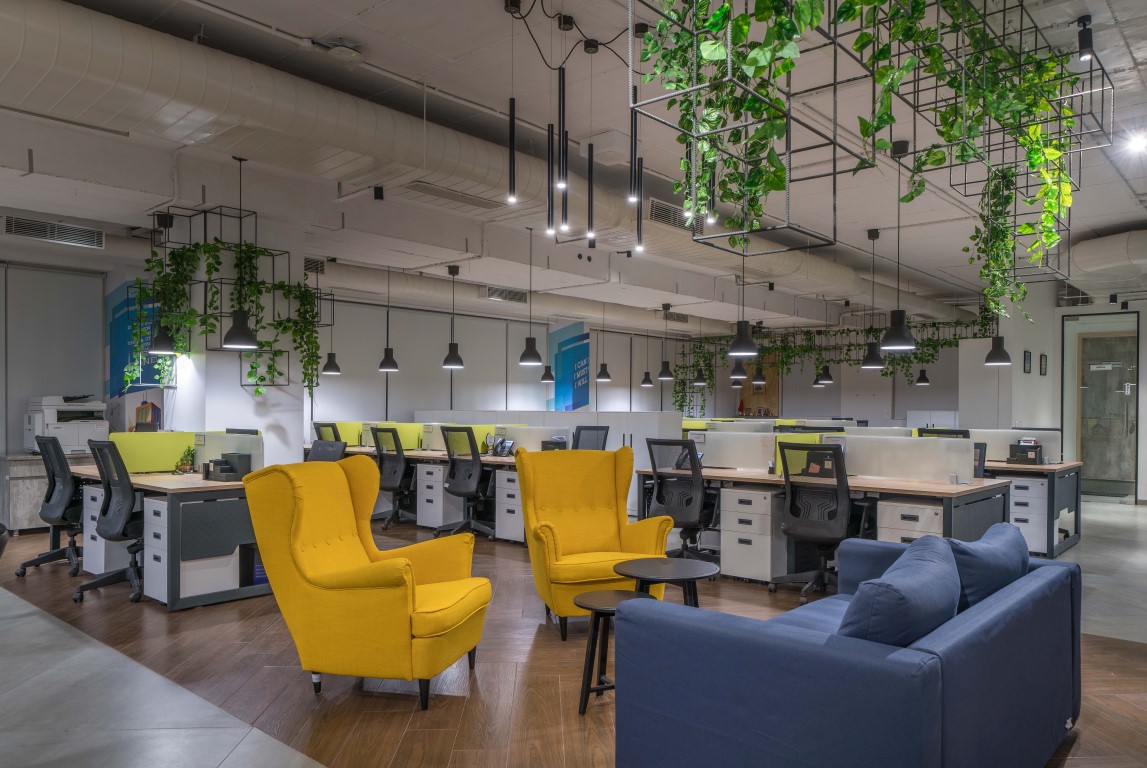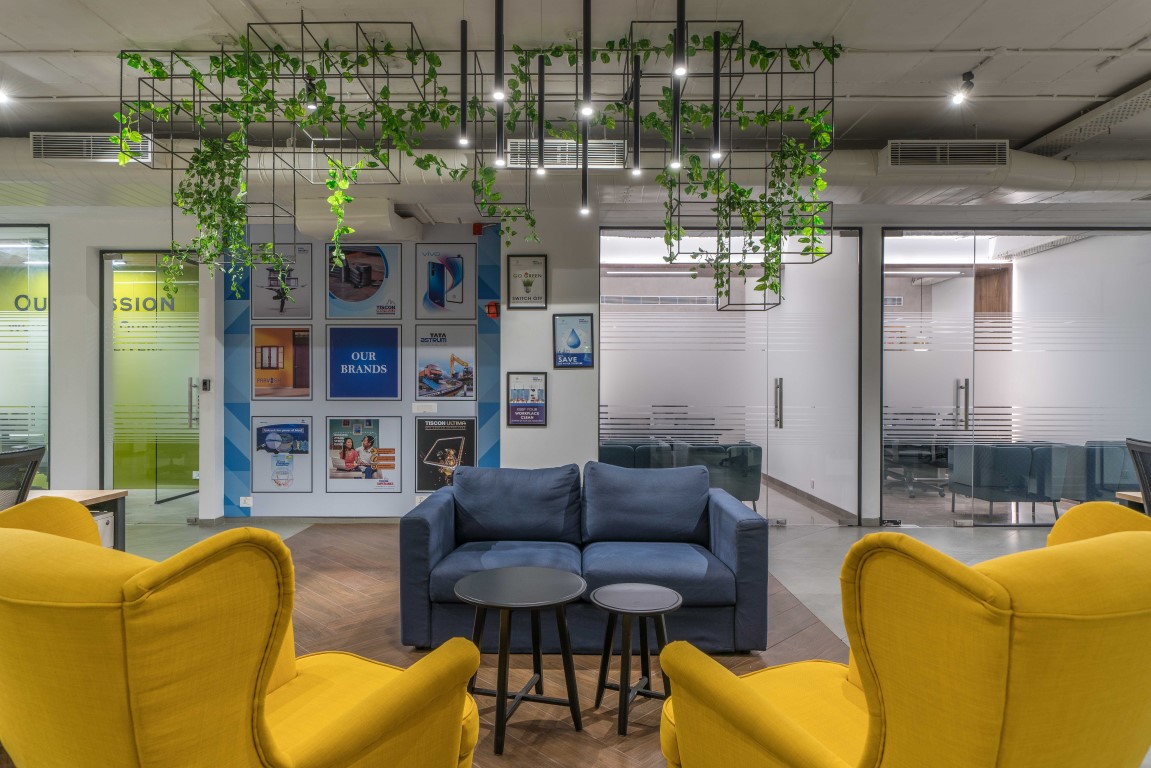 Through their eclectic design choices and evolving styles, The Inside Story aims to create spaces that vibe with the personality of the user. Since their inception in 2011, the duo have completed Numbers of projects in cities including Dubai, Melbourne, Hyderabad, Dubai, Bhubaneswar, Sydney and Delhi in the last 6 years.
Fact File:
Firm Name: The Inside Story
Client: Mr. Raja Jain
Project Name: Samrat Irons Pvt Ltd
Area: 5500 Sqft
Location: Hyderabad
Photography Credits: Ricken desai
About Firm:
"Every space has a story. We help you tell yours."
THE INSIDE STORY, better known as TIS, is named so to live up to its motto. Established in 2013 by Co- Founders Raashi Pachisia & Umang Daga, TIS began their journey in Residential interior design, and today we have entered the commercial and hospitality markets, as well as the bespoke furniture design space. TIS is a company operating in the field of Design and Contracting and capable of executing turn-key jobs, from Design to finishing works including Architectural, Civil, Electro-Mechanical, wood, aluminum and glass works as well as interior and furnishings with emphasis on details and quality.
The Inside Story infuses different inspirations and makes and aesthetic whole. We try to bring in comfort, style, and function to the enhance the life of the user. There are no rules we follow when it comes to the design and materials used, and the way they are used. We constantly strive to experiment with form and function, and improve the user's experience.