&nbsp
Insight Academy Interior Design | VMDPE Design
Project Description: This project is located on the first floor, Ali Center, Nanshan District, Shenzhen, with a usable area of 122 Sqm. The project is designed to create a boutique nursery with immersive English teaching. At the design level, "Maximize Potential" is the pointcut. This means building a spacious scale relationship in limited space, while creating a space full of fun and relaxation.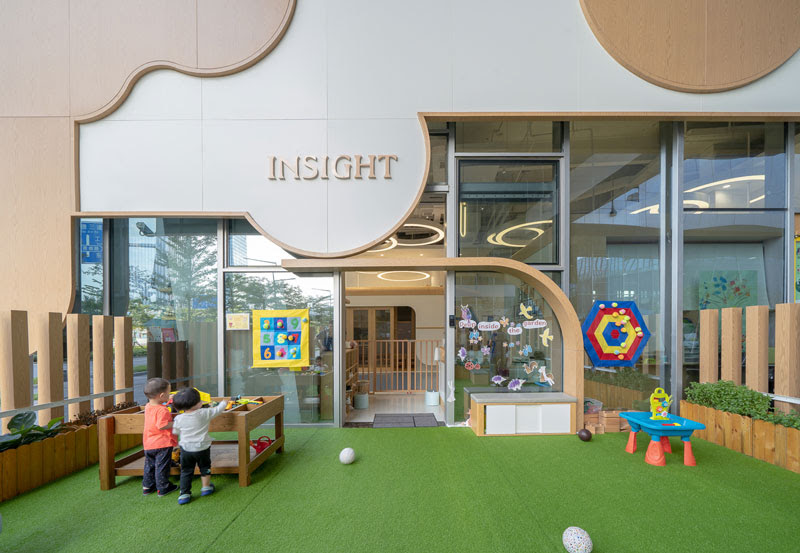 Insight Academy is located in Nanshan District, Shenzhen. As a densely-populated and fast-paced city, Shenzhen has a huge demand from young parents for high-quality educational institutions. Especially for groups scattered in the community and work areas, there is an increasing demand for childcare facilities that can be serviced nearby. However, limited space in these areas also means that large childcare facilities cannot be established.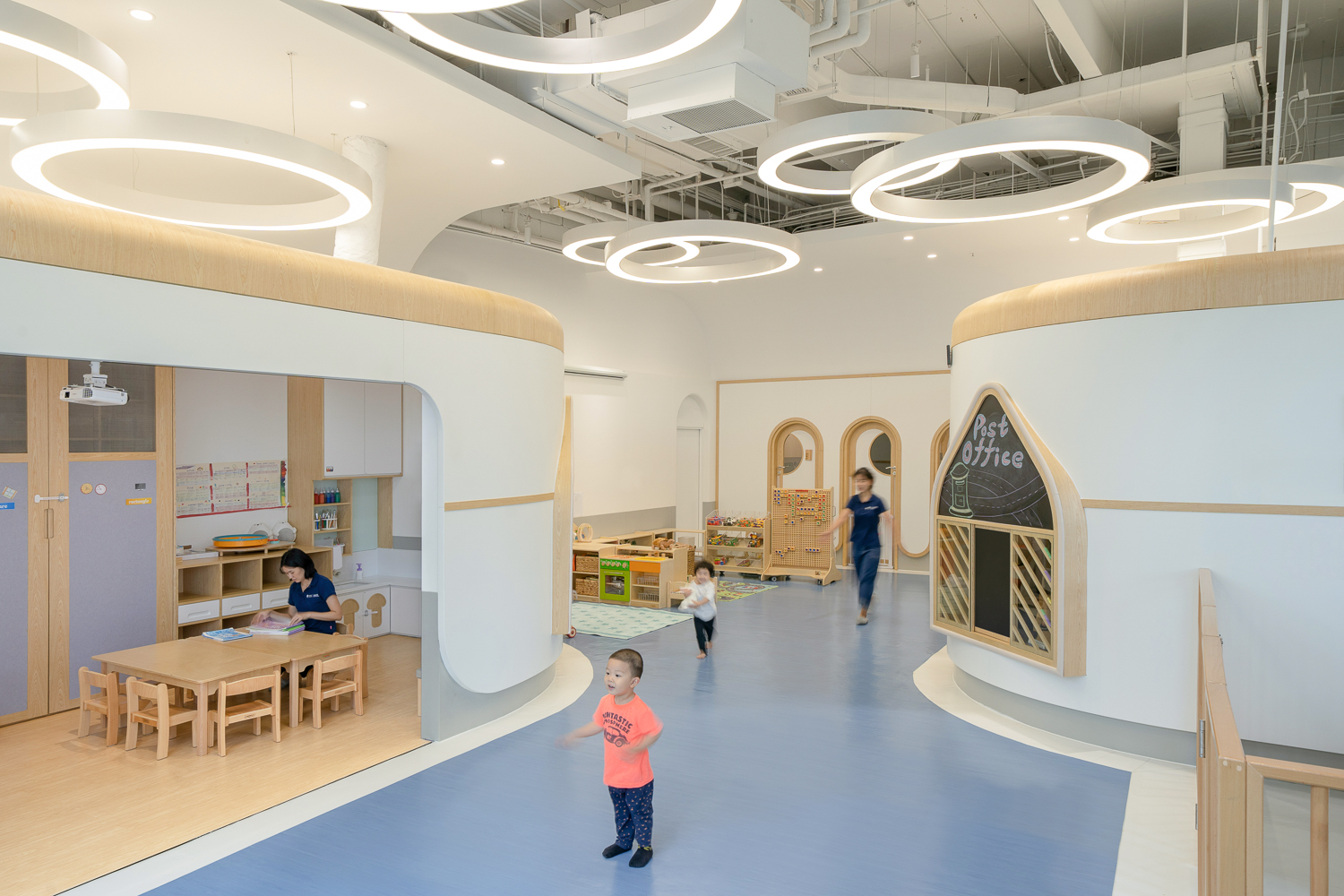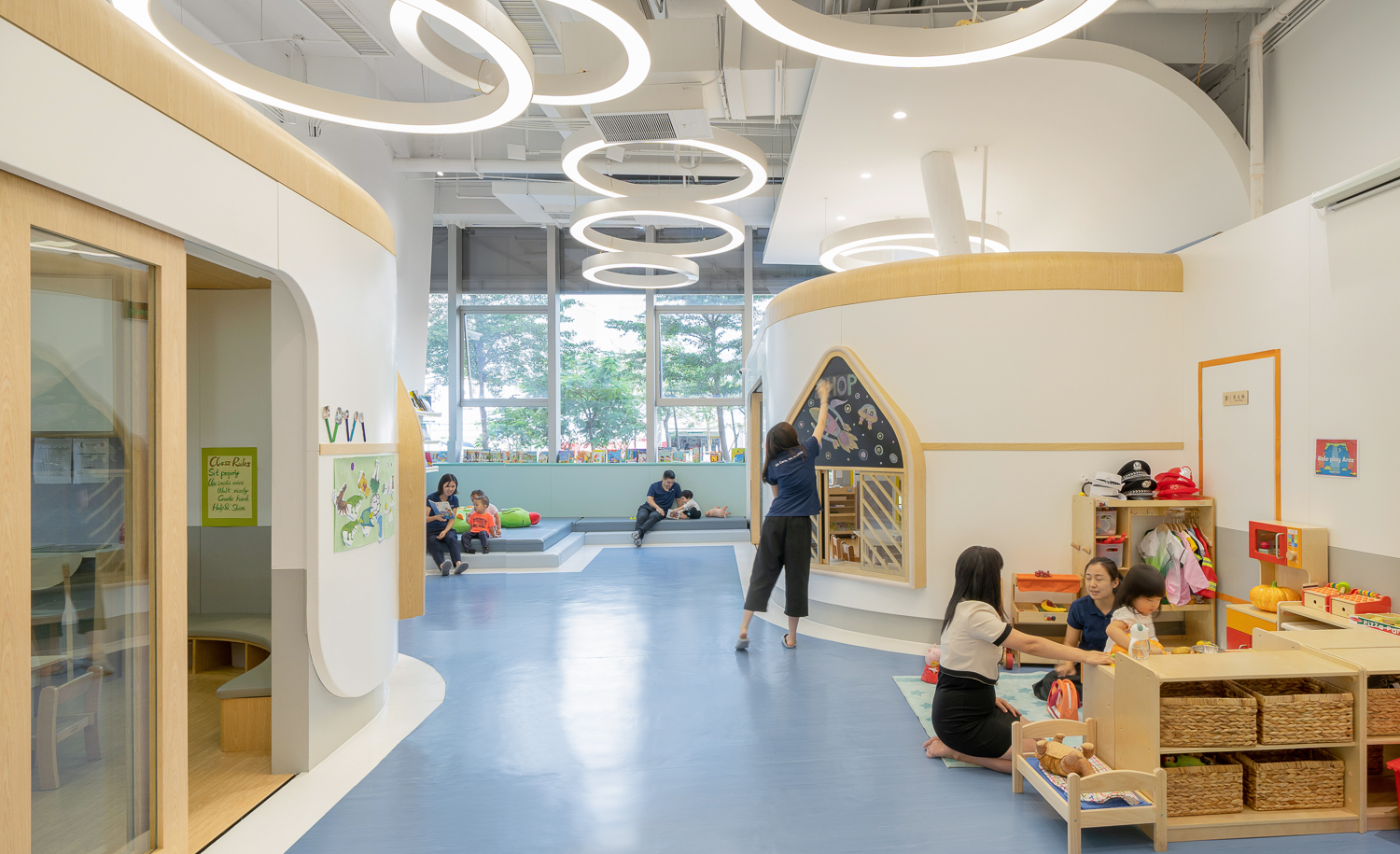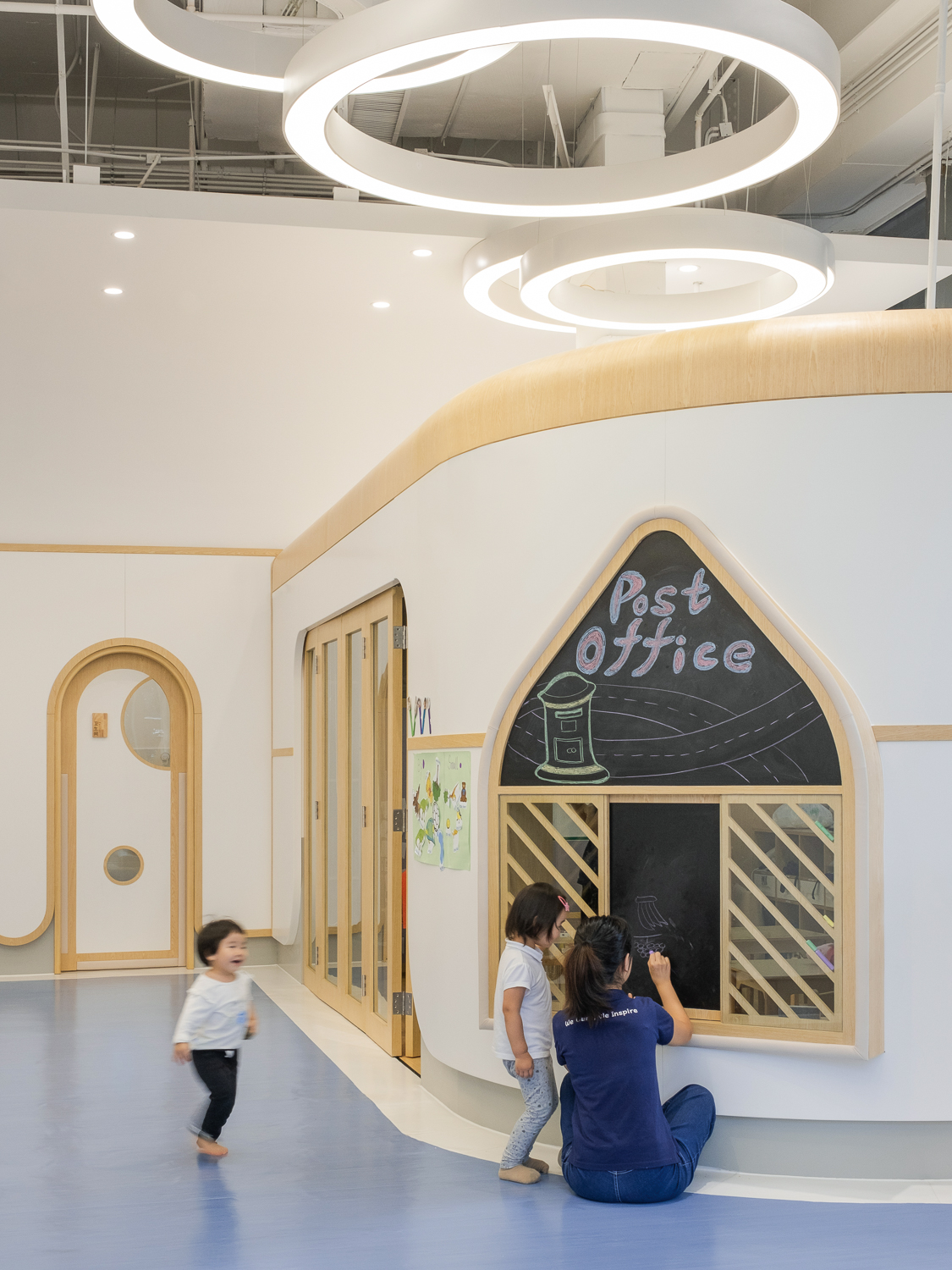 Positioned as a boutique immersive English teaching nursery, Insight Academy was established in response to the market demand. It located on the first floor of Ali Center (the headquarter of Alibaba Group) with a total of 16 students. Maximizing the space usage in a limited area was the challenge for VMDPE Design. They worked out the solution—Maximizing Potential by utilizing the space reasonably. By exploring the children's nature, teaching ideas and space features, the designers created a spacious scale relationship in a limited space as a way to remove the traditional views on insufficiency in children activities in a small institute, and also created a space full of fun and relaxation.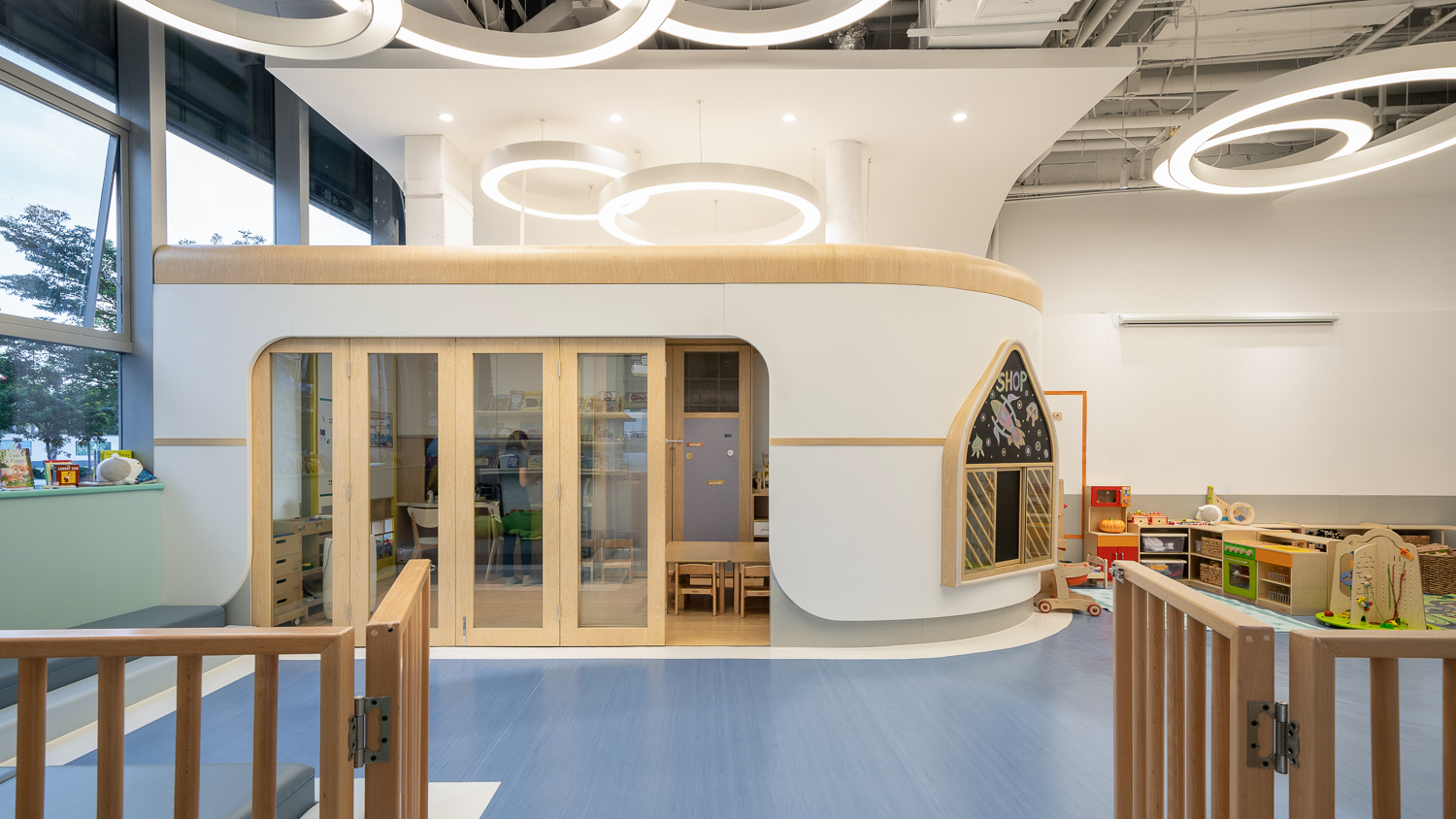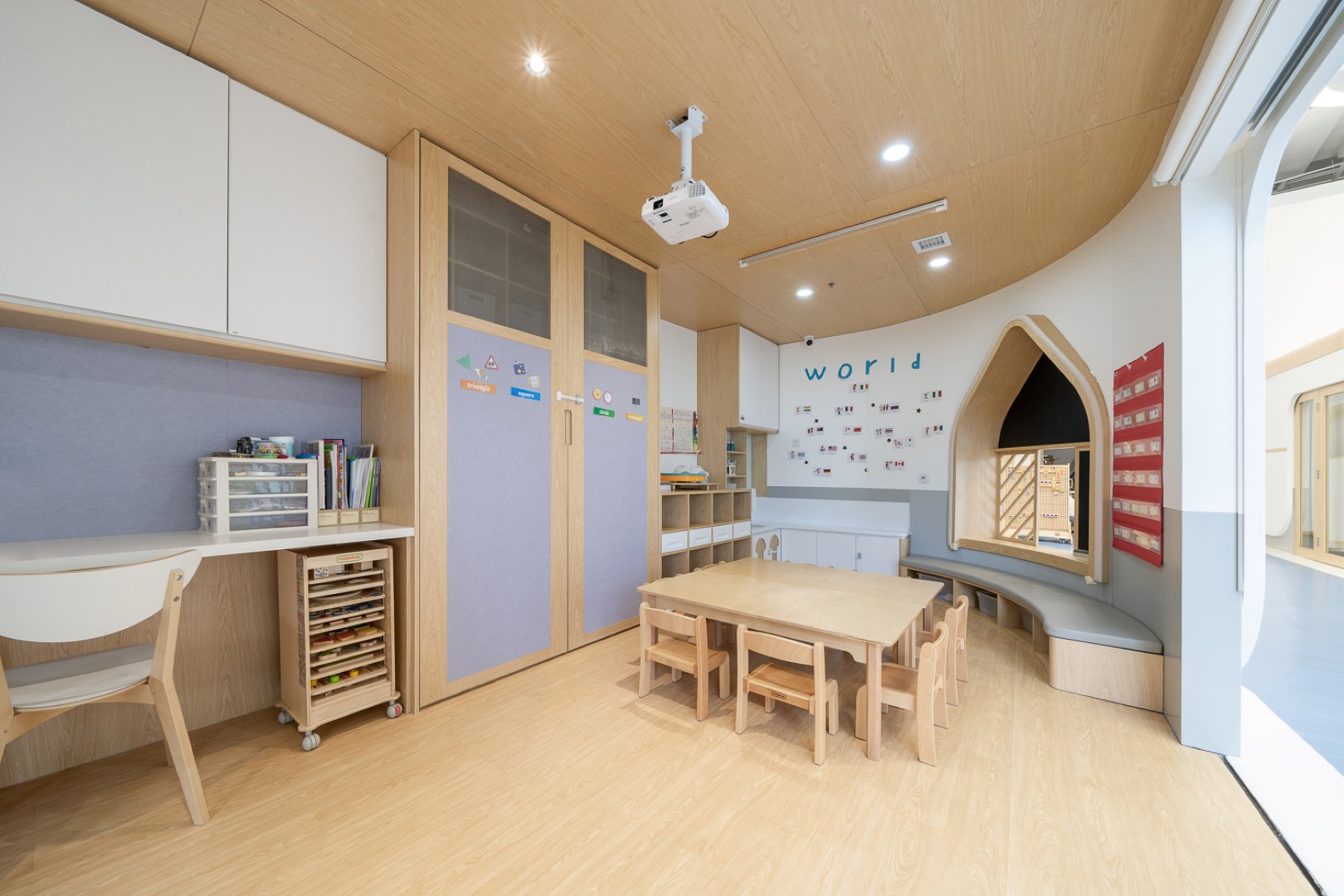 "Group Unit"
Among the teaching philosophies followed by Insight Academy, "Immersive English Teaching" and "Every Unique Child" are two of the most important terms. With these ideas in mind, VMDPE Design has reconsidered the relationship between language teaching and learning space. VMDPE Design has created more of the necessary conditions for children to communicate and socialize naturally through scenario-based design. Concurrently, a higher teacher-student ratio was also reflected in the space division. The internal space design structure embodied a concept of "Group Unit". VMDPE Design divided one big class into two small classes, and each class had 8 students. The two independent small houses on the diagonal were the two classrooms. Each class had its own activity space in front of the sliding door. These two parts were combined into a group unit. With the two sliding doors fully opened, the space for activities were maximized to meet the needs of more teaching activities.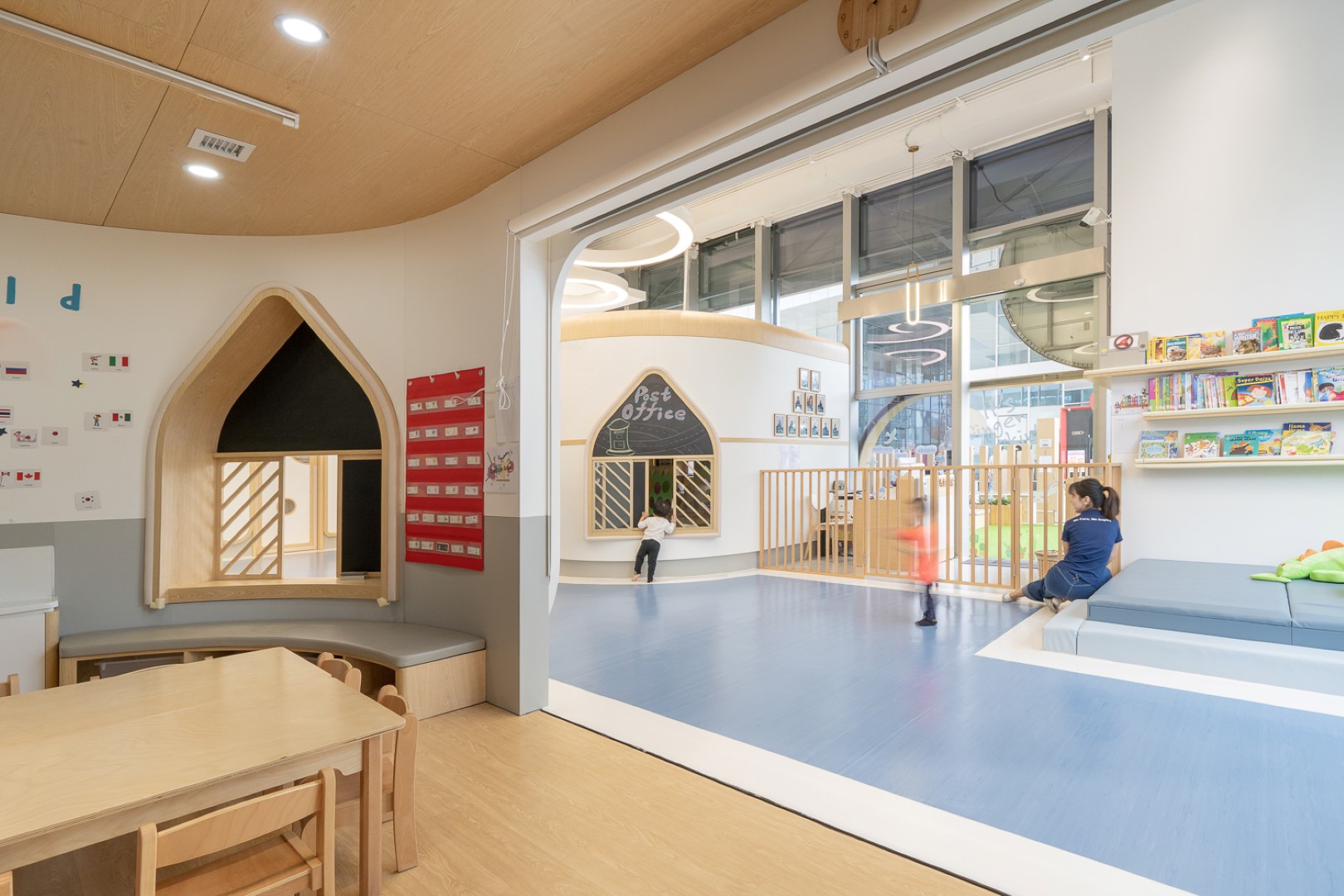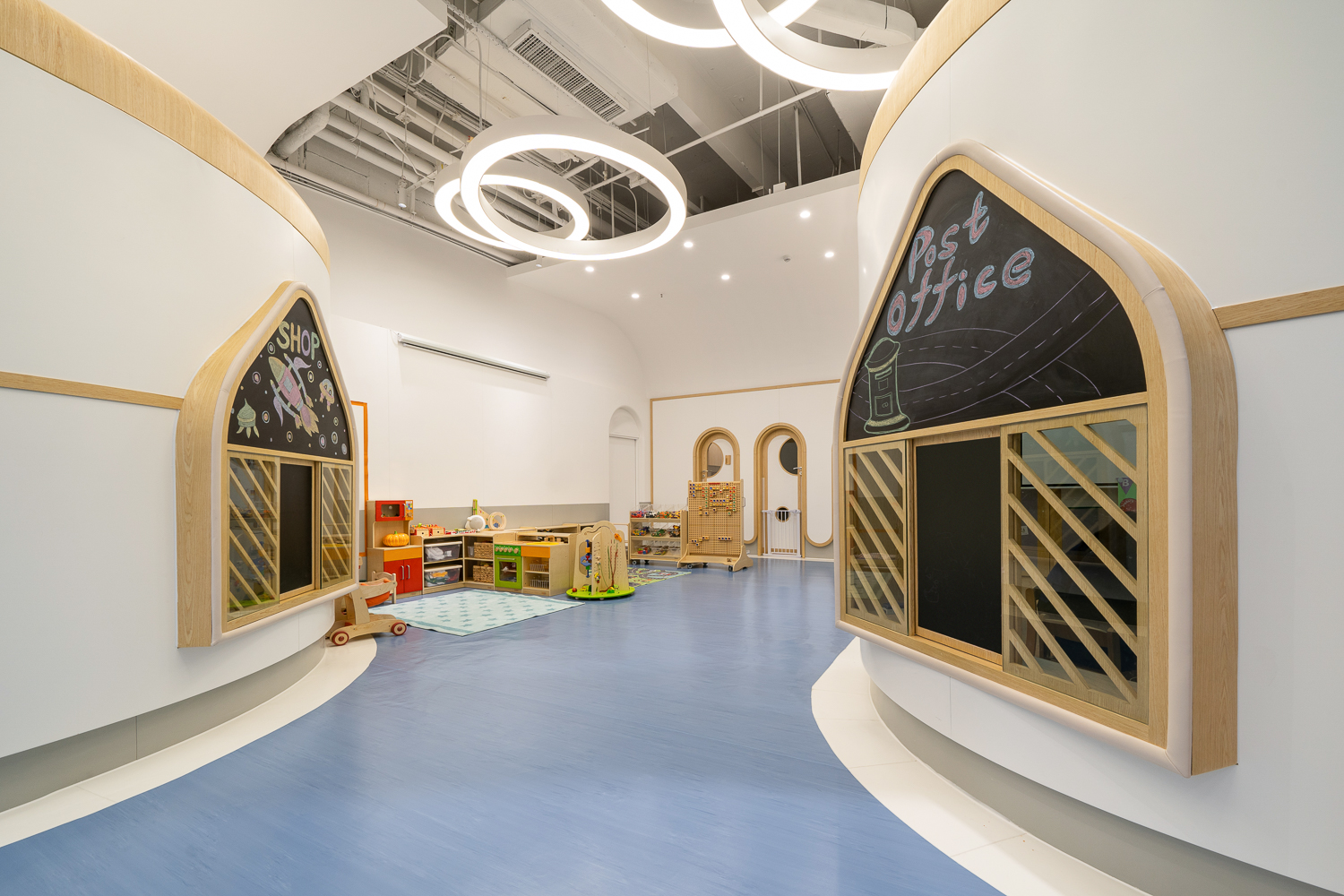 "Dialog Box"
In order to highlight the scenario and social design, the two independent classrooms were staggered to form dialogues between the two classes. There was a "Class Interaction Window" on the opposite corner between the two houses. This acted as an interactive interface between two classes. The window itself was a blackboard that could be combined with the actual teaching content to simulate the role-playing scenarios, such as post office and shop.
Besides, a street interactive window device was installed on the external window of each class to display the students' work, and the questions raised by students to outsiders. "Guess What I Draw" was a good example. Passers-by can twist the handle on the outside, and hidden balls will fall in the area of the answer they choose in their response to the students' question. "We hope this way allows children to obtain feedback from the outside in a safe distance and a fun way, while for passersby, it is also an interesting experience on the way to work." In this way, a dialogue   between children and society was established.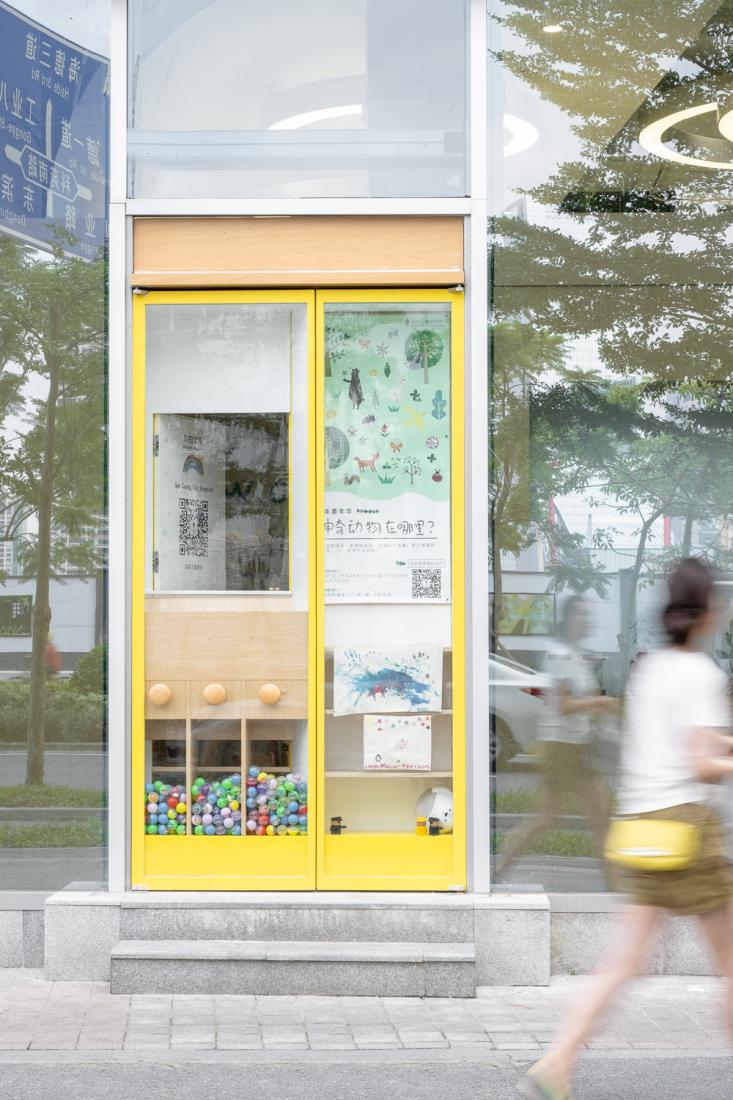 Off-site Production Techniques
In order to use the space properly, all functional modules were integrated entirely and accurately, thus, based on eco-friendly concerns, minimizing the noise and dust. VMDPE Design used   assembled parts with consideration of optimizing the design methods and engineering process. They regarded the entire space as a large device, and considered each part as a process that could be transported and assembled separately. Thus, they made each module off-site, and then transported it to the site to be assembled. For example, the furniture cabinets in two independent small houses became part of the supporting structure. This not only ensured the stability of the small house structure, but also effectively used the area in the space. Out of concern for the children's environment, the entire structure was good for both a smooth and flat visual effect, and provided the required safety protection. From the perspective of efficiency, it not only shortened the construction period, but also helped to control the budget.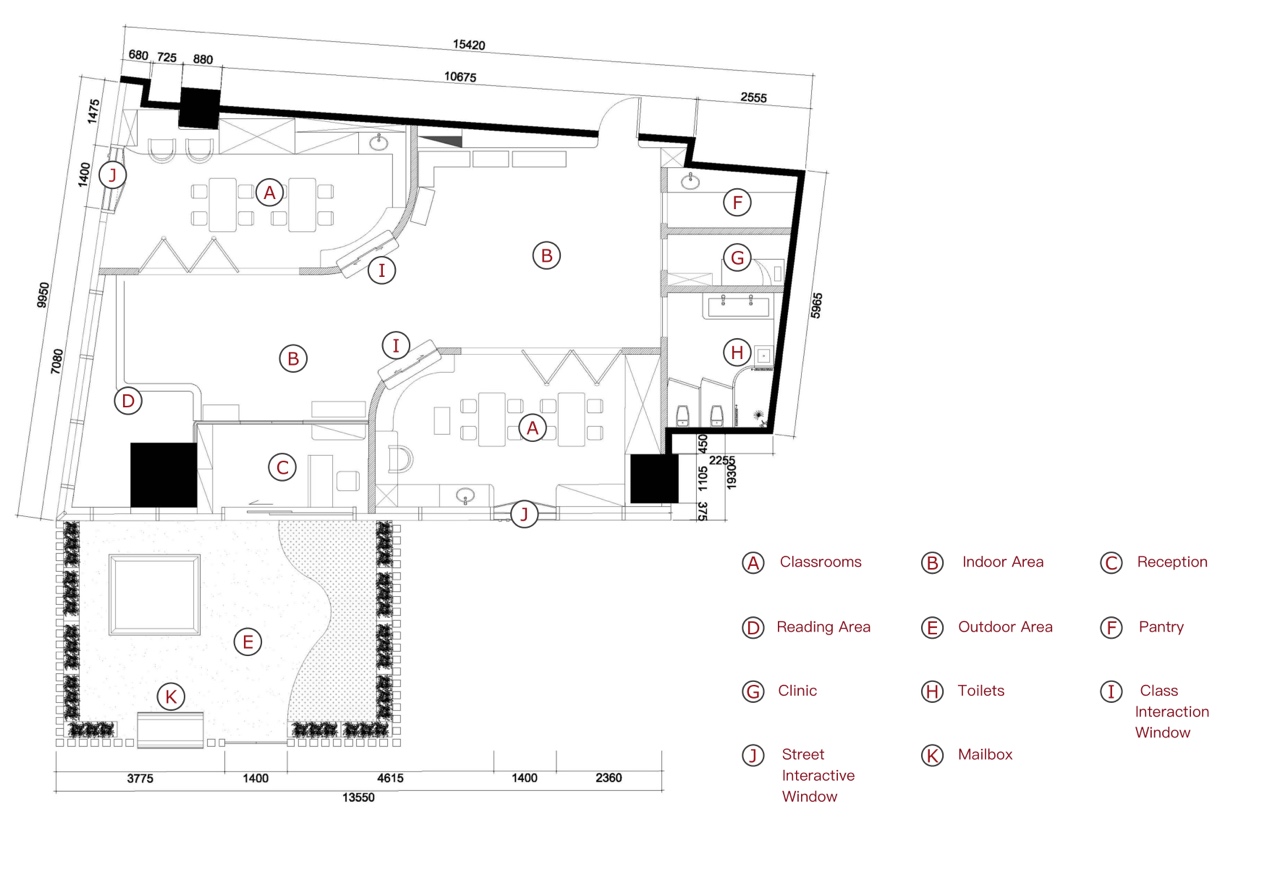 PROJECT BRIEF:
Project Name: Insight Academy
Location: Ali Center, Nanshan District, Shenzhen, China
Design Agency: Shenzhen VMDPE Brand Design Consulting Co. Ltd. (VMDPE Design)
Construction year: 2019
Total Area: 158m²
Usable Area: 122m²
Chief Designer: Vinci chan
Design Team: Dio Chang, Aoki Chen
Project type: Façade Renovation and Interior Design, Illumination Design and Prop Design
Building Structure: Frame Structure
Photographer: Chao Zhang
Building Material and Manufactures Brand Information
Lighting: Philips
Floor: LG
Wall Paint: Buoncolor
Editor: Sam Zhang
ABOUT VMDPE DESIGN:
Shenzhen VMDPE Design is a space design consultant and design service provider, specialize for hign-end children's education brand. From the perspective of education, safety, interaction, technology and business, and by in-depth market analysis of the client brand, VMDPE Design is expert in creating and building market differentiated children's education and development space. With effective solid work to meet all kinds of difficult hardware and installation design requirements, VMDPE Design is capable of architecture, interior and product development, and is dedicated to achieve the balance of quality, cost and time, to bring and promote the high standard early childhood education space design practice.