This modern home of Shivalay Sharnam developed by Shiv Infrastructure located at Kudasan, Gandhinagar, is an exhibit of liveable spaces. The designers of Anand Patel Architects have tried to convey an unconventional touch of warm colors that symbolizes varied personalities who would pay a visit to the place, in search of a perfect home. Integration of different colors, and balancing its overall impact within a space was challenging during the conceptual stage itself. Yet, imagining much beyond how the compositions might look, the main idea was to create an atmosphere of how the spaces would make you feel amid the chromatic palette.
Impressions of Vivid Palette and Composed Layout breathes Life into this Modern Home | Anand Patel Architects
Visit: Anand Patel Architects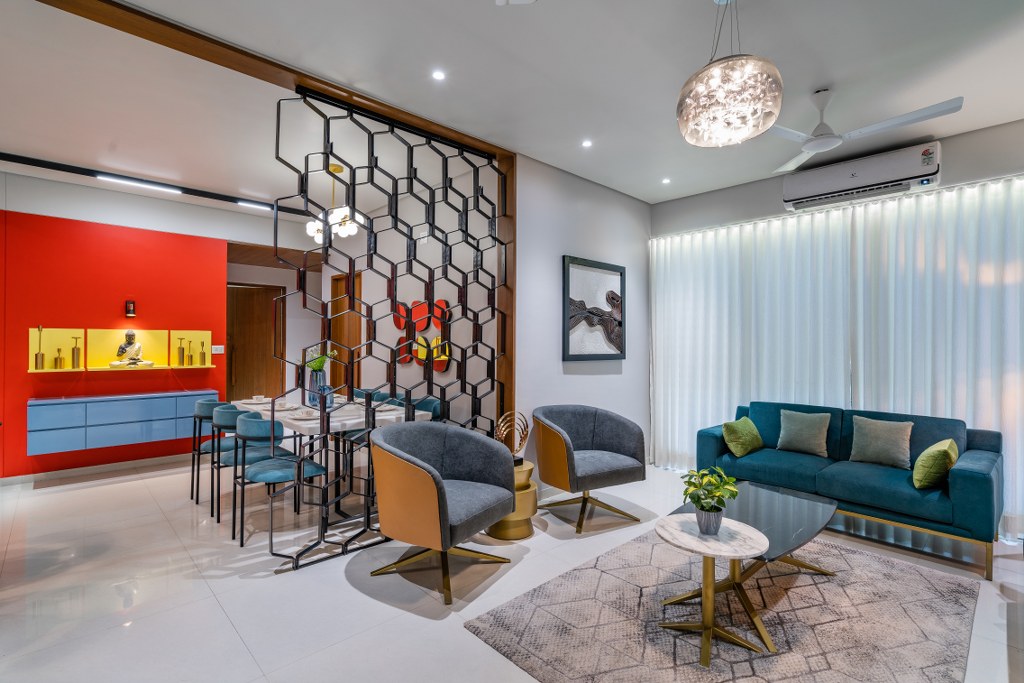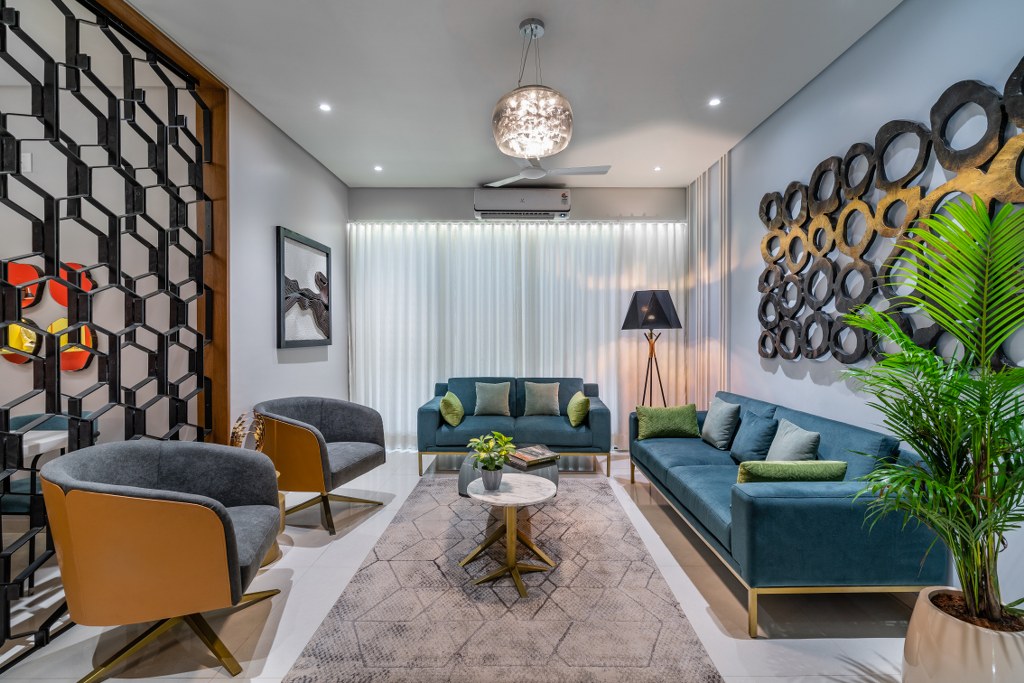 As you enter the house, the hexagon metal screen is bound to distract you for a moment since it creates a classic yet contemporary look, that partially separates the living room and dining space. Moving further while you step into rooms of vivid color schemes, you would realize how the design connects to our emotions and daily activities.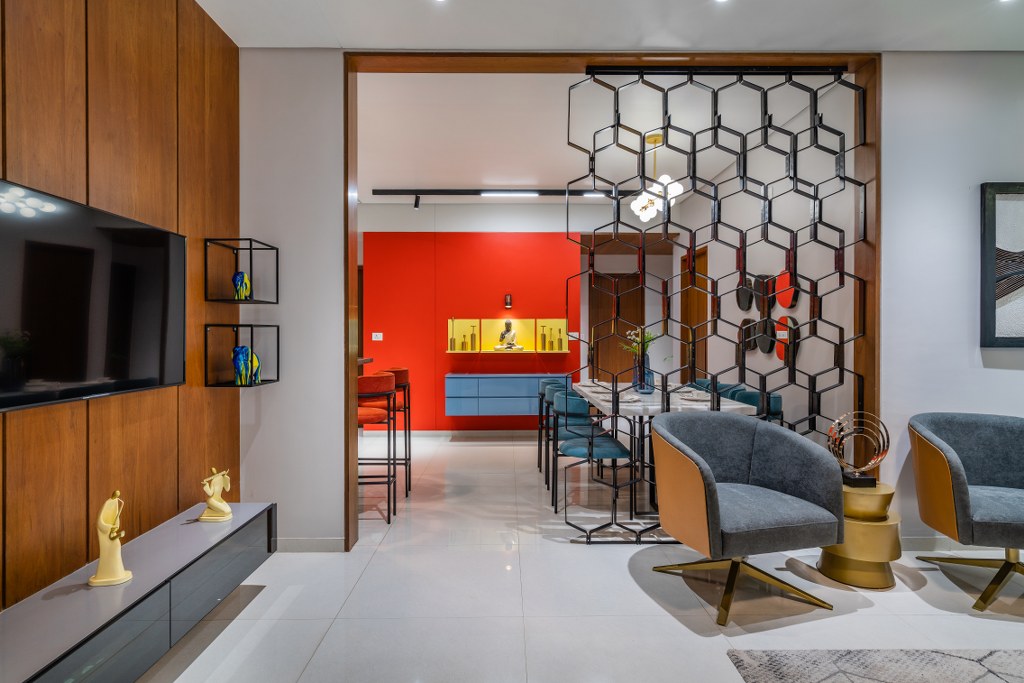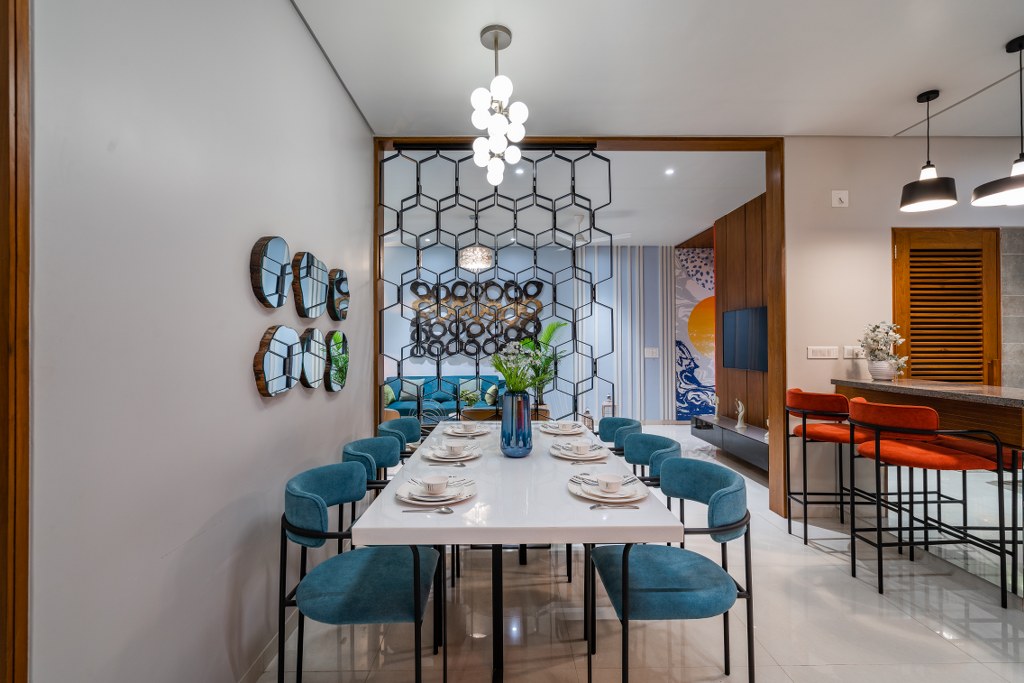 The proportionate arrangement of colors within the room layout creates a design statement expressing stimulation. Colors like blue, yellow, and red are bold and dramatic which encourage communication, with a feeling of light and space in action.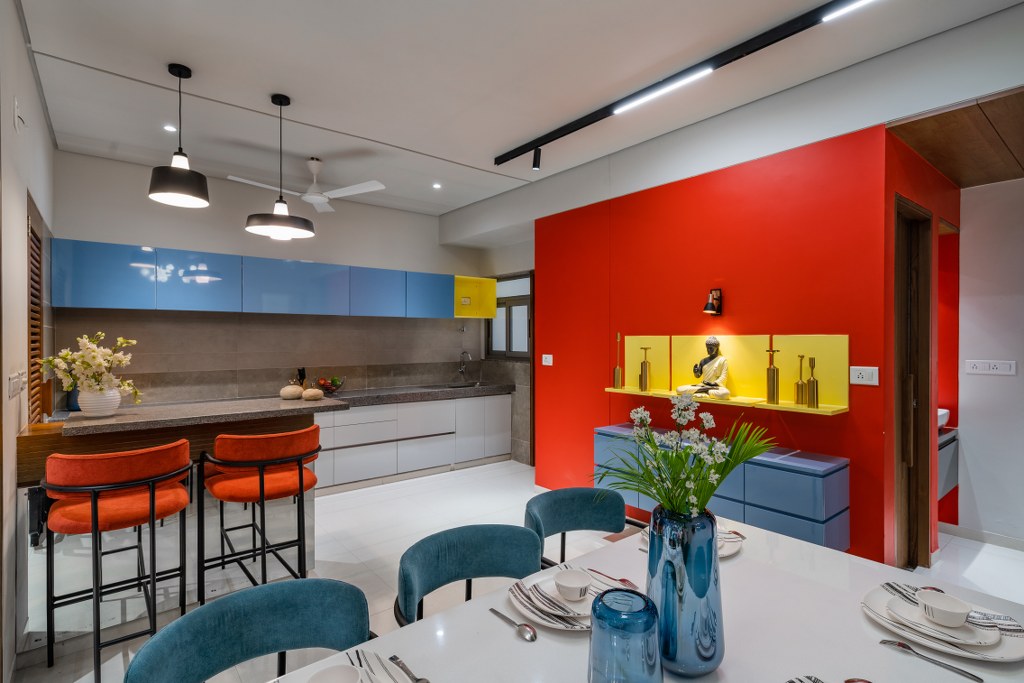 Other than the idea of using colors in interior design, it is true that "Nothing is finished without the art. It's what designs the space", once mentioned by an expert founder of a very well-known design brand called Martin Waller. For the sample house, the architects worked with artists to bring out some interesting artworks based on room colors, proportions, and each within a specific theme to create an artistic language for the space.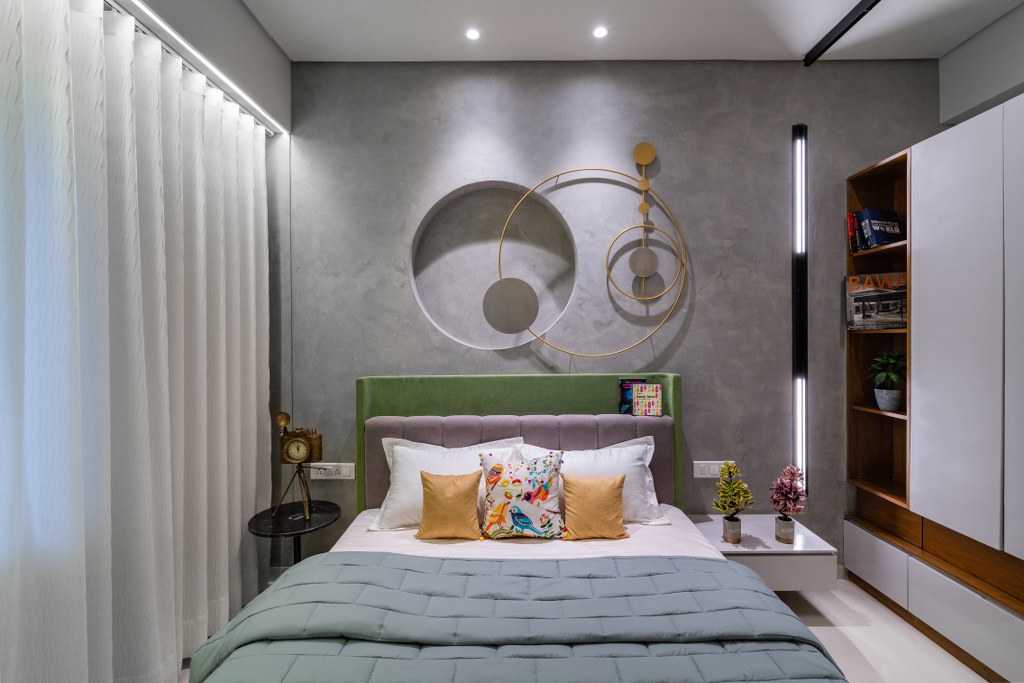 The idea was to create an inspiring place for the inhabitants by effectively bringing the whole room together. The visual element of each room is appealing and of extreme importance.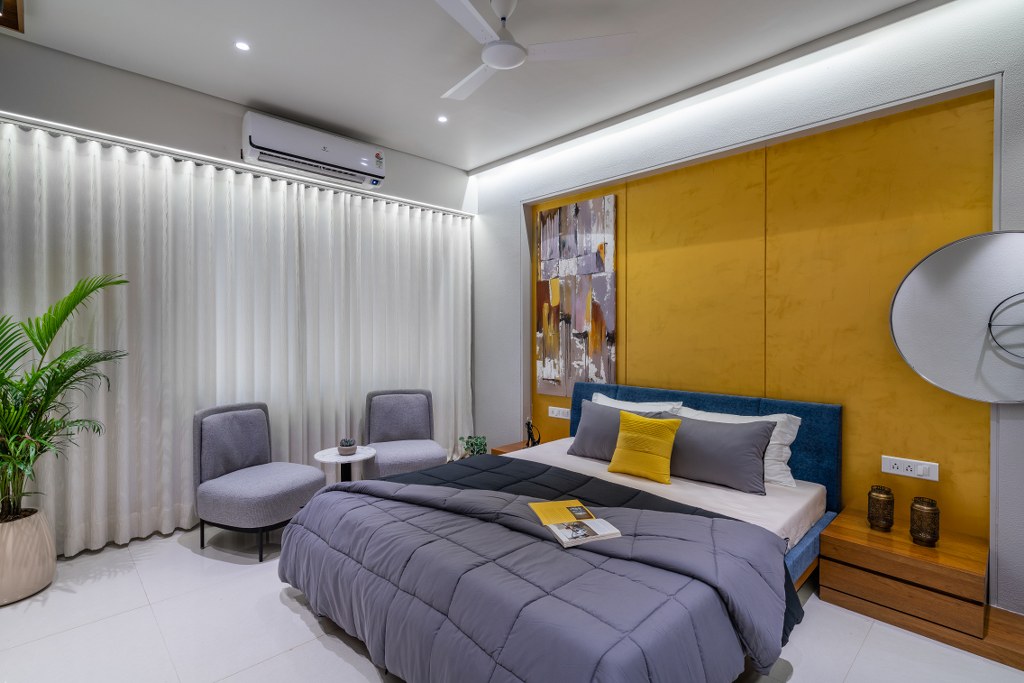 Apart from the beautiful styling with wall arts, another major highlight of the exhibit was its lighting accessories. "We provide lights in the living and dining room to give a feel-good factor. It's a signature pattern", writes the designers themselves. Another interesting parameter designed in the house is its vertical garden wall on the balcony. Landscape, being an important part of our lives; brings to mind nature, peace and harmony. Due to the lack of efficient green space in the neighborhood, the thought of providing one inside the house became a concern. The architects also made sure that the artificial green wall would not come in direct contact with the sunrays for its maintenance purpose.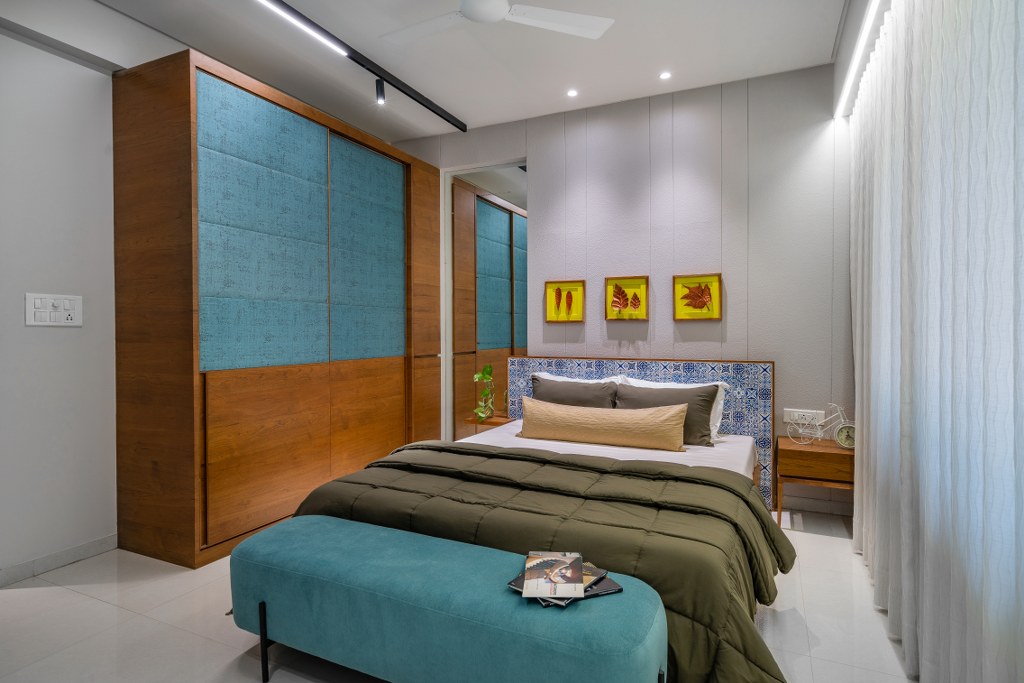 Overall the sample house implements the color palette, decorative artworks, and fabrics which communicate the purpose of creating a positive feel to the interiors. It is a house that welcomes many moods, not just one in particular.
Fact File
Designed by: Anand Patel Architects
Project Name: Sample House
Project Type: Residence Interior Design
Project by: Shiv Infrastructure
Year Built: 2020
Location: Gandhinagar, Gujarat
Project Size: 1,500 Sq.ft
Principal Architect: Anand Patel
Team Design Credits: Shital & Dhrumita
Photograph Courtesy: Inclined Studio
Firm's Instagram Link: Anand Patel Architects
For Similar Project>>>Inside an Artistic Luxurious Residence that infuses the vibe of an Abstract Art Gallery