If you've had your mindset on remodeling your kitchen and are searching for your ideal Natural Stone Benchtop, look no further. Granite Benchtops are the most preferred natural countertop material for kitchens and bathrooms globally. Granite is in demand for a plethora of reasons: it's long-lasting, low-maintenance, and attractive. Granite is also a very inexpensive update for an older kitchen that will increase the value of your property if you decide to sell.
Granite Slabs come in a wide range of intriguing and beautiful finishes, giving visual appeal to any kitchen. The patterns and veining are unrivaled and, in most circumstances, cannot be duplicated with fake tops or laminate.
What Exactly Is Granite?
Granite is a coarse-grained, light-colored igneous rock. A natural, strong stone that lasts longer than marble. Available in a variety of hues and different edge treatments. It has a more consistent design. This natural stone is mostly quartz and feldspar, with some amphibole minerals and mica thrown in for good measure. It has visible grains and is more durable than marble. This appealing beauty makes it a favorable stone.
What Makes It So Well-liked?
Granite Benchtops are a well-liked choice for Kitchen Benchtops since it is more durable than marble. Granite Benchtops appeal to a majority of people since they come in a variety of hues. Granite is, in fact, the most sought-after countertop material.
Granite's significant appeal is unquestionably its visual features. Granite's natural and ageless atmosphere makes it impossible to match in terms of beauty. Granite can elevate even the most opulent kitchen or bathroom, and a Granite Benchtop is often the visual focal point of a room. Although Granite is a natural material, you have a wide range of finish options. Granite comes in a variety of colors to complement any design and complement your application. Granite is also quite adaptable since it comes in various colors and can be mixed and matched with almost any existing structure.
Choosing a slab of stone before cutting it is an excellent method to guarantee that your Granite Benchtop is as distinctive as the rest of your design, ensuring that your kitchen stands out.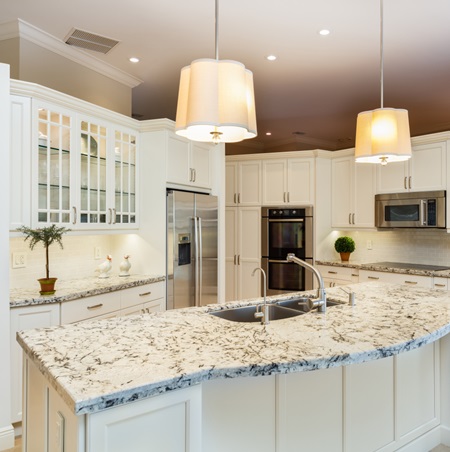 What Are The Features Of Granite Benchtops?
Solid Granite Benchtops are very durable, and no additional treatment is necessary to help them withstand everyday use. Granite Benchtops are also known for their stain resistance, making them ideal for family homes with frequent spills.
Granite Benchtops are scratch-resistant due to their hardness, in addition to their attractive look. Granite Benchtops are also very heat resistant, so placing a hot pot or pan on it in the kitchen, or anything like a hair iron in the bathroom, will not harm it. They are also acid-resistant and moisture-resistant.
If not properly sealed, this stone absorbs oils quickly, and lighter hues show stains more than darker ones. Use the help of a professional to fill your Granite Benchtop. A professional will ensure that it is done correctly and that the appearance of your benchtop is maintained. Also, use table mats and chopping boards to be cautious, especially when avoiding the danger of thermal shock caused by abrupt temperature fluctuations.
What Is The Step To Take Pre-installation?
For Granite Benchtops to be a perfect fit before installation, the cabinets below must be placed first. The Granite is then cut to fit once the template is made, and it is fitted by a professional to guarantee it is level. Granite must be sealed after installation. Granite may also be made oil resistant with the appropriate sealant.
Where Can Granite Be Used?
Granite Slabs can be used for applications such as benchtops, wall, and floor tiles, paving stones, stair treads, and more. Granite is mined and cut into slabs or blocks from the earth. The dimensions of these Granite Slabs must be precise in terms of width, thickness, and length. Granite Benchtops, Granite Flooring, and Granite Walls of various sorts are very attractive since this stone shines brightly when polished. These properties make Granite a stunning stone for a variety of interior and exterior applications in every setting.
How Can You Maintain Your Stone?
Despite the numerous benefits listed above, Granite Benchtops are not without flaws.
The first issue with Granite Kitchen Benchtops is related to them not being appropriately sealed or their seals coming off due to not being resealed frequently enough. Without being sealed, Granite is a porous material that will absorb spills such as wine, oil, or juice, and if spills or even splashes of these substances aren't cleaned up right enough, they can leave permanent stains on your benchtops. Bacteria may grow in the pores of poorly sealed granite benchtops over time.
Granite countertops are simple to clean and maintain. This natural stone is robust and long-lasting. Make sure to seal it once a year to maintain its flawless appearance and function. Your Granite fabricator will seal the surface of your Granite Benchtops when they install them. Sealant provides superior protection for your Granite Benchtops against moisture and spills. Although certain types of treated Granite can be sealed once and can endure for ten years, most conventional Granite Benchtops need to be resealed once a year. If this resealing is neglected, Granite may discolor very rapidly.
Clean your Granite Benchtops using a soft, cotton cloth and warm water, a drop of ph neutral cleaner, or any ph neutral liquid soap daily. Light cleaning is all that is required to keep your Granite looking and operating at its best if it has been properly sealed. Putting hot pots and pans on Granite Benchtops is not an issue because it can withstand high heat. Extreme temperatures, on the other hand, may cause harm.
If a heavy item is thrown on or smashed against the corners of Granite Benchtops, it might chip or break. This isn't a typical problem because it takes a lot of weight or effort to chip or break glass, but it may happen.
Granite Countertops will, despite these reasons, undoubtedly enhance the beauty of your kitchen or bathroom. If you keep up with the maintenance, resealing regularly, and clean up kitchen spills promptly, Granite is a material for you to consider.