&nbsp
If you enjoy the look of white marble, Calacatta and Carrara-styled benchtops are an excellent alternative. It's one of the most affordable stone selections, and it goes with practically any cabinet color, giving brightness and a glint of light to your kitchen. You should be aware of some concerns, such as liquid spills, scratches, and more. Buying Carrara or Calacatta Marble Benchtops requires you to perform weekly maintenance tasks to keep your benchtop clean.
History of Carrara and Calacatta Marble
Both Carrara and Calacatta Marble have been named after areas in Italy where they are mined. Carrara Marble is the most prevalent Marble in the country, and it gets its name from the Italian province of Carrara. Unfortunately, this location also produces a significant amount of the world's Calacatta Marble, so it's no surprise that these two are often mistaken. A reason Calacatta and Carrara Marble are commonly confused is that their color is quite similar. Both have a base hue of white with grey veining. These two varieties of Italian Marble are prized for their delicate, beautiful color and patterns.
Marble is a natural stone; it comes in a wide range of hues and patterns and has a highly variable veining network within its texture. Carrara and Calacatta Marble Benchtops come in various colors, ranging from a light shade of white to a dark, thick veining look.
White Marble Countertops also have the disadvantage of requiring regular cleaning to keep the surface looking lovely, bright, and clean. Cleaning solutions with a balance in their pH must be used to avoid affecting the countertop's quality.
You can't go wrong with either of these slabs if you're searching for white or grey Marble slabs. If you're determined on one, it's critical to understand how to distinguish the two, despite their color similarities.
Features of Carrara Marble
The beauty of Marble Benchtops is the primary reason why most people choose them for their home design. This natural rock's ageless, classic beauty cannot be duplicated with granite or soapstone. Another factor that favors the use of Marble in the kitchen is the rock's cool temperature, which makes the Carrara model ideal for working with pastry because of its low heat conductance.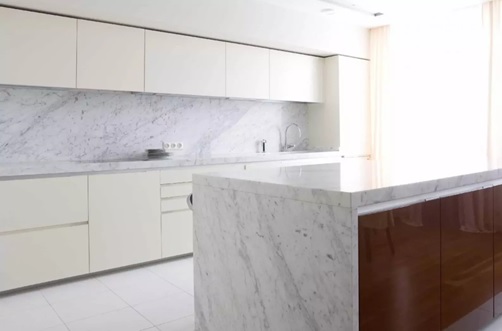 Carrara Marble Benchtops, as predicted, can be obtained at virtually any stone fabricator, unlike quartz or granite slabs, which might cause you a headache just attempting to locate the yard available to modify it for your purpose.
Every attractiveness comes at a price! In this regard, the following are the most typical issues raised by homeowners:
● Scratches due to prolonged contact with acidic liquids (lemon juice, vinegar) and insensitive to knives, pots, and pans on your countertop.
● Liquid spills can seep into its texture, leaving permanent stains on the countertop's surface. Sealing stains is an excellent short-term remedy, but it's not so good for etches.
● Carrara slabs are difficult to fix as you'll have to replace the entire countertop.
Features of Calacatta Marble
Calacatta Marble is uncommon compared to other varieties of Marble on the market. It has more significant and more dramatic veining and is more white than grey. The slabs have thicker and more prominent patterns, as you can see. The veining is enhanced by the presence of brown tones in Calacatta Marble.
Calacatta Marble has a distinctive and attractive appeal and is frequently regarded as a luxury and unusual object. Its designs have hints of brown that go nicely with a wide range of colors, from warm to cold. So, even if you want to change up your décor from time to time, your Marble flooring will still go with the general design of your home's interior.
Calacatta Marble is preferred by those who enjoy greater veining and patterns in natural stone. If you want tiny and delicate veining, though, you might not like it. Furthermore, because Calacatta Marble is scarce, obtaining it might not be easy. So, if you want to utilize it for a home renovation project, finding a source may be difficult.
The distinctions between Calacatta and Carrara Marble are subtle and nuanced, yet they do exist. If you have your heart set on one of these Marbles, be sure you know how to recognize them correctly so you can obtain what you want. If you want a lovely, elegant marble in grey and white tones, either of these Marble kinds will suffice.