IIA Young Architects Festival and Crossroads 2022 was held in Calicut from 27th October to 29th 2022. With over 2500 delegates, 200 guests, 10000 footfalls, and 350 volunteers, it was the country's biggest architectural festival.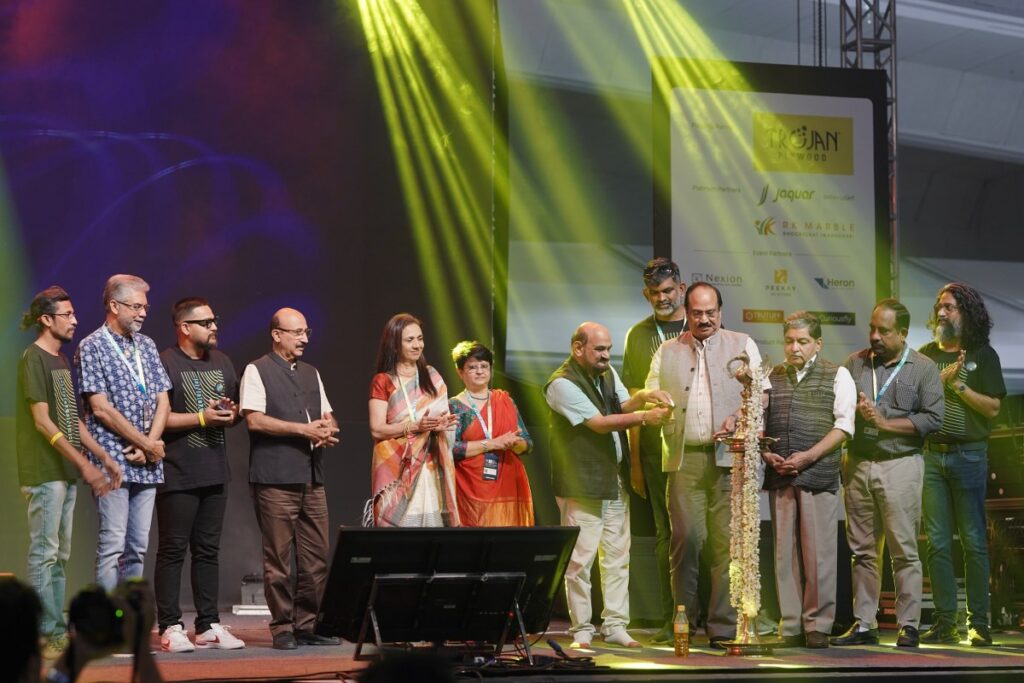 Formal inauguration with invited executives of the Indian Institute of Architects. From left, Ar.Noufal C. Hashim, Convenor, Crossroads- YAF 2022; Ar.Lalichan Zacharias, Past Chairperson, IIA, Kerala Chapter; Ar.Muhammed Afnan, Joint Honorary Secretary, IIA, Calicut Centre and Country Representative – Arcasia Committee of Young Architects; Ar.Sathish Mane, Joint Honorary Secretary, IIA National; Ar.Jabeen Zacharias, past Chairperson, IIA Kerala Chapter; Ar.Leena Kumar, Joint Honorary Secretary, IIA National; Ar.Vilas Avachat, Vice President, IIA National; Ar.Vivek P. P., Chairperson, IIA Calicut Centre; Ar.C.R.Raju, President, IIA National; Ar.Divyakush, Immediate Past Chairperson, IIA, National; Ar.L. Gopakumar, Chairperson, IIA Kerala Chapter; Ar.Brijesh Shaijal, National Convenor, YAF 2022.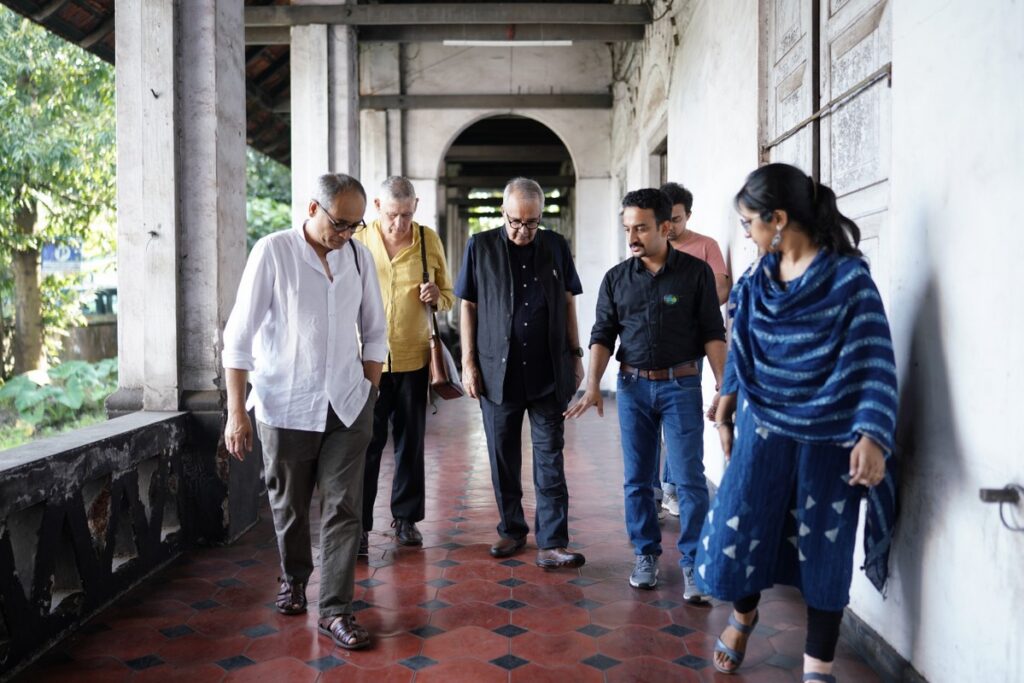 Jury for the National Design Competition: Reweave Kozhikode- Reimagining Comtrust and precicnts, visiting the site and the dilapidated buildings. From left, Ar.Soumitro Ghosh, Ar.Peter Rich, Prof. K. T. Ravindran, Ar.Prasoon, Co-convenor, Competitions, Crossroads- YAF 2022, Ar.Afifa Nuzhath, Co- convenor, Competitions, Crossroads- YAF 2022.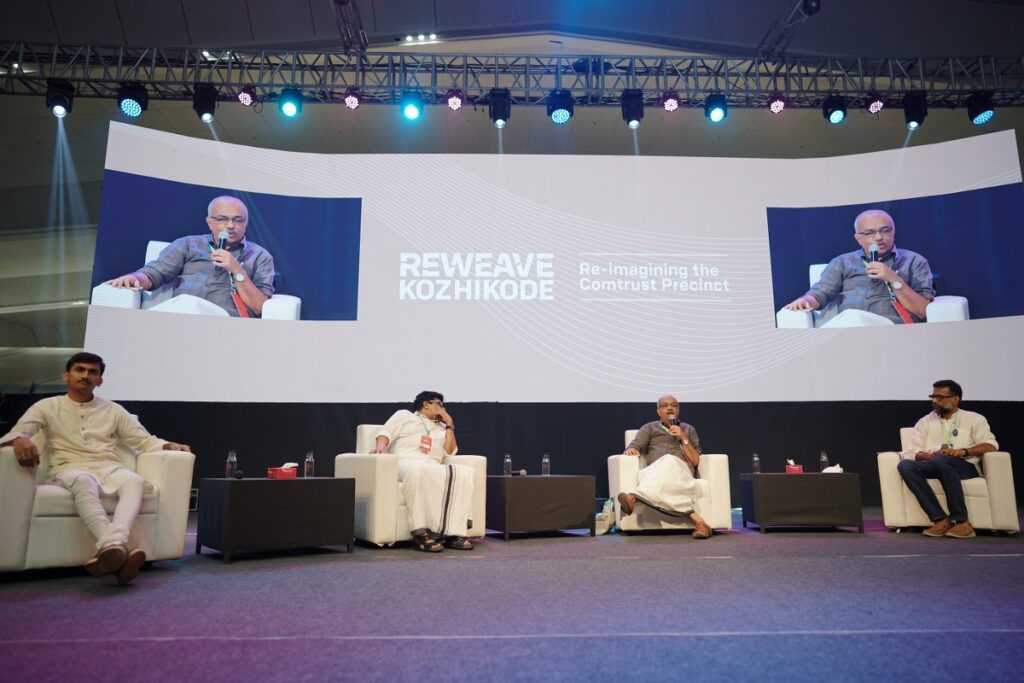 Reweave Kozhikode finalists presentation being remarked upon by public dignitaries. Also promising to have inclusive discussions on the same. From left is seated honourable District Collector, Shri. Narasimhaguri T. L. Reddy, Dr.M. K. Muneer, MLA and Shri.Pradeep Kumar A., Ex-MLA, along with moderator Ar.Vinod Cyriac.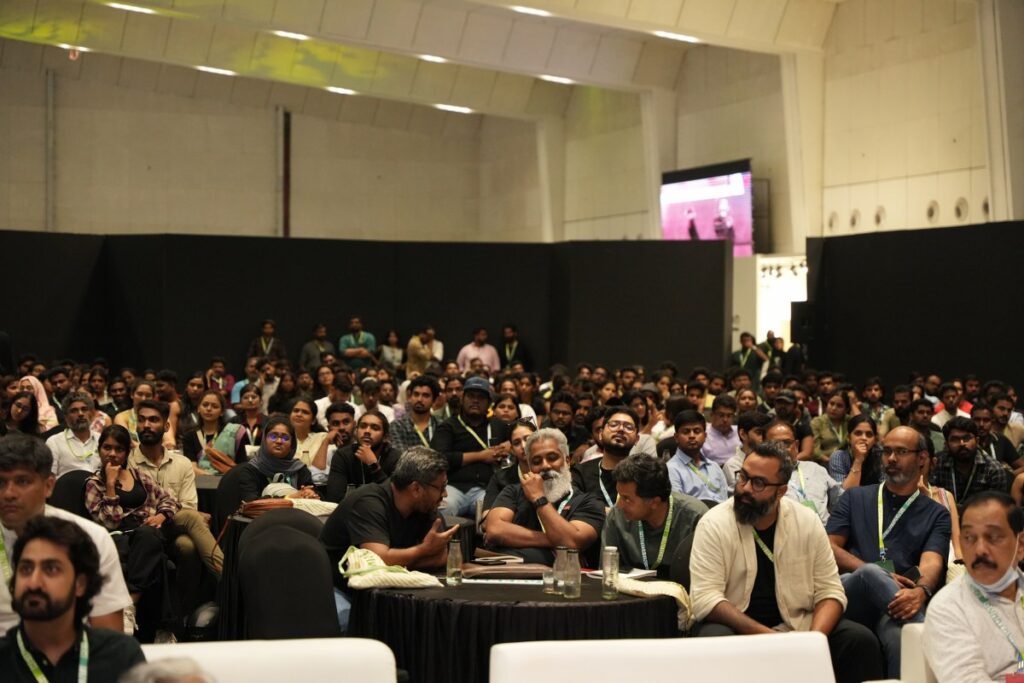 A full house main venue, Sabha, during the Colloquium sessions.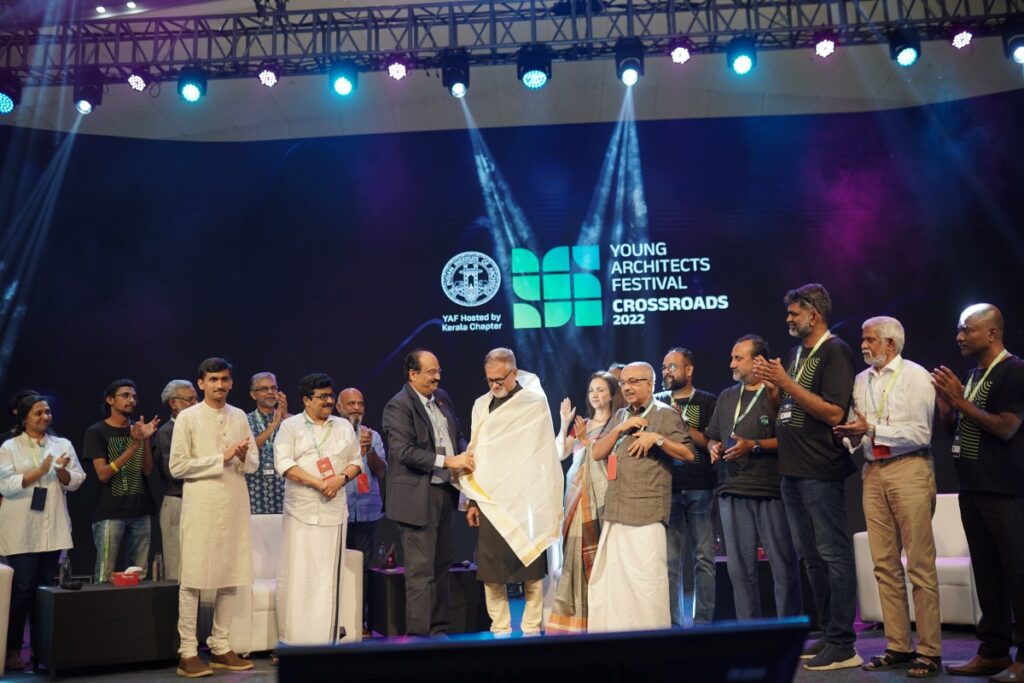 Ar.N. M. Salim being honoured with the Ponnada, by Ar.C.R.Raju, President, IIA National, in context
to celebrating his 50 glorious years of architectural practice.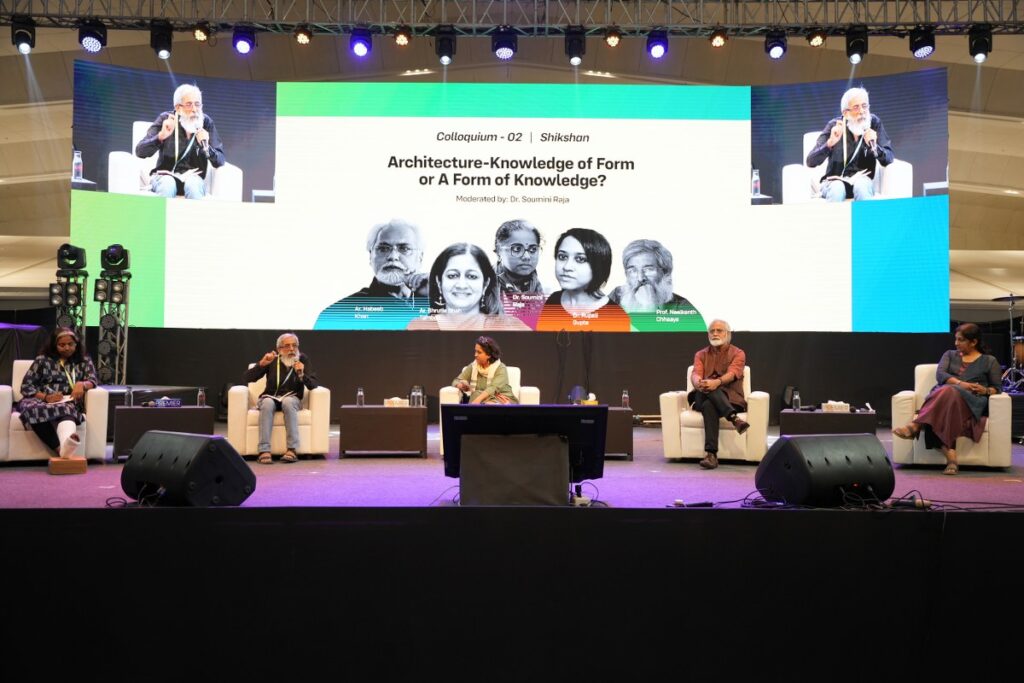 The Colloquium 02: Shikshan. On the dais from left, moderator, Ar.Soumini Raja; Ar.Neelkanth
Chaaya; Ar.Rupali Gupte; Ar.Habeeb Khan, President, Council of Architecture; and finally Ar.Shruthie
Shah.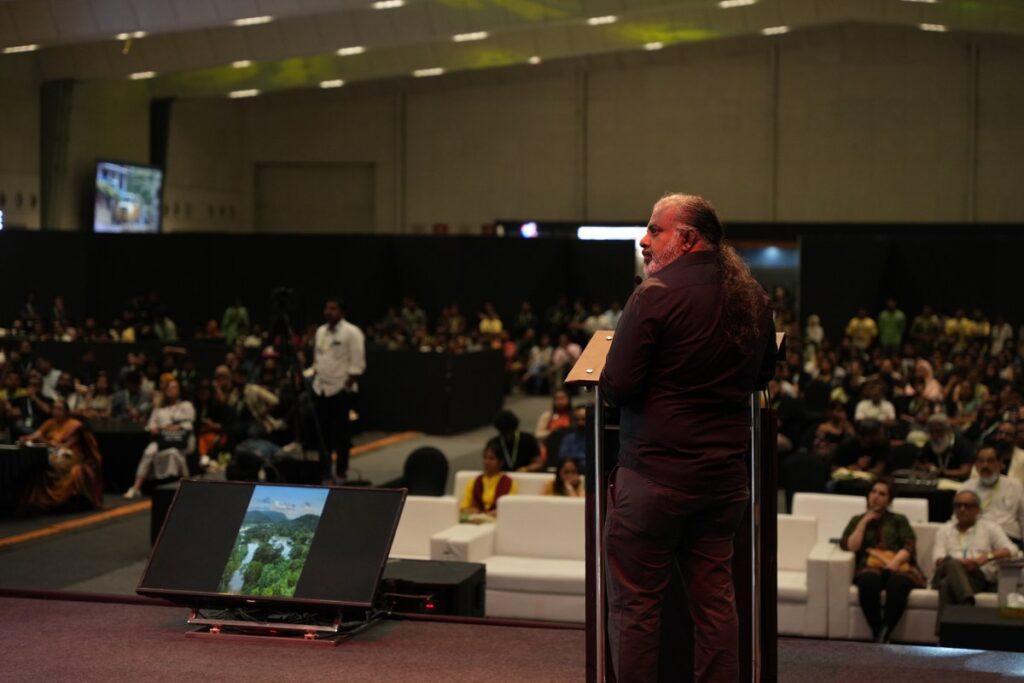 A full house Sabha witnessing Ar.Pallinda Kannangara's presentation of his works, during Colloquium
session, "When East meets West", a discourse between Ar.Peter Rich and Ar.Pallinda Kannangara.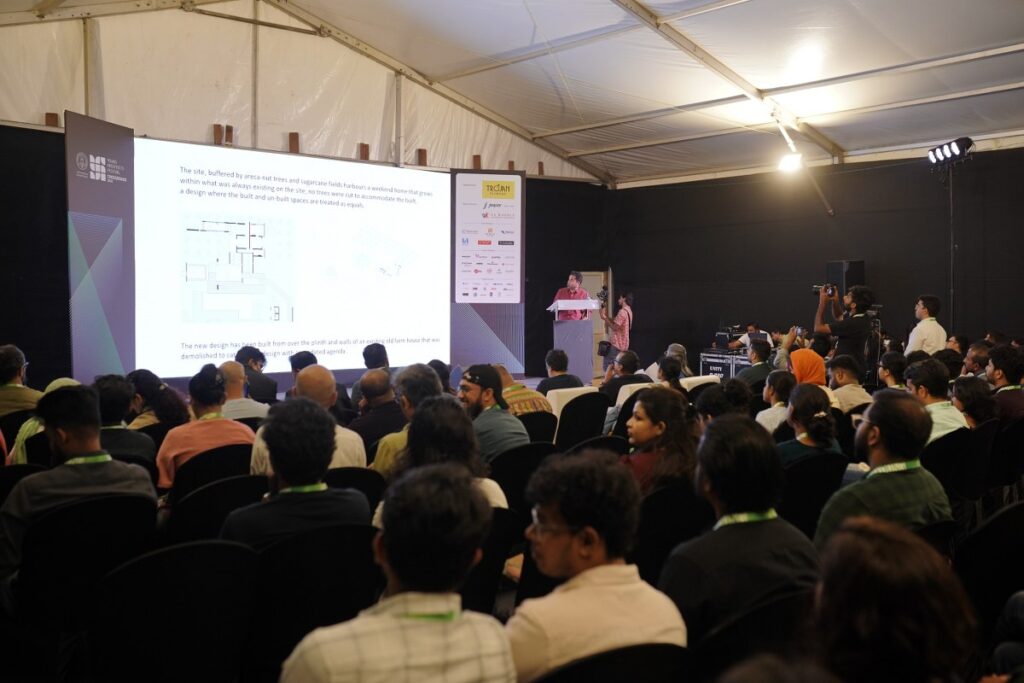 A full house venue Bodhi, with he YAF Awards 2022 presentations by shortlisted participants.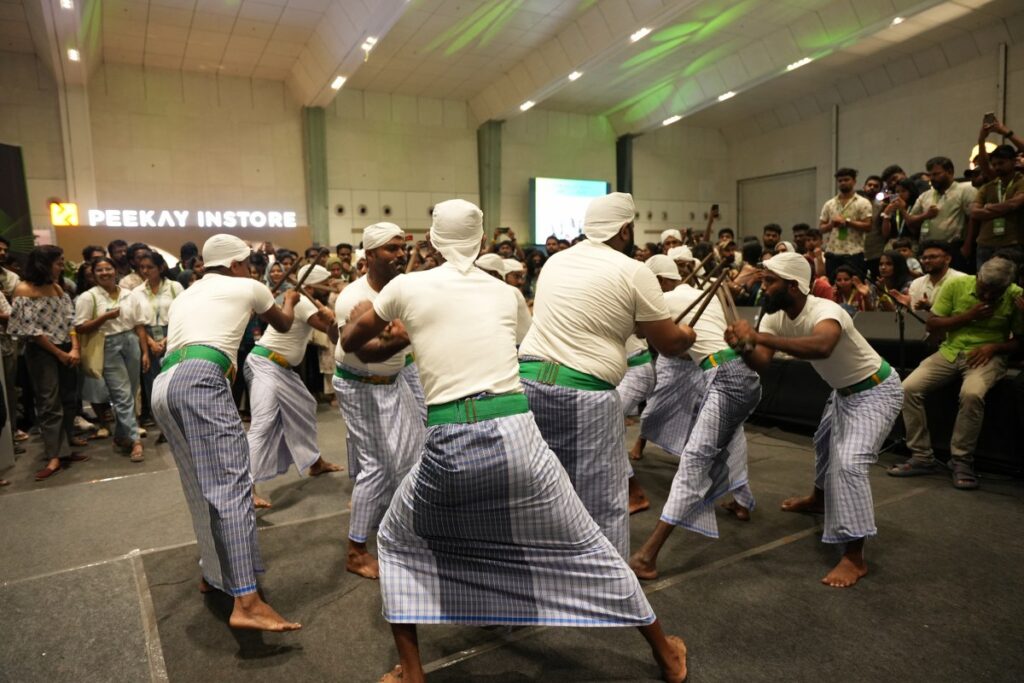 Cultural interludes during the event. This is Kolkali, a native art form of Malabar area in Kerala.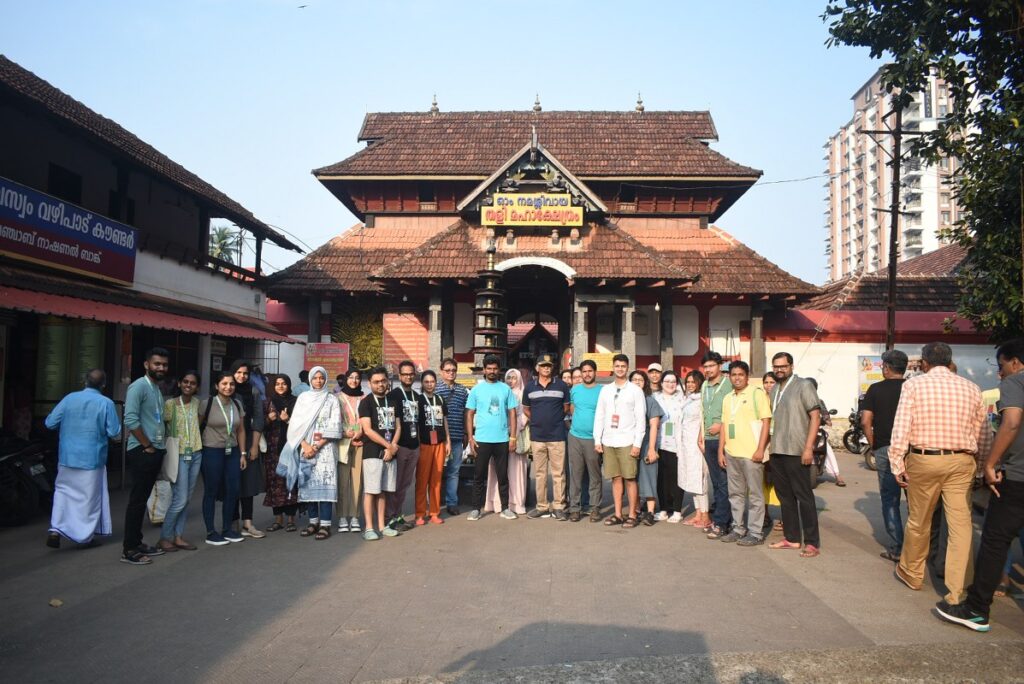 YATRA. Heritage walk to Thali temple early in the morning. The public projects tours and the
sketching trail also occurred during same time everyday, early in the morning.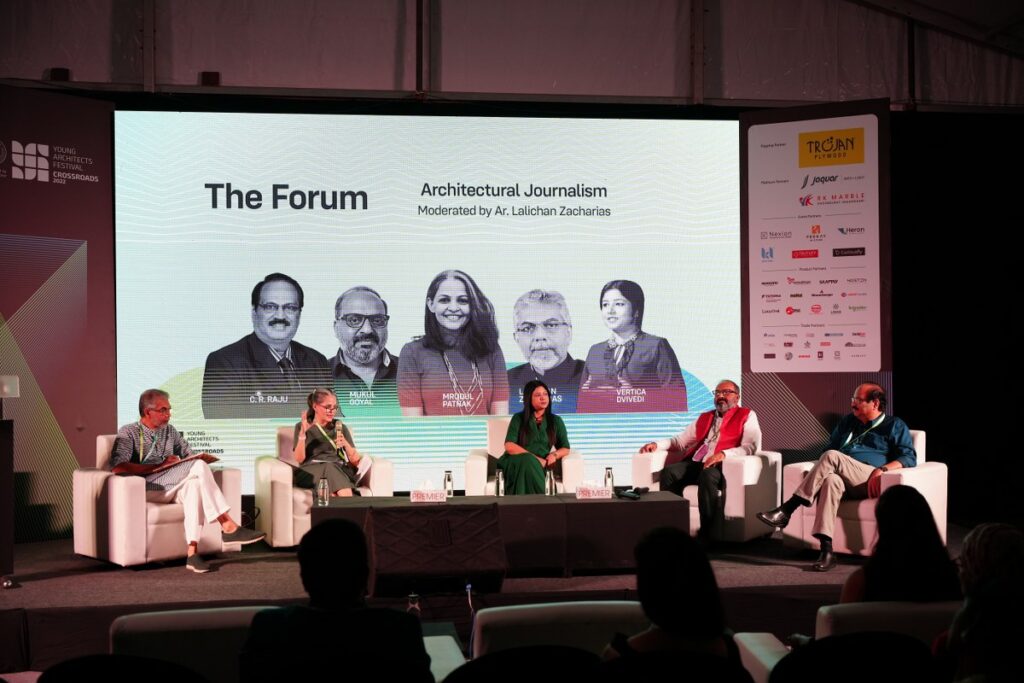 A session in the Forum: Architectural Journalism. On the dias from left; moderator Ar.Lalichan Zacharias; Ms.Mrudul Pathak; Ms.Vertica Dvivedi; Ar.Mukul Goyal and Ar.C.R.Raju, President, IIA, National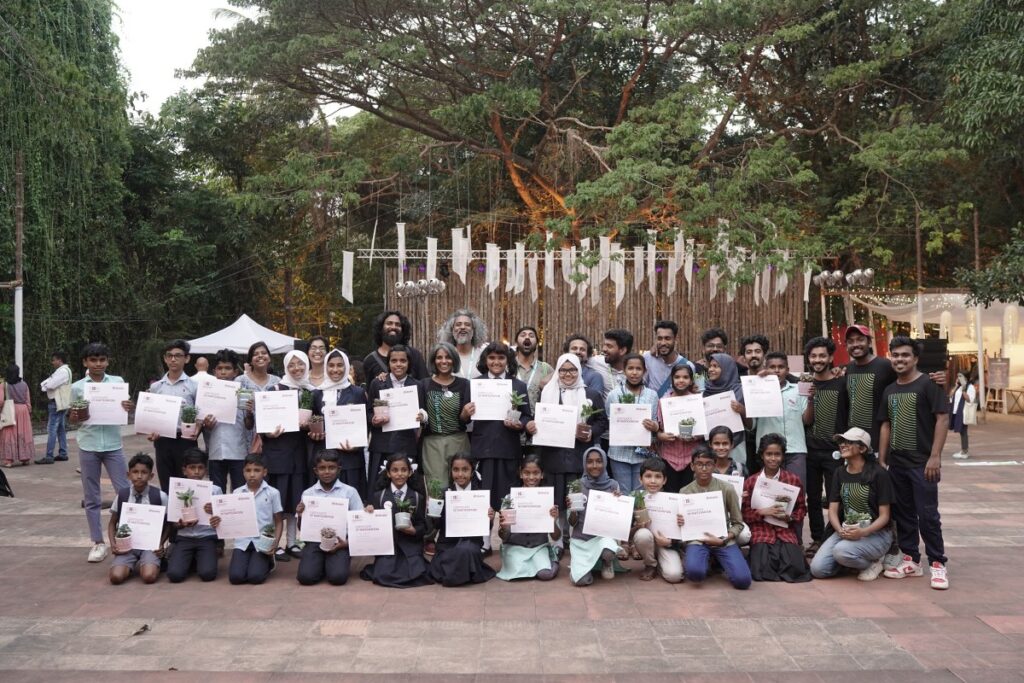 Culmination of the workshop- BHAVANA, with mentors from left, Ar.Vishnu, Ar.Madhav Raman, Ar.Shyam Purvankara, Ar.Niranjan S. Warrier, Ar.Aromal, and the participating children.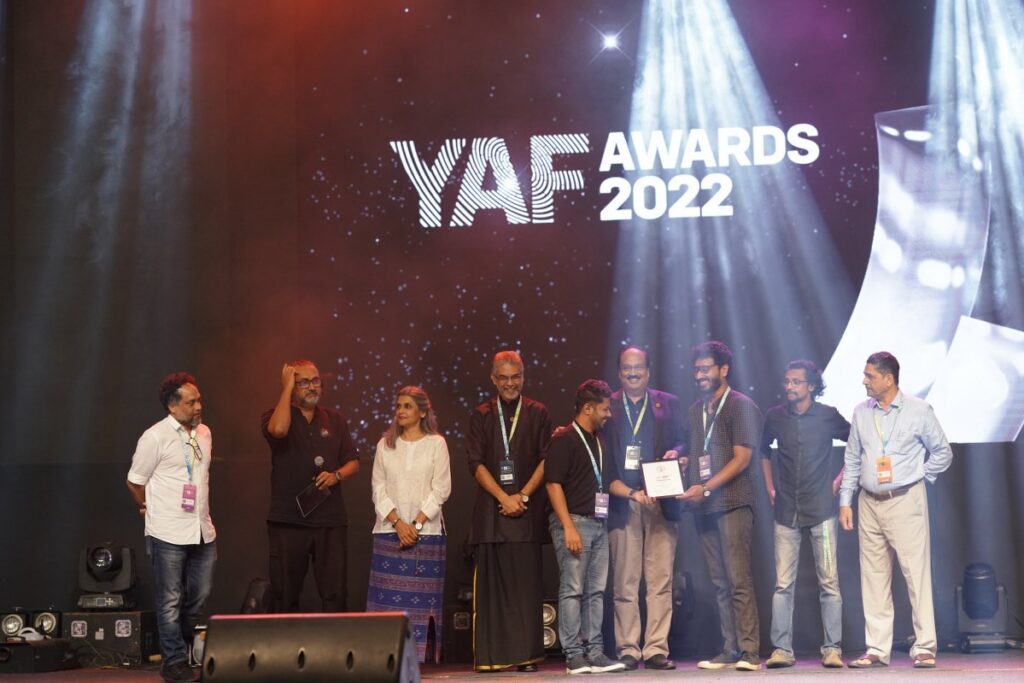 YAF Awards being distributed on stage.
Team YATRA after the promotional cycle ride through the city early morning of day zero.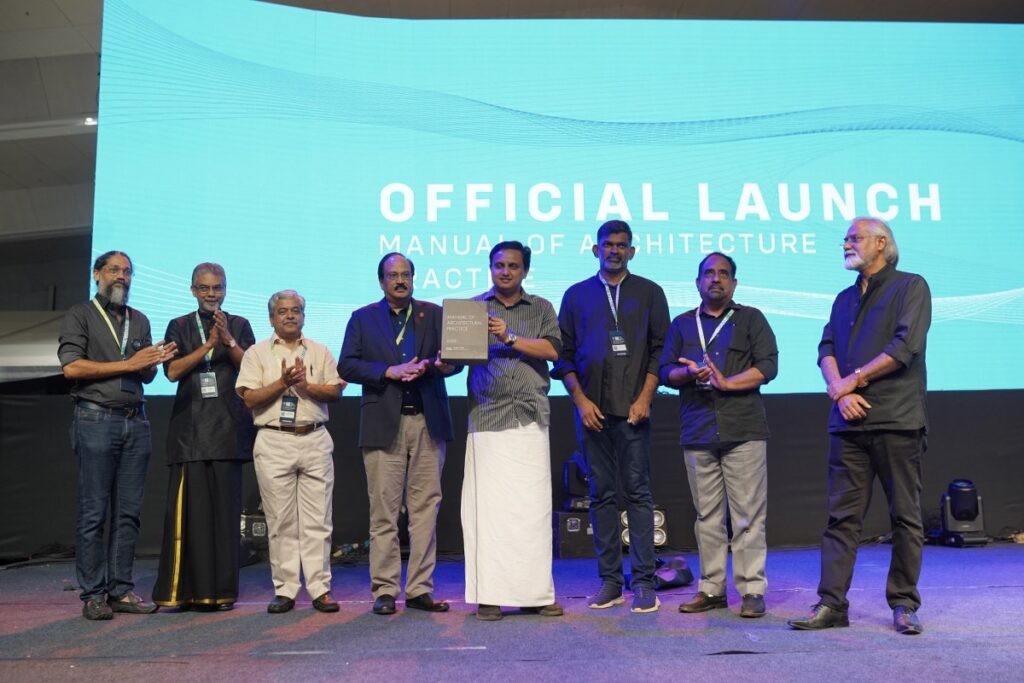 The honourable minister for Public Works Department and Tourism, Kerala, Shri.Mohammed Riyas, launches the Manual of architectural practice for the Council of Architecture.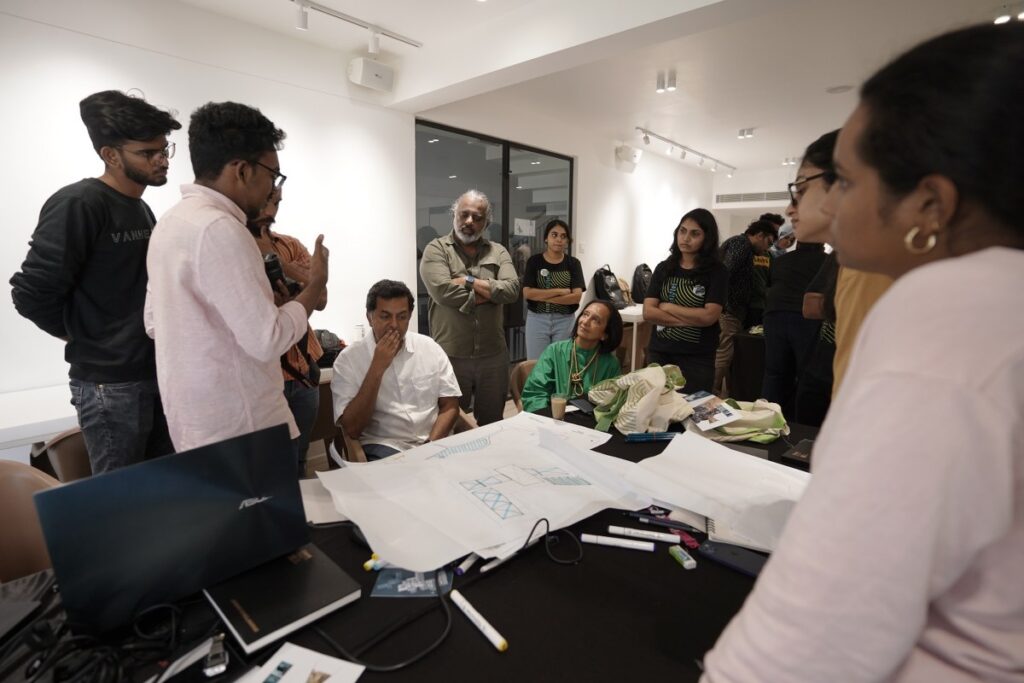 The mentors of the workshop CHINTA listening to the young minds narrate their design stories.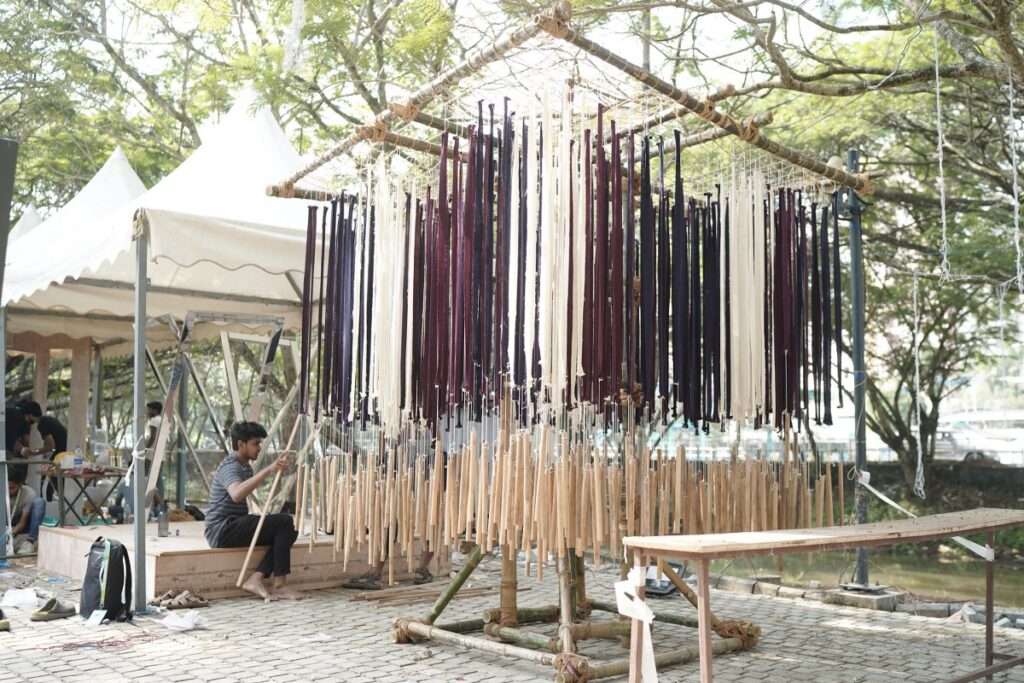 Students installation, as part of CREA, getting the last touches. It was set in the public venue of Urban Angadi.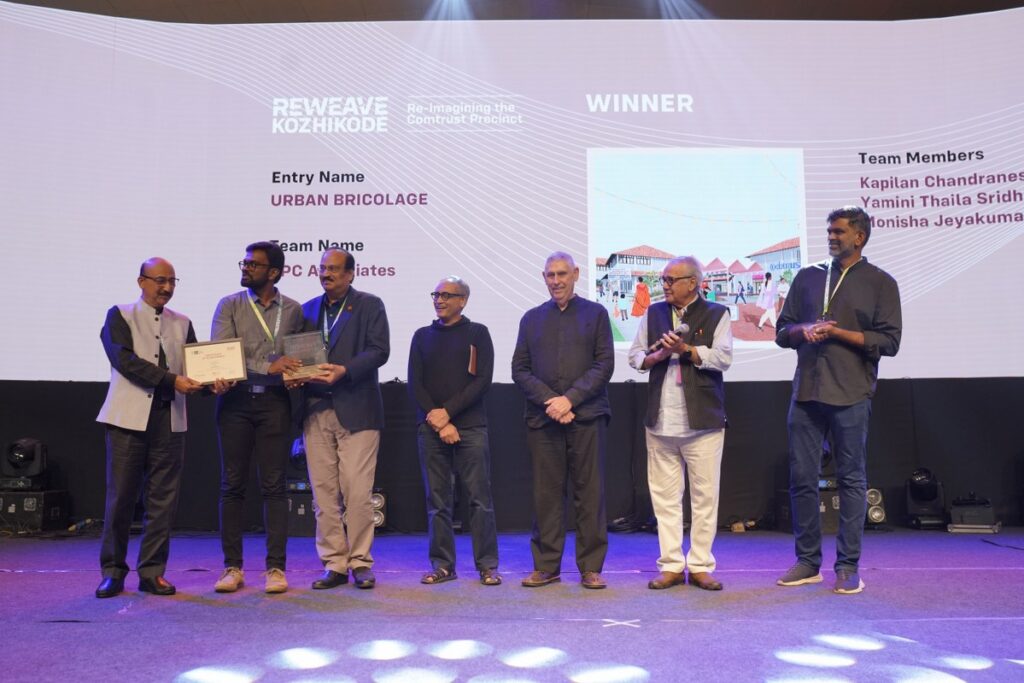 The winner of the National Design Competition being bestowed the certificate and memento, in the presence of the Jury members and distinguished guests.
Workshop NIRMANA in progress by Ar.Rosie Paul of Masons Ink studio, Bangalore.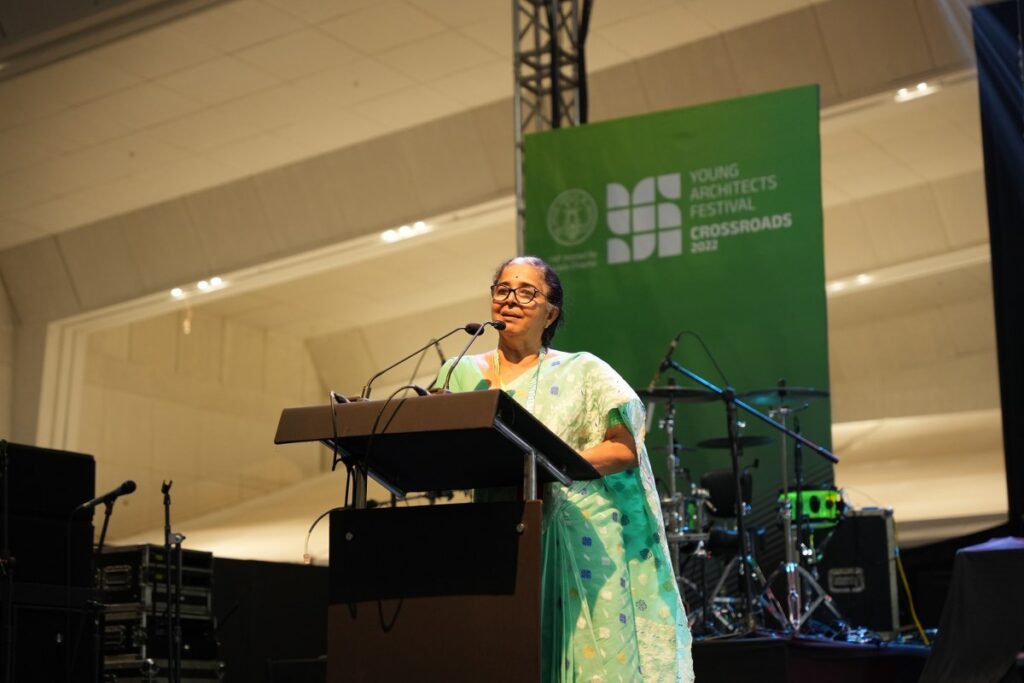 Ms.Beena Philip, honuorable Mayor, Calicut Corporation, gracing the occasion and sharing her vision
of the city with the delegates, at the same time applauding the effort put in by the mentors and
participants of the workshop CHINTA, in reimagining a distinct part of the city.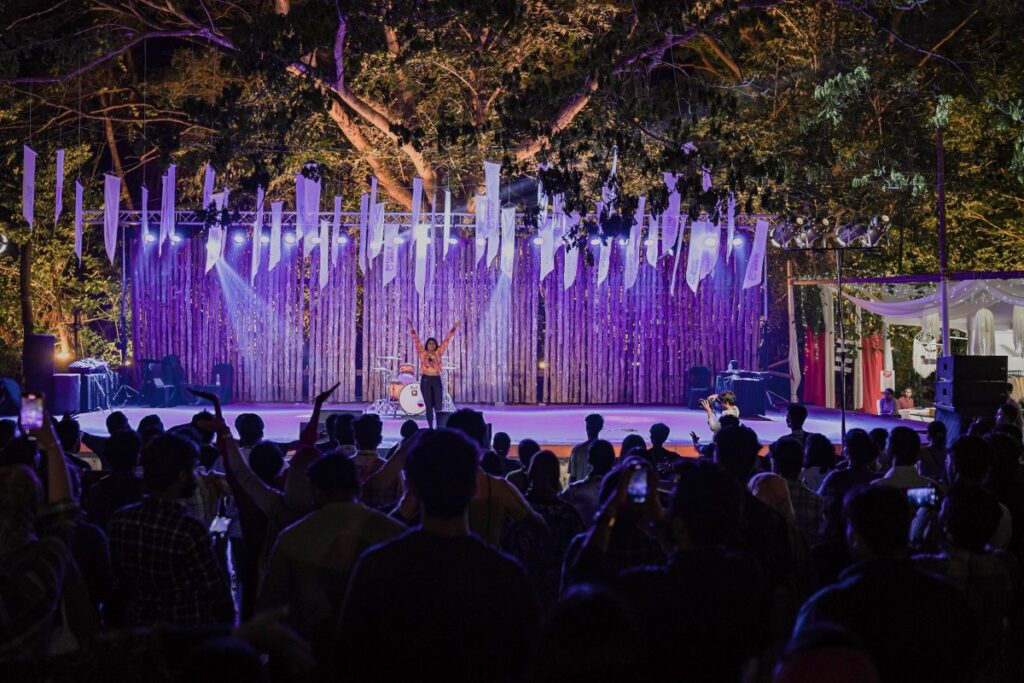 Ms.Ambili in her element during the interactive Zumba performance amongst an enthusiastic
audience.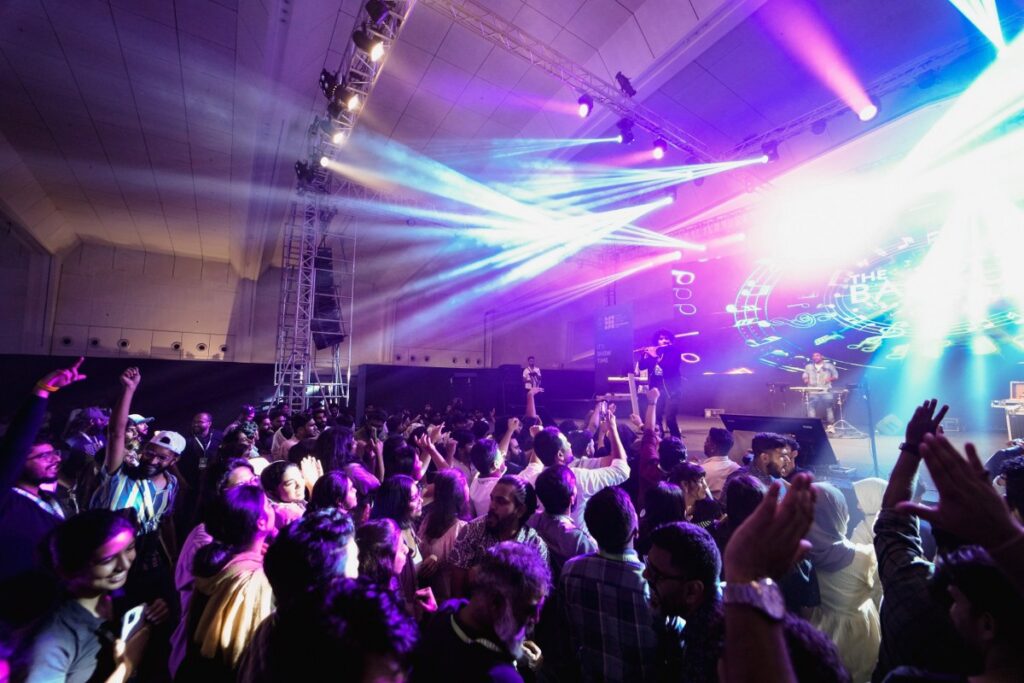 The BACKUP PLAN exhilarates the crowd at the end of day 01 of the festival.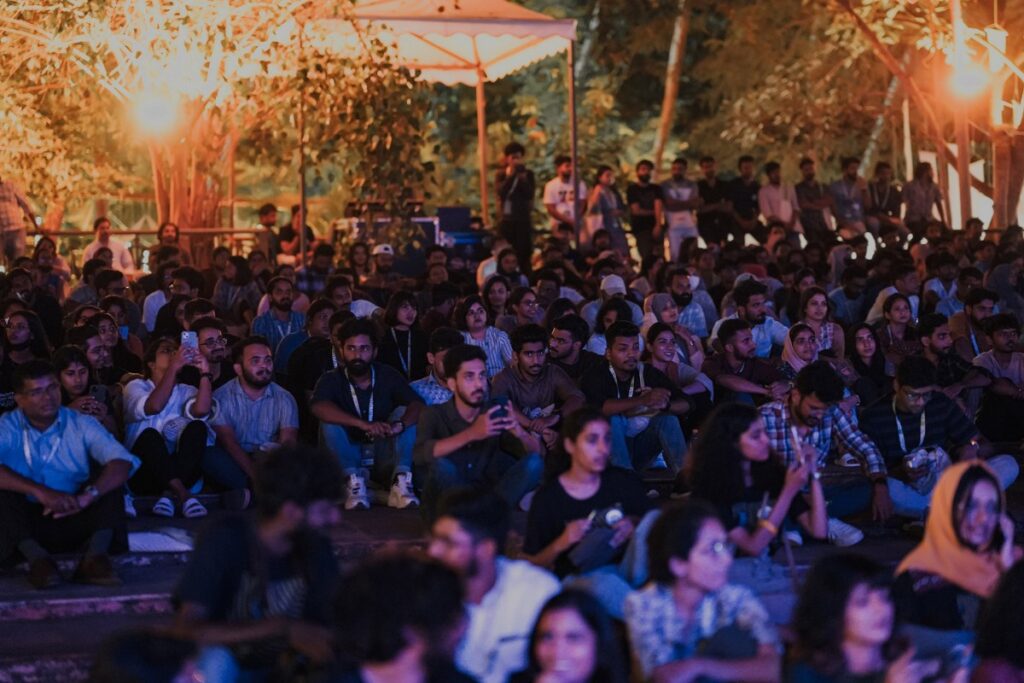 An anticipatedly awaiting crowd at Urban Angadi for the day's cultural extravaganza.