The master bedroom is usually referred to as the most desirable bedroom in a house. It's usually located in the part where the best vista can be seen. Being the largest bedroom, it typically has its own toilet and bath, as well as a walk-in closet. Other bedrooms in the house are occupied by the owners' children (if any), guests, or stay-in staff such as the maid, driver, or butler—all of which are smaller in size. Every bedroom is primarily a sleeping place for the users; hence, a comfortable bed should always be found inside.
Research shows that an average person spends nearly half of his life lying in bed. Because the master bedroom is the principal room occupied by the owner of the house, it's just right to get the best and perfect bed for it.
Preferably, inclined type of pillows with Pillow Protector is good for anyone suffering from digestive issues, such as acid reflux.
If you're having a hard time finding the best bed for your master bedroom, here's a list of things to consider that'll help draw you to the right piece of sleeping furniture:
Budget
Know how much amount of money you can dedicate to buying a nice bed for your master bedroom. Determining your budget beforehand is an effective way to narrow down your options, too. This means that you won't have to waste time checking out those beds that aren't within your budget range. Don't worry, cheaper beds aren't necessarily poor in quality. In fact, there are affordable ones with great designs and sturdy frames which will definitely appeal to your taste!
If you're unsure about where to find one or which bed perfectly suits your room, reading authentic reviews from reliable websites such as BedAdvisor before making a purchase will help you decide.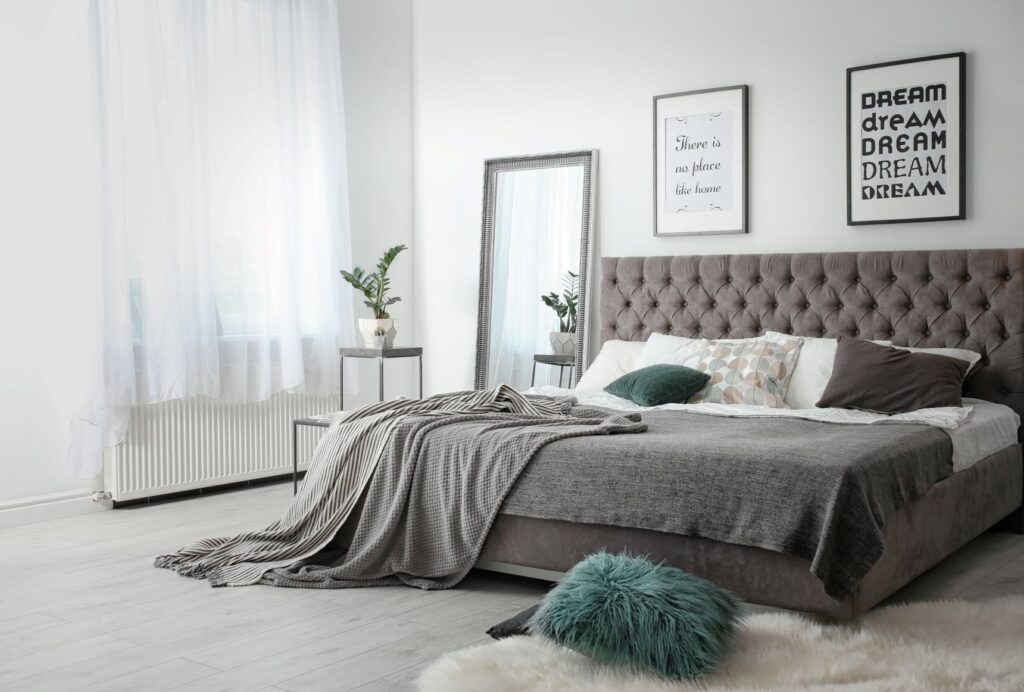 Size Of Your Master Bedroom
How big is your master bedroom? The size of your master bedroom can be a good reference in identifying the ideal size of your bed. Of course, you wouldn't want to end up buying a huge bed that'll only eat up all the space inside your room, which you could still use for other stuff. Neither do you want to have a very limited space for circulation. 
In organizing your master bedroom, you should always prioritize comfort and the functionality of the space. Therefore, in choosing a bed, make sure to leave a minimum of 36 inches on each side and at the bottom part of it. A big bed for a small space will limit you from having other furniture or storage that you might want to add.
Bed Frame
The bed frame or bedstead holds the mattress of a bed. When selecting the right bed, it's highly important that you get one whose frame is durable—reliable and strong enough to support the cushion where you lie down to sleep or rest. Ideally, it shouldn't cause any noise whenever it's being weighed down. Moreover, the structure and look of the bed frame should complement the design of the mattress.
The span should be wide enough so you could roll over on the mattress comfortably without falling off the bed. If you like to read, sit, or watch in bed, getting one with a foam-padded headboard will allow you to lean cozily. Also, it's important that you get a bed frame that's easy to assemble and won't take you a long time to put together.
In addition, the height of the bed matters for varied reasons. Some people, especially older ones, prefer beds that are easy to climb. Hurdling your way every night to a very high bed or straining your leg out of a very low one every day might be strenuous to do.

Mattress
A mattress is a large, rectangular pad normally placed on the bed frame to hold you up when lying down. Particularly, it's not a one-size-fits-all kind of product. It usually comes in different sizes and you should pick one that suits the size of your bed frame.
There are different types of mattresses and each have pros and cons. Regardless of the mattress type you choose, evaluating your individual needs such as your height and weight, accessibility concerns, history of back pains or sleeping problems, bed size, and even your budget should help you when choosing the right one.
Moreover, you may buy and add mattress top covers if you feel like your mattress is too soft or too firm. This is a great way to adorn your bed and further improve comfort.
Bed Clothes
Bed clothes or beddings are normally laid above the mattress of a bed. They're used for hygiene, warmth, protection of the mattress, and decorations of the bed. A set of beddings include fitted bed sheets, blanket or quilt, duvet, and pillow shams.
After a long day at work, nothing beats snuggling up in a nice warm bed. Thus, for a comfortable and cozy sleep, good beddings are definitely worth the investment. Ideally, they should be comfortable, easy to maintain and complements the overall design of your master bedroom.
Moreover, for duvets, you might want to consider togs. Many people prefer a duvet with a lower tog rating in summer and a higher one in the winter. Also, for bedsheets, there are a variety that are breathable and good for sensitive skin. Pillows aid in sleep by providing comfort and keeping the upper body in alignment during sleep. Preferably, inclined type of pillows is good for anyone suffering from digestive issues, such as acid reflux.
When the design goes well with your bed, bed clothes make your bed more attractive and inviting.
Design
There are different types of bed designs today that you can choose from. There are modern beds, traditional beds, beds with storage, and many more.
Modern bed styles provide a clean and sleek look whereas storage beds simply offer additional space for things you'd like to store but not display. Traditional beds are sold as one piece with the headboard already attached. If you want a bed design with a touch of royalty, you can opt for a poster bed since it's usually highly ornate and made from oak.
Importantly, the bed size, frame material, and storage options should guide you in choosing the right bed that suits your lifestyle. The materials used in bed designs are usually made of premium hardwood or engineered wood. However, there are ones made from metal or steel. Your choice should be that which is durable and appealing to you.
If you're looking to have a bed storage, there are several options to you may consider, such as beds with side drawers, under storage drawers with wheels that can be pulled out easily, under the bed storage that can be accessed by lifting the base panel or even cabinets and drawers built-in on the head board. You're free to explore and choose the bed you want based on your personal style and bed room décor.
Conclusion
Your bedroom's the place you look forward to after a wholesome day of toil and craze, hustle and bustle, and simply dealing with life. Your bed is a haven where you just want to rest, lie down, and breathe. Therefore, what and how you pick your bed is a crucial thought and decision. As they say, as you make your bed, so must you lie in it. Make sure you find the perfect one for your master bedroom!