Creating homemade quilts can be a lot of fun – it's something useful that you can make on your own, and it allows you to recycle a lot of disused clothes and bedding that you might have lying around. It can be even more fun when done with others.
However, the last thing you want is to start creating a quilt and run out of fabric halfway through. If you've never made a quilt before, that's not an unlikely scenario. It's a likely scenario even if you have made a lot of quilts before.
Figuring out the yardage you need is difficult, and even the most experienced quilt-makers can get confused about these matters. 
Well, today I'll help you out with planning your quilt and figuring out exactly how much fabric you'll need to make it!
Let's get started!
The Size of the Quilt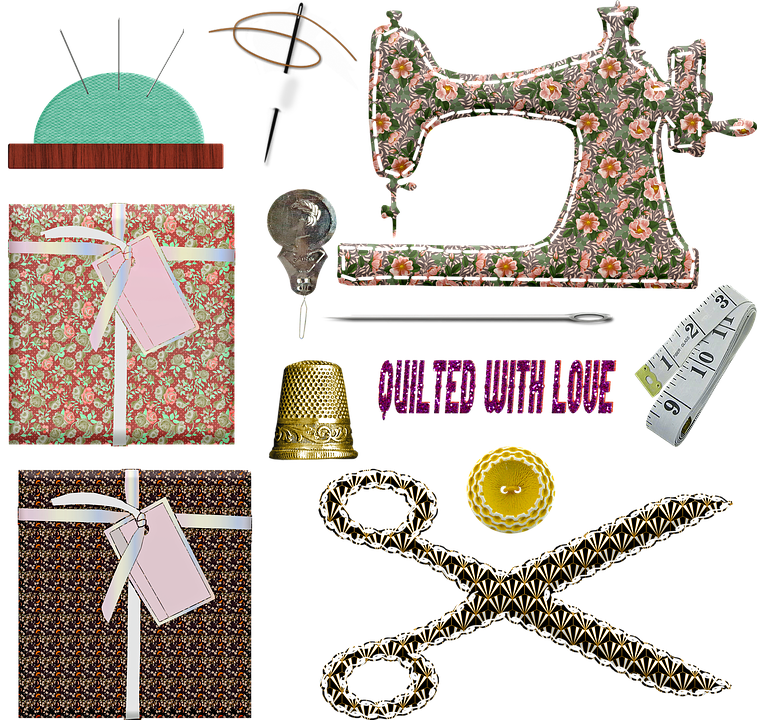 The first thing you need to do is to figure out how large your quilt needs to be – and it's not as easy as it might seem at first!
You need to take a look at the size of the mattress that you want to use it on, and then make it a bit larger. You also need to look at the height of the bed though, since it will need to cover it all without dragging on the floor too much.
Here's a chart which roughly matches the size of your mattress to the size of the quilt need for it, provided that your bed is of roughly average height (around 25 inches). 
| | | |
| --- | --- | --- |
| Mattress Type | Mattress Size | Quilt Size |
| Crib | 27 by 52 inches | 36 by 58 inches |
| Twin | 39 by 78 inches | 81 by 110 inches |
| Full/Double | 54 by 75 inches | 97 by 110 inches |
| Queen | 60 by 80 inches  | 102 by 115 inches |
| California King | 72 by 84 inches | 120 by 120 inches |
| King | 76 by 80 inches | 126 by 114 inches |
As you can see, an ideal quilt will be around a bit wider than the mattress, by about a third, and a bit longer than it, by around a quarter or a fifth of its length. 
Now, once you know the size, you also need to know the way you're going to construct it to figure out the amount of fabric you will need.
Construction
How many quilt blocks will it have? Will it have borders? Will the blocks be straight set or placed on point? These are all things you need to ask before you start making a quilt. 
The seams you want to use are also important – for example, if you need to make a quilt that's less than 60 inches wide, you can use a horizontal seam for your backing, which will save fabric a lot. 
If it is more than 60 inches wide though, a vertical seam will hold better and save more fabric. 
Next, you need to decide on how many blocks you want on your quilt-top. The more you want, the more complicated the quilt will get and the more fabric you'll need. 
You also need to consider the batting you'll use – will it be something that won't make the quilt too thick or will it be something heavier? 
Do you need your quilt to be thick or are satisfied with it being a bit thinner? If you want thick and heavy batting put in it, you'll need stronger seams and, thus, more fabric. 
Once you figure all this out, you can use a calculator to get you started on how much fabric you might need, but you'll also need to make some calculations of your own, which I'll get to in just a minute.
So, How Much Fabric is Needed?
Well, it's difficult to say right off the bat but here's a rough estimate for how many squares you can get out of one yard of fabric – you should be able to figure out the rest.
Roughly speaking, one yard of fabric is equal to around 90 3.5-inch squares. You'll usually need around 9 squares to make one block, though that can vary.
If you want to do something more complicated than simple 9-square blocks, you'll need to do a bit more calculating, but that's not really what you should do when you're just starting out. 
Always make sure to have at least ¼-inch of seam allowance when you're quilting to avoid running out of fabric. You can't make perfect Cat Quilts if you run out of material halfway through!
The Final Word
So there you have it – you should now have a basic idea of how much fabric you'll need to make the quilt you want.
However, just be sure to always have some extra just in case something goes awry. Making a quilt, in theory, is one thing, but making it in practice can be completely different, and a lot of unexpected things can happen – I've learned that the hard way. 
Once you make a quilt or two, you'll already get the hang of it, and you'll know better exactly how much fabric you need even without doing complicated calculations.
I hope I managed to help you out and be sure to pop down into the comments if you need to ask some questions – I'll be there for you.
See you next time!