&nbsp
Rapid industrial development along with incredible architectural wonders are available all over the world. We often wonder who and how it is made. So, let's take a dive into this industry of metal and its application.
For various industrial applications and architectural purposes, engineers use some stuff known as metal mesh. It is basically a combination of stainless steel wires and low carbon formed into a pre-fabricated grid. After these carbon wires are straightened, they are welded into various designs as per the requirements. For this purpose, high-quality carbon wires are used. This metal mesh is in great demand due to its simple structure and easy transportability. Its production rate is also high-speed (easy to produce). It is used in places that need network reinforcement building, supermarket shelving, nurseries, and breeding purposes.
If you go a bit more in-depth, you can find that the metal mesh of expanded metal is rather good. The expanded metal mesh is a really functional material, highly customizable as per your aesthetic and technical needs. You can follow this resource to know how the expanded metal is made.
Making of Expanded metal
The process of manufacturing an expanded metal is wholly superficial. The creation of an expanded metal sheet begins from a single piece of material. This process basically involves rolling a sheet metal through an expanding machine. This device is similar to a rolling plate machine. The only difference is that the expanding machine has different cutting dimensions. The sheet metal is slitted, sheared, pressed, and stretched to make holes.
After the material or the sheet metal passes through the expanding machine, a flattened metal mesh is created through a cold rolling process. The strands and bonds of the sheet metal become thin and wide after the flattening procedure.
The materials used to make this expanded metal could be steel plate, brass sheet, galvanized steel sheet, nickel, stainless steel, copper, titanium, aluminum, plastics, vinyl sheets, silver, etc. However, the standard material is carbon steel and sendzimir carbon steel.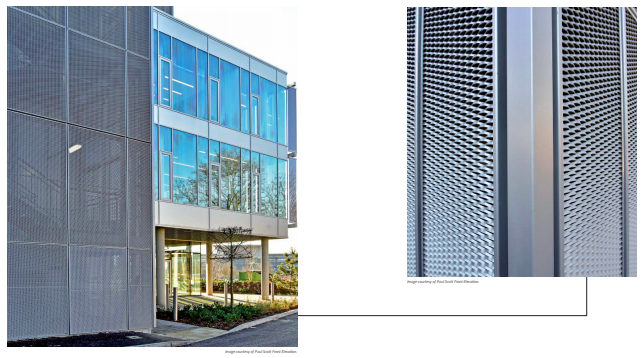 Features of Expanded metal
The expanded metal is now considered as an alternative material to wire mesh and sheet metal. It is prevalent for its wide technical usages.
It is of high durability along with enhanced strength. Protective finishes and unlimited color variations can also be added to it. 
The expanded metal mesh does not elongate and is uniform in design.
Its mesh is light but rigid, which also provides resistance against impact.
It is effortless to handle as well as flexible, economical execution.
It shows a high slip stopping characteristic.
The use of expanded metal also provides adequate day ventilation and lighting to space. The reason is that the expanded metal mesh has small openings for easy and consistent airflow. At the same time, larger particles or objects are also filtered out.
It is an excellent construction material in the industrial as well as in the automotive industry.
Applications of Expanded metal
Throughout recent years, the usage of expanded metal has also increased to an extent, such as automobiles, electric instruments, firing trays, acoustic equipment, machine covers, roads, vessels, side road protection, buildings, flower stands, bird cages, lattices for windows, gates, partitions, fences, household equipment like shelves, walkaways, and also furniture. Also used for heavy applications like aircraft, ornaments, electric appliances, vehicles, chemical equipment, EMI shielding, air filters, mechanical equipment, marine soundproof objects, thermal insulation panels, etc.
Advantages of Expanded metal
The processing of expanded metal is cost-saving (more profitable). There is less material wastage (no material shaving), unlike the proliferation processing method.
The expanded metal is better than the perforated metal sheet when it comes to the air passage.
It is more robust than wire mesh due to its uncut knuckles. This makes the expanded metal more capable of handling extreme pressure.
The easy welding process of expanded metal helps form a homogenous design. Thus, it is applicable for a wide range of components.
It has lesser weight as compared to the traditional metal sheets out there. Its lightweight comes from the hollow and perforated holes. It is an excellent option for those who prefer lightweight materials.
This expanded metal has excellent composite substrates and aesthetic properties. It can be combined with other materials to produce more flexible and robust products.
 Due to its performance in making heavy-duty parts, it has high demand in the industrial and manufacturing sectors.
You may now think that due to high characteristics, expanded metal could be expensive. But, no, it is cheaper than sheet metal. There is no need to weld single strands of material together as only a single piece of solid material is used. Shaping becomes more comfortable due to the use of a solid metal sheet.
The uncut knuckles of the expanded metal provide it with an advantage of anti-slip properties. That is a firmer grip on the material/product.
The efficiency of these metal sheets is also very high. It is capable of thermal energy and electricity passage, and magnetic flux.
Standard dimensions and types
There are basically three expanded metal styles.
Standard (1.2mm – 9.0mm)
Grating (3.2mm – 9.0mm)
Flat (1.0mm – 4.0mm)
This expanded metal mesh is available in sheets and rolls. You can customize it as per your standard as well—the smaller the range, the more resistance in the mesh.
Square Mesh (16x13mm to 120x87mm)
Diamond Mesh (28x10mm to 200x75mm)
Hexagonal Mesh-toothed (35x15mm to 62.5x25mm)
Protech Mesh (45x15mm to 300x100mm)
Ultra Limites Mesh (350x120mm to 800x300mm)
Here, the mesh with the smallest range weighs about 3.2 kg/sq.m. And the one with a more extensive range weighs about 5.1 kg/sq.m.
Conclusion
Suppose you have followed this resource in detail. In that case, you can now tell that an expanded metal sheet is better than other similar metal variations in various ways. Undoubtedly, the demand for this material is alarmingly high and is developing in useful ways. Expanded metal is produced following the current accident prevention and anti-slip regulations.