&nbsp
Home on the Hill | Kerala | Arun Nalapat Architects
"The house sits rooted to the site, cloaked in greys and browns. The landscape hugging the walls, tying it to the hilltop. Unpretentious and modest, it succeeds in hiding its scale and secrets"
Visit: Arun Nalapat Architects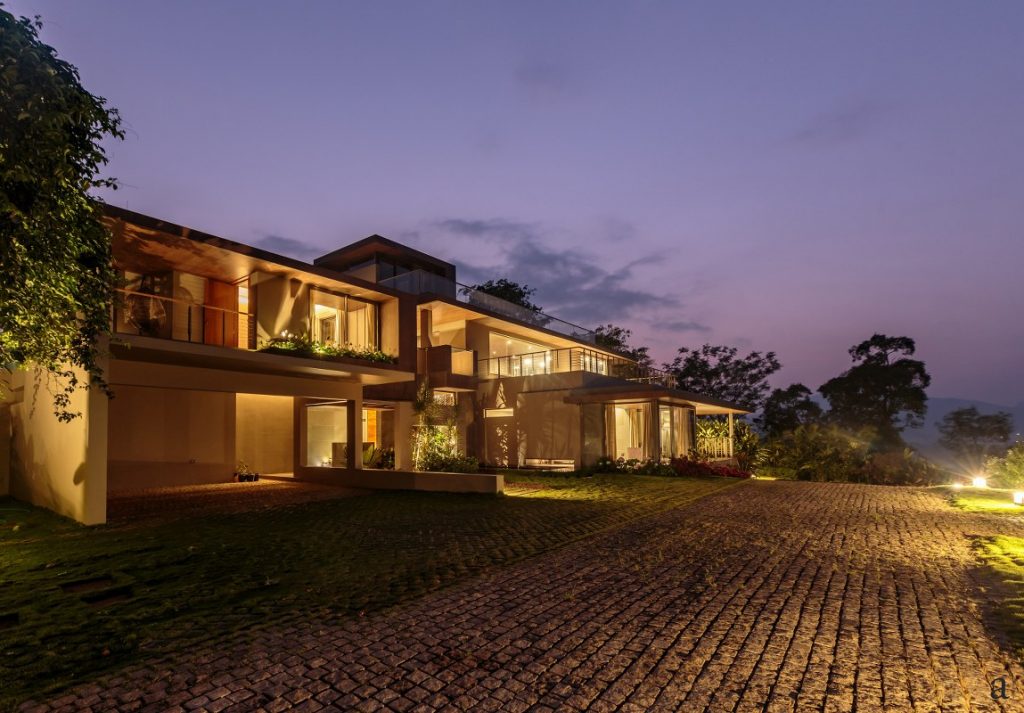 Set amidst the scenic hills of Kerala, this get-away home is sited atop one such hill, offering expansive views to the lush green terrain below and around it. Our client's requirements were simple – a contemporary retreat and the primary need for solitude.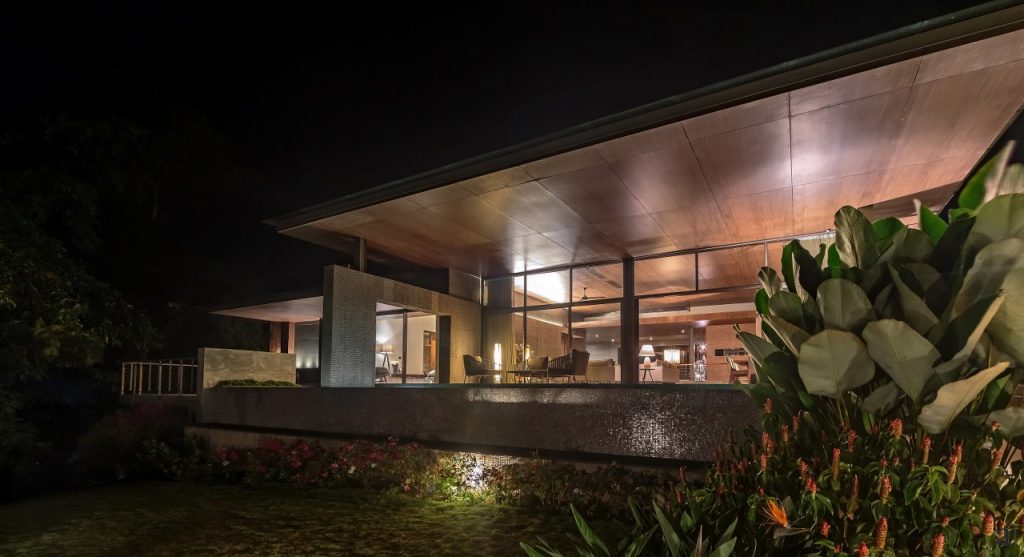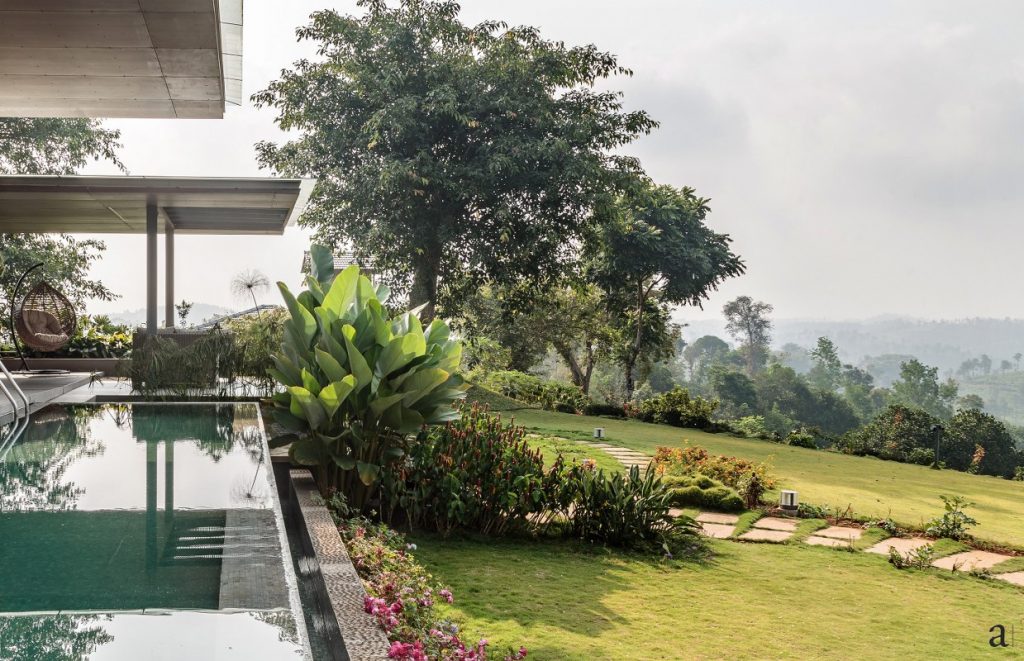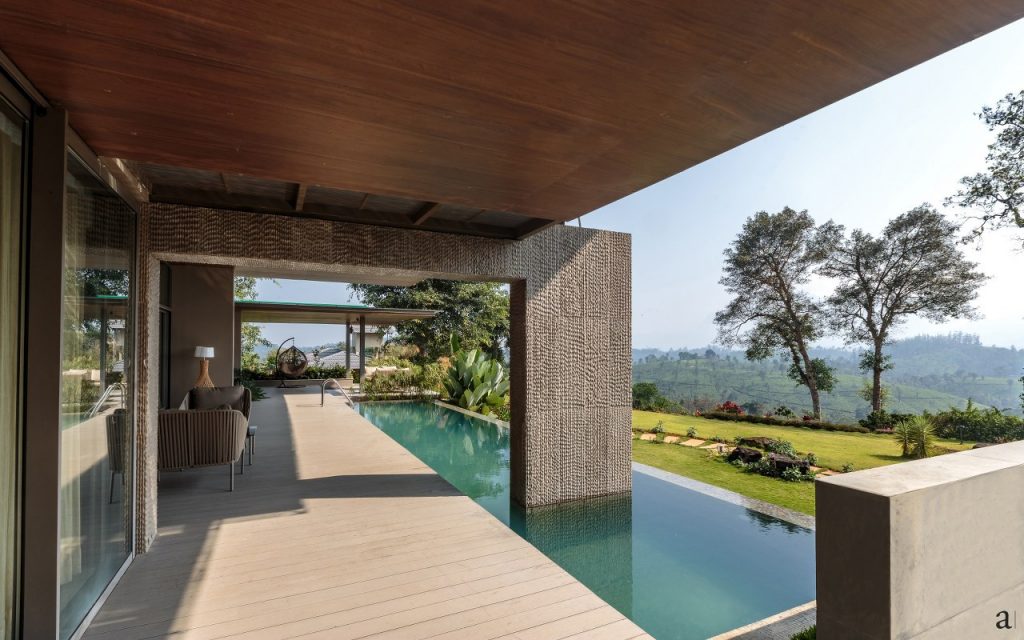 The intent to blur the boundaries between the built and the natural spaces was fulfilled by bringing in the landscape into the midst of the house, splitting the residence from the inside. Large extended overhangs, enveloped in wood and evocative of the surrounding context, extend above the structure, protecting the house and its inhabitants from the local monsoons
Muted and subtle tones line the spaces from the inside, allowing the earthy context to permeate the house. This simplicity accentuates the effect of the surrounding nature, that is at once, strong yet placid and peaceful.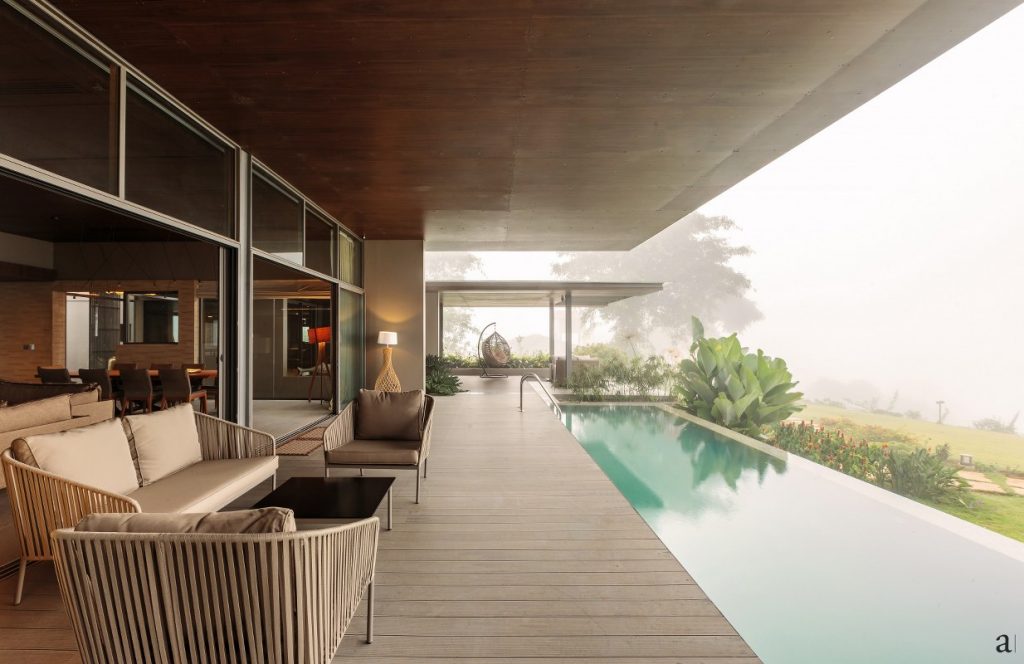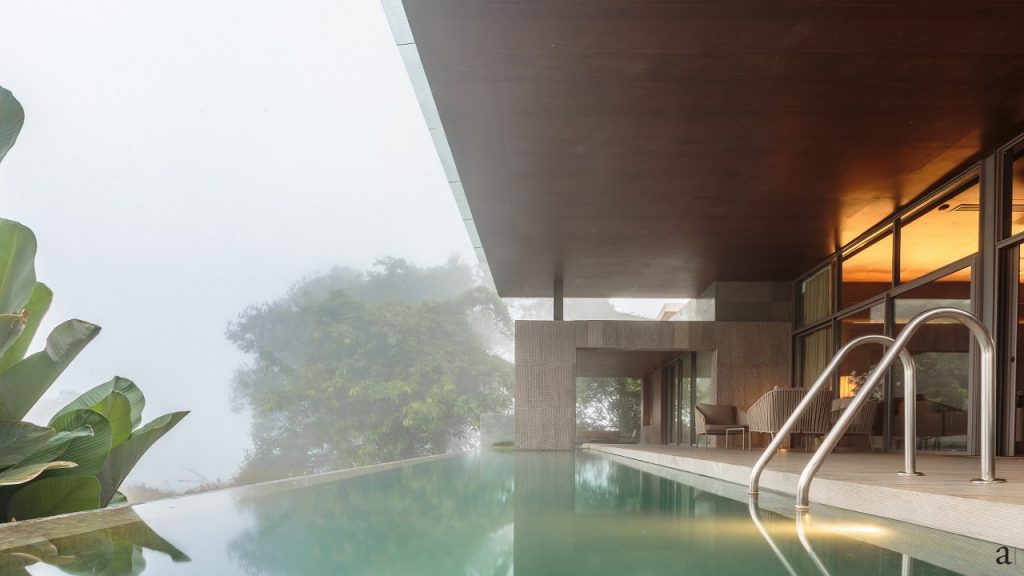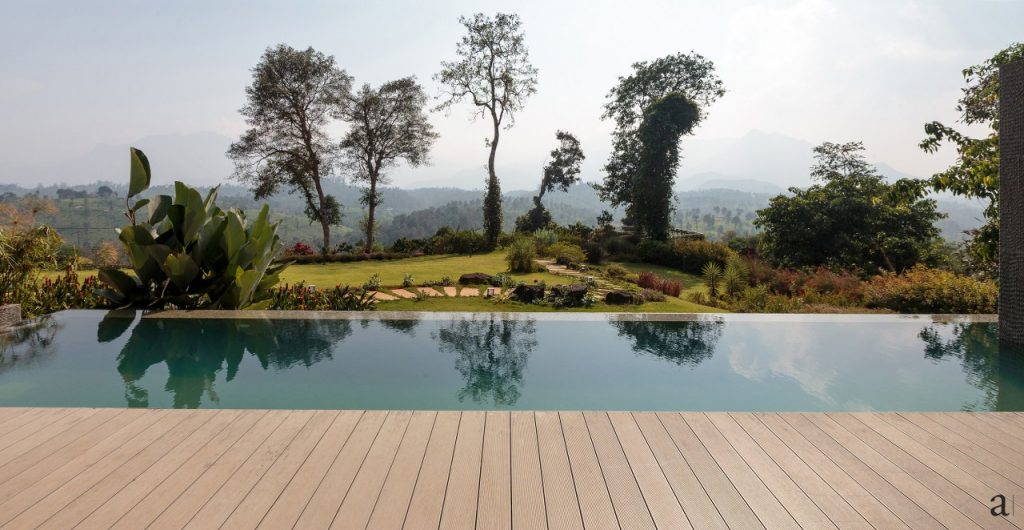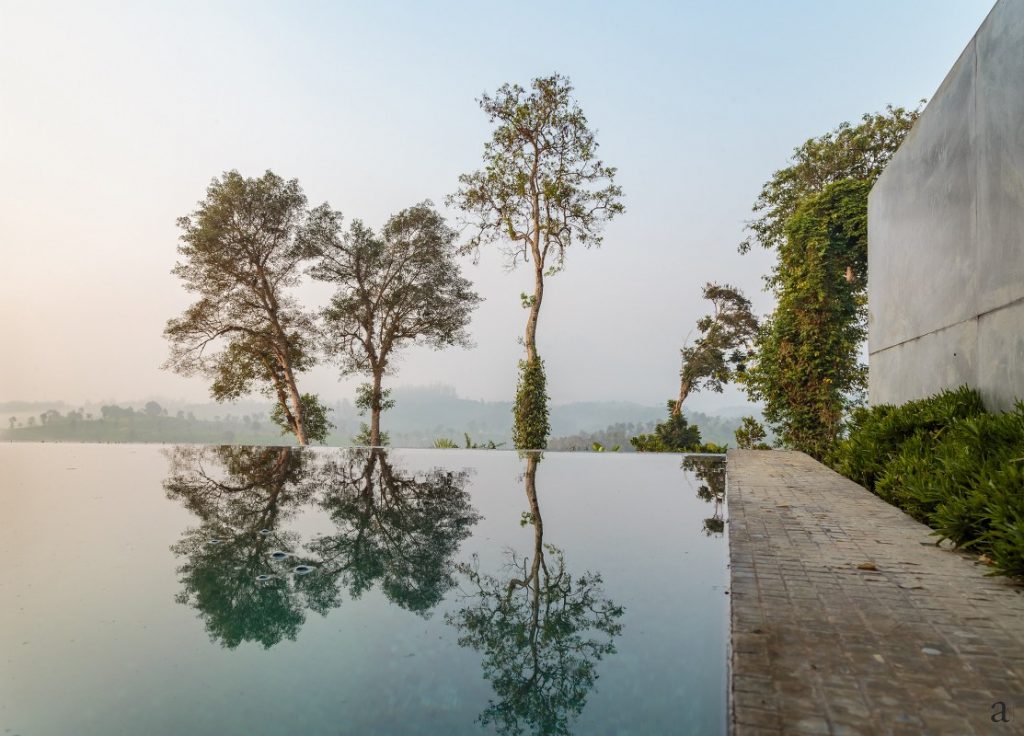 The wooden roof, flows quietly into the interior spaces which are positioned in levels along the natural terrain of the site. The living and dining areas run along the poolside deck, offering unobstructed and seamless views to the surrounding hillside.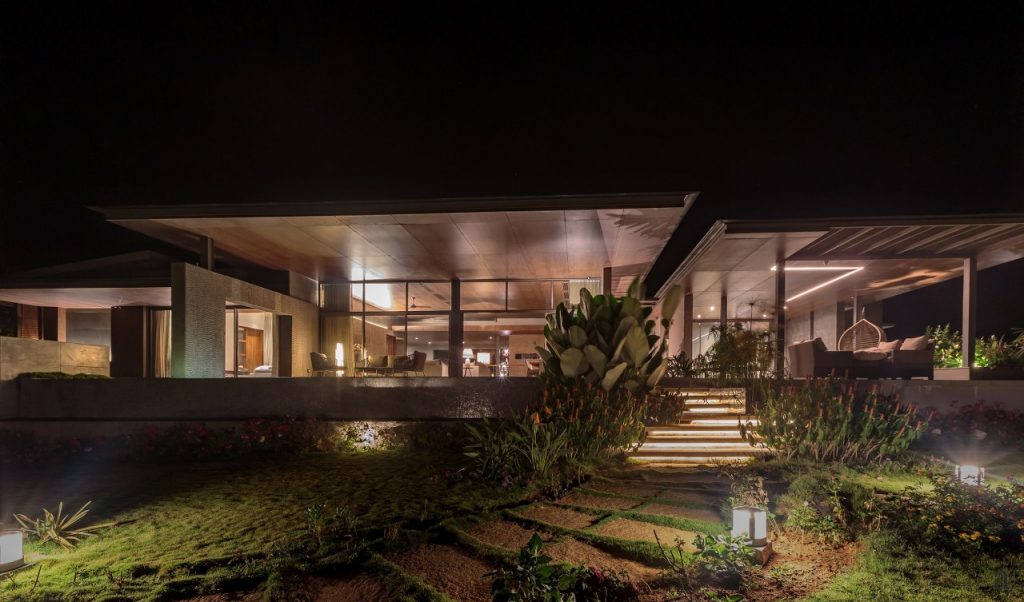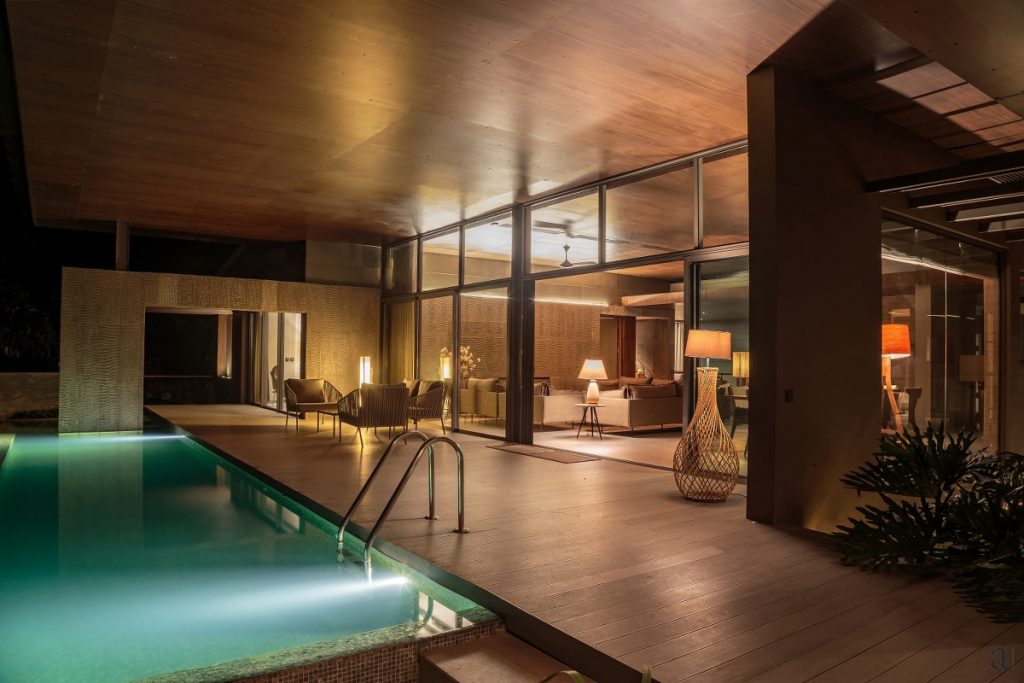 In the evening, as darkness falls and the mountains start to disappear, the lights come on, and the house expands, extending it's warmth to the semi open decks by the poolside.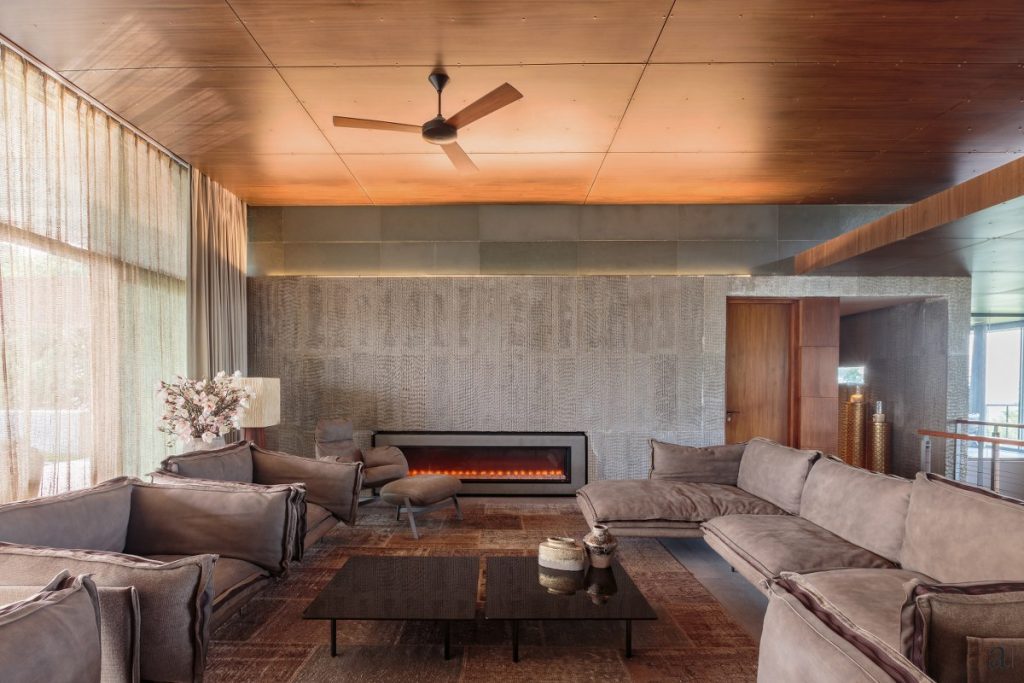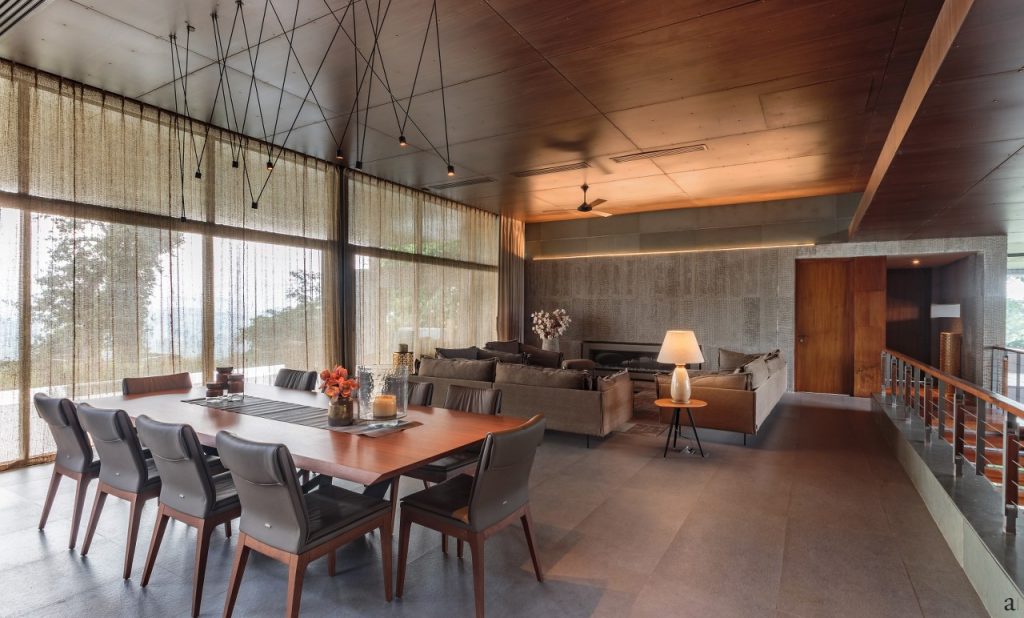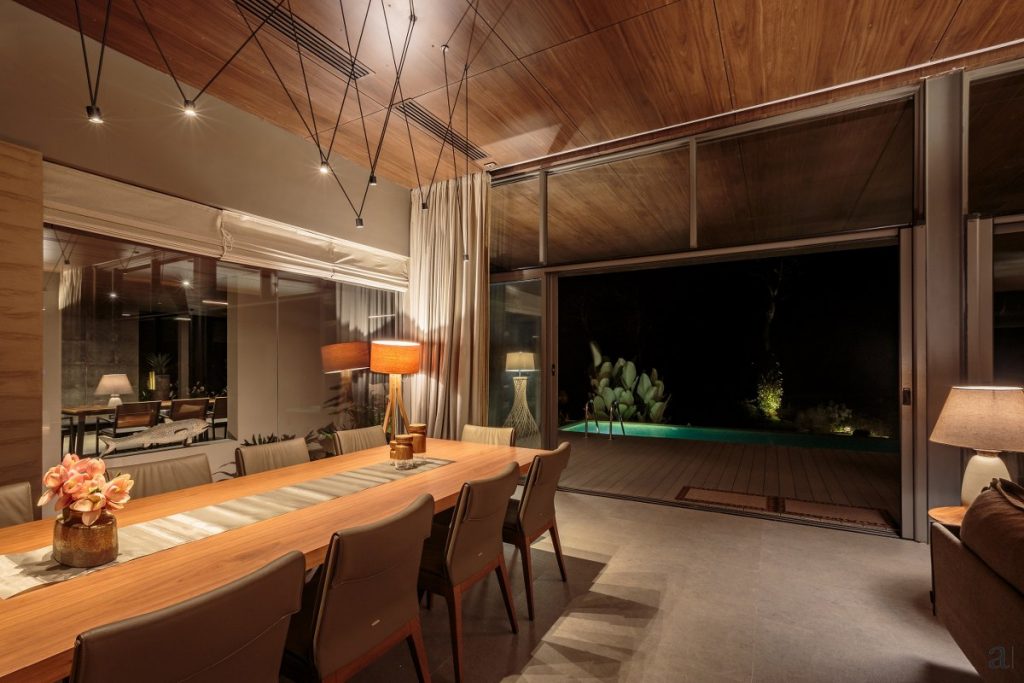 Carefully handpicked furniture is arranged around the fireplace, bringing in a languorous quality to the interiors. The furnishings, though luxurious are kept minimal, maintaining a discreet elegance.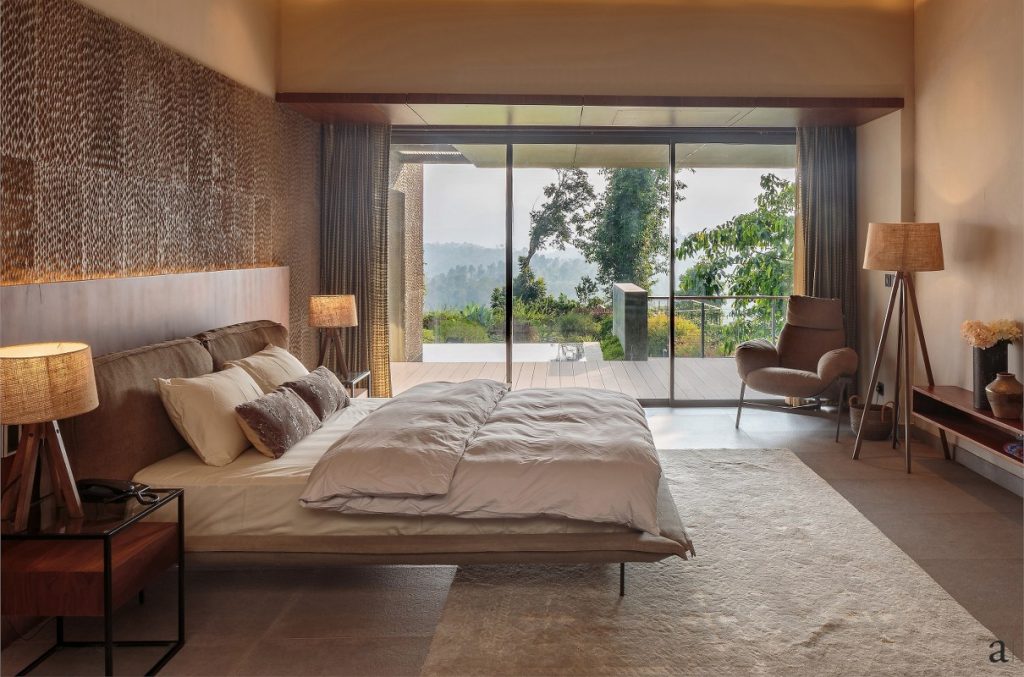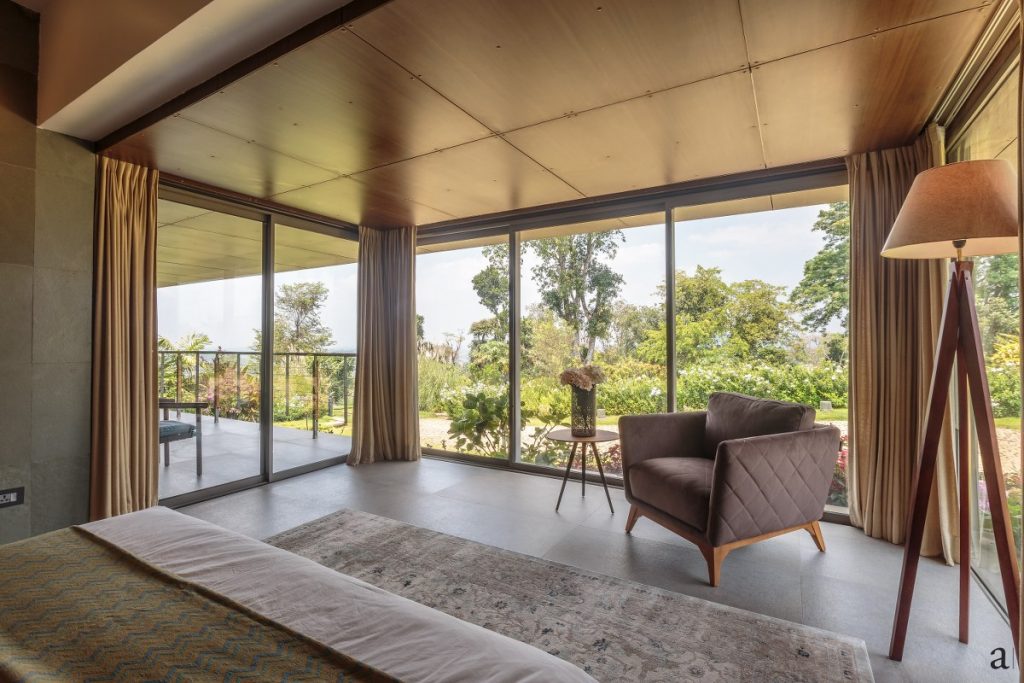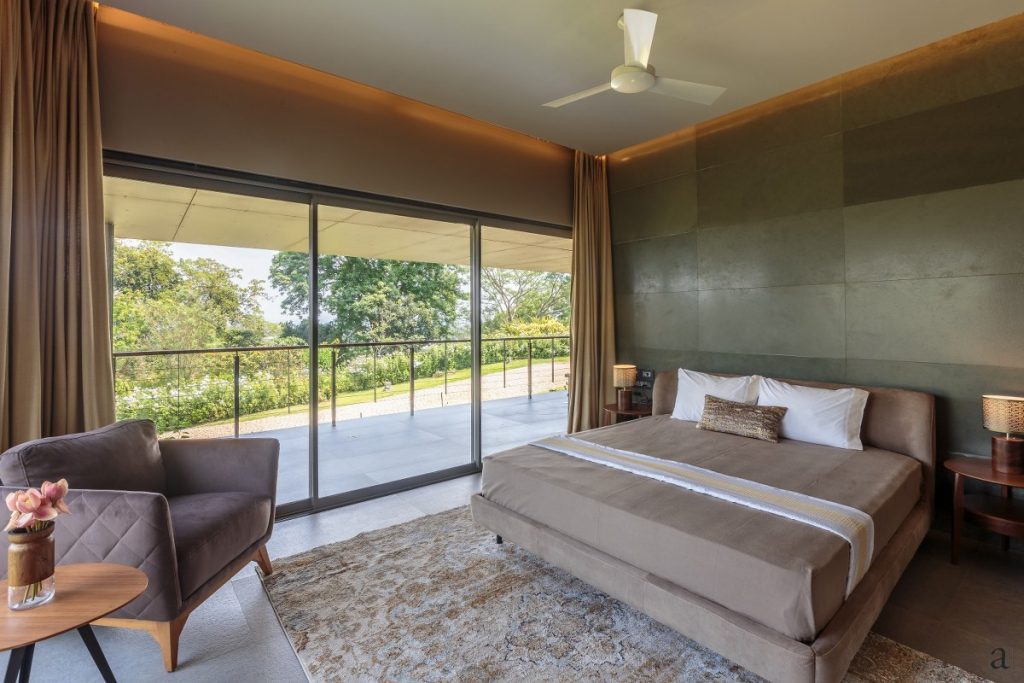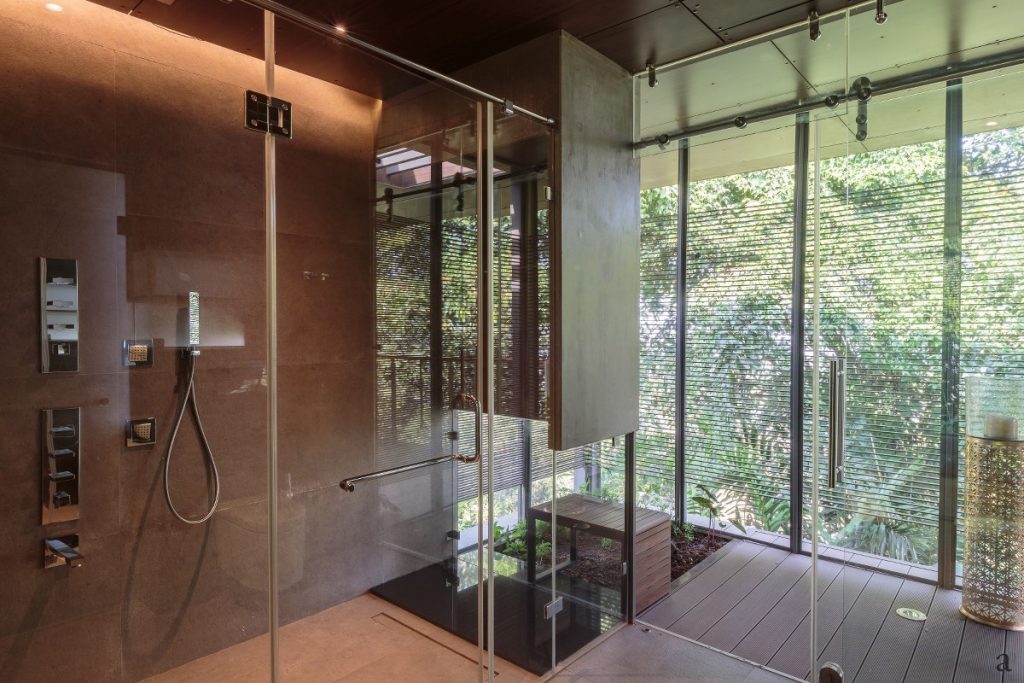 The bedrooms of the home are kept relatively simple and clean, devoid of excessive embellishments and clutter. The furnishings are spare, but comfortable. inviting one to laze and bask in the evening sun that filters into the room.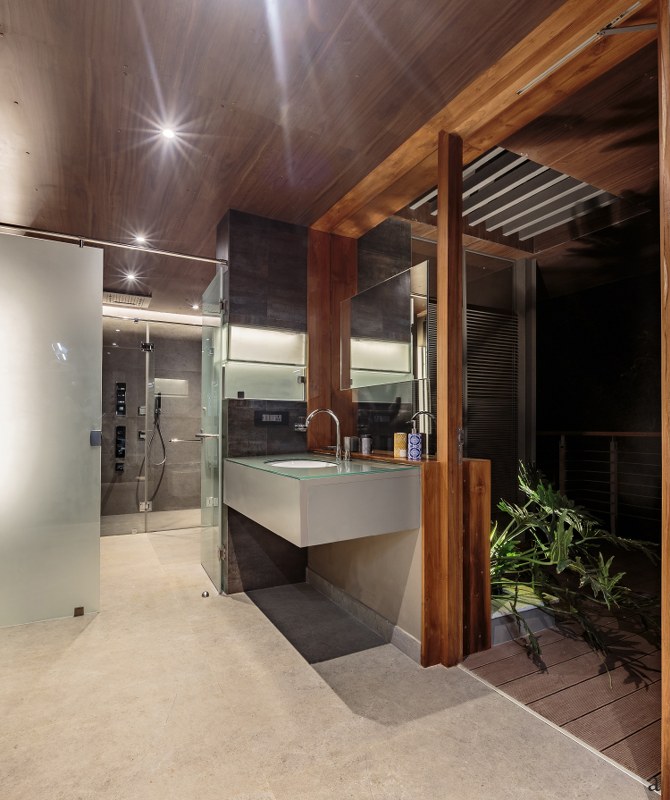 The ribbed quartz on the bed head wall flows outwards from the interiors of the bedroom into the pool, creating a subtle demarcation between the spaces sharing the poolside deck. The master bedroom is also flanked on both sides by private decks offering unhindered views to the incredible panoramas outside.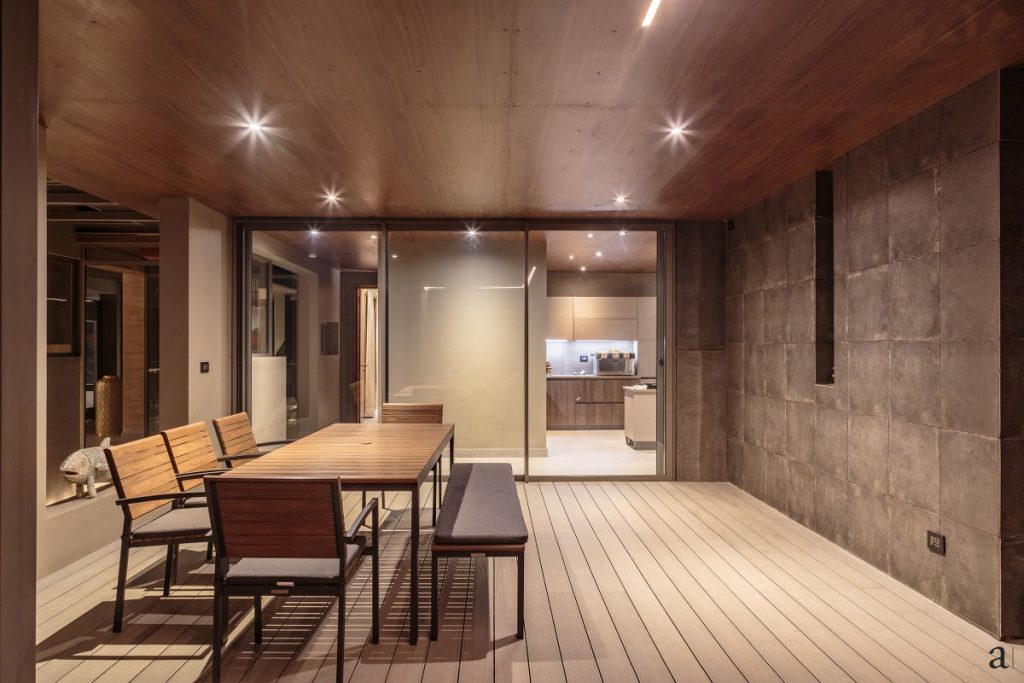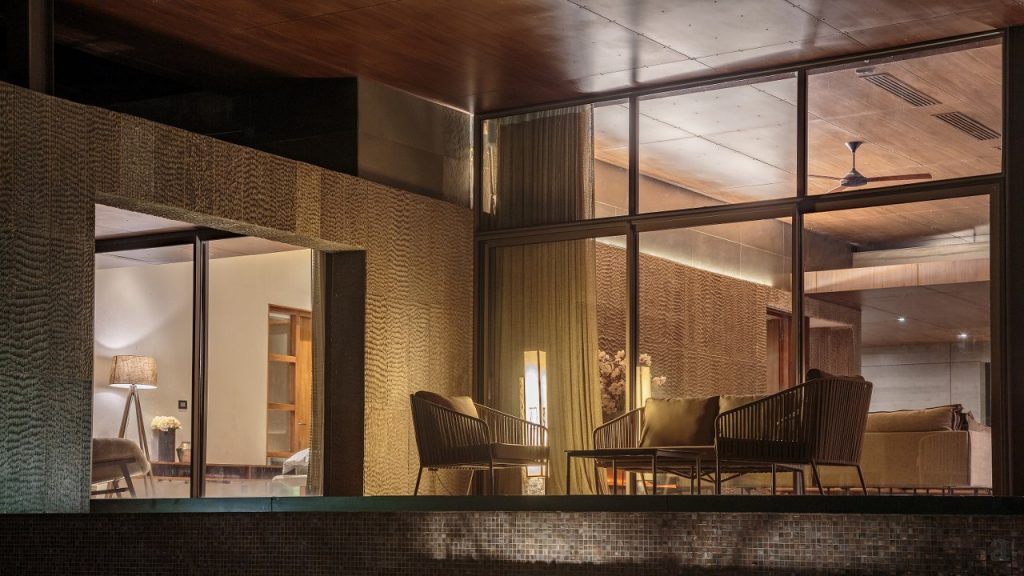 Large glazed openings and a shared deck for the lower bedrooms continue the romance with the outside. These windows when opened fully, blur the boundaries further, and transform these into semi-open spaces.
FACT FILE:
Architecture Firm: Arun Nalapat Architects
Project Name: Home on the Hill
Landscape: Idea Design, Kochi.
Completion Year: 2018
Gross Built Area: 10,000 SFT
Project Location: Wayanad, Kerala
Lead Architects: Kartik Surya, Ekta Chopra
Photo credits: Vyas Kalathil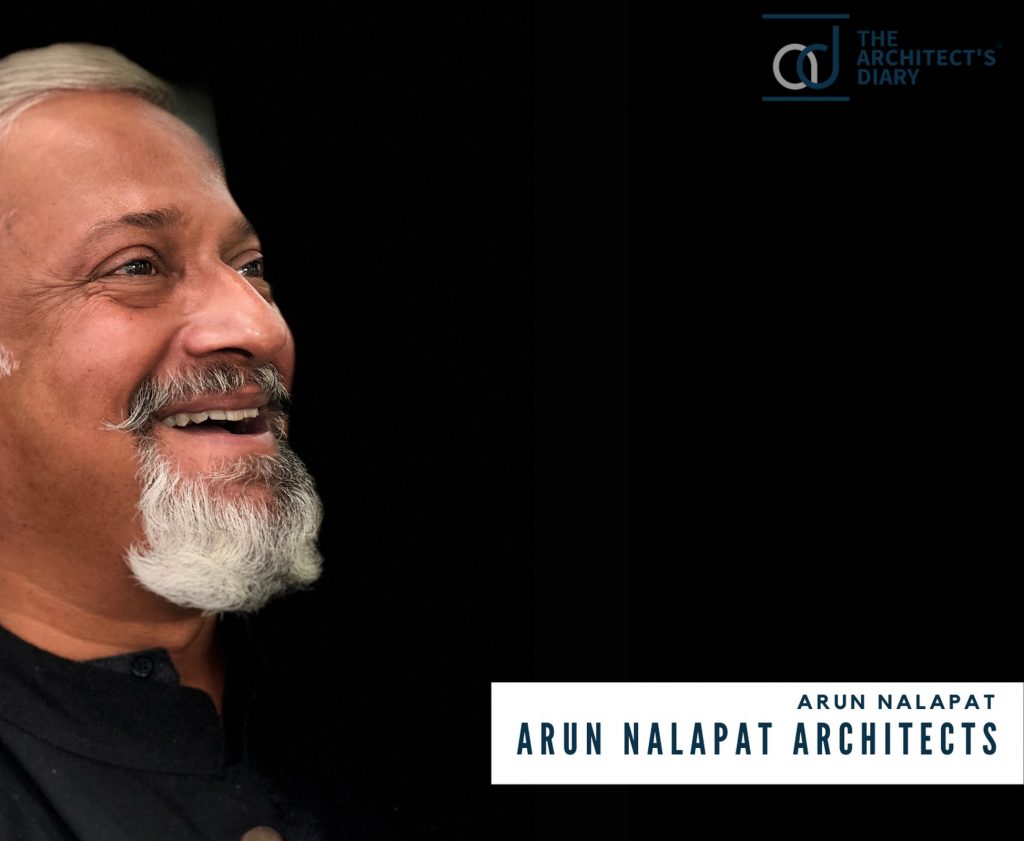 Website: http://www.nalapatarchitects.com/
Facebook: https://www.facebook.com/nalapatarchitects/
Instagram: https://www.instagram.com/nalapatarchitects/