&nbsp
Hardware Store Interior Drew The Concept Of Raw And Contrasted Elements | Amogh Designs
The client's vision was simple about the theme. They didn't want to have a stereotypical hardware store but were looking for space, which incoming 10 years or so – can still be in the race. Optimization of maximum space to display products.
Visit: Amogh Designs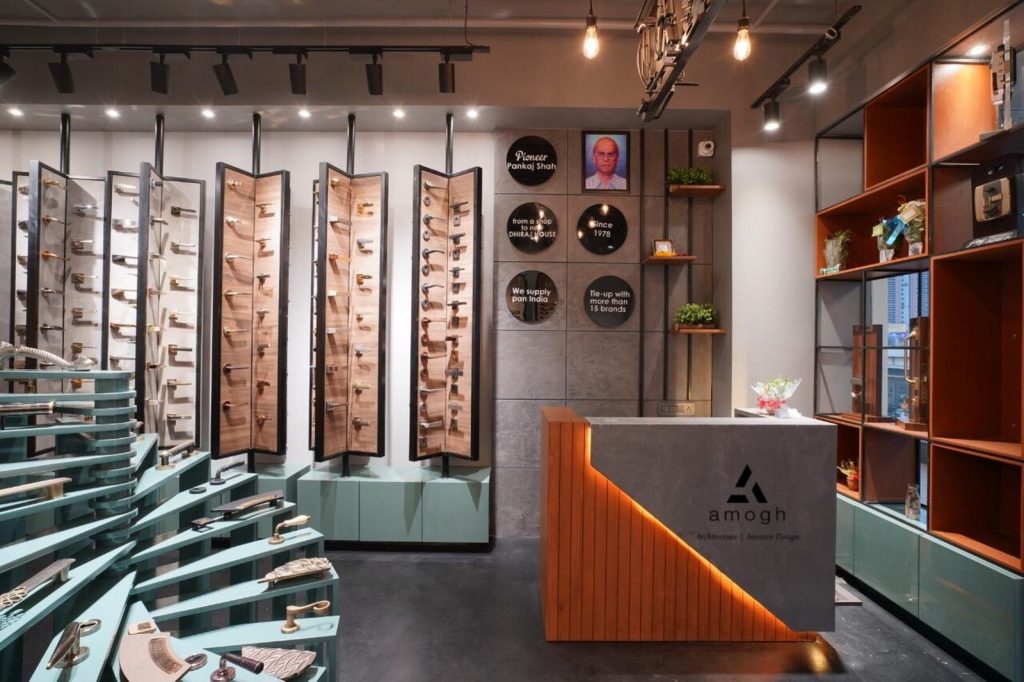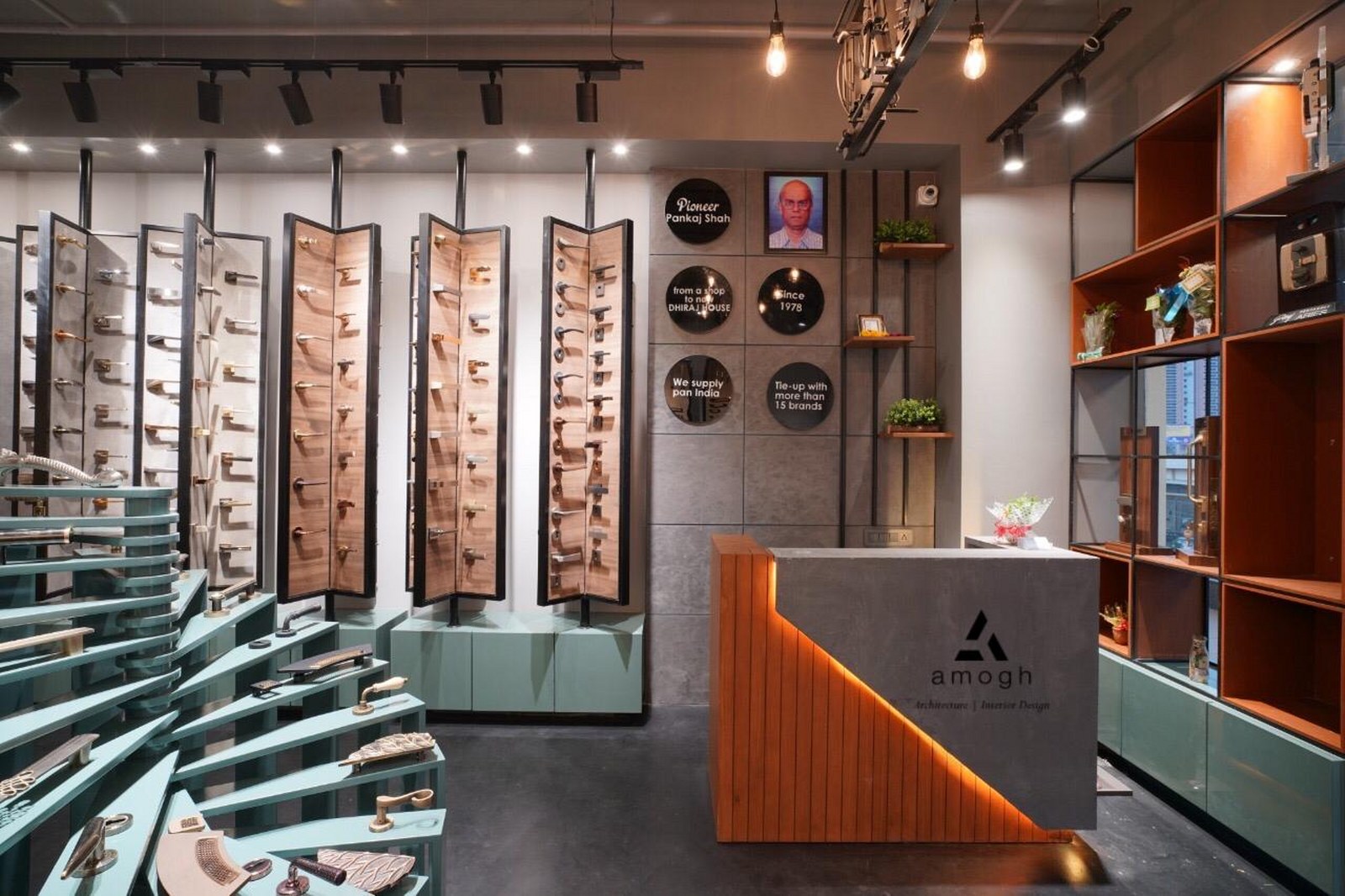 CONCEPT NOTE:
The design concept was inspired by the core functionality of space. Being a hardware store, we tend to keep it raw but alluring. We drew on the concept of raw and contrasted that with the appealing elements of metal and wood. The design approach was driven by an aspiration to create an easy transition, sequential display, and appealing ambiance which can comprise maximum products. Most of the retail hardware stores lose their purpose and design, somewhere in the race of displaying more products.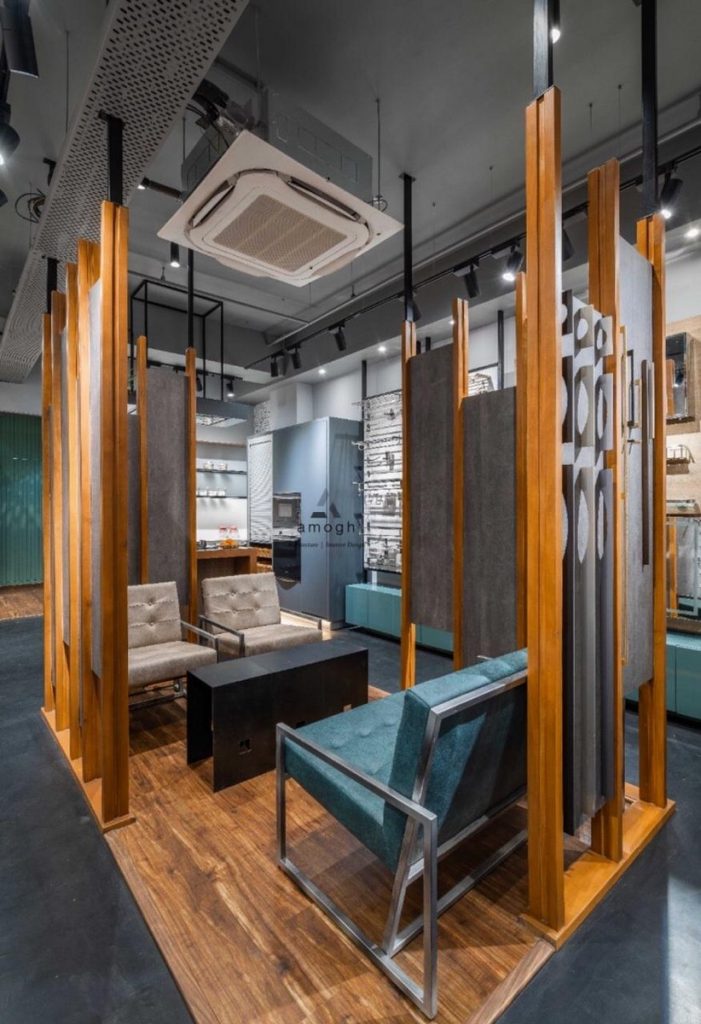 DESIGN PROCESS:
The first glimpse of the store as we step onto threshold sure entices and captivate us with its idiosyncratic synchronization of shades and materials. A huge art piece of Dhiraj made with very items sold in-store, installed on metal bars amplifies the elegance of entry. On the right of entry is a reception desk designed particularly as per theme- diagonally articulated with raw finish micro concreting in contrast with polished wooden bands.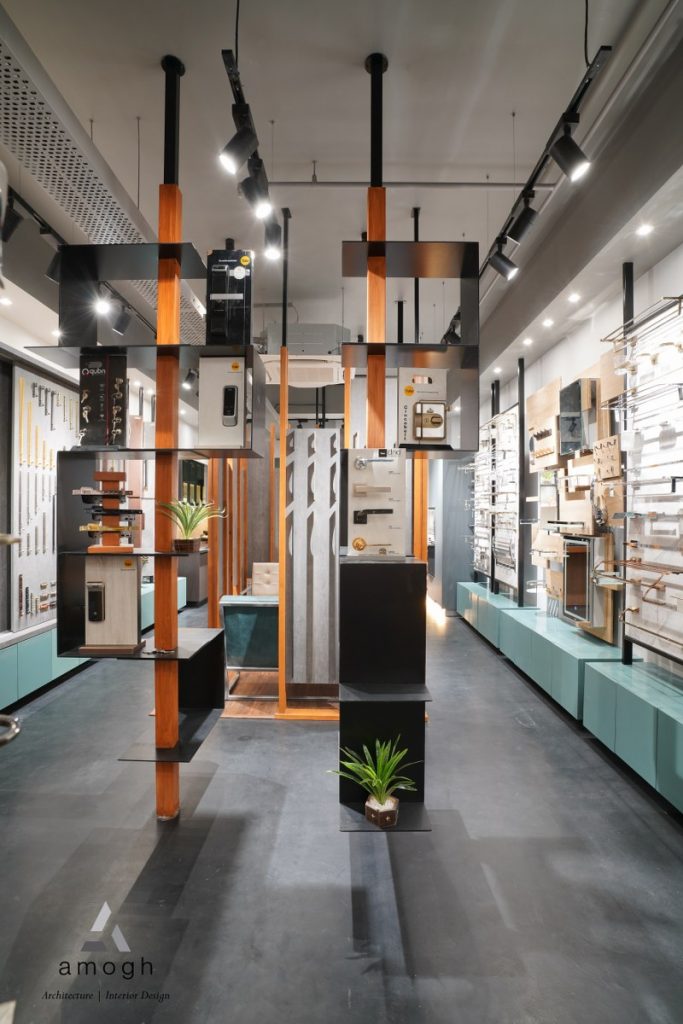 At entry, circular neo mint display with succeeding shelves – displaying high-end products is surely a center of attraction. Wooden display panels with black metal framing run parallel to both sides of walls displaying various ranges of handles. Adjoining to that, columns are articulated with paneling displaying various channels through French and glass doors. Display at the center of the store with multiple vertical metal shelves installed around a wooden post displaying auto-lock seizes customer's attention.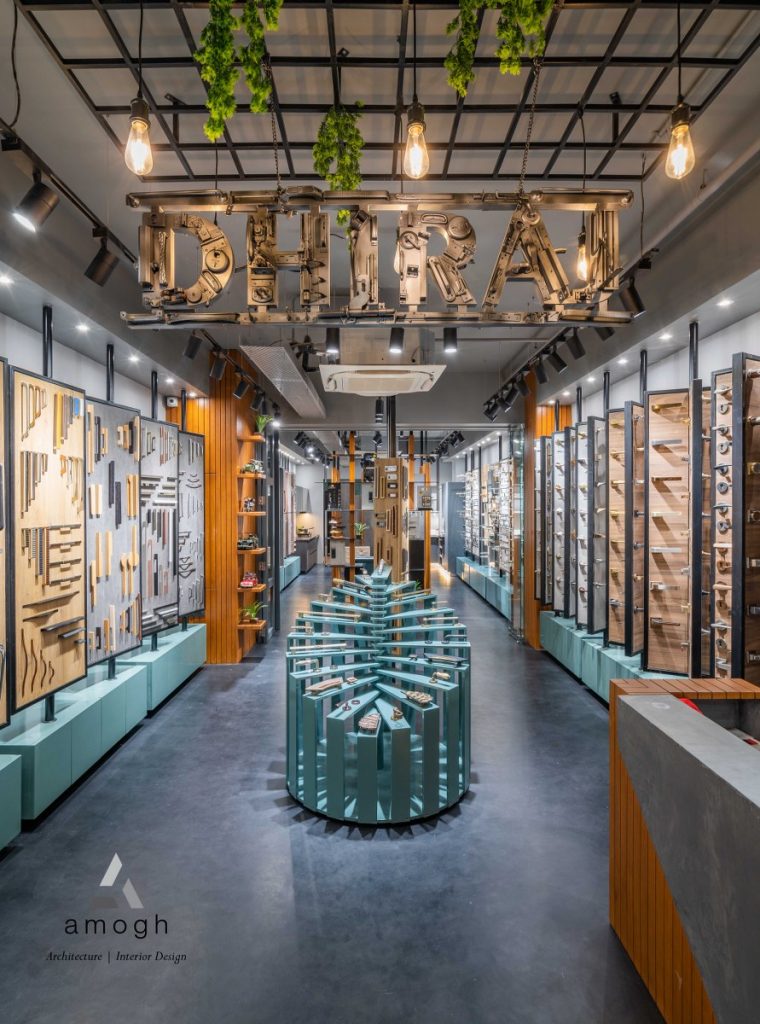 Rotating display triangle followed by a sitting area in the middle where the partition acts both as wall as well as a display panel, sits perfectly with the design. In the third section of the store are high-end kitchen displays. One with charcoal grey, white quartz and the inbuilt unit, another island kitchen with concealed chimney, wood finish and black quartz and a final one with charcoal grey finish, tinted glass, black Neolithic and wooden finish. All the display panels are complemented with a neo mint low height cabinet. The depth of the store helps in perceiving a store bigger than it is.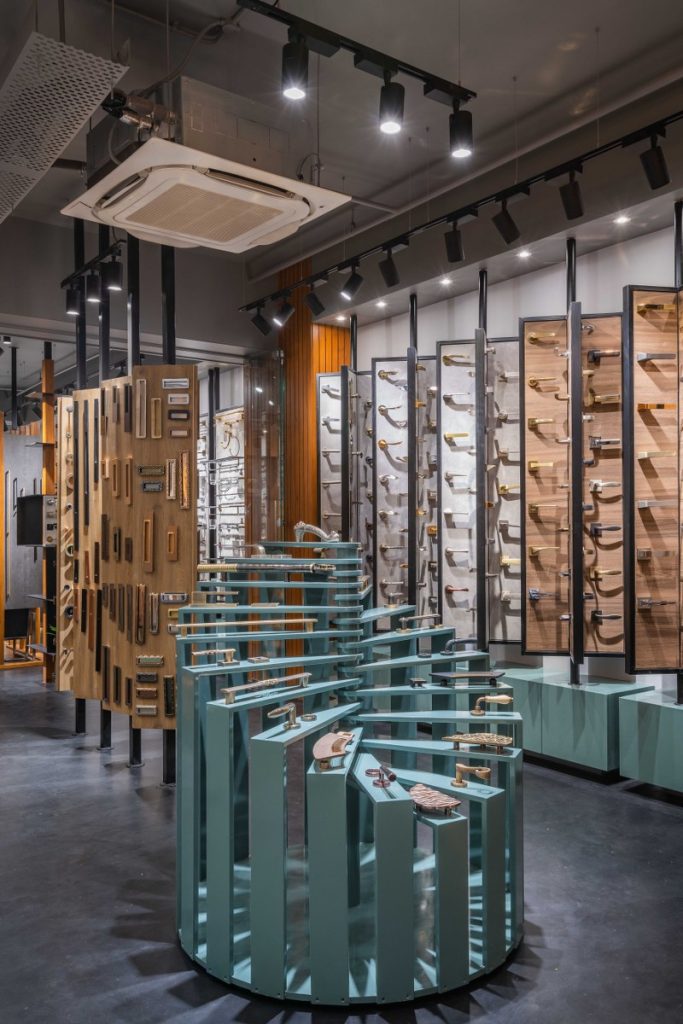 To complement the theme and products, black micro concreting is done on flooring which rightly blends in. Grey exposed texture of ceiling and wall gives a subtle backdrop to all elements and products. Overall vibes of space are such- that it invites you to glimpse at products, even though these are not happening products to shop usually for a customer, still it mesmerizes them to browse.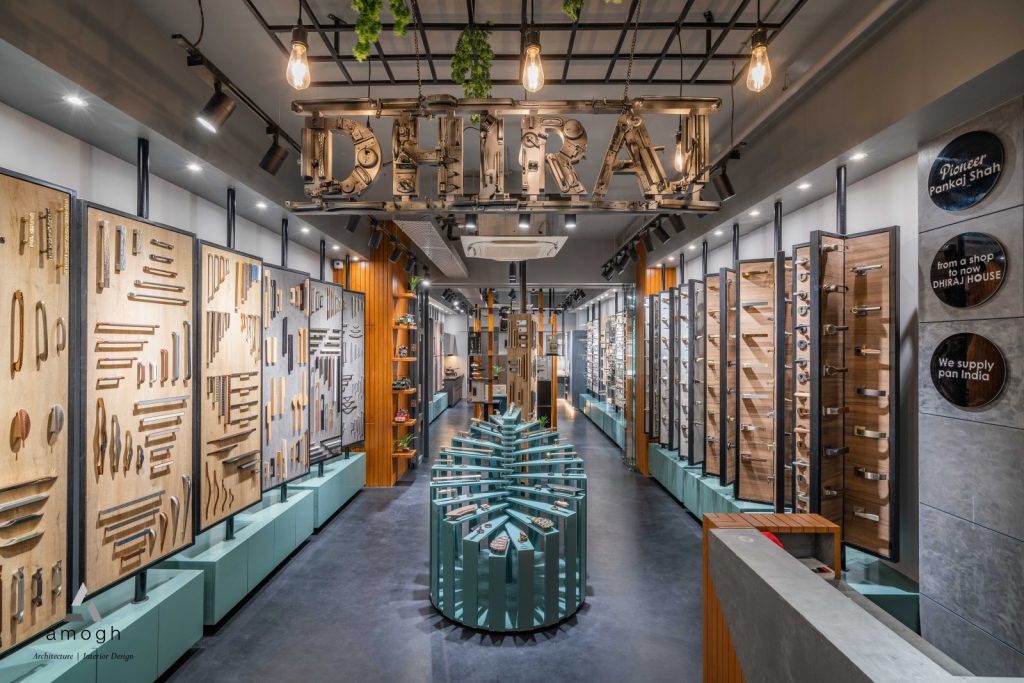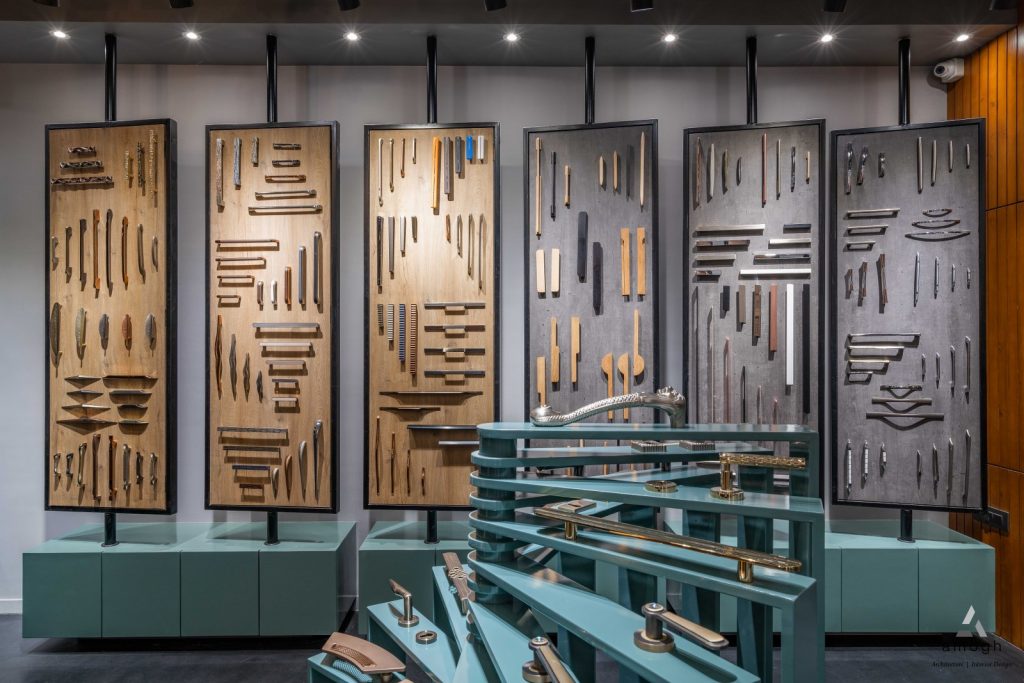 The Store is 1000 sq. ft. with displays of more than 5000 products. The most difficult challenge we faced was to keep up the time frame and manage all the agencies to meet up with the deadline. The project was completed in 40 days starting from scratch including flooring.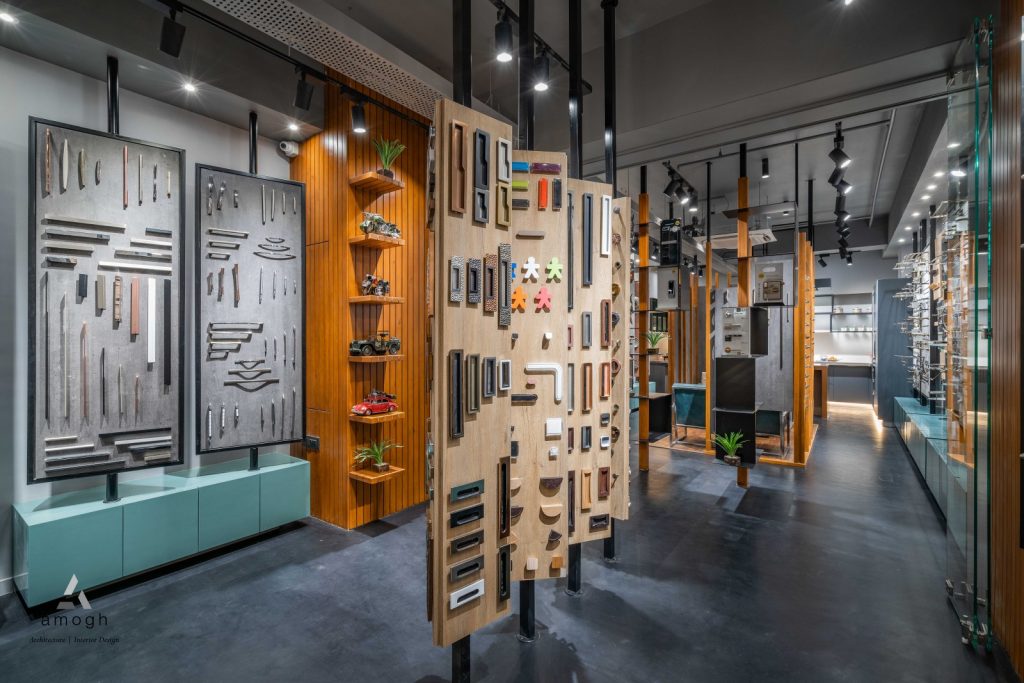 It took a span of 40 days in designing and execution. Furniture of the store has been made in the workshop, while on-site the rest of the work was taken care of. Our efforts were to design everything in the house, as to cut down the cost.
FACT FILE:
Design Studio: Amogh Designs
Client: Nimit Shah
Project Name: Dhiraj House
Project Type: Retail Store
Location: Ahmedabad
Site Area: 975 sq feet
Year: 2020
Designer: Pankti Shah & Shalvi shah
Photography: Inclined Studio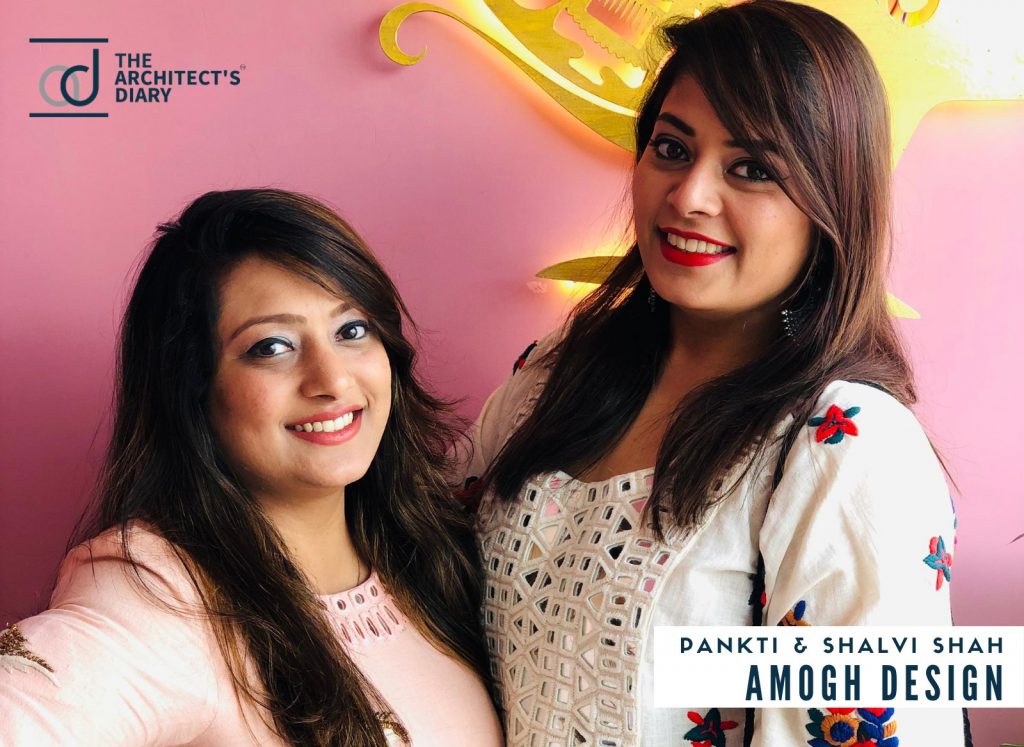 Facebook: https://www.facebook.com/AMOGH.Archidesign/
Instagram: https://www.instagram.com/amogh_archidesign/