&nbsp
The year 2019 arrived with a bang and the artists and designers world over are looking forward to the central interior design trends that are going to rule the year. Here are some ideas for the home décor lovers to take inspiration from. Let us explore what trends are big in home interior design in2019 as brought about by some of the leading designers.
Materials and Finishes
Every year there is a remarkable progress in terms of the materials used and how the same is produced and this year is no different. This year renowned designer Patricia Urquiola has created a collection of tables which have been created using the tempered glass which is as light as a feather. The irregular veins similar to those found in the marble adds oomph to the same. Besides her mesmerising series of oval-shaped tables with the irregular veins glass top laid on asymmetrical legs creates a dynamic and sensual option that goes far beyond the expectation and tops the list of upcoming interior design trends of 2019.
The ace designer Becky Shea believes that minimalism and purpose will rule and people will say bye to eclectic clutter in 2019. Everything that we invest in our interior space should be purposeful and even better if there is a function attached to the aesthetic.
Image: Jonathan Aldor
A ted to notice however, is that dramatic art pieces and maximalist graphics will be in as the consumers are getting bored of just the minimalist Scandinavian designs and those trends from past are actually making way for the organic shapes and bolder colors, says Sandra Chandler of Art.com
You can visit our space or connect with us if you are looking for some artsy furniture trends, maximalist wall arts or bright coloured ceiling art.
The Colour of 2019
The feminine tones that are blush, dusty and subtle at the same time are seen in for 2019 furnishings to add that wonderful pop of colour in every space.
Coming to walls – bold is in and the same of interiors like warmer & darker countertops, designers recommend night watch green that complements dramatic art and looks great with a nicely shined finish said Nichole Gibbons of Clare.
Convertible urban dwellings.
Present day homemakers believe in being unapologetically joyous. They are independent and go by their choices. As a result, the compact homes are trending and so are the convertible dwellings and multipurpose built-ins which are the most sensible and intriguing design trends of 2019. Making the best use of even the smallest space with practicality is a great design.
Compact and Multipurpose furnishings
With more and more people getting attracted towards urban dwellings, it only makes sense that designers catch up with the need of the day by developing smart and multi-purpose furnishings. Furnishings that can adapt to various spaces can fit into challenging spaces and yet aren't any sort of style are a welcome trend in 2019. It is, in fact, one of the more popular Interior design trends of 2019 that is here to make a splash.
These could be sustainable handmade pieces as the grounding element in their luxurious interior. Just like the softer shades the year will see a change in the furnishings too. Soft carpets and soft sofa sets will rule the lounge areas and the living rooms, the present day consumer believes in comfort as the priority and that will be the welcome change in furnishings. Velvet in fabrics is said to make a huge comeback in the luxury segment – go velvet or go home, sighs Siham of French by Design blog.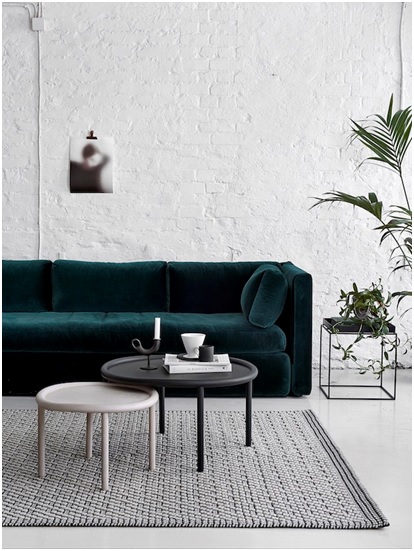 Source: French by Design
BOHO is back
Gone will be the insecurities around textures, and gendered interiors.The present-day urban dwellers are keener on decorating the interior with what they love about in their nest and worries less about matching the art.
Softer colours with a chic boho vibe will be back as signalled by the leading editorial designers in Elle Décor.
Although the BOHO style was never completely out of the market, it was trending on the market almost a decade ago. The offset layered look of BOHO couldn't match up with times lately and it's laid back approach did not look fresh any more. However, to our surprise, it is coming back and could be found in every showroom and on every list highlighted as upcoming trends of 2019.
Statement Ceilings
Every year we wait for the release of the new colour shades of the year and trust me those new shades offer a very small change in the tone hardly visible. Also, the clever take on the wallpapers and accent walls have been enough and quite boring.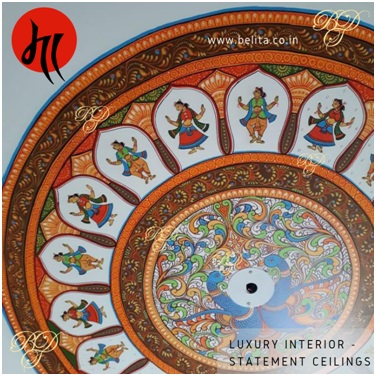 But ceilings? Seriously? Now that's new! The last time when ceilings had made a buzz was way back in the '20s with ornate moulded tin ceilings. From lacquered to expressively painted to wallpapered there is much that can be done with the ceilings which we usually tend to ignore. A reimagined ceiling is capable of making the room look larger and brighter than any accent wall probably could. The picture is a ceiling painting by the renowned art restorer and museologist Masooma Rizvi who agrees that 2019 is the year of bright art and bolder dramatic graphics to enlighten the Scandinavian walls and furnishings.
Geometric and tribal patterns.
Thanks to their symmetrical harmony, Geometric patterns never go out of trend. Although the tribal patterns and ethnic patterns keep coming and going every 10-15 years. So what makes them feel so right when it comes to 2019 luxury interior design trends? It's the warmth, offset pattern, and familiarity it can easily introduce.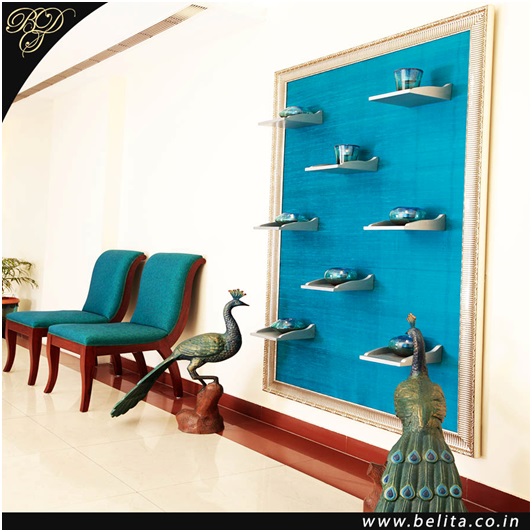 If you are planning to renovate your existing home or design your new home do take the above into consideration to make your home, look exotic, modern and pleasing at the same time.