&nbsp
Five Stylish and Ergonomic Office Chairs for 2018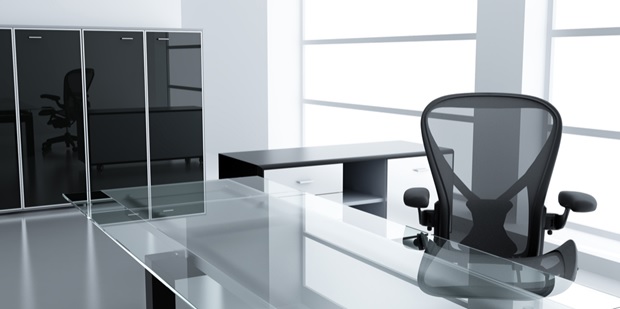 Whether you're in the corner office overlooking Manhattan, or the basement suite of a crumbling building, having a stylish and ergonomic office chair can add a lot of value to your surrounding, not to mention your health and comfort.
In this post we handpick the most stylish and ergonomically designed office chairs you should have as an addition to your home or regular office for 2018.
Let's take a look at the most trendy and ergonomic office chairs now!
Herman Miller Mirra 2
The first thing that users of this chair love is the attractive, simplistic design, and yet it can easily accommodate up to weights of 350 pounds. Those concerned with the environment will appreciate that the Herman Miller Mirra 2 is 93% recyclable and is made up of 45% recycled materials. It's very shape provides good support while encouraging good posture. The chair has a mesh seat, and with its vented back which encourages airflow, you can adjust the chair to suit your body requirements. The arms raise or lower, the tilt tension is adjustable, the lumbar support can be adjusted for depth and height and the height hinge locks in place. The chair comes with a 12-year guarantee.
2xhome White Deluxe Ergonomic Office Chair

2xHome's White Deluxe Ergonomic Office Chair with 5-point base ensures maximum stability so the chair doesn't topple over. The chair has been specifically designed with tall, large individuals in mind. The chair comes with a high back support and a nice thick padded seat. It's tilt can be tilted up to 20˚and further allows you to lock it in any suitable tilt position. The chair is available in attractive but functional black or brown, and also available in white. With PU leather upholstery and comfortable padded arm rests, resting your arms reduces strain on the body and also reduces loads on the hips and thighs.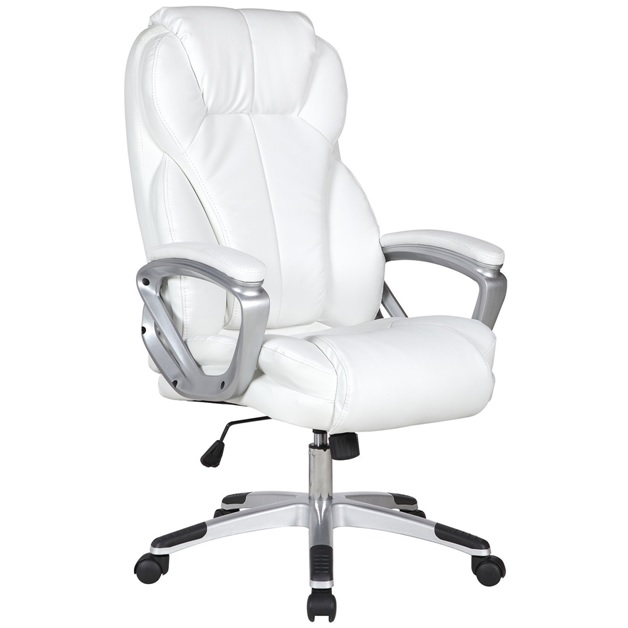 Gates High Back Executive Chair

Professional and sleek looking, the Gates High Back Executive chair is made out of real leather. A special feature of the chair is its 'Waterfall designed' seating place. It provides cushioning for under the knees so that general leg pain is reduced and leg muscles are soothed. The chair comes with a 4-position lock and chrome gas lift. This means the chair back can be positioned at a certain angle and be locked off. The gas lift also allows you to modify the height of your chair in relation to the height of your desk for ergonomic benefits. The chair has a sturdy aluminum swivel base and is available in black, cream, chocolate and white. With its padded armrests and adjustable height, the chair's dimensions are 28.08 inches in width x 29.64 in diameter and up to 51.09 in height.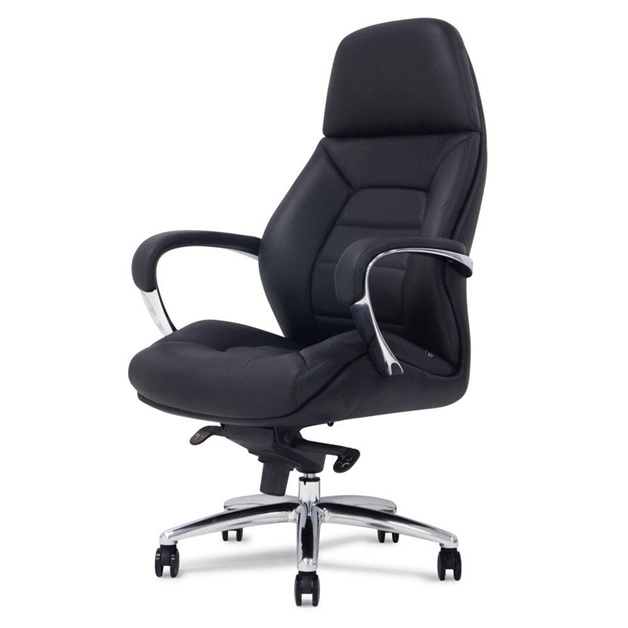 GM Seating Ergolux

Made of quality calf leather, this model of Ergolux chair is a superb choice for budget buyers. Great for anyone who will be seated for the best part of the day. It can accommodate weights of more than 250 lbs. With its seat slide adjustment, the seat of the chair can slide backwards or forwards. You can adjust the chair and backrest and recline it till you feel comfortable. The chair has a synchronal-tilt mechanism that fits your incline regardless of how you bend. The chair has height adjustable 3D armrests which can move backwards- or forwards. Swiveling 360˚, you're able to twist and turn and reach for items otherwise beyond your reach. With the chair's quality nylon casters, you can simply roll or glide across the floor.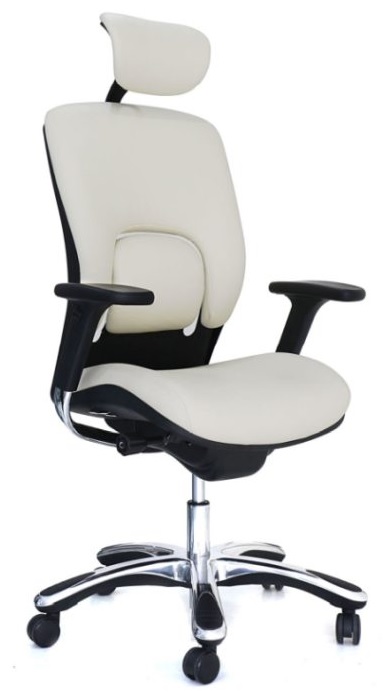 Herman Miller Sayl Chair
Herman Miller is a leading furniture designer. Their Sayl chairs, available in a number of colors, cater to all body shapes and sizes. The chair is superbly designed – inspired by suspension bridges, and more specifically the San Francisco Golden Gate Bridge. Industrial designer, Yves Béhar applied engineering principles of these structures to create the Sayl, and the chair provides ergonomic support for people up to 159 kg. Just like the bridge takes considerable weights day after day. The seat is strong and measures 26 inches x 24.5 inches x 37 inches while the arms function automatically, moving up and down without the use of any buttons. The mesh design keeps the back aerated and the unframed 3D Intelligent back allows one to stretch and move freely. With its Tilt Limiter & Forward Tilt and adjustable seat depth, the Sayl chair is all about attainable design with exceptional ergonomics. The Sayl Chair comes with a warranty of 12 years.
Conclusion:

People often associate as more utilitarian rather than stylish, though modern ergonomic chairs clearly can be both. Check out ErgonomicTrend.com roundup of the top 5 Office Chairs of 2017 in this video:
Sit back, and enjoy!
Article by Kate @ BestofBudgets.com, where she shares tips on budgeting, saving money, and making money online.