Are you worried about maintaining the lush green surrounding in your backyard in the coming winters? 
What is the most incredible way to improve irrigation activity without putting much effort and money? 
Is the sprinkler irrigation system the most feasible and best solution to be incorporated in the backyard?
A backyard is a place where we meet nature's highway and enjoy doing fun activities with both family and friends. Having a blissful yard will not only enlighten your home but also keep your mood fresh. To maintain its greenery, you might be using some irrigation equipment such as sprinkler, J turbo aqua tube, full circle rain gun, etc. 
Well! If you are reading this article, then you might be curious to know why an individual should develop a sprinkler irrigation system in their backyard.  
Incorporating a sprinkler irrigation system will not only help you to maintain your home but also a smart investment that allows individuals to overcome the issues related to maintaining the yard. No doubt, besides the sprinkler irrigation system, there are other methods too, but it is most feasible and preferred due to its tremendous benefits. 
Now, let's dive into the benefits of having as sprinkler irrigation installed in your backyard. 
6 Advantages of having a Sprinkler Irrigation System in Your Backyard
Let's Begin. 
#1- Automates the Supply of Water
Automated water supply is one of the reasons that makes the sprinkler irrigation system most feasible and choosy. People who have already installed a sprinkler system in their backyard do not have to worry about supplying water manually as one can set the timings and water level automatically. 
It not only gives a fascinating look to your backyard but also reduces your monthly utility bill. Gone are the days, when you had to see your yard dull after coming back from a vacation. But, if you still face similar challenges, make sure your backyard has an automated sprinkler system. Moreover, if you are worried about its installation or want to avail of other irrigation services, then don't worry, you may contact waterworks as they have extensive knowledge of irrigation and will resolve all the problems related to irrigation. 
#2- Distribute Water Systematically
You might have seen some discoloration in the backyards. Do you want to get rid of this issue pricelessly and looking forward to some effortless way to sprinkle the right amount of water in each corner of your backyard? If yes, then this system is for you.
A sprinkler irrigation system will allow you to deliver an accurate amount of water in your backyard. After incorporating this system, you can expect that there is a precise water distribution in your garden. 
So, get ready to give a charming look to your backyard by delivering the right amount of water in a specific time without taking any help. 
#3- Increase the Value of Your Place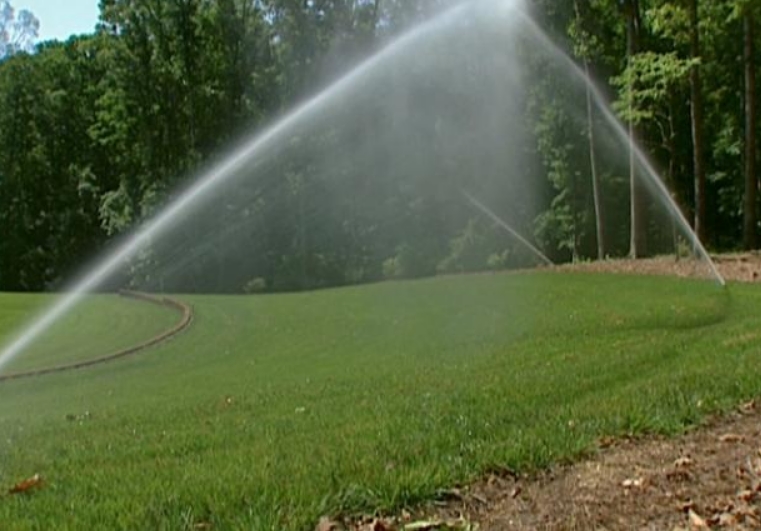 Source: diynetwork
Do you want to add value to your home? If yes, then start giving a new life to your backyard by developing a sprinkler irrigation system. The yards which have a sprinkler irrigation system is a sign of proper care and management.
So, if you want to see a noticeable increase in your property value, then set a sprinkling system in your backyard. 
#4- Helps to Maintain the Balance of Soil Nutrient
All plants need some essential nutrients, but overwatering the yard may lead the soil to lose those, which will eventually be a loss to the plants. But, with controlled distribution of water (of course using a sprinkler irrigation system) in the yard, you do not have to worry about the soil structure.
Also, overwatering may also lead the soil to become too heavy, which is not suitable for the plants and must be avoided. And that's what the sprinkler system does. It keeps everything balanced. 
So, if you don't want that water runoff seeps and other nutritional value from the plants and soil, then take advantage of the sprinkler irrigation system as others.
Prefer reading: 10 Things You Must Know About Sprinklers.
#5- Cost-effective
If I am not wrong, then you might be paying extra to the gardener and in purchasing the equipment to keep the backyard optimized. Need not wonder. Having a sprinkler irrigation system in your backyard will not only help in maintaining a beautiful place at minimum cost but also reduces your efforts. 
No doubt, you might have to spend some amount of bucks in installing the sprinkler irrigation system. But you will find it really worthy and effective. The best part is its availability. You can get it from anywhere and at affordable prices. 
So, don't worry about its maintenance. Get ready to make a one-time investment and save money for the rest of your life.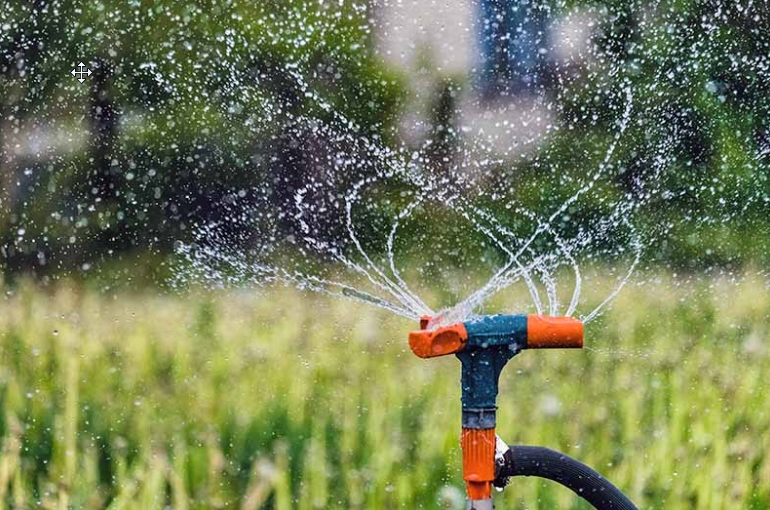 Source:gardenerspath
#6- Saves Time and Eliminate Hassle 
Do you want to enjoy your day and do other activities besides managing your backyard? Start saving your time by incorporating a sprinkler irrigation system. This system can be timed according to the requirement, which reduces both time and effort. 
To do the activity, you don't even have to be at home as it includes sensors. It is not only suitable for watering the system, but also conserve water and the environment. So, need not worry about watering the backyard. Just enjoy your day and save time by performing other activities. 
Wrapping it Up
Indeed, plants and grass need water to thrive and grow. Therefore, it's essential to set up a professional irrigation system. It will not only keep your yard fresh and worth watching but also saves energy, time, and money. 
Now, hopefully, you got an idea of why people consider sprinkler irrigation systems as the most feasible and professional way to improve falling plants and brown grass. 
So, what are you waiting for? Roll up your sleeves and get ready to adopt the most feasible and effortless way to rest assured that your backyard will look amazing in all seasons irrespective of water level, climate, and care. Furthermore, if you still have any doubts regarding the development of the sprinkler system in the backyard, feel free to share in the comment section below.