&nbsp
Spanning an area of 4000sq.ft, this duplex home's design brings together elements of nature, minimalism and spaciousness. A 5bhk duplex home was divided between a closely knit family of 2 sons, master bedroom, parent's room and a guest bedroom. A complete vastu compliant house with only linear elements in different forms, colours, materials. The lower floor features an entrance foyer, living room, pooja room, dining room, kitchen, parent's bedroom and the guest room. The upper level houses the most intimate section of the home – 3 bedrooms including the master suite and a entertainment lounge area
Duplex Home Design bringing Together Elements of Nature, Minimalism and Spaciousnes | FSND
Visit : FSND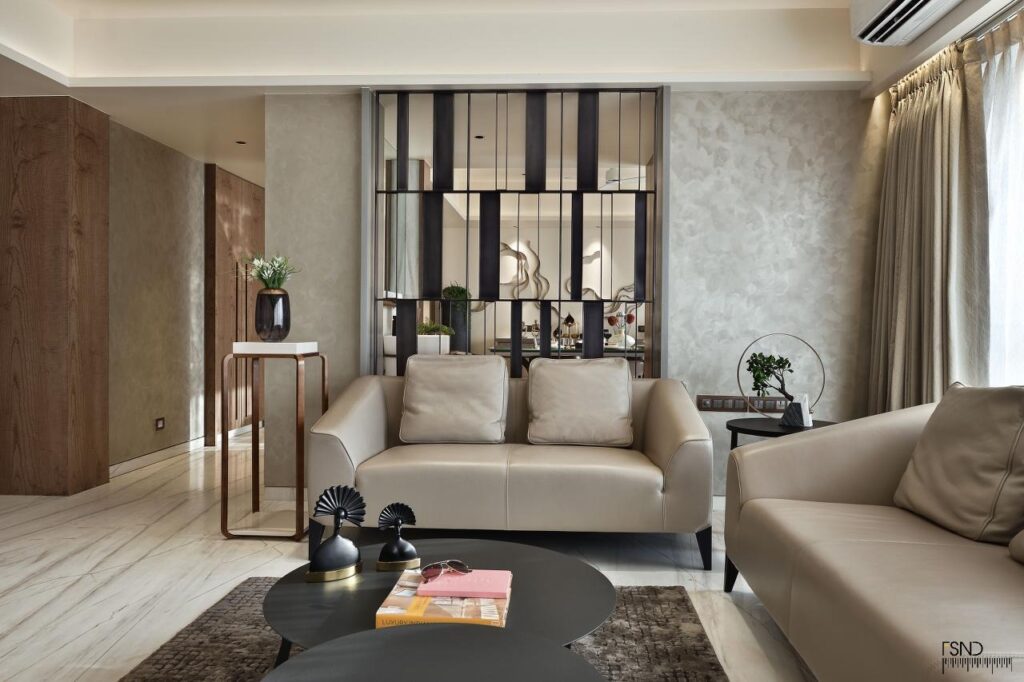 A sleek and simple apartment that keeps its lines smooth and its overall colour story neutral. The core idea stemmed from just using lines and linearity as the guiding design principle that helped us bring the whole space together. the bedrooms continue the warm tone of beige with hints of deep blue, white, gold via the soft furnishings. The entire staircase nests on this italian clad step giving it a distinguished importance. The depth of the angular side of the steps is beautified due to the mirror being placed at the strategic location enhancing the angles clad in slim matt finished tiles.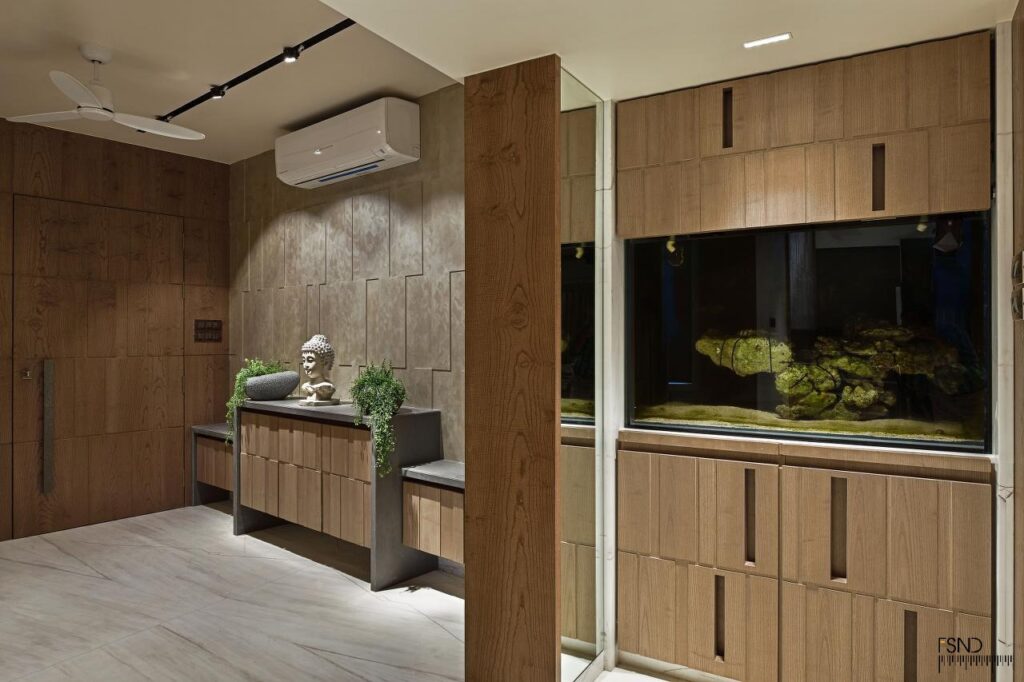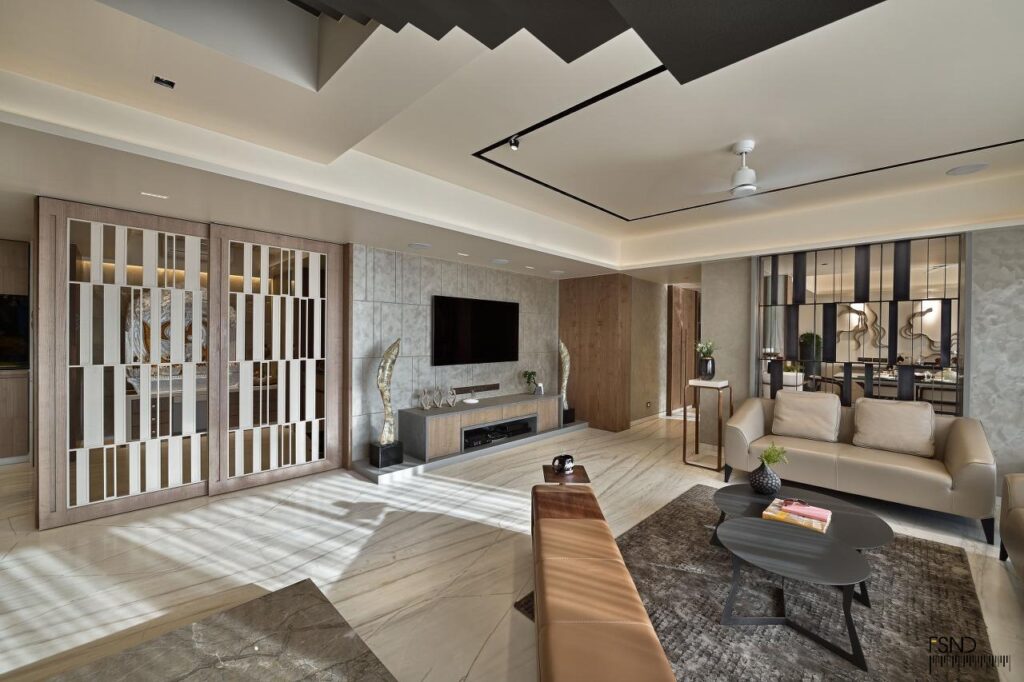 The linear patterned metal screen behind the sofa is an open & close connect between the living & the dining space the white corian screen framed in a sliding door houses the temple area the same lined pattern is continued on the TV unit panelling in form of grooves finished with metallic texture paint. "Luxury is in each detail" furniture with earthy woody elements was selected like the wooden finish dining chairs upholstered in artificial leather & a wooden top dining table covered with glass top. A free-standing basin from Cerasa was the perfect selection for a common dining area basin. A beautifully crafted white coloured basin complimenting the metal screen.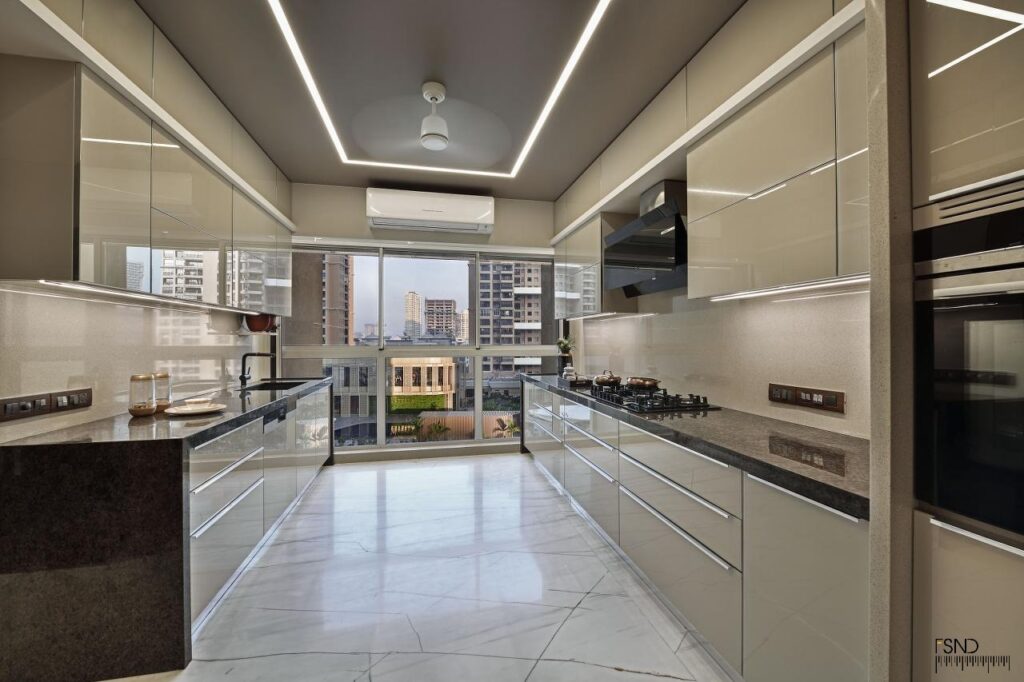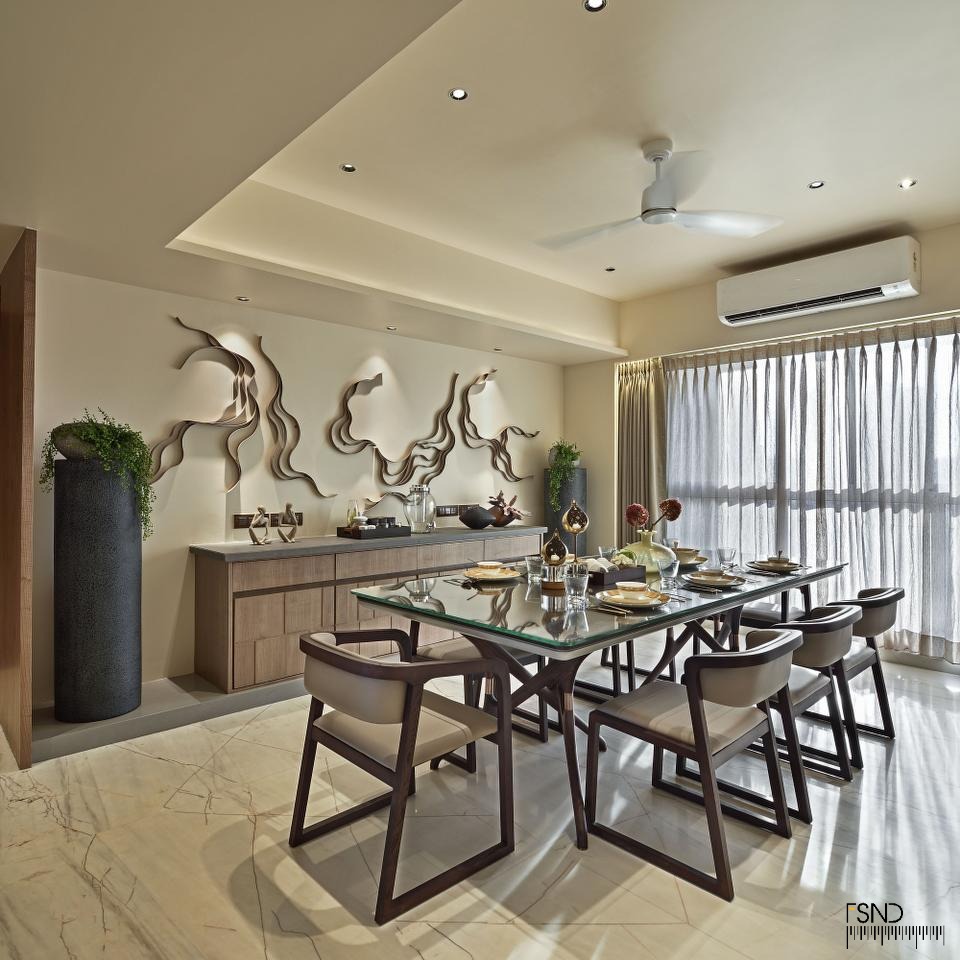 This cosy private space was the entertainment area / media area for the close nit family the double height backdrop clads in artificial leather panels along with metal inserts converts itself into the ceiling housing a custom-made suspended light which gives the space a touch of opulence. A bold character veneer highlights the back drop with an infuse of black metal and wallpaper. A custom designed frosted sliding door to the walk-in adds drama to the bedroom. Smoked black glass hanging lights with a central belt of gold adds the colour to the bedroom the same gold colour is replicated a subtle way on the soft furnishings. Entire bathroom is clad in 2 different Italian marbles. Counter top basin with a tall body mixer from Fantini sits on the step level cantilevered marble clad counter, the wc and the shower walls were highlighted with the single colour stone which underwent several processes of cnc, grooving, engraving and cut outs for the desired outlook.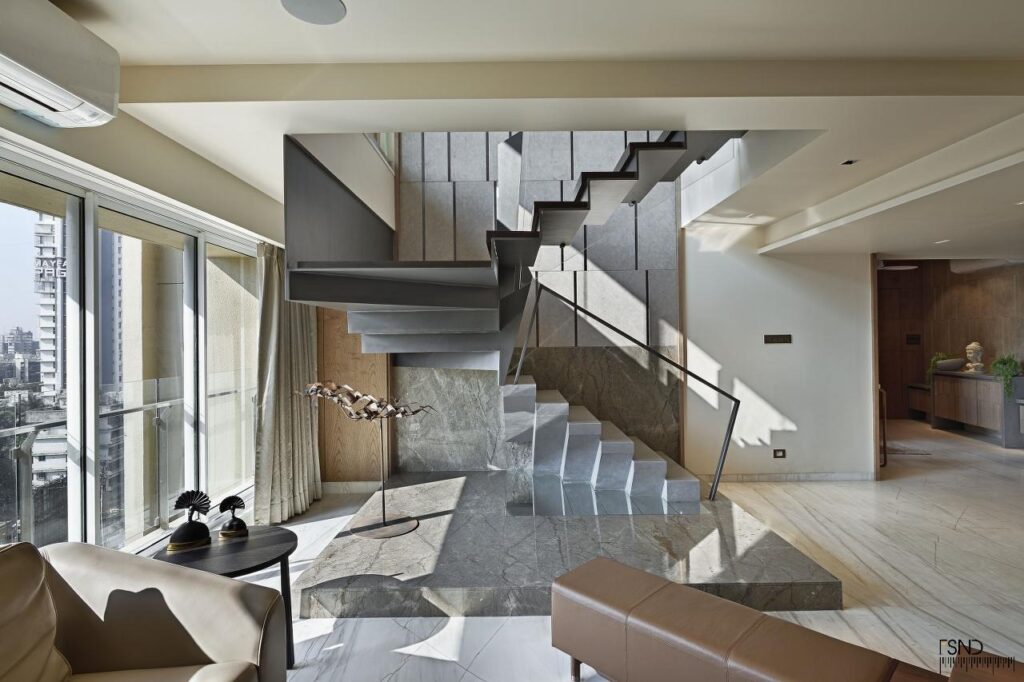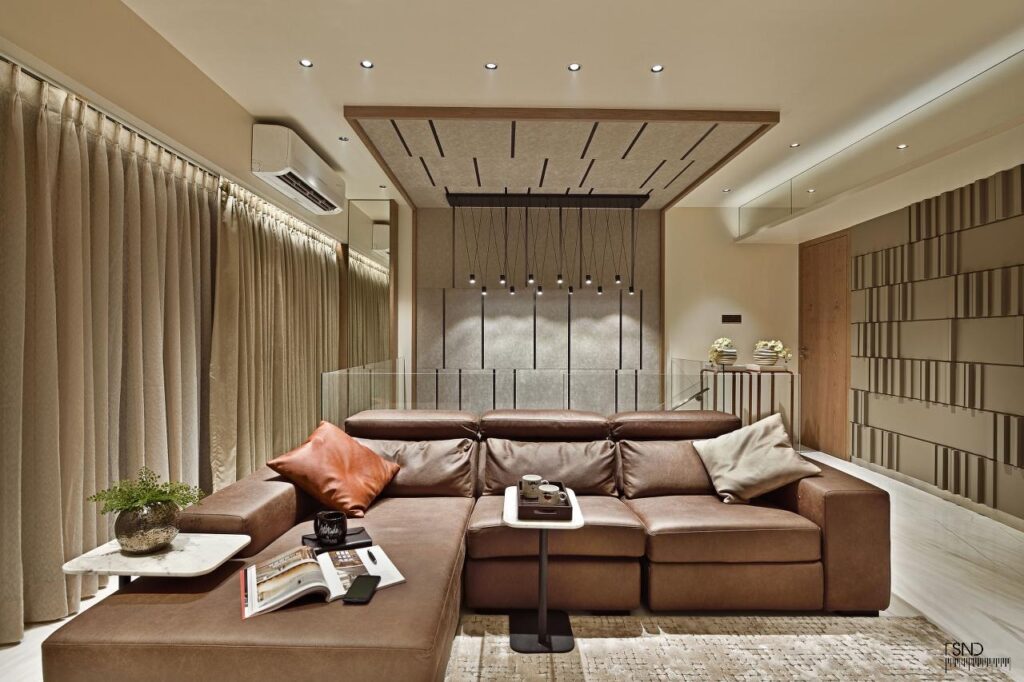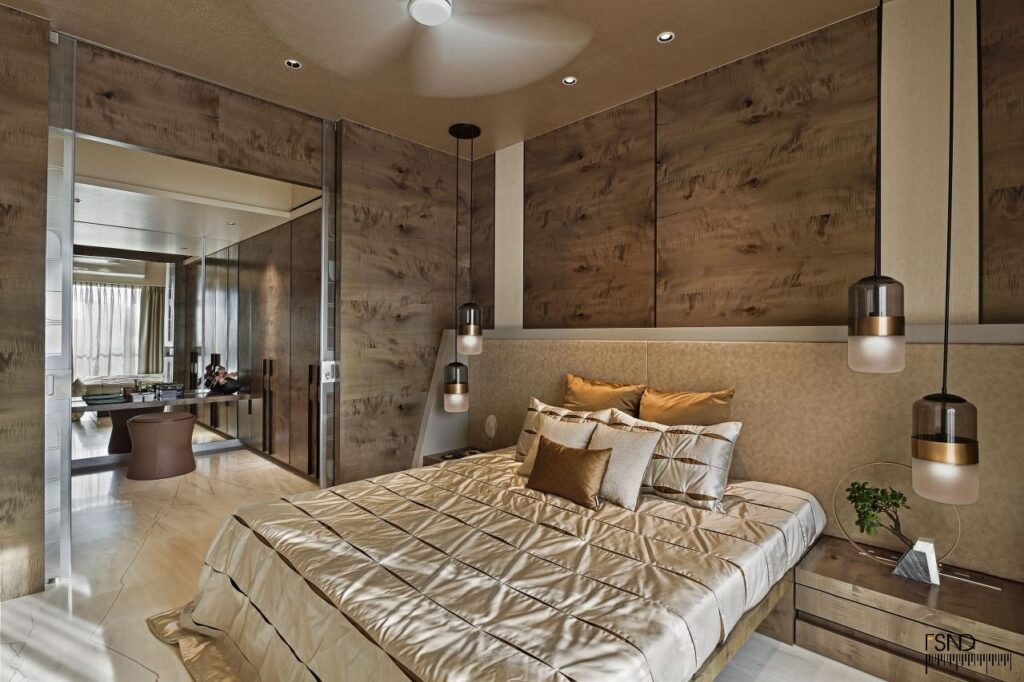 This room evokes a soothing feel with its palette largely comprising of light beige wall, Gray and olive green on soft furnishings, all speaking of vertical lines being in the forefront. A simple chic contemporary room with white being a dominant colour is the Parent's bedroom. the white contoured art wall as the back drop placed on a texture painted wall is the focal point of bedroom. A dark accent textured wall with pieces of artificial leather panels as backdrops along with metal inserts and a deep blue bed spread gives a very cosy feel to the young son's bedroom. The luxurious walk-in closet of the son's bedroom has large wardrobes which are finished in artificial rexine panels with metal trim and veneer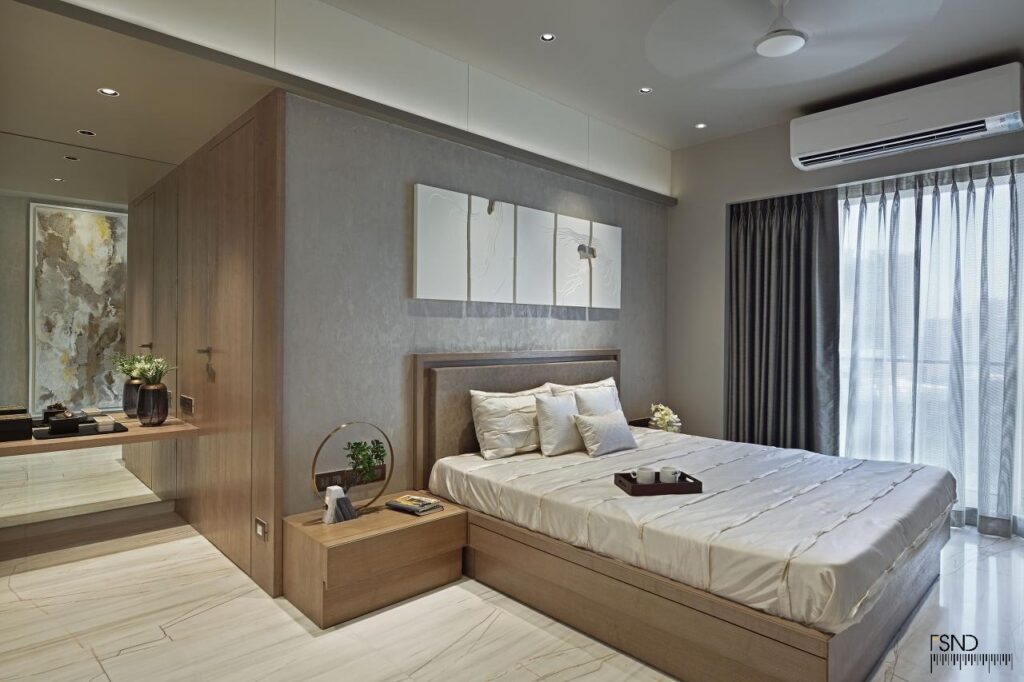 FACT FILE
Designed by : FSND
Project Type : Residential
Project Name : Linear Home
Location : Mumbai
Year built : 2018
Area : 4000 sq.ft
Project Cost Appx : 5Cr
Principal Architect : Rajesh Kathe & Sohil Valia
Team Design : Divya Rupreja, Dhaval Visavadia
Photograph Courtesy : Studio SP Photography
Products and Materials : Italian Marble : Aakash Marbles | Veneer : Space One Veneers | Architectural Lighting : LSI.Lighting, Sources Unlimited | Decorative lighting : Terra Trading | Wall Textures : Mecasa textures | Furnishings : Purple Patch Studio | Metal Work : Mr Mihir Parmar ,Disha Enterprises | Sanitary & CP : Milagro Universe | Bathroom Accessories : Waterways | Temple : The Artist | Loose Furniture : Primo, Dickson Furniture, Kerf, Sanjar
Contractors and Consultants :
Project Contractor : Span Interior Corporation
AC Contractors : Mr Vikram Karamchandani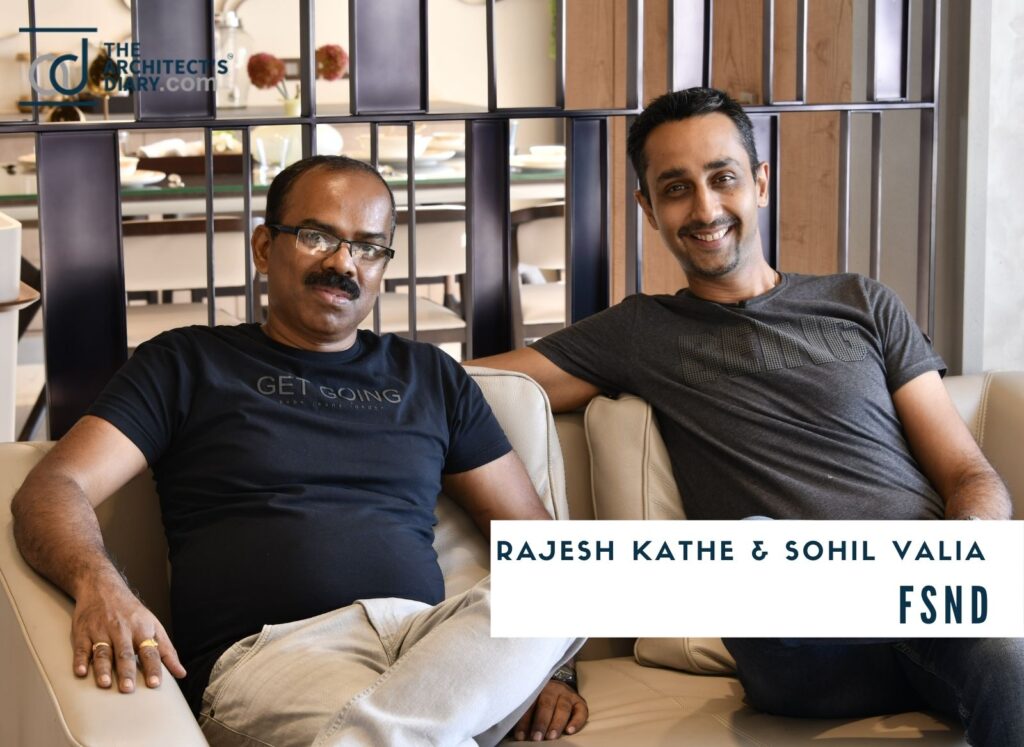 Firm's Website Link : FSND
Firm's Instagram Tag : FSND