Contemporary Workspace Upholds The Ethos Of The Firm | AR Associates
The Project:
AR Associates is focused on smart planning and blending function with the finish. The project, an office for a stockbroking firm had a precise brief: to design a Vastu compliant, contemporary workspace that is aesthetic and functional. After the basic brief, the designer was given carte blanche to plan and execute the project.
Visit: AR Associates

&nbsp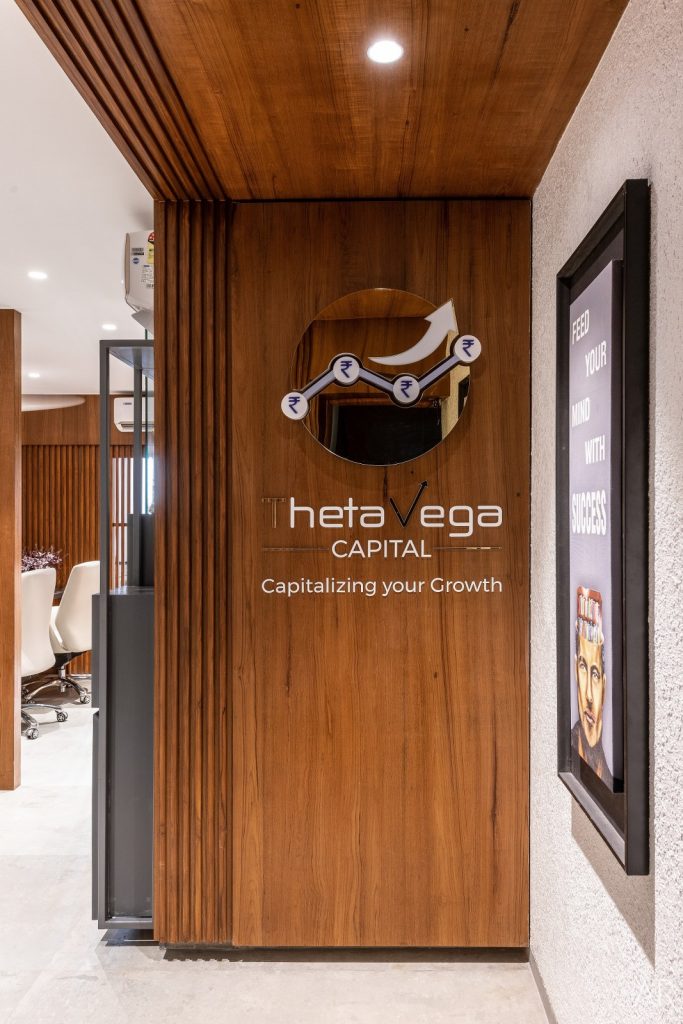 Design and Execution:
The site was spacious, airy, and located on the topmost floor (7th Floor) of the building. The site looked out to a beautiful view of the stadium and Aurangabad city thus endowing it with an unrestricted open view from the windows.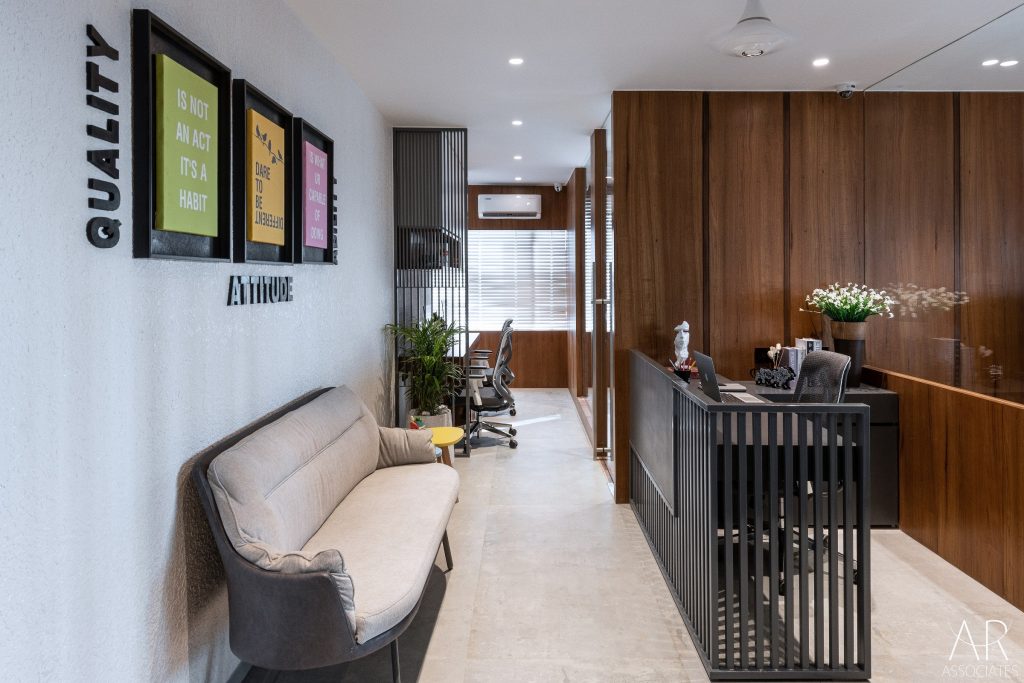 The intent was to capitalize on the space, weaving in the outside into the spatial experience and simultaneously creating a Vastu compliant workspace that would uphold the ethos of the Firm.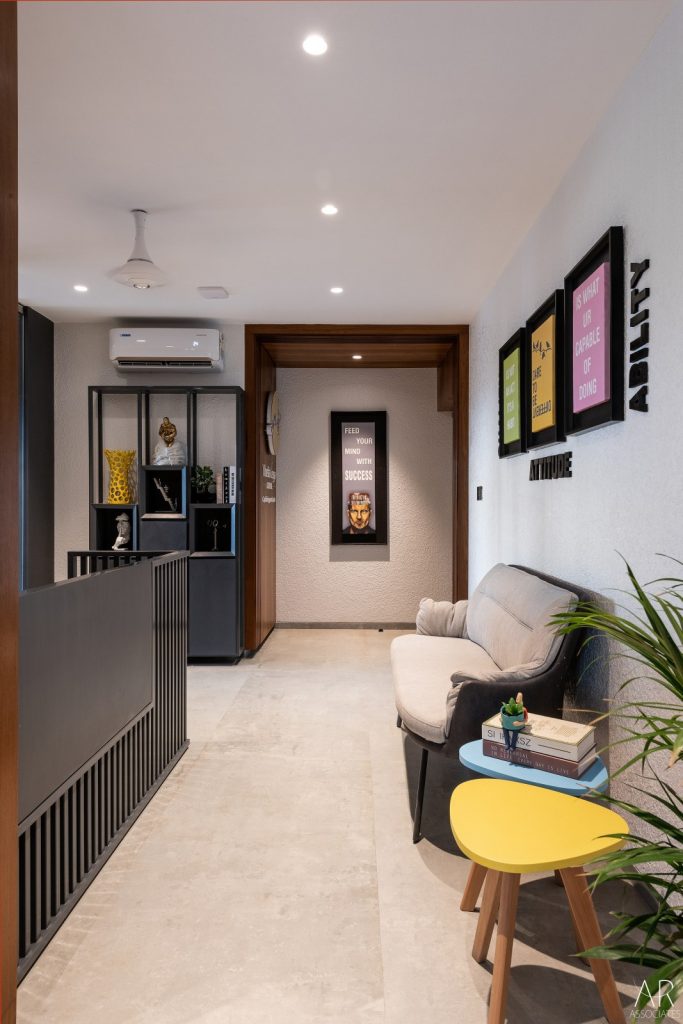 Design Flow:
To achieve an agile and intelligent workplace for this stockbroking firm, we designed the reception with an open feel where space modulation is achieved with the use of MS pipes that both define the staff and reception areas and keep them connected to each other. The wall-space was further utilized with colourful motivational quotes — that stand out in the wood and grey shell.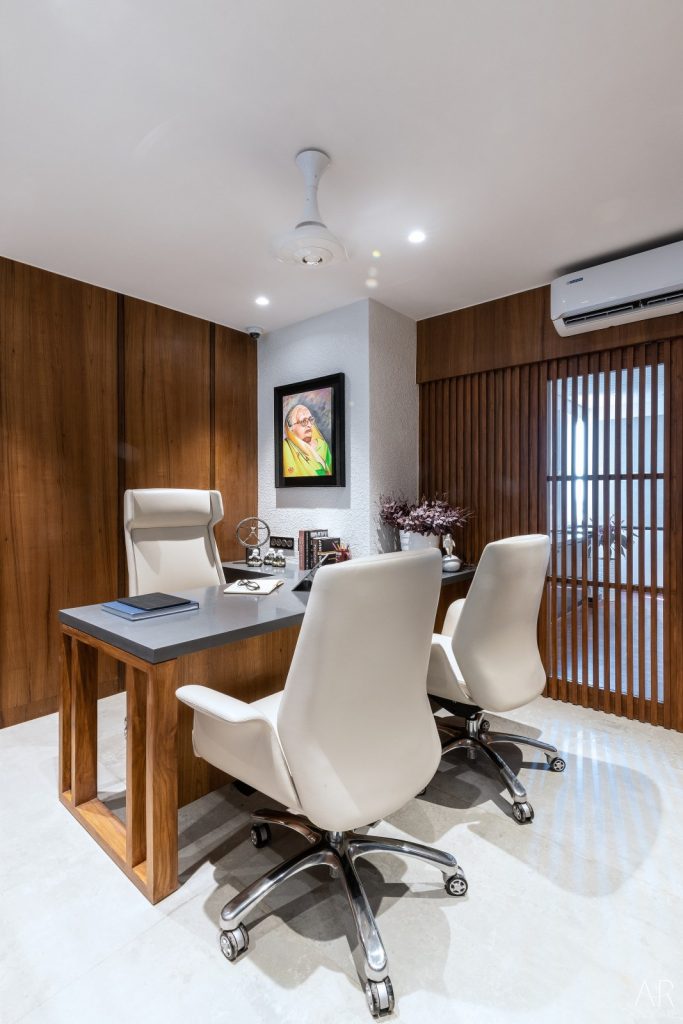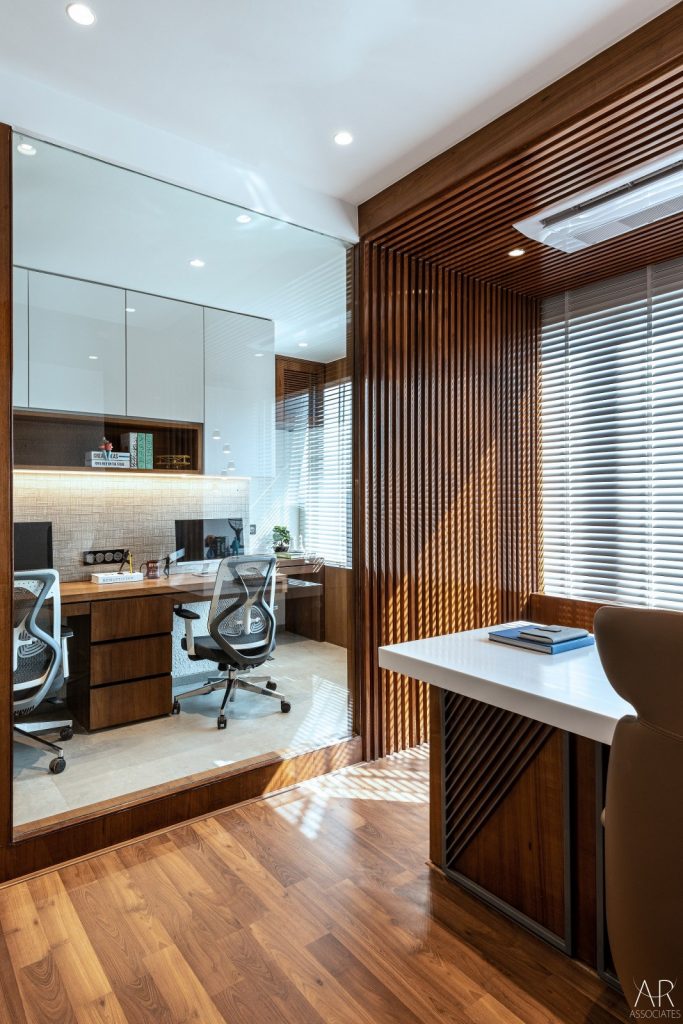 Capitalizing on the view around the building, we brought the charm of the external open space into the interiors through large glass windows, especially in the MD's cabin. Using vertical and linear teak patties in a grooved pattern and teaming them with wooden flooring, we further customized the design story with a subtle earthiness. MS pipe table supports were installed to lend a continuity of visuals imbibed from the rest of the office.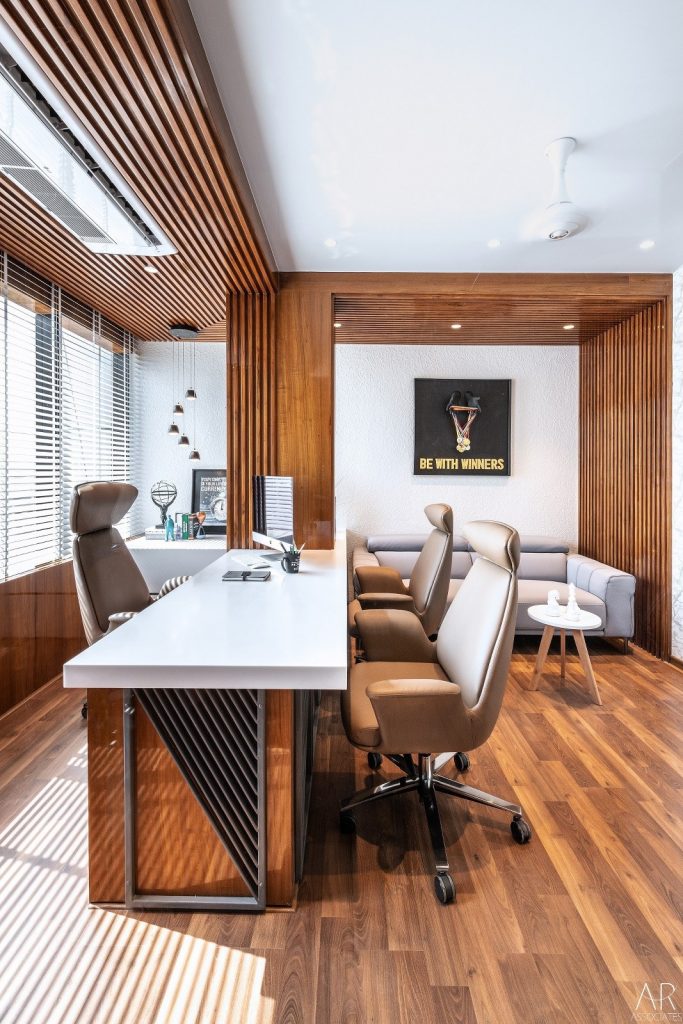 The conference room was a challenge. Here we incorporated the balcony too by enclosing it with fabrication work and finished it with an acoustical ceiling to reduce heat and sound in the space. Most of the furniture, even in the work station areas were customized with aesthetics and durability in focus.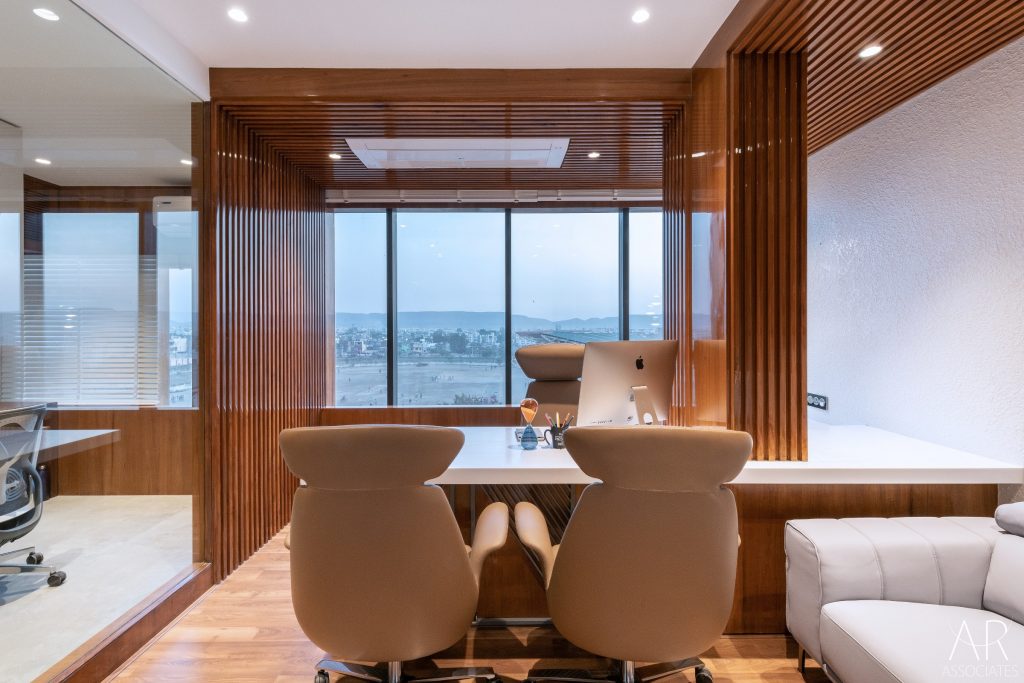 For lighting our strategy was to achieve a soothing visual balance hence we opted for an even warm-white tone to space. The lighting further highlights the material palette that we chose for the design where an integral part of the furniture is finished in a combination of veneer with natural lamination, Corian on tabletops, and white lamination paint.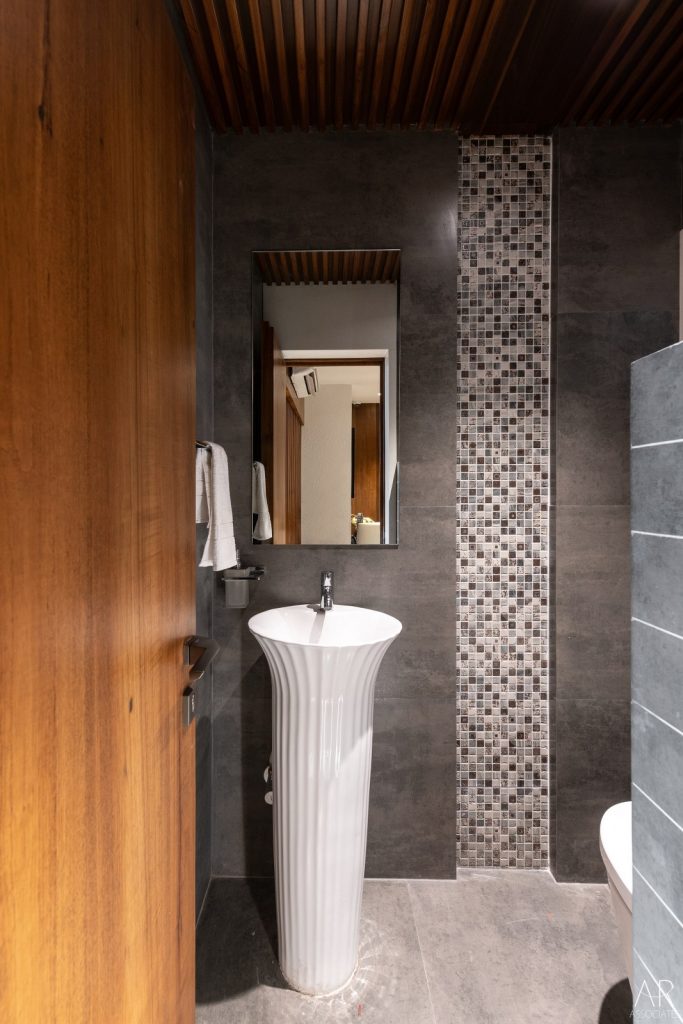 Conclusion:
Customized furniture, meticulous planning, keen detailing, and smart structural manipulations gave rise to a functional office that was declared by the builder as the best-designed office in Space Olympia.
FACT FILE:
Firm: AR Associates
Project Name: Theta Vega Office
Location: Aurangabad, Space Olympiya Building
Details of the space (area in sq. ft.): 650 sq. ft.
Concept: Contemporary
Principal/Creative Director: Ritesh Badjate & Arun Shirsath
Design Team: Sumant Chavan, Akshay Thorat and Pranjal
Photograph Credits: Photographix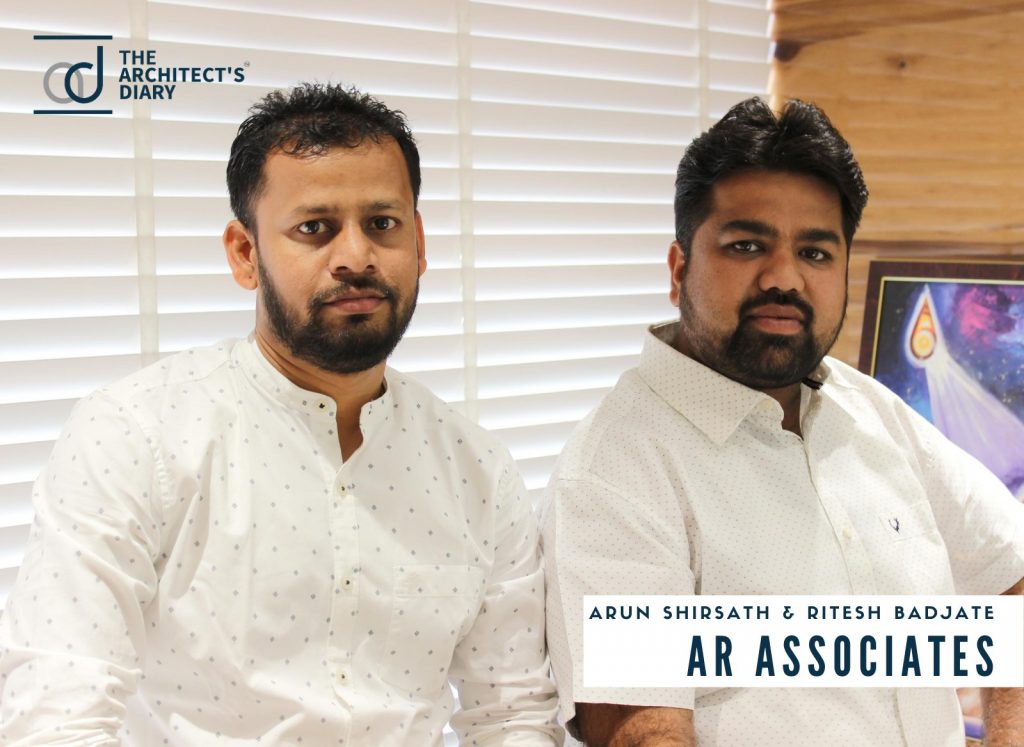 Facebook: https://www.facebook.com/arassociatesdesignstudio
Instagram: https://www.instagram.com/designstudio.ar/

&nbsp