A Contemporary Approach to Jewellery Retail Dia Colour by Group DCA
Dia Color is one of the finest contemporary jewellery designers in India, specializing in handcrafted jewellery pieces that possess a unique character and personality of their own. Every inch, every cut is skillfully crafted by some of the world's most gifted artisans.
With a one of its kind flagship store at the Emporio Mall in New Delhi designed by group DCA, the store attempts to create a new benchmark in the design of Jewellery Retail Stores. Enabling a contemporary approach to the traditional jewellery retail format of sitting across the table, the 1800 sq. ft. space has been designed and planned with an emphasis on creating private zones for the transaction. Customers don't just get attracted by amazing jewellery collection, they need more than that and to drag them into the store; the overall decor of the store is essential. Unless the jewellery collection is displayed in an organized and attractive manner, browsing typically becomes tedious, more so for the exclusive pieces.
Keeping these factors in mind, group DCA has elegantly designed niche displays that look subtle, yet maintain the overall rich look of the store, while showcasing the jewellery pieces. At the same time, the customers are led into a virtual circulation that facilitates ease of browsing the jewellery from close quarters, yet maintaining security with elegance. The strong room is located unusually in the centre of the boutique; hence creating 2 private zones for selling on either side of the store.
The materials used are very light and basic in nature, reminiscent of the old limestone plaster which is accentuated with black and gold in small dosage. The mirrors on the ceiling add a new dimension to the boutique.
ABOUT group DCA:
An award-winning, nationally and internationally acclaimed, group DCA is a multi-disciplinary design firm, based out of New Delhi. With its unique ethos of Dream. Design. Discover. Deliver, it is a synthesis of DCA Architects and DCA workshop that weave divergent design concepts into practice, providing services in Architecture, Interior design and Design Coordination across a wide range of building types including Workspaces, Residences, Retail and Hospitality. Since its inception in the year 1996, group DCA has been focused in its approach as a skilful balance of talent, experience and hard work.
Spearheading group DCA are architects Amit Aurora and Rahul Bansal, who through their individual expertise have contributed towards the firm's robust image in the design industry.
Their accolades include being Jury members for acclaimed awards and competitions and also being enlisted among the Grandmasters of Design and 'The Design Powerlist' along with having been chosen among the 10 most sought-after workplace design professionals in the country.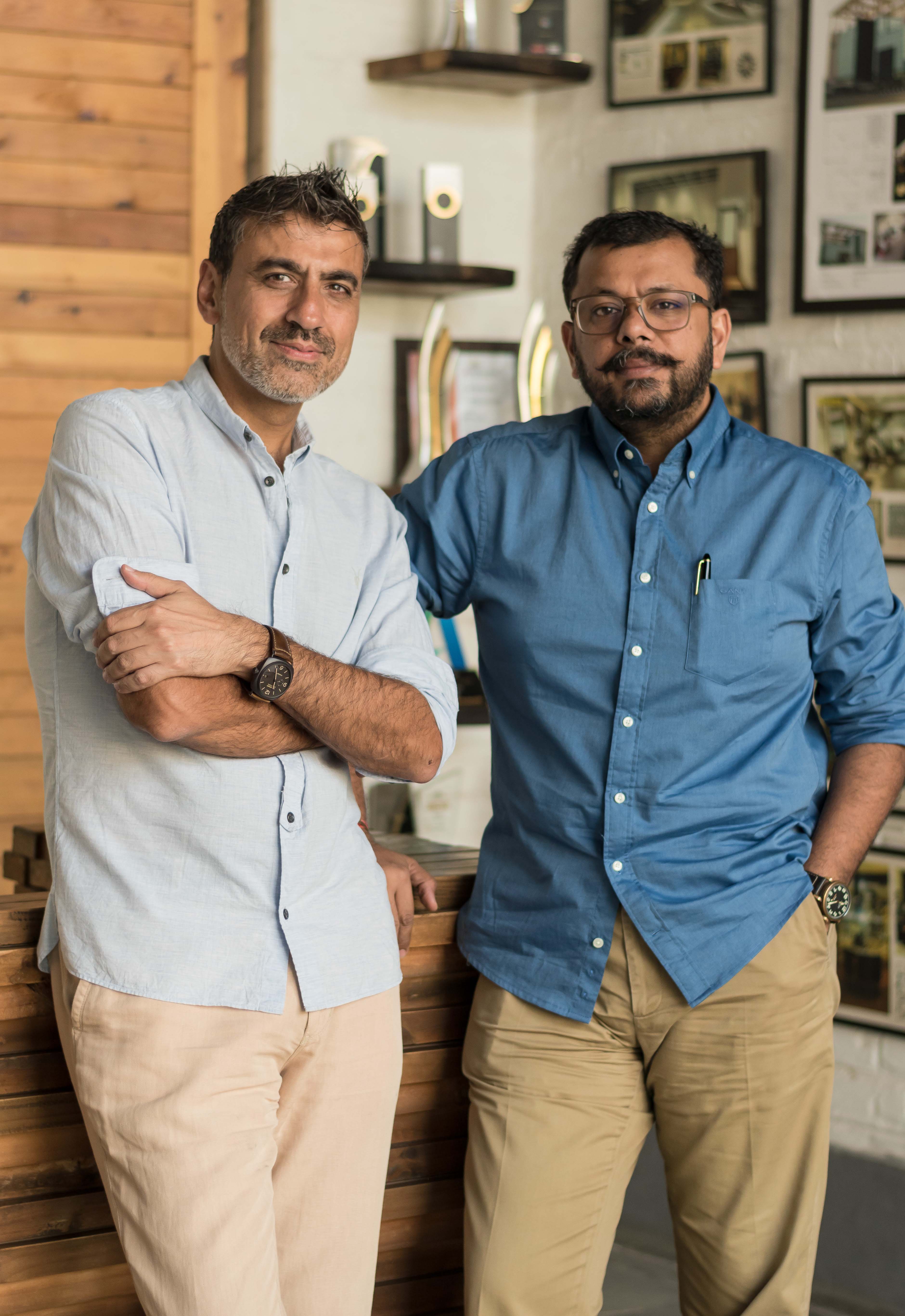 Amit Aurora
B.Arch., SPA New Delhi (1993)
Architect Amit Aurora's expertise lies in designing for the longevity of design aesthetic and functionality while being able to create the required balance without any excesses of design
elements. Amit believes that he may not be the creator of trends, but perceives shifts early enough such that the design has a durable invocation. As an architect and designer, his work is
exemplary and creates a statement in the way he puts elements together.
Rahul Bansal
B.Arch.(Gold Medalist), SPA New Delhi (1993)
At Group DCA, Rahul Bansal pioneered the implementation of stores for global luxury brands in India. Via research and collaboration, the objective is to always create value through design that
maximizes the project's complete potential. Focusing on detail and material exploration and practising cost-effective design while achieving luxury is his strong suit. Under his supervision,
the DCA workshop has successfully delivered projects for various luxury brands such as Rolex, Versace, Longines, Chanel, Tom Ford, Bally, Breguet, Gucci, Bvlgari, Cross etc.