&nbsp
Contemporary Indian Style Interior Design | MYO Space Design & Consultants
PROJECT BRIEF
Ms. Deepti came to Myo Designs & Consultants to design their 70-Year-old parents' 3 BHK- spacious home, which was bought by her NRI brother for her parents. The brief given was "Simple yet luxurious and easy maintenance Home!" 
 DESIGN STORY:
We decided to make contemporary Indian space which factors to the criteria of modern, stylish yet has Indian warmth, colours, textures and touch of tradition to the space.
Use of dark veneer with white was our main primary colours which gave rich look to the space – A dash of colours in the form of furnishings highlighted the space to look brighter and add glamour.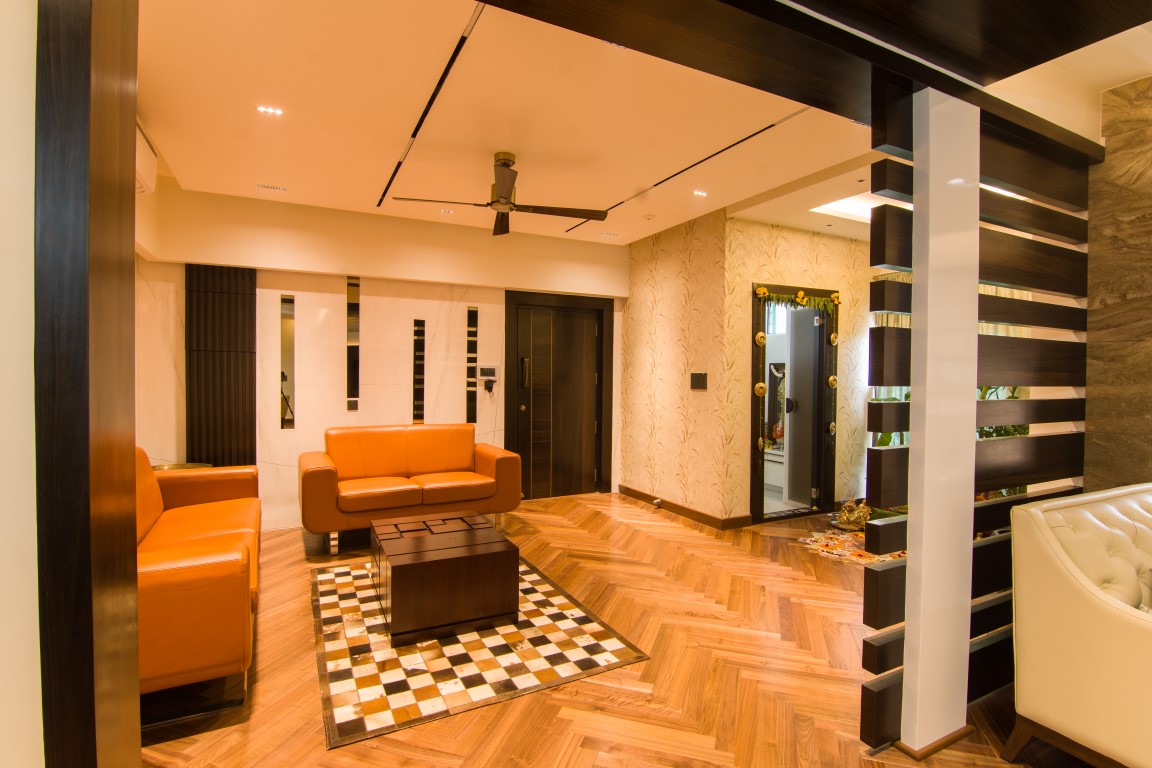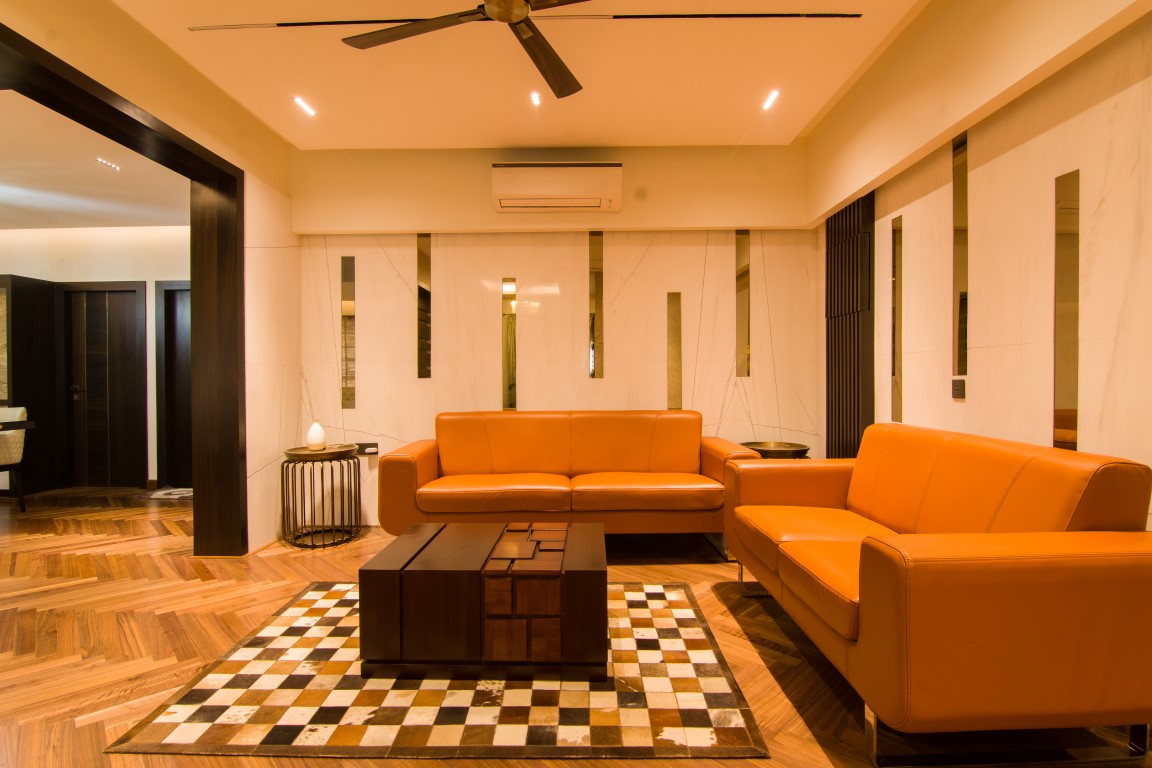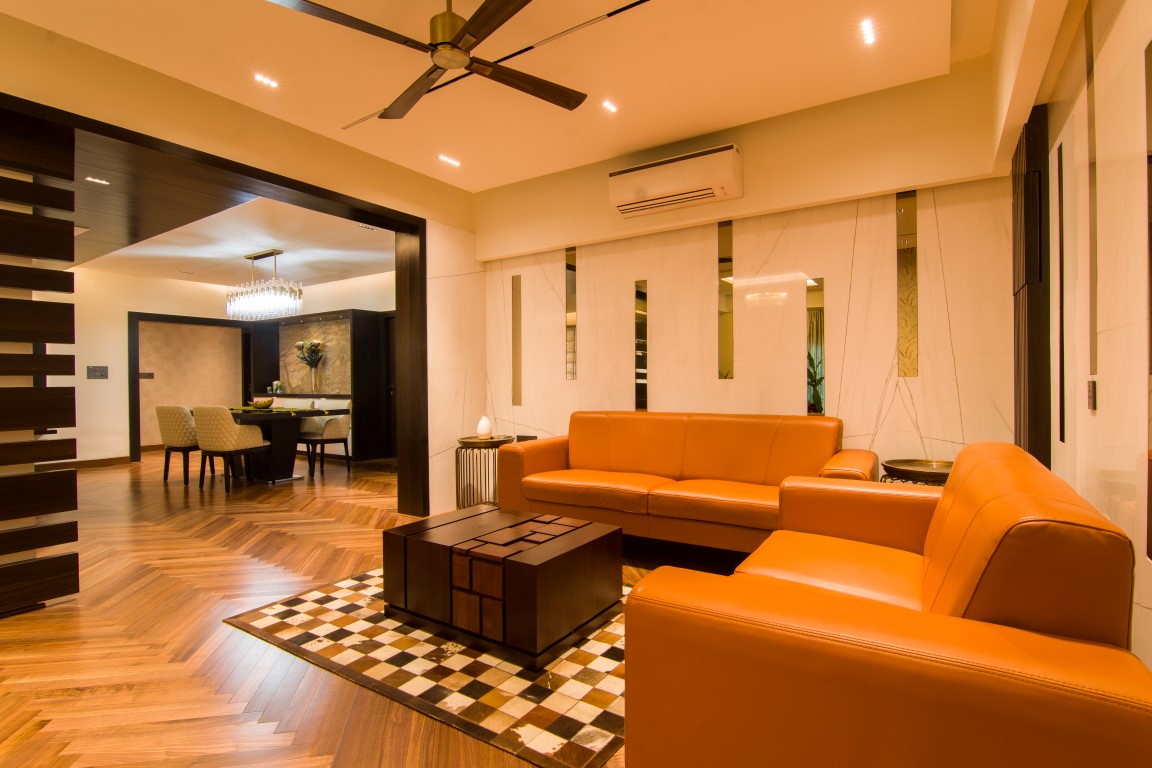 Foyer:
This place is a meeting point to many places like Pooja, Living, Dining & Entrance
Since this was going to be the first impression of anyone walking in– special care was given in designing, furnishing and accessorising to give a WOW factor. Italian marble wall cladding with strips of gold mirror gives an interesting feel to this place, the bight coloured sofa sets adds the spice too. Herringbone pattern of solid wooden flooring makes the space warm, welcoming and takes care of the clients need for the house to look luxurious and welcoming.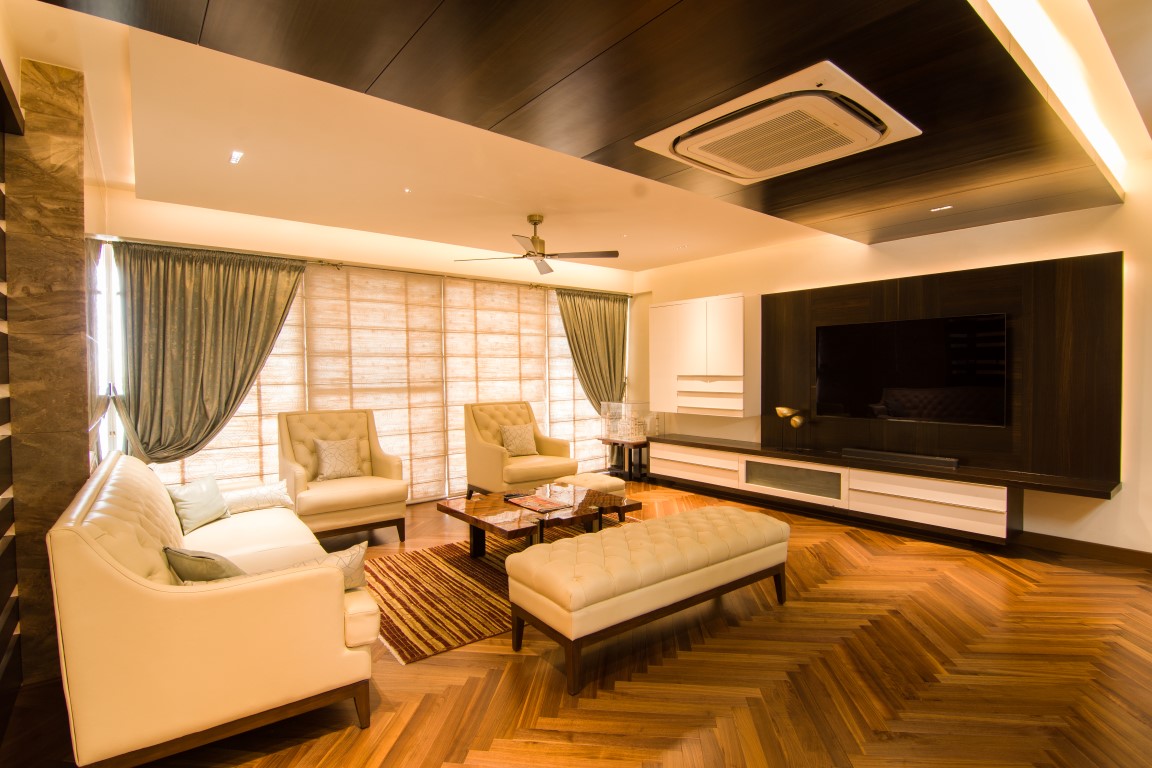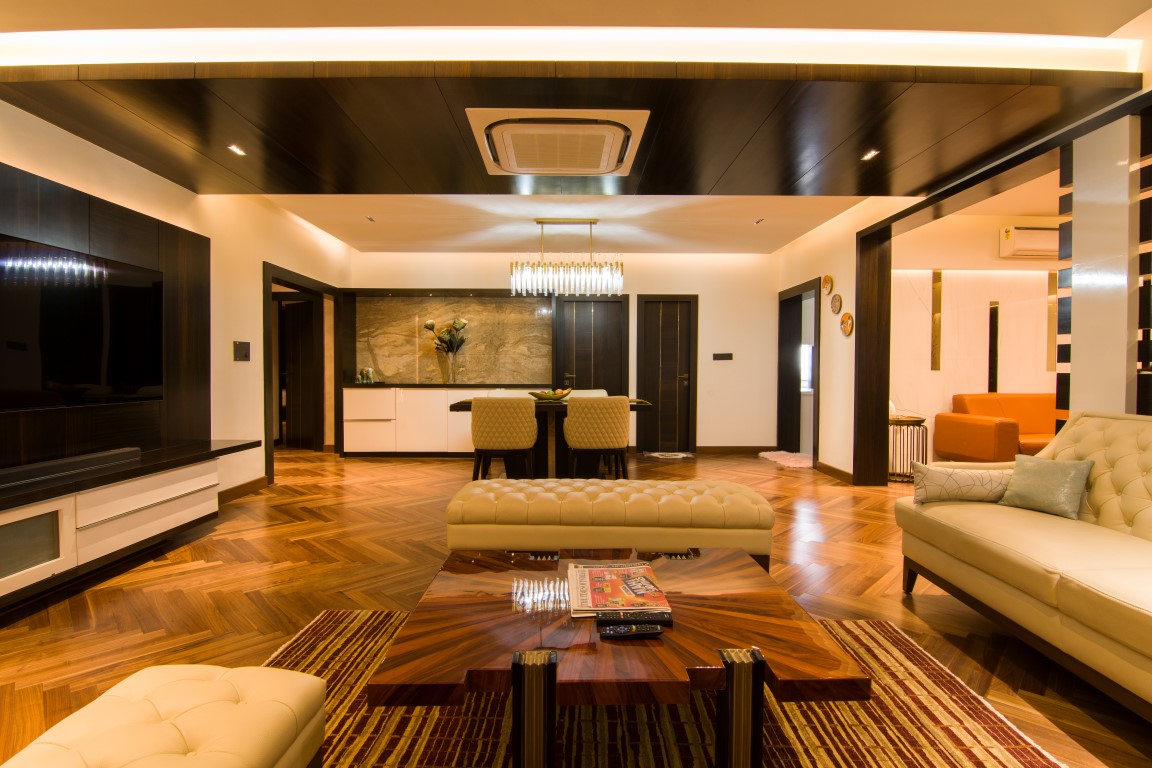 Living & Dining:
This is place was going to be the most used place by clients & their guests hence it had to look & feel very comfortable at the same time very practical. Being a multipurpose room, which caters to different activities like entertainment/ Social (TV, Bar) Functional (Dining)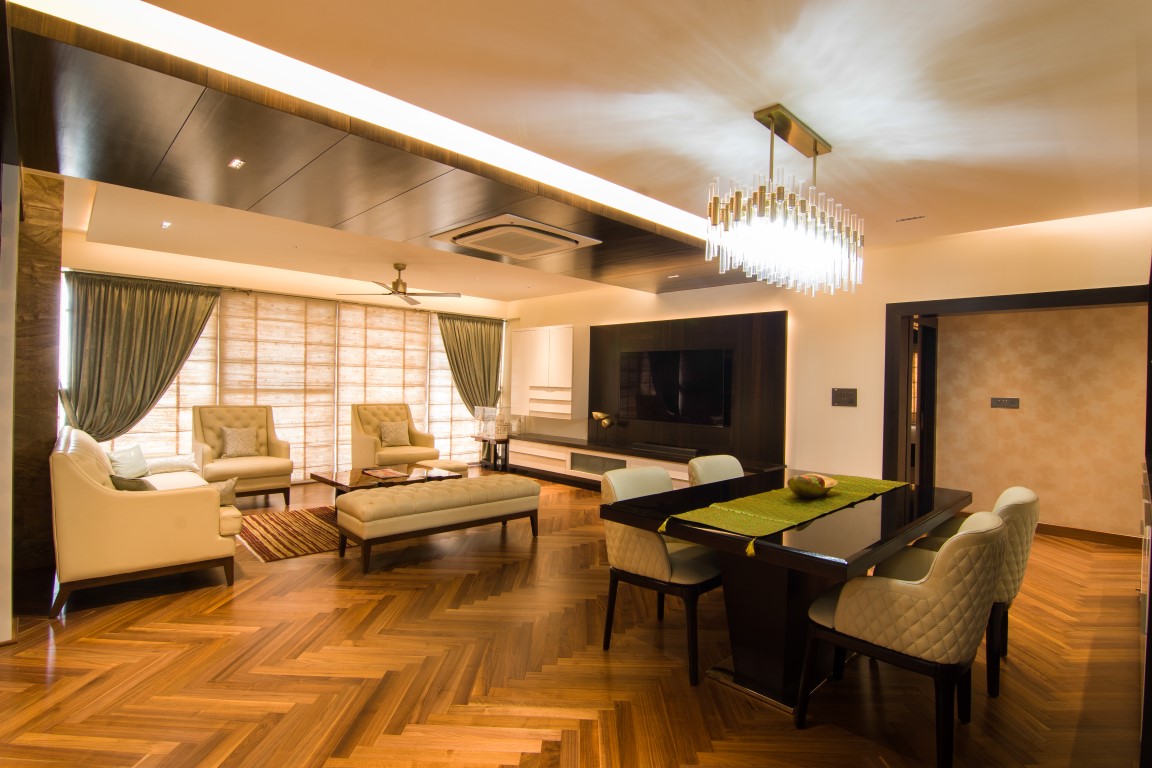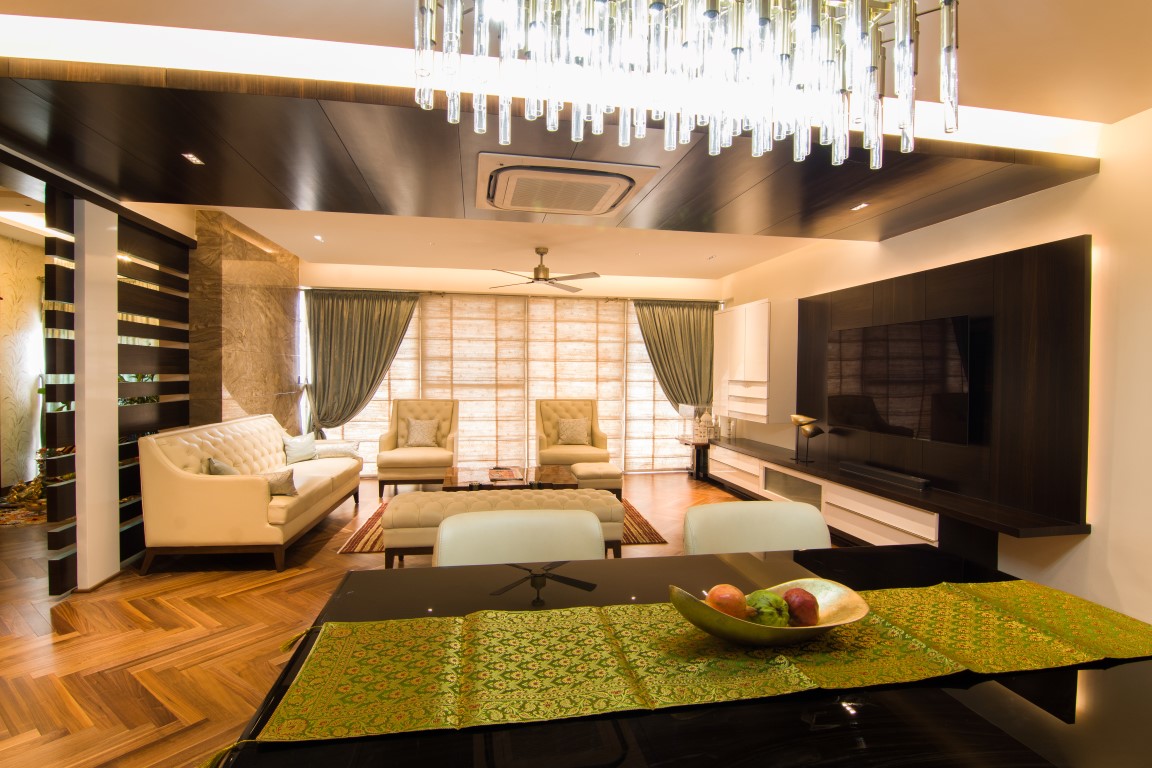 We took special care to achieve all the above roles without compromising on the luxury, every item here was designed and custom made to ensure the quality and durability. Automation of electric fixtures/ curtains were main feature to enable easy and comfortable life style for our clients.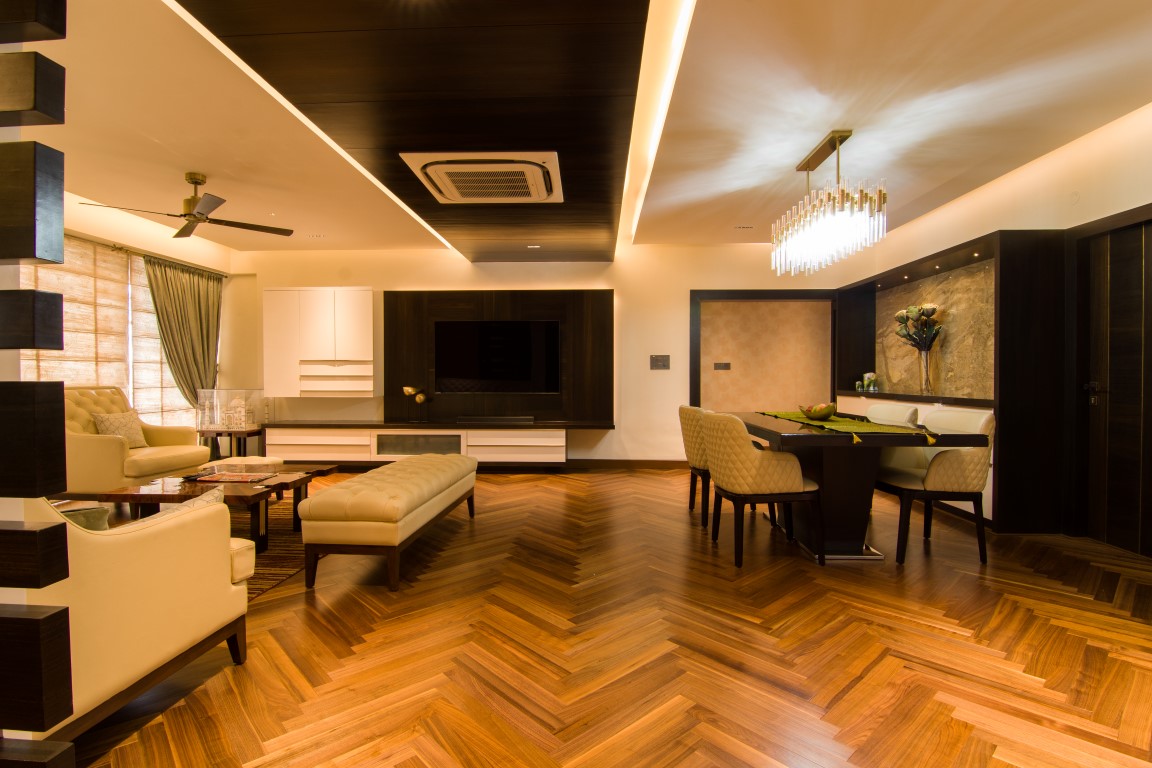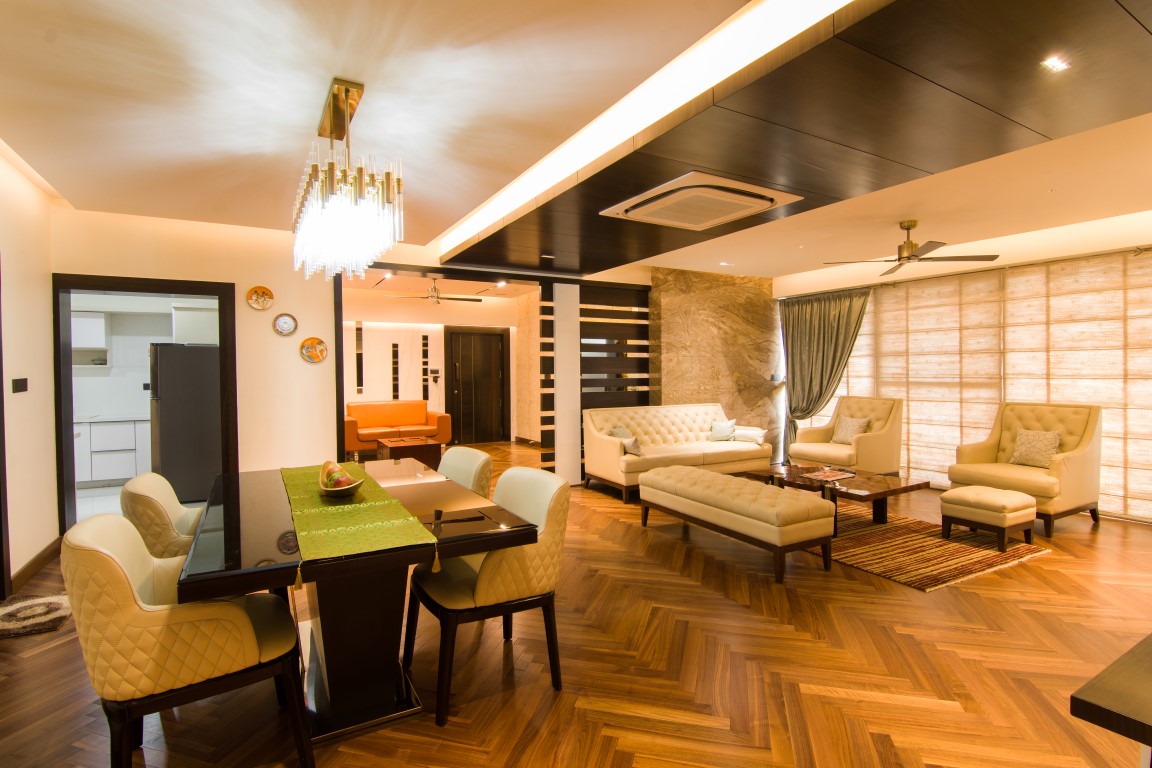 Guest Bedroom:
The highlight of this room is stone veneer wall panel cladding which has a hidden storage behind, this was made for storing all electric gadgets when not used. Minimalistic planning of this room was the requirement. Features like focus & ambient lights highlights the place.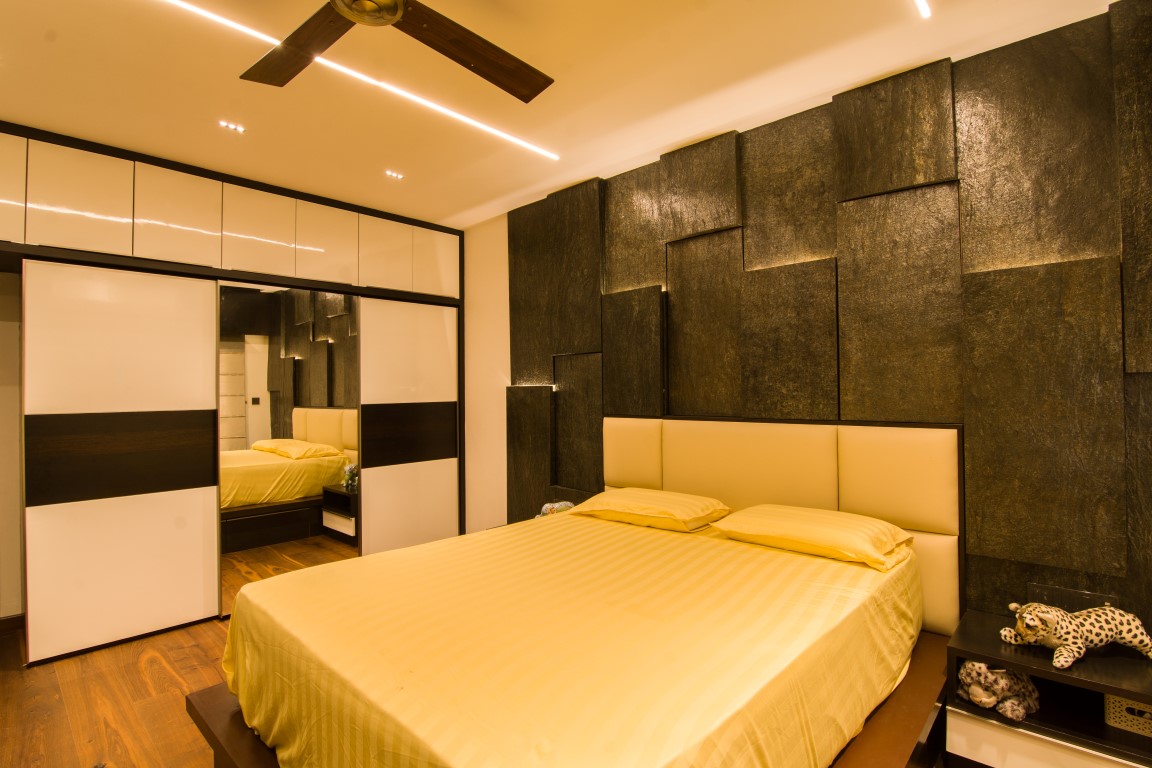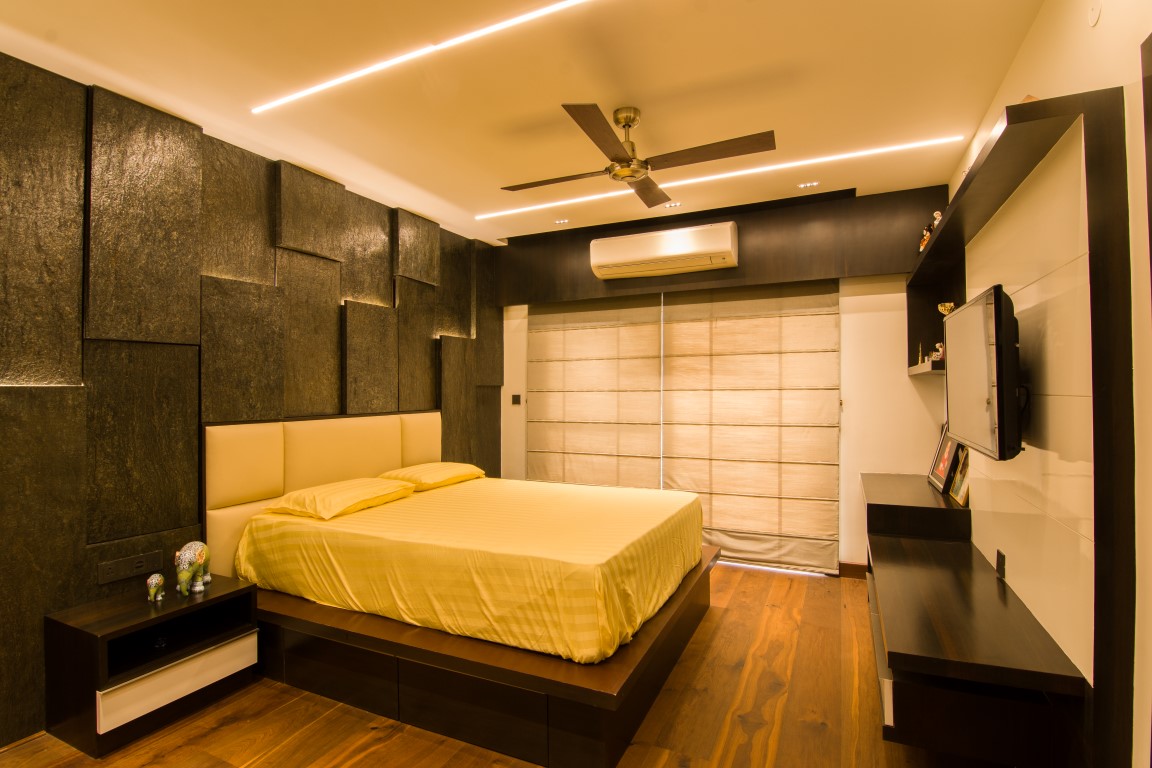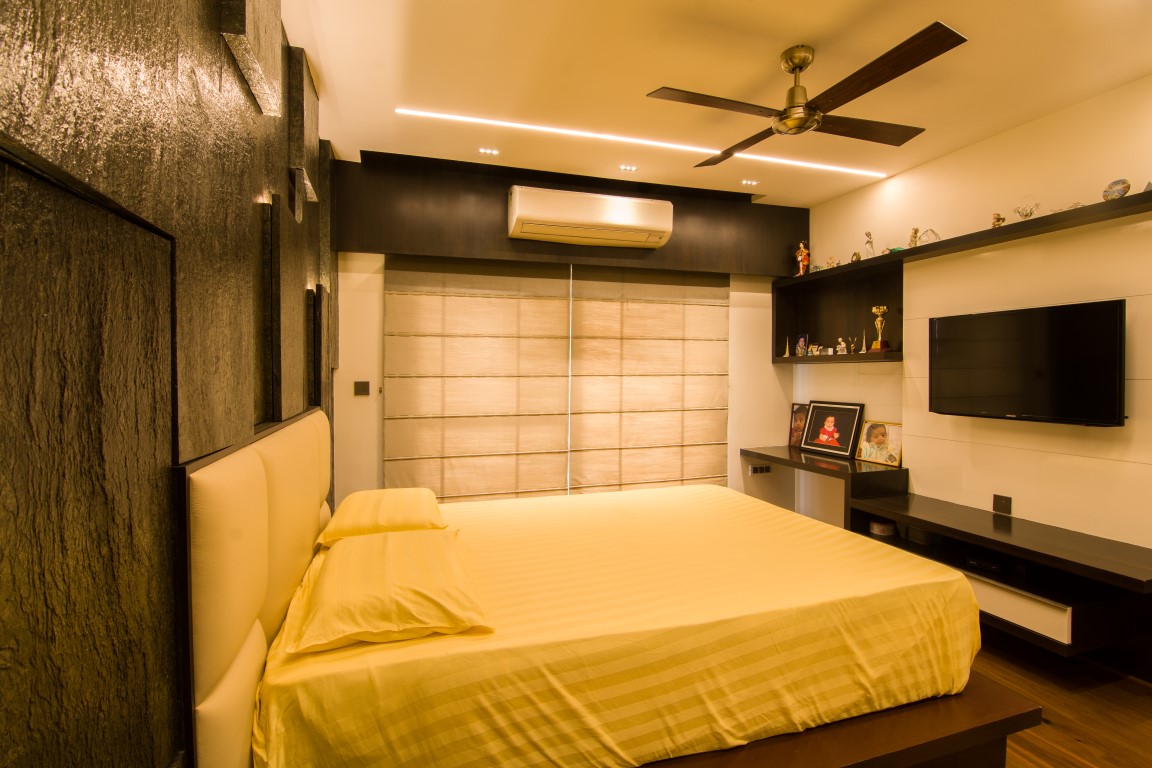 Dr Anand's room:
This room is used by the NRI son, he wanted something different at the same nothing too gaudy or over the top. We played with textures and forms. The 3D wall is the highlight of the room it gives a WOW quotient to the space. Use of right lighting plays an important feature to this room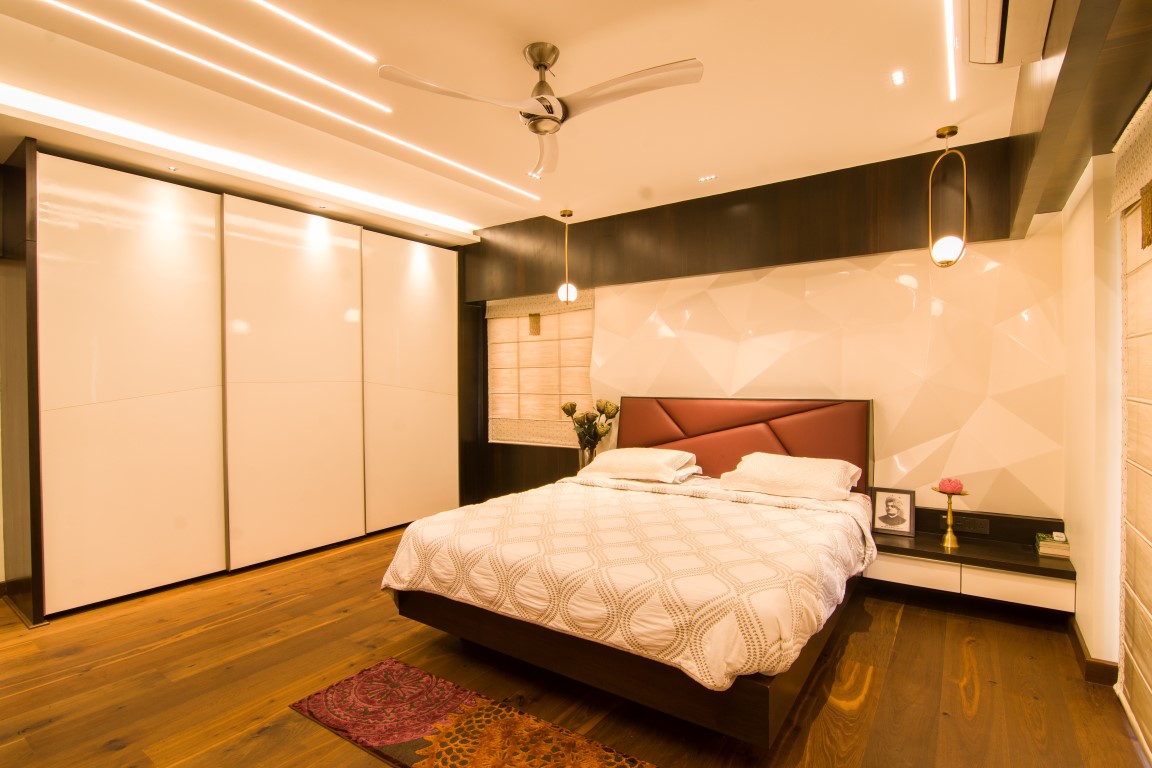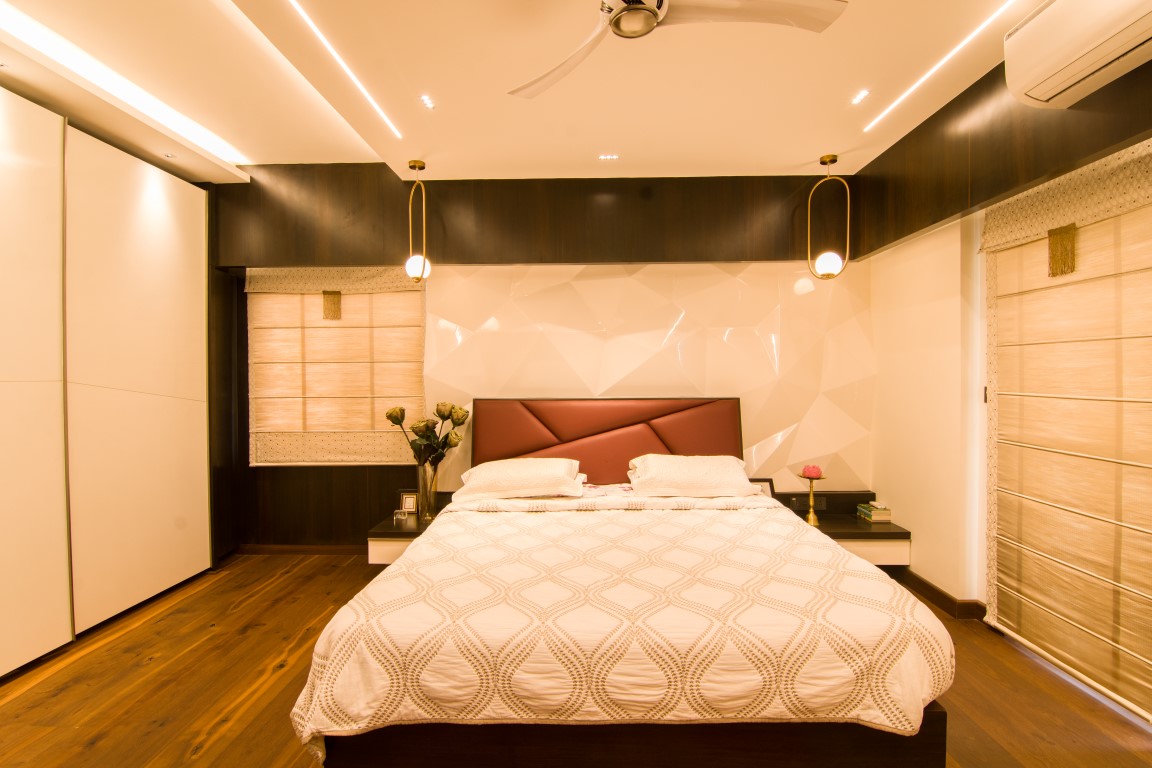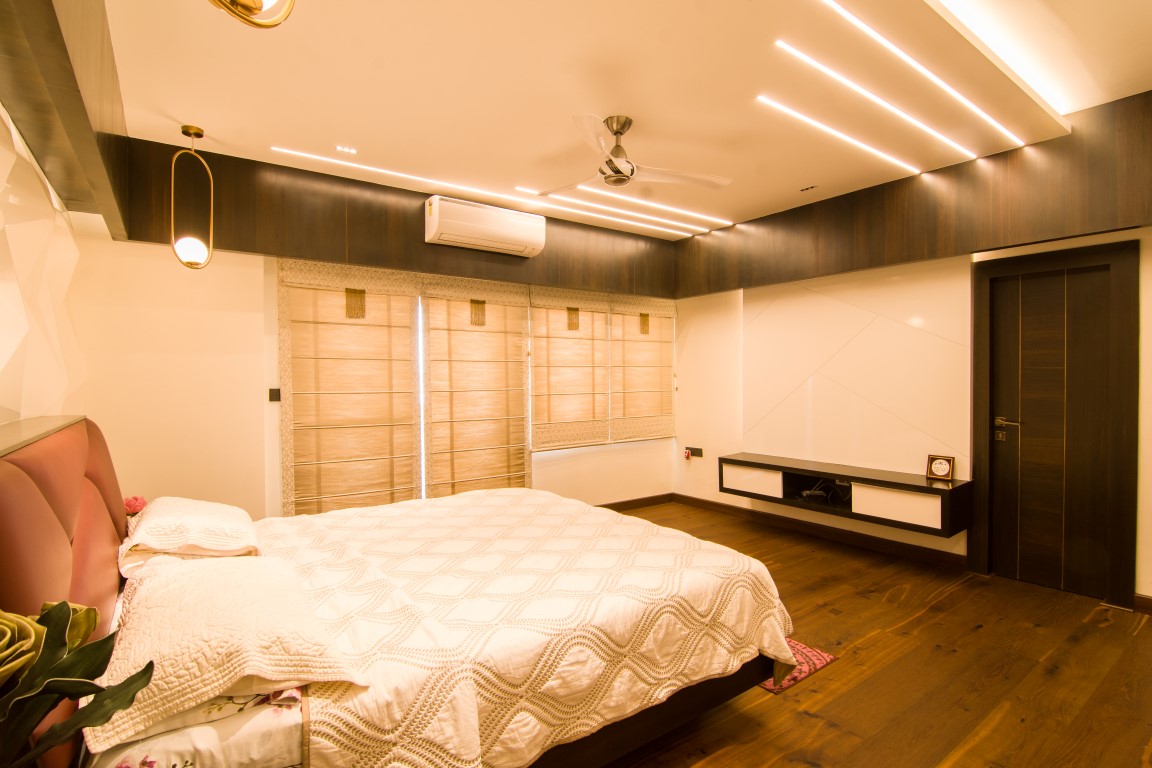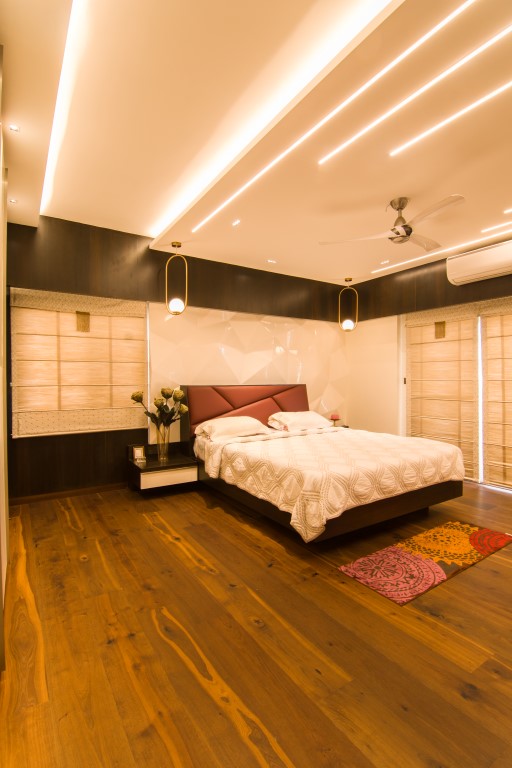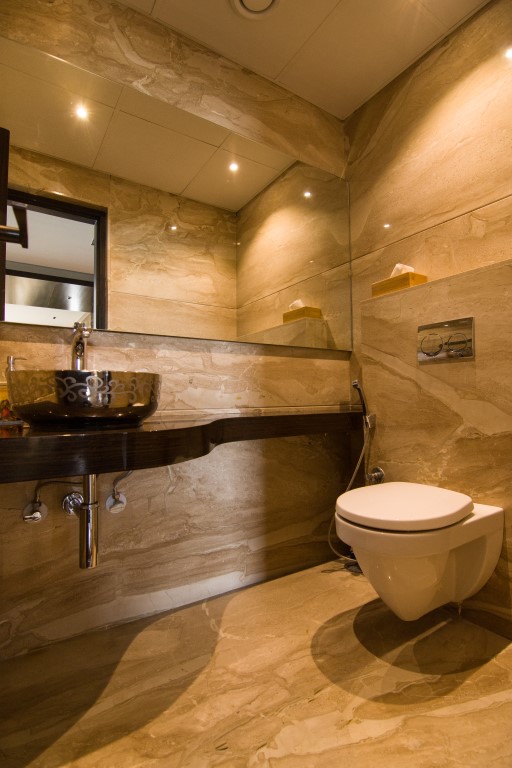 Master bedroom:
This bedroom will be used by clients who are senior citizens- the whole room is very neat, the wardrobes are seamless, easy to use. The high head board gives the feeling of grandeur and comfort. Special attention was given for no sharp edges and to keep the room decluttered.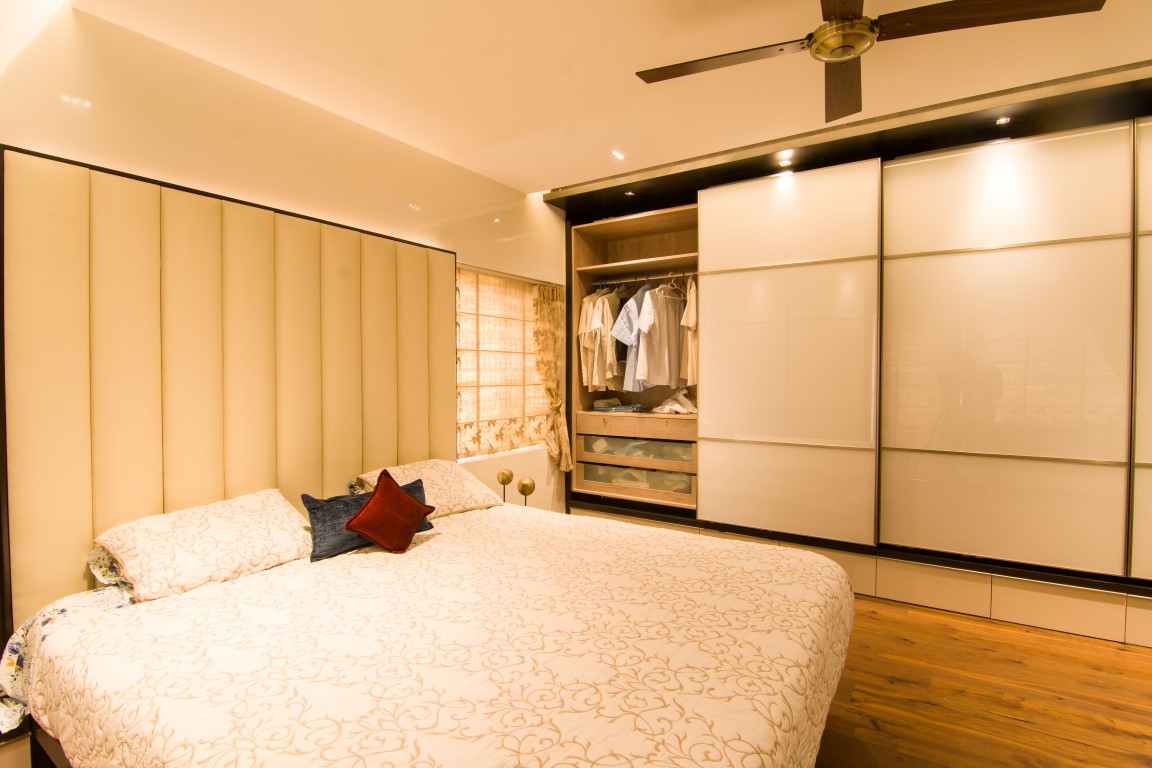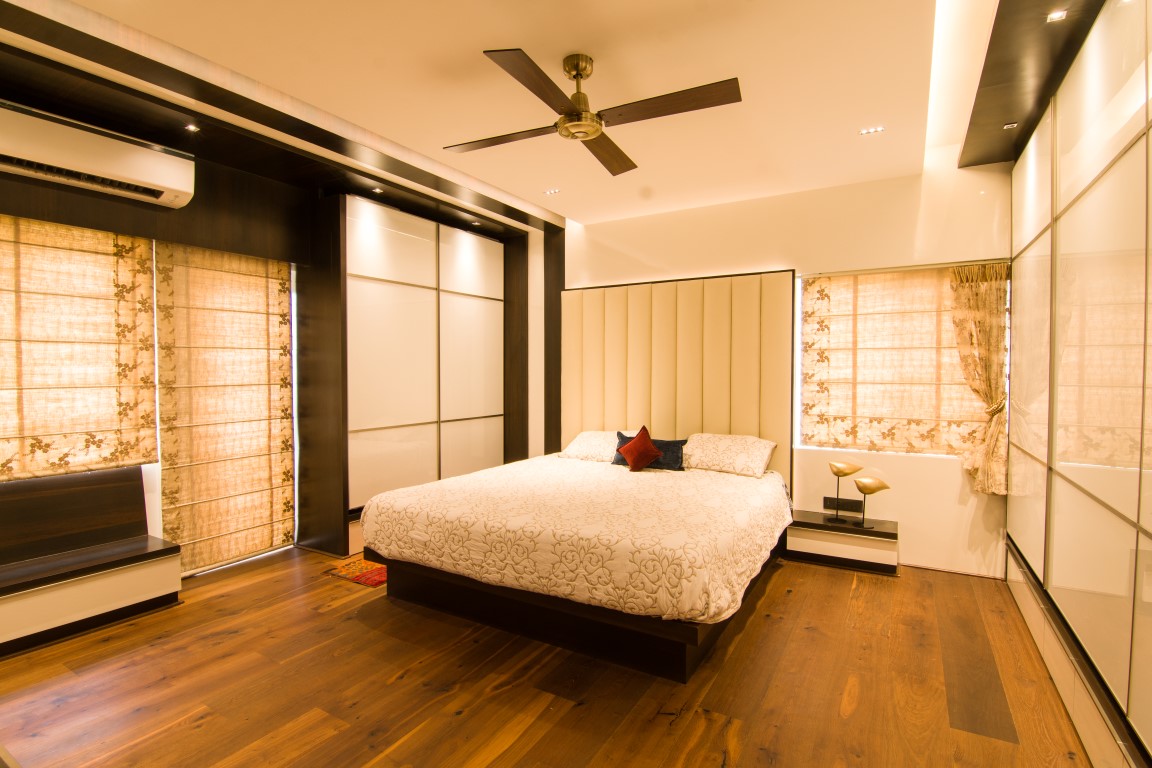 Kitchen:
The brief given was 100% Vaastu compliant, we even chose a Vaastu compliant colour scheme.
Everything in the Kitchen is user friendly & minimalistic.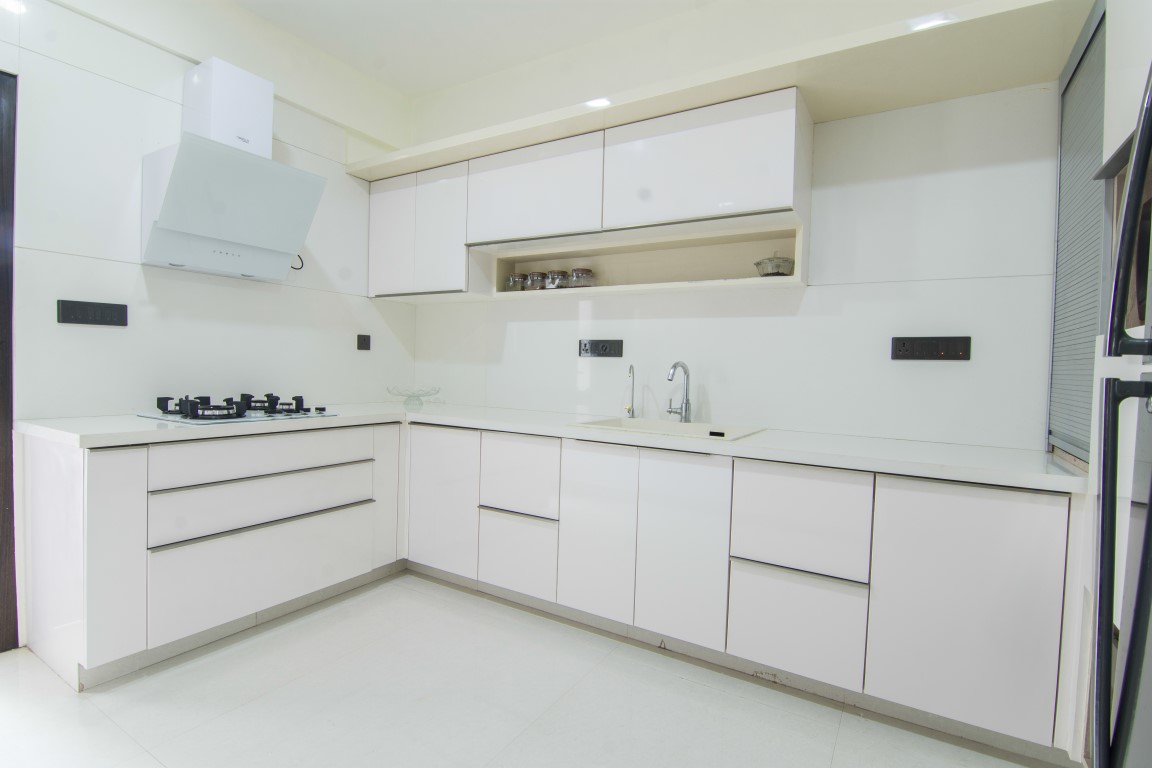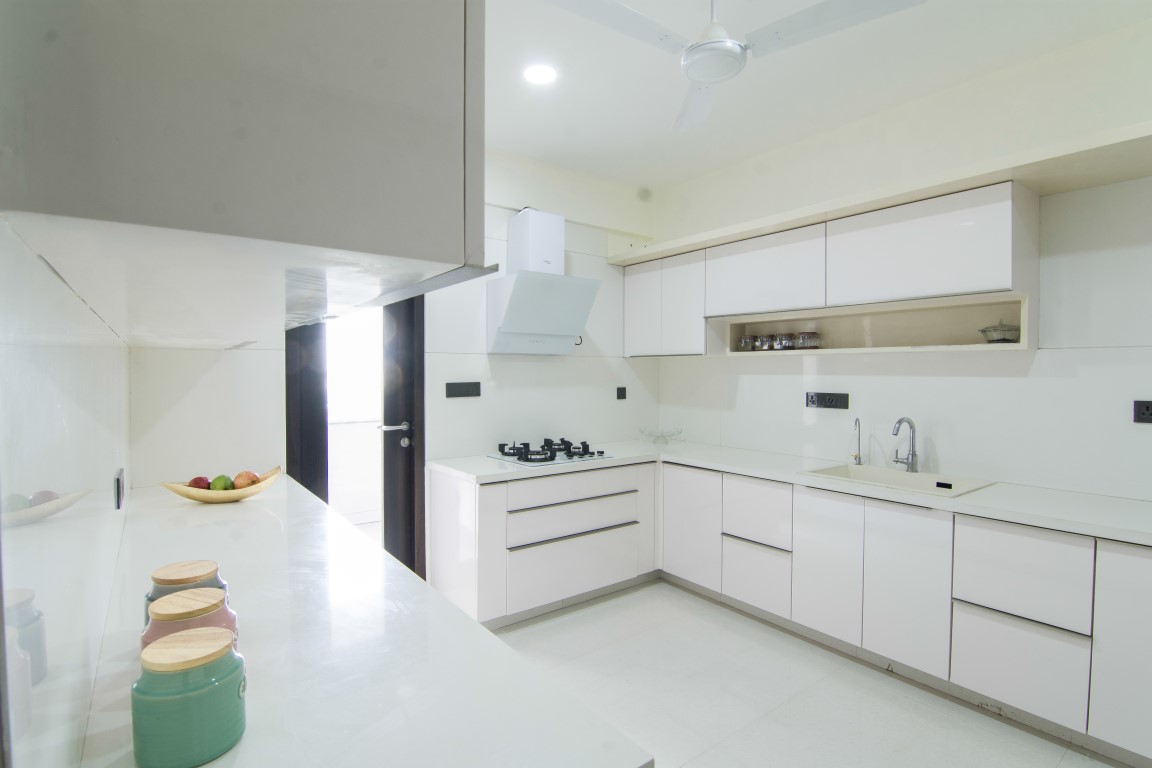 Each & every room has a story to tell…. Overall the whole project is weaved with lots of love, care & patience keeping in mind the clients age minimalist requirements & not compromising on the luxury.
Absolute detailing was given at every step to ensure the old retired parents do not have any maintenance issues, simple yet luxurious materials were selected with aesthetic & functional use. As they were moving from an independent home to an apartment, the feeling of luxury was always the prime focus and we at MYO Space Designs & Consultants, we focus on designing happy homes for happy customers 😊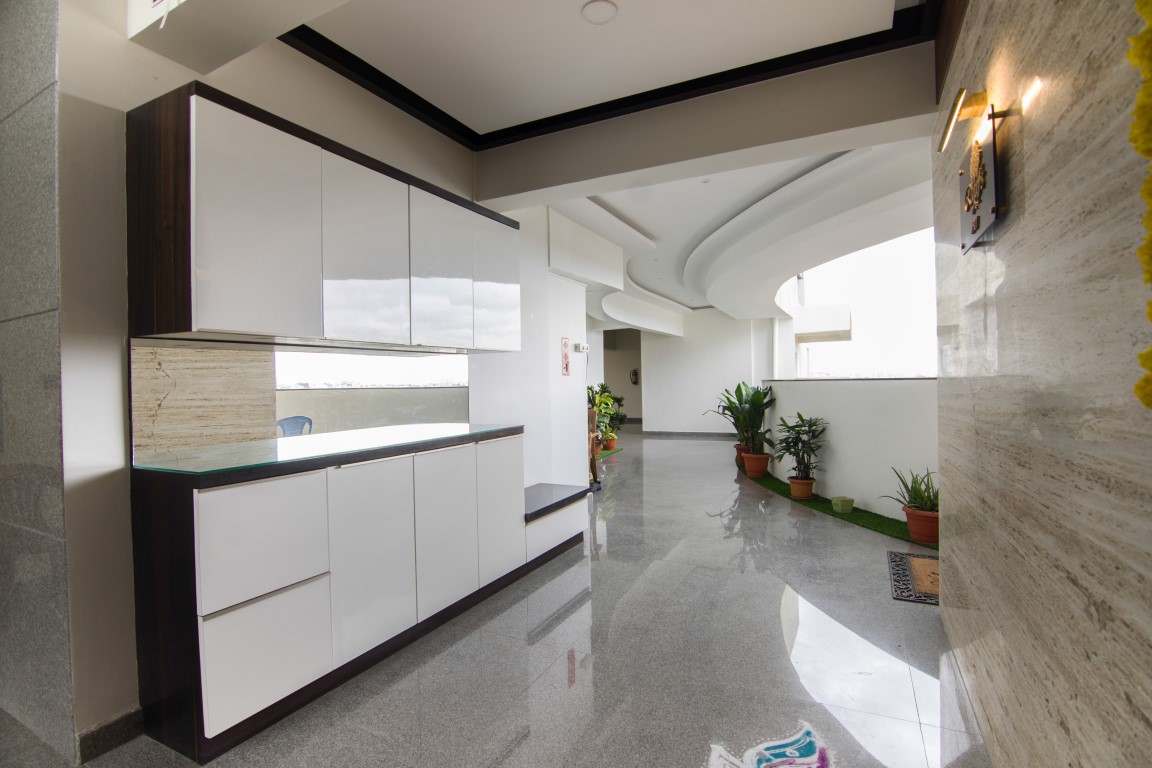 Challenges faced:
Everyone in the family had different taste to interiors – our challenge was to maintain a harmony and balance to satisfy all family members at the same time and yet never losing the core design intent.
In the end the entire project turned to be brilliant, which bought a huge smile on every family members' face!!
That's the 'Victory' we at MYO Space Design & Consultants chase to achieve as we strongly believe Chase for the Excellence and Success will surely follow …!!
About the Designer:
MYO Space Design & Consultants is a freelancing Design and lifestyle Designing – a one-stop destination for all design-related spaces – residence, corporate space, hospitality, you have it? – we design it!!
We specialize in decorating & designing ideas, DIY projects, trends and new materials for your spaces we bring in together different Art, Home Décor – we put together different items and tie up the space that might go into making a house a home. We help you look beyond the obvious. Find the accent, bring out the heart of your home, blending the cultural ethos of your existence and give your home a Character. Your home is our canvas on which we strive to bring to life your ideas of your Dream House in the most splendid way possible.
FACT FILE :
Designer's firm: MYO Space Design & Consultants
Principal designer: Rinkoo Gupta
Type: 3bhk,Apartment Interiors
Area : 3300 sq.ft.
Location: Bangalore