Classic Contemporary Apartment Interiors | Amusing Interiors
Located in the beautiful vicinity of Mahagun Mywood society, Greater Noida, this three bedroom apartment is skillfully designed by Interior Deisgner Rohit Chaudhary. This home is a perfect example of classic and contemporary interior design.
This stunning space is owned by Capt. Ashok and Tulsi Mehra, who always wanted their home to look simple yet elegant. Our designer had perfectly combined the rich colour with the neutral shades at several places in the house. There are colorful flowers, live plants, floral print wallpapers, lights, paintings, rugs, and the rich wood finish furniture in the house to create a stunning space.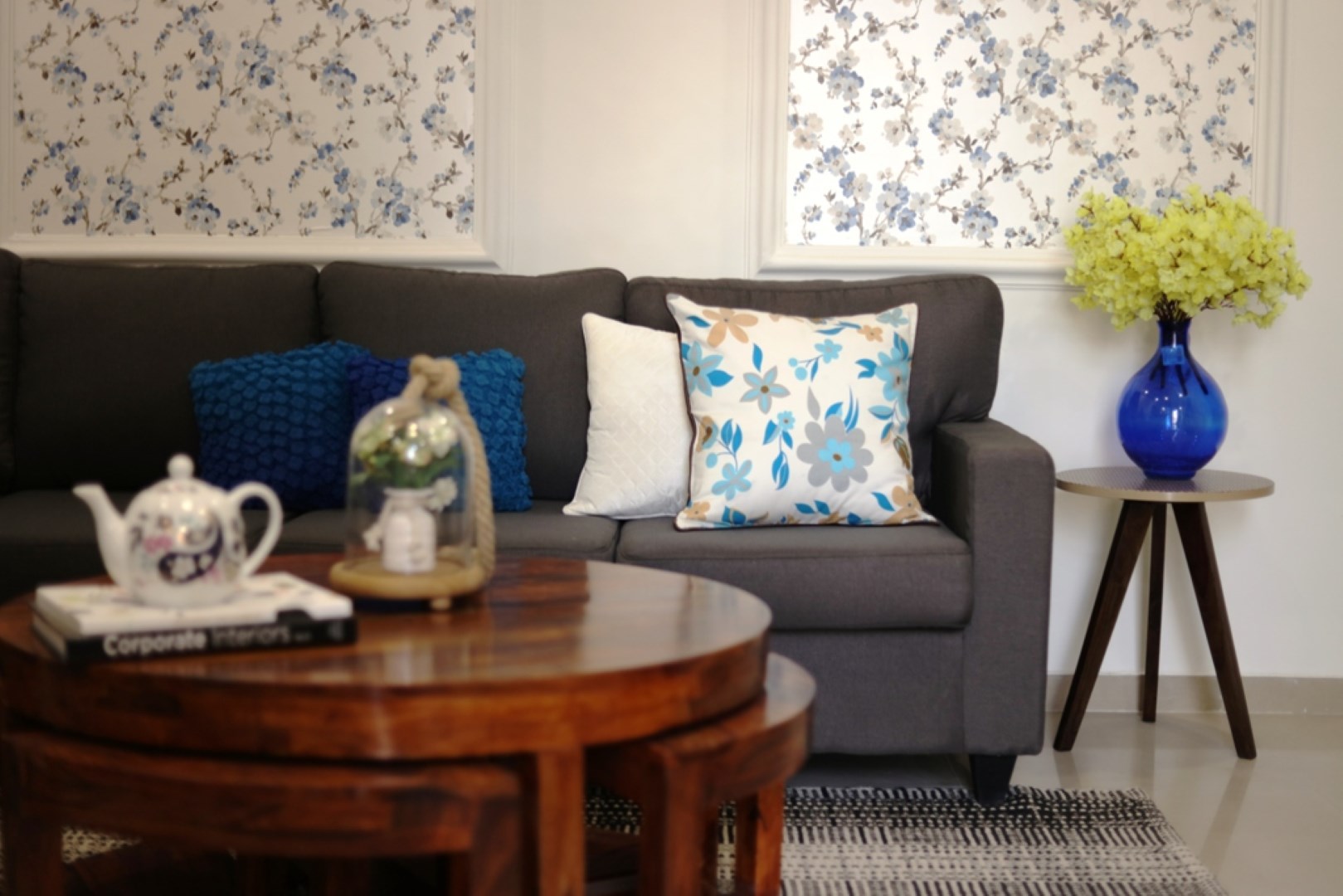 Elegant Entryway
The entrance of the house is designed with a bohu rug, a cabinet and some paintings. There is a beautiful hanging lamp in the entry area that illuminates the foyer area and makes it look prettier.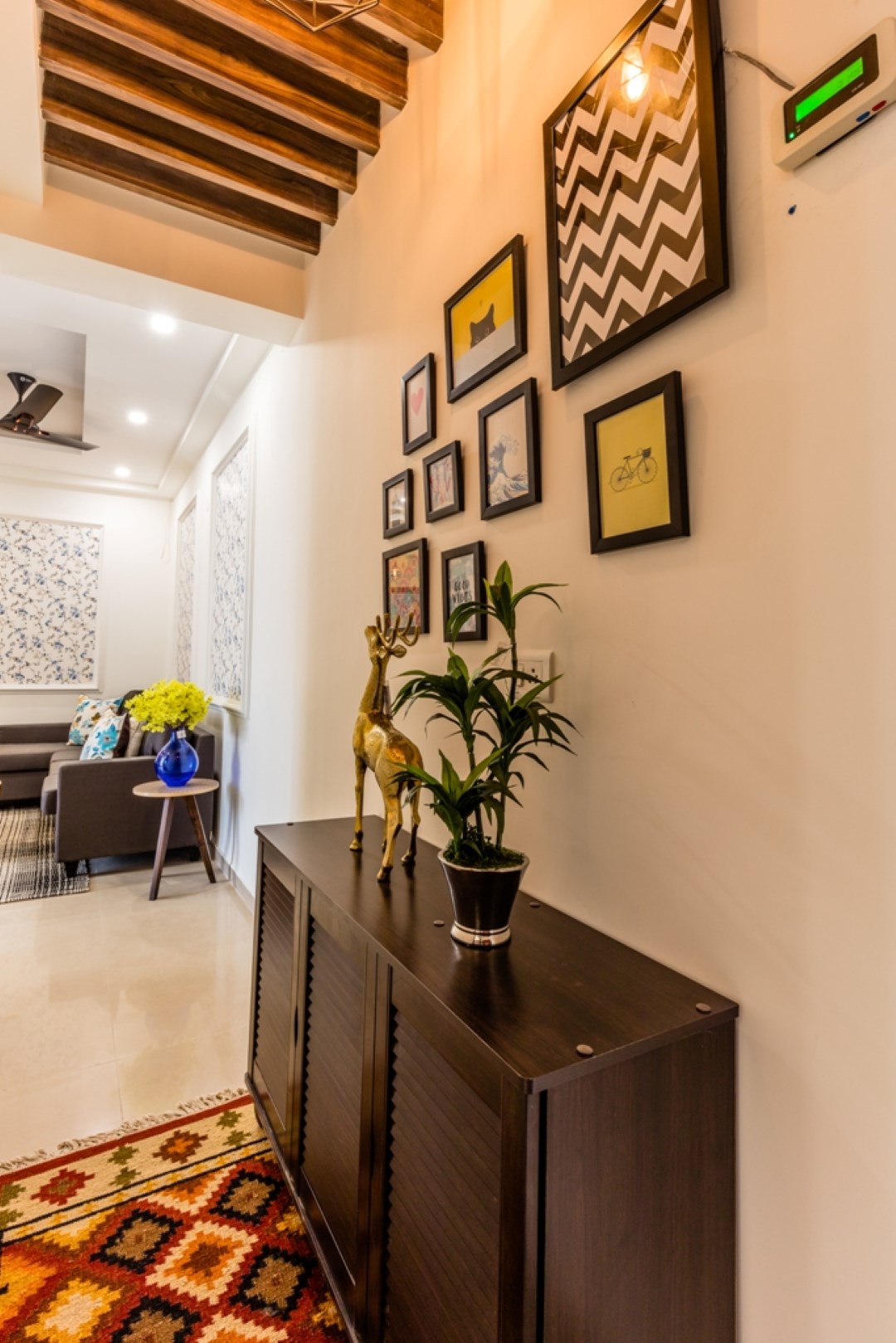 Comfortable Living
The living room, one can see a combination of traditional round center table in wood and a modern sofa. There is floral pattern wallpaper on the front wall which is complemented by blue flower vase on the end table. All the other furniture like LCD Unit, puffs, and a bar cabinet are a minimalistic yet a classy addition to the living room.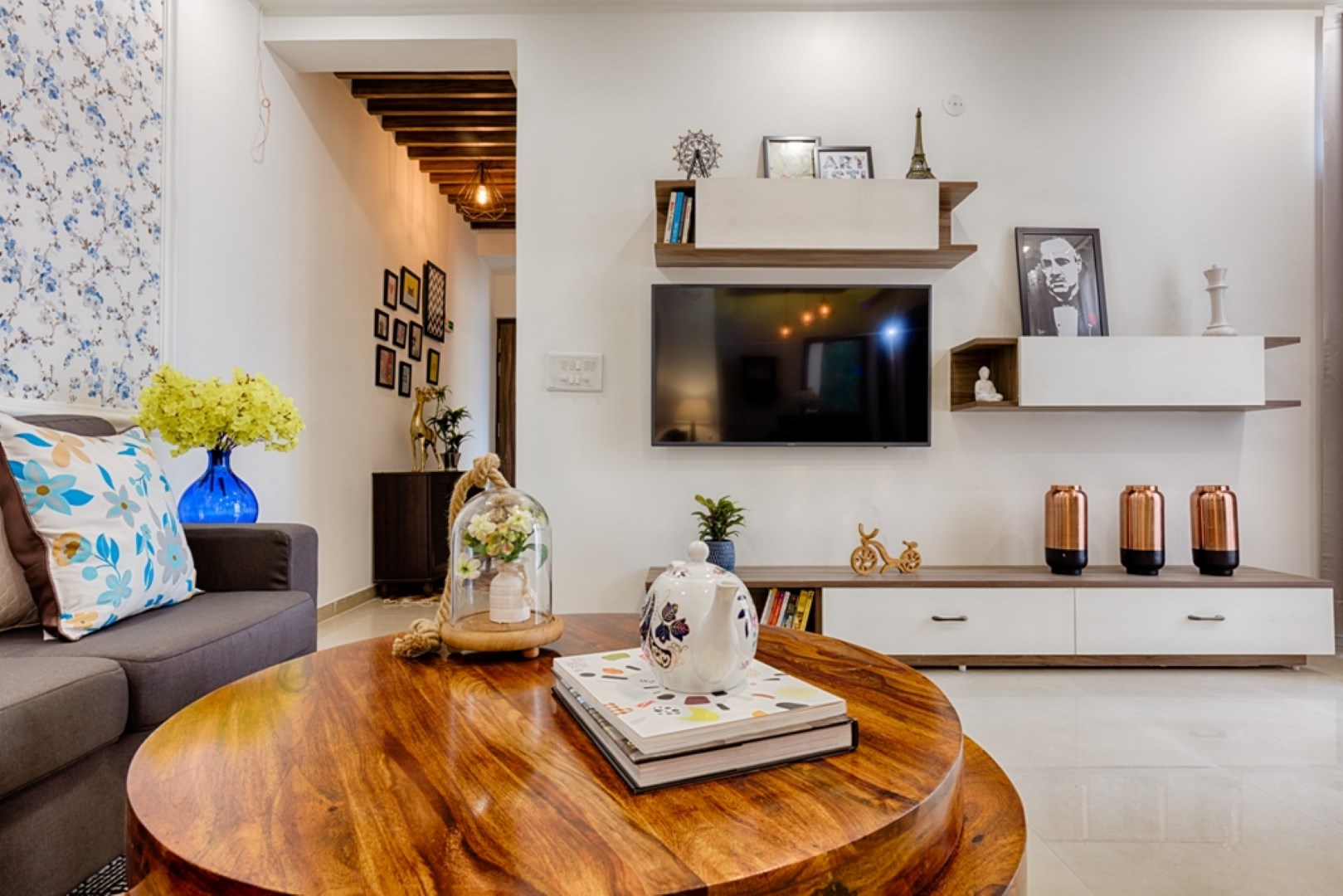 Fine Dining
The house owners loves inviting friends at home and so there dining space is designed to cater the need of large groups. There is a six seating dining table, two puffs, a bar cabinet, and a refrigerator to store beverages and food items.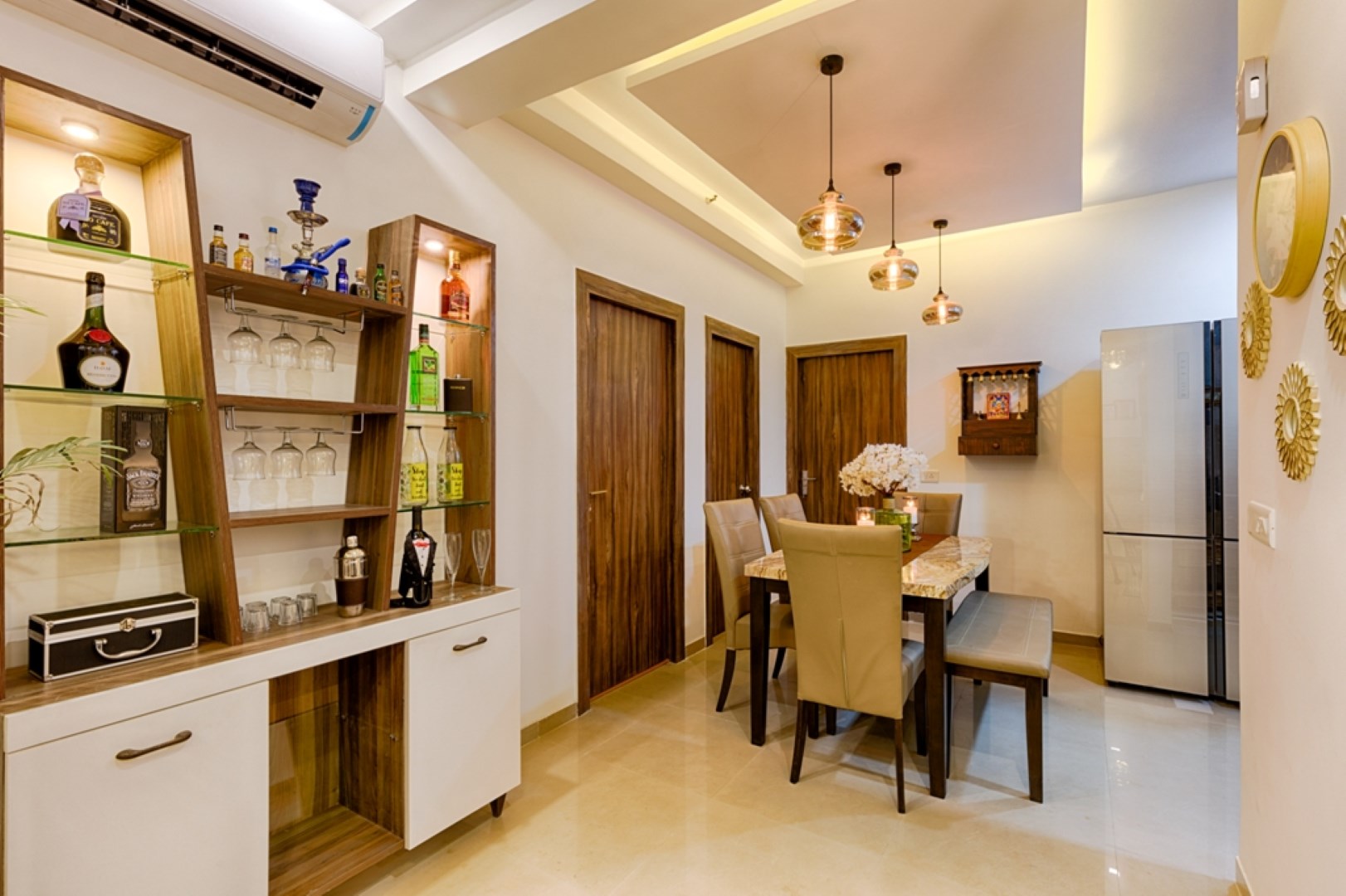 The marble top dining table is a perfect place to sit and indulge in a favorite food. The rich surrounding of the dining area makes it a statement dining space.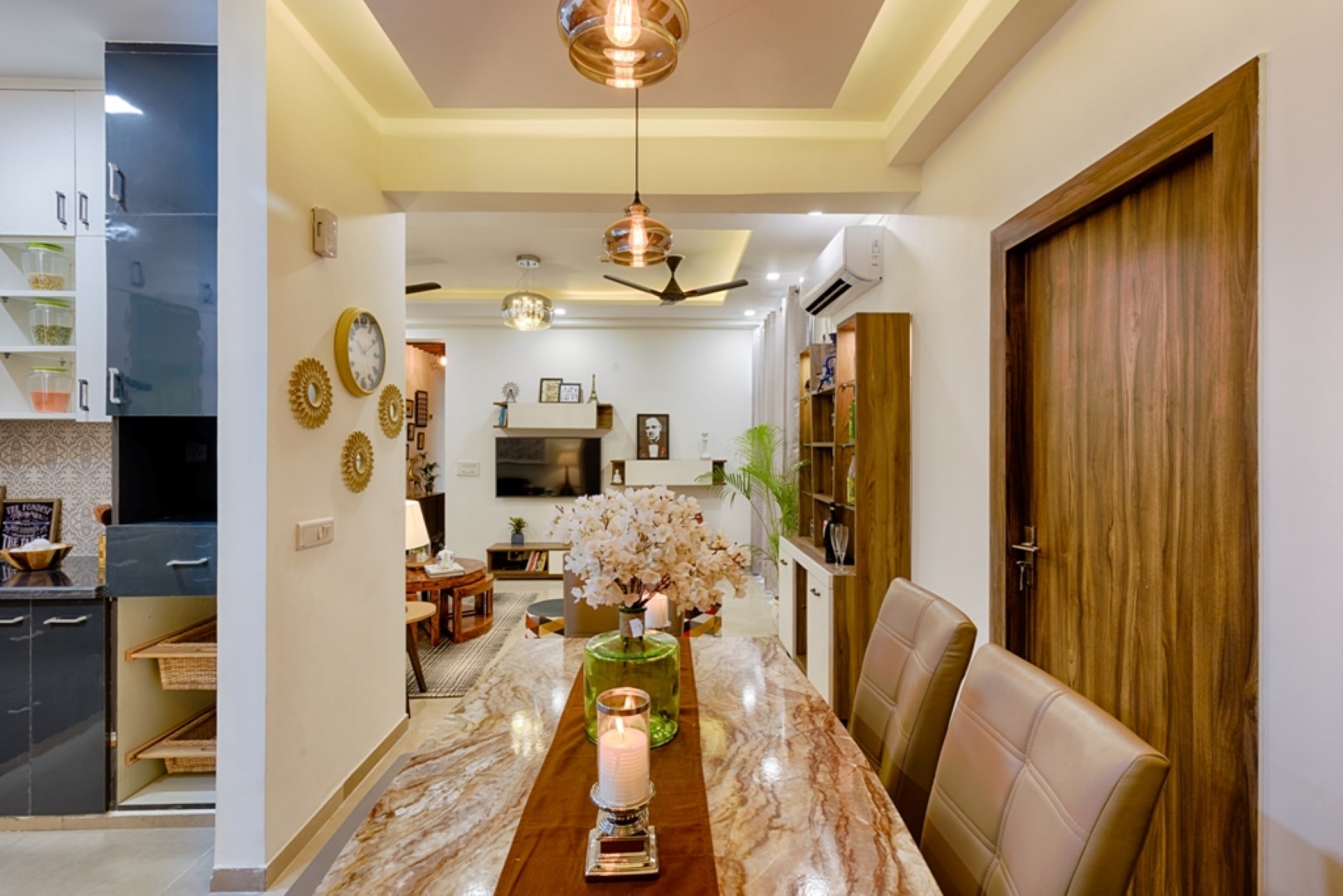 The kitchen too has additional storage to help store grocery and other important kitchen appliances. The color of kitchen is grey and it is beautifully designed with black and white color pattern tiles.
Kids Bedroom
The kids room is designed keeping in mind the child's comfort and safety. The room is stuffed with soft toys, books, and cute little accessories to create a happy space. The bunk bed is customized on a special request by the client for their six years old daughter. There is small study table with all the essential accessories and a cute little window to let the fresh air come in whenever required.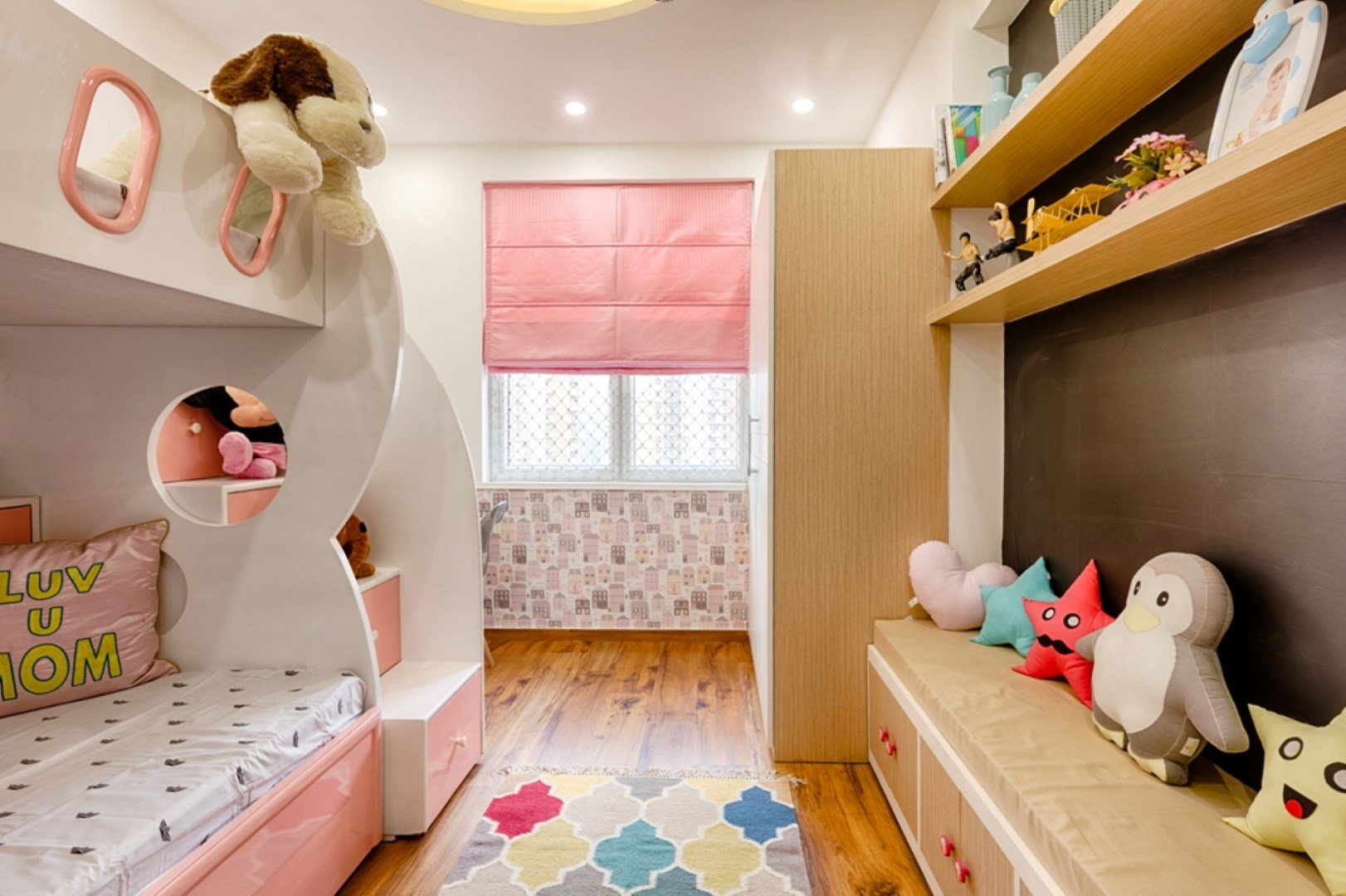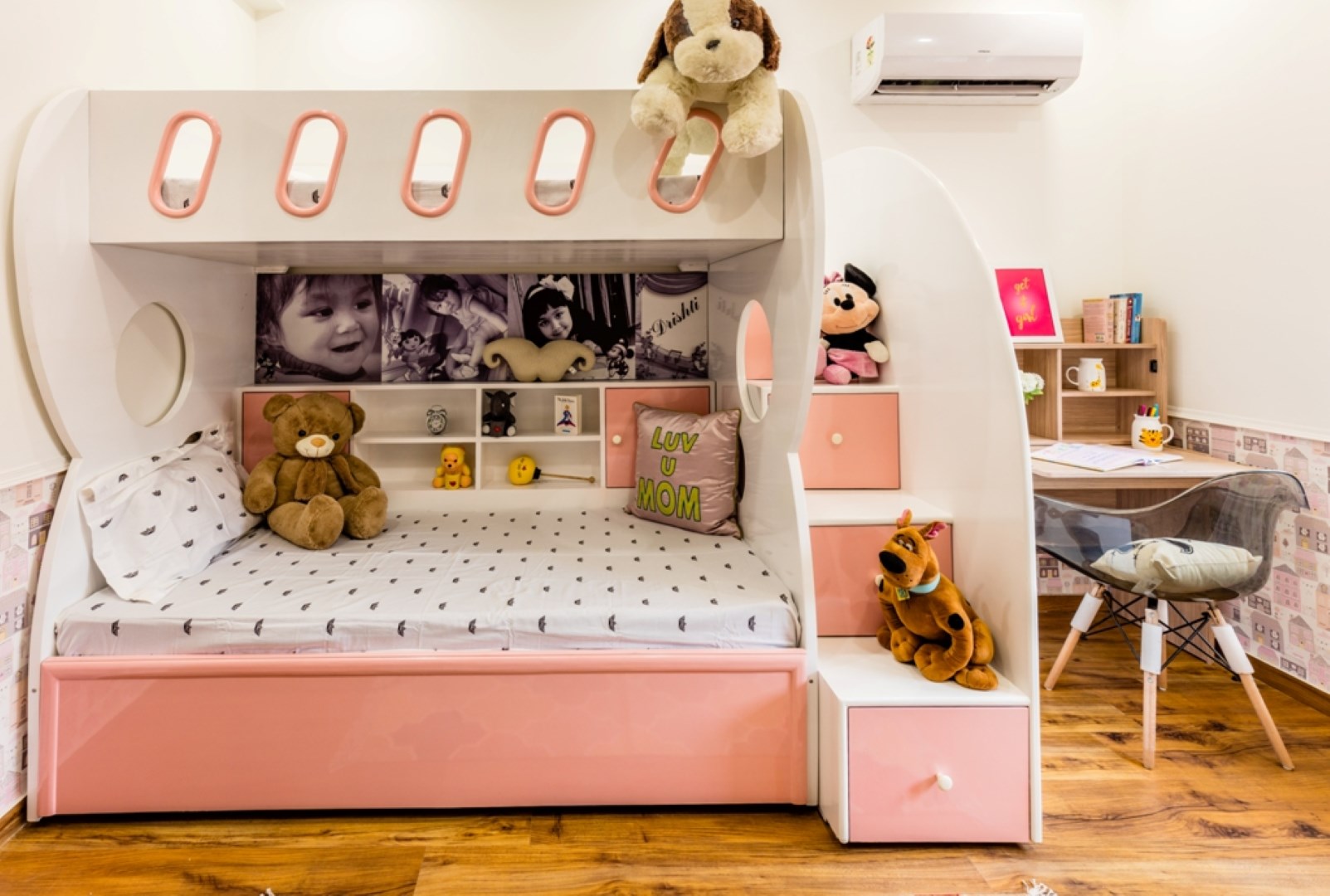 The Couple's Happy Space
The best part of this beautiful three BHK apartment is this gorgeous master bedroom. We love the tropical wallpaper on the center wall of the room which is used as a highlighter to enhance the interiors. While the bed used in the room looks simple, the pink bed cover is adding all the glamour to the couple's special room.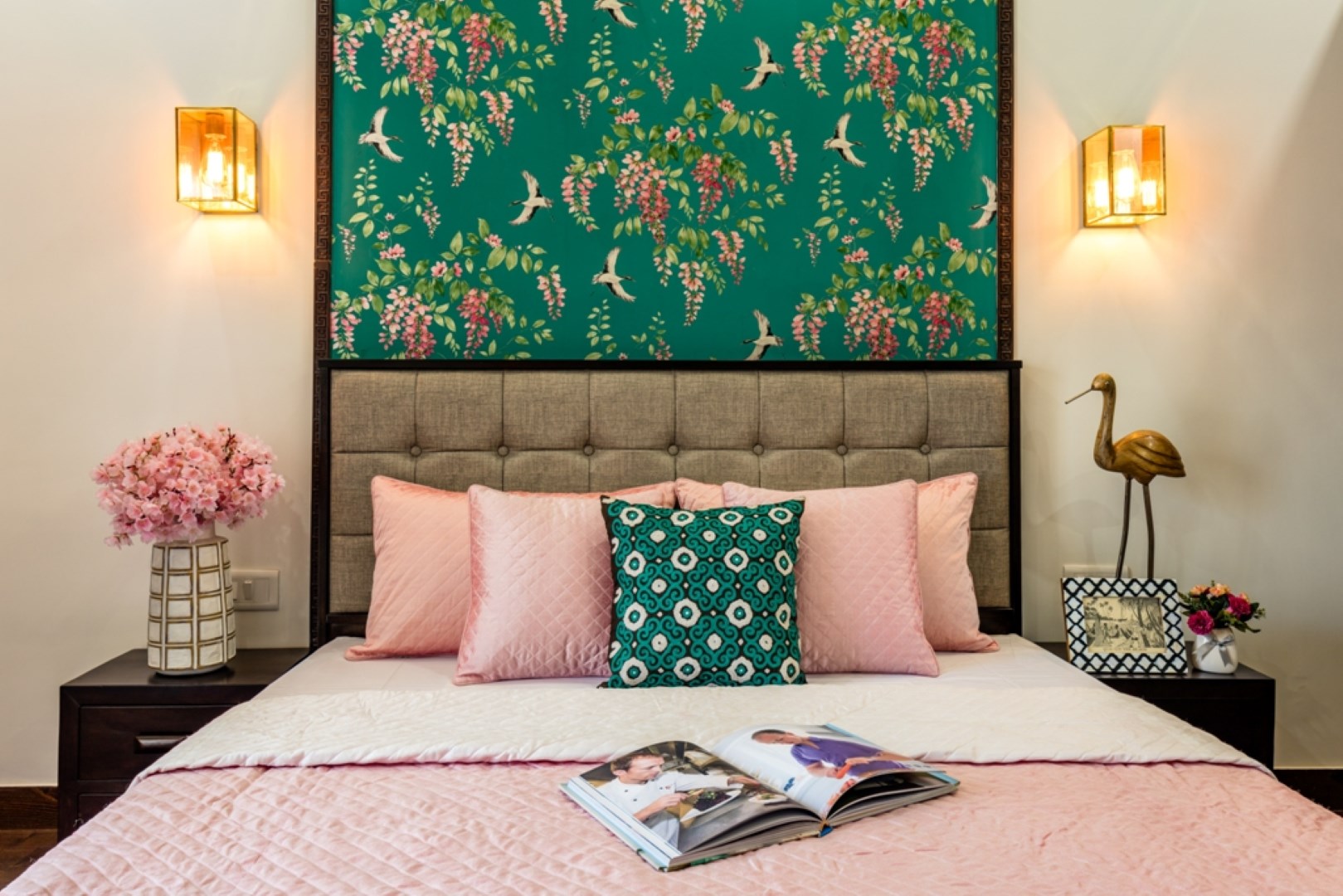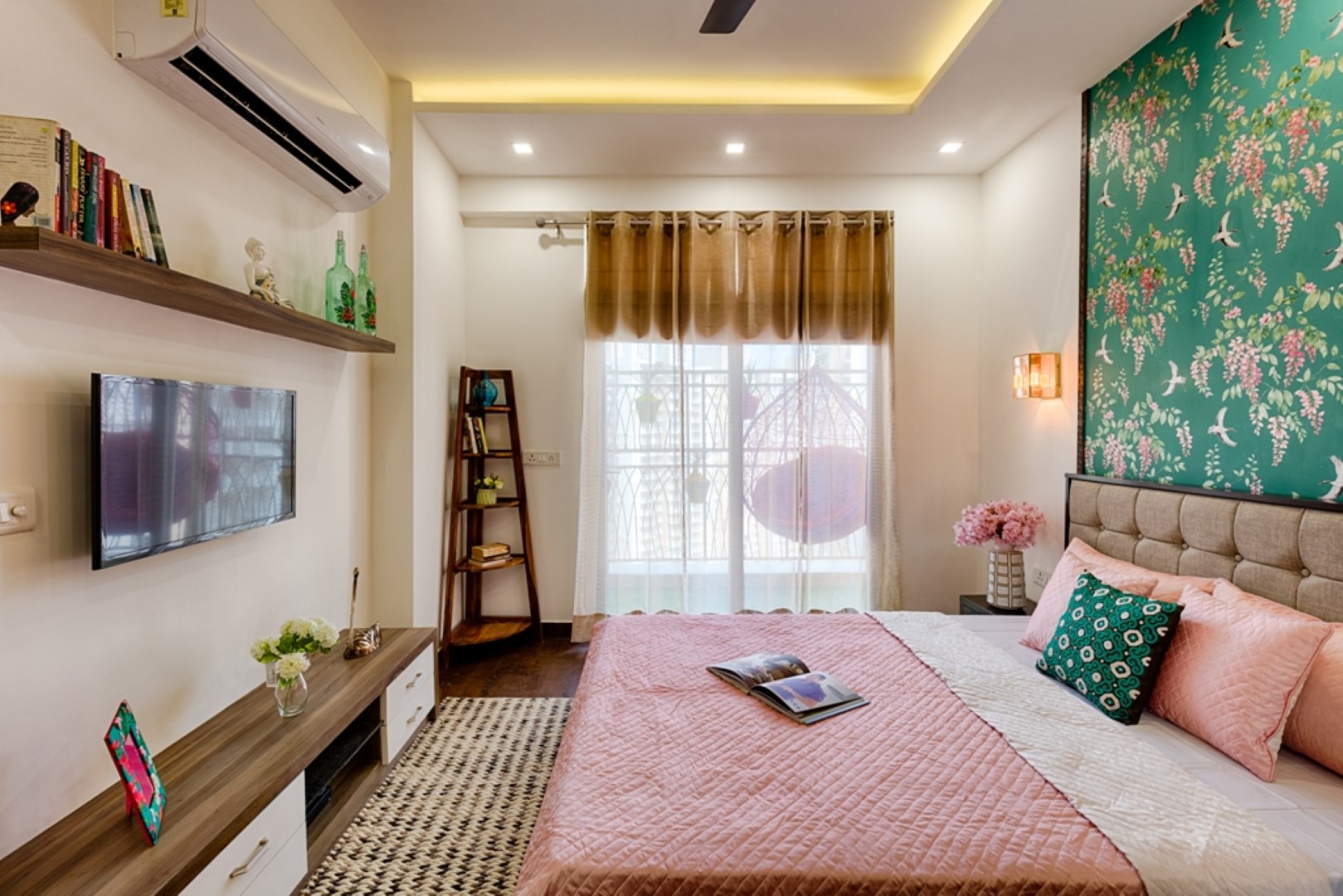 More Than a Guest Space
The Guestroom too is designed in the contemporary theme. The highlight of the room is a rustic wallpaper and queen size bed in antique finish. Every object in the room is handpicked and tastefully designed by the designer himself.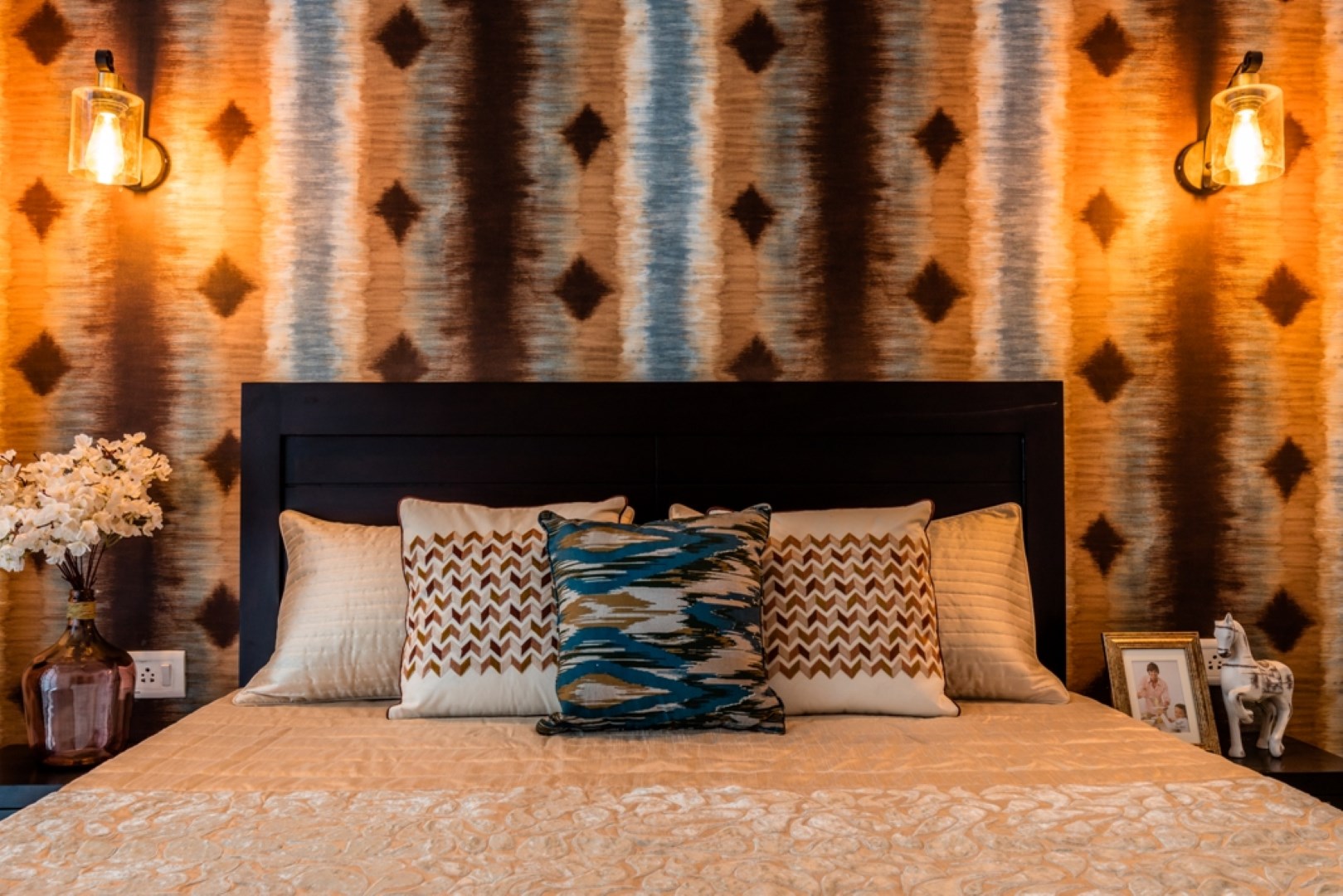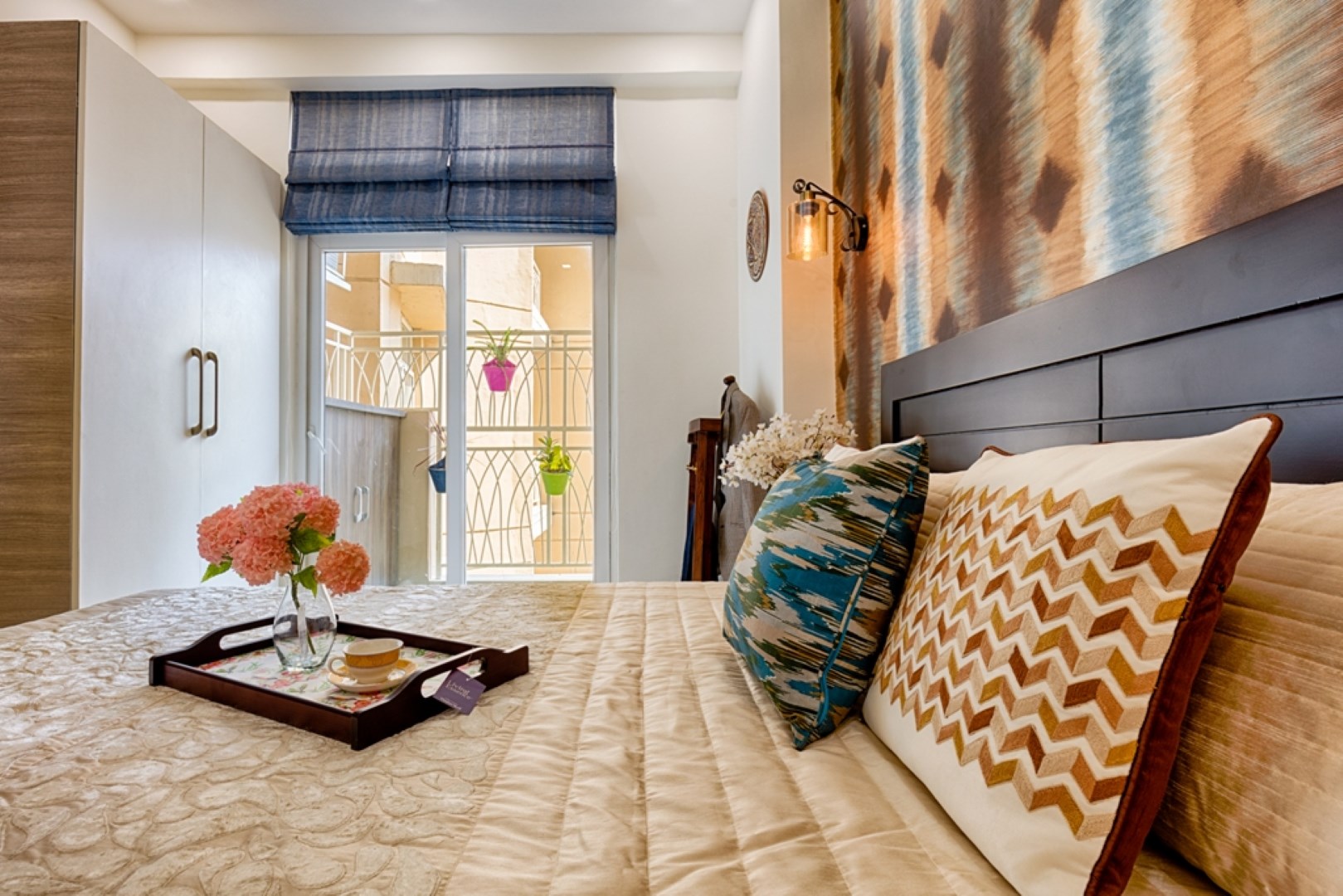 FACT FILE:
Architectural firm: Amusing interiors
Area:  1370 sqft
Location:  Noida
Budget: 20 Lakh
Project type: Apartment
Photography: Inclined Studio