&nbsp
There are a lot of people who believe that choosing the right kitchen backsplash tile can complete the overall look of the kitchen.  Of course, opinions differ on what the best design is with some saying that the backsplash should blend in with the colour of your kitchen while others state that it should be different to make your kitchen more personal.  It is actually entirely down to personal preference.
What Is A Backsplash?
The backsplash is the part of your kitchen that falls between the cabinets and the countertop.  You can leave this area as a painted wall, but with the mess generated by the kitchen, you will generally have to repaint the area frequently.  When you have a backsplash, you can simply wipe the mess off the walls making cleaning your kitchen much easier.
The backsplash is also a focal point for the kitchen which is why you need to choose carefully.  The look of the backsplash can affect the overall look of the kitchen.  This is why the backsplash is one of the areas of the kitchen that you have to plan and it is recommended that you plan this section first then build the kitchen around it.  There are some guidelines that you can use to choose the best backsplash.
Match Colors But Mix Materials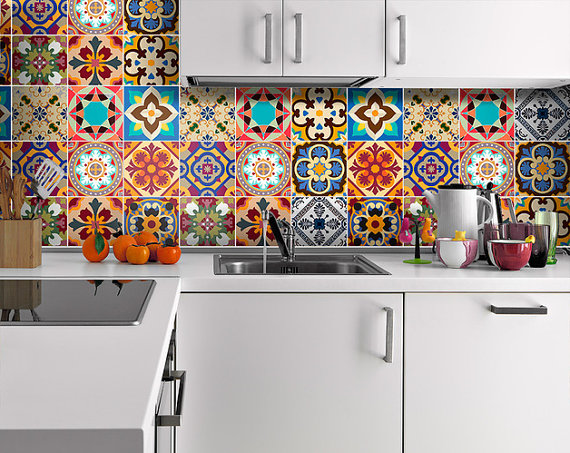 If you are having issues choosing a colour or material for the backsplash, you should try and live with each for a week.  This is what samples from the kitchen supplier are for.  You can tape the samples to the wall and look at them every now and then to determine if they are the right backsplash for your kitchen.  It is important that you look at the backsplash at different times of day to determine the impact of the light on the materials and colours.  For the best effect, it is recommended that you have a single main colour and 2 accent colours.
The Countertop Color
There are a lot of kitchen designers who feel that the countertop will dictate the colour of the backsplash you should have.  Arltops.com recommend when choosing a backsplash, you should look at the fixtures in your kitchen and the hardware.  You can then try a combination of colours that will accent and contrast the colour of the fixtures and hardware.
A good idea is to have a mixture of metallic tiles with different shades and different finishes.  If you have a lot of stainless steel in your kitchen, you might want to consider a backsplash of oil-rubbed bronze tiles.  You may also want to consider trying a more antique look with some bronze on the backsplash.
If you are feeling more adventurous with the backsplash, you should consider getting a glass tile.  These tiles add a new dimension to the kitchen and are easy to clean.