Bungalow Interior-A Transformation From Dull To Bright | Vinayak consultant
A transformation from dull to bright and dark to light. A 60s Bungalow with load-bearing structure, tradition railing, sloppy roof, and round pillars. Wall to wall construction resulted in affecting the natural light and ventilation of the house. The spaces were dark and lacked natural light and ventilation with unplanned space utilization. Hence, the client approached the designer to renovate and re-plan the bungalow's interior and exterior to a modern house which caters planned space for each function, provides ample amount of natural light and ventilation with modern style interiors.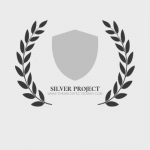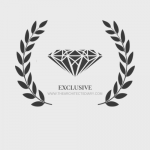 Visit: Vinayak consultant
Visit:Vinayak consultant
Exterior- Straight lines with massing dominate the façade of the building. The exterior features textured walls painted in white color combined with natural stone cladding with horizontal M.S. pipes and wooden finish tile cladding. The square mass created with cement planks and finished with paint breaks the monotony of the horizontal length of the bungalow. The main gate is made up of M.S. pipes and finished with dark paint and Greenlam HPL (high-pressure laminate).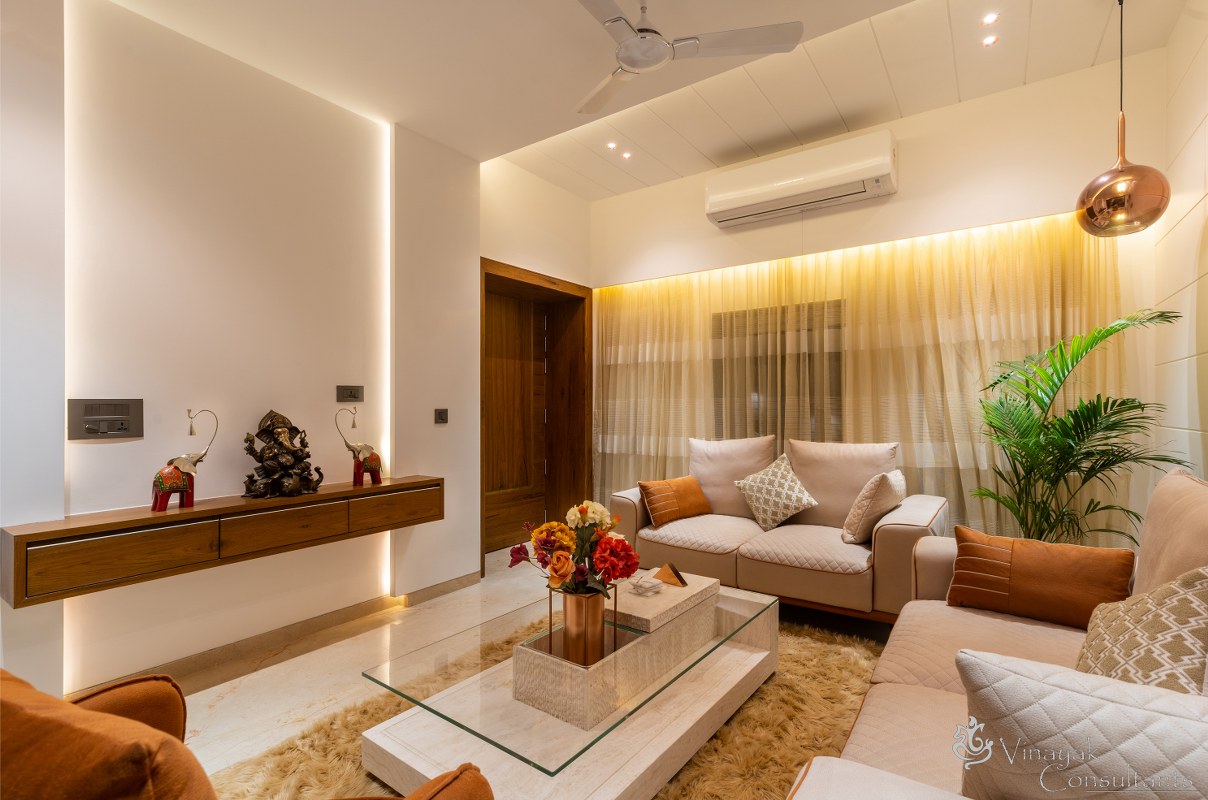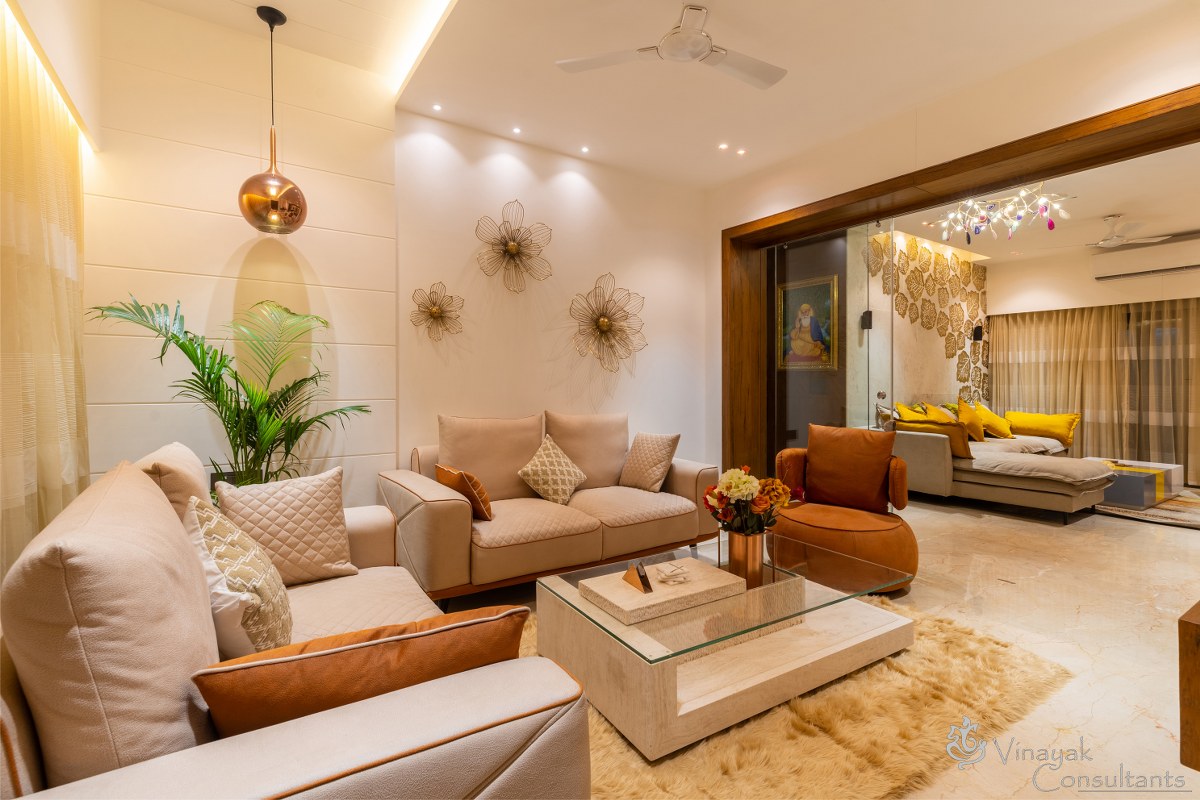 The Interior- The ground floor houses parking, lawn, kitchen, dining, living area, drawing room, parent's room. The master bedroom, son's bedroom 1/movie room, son's bedroom 2, living area, guest room, pantry area on the first-floor level. The second floor consists of a lounge area cum gaming room, storeroom and a semi-covered seating area with a green terrace.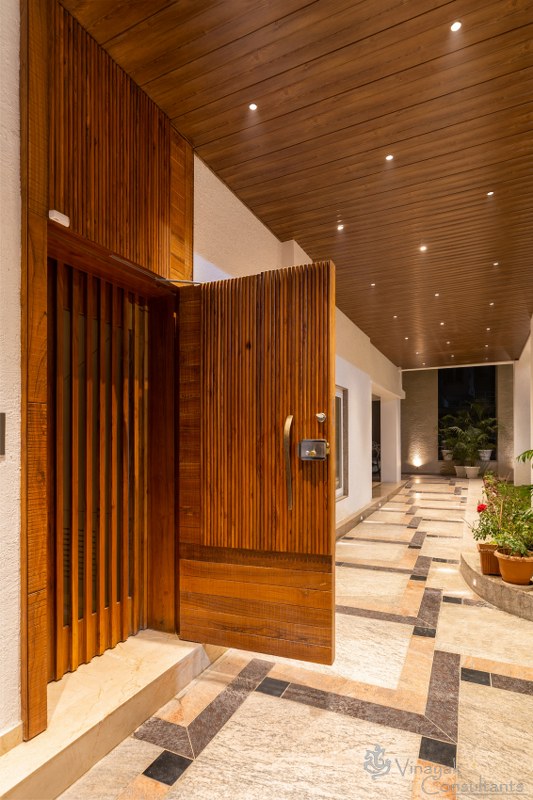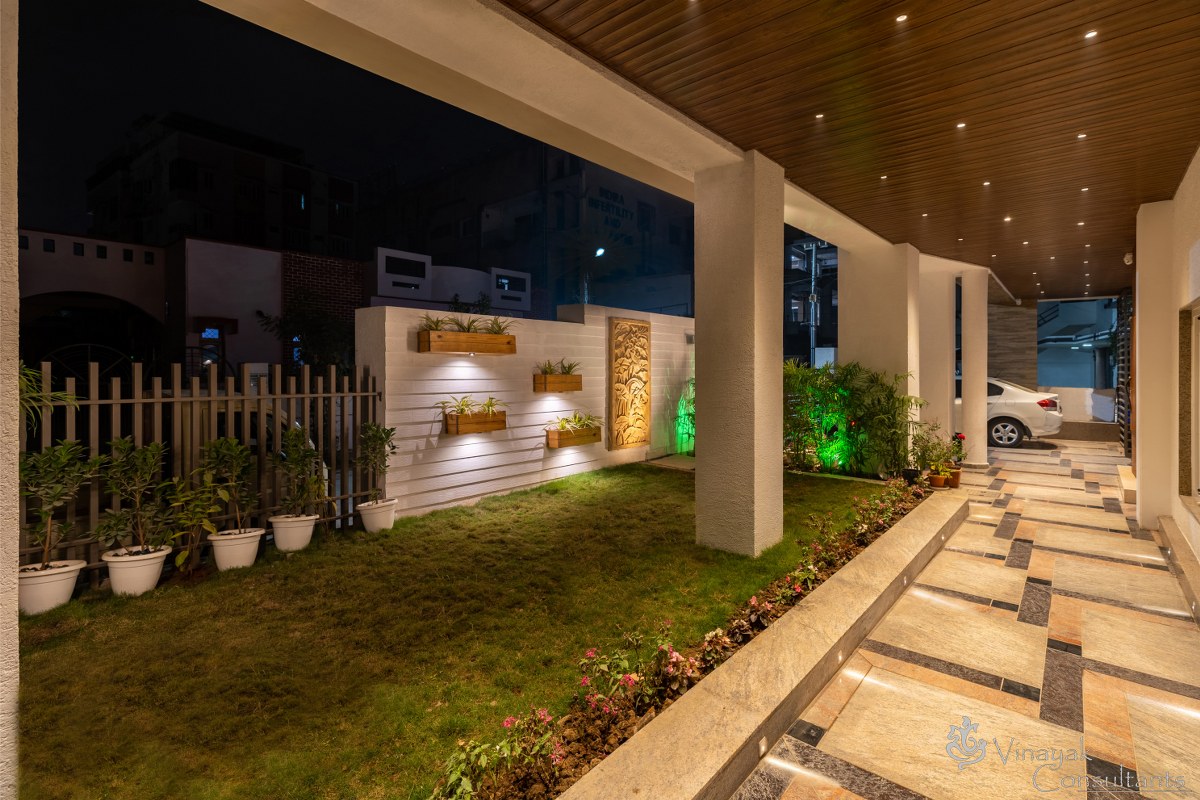 A porch- porch floor is finished with a continuous pattern of white, pink and black granite in the leather finish with COB lighting in wooden finish PVC rafters in the ceiling. Lawn surrounded by planter bed with green and warm white lighting with boundary wall beautified by cement planks, pinewood planter pockets, and a stone carved panel. The full height main door is made with half-round wooden moldings with saw-cut wooden planks finished with natural polish.
Kitchen and dining area-   Light blue and white anti-scratch acrylic modular kitchen with white nano platform top and LED profile lighting connected to dining with an eight-seater rectangular table topped by a luxurious white onyx marble with cushioned chairs enhanced with Bronze mirror ceiling and marble finish hanging lights. OTS shaft beautified with Buddha statue, artificial plantation and stone cladding brings positive vibes to the area.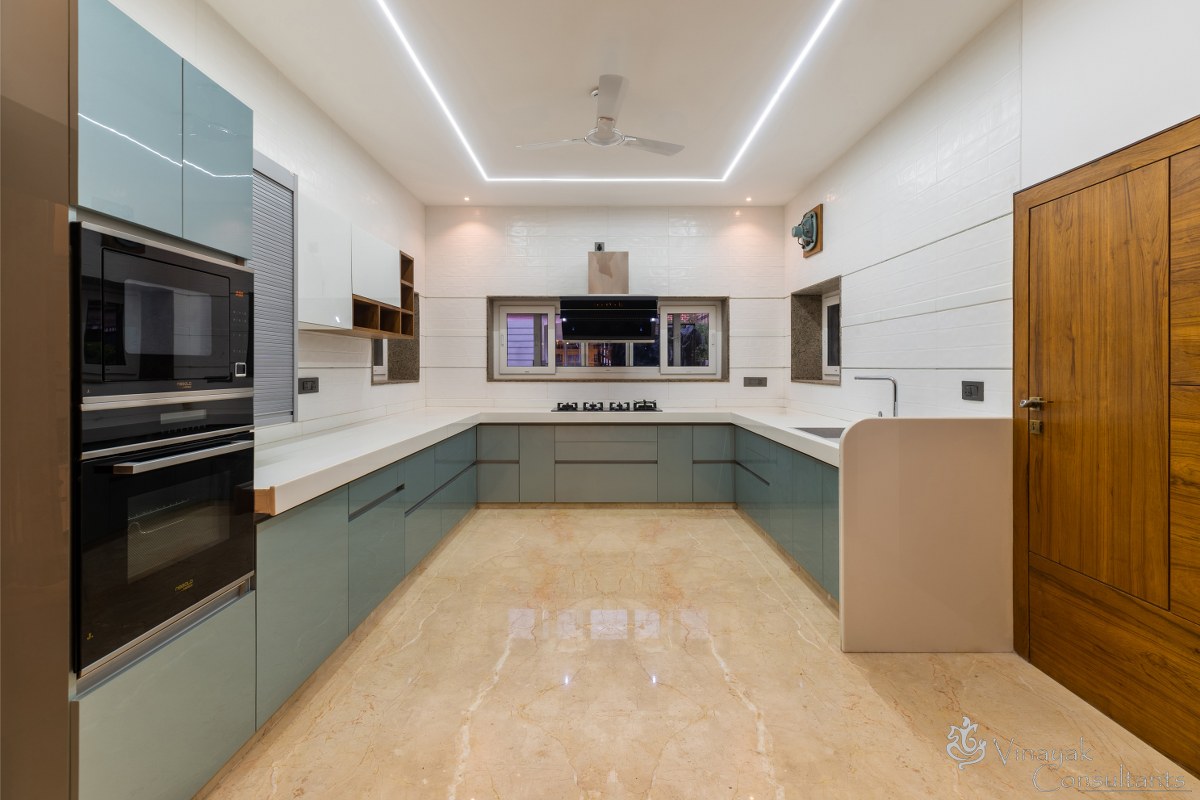 The common basin is made with blue semi-precious agate stone with indirect lighting, a designer mirror on white nano marble cladding. The common toilet stands out with Italian marble cladding in walls and floor with blue back-painted glass used as a highlighter.
Informal and formal seating- The informal seating is designed to be very comfy and cozy as it is going to be utilized the most by the family. The three-layered sofa with colorful cushions brightens the energy of the area. The sofa back wall is finished with marble cladding with maple leaves imprinted with gold leafing. The backlit TV panel is created with an acrylic base and onyx marble with a veneer finished cabinet. Connecting to informal seating is the drawing area which is kept very basic and subtle. Beige sofa with a rust highlighter revolving armchair with white walls looks elegant yet lavish.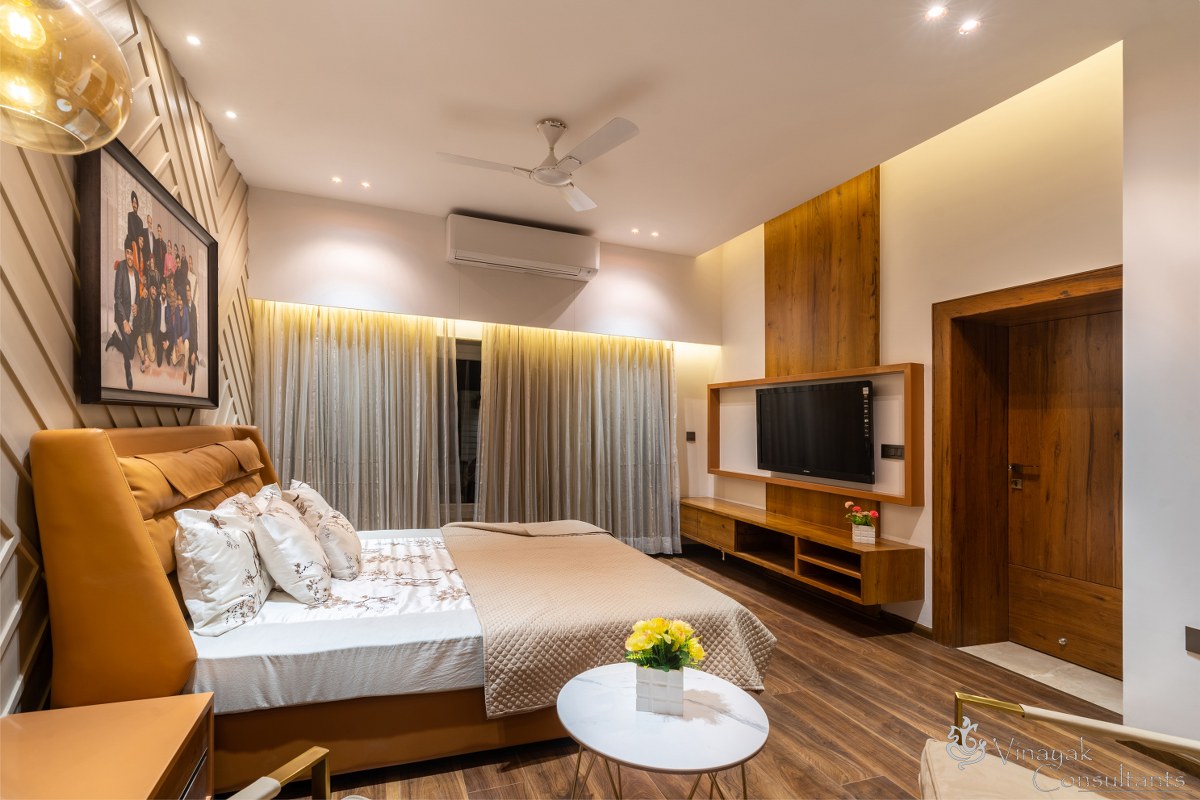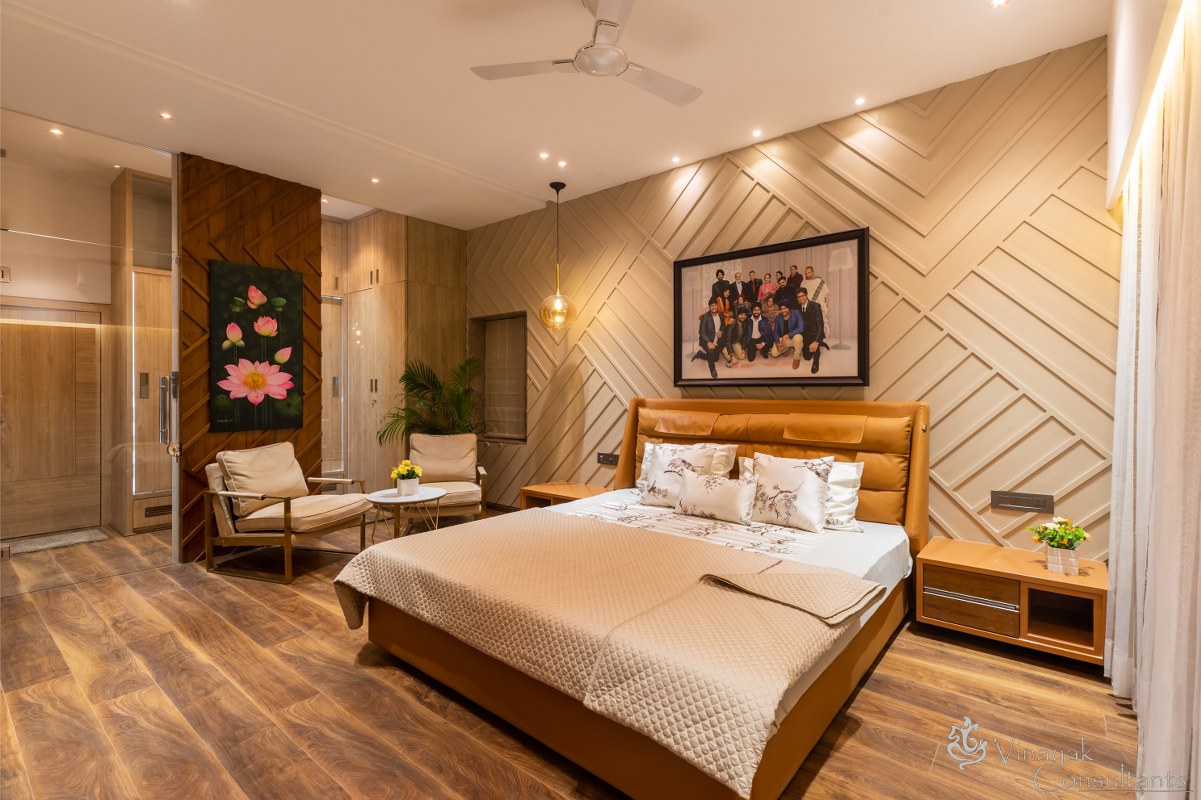 Parent's room- Rust-colored leather bed on beige WPC strips wall paneling and laminated wooden flooring complements each other beautifully. The division between the dressing area and the bedroom is thoughtfully done by a 6" thick partition finished with ply strips and veneer which is used as a dressing unit on the dressing side and aesthetical element towards the bedroom side with handmade painting.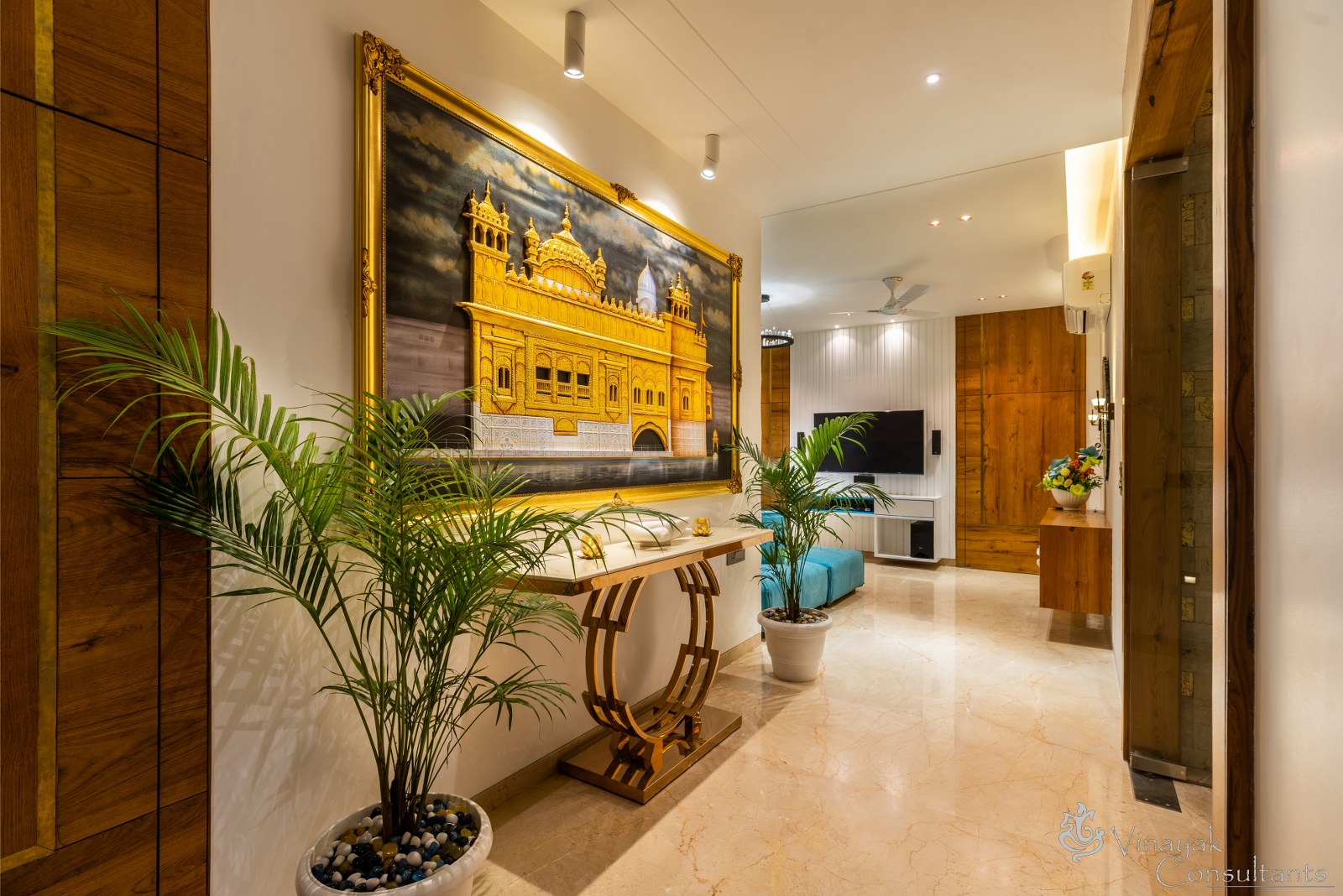 Stairs and first-floor lobby- The stairs are designed with Italian marble and customized travertine marble wall cladding with gold leafing. The first-floor lobby wall consists of beautiful golden temple art and console table with marble top and rose gold finished base. The storage cabinet is finished with a veneer frame and white P.U. paint panels with curved handles.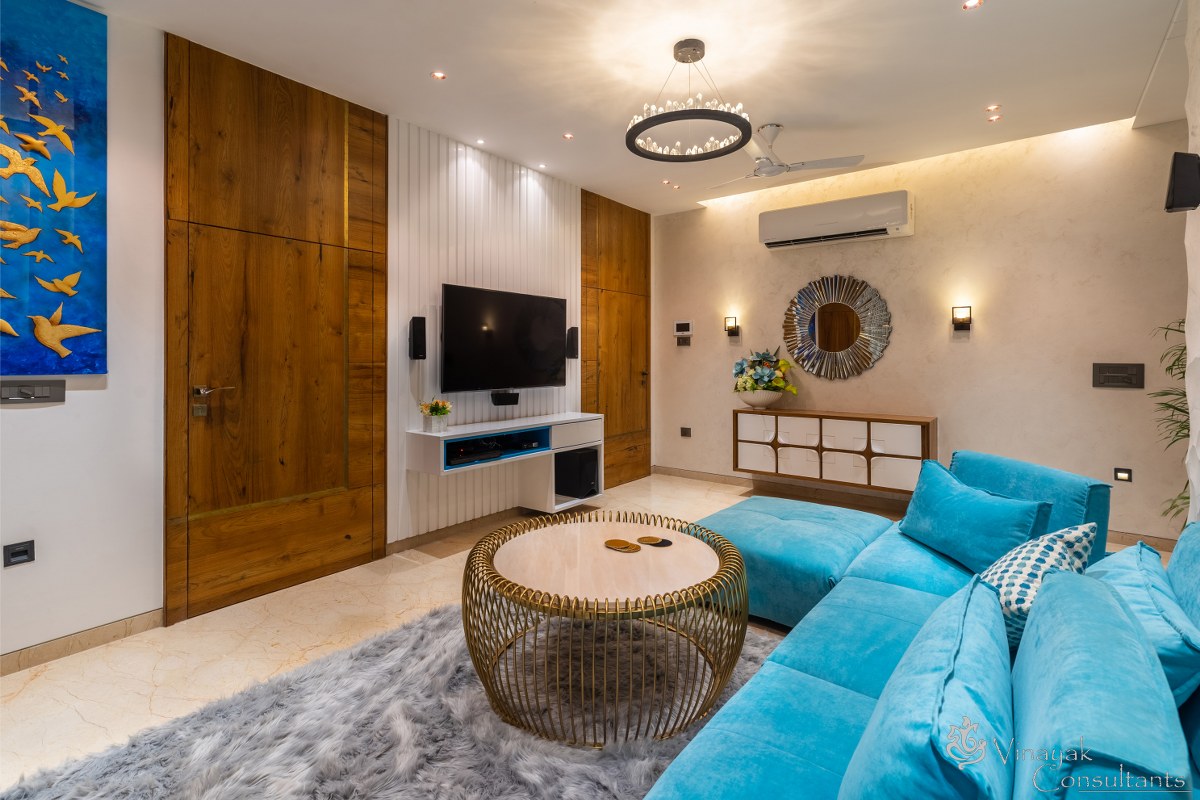 Living area first floor- First-floor living area is created for the leisure time of the family. Eclectic bright blue lounger with white CNC marble cladding gives a very modern feel to space. Full height veneer doors, MDF strips finished with white P.U. paint, crystal chandelier, the customized blue painting combine together to give liveliness to space. The front wall from the lift is finished with OIKOS texture paint with decorative mirror and wall lamps.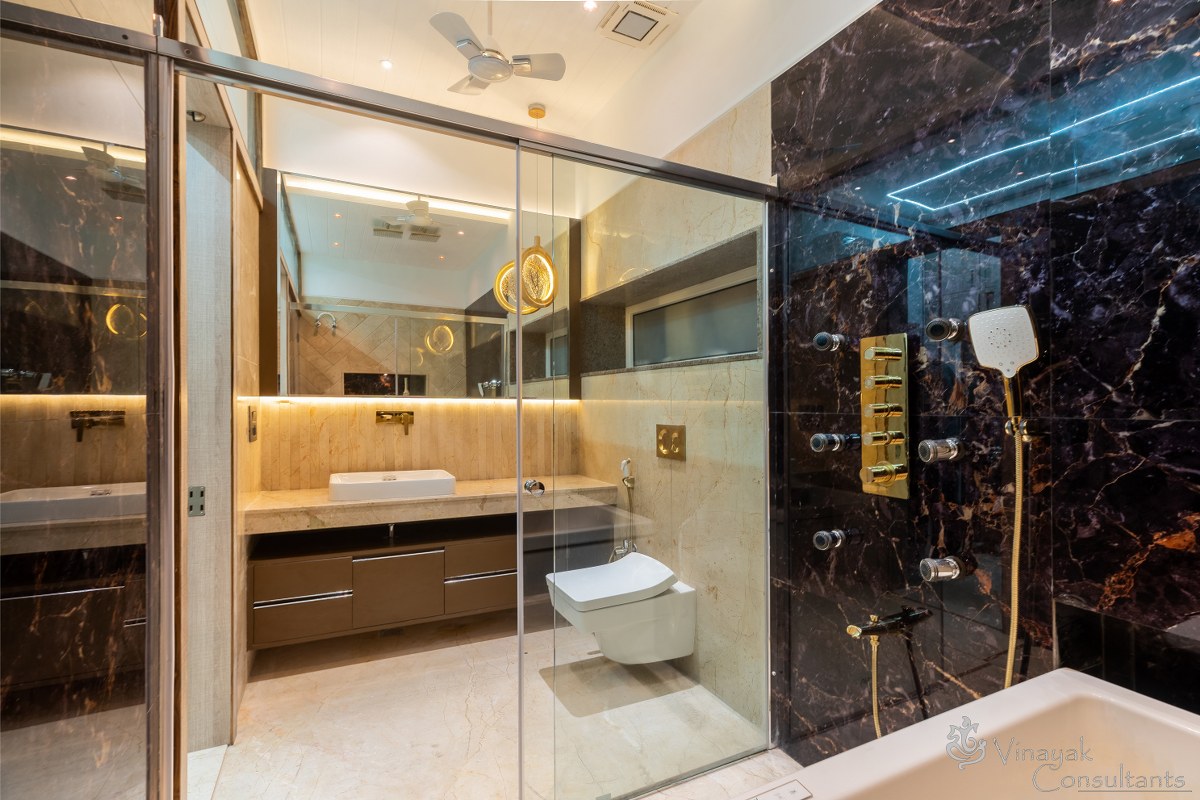 Master bedroom – A perfect blend of yellow and white. White waterproof jute bed with dark grey fabric wall paneling lifts each other in the best ways.  It enjoys a separate seating area with suede finish grey couch with customized MDF paneling in white paint.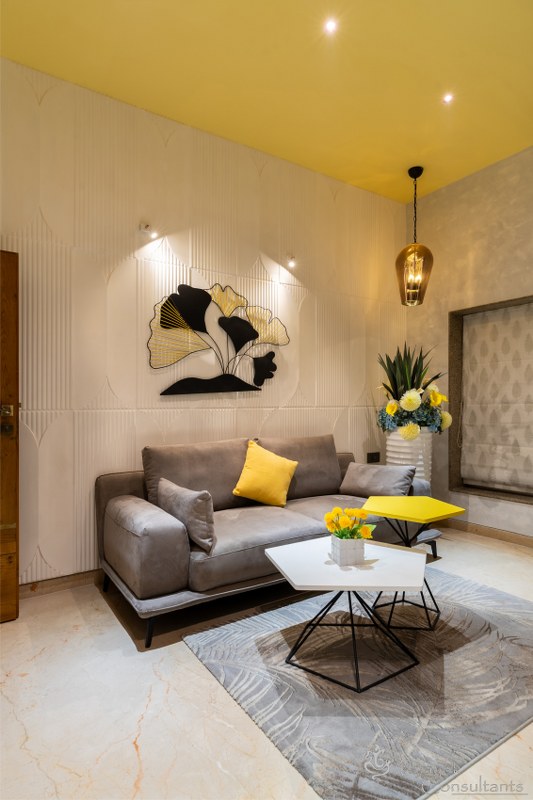 Italian marble panels in a brick pattern and glossy black glass tiles from Qutone with French gold finish bathroom fittings combine to create a very luxurious experience in the master toilet.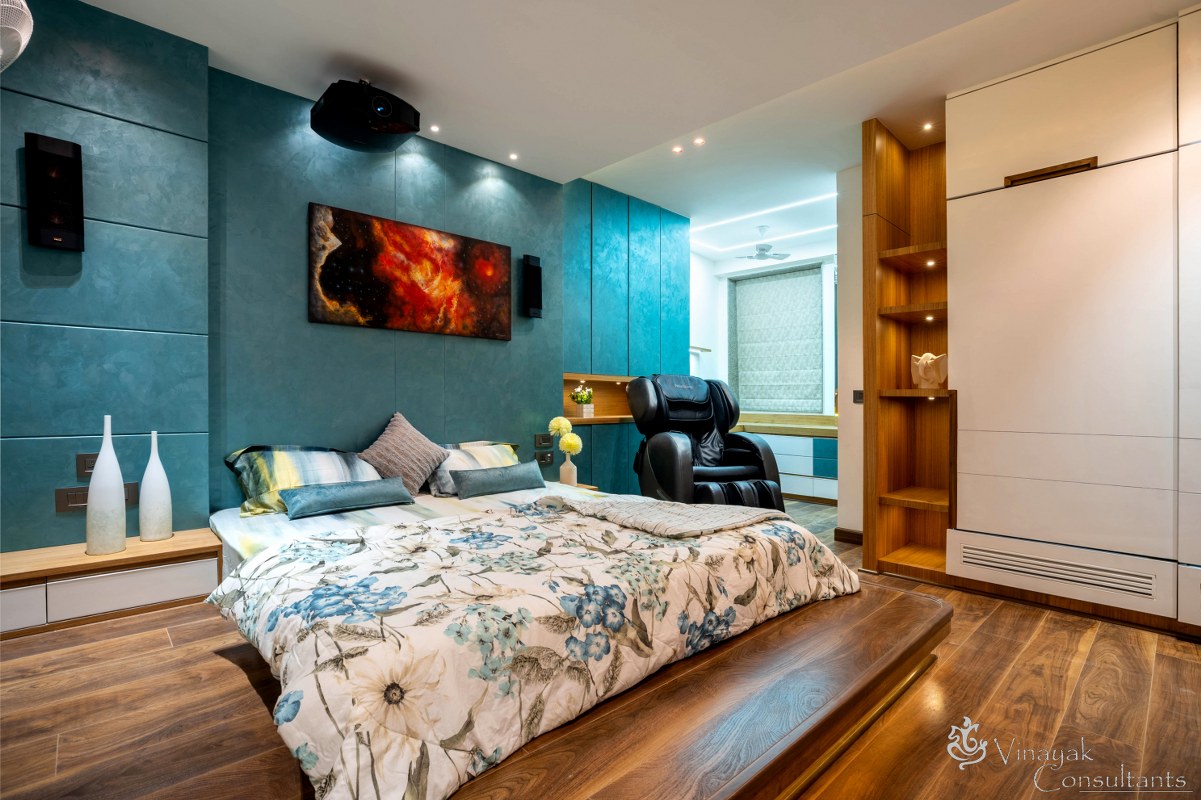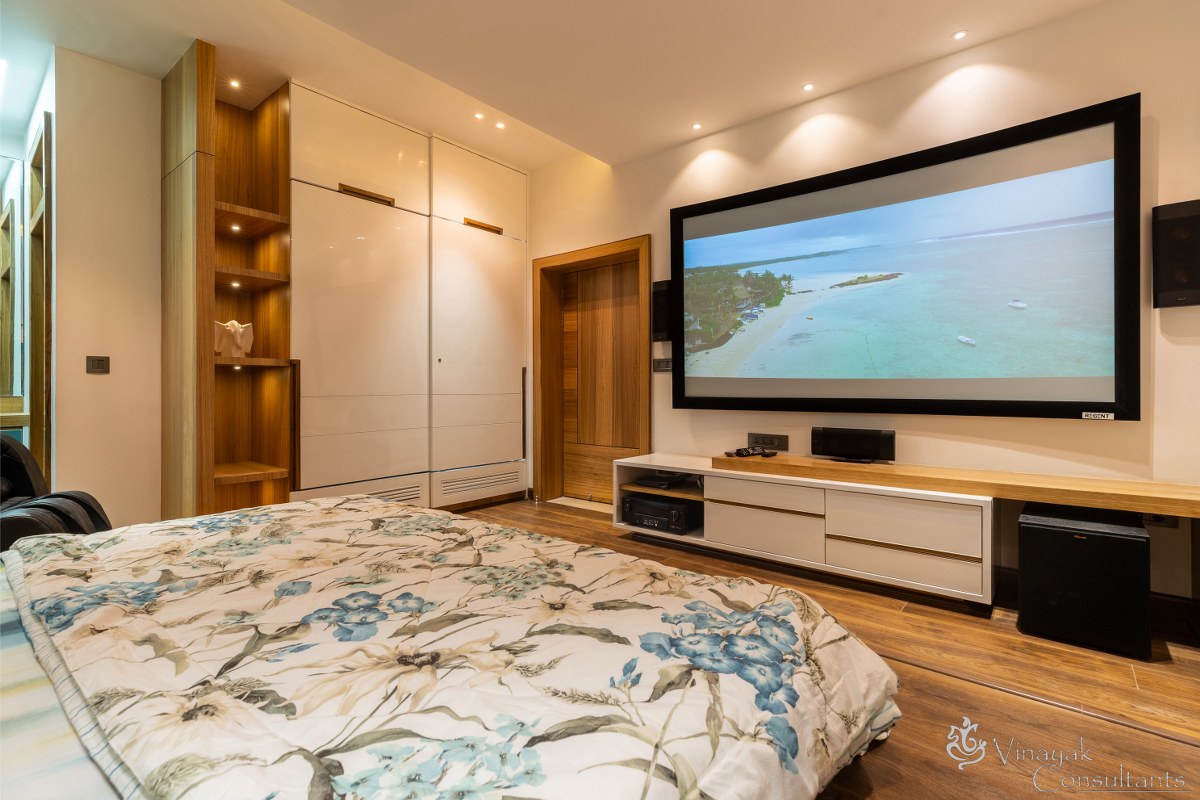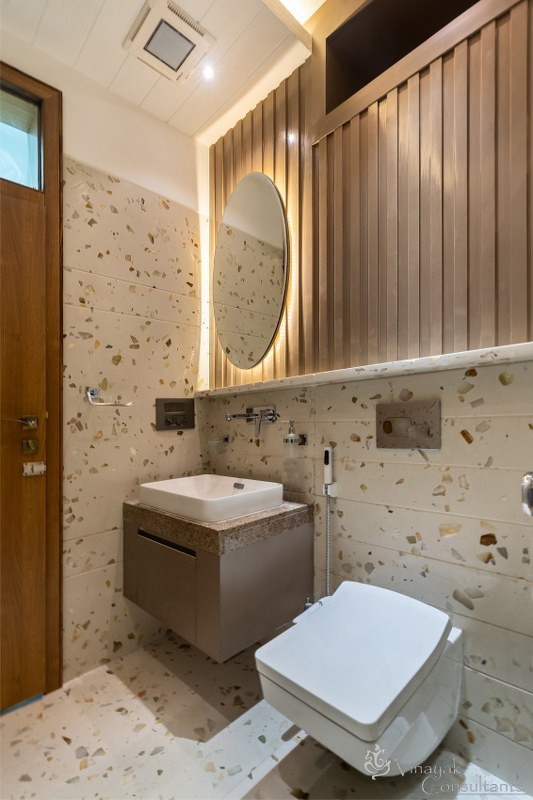 Son room 1 – This bedroom is designed as a movie room with 8' wide and 6' height curve screen. Raised wooden deck bedding with MDF wall paneling finished with turquoise OIKOS texture helps in the acoustic solution of the room as well as enhances the aesthetics of the room.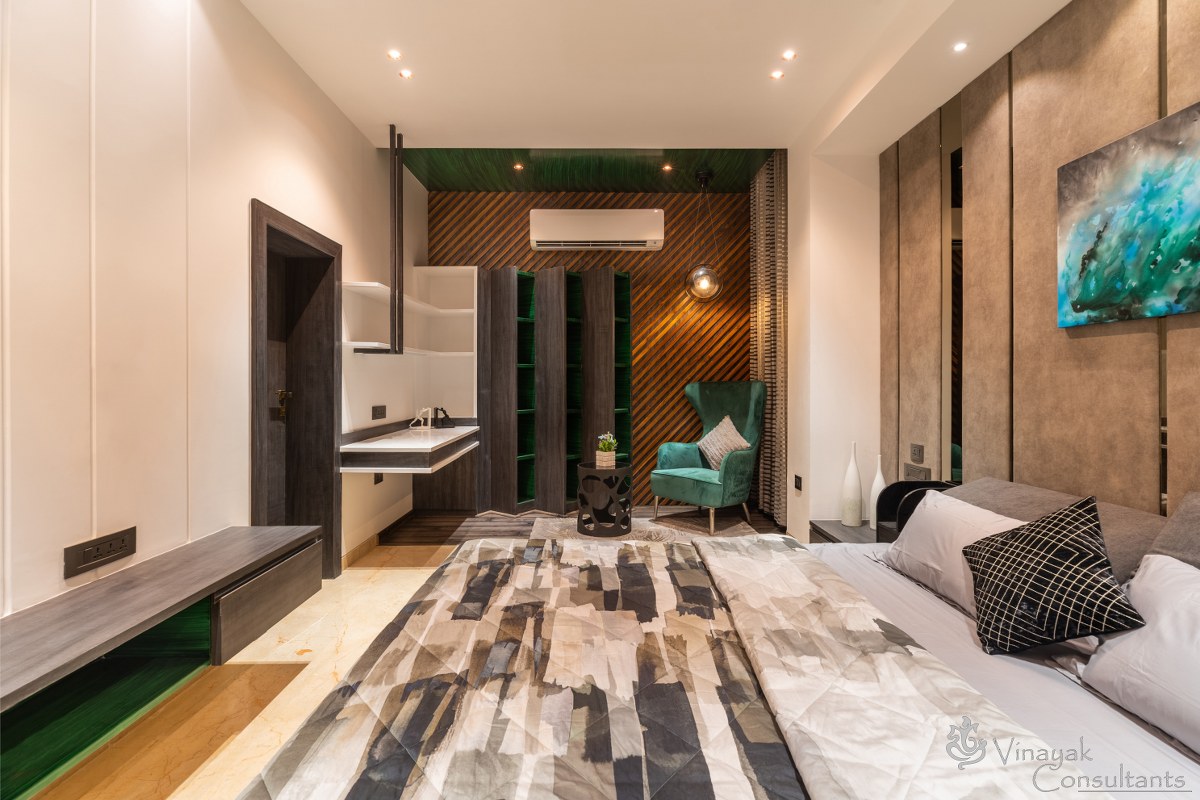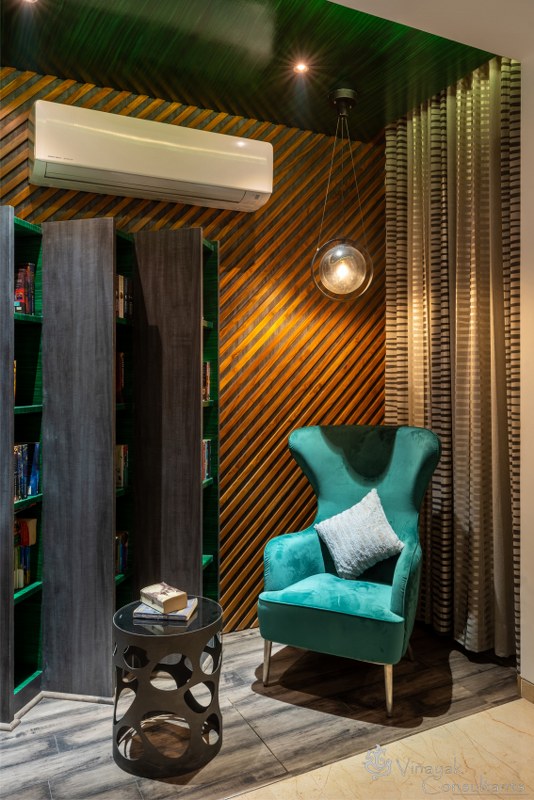 Son room 2- The room has a wonderful theme of grey mixed with green. The bed back wall is finished with fabric united with brown mirror strips. The study corner has P.U. finished white study table with diagonal bookshelf finished with emerald green texture paint. The green armchair with diagonal wooden strip paneling completes the look of the room.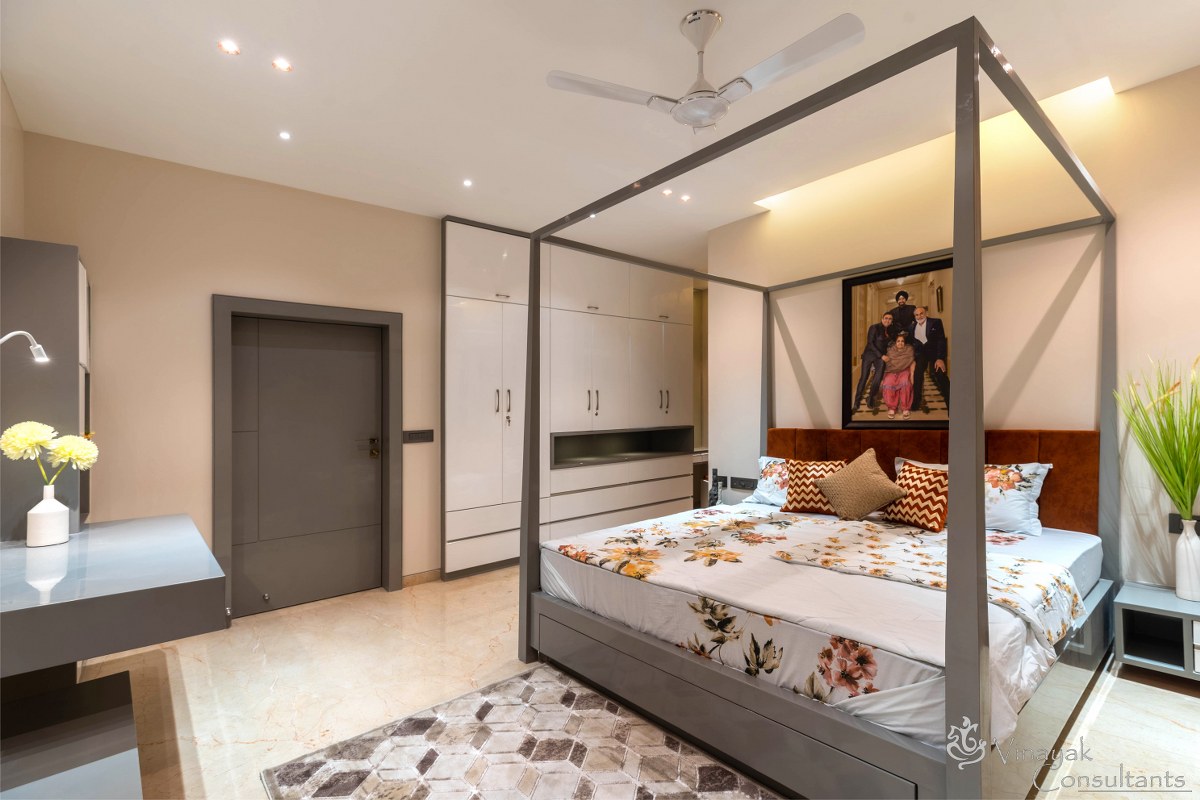 Guest room – consists of a 4 poster bed with a modern touch. The theme of the room is a blend of white and grey P.U. paint with a dark rust color headboard to emphasize the bed.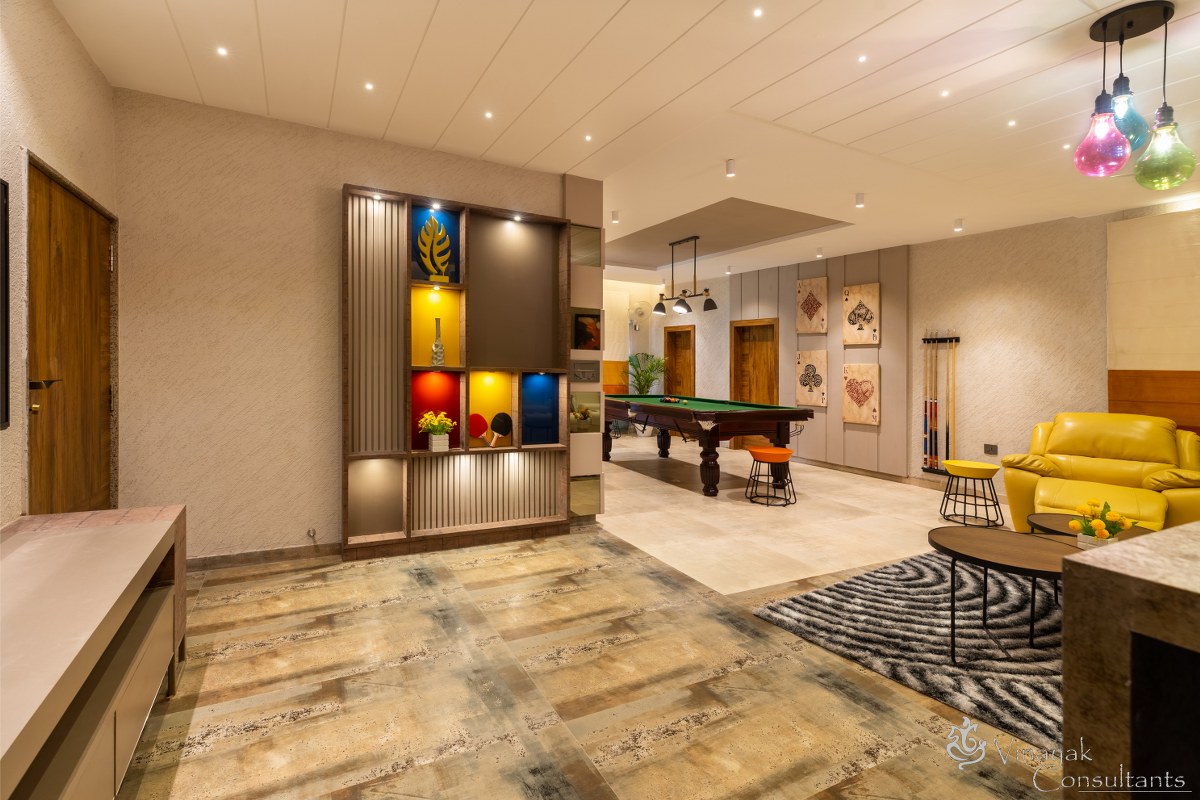 Gaming area cum lounge- This 1200 Sqft area is designed as a gaming zone cum lounging space cum bar area. Wall paneling inspired by black and whites of chess and elements of a card deck. Colorful display unit with designer laminate and back painted glass adds charm to space. Curtains are designed with velvet fabric put together to match up with the theme of the space.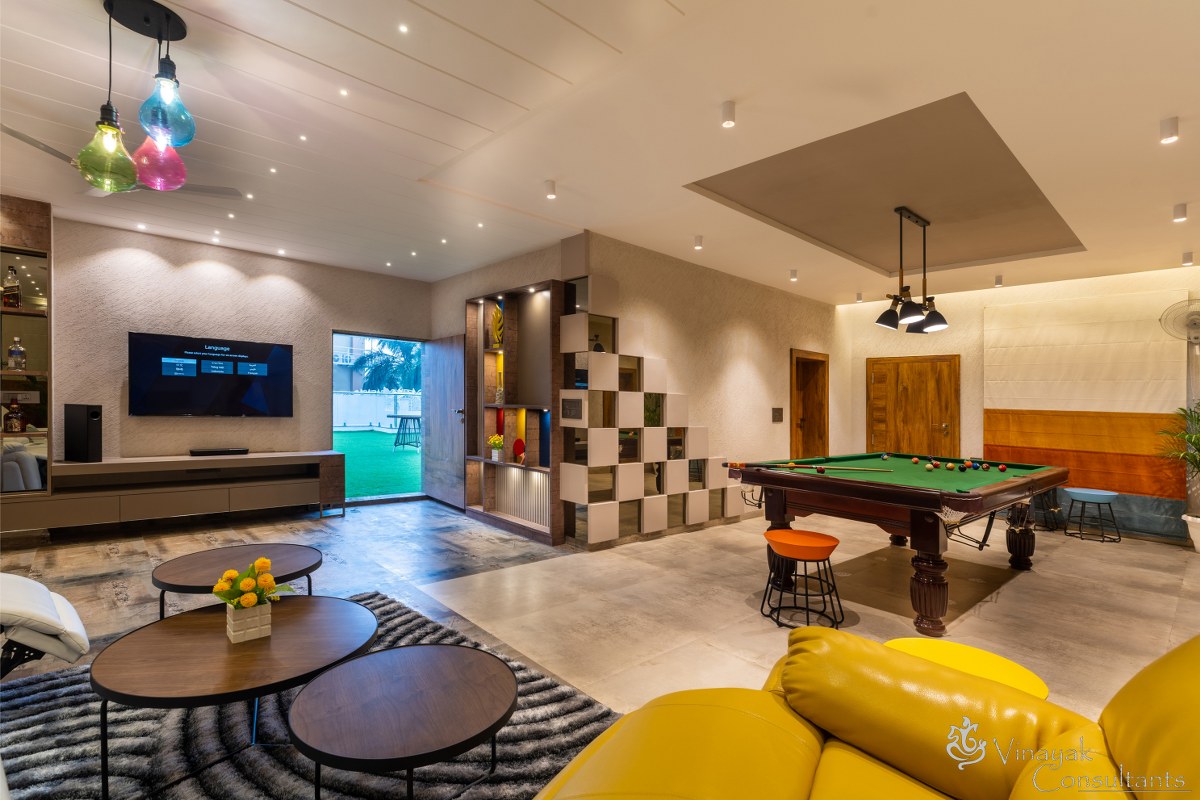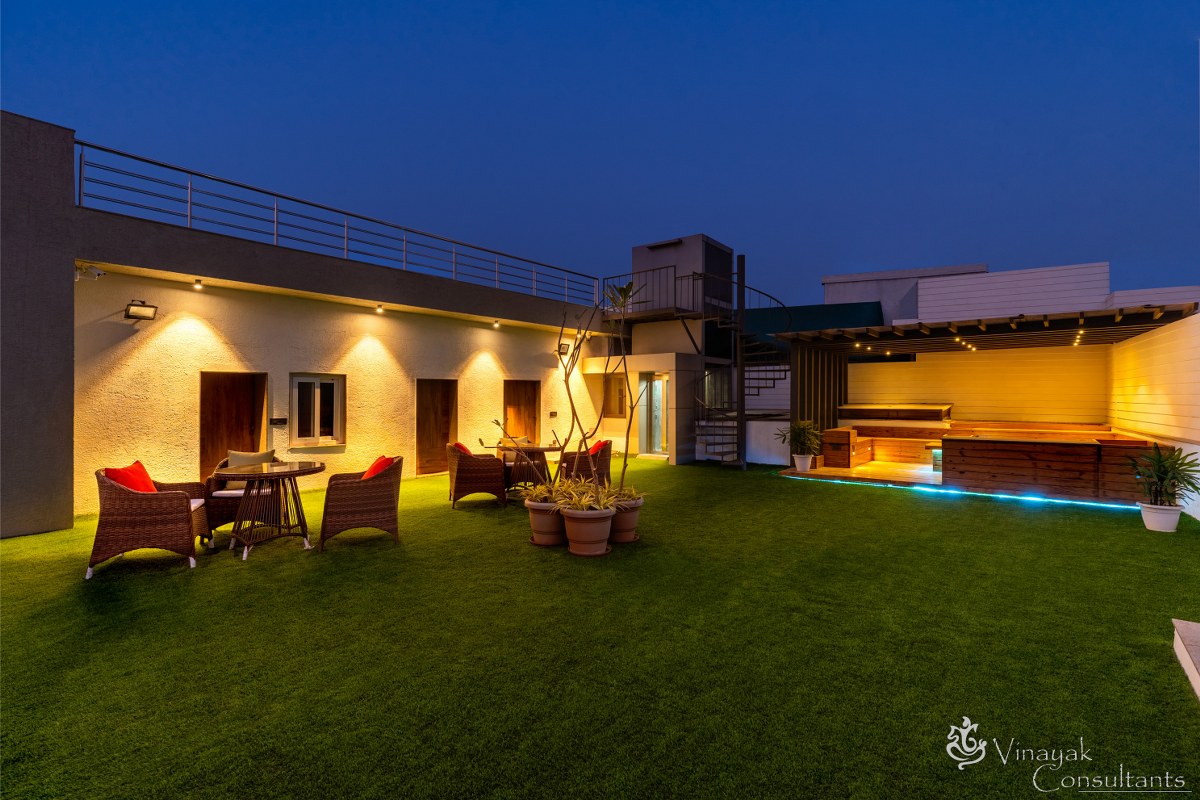 Terrace-The terrace door opens up to a terrace garden using artificial turf with semi-covered seating space in MS structure and pinewood seating. Space is enhanced by natural plants and clear glass railing for a perfect sunset view from the terrace.
Fact File:
Firm: Vinayak consultant
Project Name: Soni's Bungalow
Project Category: Residential
Location: Udaipur, Rajasthan
Scope of work: Renovation, interior designing, and execution.
Project year: 2019
Total built-up Area: 7700 sq. ft.
Principal Designer: Hitesh Soni
Associate Architect: Pragati Soni
photography credits: Raghu Raj Singh Rathore 
Instagram: https://www.instagram.com/hitesshsoni_vinayakconsultants/?hl=en
Facebook: https://www.facebook.com/Vinayak-Consultants-2482846181746094/
About Designer:
It's been more than a decade working in the field of design. After working in a renowned architect's firm in the city for up to 5 years, the desire to learn and design new spaces led me to start my independent practice and design firm named Vinayak consultants in the year 2014.
Up among city's best interior designers specializing in residential, commercial and hospitality projects I have delivered 150+ projects throughout the city Udaipur, Rajasthan, and nearby cities. The aim is to provide hassle-free services, to deliver comfort, luxury, creative and beautiful spaces that directly correspond to the client's need and to set benchmark solutions for society's changing lifestyle of living and working.
I believe interiors of any space really affects the mood, the lifestyle of a person and keeping this in mind I design the spaces to be as comfortable and elegant they can be. It is followed by the urge to create something innovative and original with each project with full enthusiasm.