Auditorium Design For Mody University  | RMM Designs
The auditorium complex is located within the Mody University Campus at Lakshmangarh about 2 hours from Jaipur. While the client brief did not specify too many details besides the seating capacity of about 1000, what the brief was very particular about was that the Auditorium should be at par with a professional auditorium and should be a one-of-a-kind institutional auditorium. We were helped by the site allocated for this complex since it was close to the main entrance and towards the southern end, hence practically the entire green campus of about 265 acres could be framed from the foyer areas.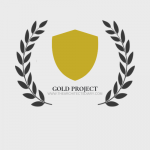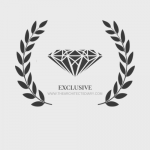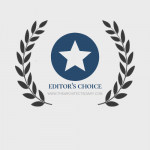 Visit: RMM Designs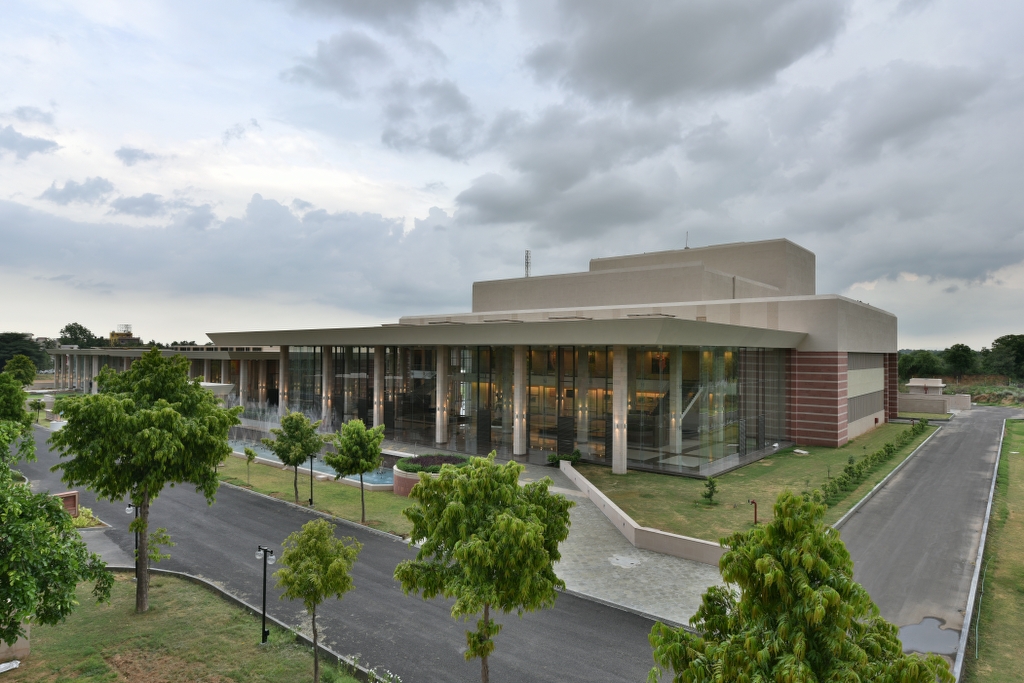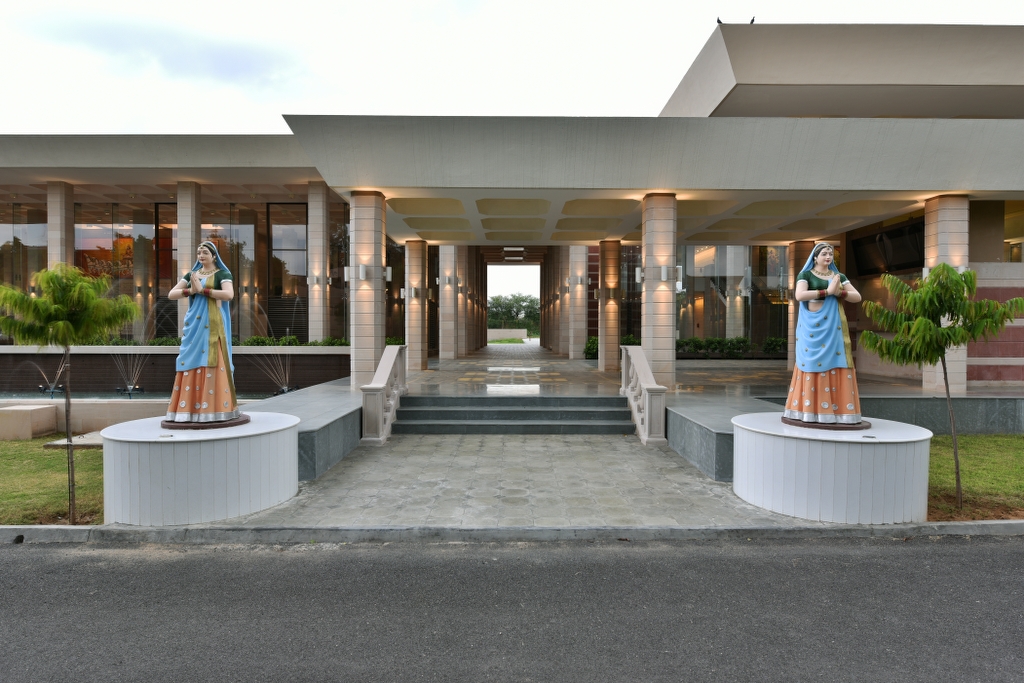 The foyers were therefore planned as "glass boxes" with an effort to merge the inside and outside. Some of the salient features of the auditorium are :
Entrance area accentuated with an interesting play of green areas, water-bodies, fountains & plantation of varying types & scale.
Grand Double-height Entrance Foyer with an aesthetically designed scheme of sculptures, murals, and paintings. Double storied glass facade separates the entrance foyer interiors with the green areas outside thus blurring the "inside-outside" line of separation.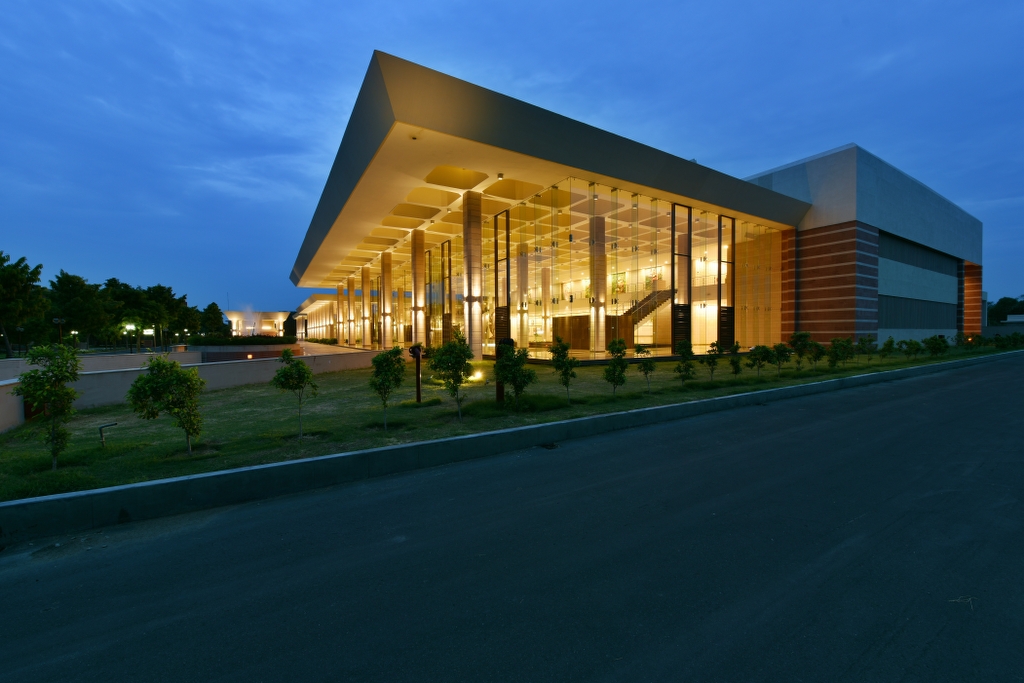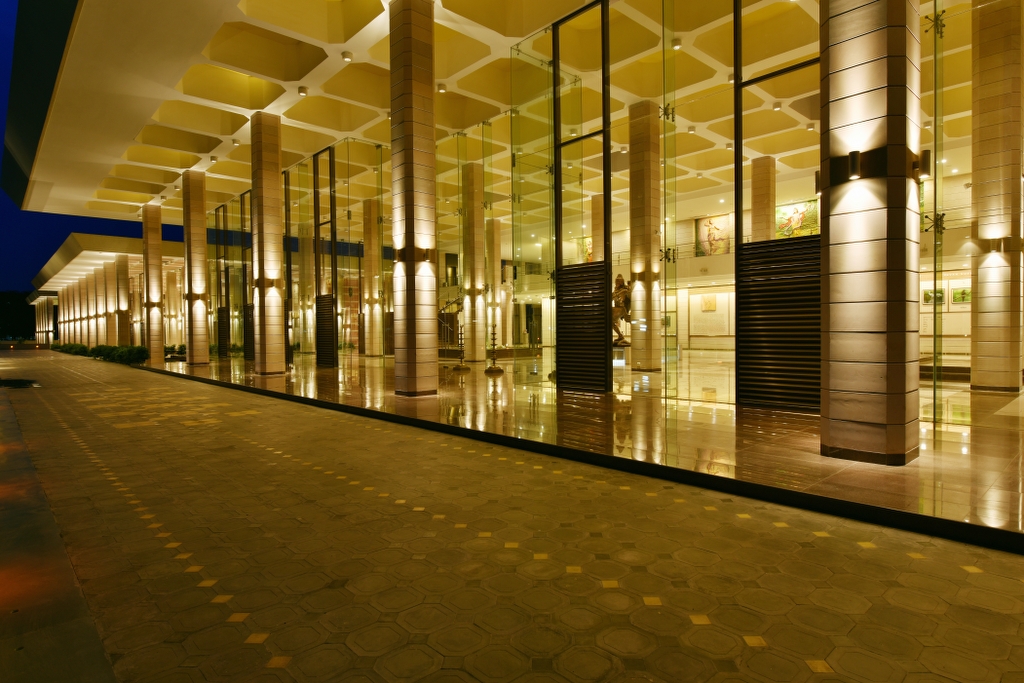 Concept of "being one with nature" adopted by having multiple planters within the entrance and side foyers. Foyers provided with maximum natural lighting vide ample frame-less glazing and strategically located skylights.
Maximum glazing provided on the eastern and northern faces to restrict sun penetration during summers. Large roof overhangs provided for better weather shading for the glazing. Western façade planned with service areas like toilet blocks, staircases, etc thus helping in cutting-off the strong western sun penetration in the afternoons and early evenings.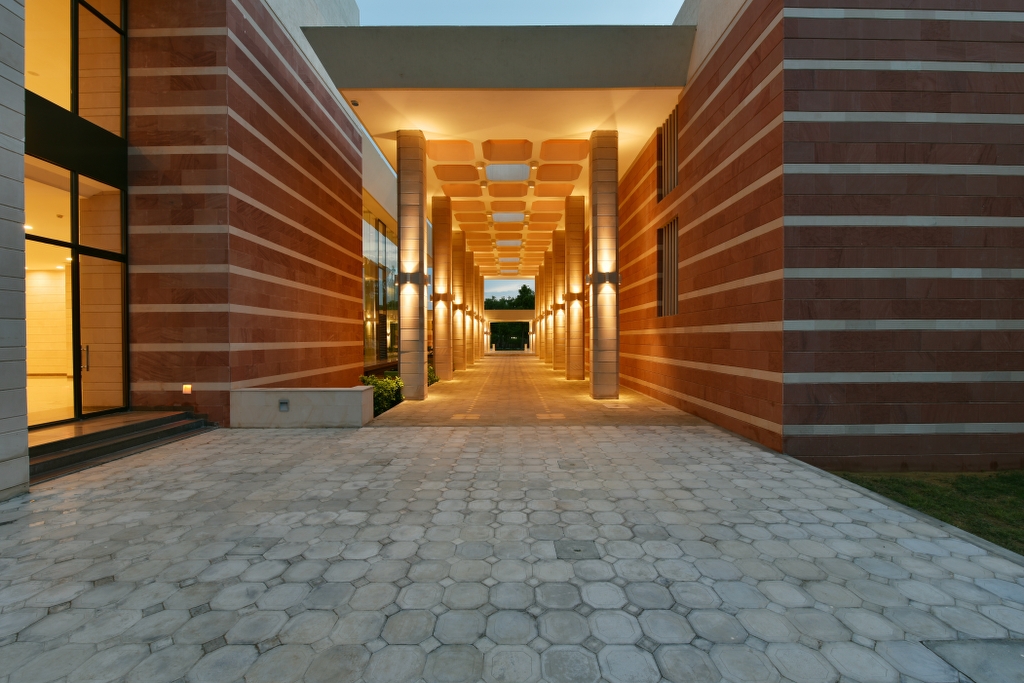 Foyers provided with skylights that are raised above the rood level allowing for louvers below the skylight. These louvers coupled with the louvers provided in the foyer glazing enable cross-ventilation and exhausting of hot air through the "stack effect". This is essential for keeping temperatures under check during the hot summers. All internal walls finished with stone cladding instead of a painted finish to facilitate easy maintenance and longevity.
Interesting Ceiling design envisaged for the entrance foyer with a coffered ceiling with intermittent skylights. Foyer designed in a grid of 9.0 x 9.0m with Coffered Beams enabling a large volume supported on minimal columns.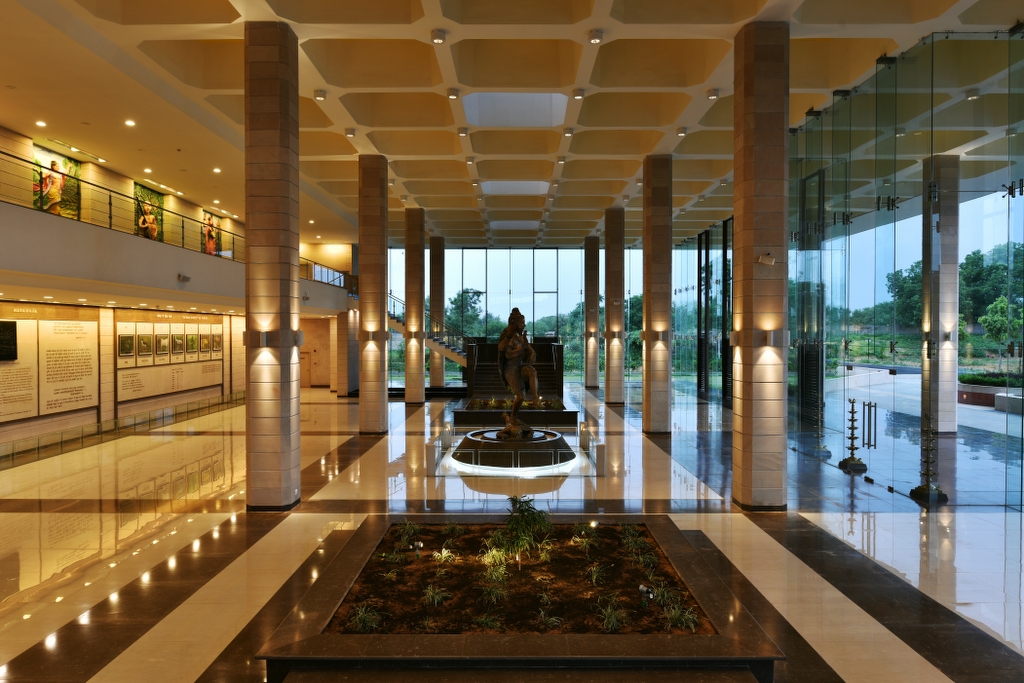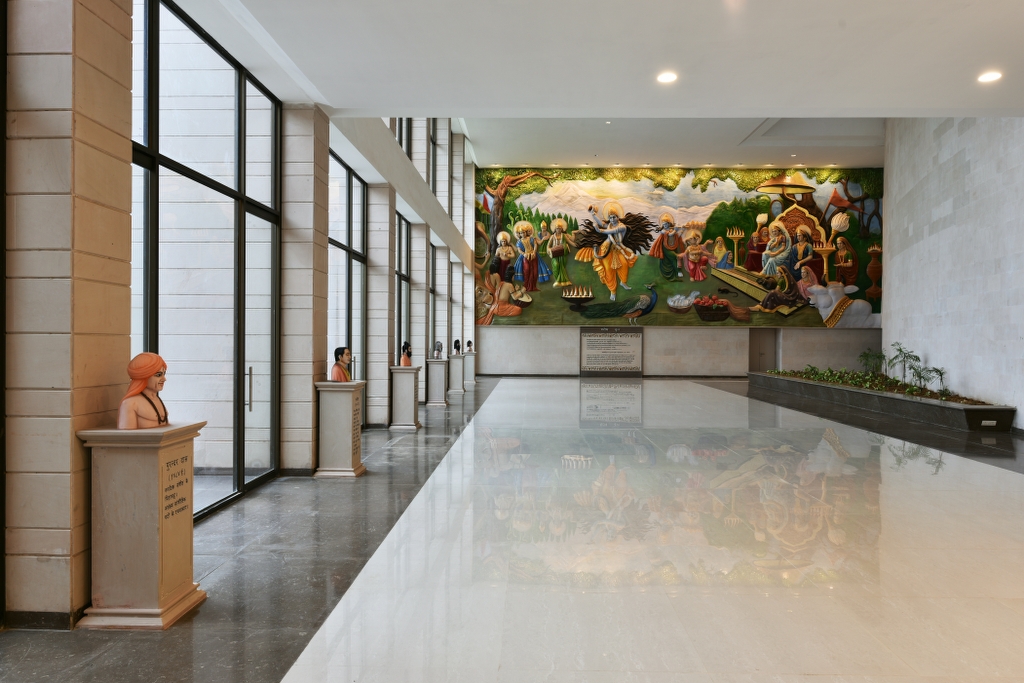 Capacity – Approx. 1100. Designed in a "shoe-box" enclosure imparting excellent sight-lines and acoustics for every seat.
Combination of Dholpur and Red Agra Stone cladding used for external treatment to keep in sync with the existing structures. However, individuality imparted by having a horizontal banded effect for the stone-work.
Raker Slab and Beam arrangement for the stepped floor has been designed with a dual purpose..serves as the floor for receiving the chairs and also serves as a counter-weight to the 1st-floor foyer slab on the outside. This allows us to have a column-free & cantilevered 1st-floor foyer slab.
Expansive Stage designed for enabling large theatrical performances, dramas, dance& music programs. Functionality further enhanced by having a large height above the stage to facilitate flying scenery, motorized presentation & cinema screens and professional stage lighting solutions.
State of the art Audio-video system planned for movie projection, panel discussions with audio-video presentation, cultural and educational programs. Surround sound speakers support the main array speakers for immersive acoustics.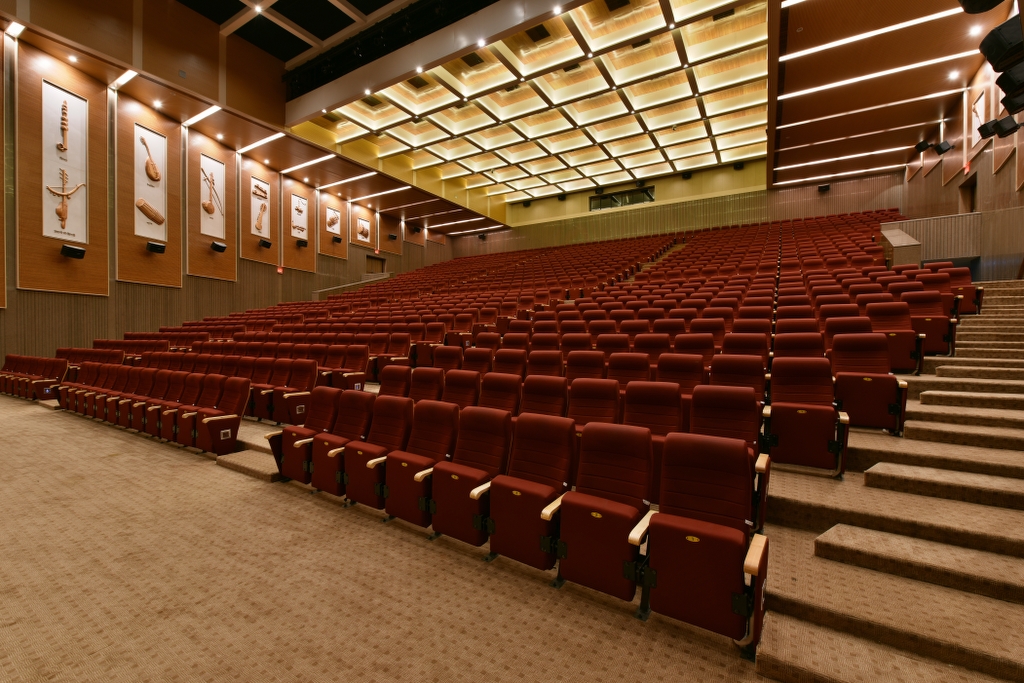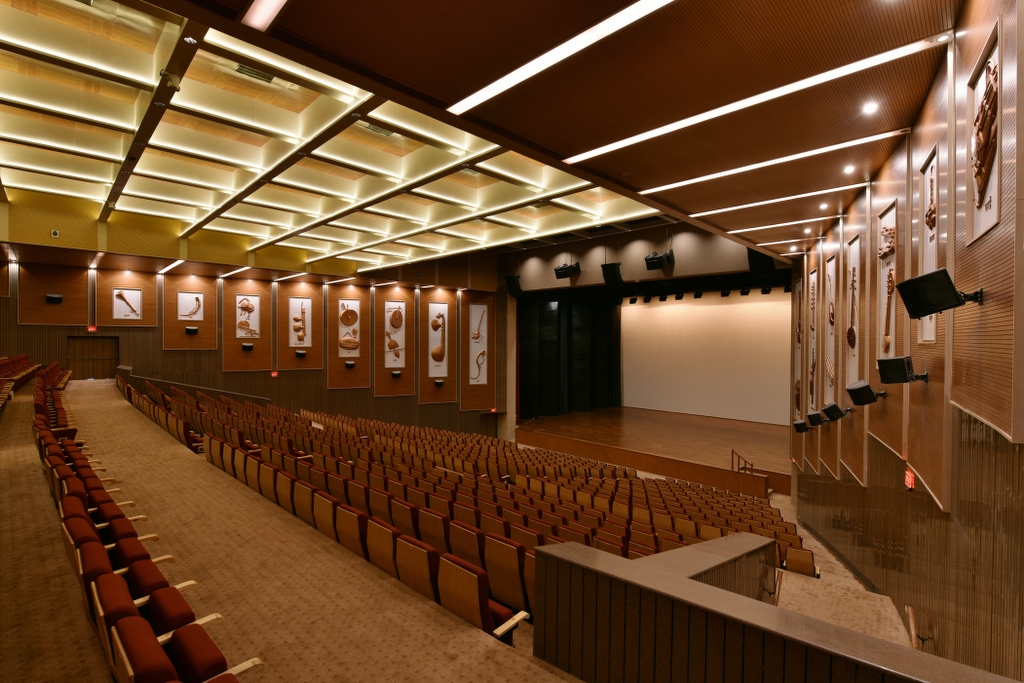 Elaborate backstage and side stage facilities provided including multiple dressing rooms, quick-change rooms, truck docks, scenery docks and other design elements usually associated with professional auditoriums.
Service Areas designed with the interesting external treatment of vertical fins in Dholpur stone which help camouflage the service piping, cables, ventilators, etc and also provide an elegant external façade. Auditorium designed using the latest HVAC, Electrical and Emergency Services
Fact File: 
Firm: RMM Designs
Project Location: Lakshmangarh, Rajasthan
Principal Consultants & Architects: Architect Rahul Manohar
Structural Consultants: Sterling Engineering Consultancy Services Pvt Ltd
MEP Consultants: Design Bureau
Acoustical Consultant: Dr. S Rajagopalan
Building Contractors: SGB Infra Ltd
Interior Contractor: Centrix Projects
AV Contractor: Hitech Audio Solutions
Stage Equipment: Canara Lighting
Chair Vendor: Pen Workers
Photo Credits: Prashant Bhat
Website: http://www.rmm-designs.com/
Facebook: https://www.facebook.com/ArchitectsRMMDesigns/
Instagram: https://www.instagram.com/rmm.designs/