Arabic Style Restaurant Interiors | Artystry Interior Design Studio
Our client wanted to create a timeless, elegant and exotic experience for their customers. We chose to use interior decoration and décor products that are an imaginative blend of Arabic and contemporary embellishing style Restaurant Interiors.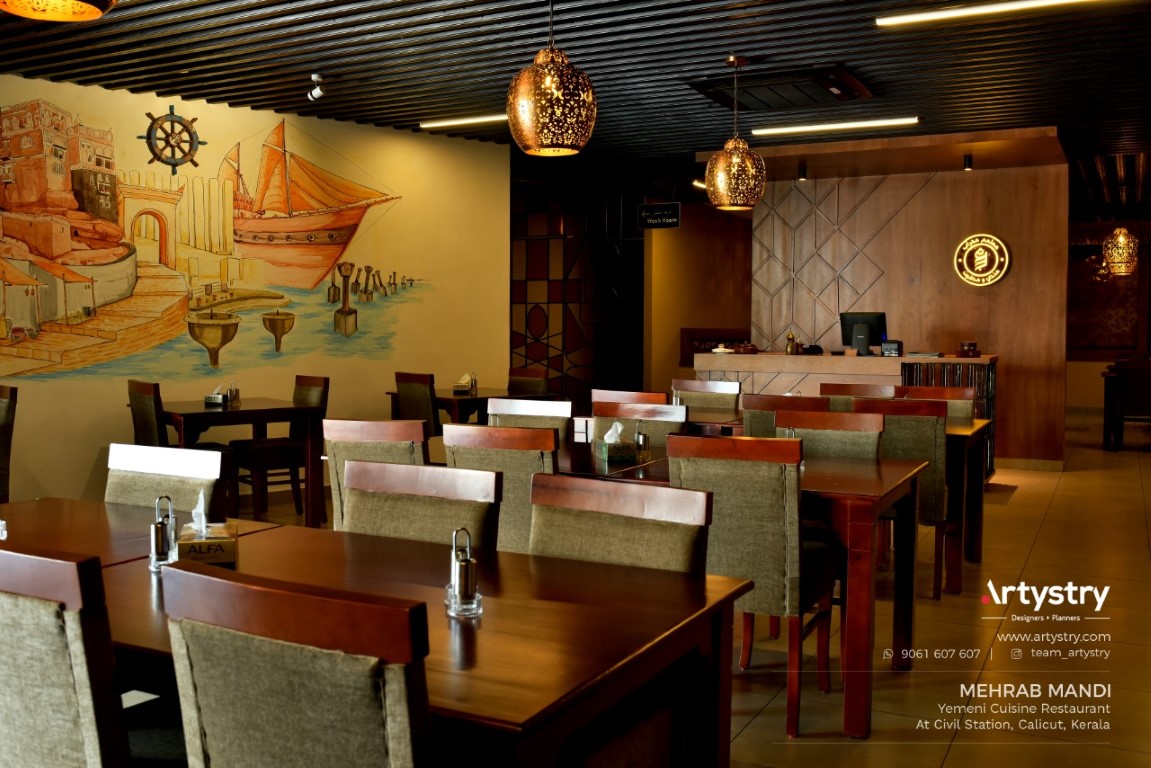 A corner had a wall painting motivation from Yemen's historic building and broken flyover conjure pictures of Calicut beach and a huge urus that depicts the arrival of flavour through the Mediterranean sea.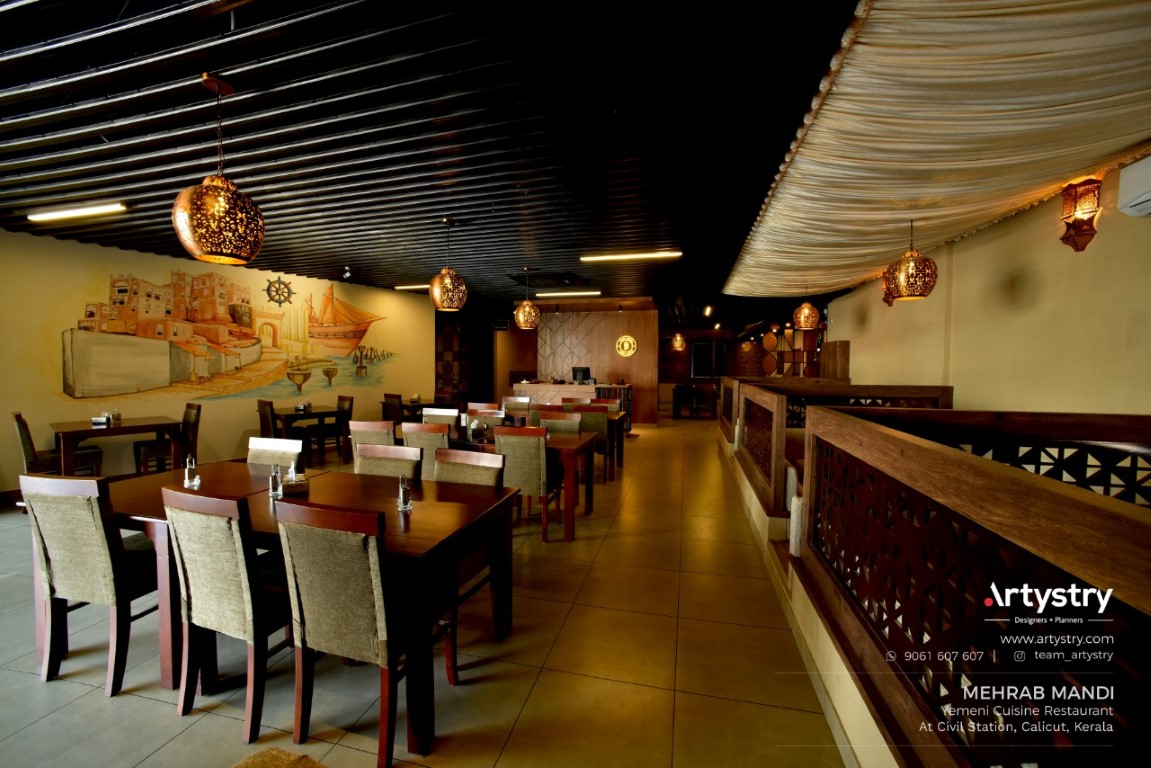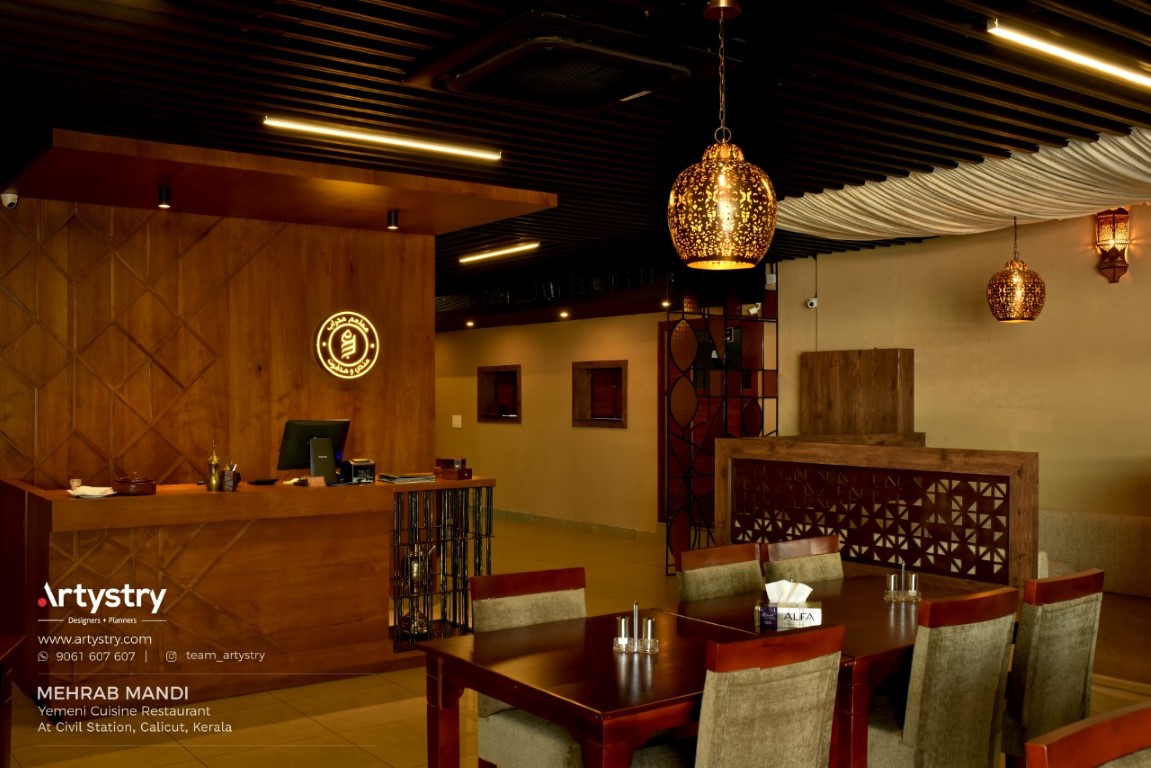 The restaurant has a normal dining area and Majlis (small cabinets). The furniture in the dining area is a wooden table and chairs where chairs are draped with upholstery cushions that all inject colourful energy to space. The ceiling above dining area is created in aluminum channel painted in black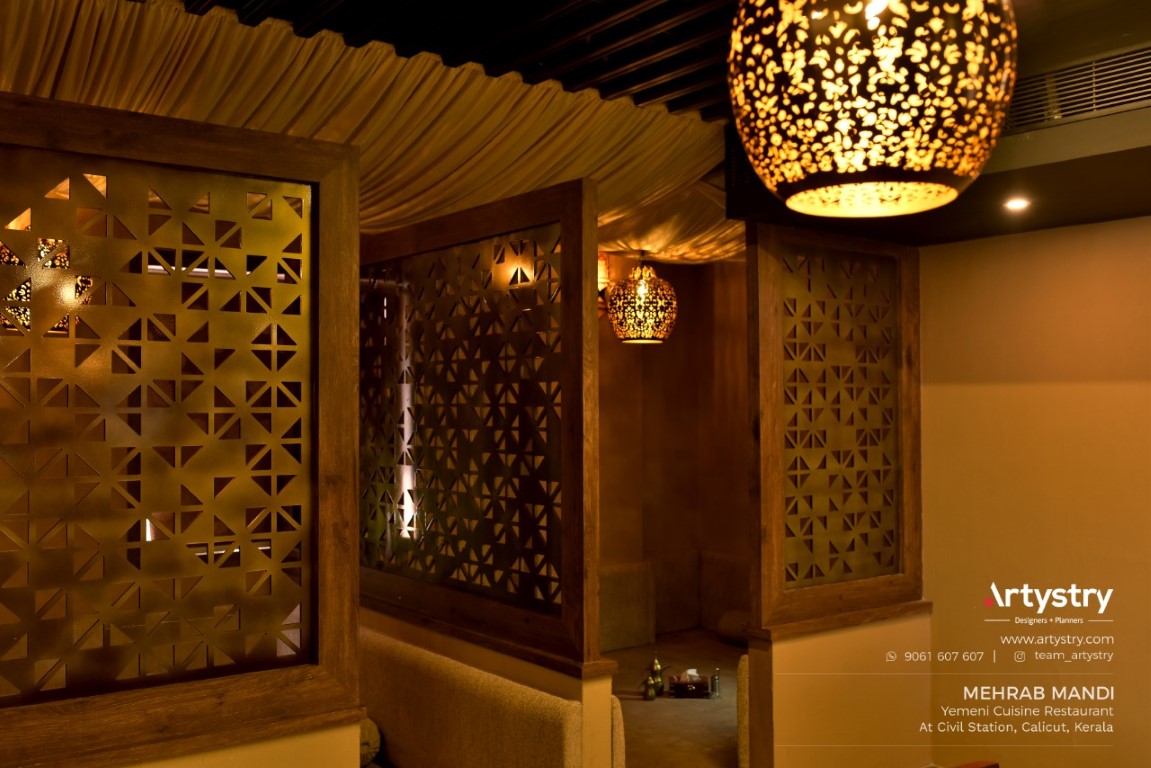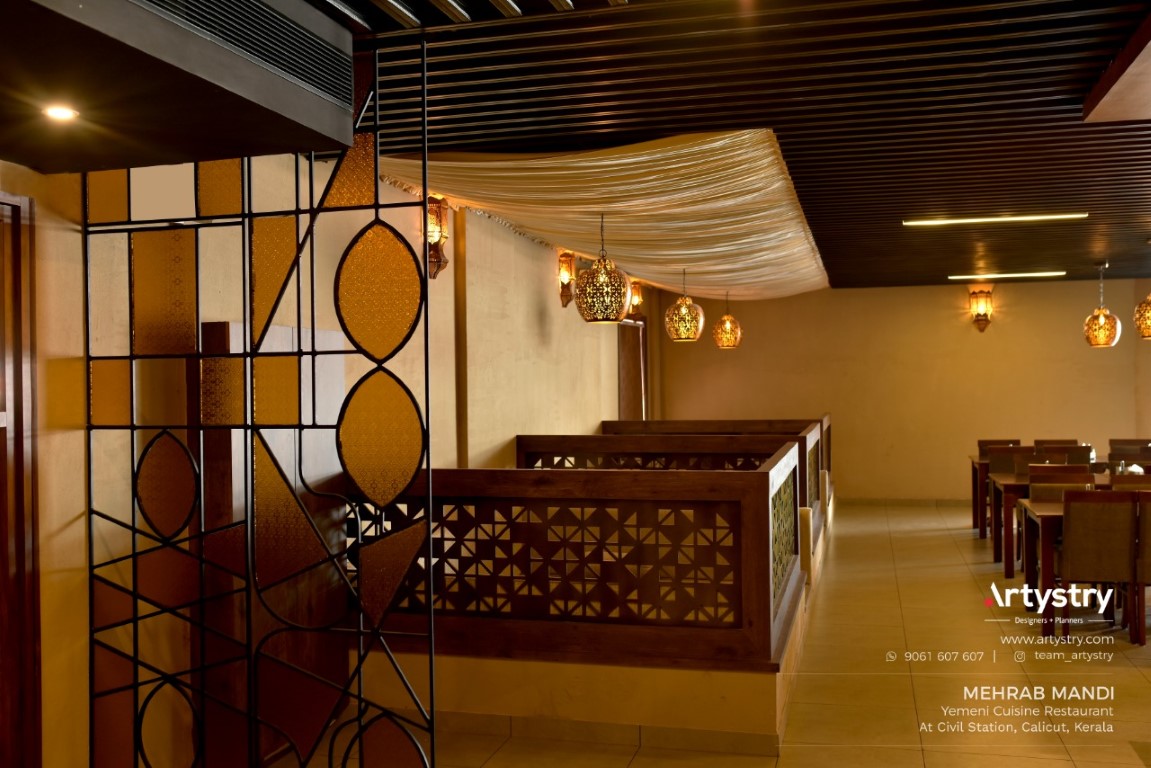 Majlis seating is decorated with small pillows and carpet and mud like coloured textured wall painting for desert kind of look. Majlis is covered with CNC jail work which is painted in automotive painting in golden and a copper finish to give a beautiful exotic Arabic interior. Richly hued large cloth swaged over the seating of majlis location to ads a strange touch, reminiscent of desert market tents.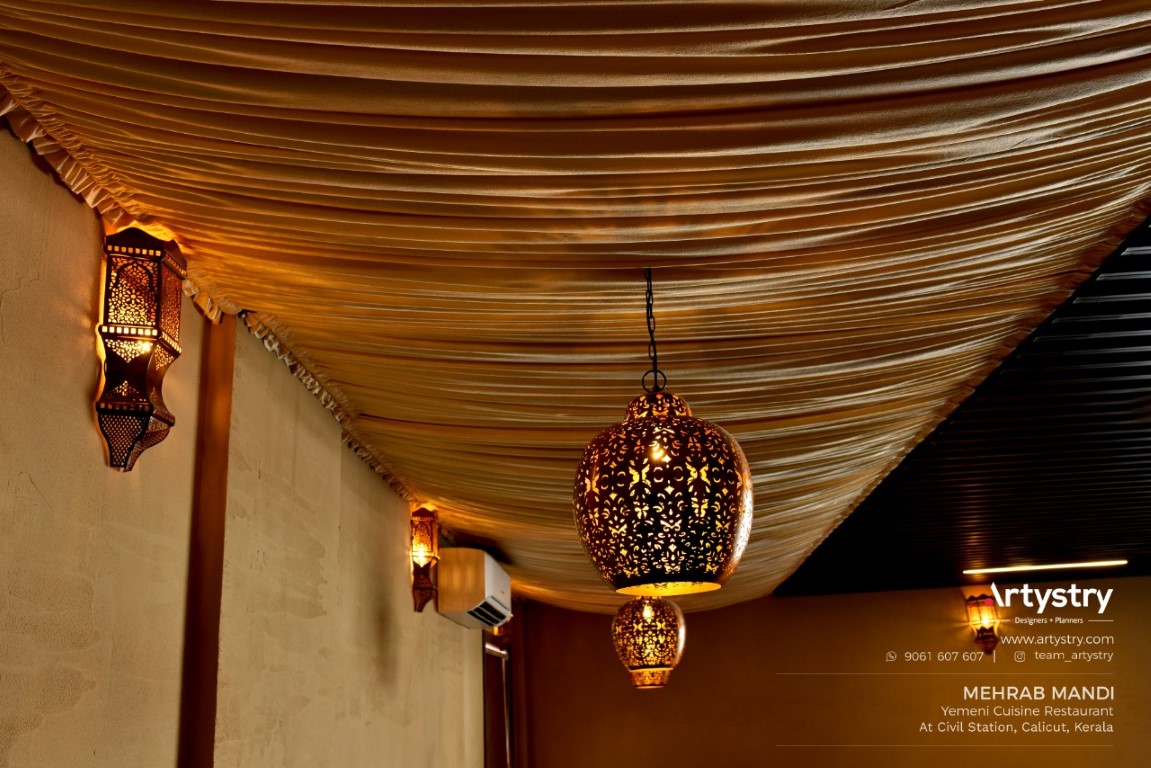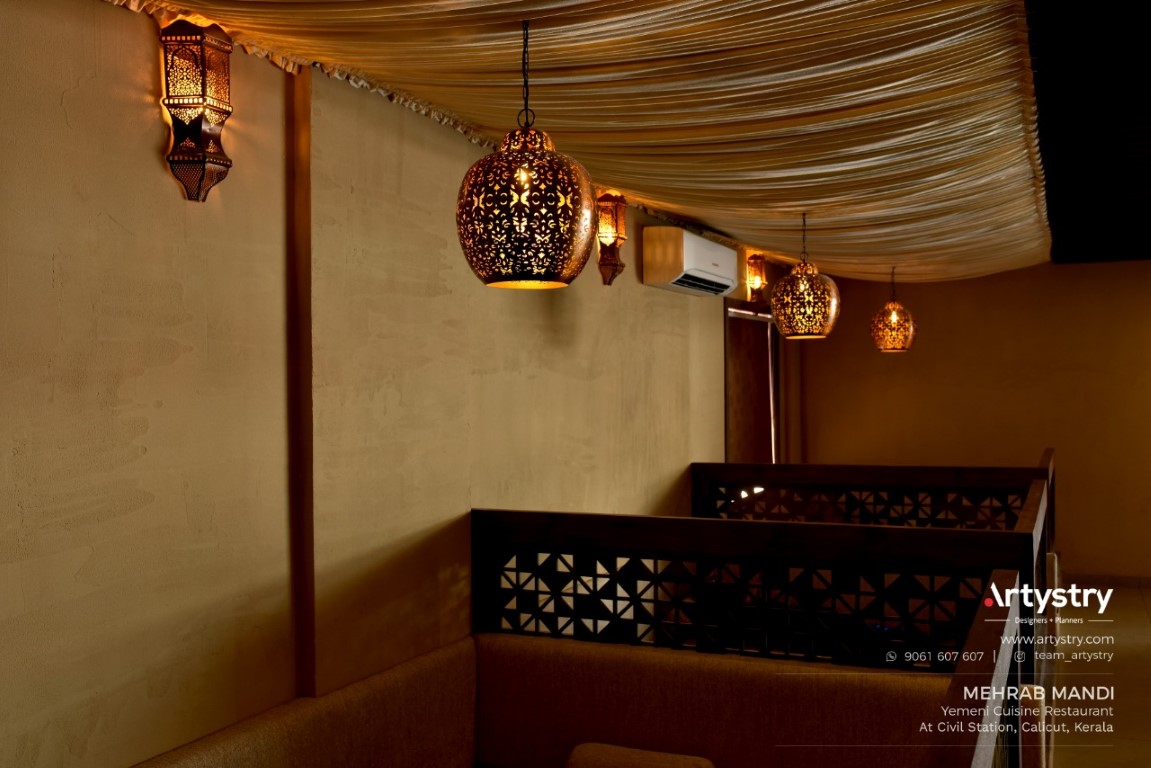 For lighting profile lights, hanging lights and wall lights are used to be minimalist and give the space an arabic warm tone. The patterned pinpoints of light and shadow of the hanging lights throw around them make the area feel delightfully intimate.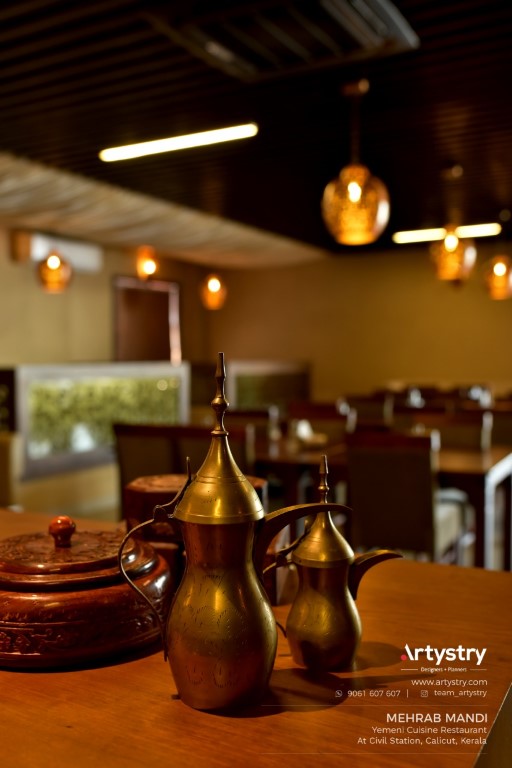 Industrial framed magical coloured glass partition for the washroom and kitchen area to keep them in simple and muted tones. Cash counter and background of cash counter is wooden and elaborately carved with geometric pattern.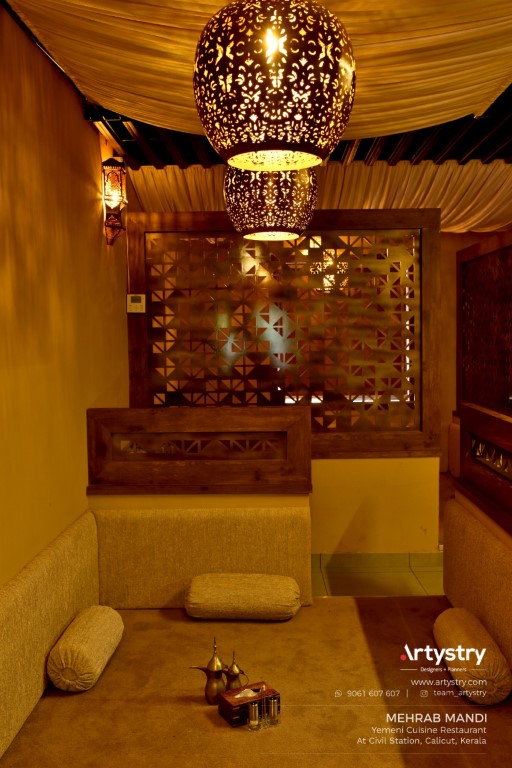 FACT FILE
Interior designer: Artystry Interior Design Studio
Area: 1800Sqft
Client: Mehrab Mandi Restaurant
Location: Calicut, Kerala
Picture Credits: Pressy Xpressions
About Artystry
Artystry is an interior design team based in Calicut, Kerala founded by two friends studied together Nahal Ahamed and Anas Mohammed with a passion for creativity, Group combines extraordinary talent and global experiences to create spaces that can be as "cutting edge" or "timeless" as the exceptionality of each of its clients.
We believe in working with our clients to acquire an understanding of their aspirations and the culture they wish to create on time and on budget. We sit with our clients to understand and create a design something beautiful, something rare and something usable. Then an interior framework is developed to capture this vision and respond to the ongoing changes that underpin a constantly evolving market place