&nbsp
This 3200 sq. ft. of apartment is located in posh area of the city which is an apt example of adequate spaces that caters to its functions with ample sunlight and natural ventilation in all rooms topped up with common amenities. As designers it was really interesting to find that architecturally all the spaces are proportionately given importance, thus we have showcased how simple elegant interiors can add up the beauty to each area in the flat.
Apartment Interiors Having Adequate Spaces Catering to its Functions with Ample Sunlight and Natural Ventilation |Usine Studio
Visit : Usine Studio
As the client's budget was economic and brief was to have simplistic interiors, we have done minimal changes to the existing framework. We have kept the colour palette very subtle using shades of beige and grey that would make the spaces look more lavish. Through the foyer, one is directed to the large living area. The modern furniture sofas and art pieces makes up the space that is extended to lounge room which becomes a private seating area.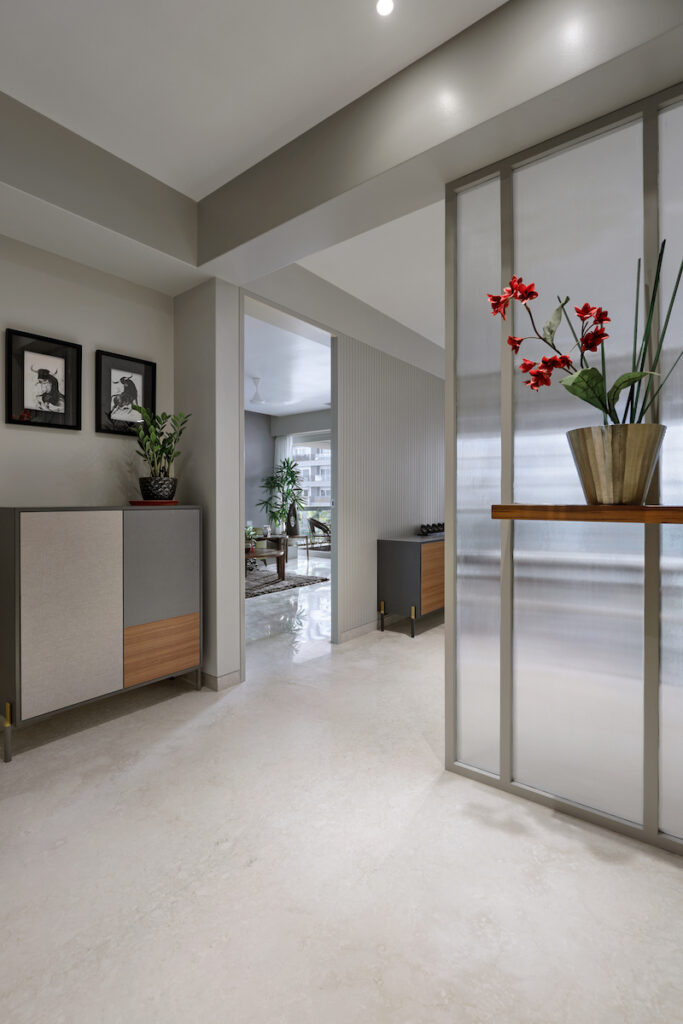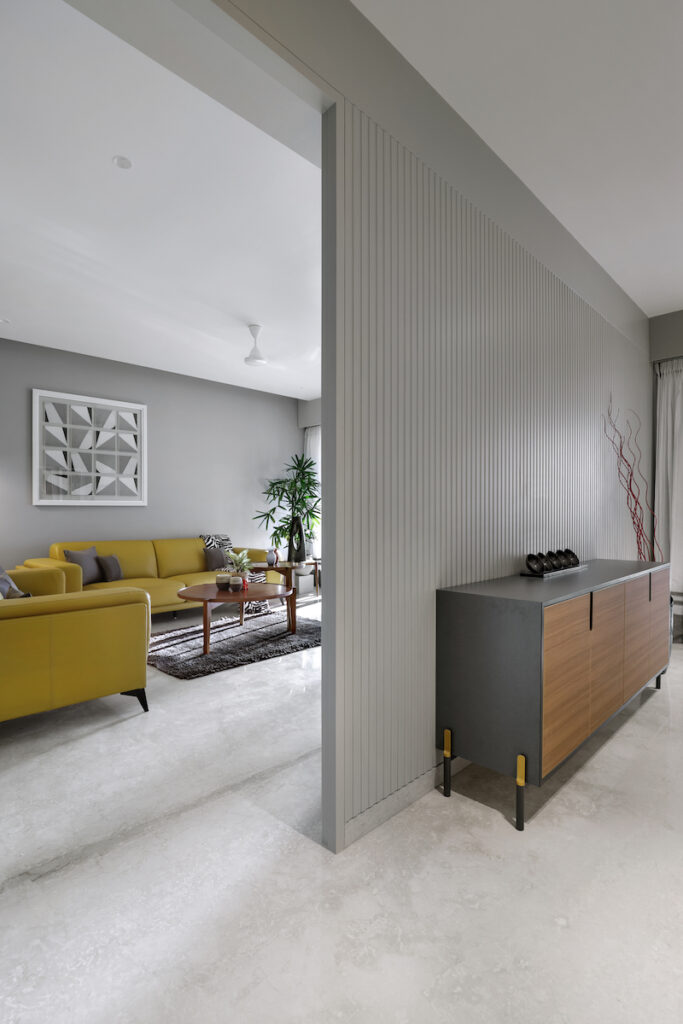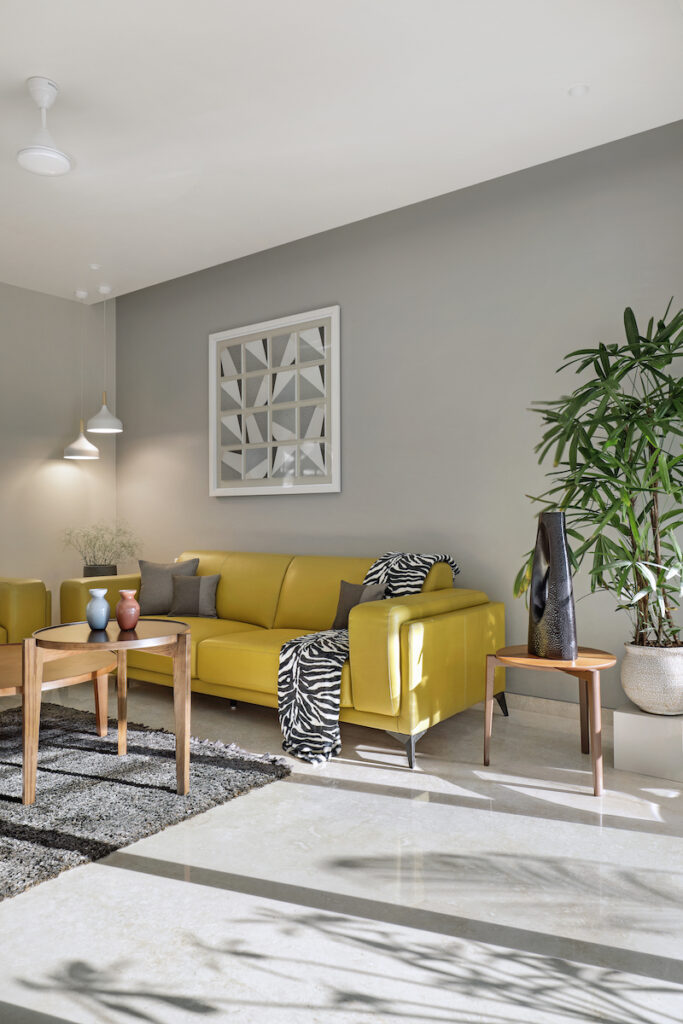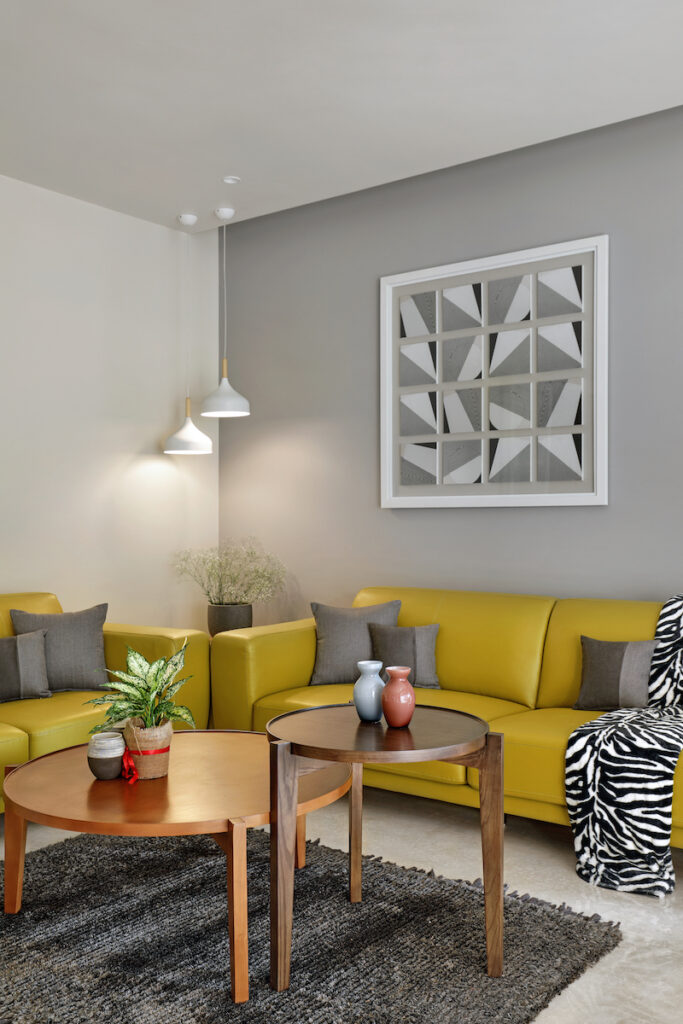 The chartreuse colour leather sofas with a console backdropped with MDF panelling creates a room for informal seating. Also, the Italian topped dining table with sleek metal legs and bespoke hanging lamps characterises the dining area. Frames on the wall are inspired from Indian fabric patterns that makes the space lively. The balcony extends along the edge lights up the whole living area and lounge room with natural daylight and can be used as cosy seating equally at morning and evening time.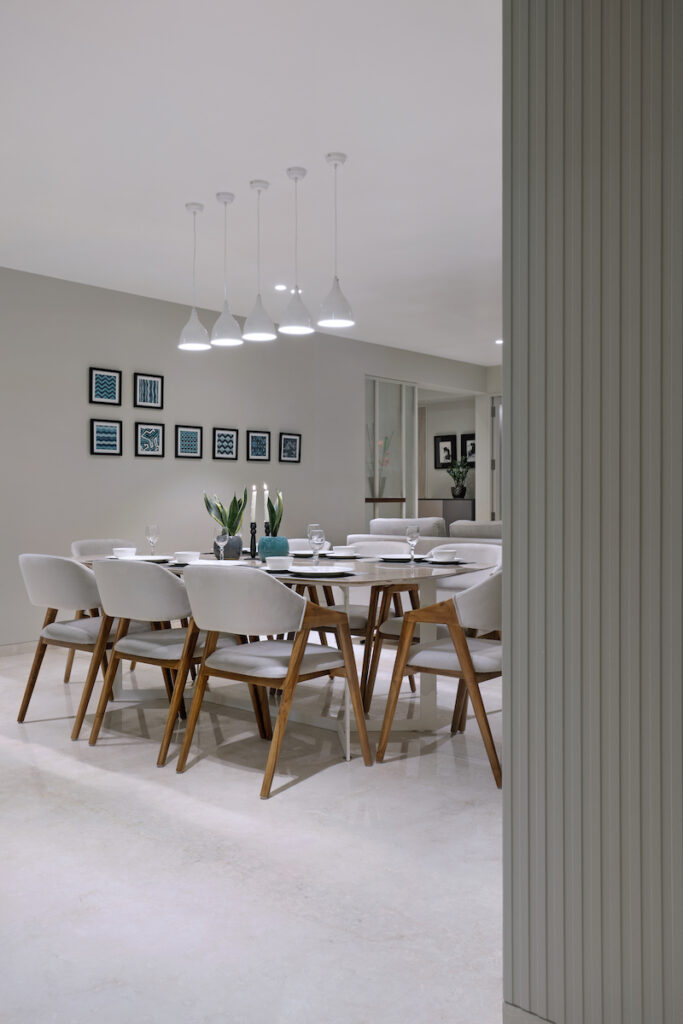 The neutral palette continues in kitchen too, making it look more open and larger with multiple cabinets and drawers that suffice the client's storage need. It is connected to utility area and servant room in rear side.
Bedrooms have been kept minimal and subtle with pastel shade selection of colours.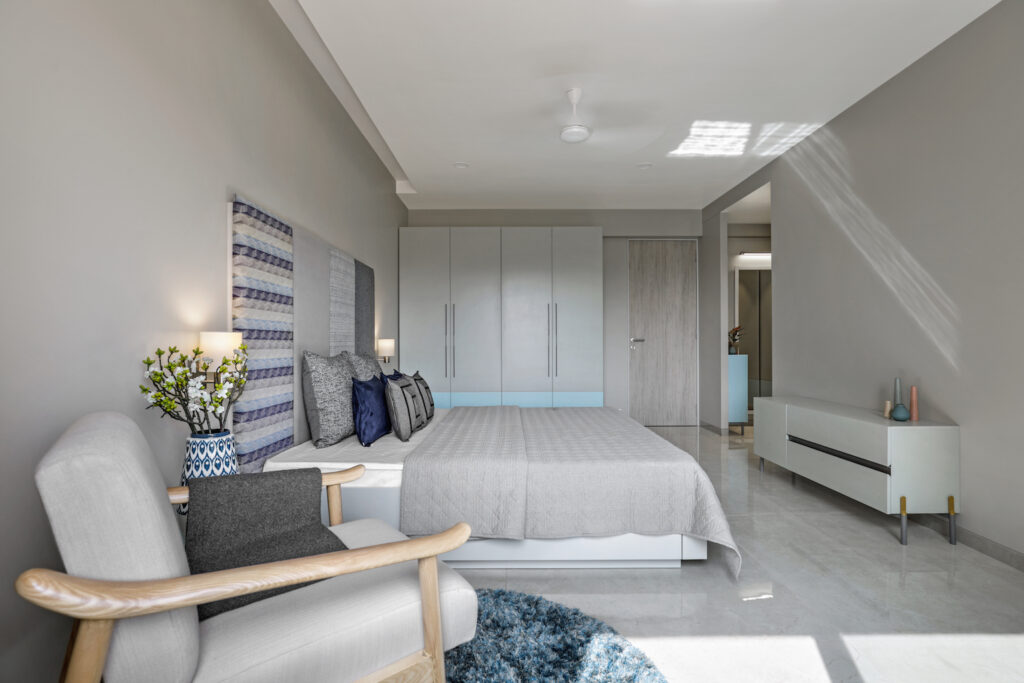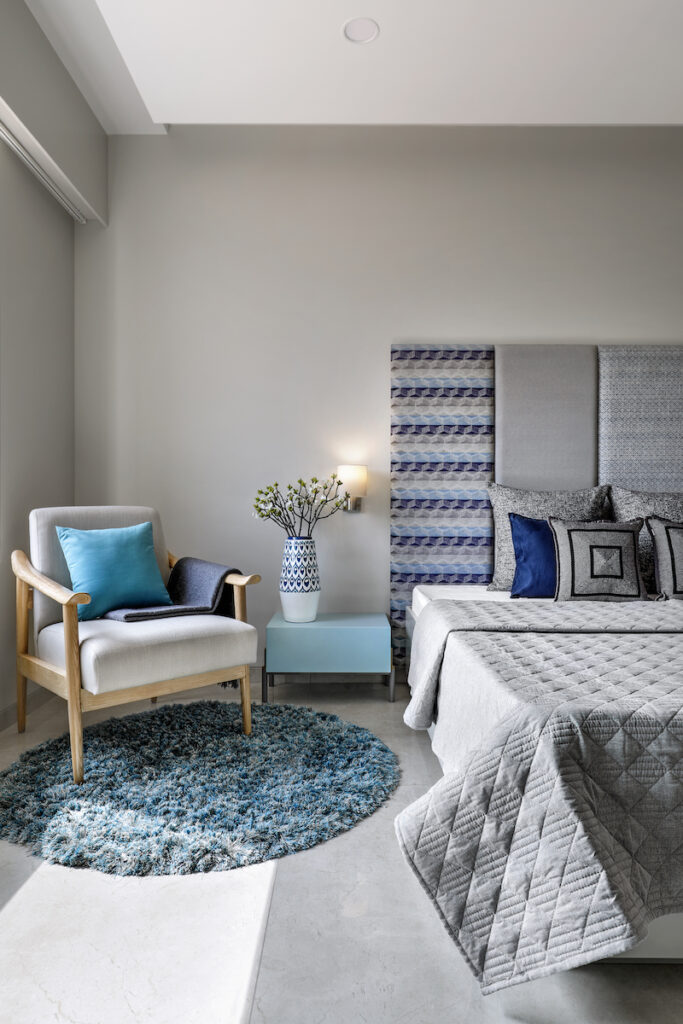 Son's bedroom is understated with use of greys and white. The corrugated MDF panel bed back with distinct study table makes up the soft ambience in the room. While the guest bedroom and parents' bedroom are defined with delicate lines in wardrobe and other furniture's pieces that make them look more contemporary.
In parents' bedroom, the scheme is complimented with clean line furniture. Also, the selective painting adds up the vibrant look in the space with a touch of Indian look. The resulting palette in master bedroom is neutral tones coupled with modish accents for a serene yet contemporary look.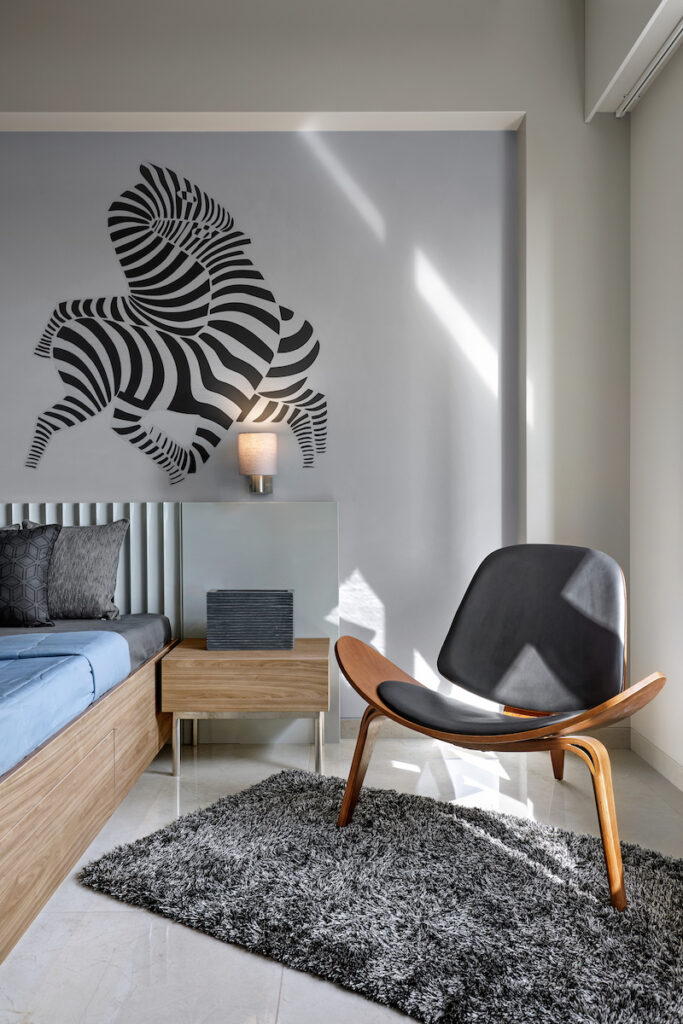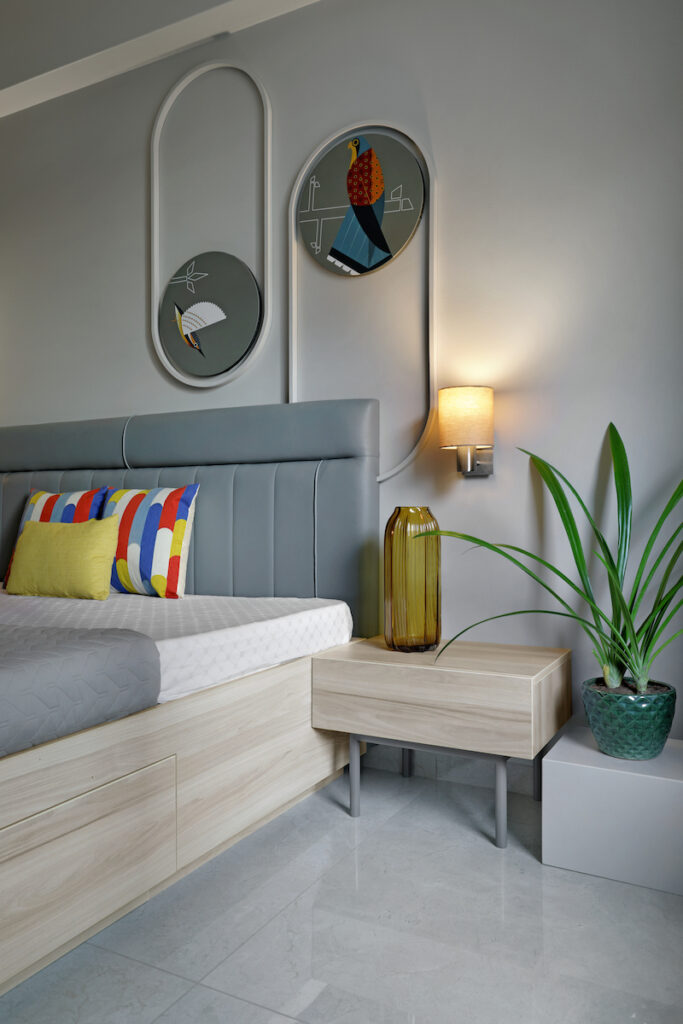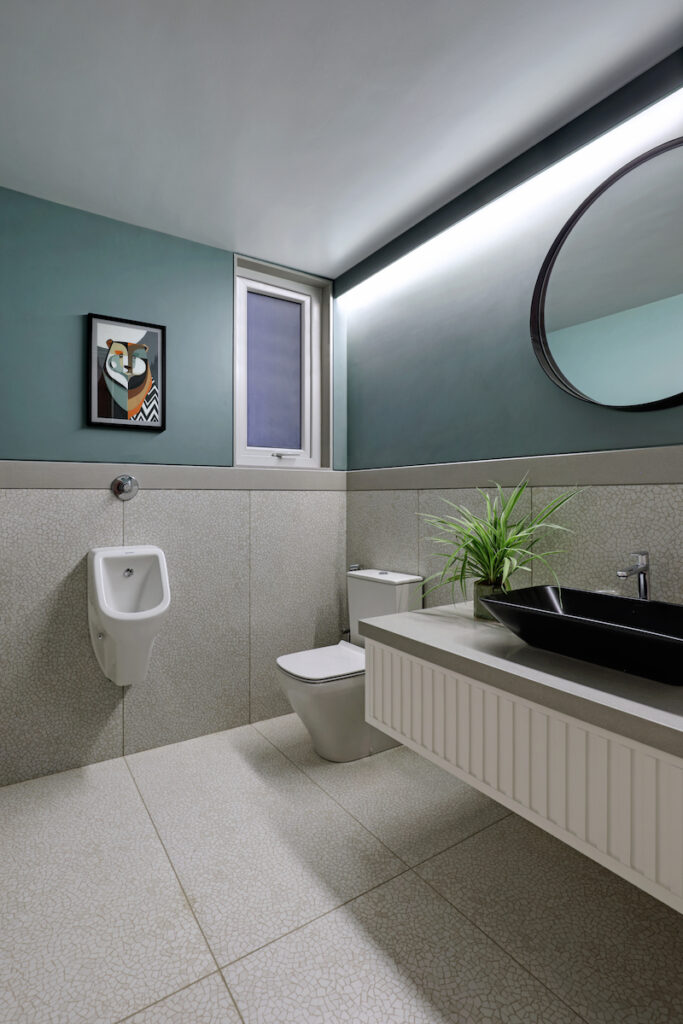 Overall, the subdued theme of the house with punch of vivid paintings and furniture pieces zests up the complete outlook of the flat into a modern style living with minimalist approach.
FACT FILE :
Designed by : Usine Studio
Project Type : Apartment Interiors
Project Name : Pincode 55
Location : Bhayli, Vadodara
Year Built : 2021
Duration of project : 5 months
Project Size: sq feet : 3200 sq.ft. area
Principal Architects : Yatin Kavaiya & Jiten Tosar
Team Design Credits : Minal Patel
Photograph Courtesy : Tejas Shah Photography
Products and Materials : Wallcovering / Cladding – Asian Paints Wall Paint | Lighting – HYBEC lightings | Doors and Partitions – Venezia | Sanitaryware – Duravit | Furniture – Custom made | Flooring – Italian Marble | Kitchen – Custom made | Artefacts – Locally sourced | Hardware – Hettich
Consultants for the Project :
Civil – Mr. Mayur Thakkar
Interior Designers and Interior Styling : Usine Studio
Basic Insights :
1. Please share with us challenges faced by you during the process of design ideation till execution of the project. We are sure there might be many and you would have overcome it successfully.
Project is residential flat, It has got standard height. So we had to deal with regular height & give maximum uncluttered ceiling to give vast look to the space. Also grid of apartment was fixed so we couldn't move much of the walls & had to play around it.
2. What is that one design element in the entire space which has your heart.
We really like lounge area of the house, not just because of the design but quality of light, placement of furniture & color scheme what we have choose give very cozy feel to the space
3. Design Style which is followed by the project.
Contemporary Minimal was the design language we followed.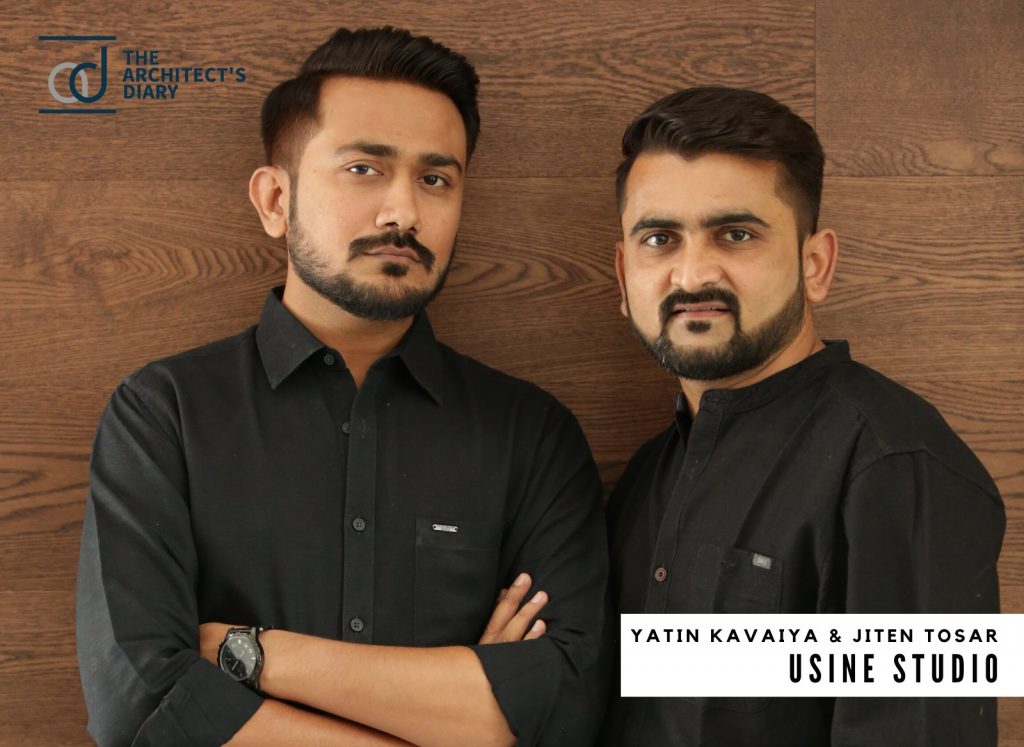 Firm's Website Link : Usine Studio
Firm's Instagram Link : Usine Studio
Firm's Facebook Link : Usine Studio