&nbsp
Apartment Interior With A Poetic Paradox | DE Tales – Design Stories
While designing this project the primary idea was to amalgamate contemporary with traditional, says Ms. Nidhi Shah, The principal Interior Designer of the firm De tales. The clients Mr. Amar Shah and Mrs. Jesal Shah had reached out to me after seeing my work online. We met and hit it off quite instantly as my design style was in line with what they were looking for their home. The brief I got was a little different this time. My client has bought 2 apartments in the same building 703 and 803. One for them and others were for his parents. The budget of the 8th floor was less and for the 7th floor, they want luxurious interiors.
Visit: DE Tales – Design Stories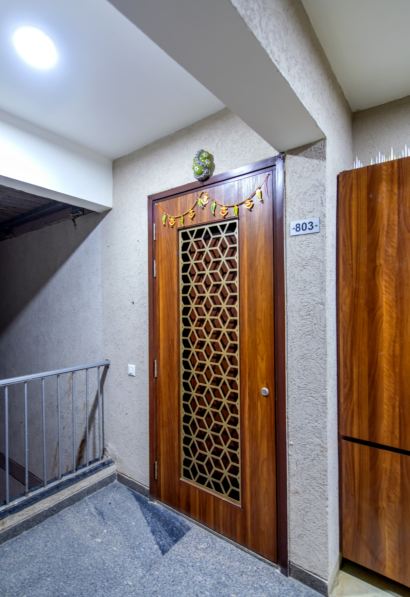 The second challenge for us was the coordination and communication, as clients were living in Mumbai and going to shift once the whole project got finished. For smooth workflow, they promised me to come to Ahmedabad wherever we require for physical selection. Natural light was pouring in Formal and informal living area through large windows with an amazing view of the city. But yes it was a bare shell with only walls, so we had to build the space from scratch.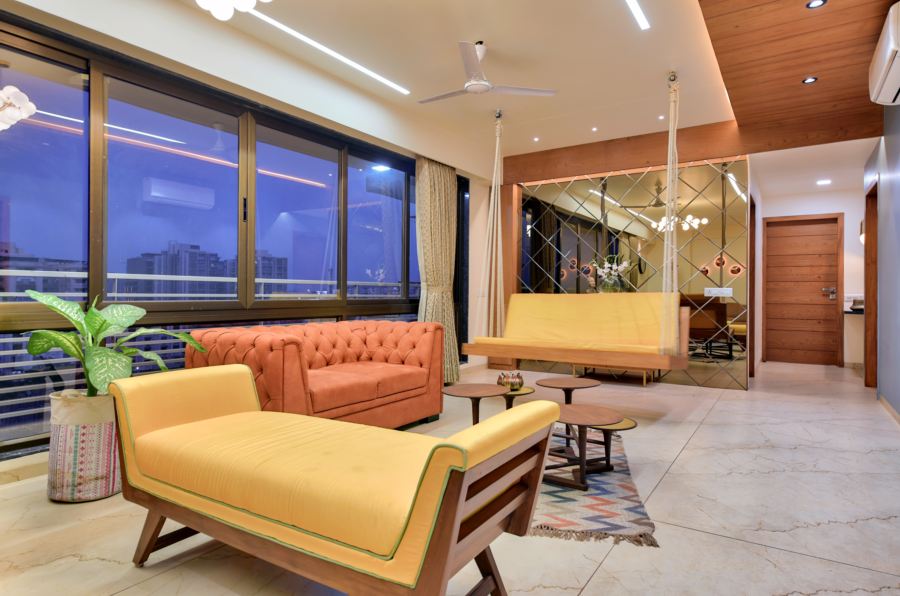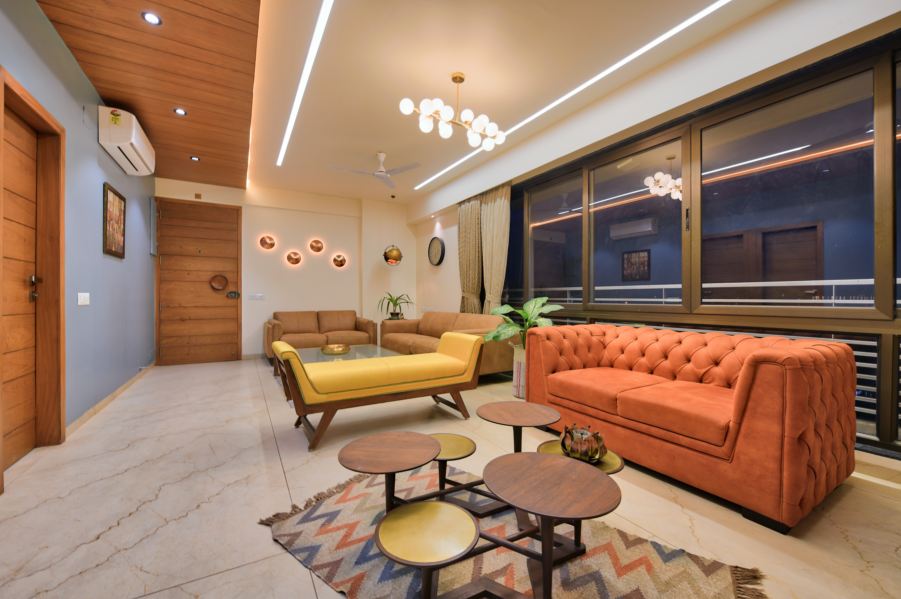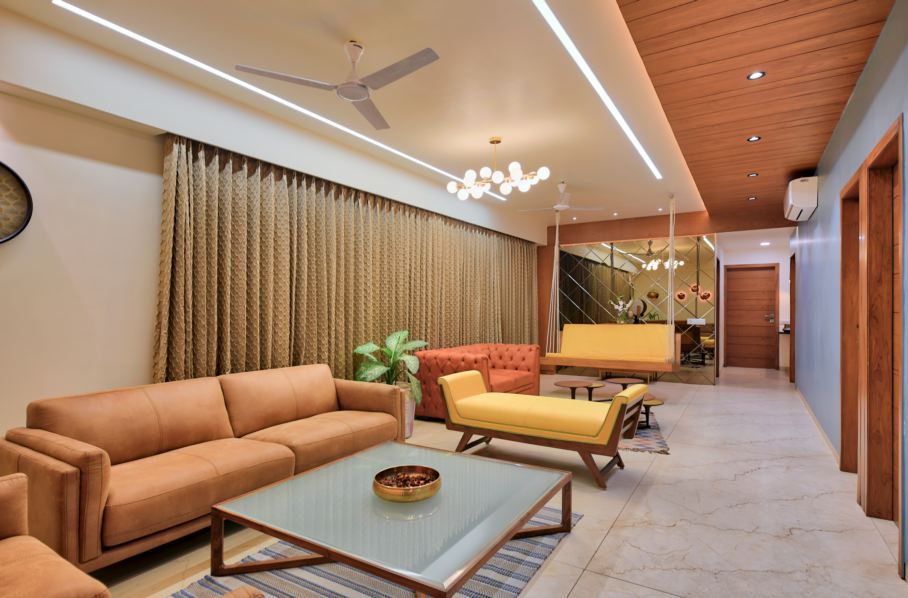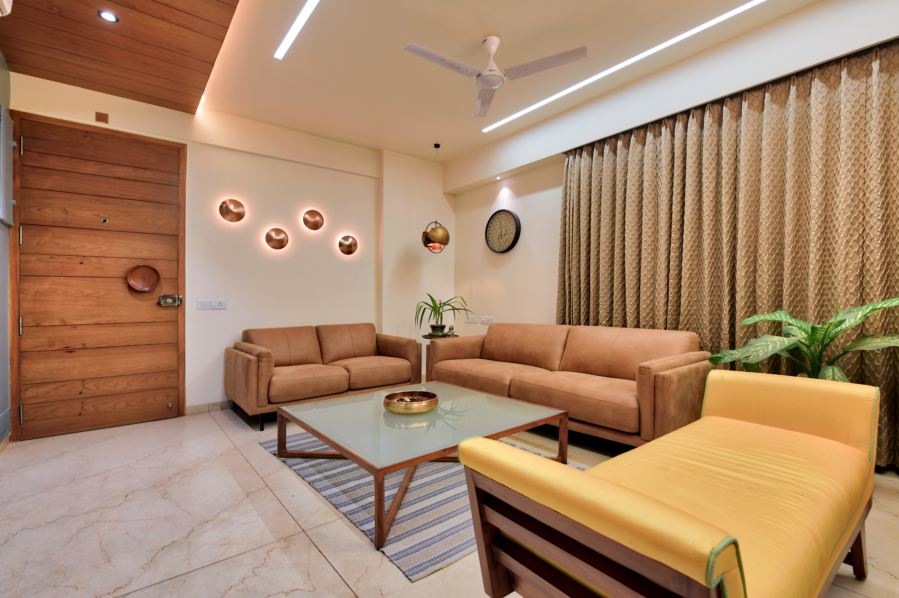 As with anything that's to be done right, the process began with a lot of discussions and brainstorming to know what the client really wants. As it all starts from space management, this how we did the layout. The 8th floor was having a Living room, Kitchen, Dining area and 3 rooms. And on the 7th floor, we gave 2 living rooms kitchen space got converted into home theatre and one Master bedroom, Kids room, and one study cum Guest room. A total of three generations will be living on the same premises, Couple, their Parents and two nostalgic boys.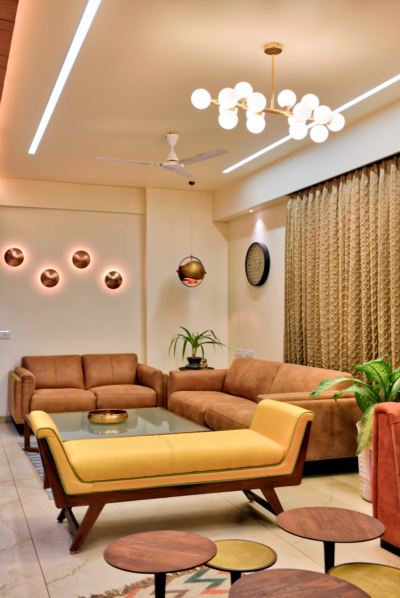 As soon as you enter through the door you have a large living area apportioned into a formal space and informal living area. The eclectic design direction of the apartment is best illustrated in the assembly of furniture here. Formal seating has 3 seaters and 2 seater beige cozy sofas and meticulously created backless bench which apart from the informal and formal area.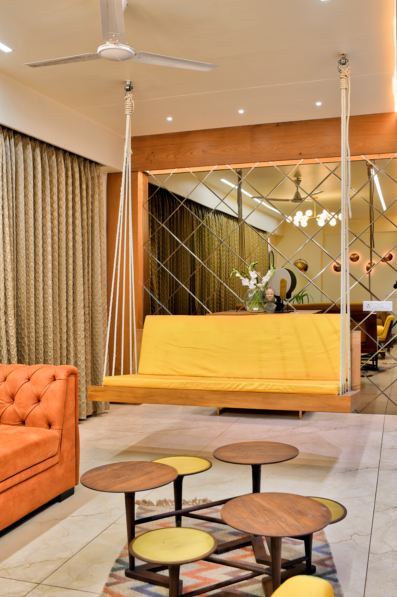 That bright yellow swing with ropes is the most adorable furniture of the living room. Informal seating has a chunky orange sofa which adds the character and brightens up the mood also.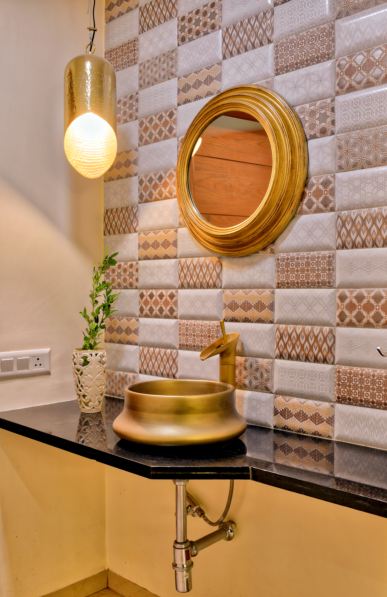 "They were clear that they wanted a warm and cozy home in a contemporary style. They wanted it to feel like a home and not a hotel. The second point they had was the home should be kids friendly. It should open up the imagination of the kids and not restrict them at all. But safety also comes while designing the space.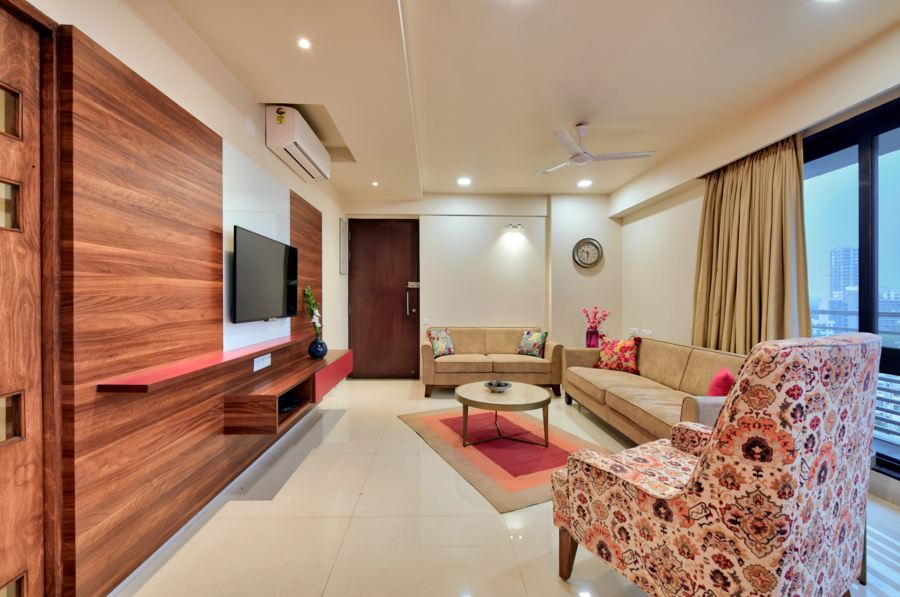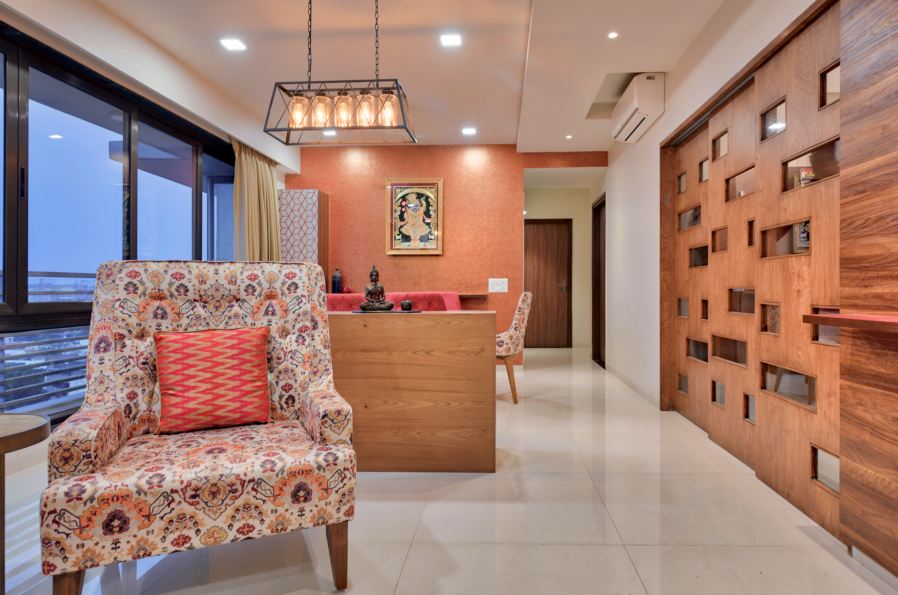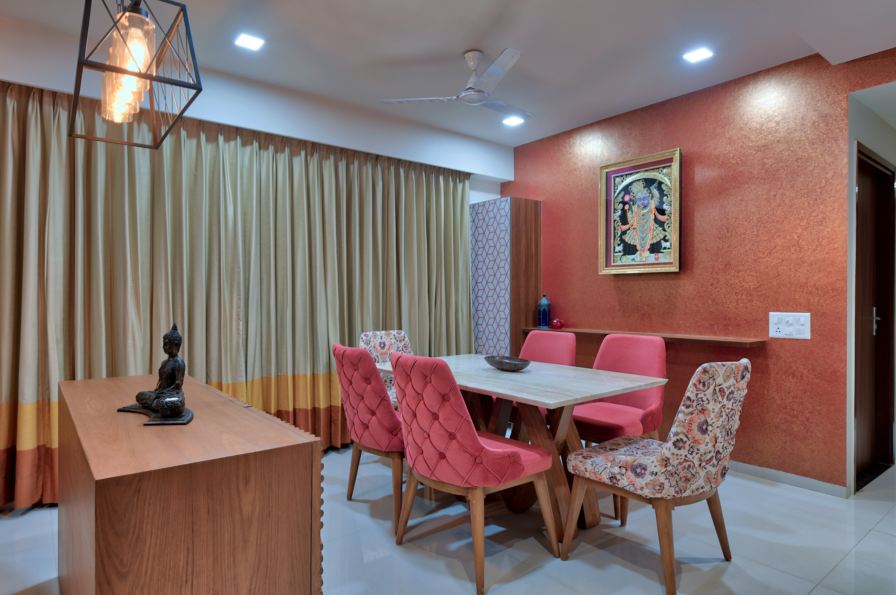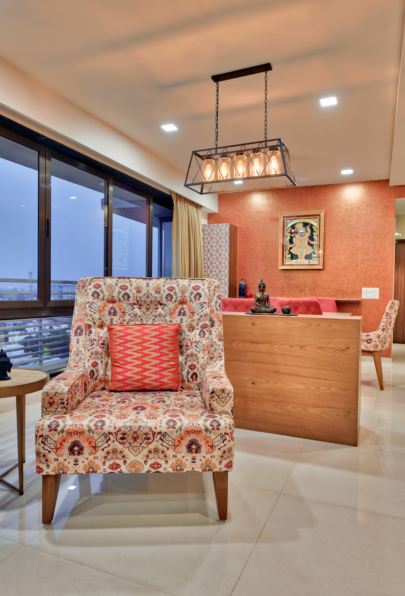 In the design point of the talks unearthed was Jesal's desire for her home to be primarily beige & off white – "which is great because that way we could bring in a lot of other elements to add life to space. While designing the residential space for different age groups it's always a good idea to mix things up.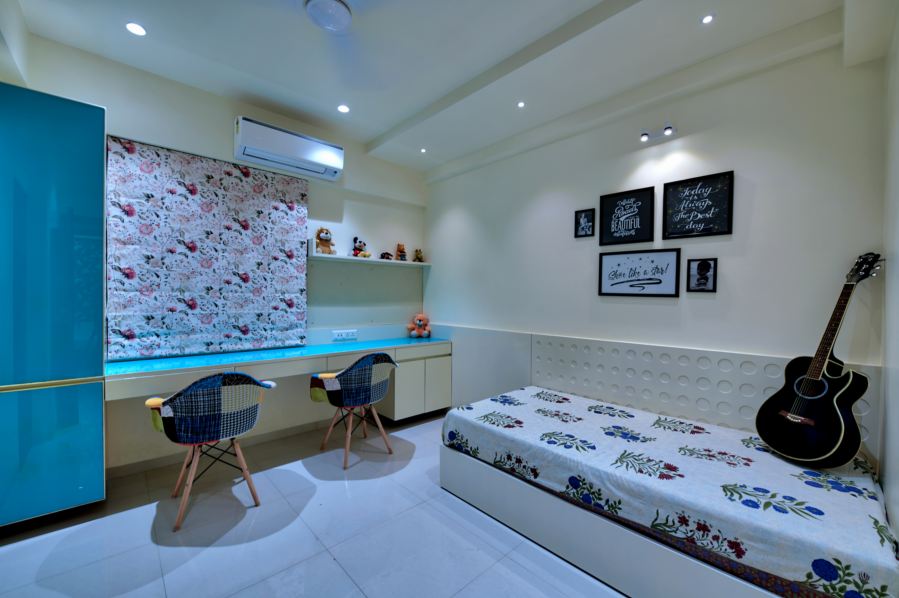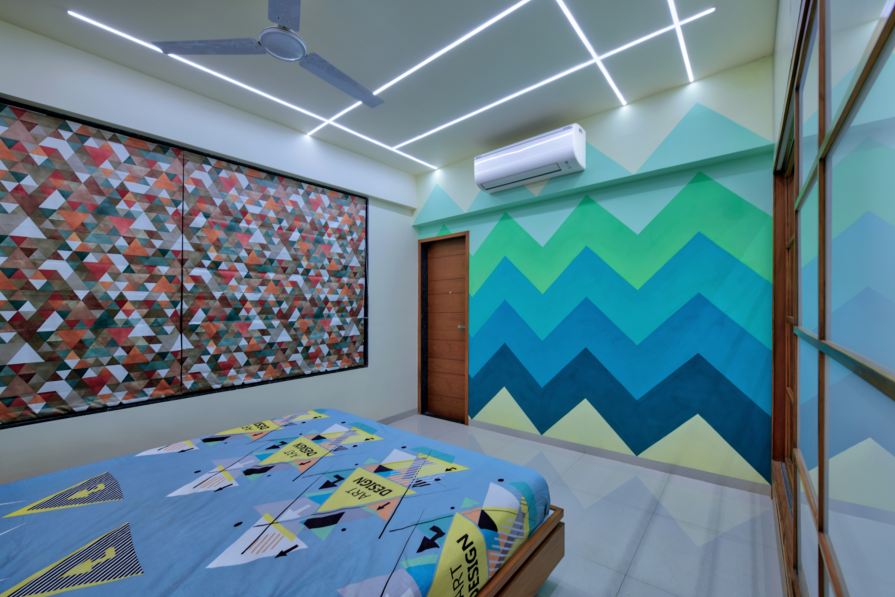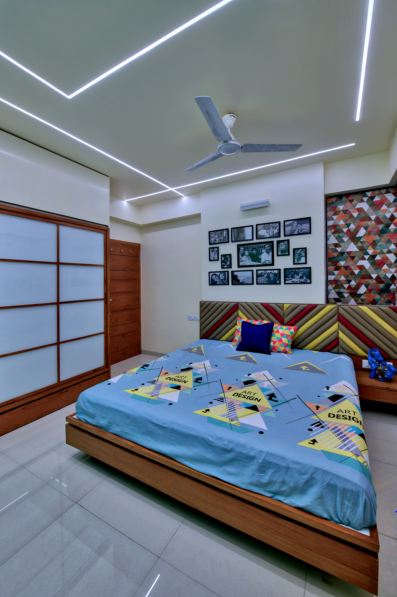 The whole house is like a poetic paradox that has been consciously created by the design team on board. As we go in private spaces the balance of classy and modern materials in every room is a testimony of the designer's vast experience and knowledge in understanding his clients & fulfilling their requirements.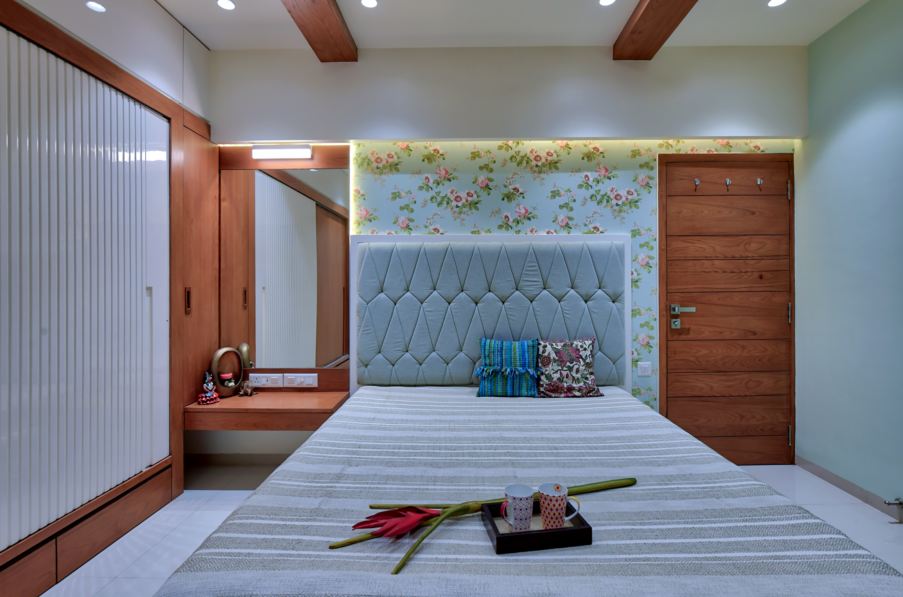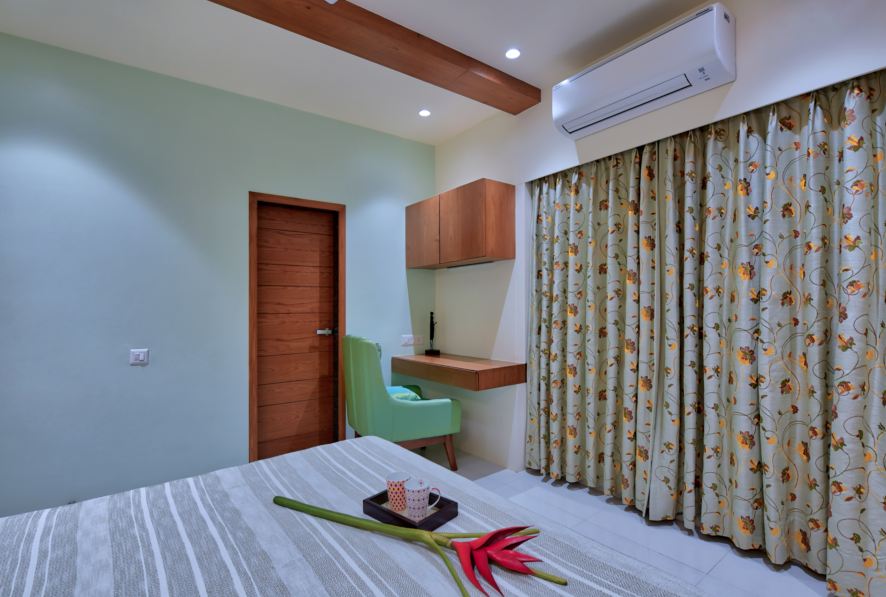 The classic combination of beige wall veneered furniture with chic contemporary tapestry and beds with well-intricated headboards & soft details create an elegant & fuss-free ambiance inside the bedroom. The curtains with alluring designs, adds a dreamy touch to the room.  Some walls of kid's bedroom and study room are bright and eye-catchy and the overall theme is shuttle only. We played with a chevron pattern in bed Cushioning and on wall art. Back painted glasses were provided as wardrobe and study tabletop and shutters so they can doodle whatever they want.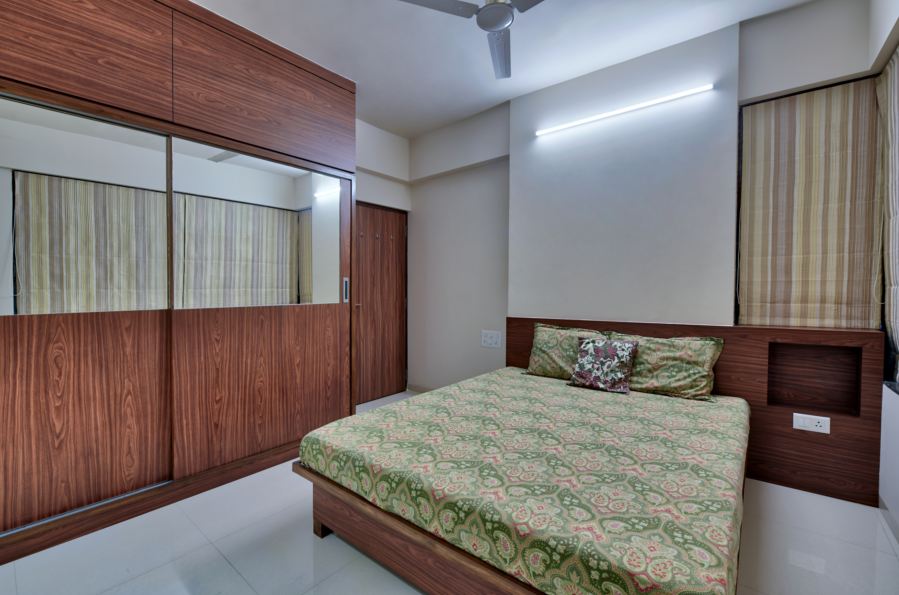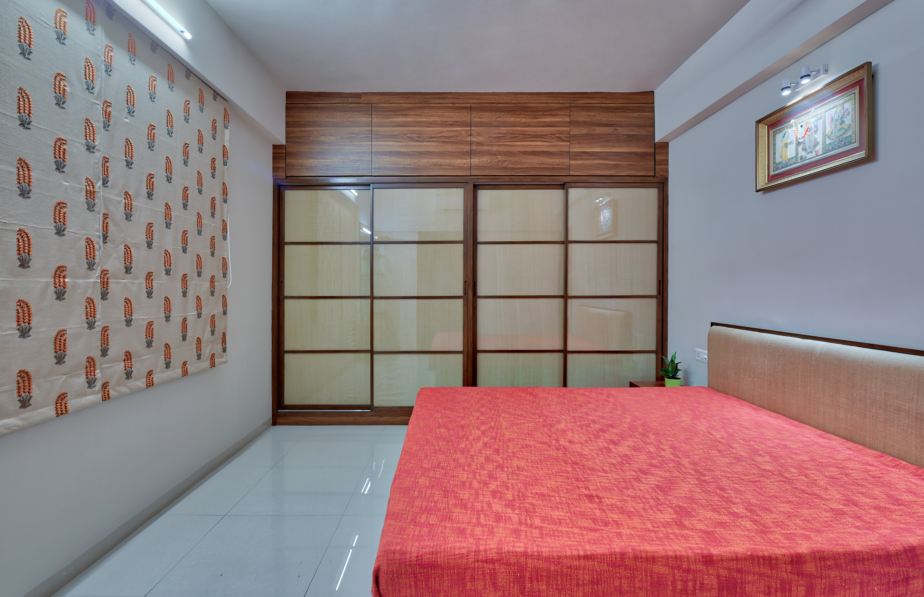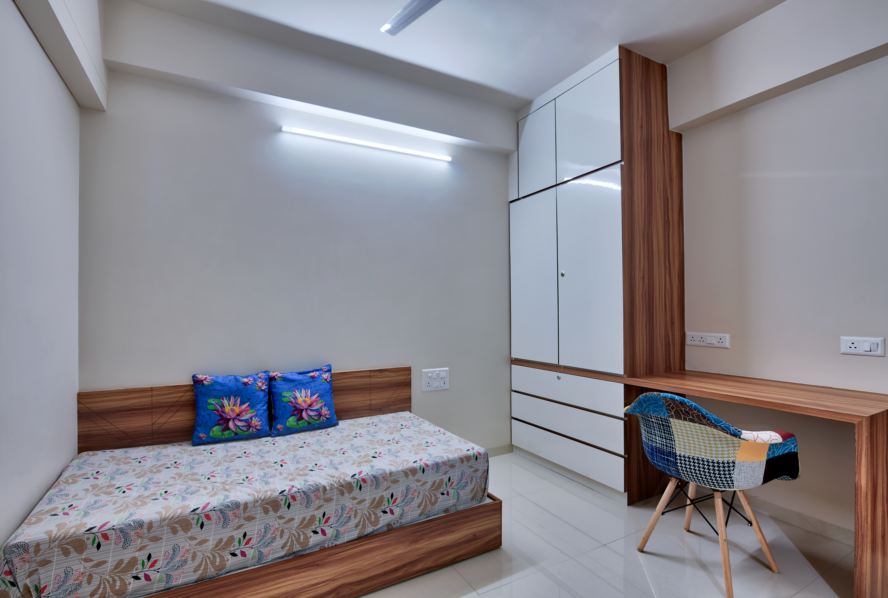 And the same story goes in the workspace cum home theatre of Mr. Amar Shah which has an ochre-colored super cozy recliner sofa and a high-end music system. This is what Mr. Amar Shah always wanted. The success of this project is the alignment of thoughts of the two stakeholders: The Designer & Her clients. But here Nidhi corrects us by telling "I am blessed with such wonderful clients who gave us freedom for creativity. They never interfered in our way of presenting and designing the whole project." Signing off and leaving us to dream of the cozy and mesmerizing heaven she has created.
FACT FILE:
Firm Name – DE Tales – Design Stories
Site Name – Magnolia Residency, Ahmedabad
Interior Designer – Nidhi Shah
Client Name – Mr. Amar Shah
Photography – Palak Jhaveri photography
Facebook – https://www.facebook.com/DeTalesDesignerStudio/
Instagram– https://www.instagram.com/detalesinteriordesignstudio/