Apartment Interior Is Amalgamation Of Earthy Tones And Greys | BplusK Architects
The interior design for Mr. Chirag Majetiya's apartment is conceived by building on his keenness in space arrangement. Reflecting on his personal taste, the emphasis is put on creating spaces that are airy and spacious. A neutral colour palette was chosen, helping create a tranquil ambience. It was important to create a harmonious relationship between spaces and allow light and natural ventilation. This allowed the segregation of cores; the entrance, the social, and the private areas.
Visit: BplusK Architects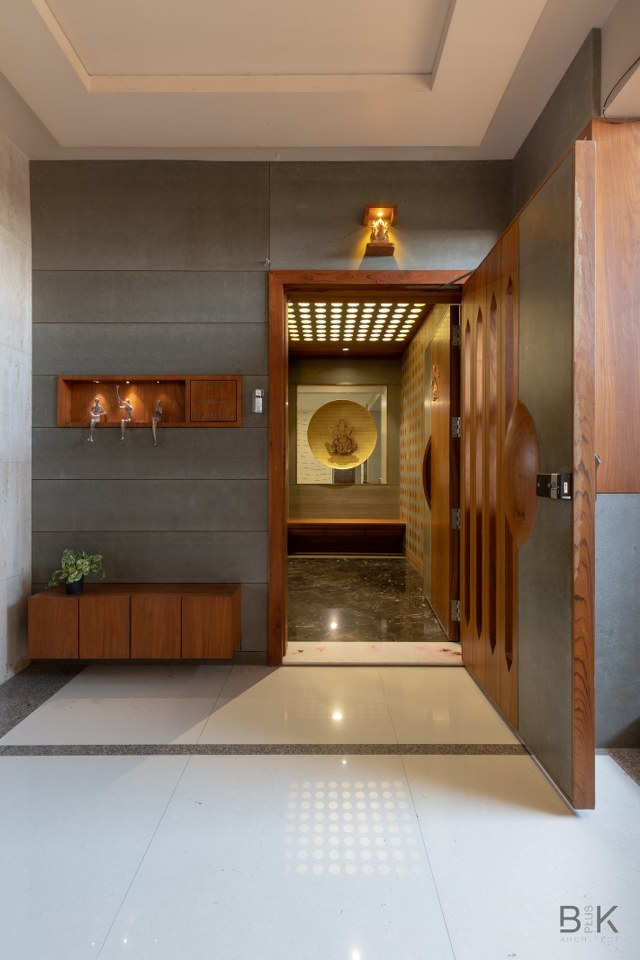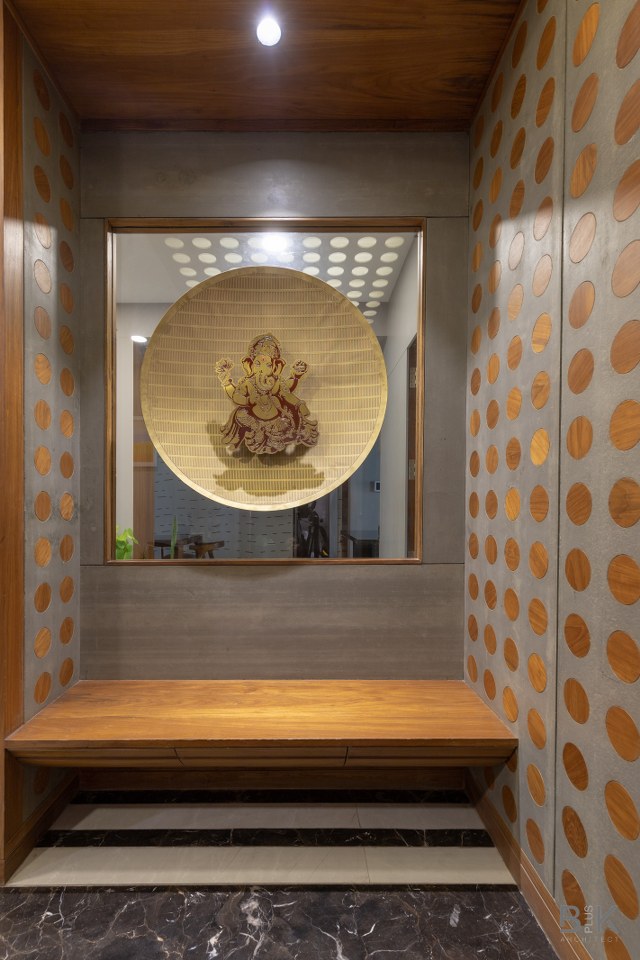 The entrance and the foyer it's leading up to, are quite memorable. An amalgamation of materials and compositions, these two spaces form a unique approach to the residence. Earthy tones of wood are combined with the greys of cement-bonded particleboard (Bison panels). This is further gilded with striking brass members. Visibility from the foyer is limited by positioning a portrait on the glass while leaving enough transparency to keep an eye on the entrance from the kitchen.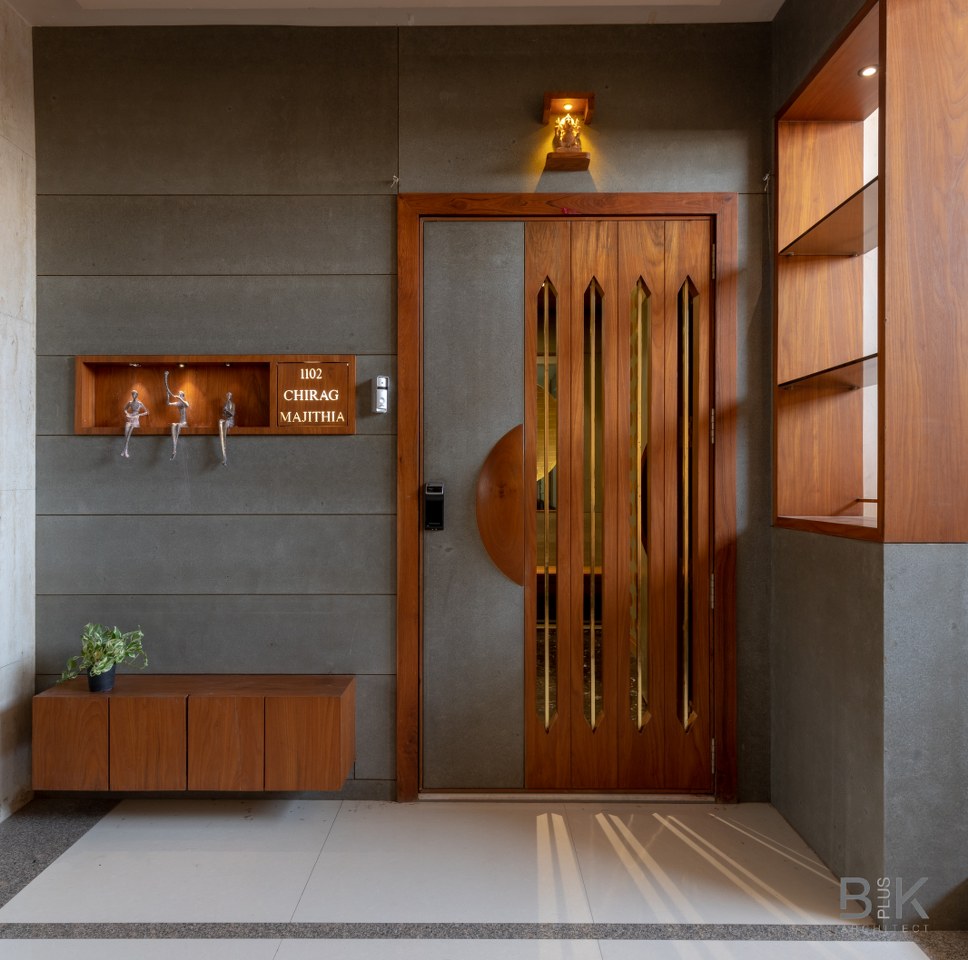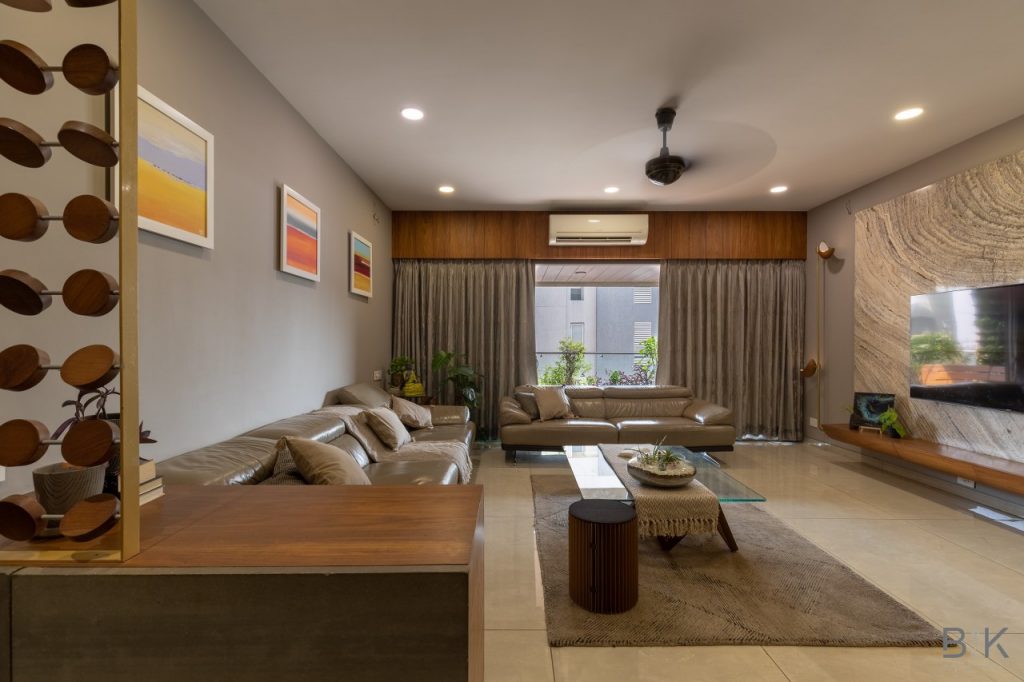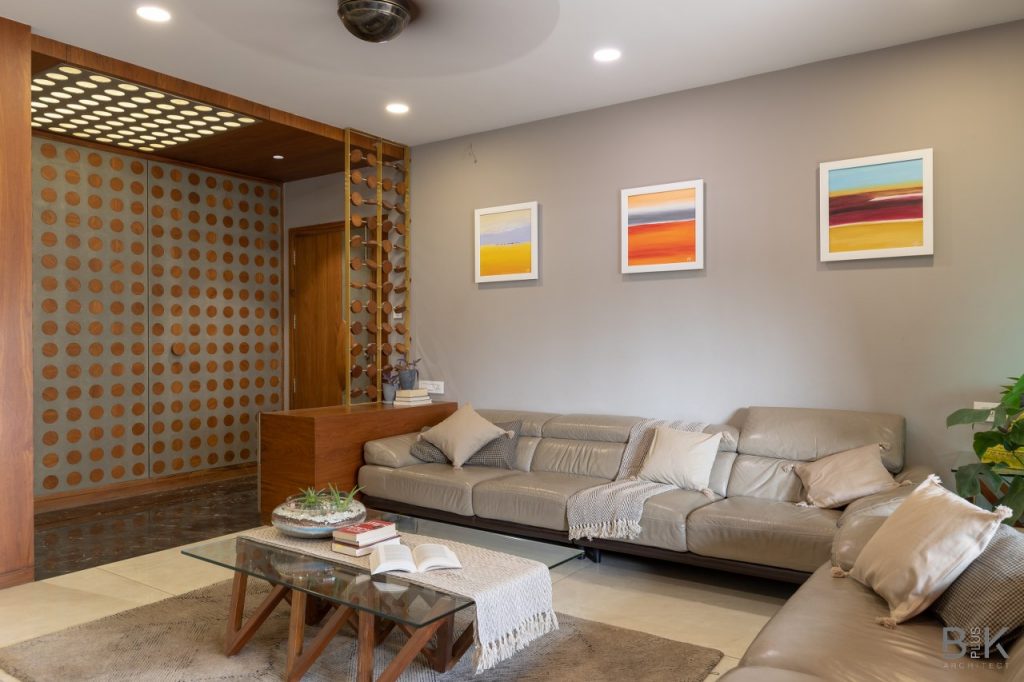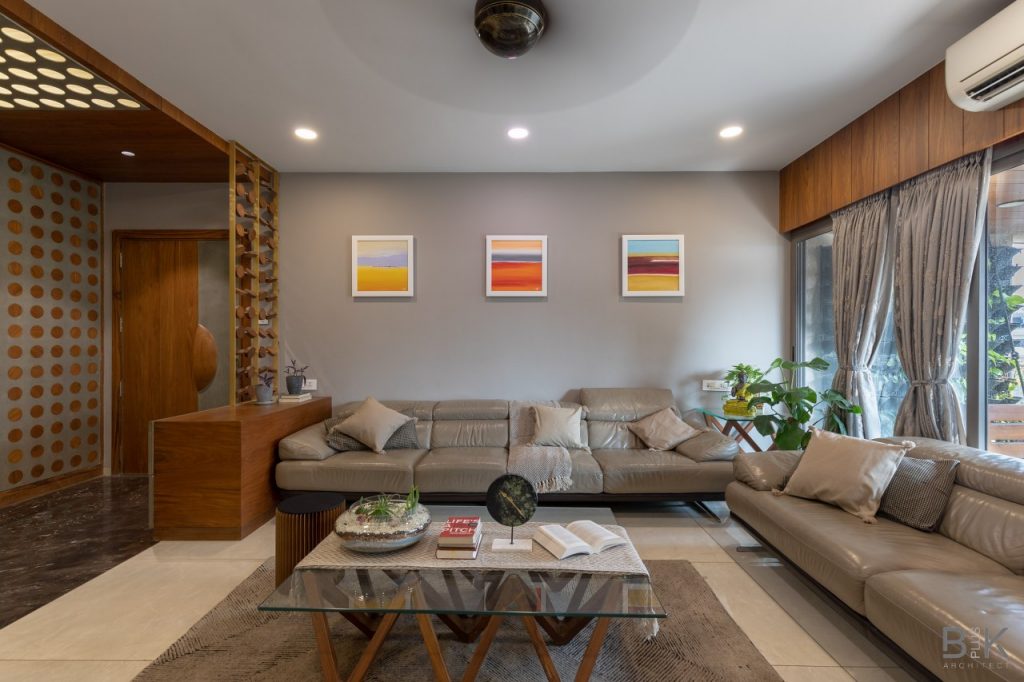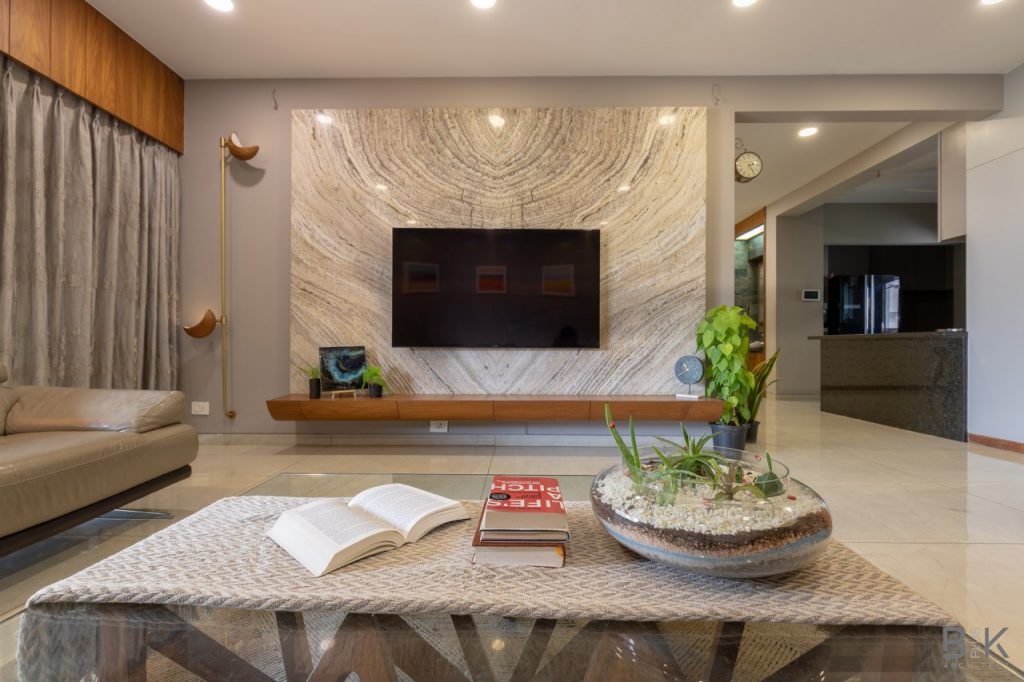 Wooden inlay in Bison panels and acrylic inlay in-ceiling creates a whimsical yet defining element. The pattern descends three-dimensionally into a partition on the living room's side. Once again, mingling the neutral tones in the furniture as well as its vertical surfaces, the living room exudes a welcoming quality. The opposite wall is kept minimal, highlighting the marbling lines and a vertical moon lamp.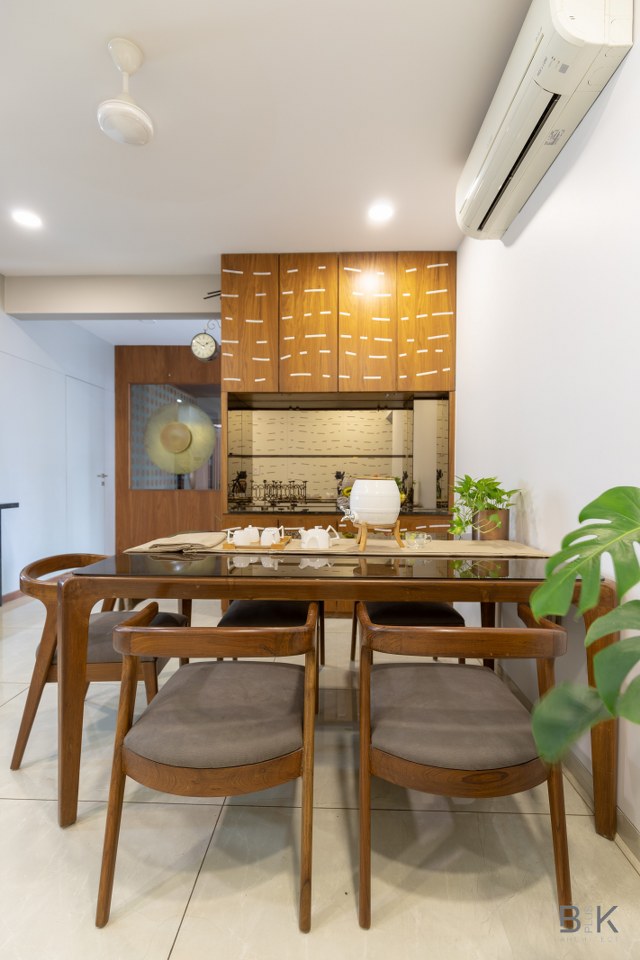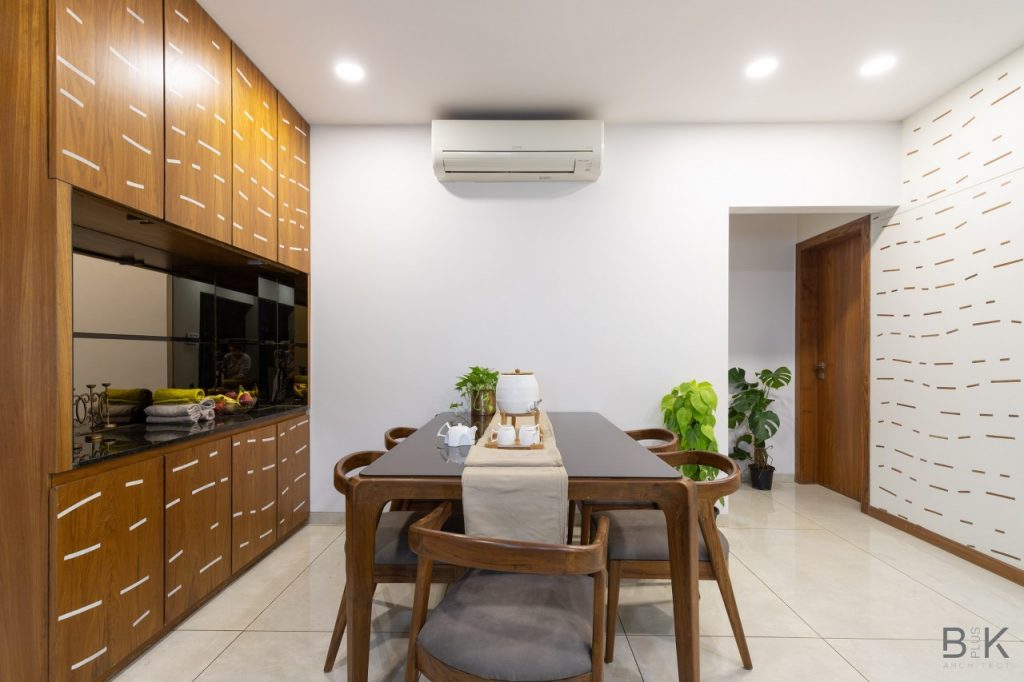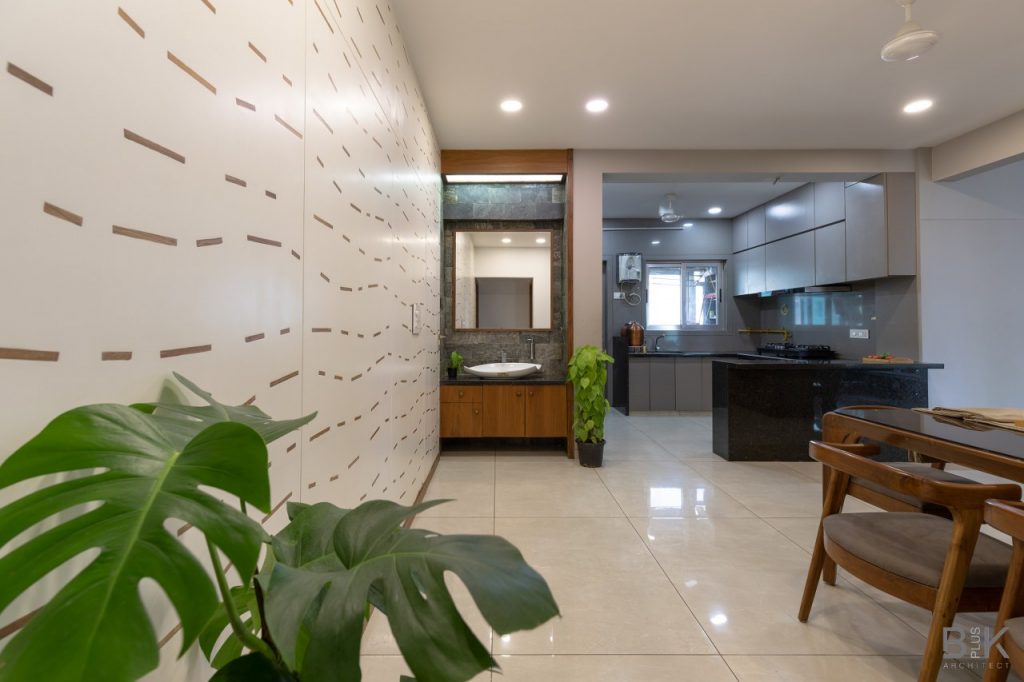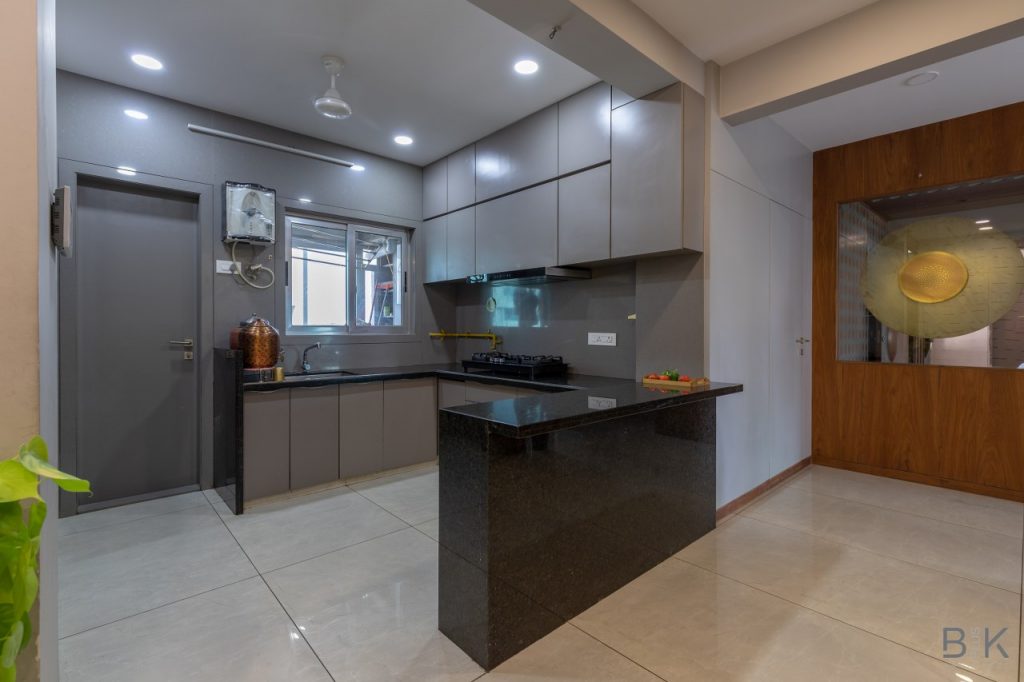 A motif, symbolizing movement and fluidity, is introduced in transition zones, i.e., dining and passage. Once again, wood is inlaid in this wavelike pattern and it helps tie the other spaces together. Bedrooms are also designed keeping in mind the need for an uncluttered space. Larger surfaces are designated with minimal textures and materials, details like handles and headboards are intended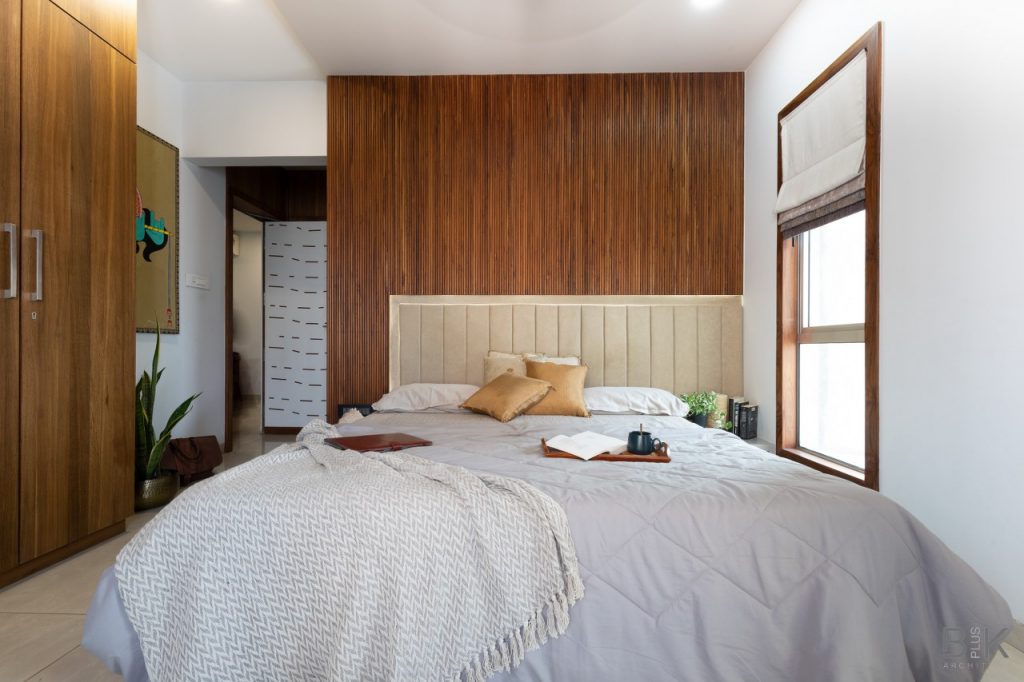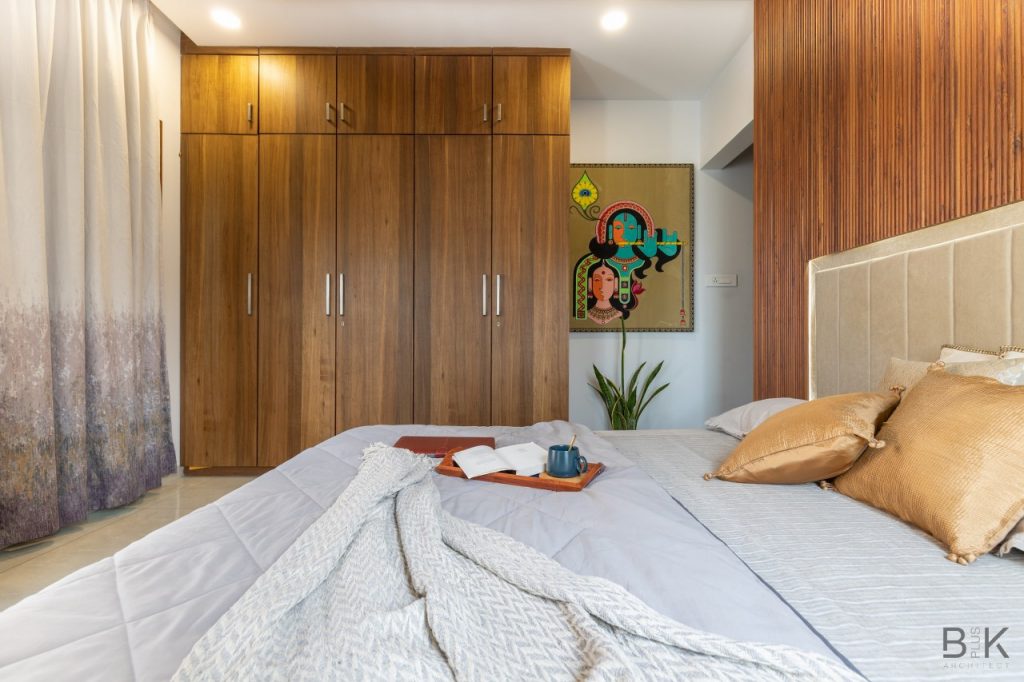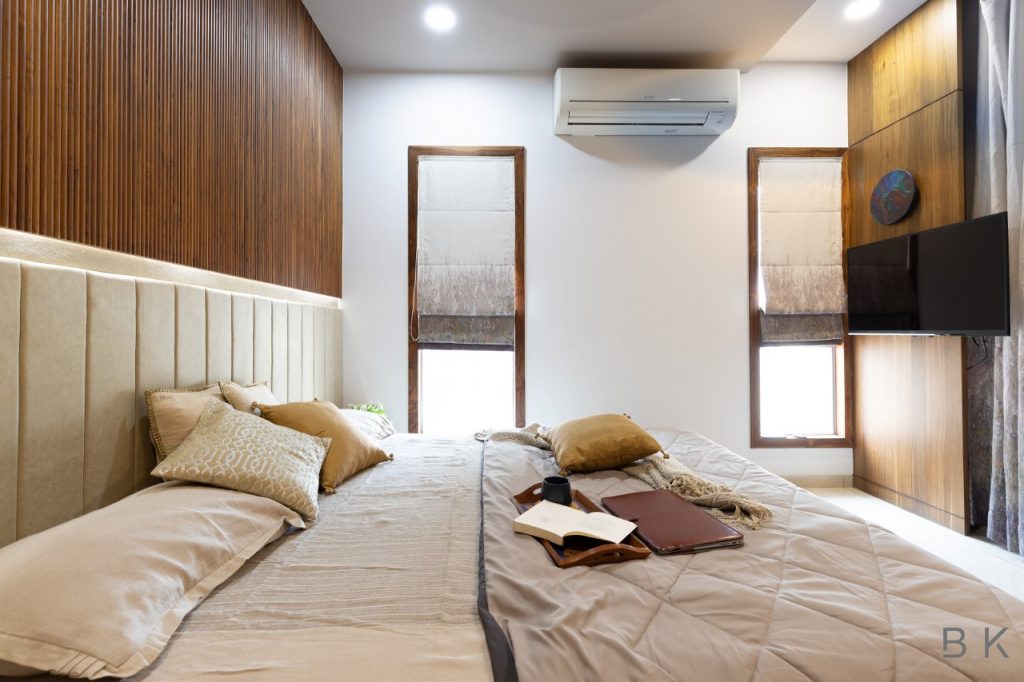 to be eye catchy and intriguing. One of the bedroom walls is dedicated to wooden shelves with frames peeking onto the shelves. The concept here is to allow the creation of live picture frames; ever-changing and reinventing as summoned. The kids' room is quirky and upbeat with the mural shelf, unconventional furniture and fun patterns, again translated from the rest of the wooden inlay elements in the house; together elicit a muted charm in the space.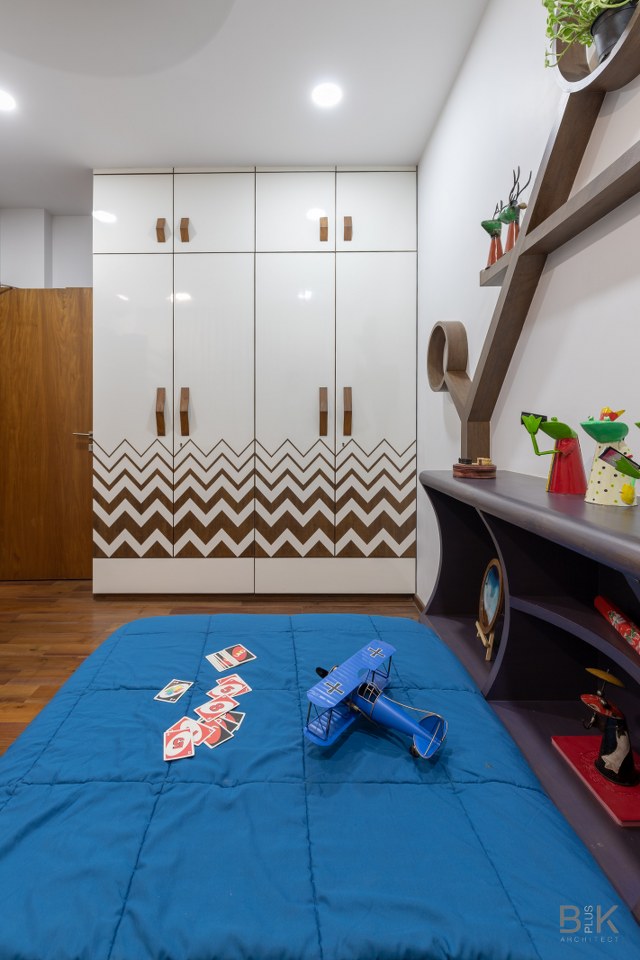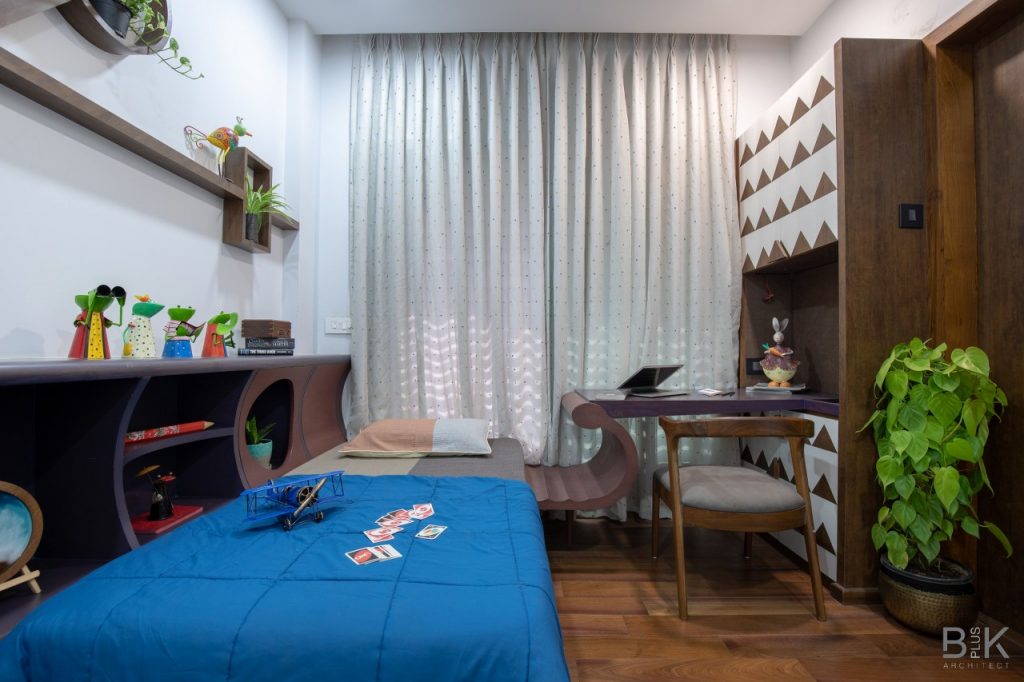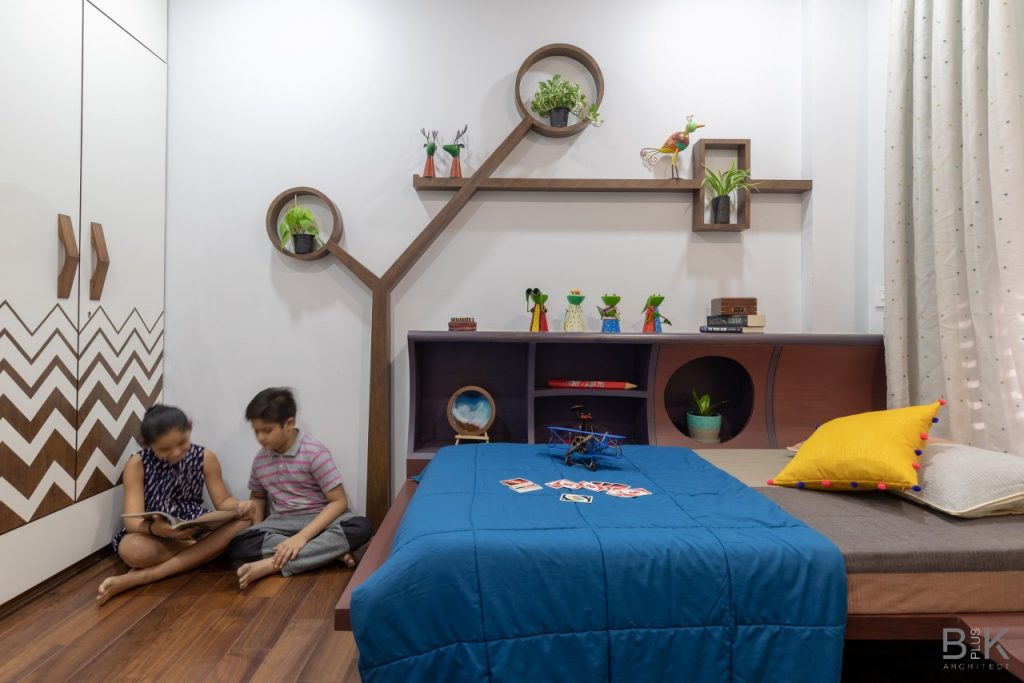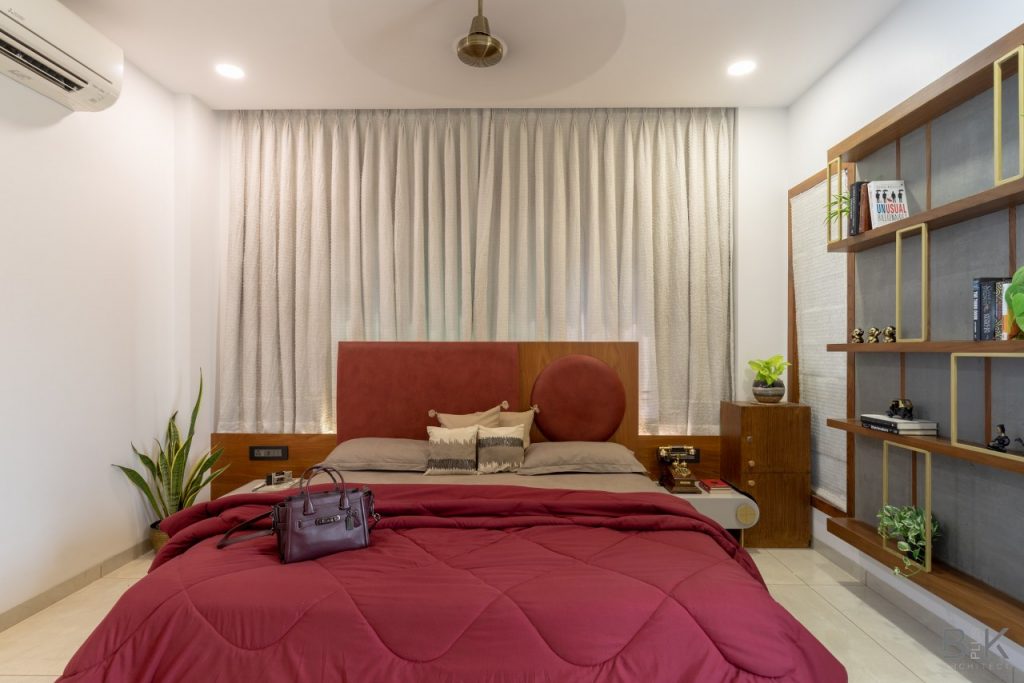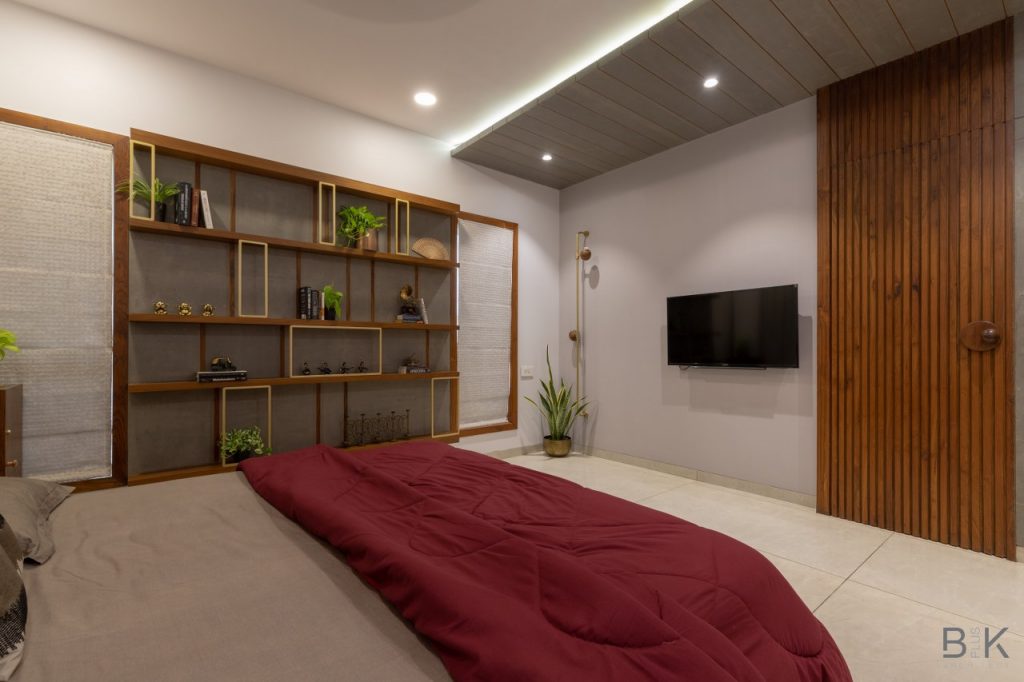 All these elements combined with contemporary finishes and furniture, foster this dialogue between space, textures and shapes. The result is a design which emanates character and a sense of individuality while serving the functional needs of the user.
FACT FILE:
DESIGN FIRM: BplusK Architects
PROJECT SIZE: 1600 SQ.FT.
PROJECT LOCATION: Pal, Surat , Gujarat.
PRINCIPAL ARCHITECT: Ar. Bhavessh Patel, Ar. Kruti Galia
DESIGN TEAM: Dipesh Jariwala
PHOTOGRAPH COURTESY: Ar. Prachi Khasgiwala
STYLING: Uplifting Depiction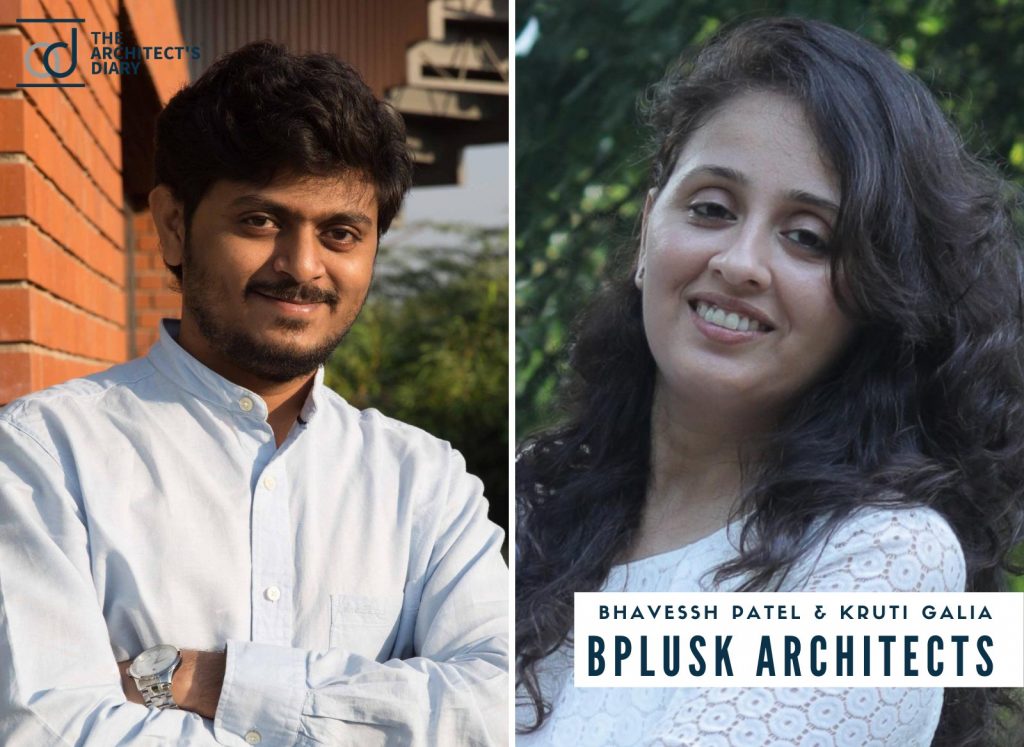 WEBSITE: https://www.bplusk.in/
FACEBOOK: https://www.facebook.com/BplusK-architects
INSTAGRAM: https://www.instagram.com/bplusk.in/