&nbsp
Apartment Design Creating A Sense Of Heterogeneity | Make That Space
The aim was to embody the client's dynamic personality into the space. It was intentionally decided to create different color schemes in each room to create a sense of heterogeneity. However, certain elements like the straight lines, the use of teak wood, and plants were carried along the various areas to create a sense of harmony and continuity.
Visit: Make That Space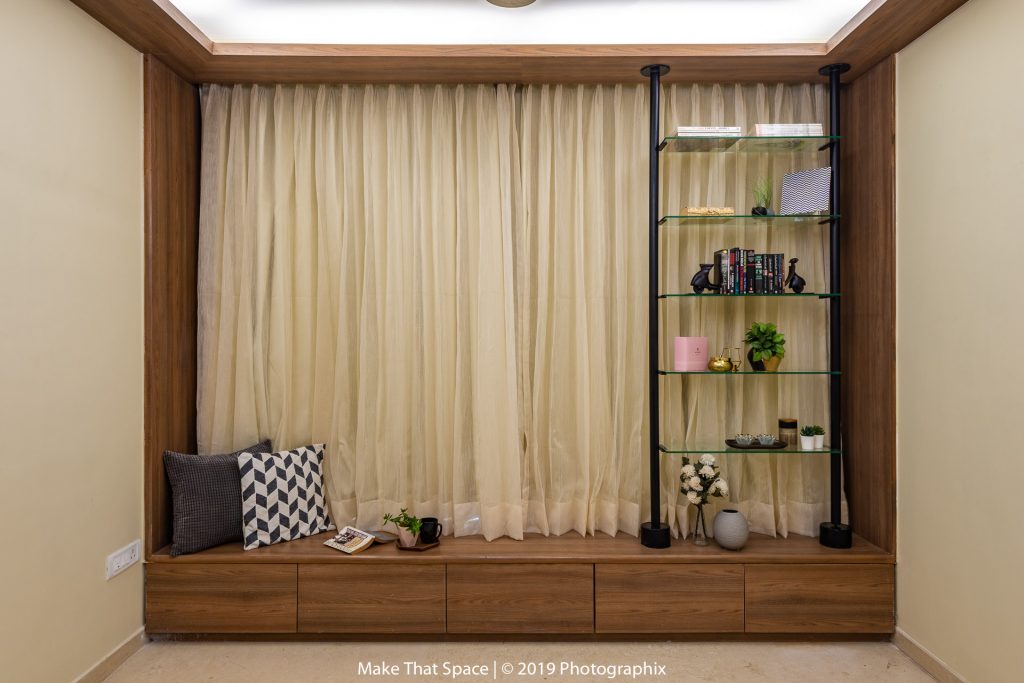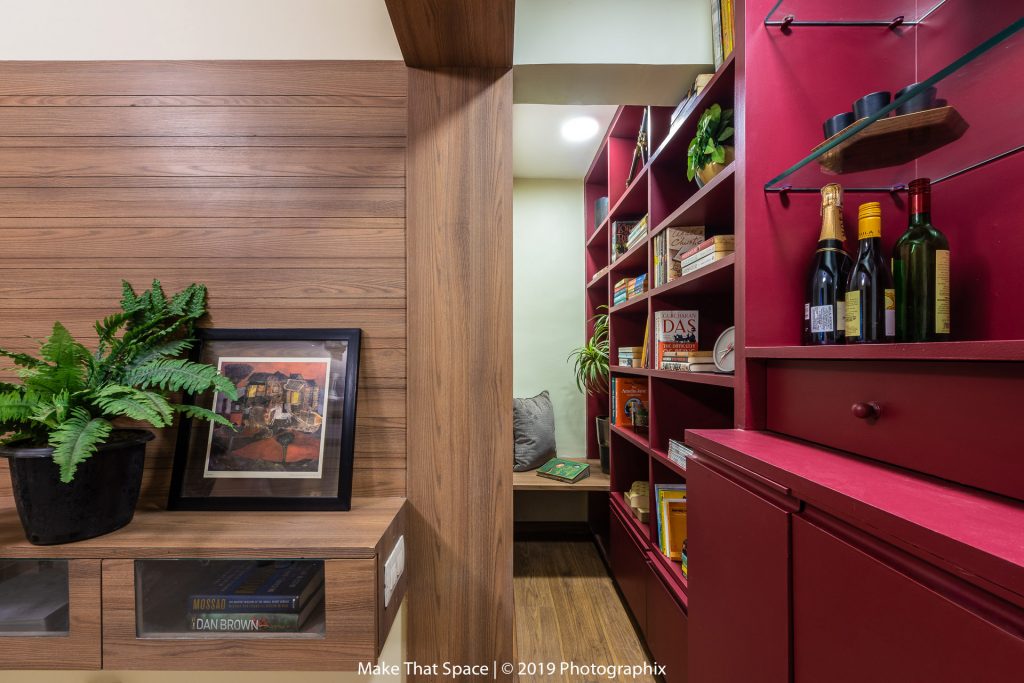 One enters the bar area through a wooden paneled frame into a narrow passage surrounded by books that terminate at a cozy reading nook. A space that earlier used to house AC units were transformed into a bar and library unit. The bar and library are finished in a PU coated shade of garnet.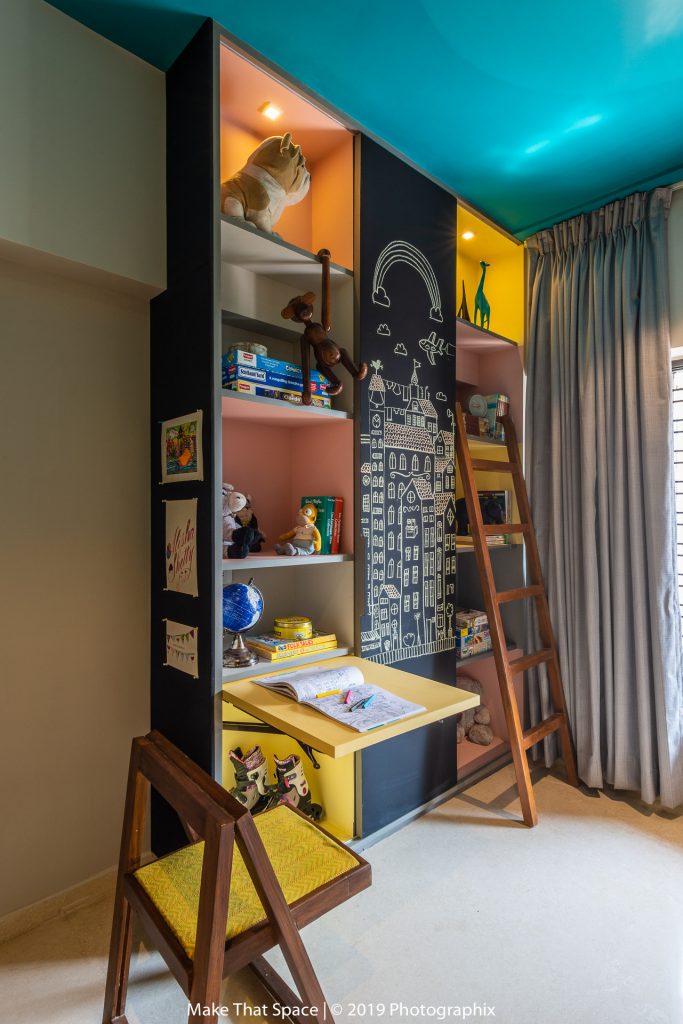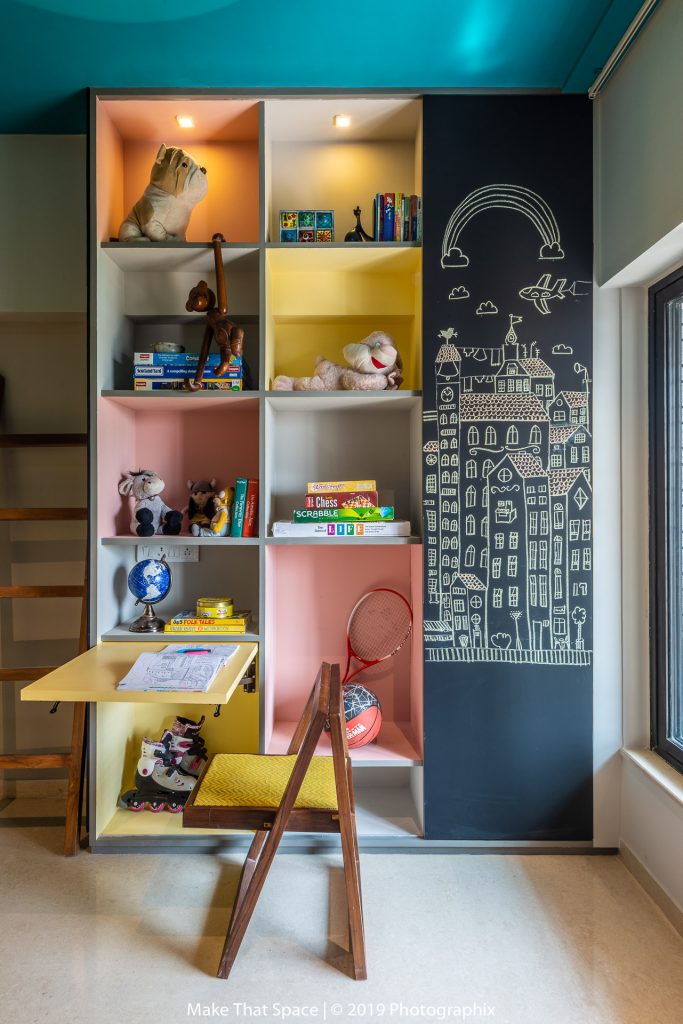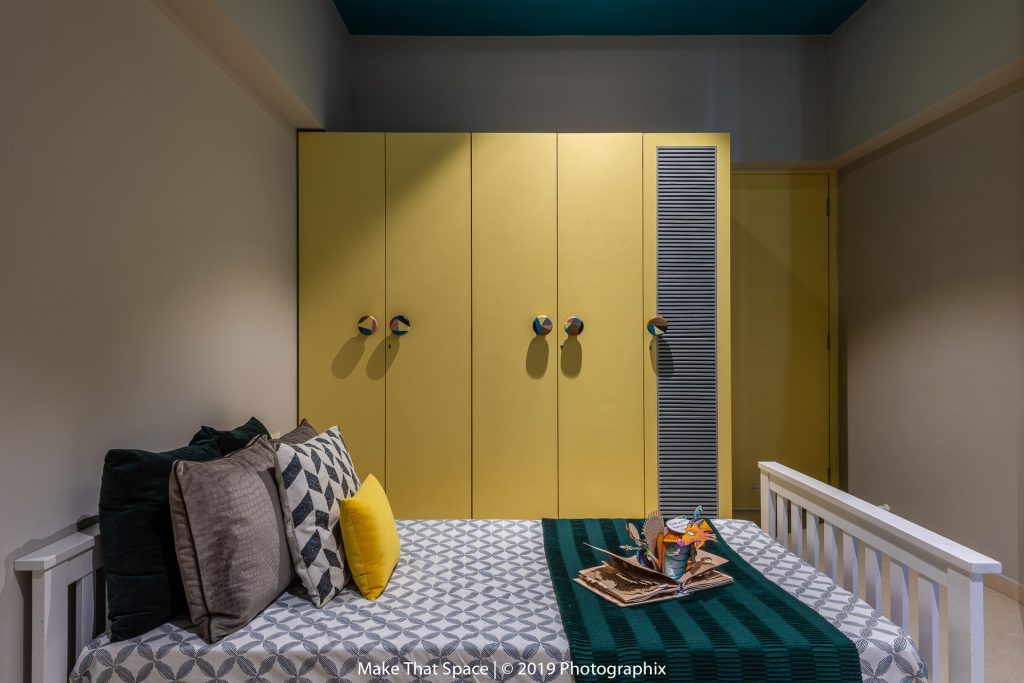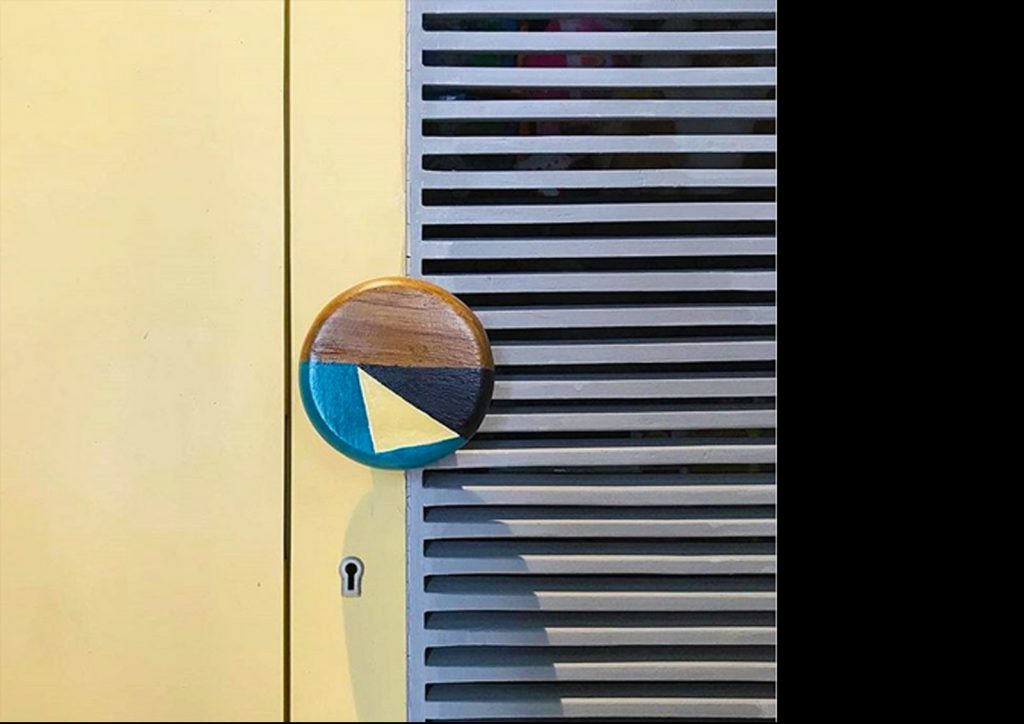 Maximizing the use of space in the 10-year old's bedroom we were able to fit in a lot of her requirements in just 16sqft of floor space. This multi-functional unit incorporates a blackboard, storage space for toys and books, a ladder to climb to reach it, a folding table and chair, and a pin-board on the side. The sliding blackboard enables each part of the unit to be used differently. The yellow wardrobe with a grey louvered shutter features hand-painted knobs to add a blend of whimsy and appeal.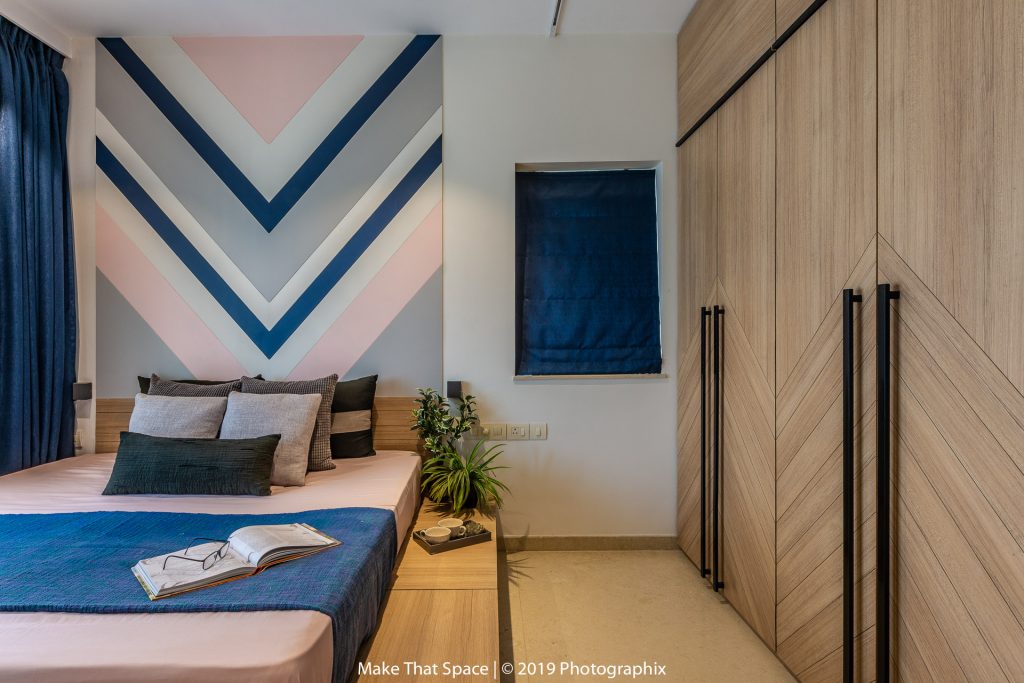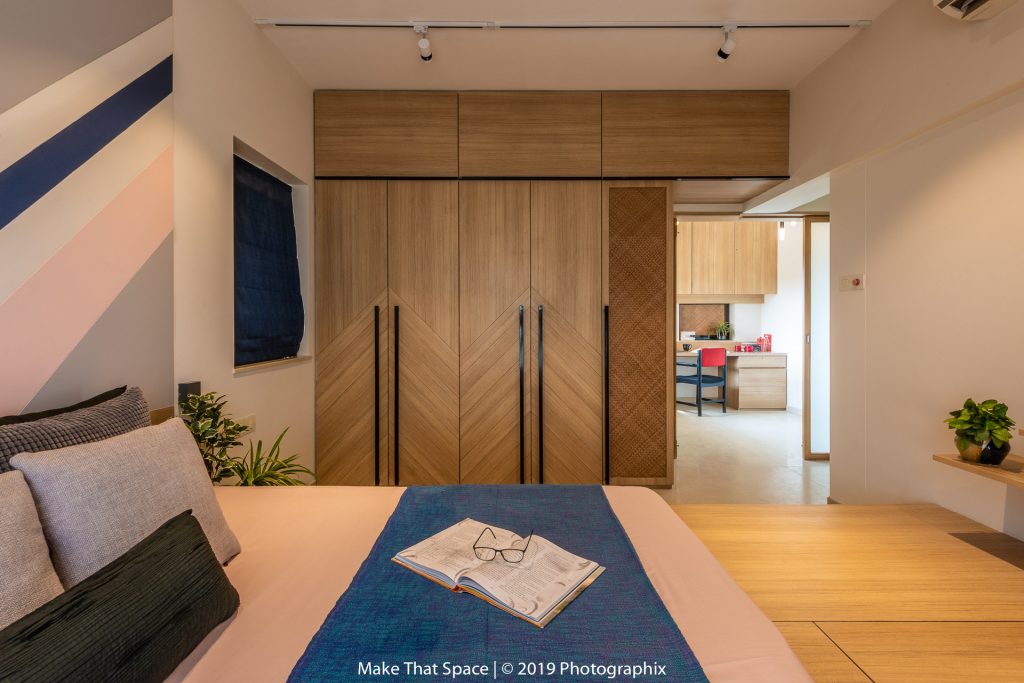 The feature wall evolved out of different color preferences of the husband and wife. He wanted a dark navy, she wanted to blush. Adding a hint of grey, black, and white – we brought the two together to create this stunning wall. Instead of opting for wallpaper, we decided to panel the wall and paint it to bring about the desired texture and depth where one can read the grooves between each of the colours distinctly. The platform for the bed was made with a view to increasing storage.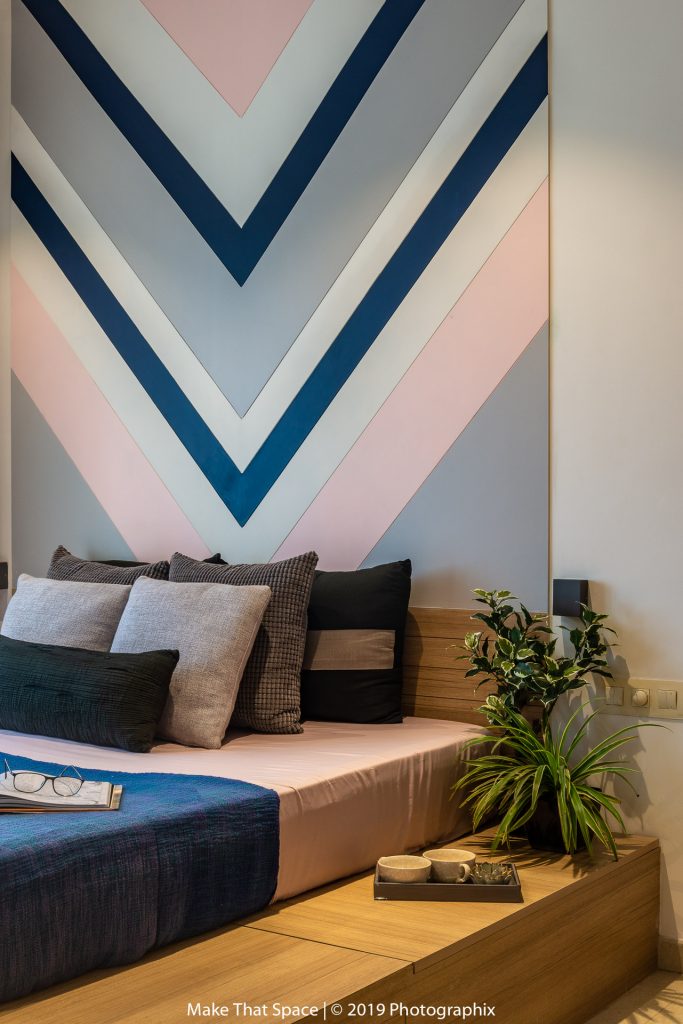 The master bedroom is divided into two distinct spaces; the bedroom and the study. To ensure privacy while working, it is separated from the bedroom by sliding folding doors. Ample light filters into the room through the frosted glass doors. The wardrobes continue a version of the pattern on the wall with long black metal handles. The cane shutter helps not only ventilate that part of the wardrobe but also becomes a beautiful added texture to space. This texture continues into the study where the window is masked in cane for added privacy.
FACT FILE:
Firm: Make That Space
Project Type: Residential Interiors Apartment
Location: JVLR, Mumbai
Project area: 900sqft
Principal Designer: Shilpa Kenia & Brinda Kenia
Project Photographer: Phxindia
About the Firm:
Make That Space is a design studio run by mother-daughter duo Shilpa and Brinda Kenia. They believe that design is about making people happy, either functionally, aesthetically, or emotionally. Their broad aim is always to try and optimize the use of space while also achieving a sense of harmony between the materials, light, and textures.
Website: https://www.makethatspace.com/
Instagram: https://www.instagram.com/makethatspace/