An Engaging, Flexible and Creative Workspace | Aditya Sutaria Architects
Engaging, flexible and Creative. These three aspects are the core ideas behind designing our studio.
For an architect, their own dream work space is always special and thus we have tried to give it our utmost personal touch. In the midst of an ever expanding Surat city, 600 sq.ft. of studio space has been designed by Ar. Aditya Sutaria. The key areas of design focus: Reception & waiting area, A director's cabin which can also be used for meetings, divided by glass partition, a compact pantry, and a washroom.
Visit : Aditya Sutaria Architects

&nbsp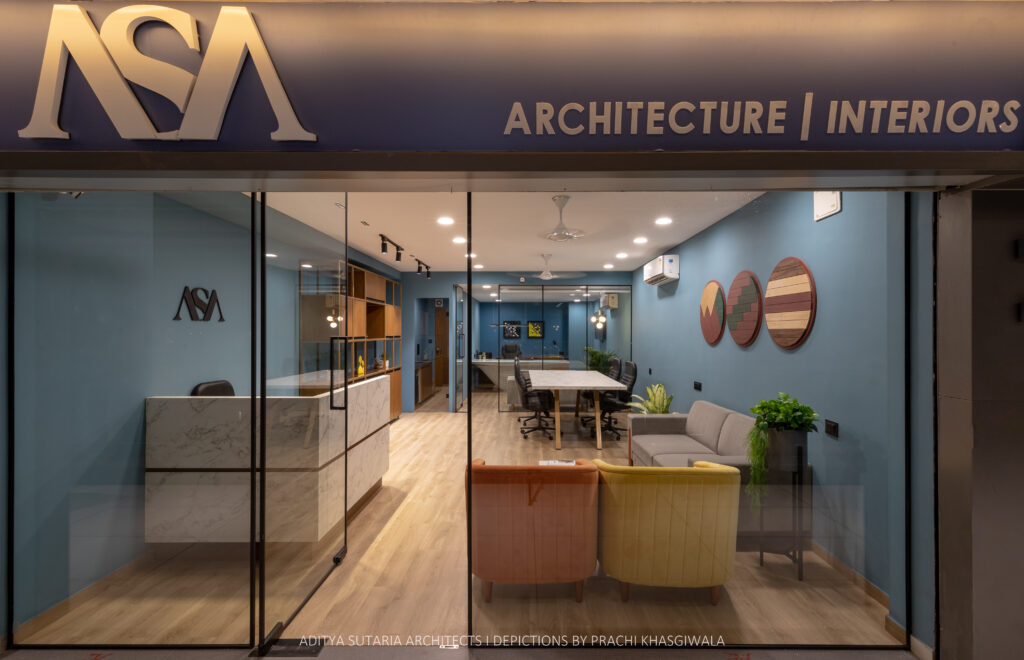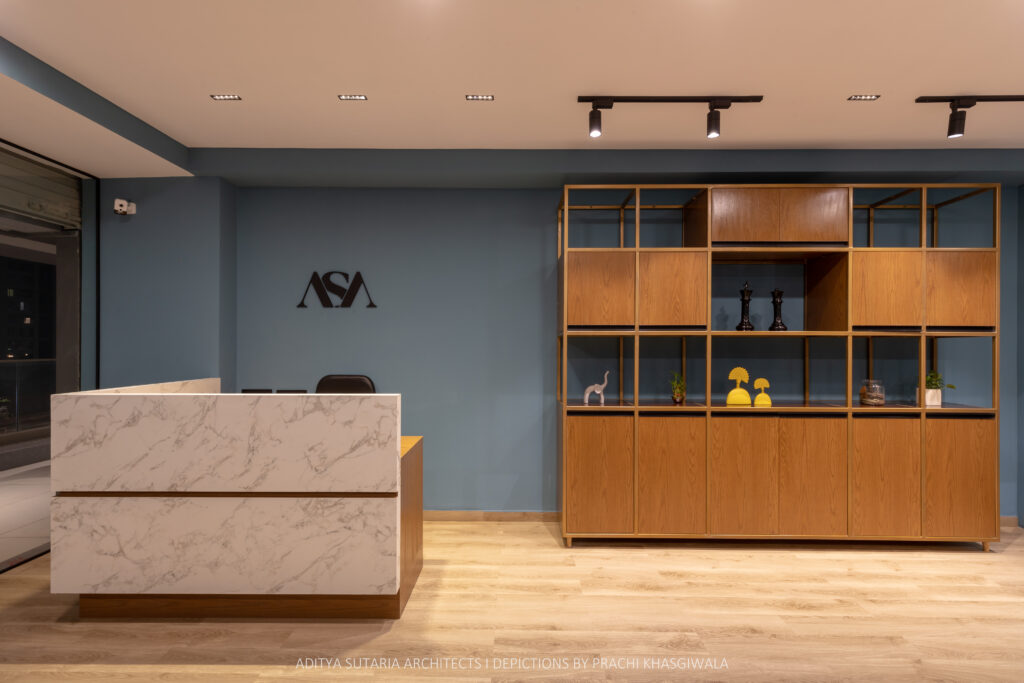 As you enter the office space it primarily includes reception and waiting area, followed by an open co-working space which leads to the director's cabin and pantry. Almost the first thing that strikes a visitor is "The Stormy Sea" blue-coloured walls which create a sense of peace and tranquillity to the office environment. The customised orange and yellow accents chairs bring out the vibrancy of the space. The entire vocabulary of office is rooted with the contemporary use of raw materials. The staff table is designed to be flexible and has no partitions to promote a transparent social environment. The display unit to showcase finished material samples to clients doubles up as a storage space.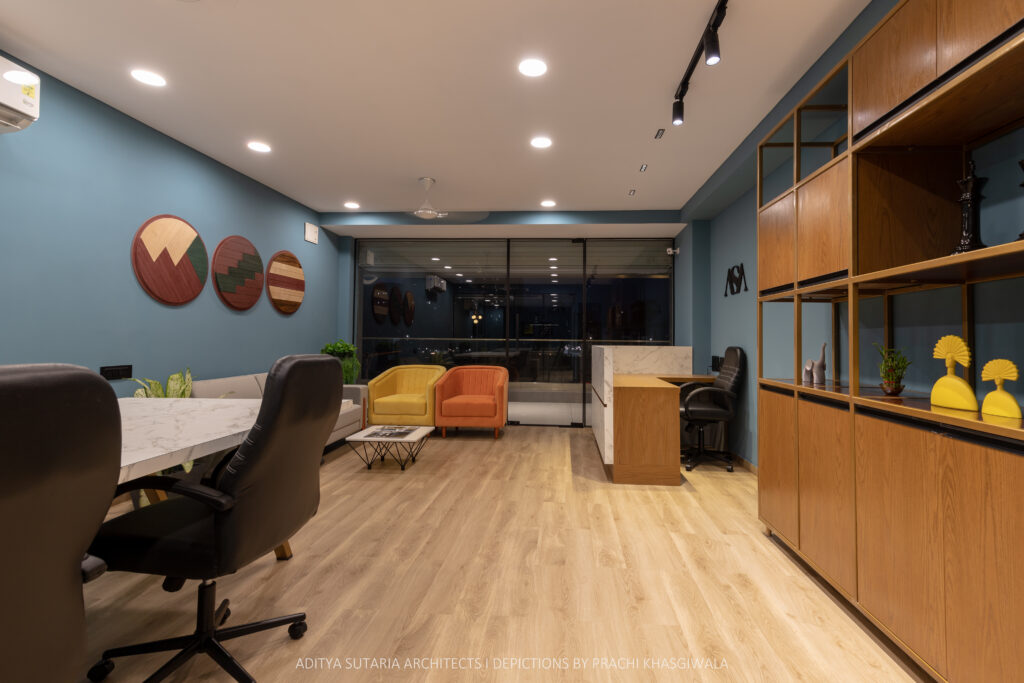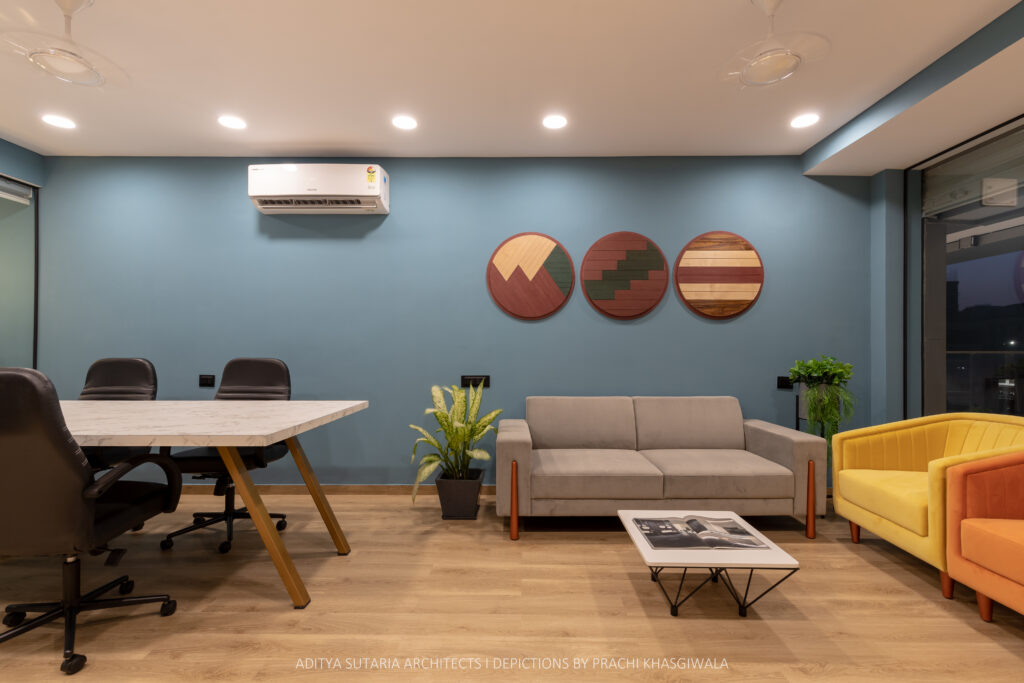 The vision behind designing the studio was that the space should have a calming influence on the staff working in the studio. Also, we wanted to design the space in such a way that it can double up as a visual display of architectural and interior design elements for clients. The reason being that a lot of client meetings could be resolved at the office itself instead of travelling to different sources for material selections and product displays. Thus, our studio has 4 different types of lightings – track lights, indirect lights, cobs and down lights to show clients what kind of shadow is created by each typology and which can be used to illuminate a specific space of their site.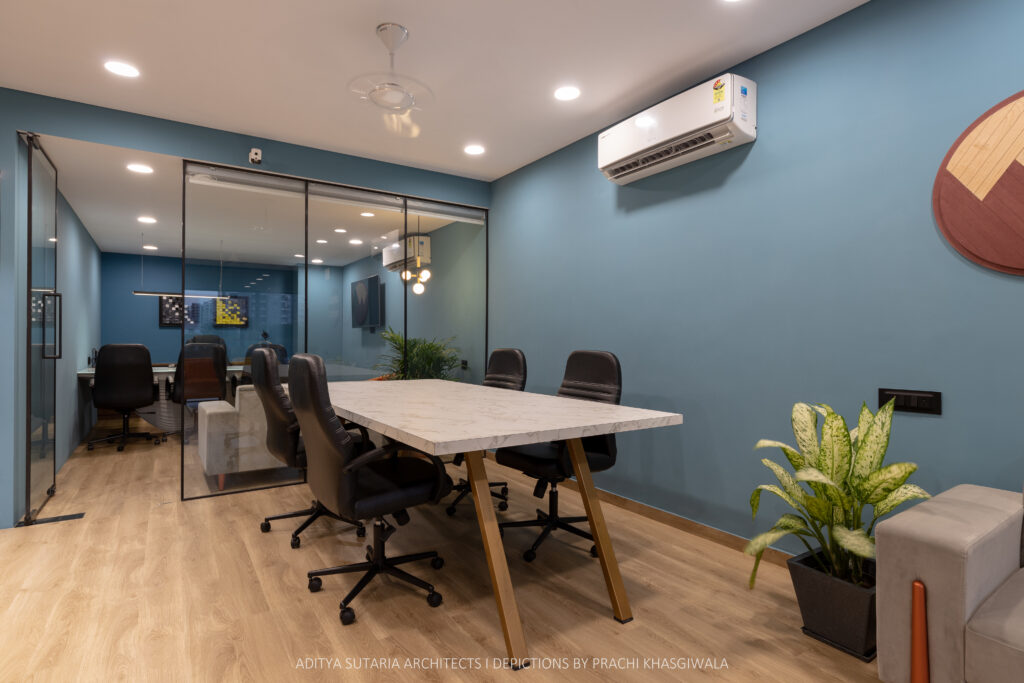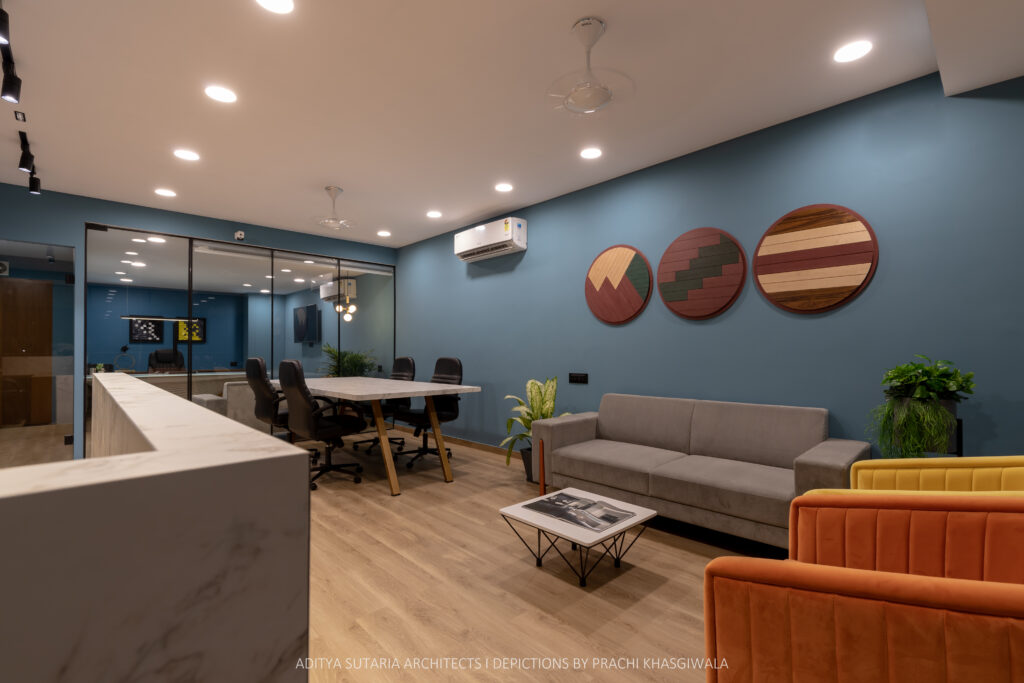 To show other construction materials, a display unit was designed beside the reception area. This unit was customised with MS framing which was then powder coated with wooden finish storages and back painted glass used as top. This unit would have samples of different colour finishes , fabrics , veneers and laminates to show clients and also to help staff in creating mood palettes while designing spaces themselves. Three customised wall frames made of raw materials such as Birch Ply, MDF, HDF and teak are composed on the waiting area wall to further educate clients about raw materials.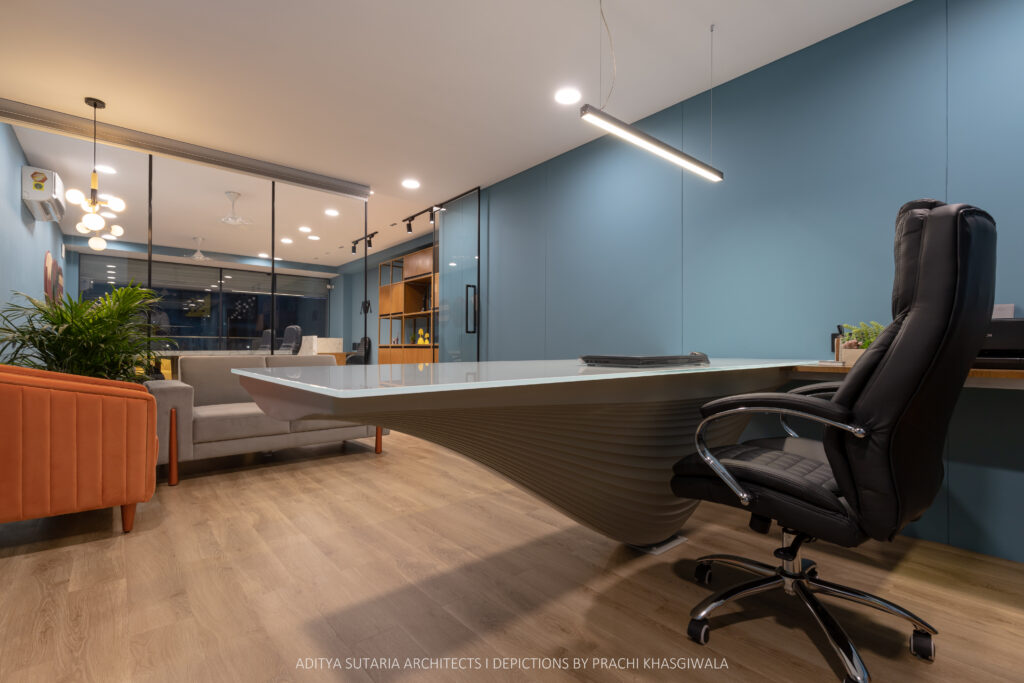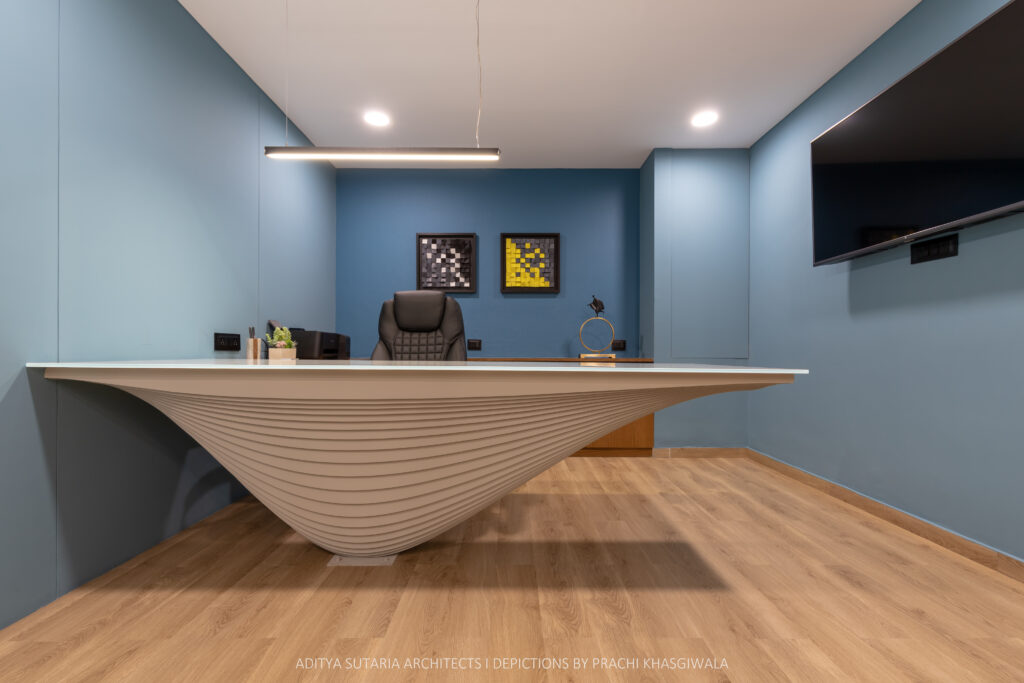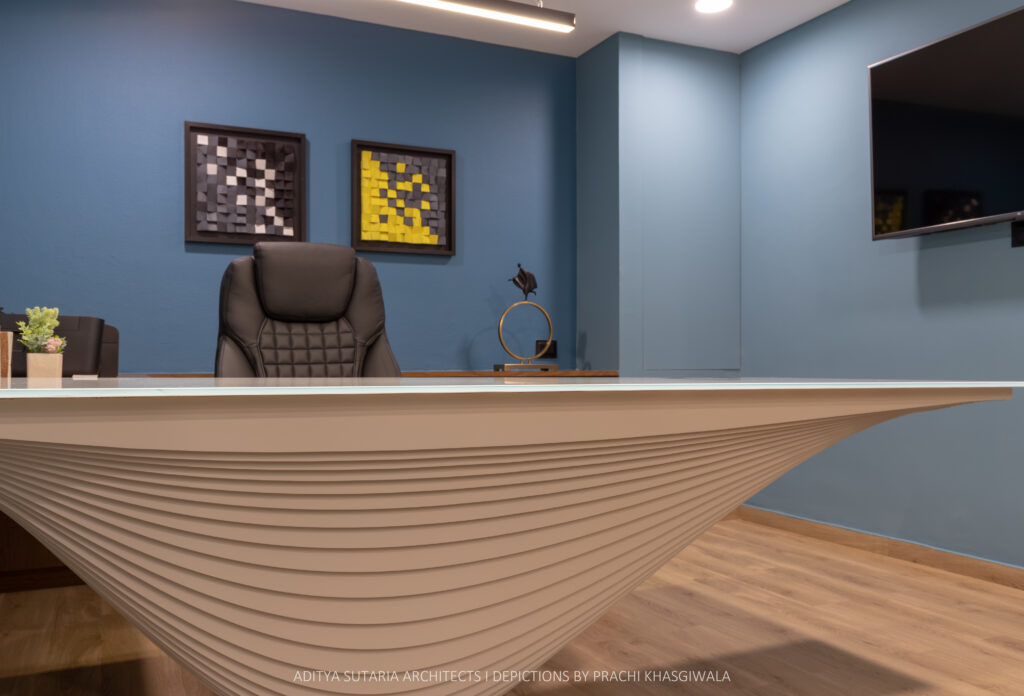 The directors cabin doubles up as the conference room as well. The directors table has been conceived as a piece of art inspired from the parametric forms of nature. The 8 ft wide table is the most striking design aspect of the office space. The parametric forms of waves created by tides in oceans inspired Ar. Aditya to make a table that floats above the floor like waves of nature. Throughout the office space, glazing has been used to achieve transparency for an ever-engaging design team. The lights are placed in a way that highlights each area of the office. The materials used in the office feel laid-back to the eyes. Flower pots of oxygen planters at suitable places bring out the solace in the work environment.
FACT FILE :
Designed by: Aditya Sutaria Architects (A.S.A)
Project Type: Commercial Interiors
Project Name: Studio A.S.A
Location: Surat, Gujarat, India
Year built: 2021
Size: sq feet: 1200 Built up area
Principal Architect: Aditya Sutaria
Photograph Courtesy: Prachi Khasgiwala
Products and Materials : Ply and hardware: Modak Ply | Glass consultant: Madhuram Glass Surat | Sanitary Fixtures: Hindware | Lighting Fixtures: Philips | Sofa and chairs customised : SB Lining Surat | CNC Consultant : CNC Designer 1919 (Naresh Jangid)
Firm's Instagram Link : Aditya Sutaria Architects
Firm's Facebook Page : Aditya Sutaria Architects