&nbsp
An Elegant And Luxe Home Interior | AR Associates
The Project:
When it comes to residences, we at AR Associates believe in focusing on understanding the need of the client and then blend function with aesthetics to find a balance between requirement and design. This project, a residence for a joint family in Hyderabad, was one such endeavor to fuse traditions of the family with contemporary, urban living. A home in which the family would bond and co-habit well.
Visit: AR Associates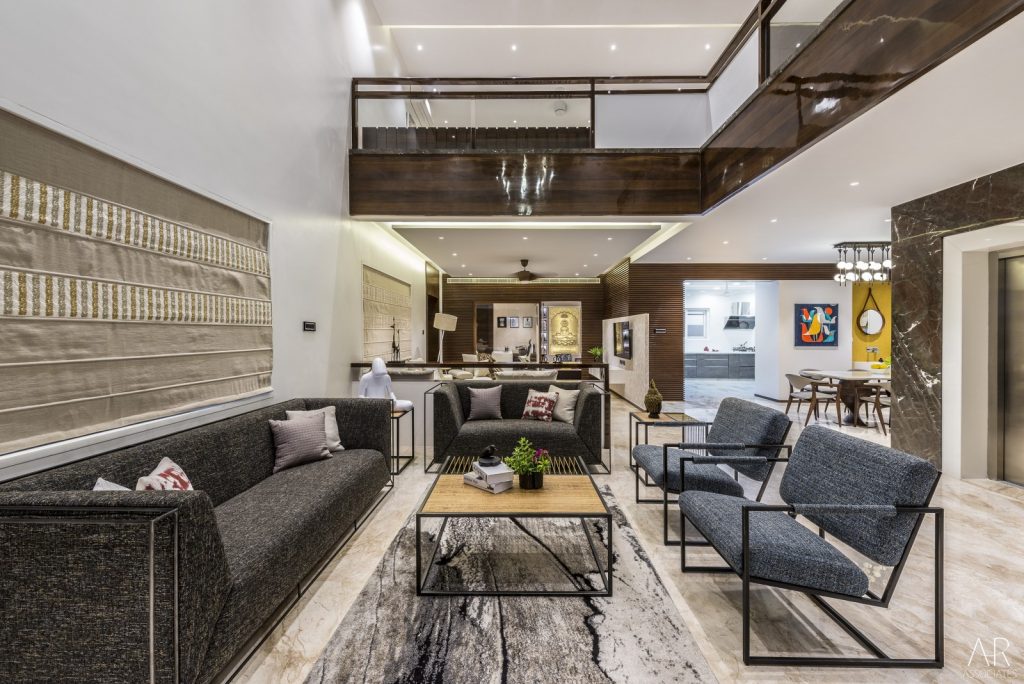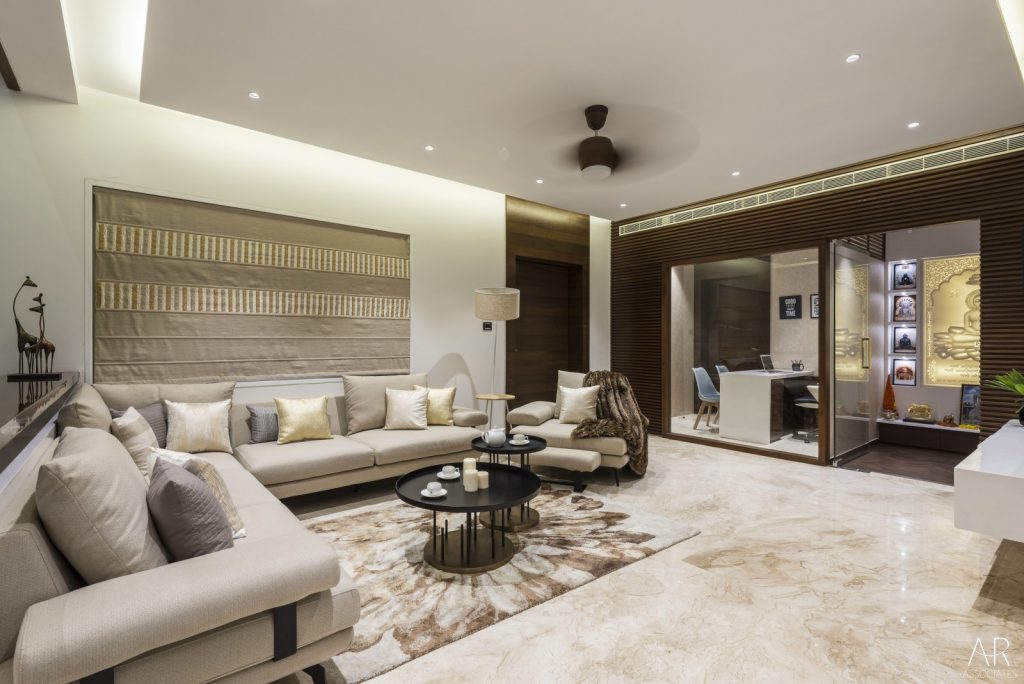 Design and Execution:
The bungalow was a spacious empty shell when we received it. We then divided it with a grid of internal walls, keeping in mind Vaastu compliance and function. One of the challenges was to complete this entire project in a span of 8 months from start to finish, in a new city with a new team, hence we worked on every detailing before going on the floor.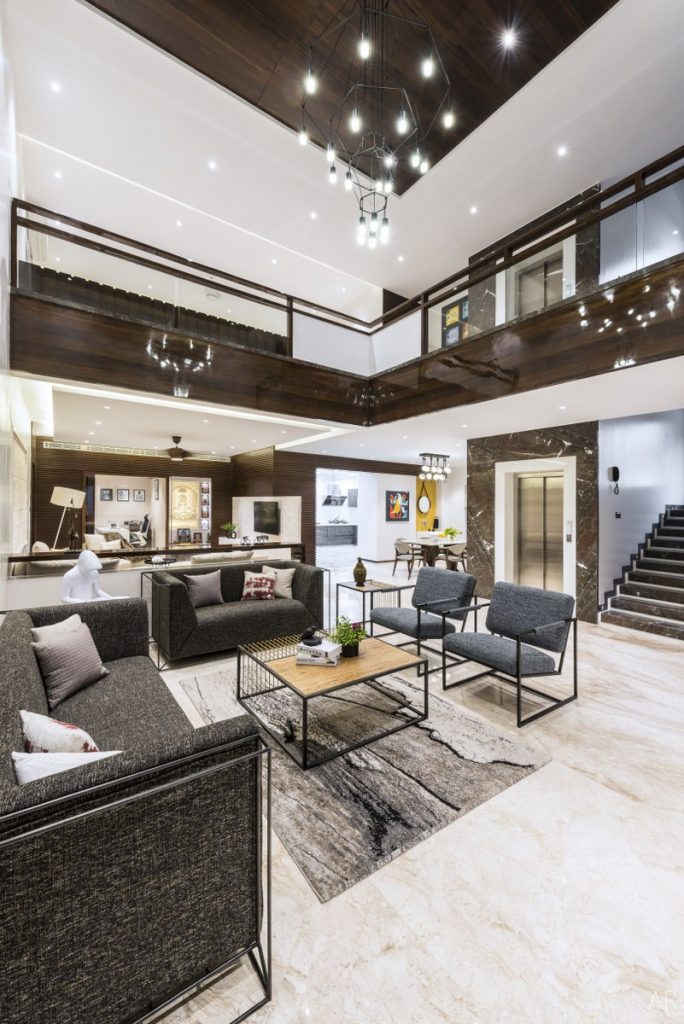 Design Flow:
Mastering the trifecta of function, comfort and detailing, in this spacious, double-heighted living room, we successfully incorporated formal and semiformal interactive spaces with a focus on classic elegance. The formal seating area was accented with natural teakwood wall paneling while a clear glass partition subtly separates the space from the office and the temple. This wooden paneling is the stylish visual thread that binds this space with the rest of the design.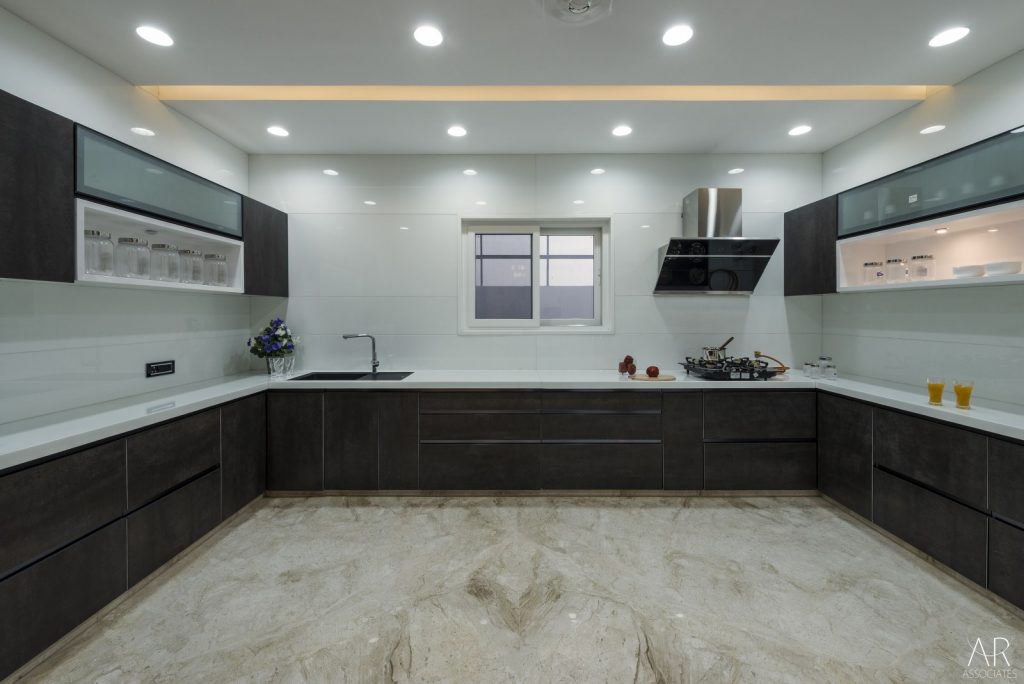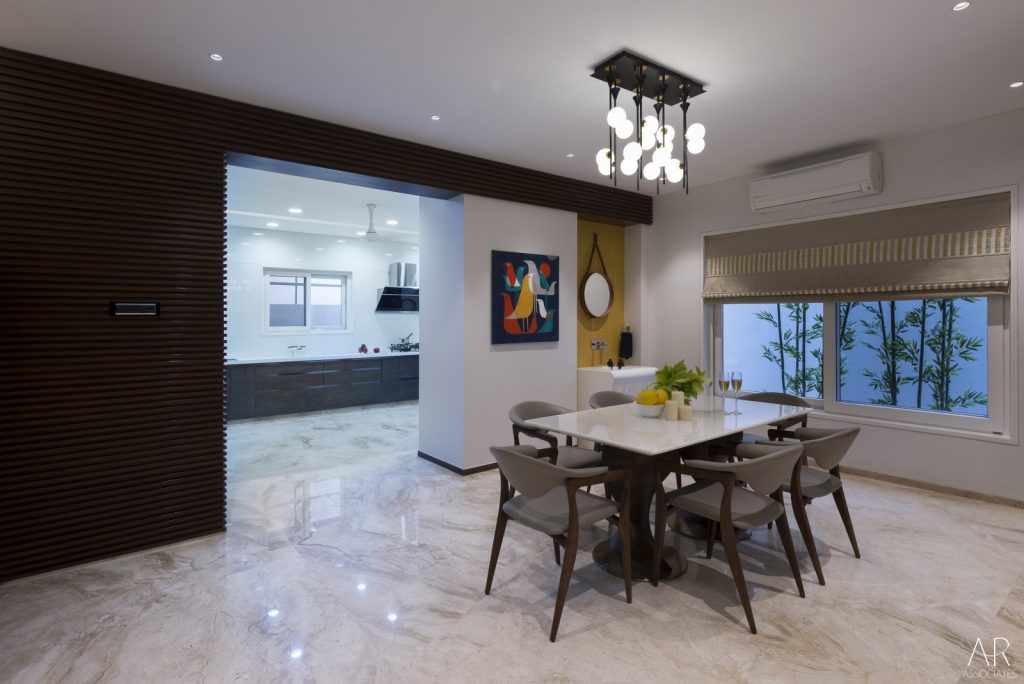 We highlighted the double-height living room's gracious proportions by strategically applying wooden accents and an elegant chandelier. A combination of dark marble and white stone along with well-developed lighting underscores the staircase.
The staircase leads to the upper two floors of private areas. The first floor leads to two lavish size bedrooms done up in a style to suit the personality of the occupants, a family lounge that extends to a landscaped sit out and works as a common private space for the joint family to interact amongst each other.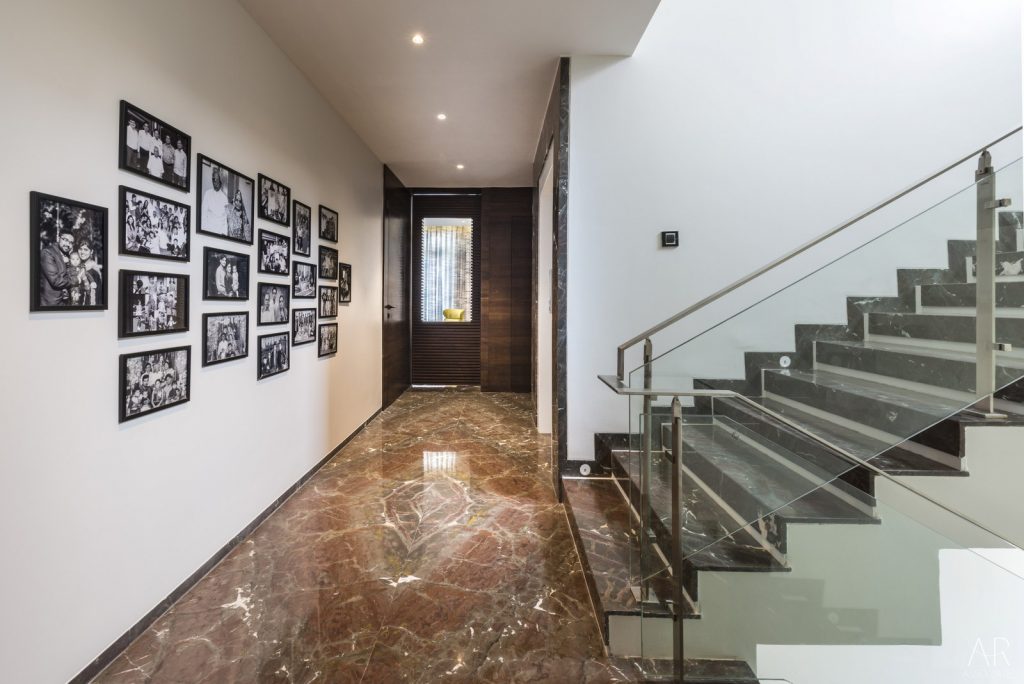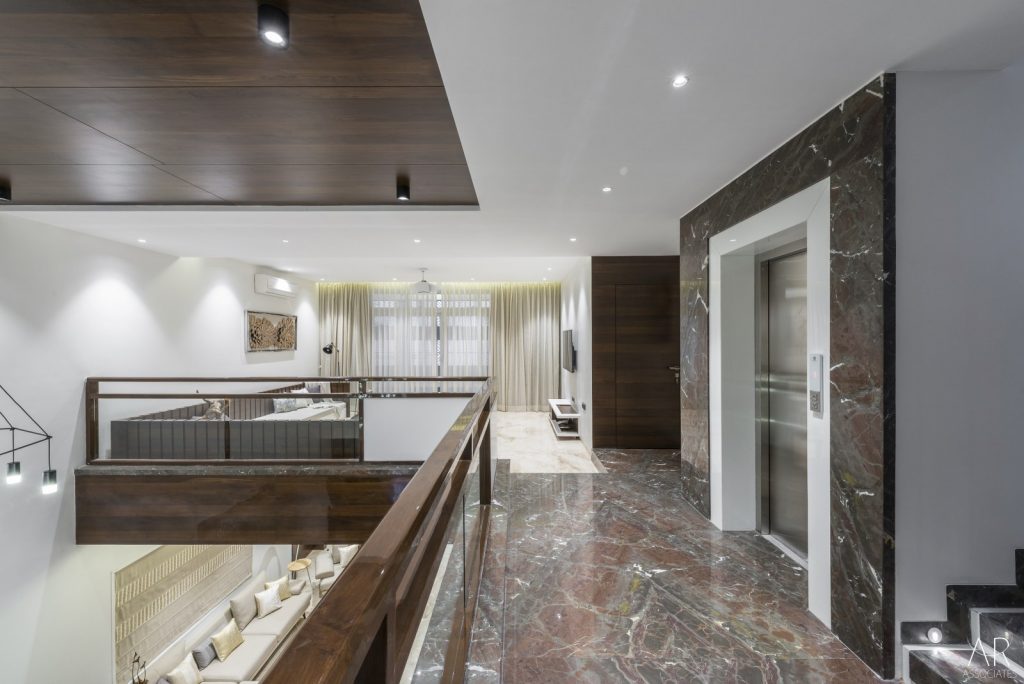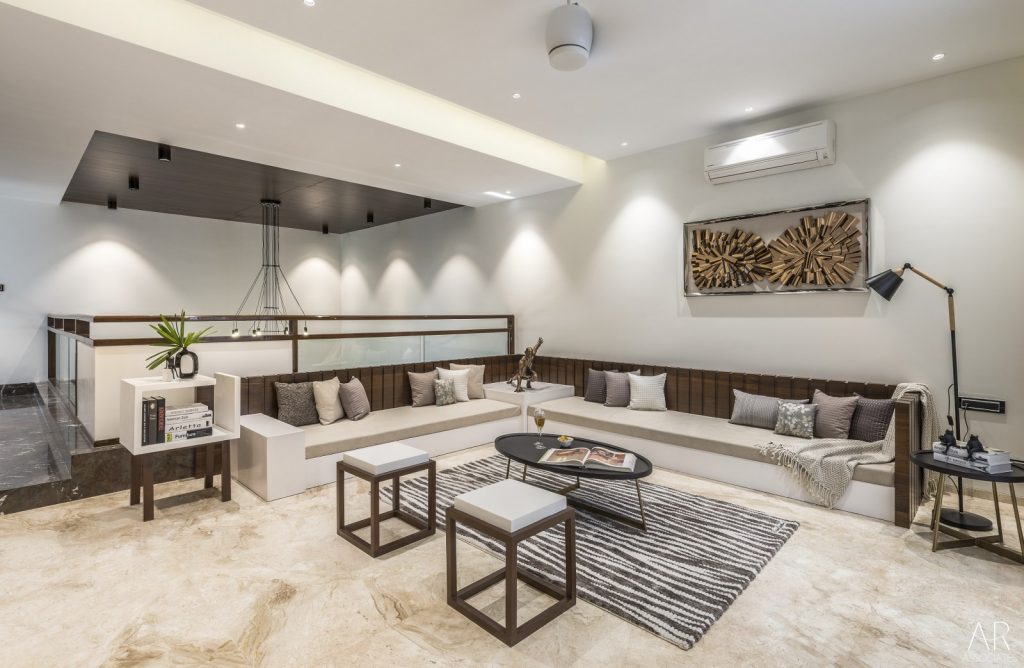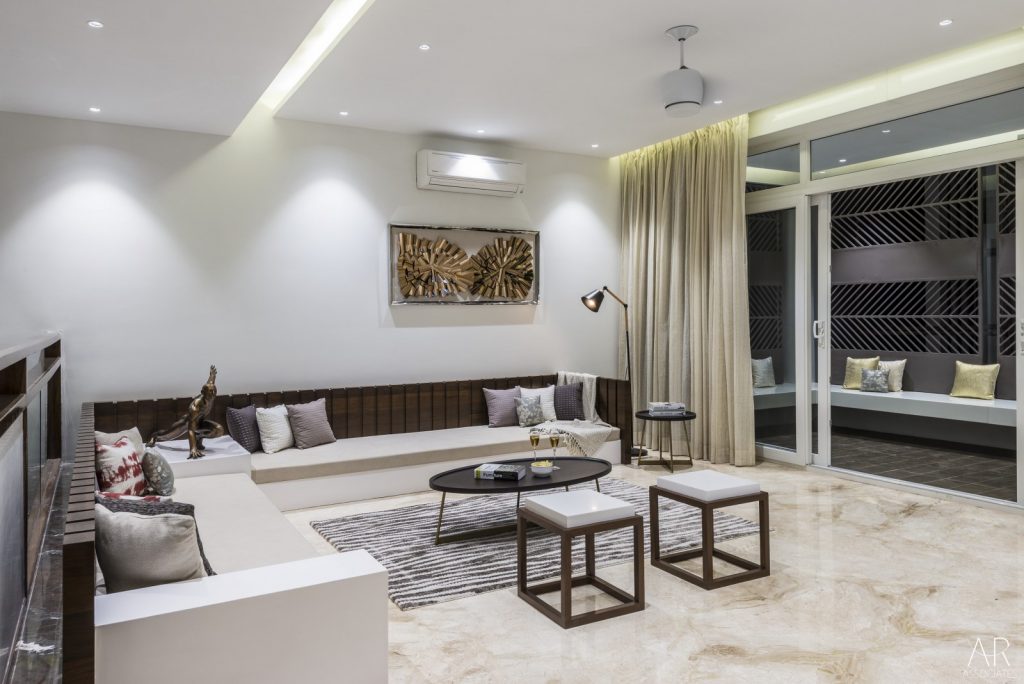 The second floor leads to three bedrooms including a guest bedroom, a media, and a meditation room that again leads to a common sit out with landscaped terrace. All these elements combine to give the space a sense of volume and luxury which is further detailed with a well- planned lighting keeping in mind the mood and function of the spaces.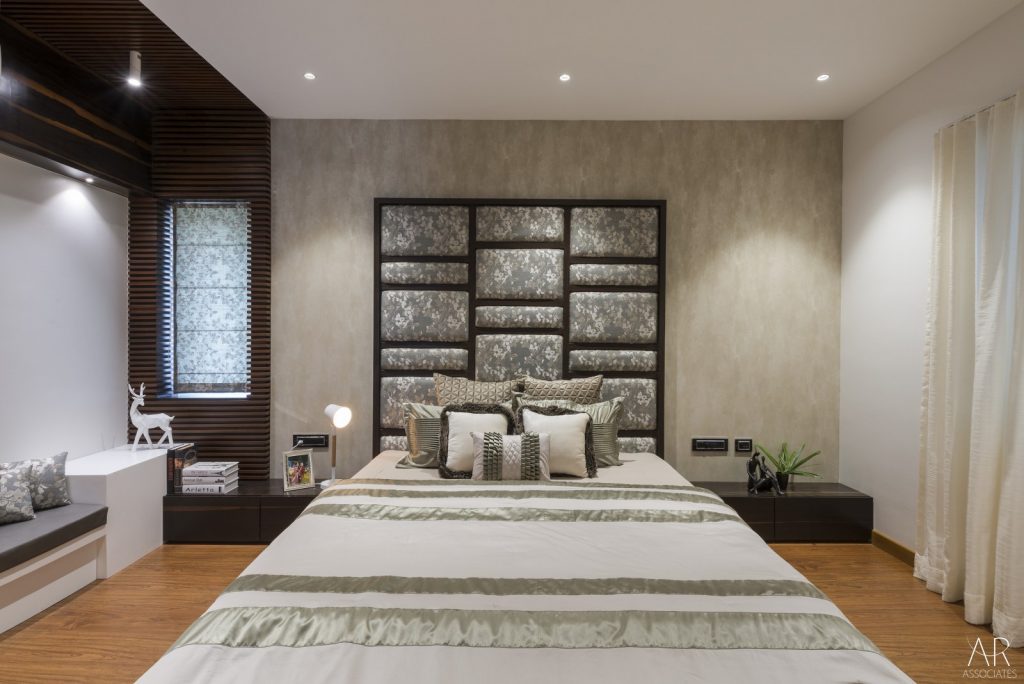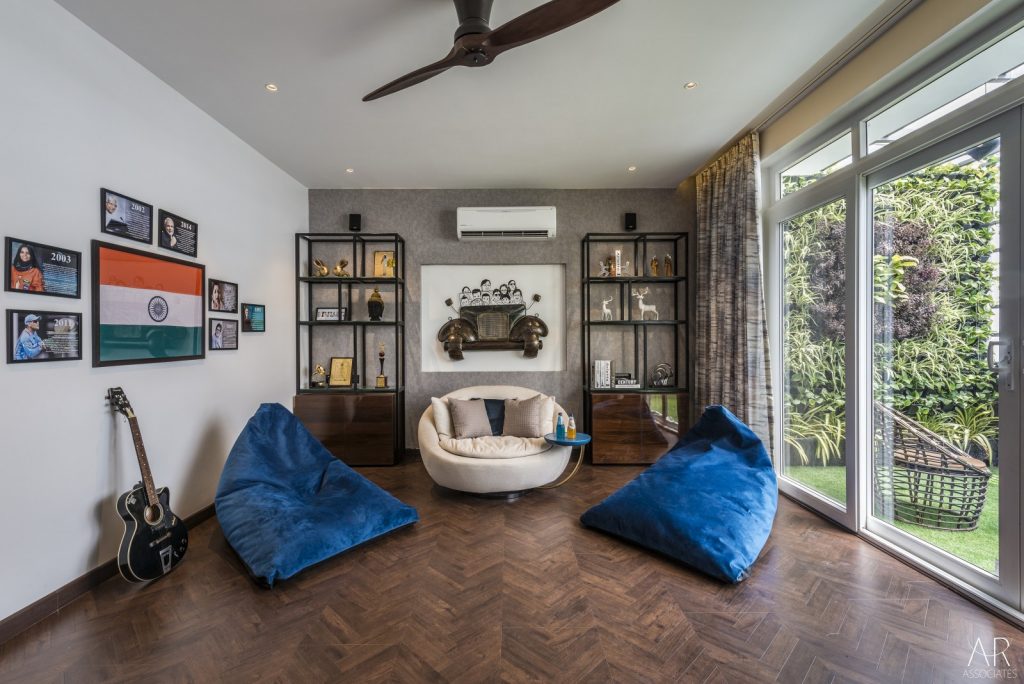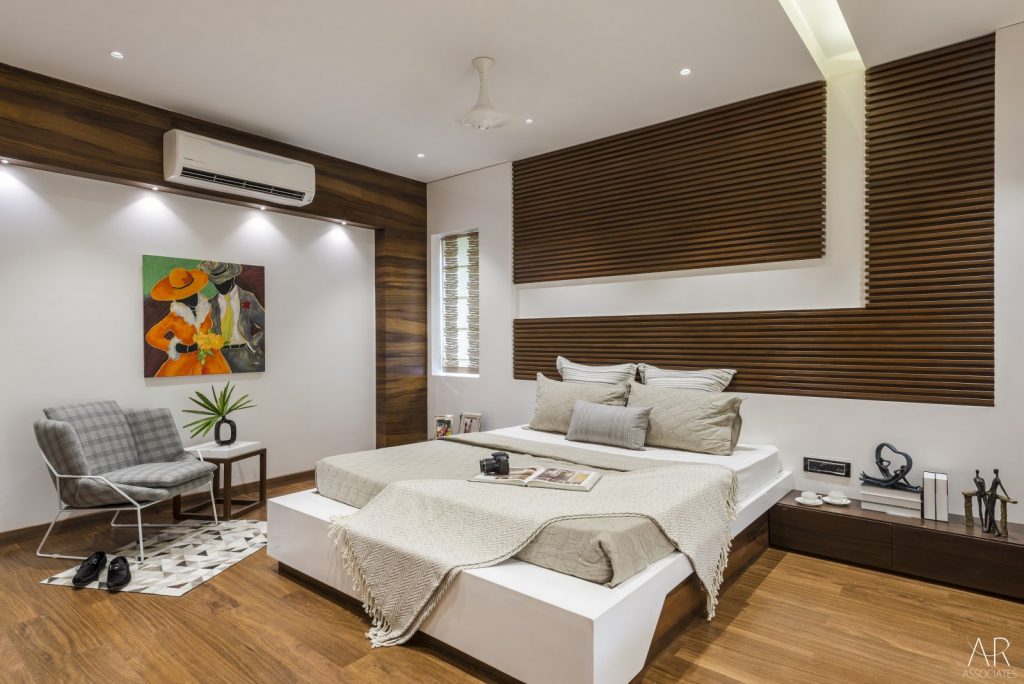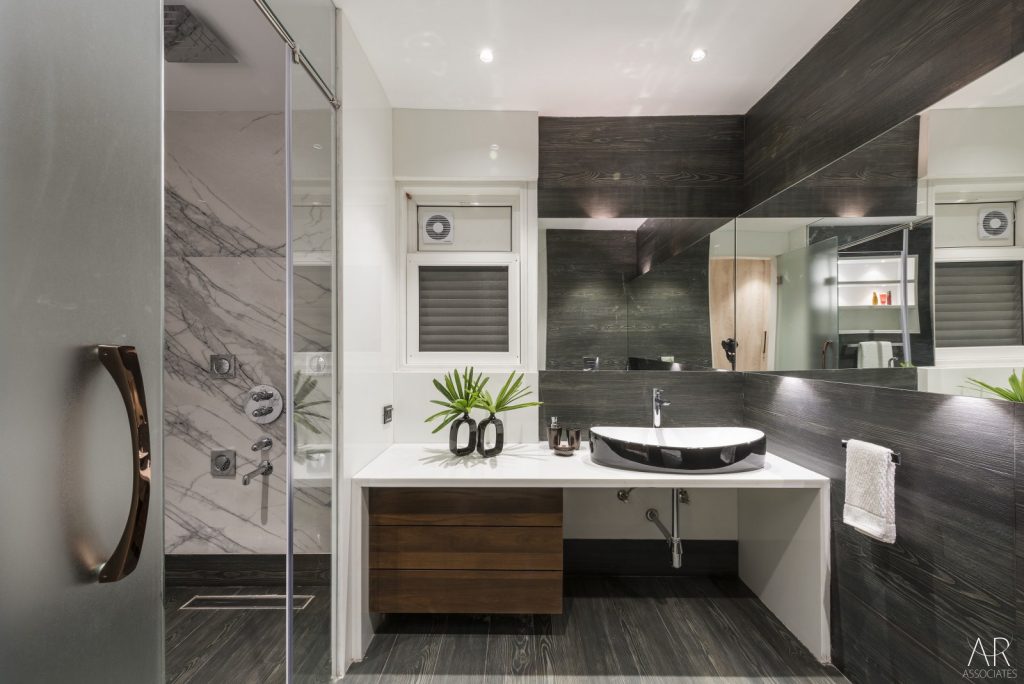 Conclusion:
With thoughtful planning and focus on detailing and innovative utilization of materials, we translated the brief into the reality of an elegant and luxe home that is spacious in size but by the virtue of its planning helps bond the family together.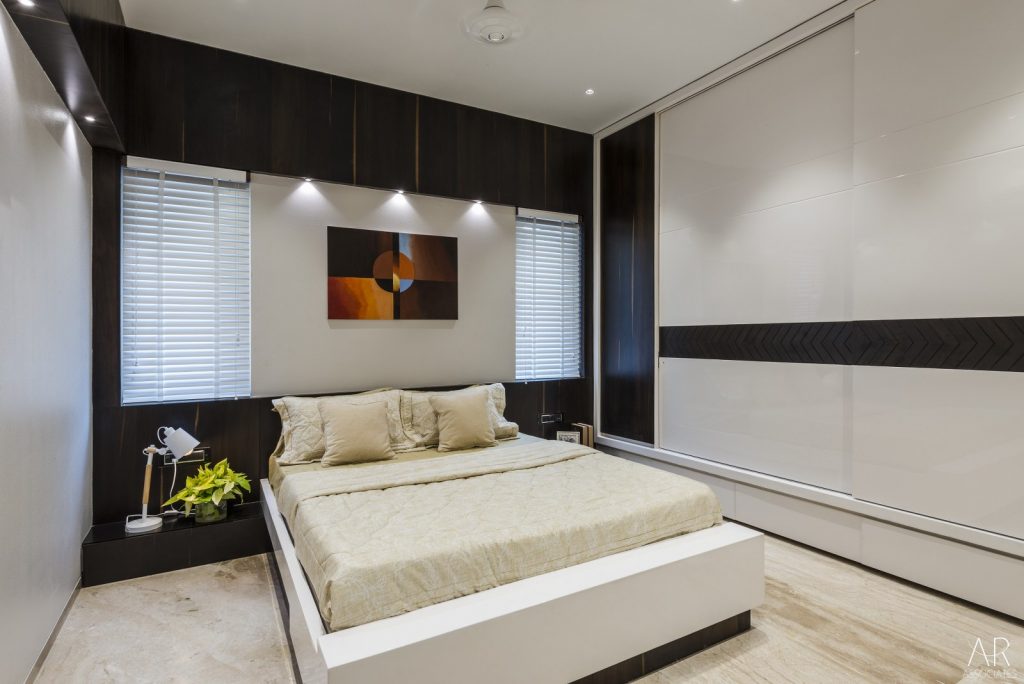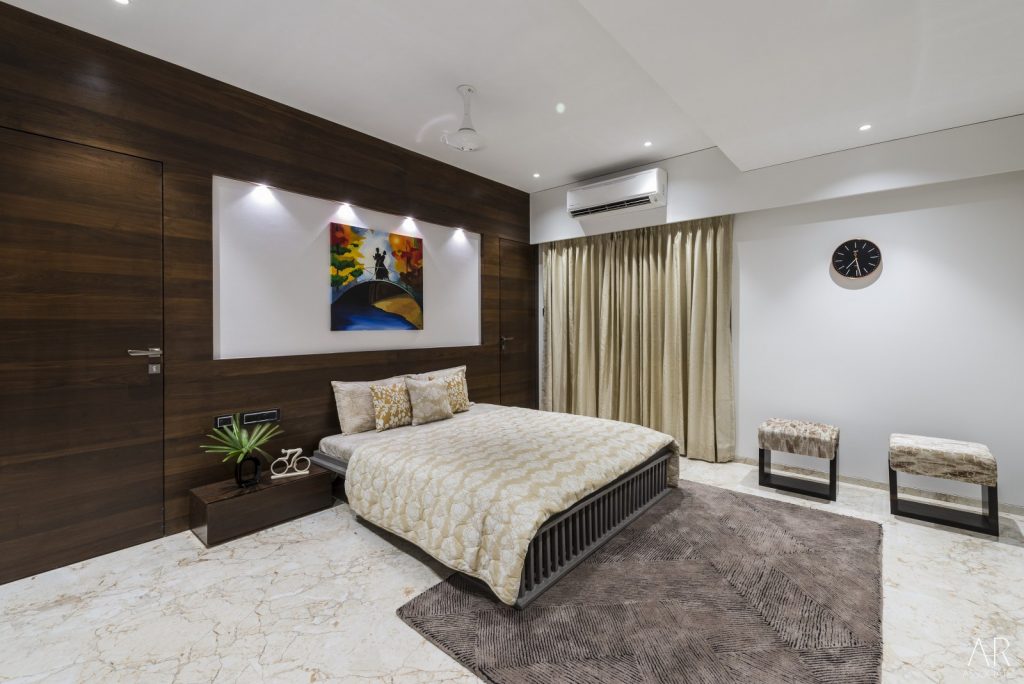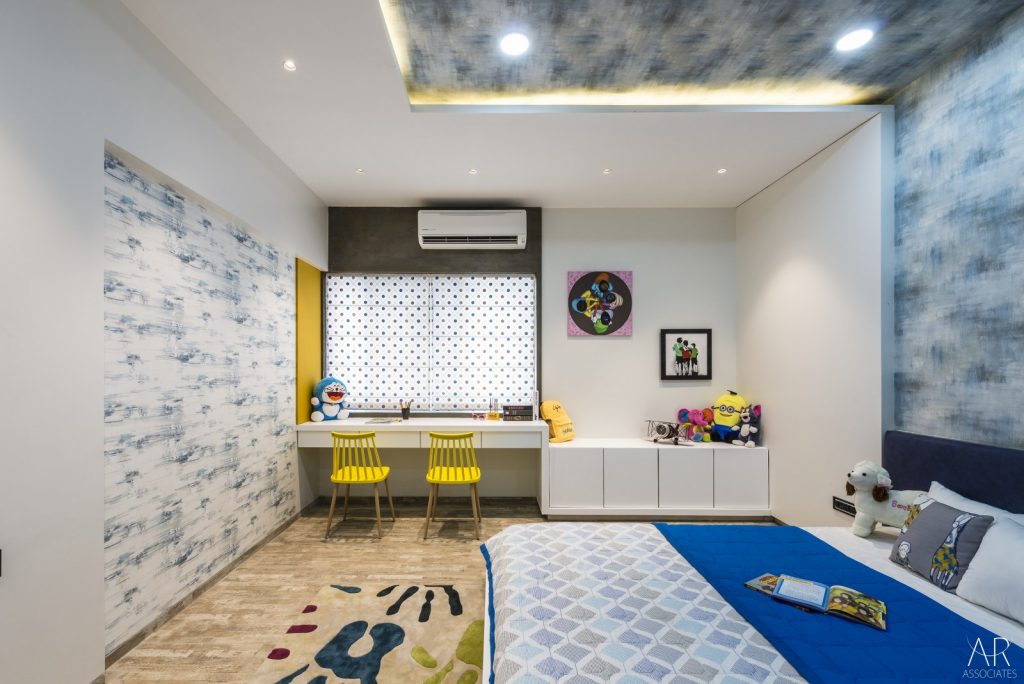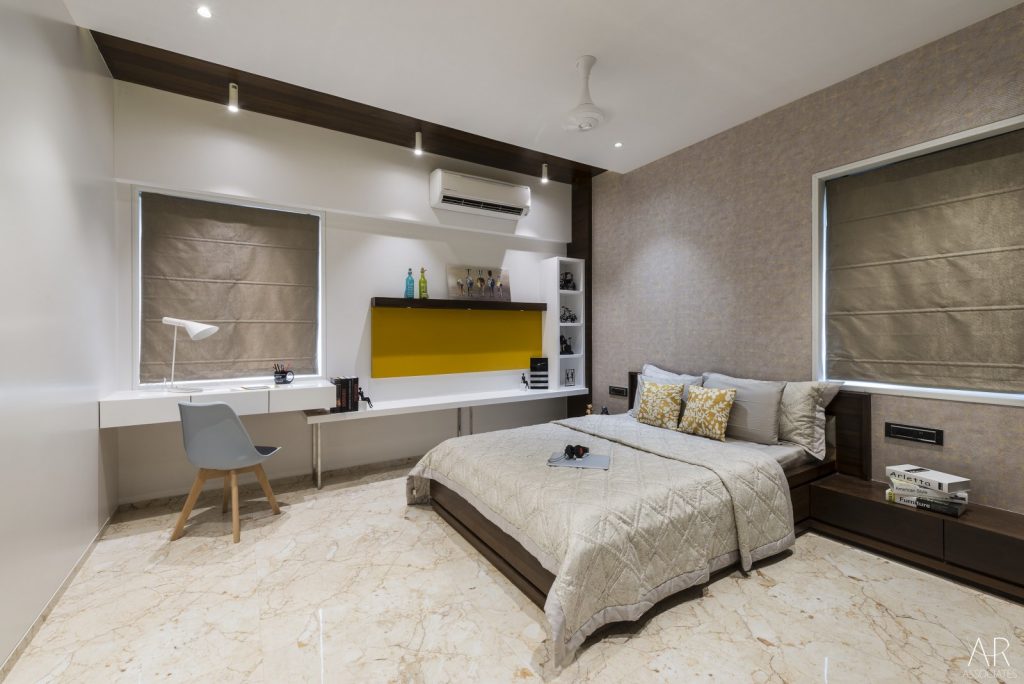 FACT FILE:
Firm: AR Associates
Location: Hyderabad/Attapur
Details of the space (area in sq. ft.): 5500 sq. ft.
Concept: Contemporary
Principal/Creative Director: Ritesh Badjate & Arun Shirsath
Design Team: Sumant Chavan, Rachana Mahur
Agencies Involved: HVAC-O-General Vrf System, Plumbing: Nawaz
Photograph Credits: Photographix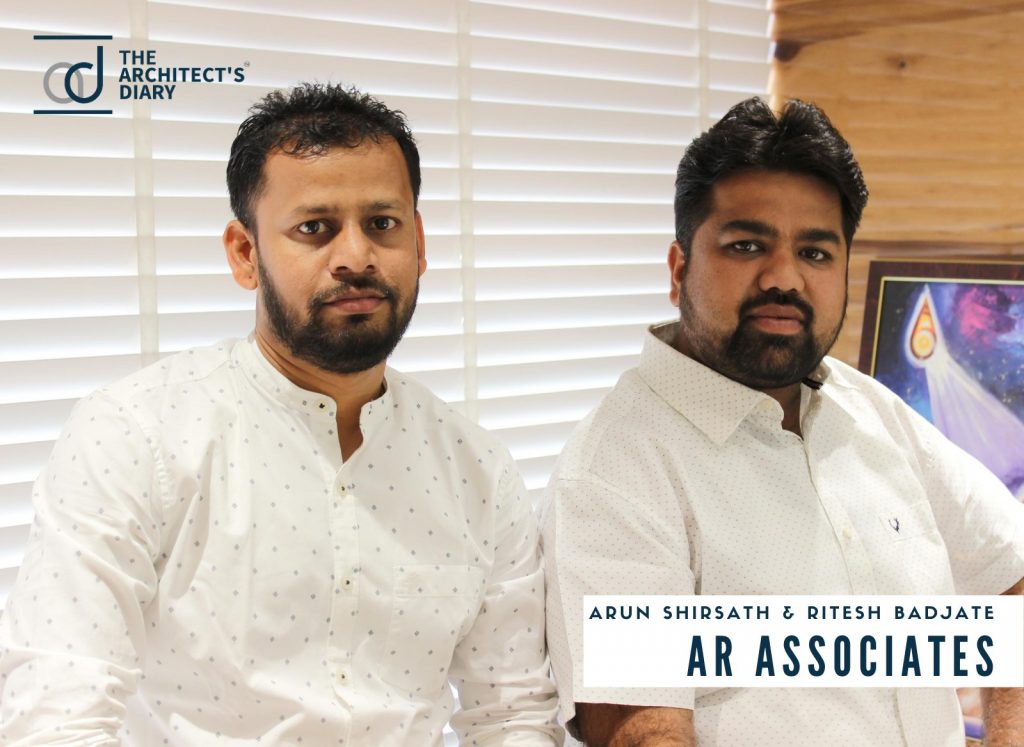 Facebook: https://www.facebook.com/arassociatesdesignstudio
Instagram: https://www.instagram.com/designstudio.ar/