An Architect's Design Studio With Simplicity And Crisp Lines | Craft Spaces
Creating a piece of art to walk within which will attract clients from all over with different cultural and social backgrounds, and give clients a feel of an experience center to build up trust which is the most important aspect to create something beautiful and unique, as well as achieving the perfect space for young budding creative minds to splash their ideas on a blank canvas.
Visit: Craft Spaces

CONCEPT:
The concept behind designing this particular project has always been to reflect the design philosophy of the principle Architects in such a way that it makes a house in everyone's heart whoever walks in this piece of art. Keeping it just as subtle as it has to be with a balance of colours and blanks. Making every glimpse a photogenic frame yet keeping it close to Mother Nature by maximum use of eco-friendly materials viz. stone, wood, wall finishes, earthen artifact's, etc. This design concept is about hitting the right balance of modernism with a touch of ethnicity to make everyone feel warm and homely.
With an eye of detail to see that every surface to be touched is plush rich yet close to nature. The design is executed in a way that it keeps the originality and the rawness. Space is blended with defused north light making it more energy-efficient and design-friendly.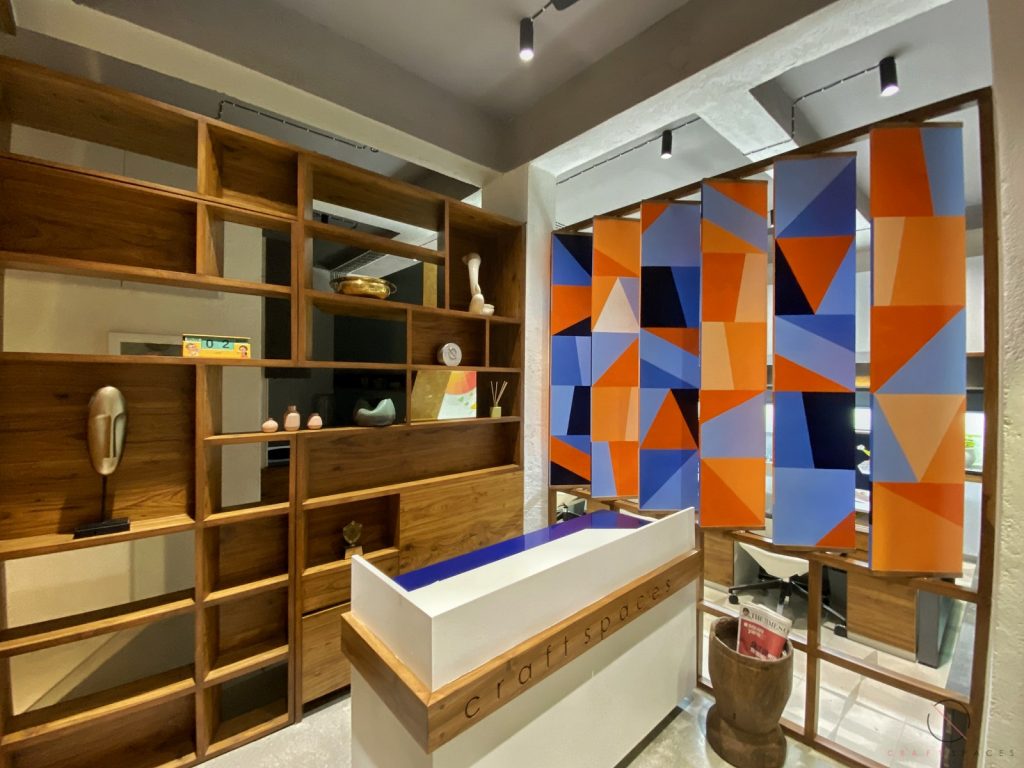 Architect's Design Studio is located in a locality surrounded with residential, Mixed-use, open space, and school. This ground floor office space opens up on the north and east side, where the majority portion faces north, which comes with an advantage of defused north light throughout the day perfectly suitable for the work environment. The northern spaces open up to a common open green space which further helps it to avoid any sort of disturbance or future development, keeping the place silent and calm throughout the day.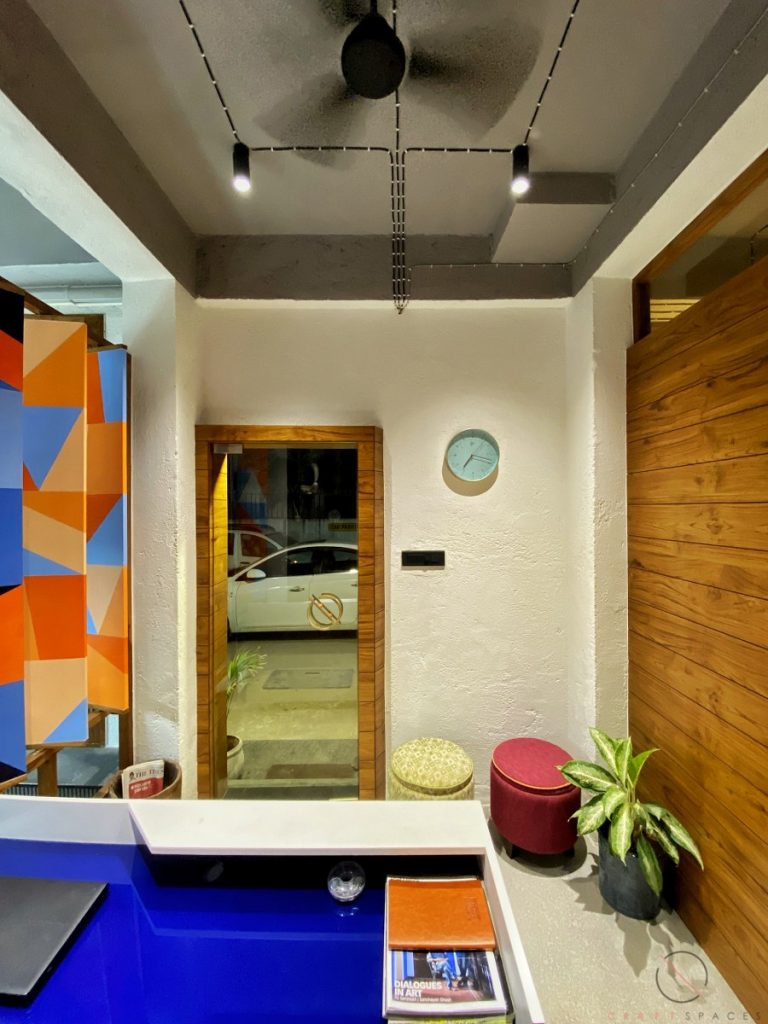 ENTRANCE & RECEPTION AREA:
Reception Area is designed to be a compact yet welcoming space by giving semi-transparent backdrop scooped out of wooden partition which withholds a door hidden within the partition. The reception table is finished with white Duco paint to highlight the wooden section with a name carved on it. The colorful geometric paint pattern on the right is pivoted on a wooden frame between the studio space and reception which maintains the privacy and discipline yet gives it a sense of openness and makes the space more interactive.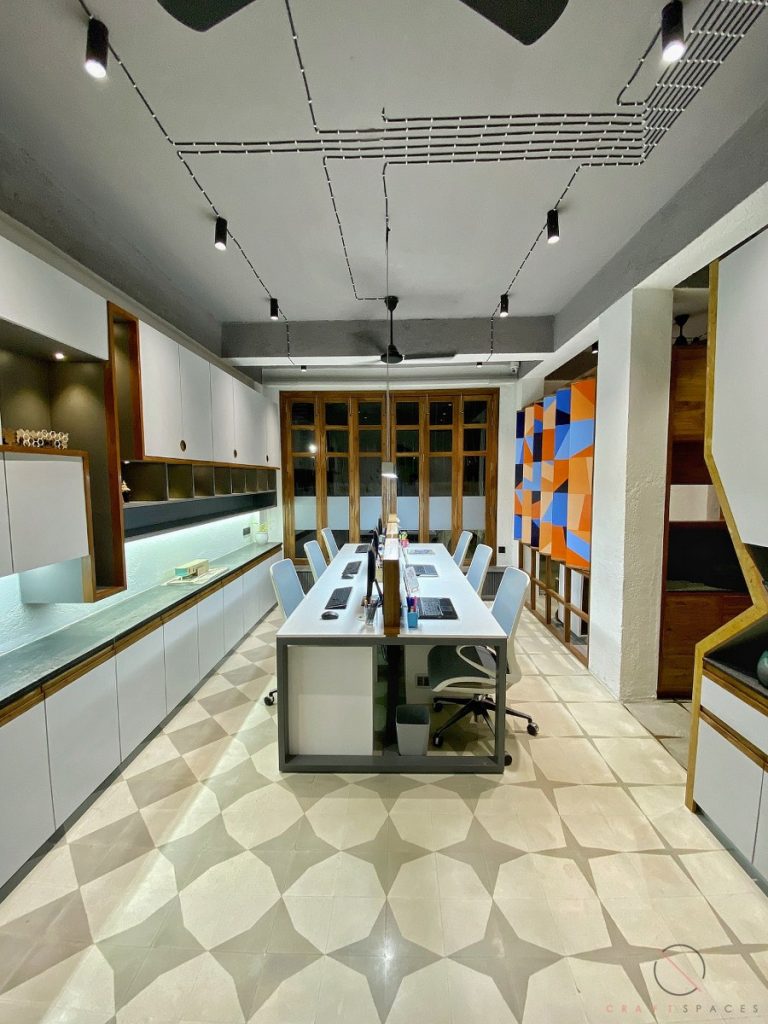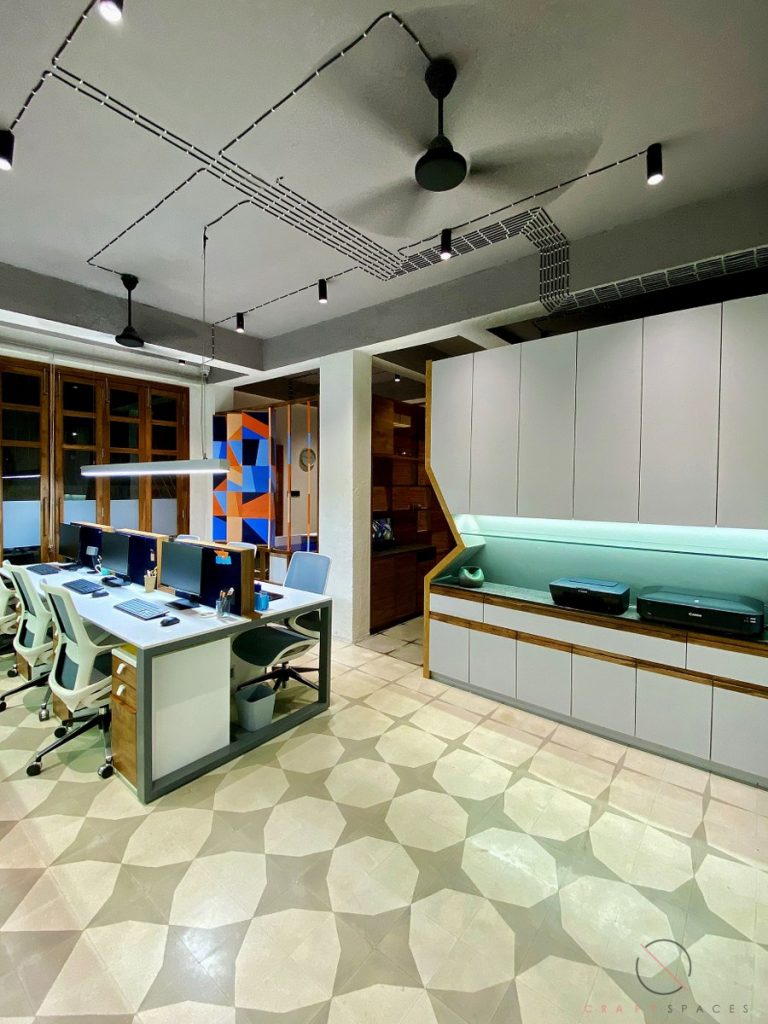 STUDIO:
Studio space is designed with simplicity and crisp lines with a combination of natural materials like stone and wood finished with different textures. The storage unit on the left is inspired with a line of continuation & space is naturally lit with wide full-height folding windows. The floor is furnished with a metamorphosis pattern by BTC giving the space earthly yet a modern look. Exposed electrical cables on the ceiling are designed to achieve maximum height to give the space a sense of openness.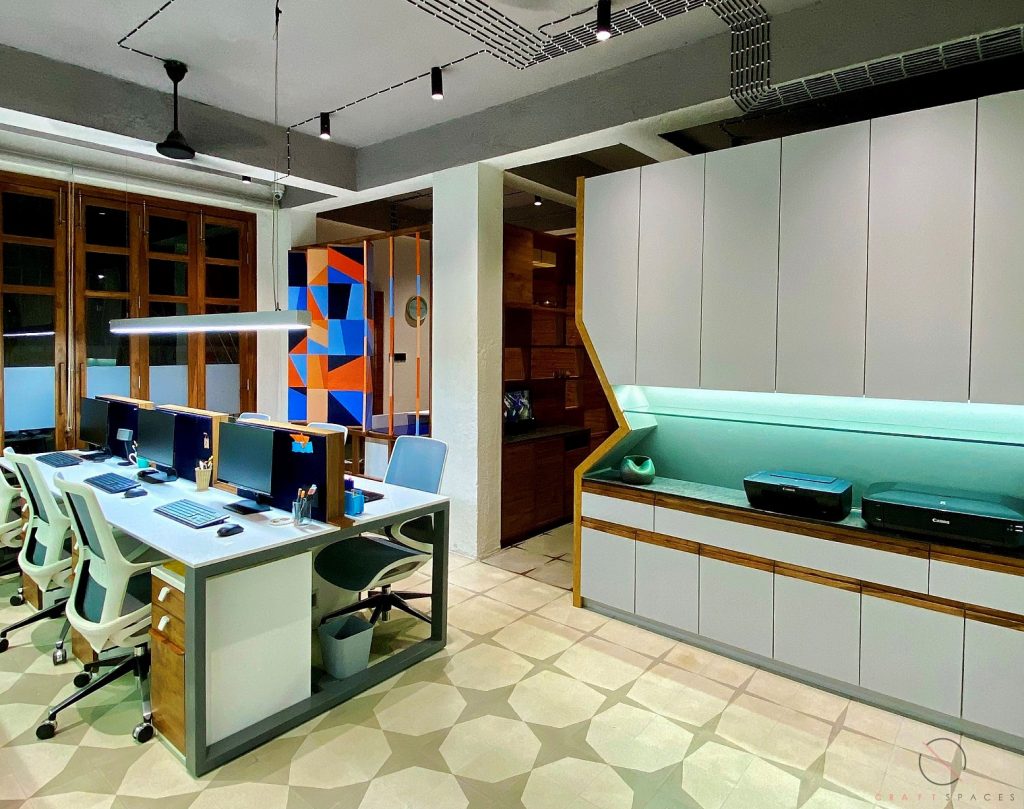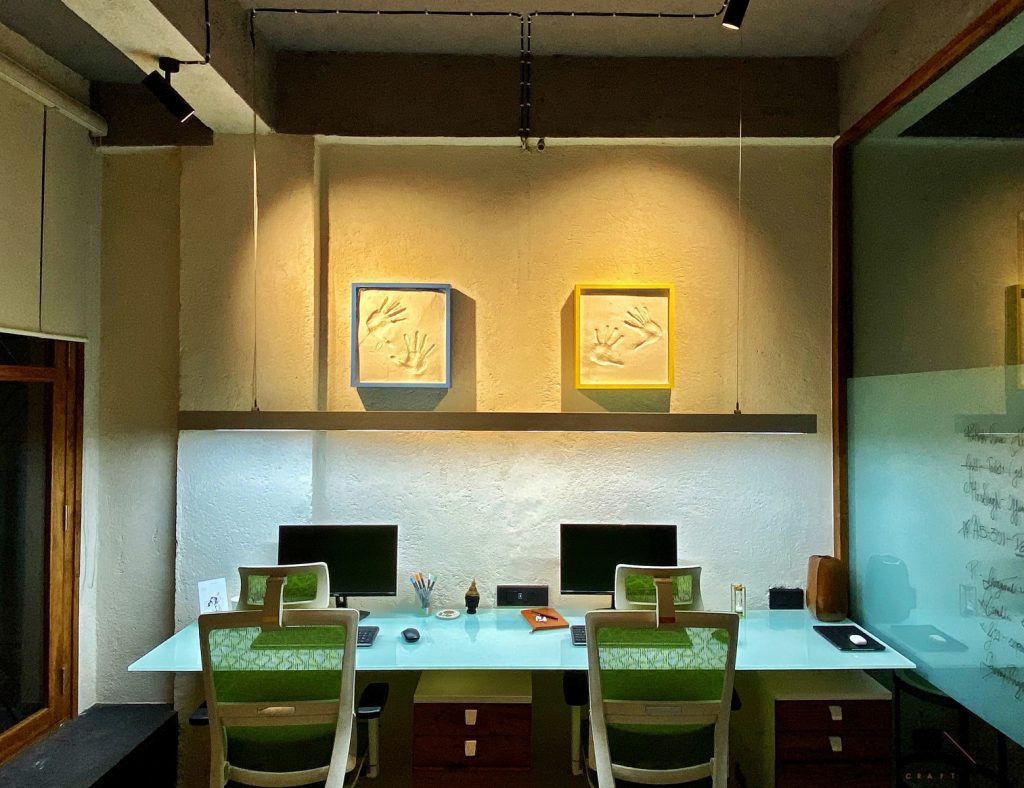 Colour wheel placed in the backdrop is specifically with a purpose to have a full colour palette right in front of us while designing which makes it easy for our designers to work.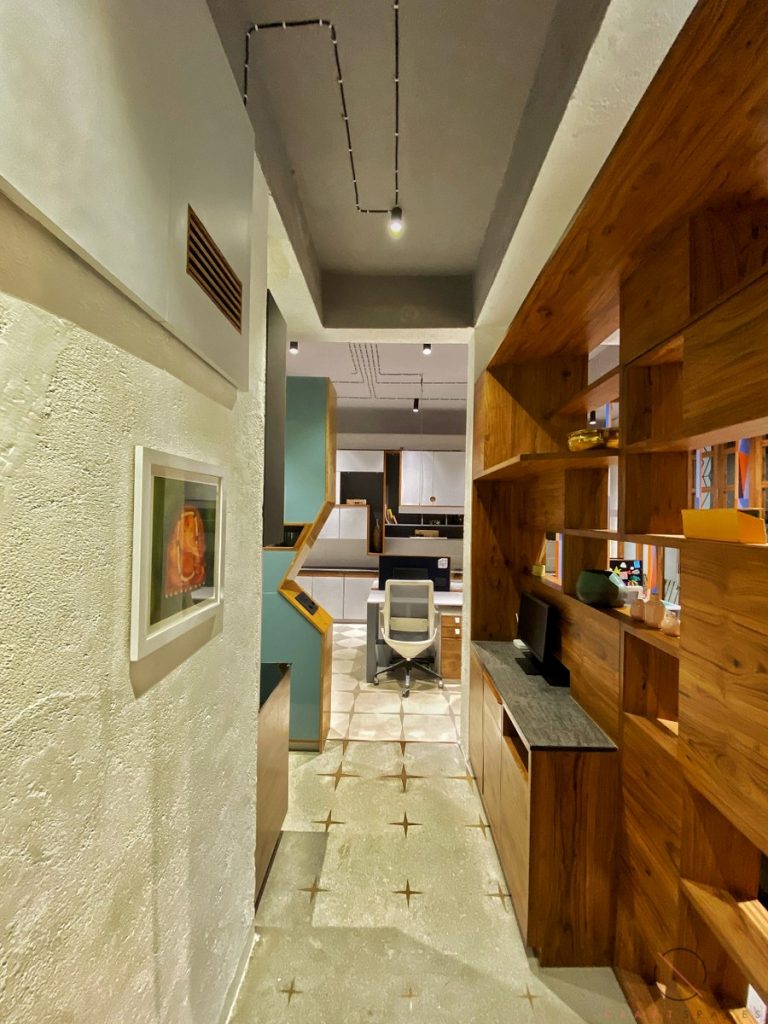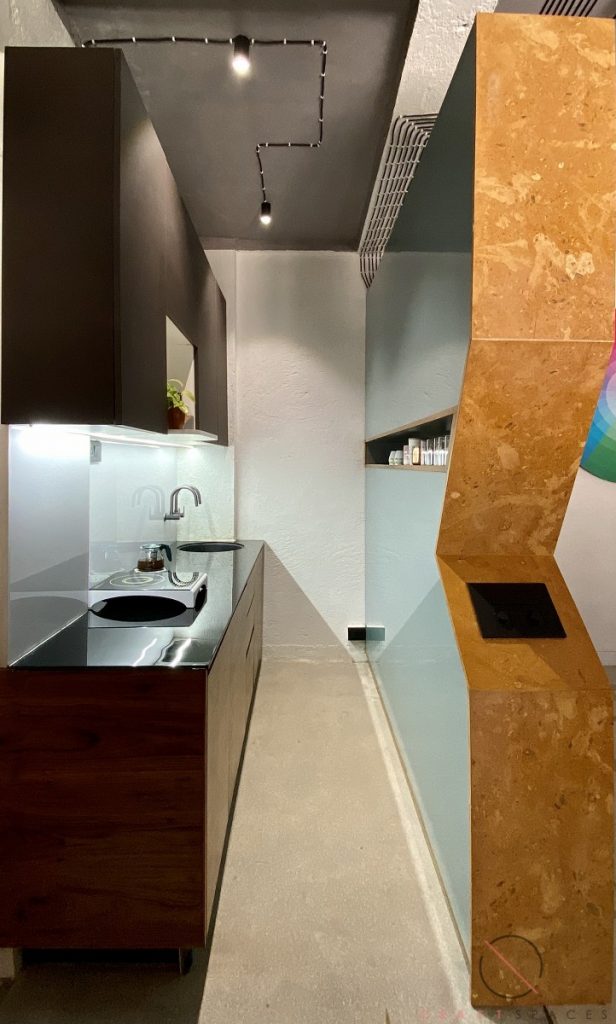 PASSAGE, PANTRY & TOILET
The passage being one of the most important spaces as it holds together all the spaces so it had to be designed quite neutrally yet blending into each and every space. The Metamorphosis flooring pattern from studio continues in the passage in the form of brass inlay to merge into the cast in situ flooring which gives the sense of continuity. Pantry is designed with much attention to detail and functional yet sleek in design. The wooden tone with zero matt laminate finish of storages and pastel tone compliments the space. It has several sturdy and spacious cabinets.
The toilet is designed in a way to add a calm ambiance without sacrificing minimalistic design. Clean and simple with cement sheets cladding on walls and harmonizing the space by adding a bright tone is creating a perfect balance.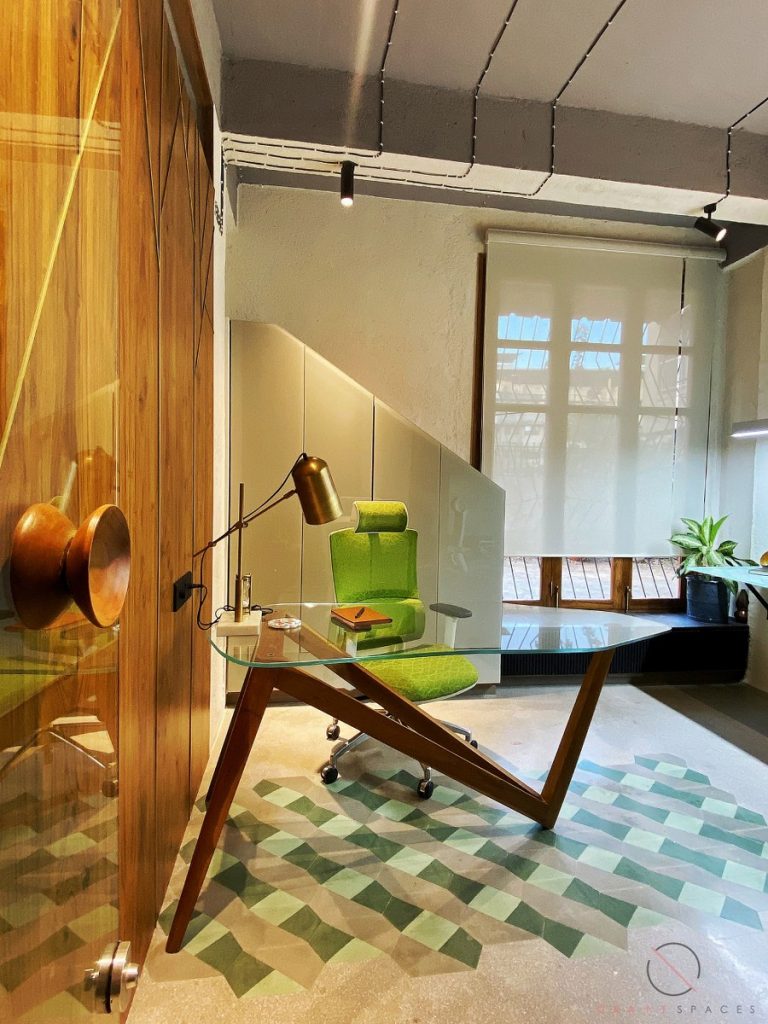 CABIN:
The cabin is designed for two Principal Architects. Which includes a discussion table, storage & workstations for two. The table is dynamically designed in teak wood balanced on three legs, the glass top is designed in an organic shape to avoid the corners and improve the circulation space. The wardrobe is been sliced to lighten up space. The flooring pattern is been added to define the use of space.
MEETING ROOM:
Meeting Room cum Material Library is a compactly designed space furnished with handmade macaroon cement tiles inlaid in a fine cast in situ terrazzo flooring. Walls are kept raw and painted over sand plaster texture.
A tripod circular table and Side storage are designed to hold the material library become an ideal dedicated space to select materials for given projects. Calm atmosphere with breezy wooden window and lush green planters.
FACT FILE:
Firm: Craft Spaces
Location: Boisar, Maharashtra, India.
Type: Office Interiors.
Area:580 sq. ft. (carpet)
Cost: 15 lakhs
Principal Architects: Sudhanshu Yande & Abhishek Dukane
Cost per sq. ft. : 2586 sq. ft.
Year: Nov. 2019.
ABOUT FIRM:
Architecture has the power to influence our everyday living. We at our firm take this power to build and design spaces irrespective of its size – which connects you with natural environment thereby judiciously utilizing natural light, space and materials. Attention to detail is our forte and we take pride in incorporating it in our projects.
Our Team of Architects are adept at translating client's needs into a piece of art. While doing so, we aim towards striking a balance between the various facets of architecture: Functionality, aesthetics, time frame efficiency, cost-effectiveness, and sustainable living – thereby attaining utmost customer satisfaction.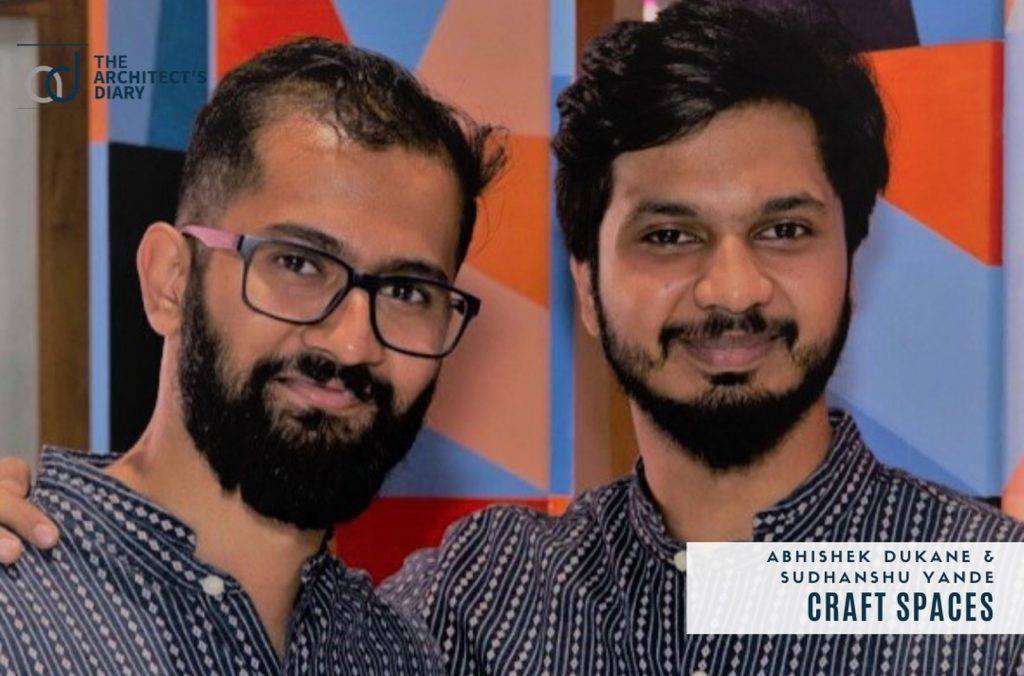 Instagram: https://www.instagram.com/craft_spaces/