&nbsp
The client was very particular to keep the theme living & kitchen area in Achromatic majorly. Thus we attained a simple design.
An Achromatic bungalow Interiors Called battleship grey love | Deuja Designs
Visit : Deuja Designs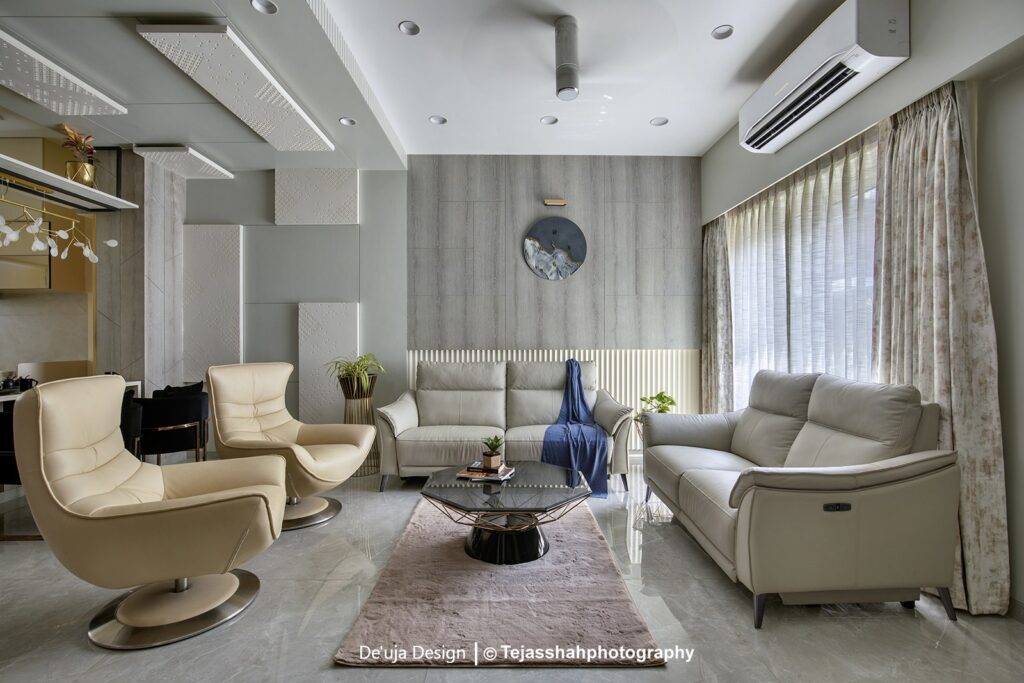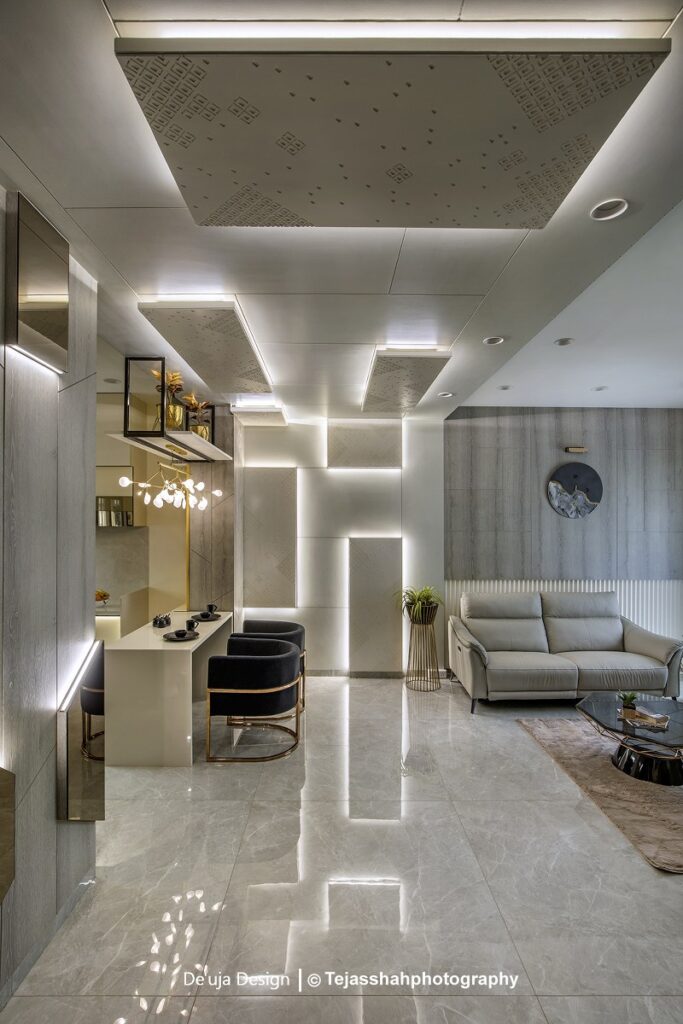 When the couple approached us, we realized the structure was already done, with floor slabs and columns finished. We had to do more than just Interiors that way which includes garden terrace with gazebo as well, also Fenestration was planned in a way to capture every bit of the view. The design was thought-about to capture most of the eastern view making it a lovely morning/day space to be.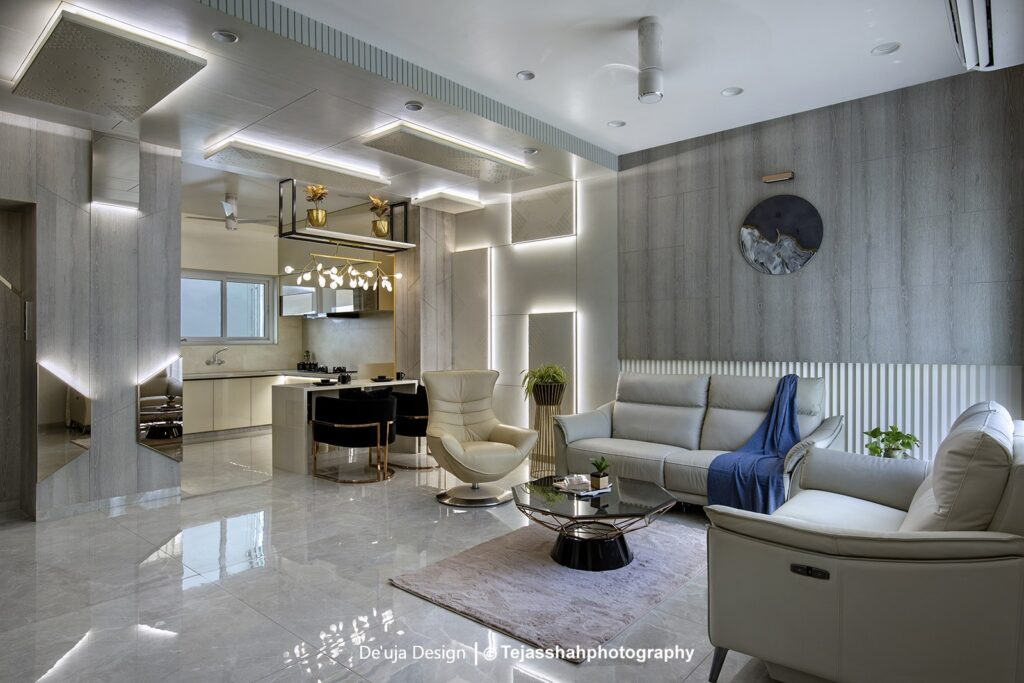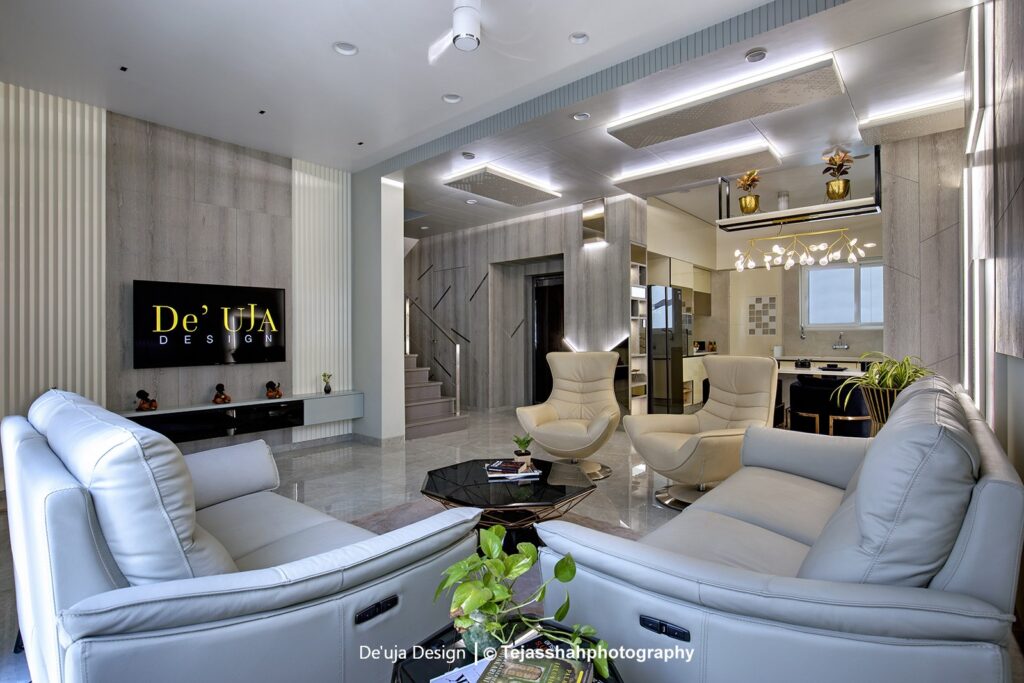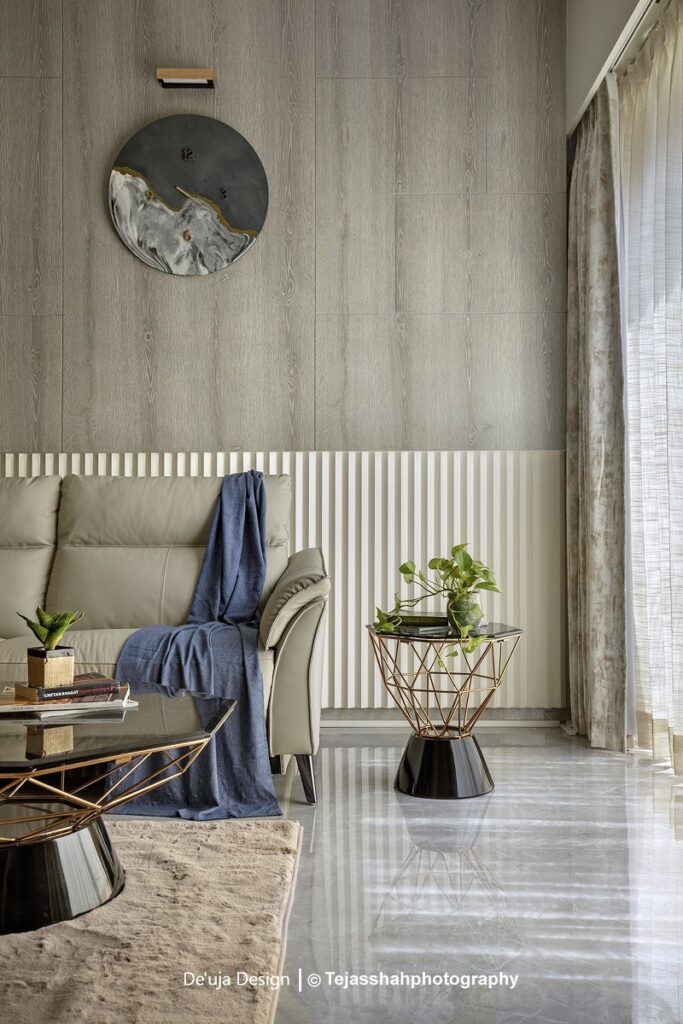 Living room – With silver river Italian finish flooring adding drama and lifting up the space, exposed concrete finish wall clock over the battleship grey veneer complements the formal living. Where right angle veneer and louvered style wall panelling comes out as an alluring wall. The centre table is made of all the imported black tinted glass and Wall clock is also our custom made of exposed concrete and resin giving the effect of fluidity.
Dining area – Designing the dining area was very interesting yet a little challenging. Custom-made chandelier is the highlight for dining area. The ivory shaded dining stone makes it elegant and functional.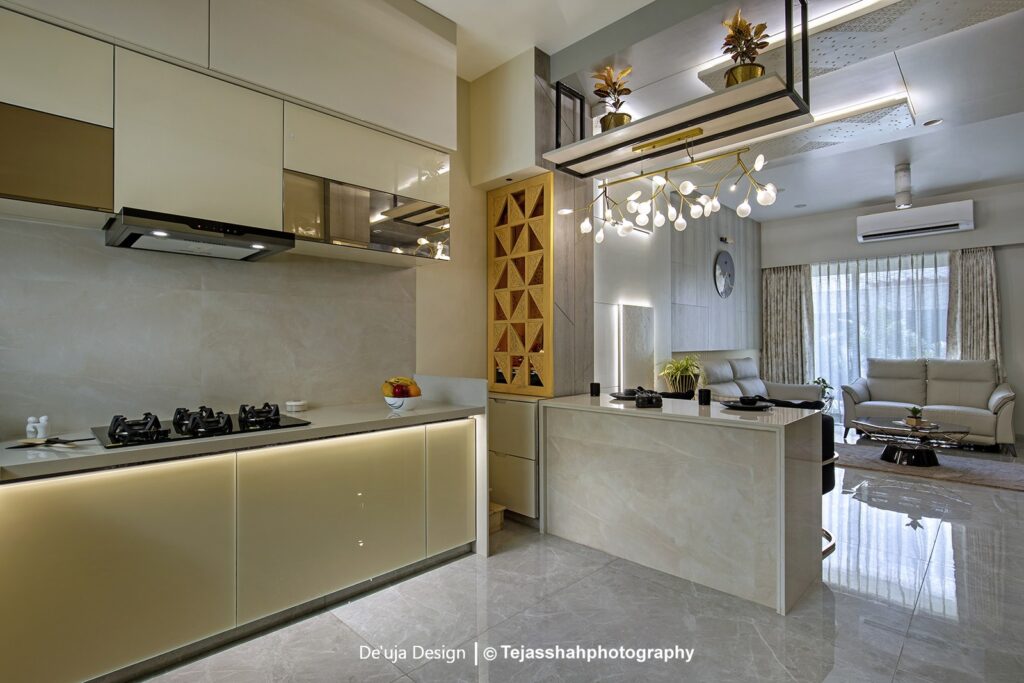 Guest rooms – Bright yet contemporary feel with the use of walnut veneer shutters. Ceiling provides warm ambiance with the help of direct and indirect light. A space of all is the design vision with a blend of dim and bright lighting serving various different purposes.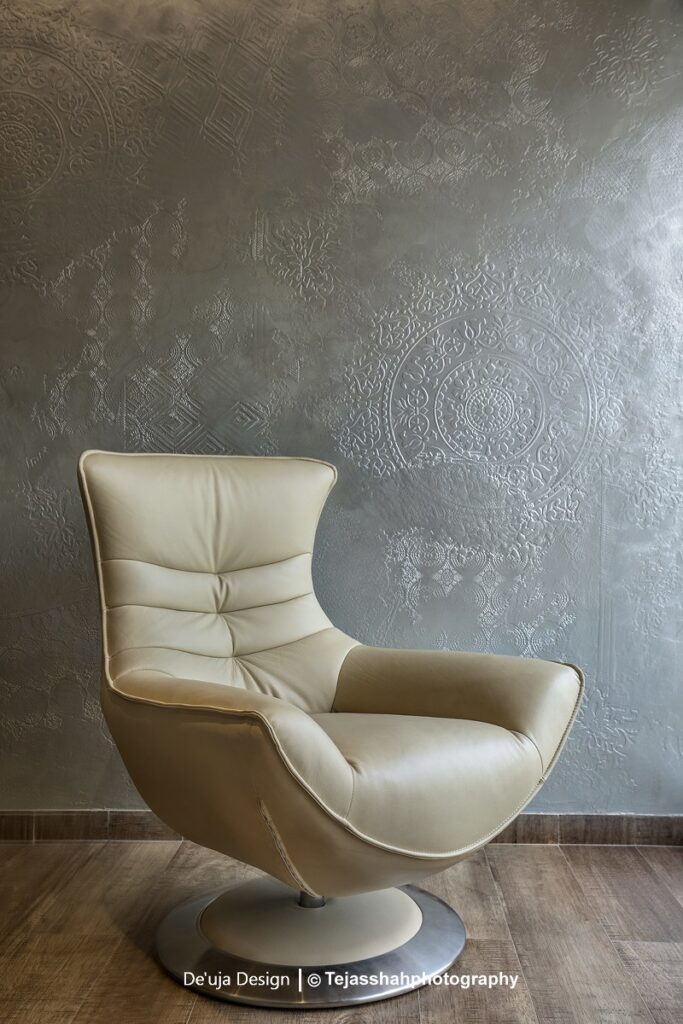 Master bedroom – Minimal and sleek was the theme to maintain the unity and ambiance of the space. Walls painted in shades of moss green define a union. Flush door wall with stone veneer finish along with tactile textures and soothing colours act as aggregate to the developed cosy wall.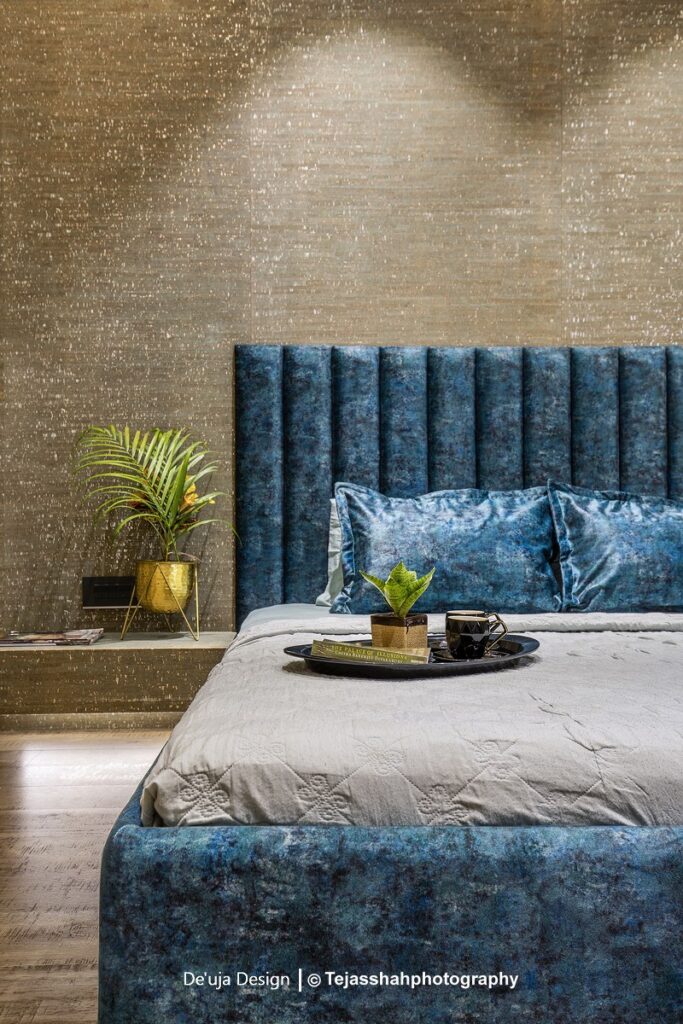 Kid's room – Being the major size room of the house, zoning was parted in four functions (bathroom, bed area, study area and hangout area).client wishes their six year old son to read shloka "प्रात: कर-दर्शनम् कराग्रे वसते लक्ष्मी करमध्ये सरस्वती। करमूले तू गोविन्दः प्रभाते करदर्शनम्॥" every morning, therefore we decided to highlight the wall by thrust in the yellow wooden letters.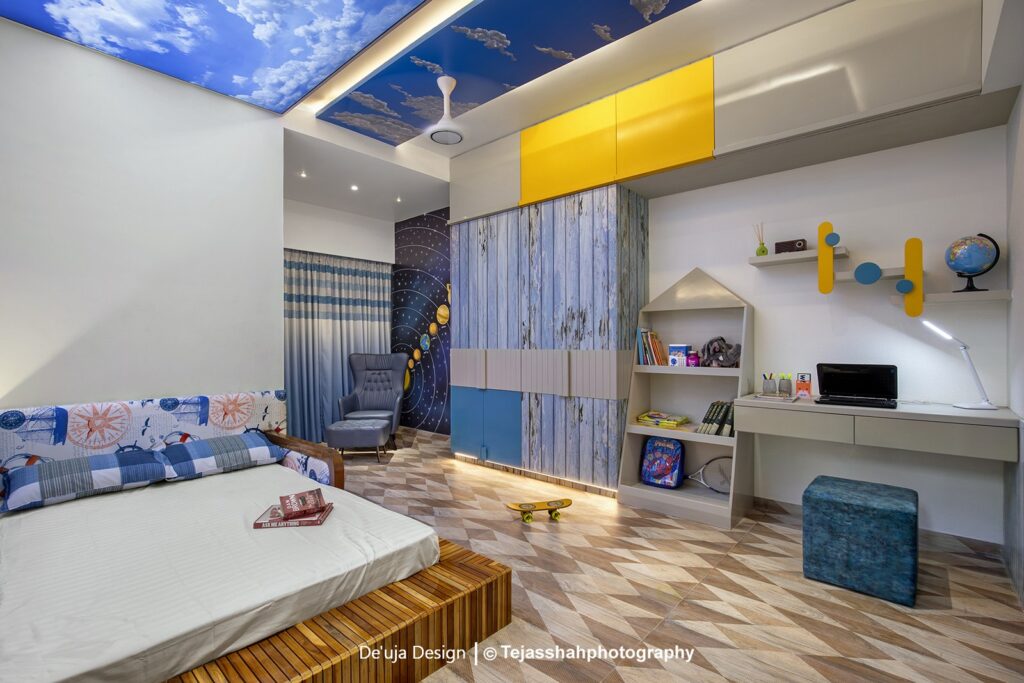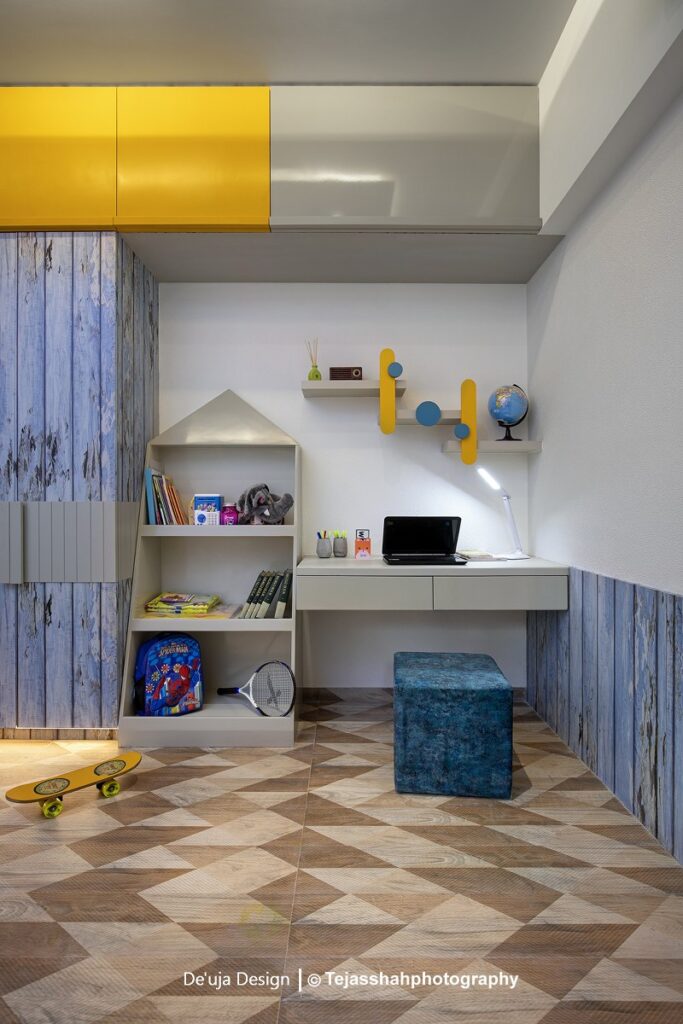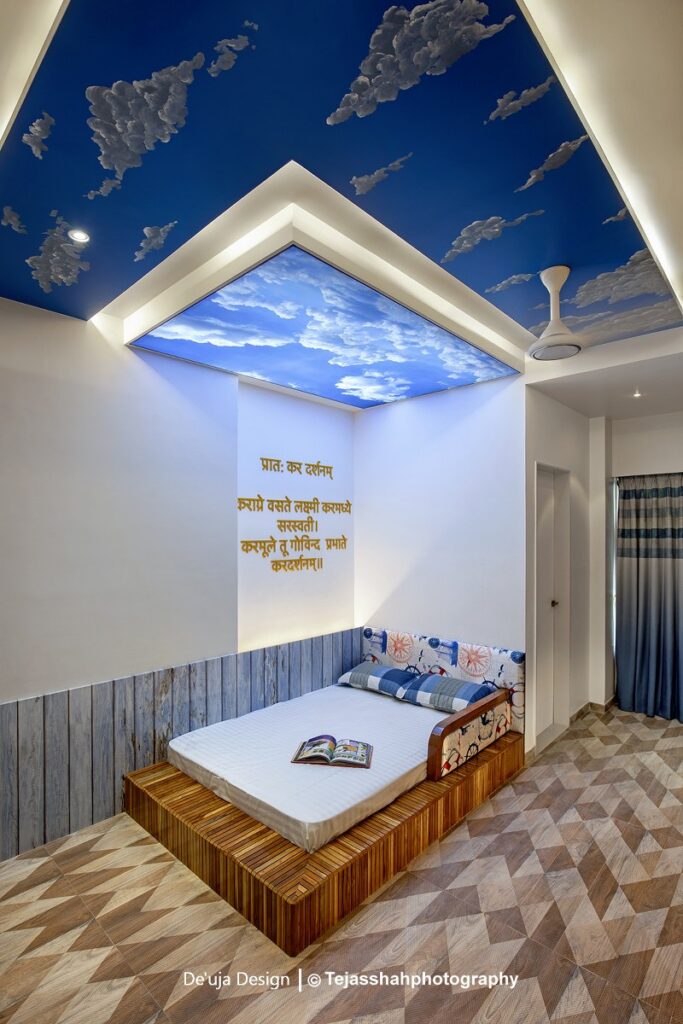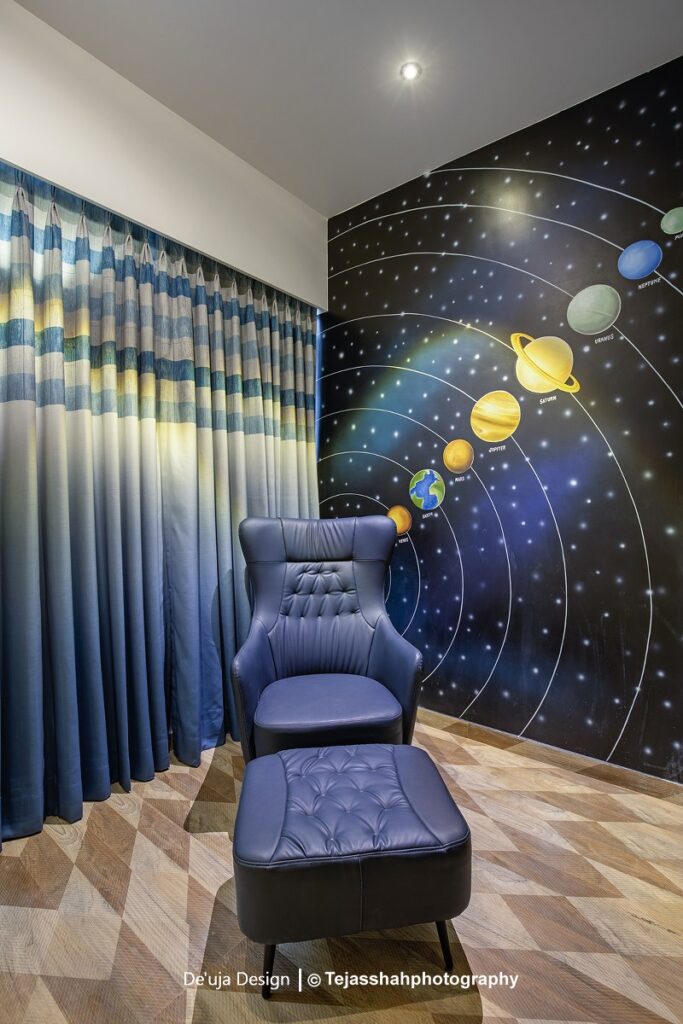 Bringing the fresh and elegant feel through stretch ceiling. Living the experience through stretch ceiling along with fluorescent light was the design aim.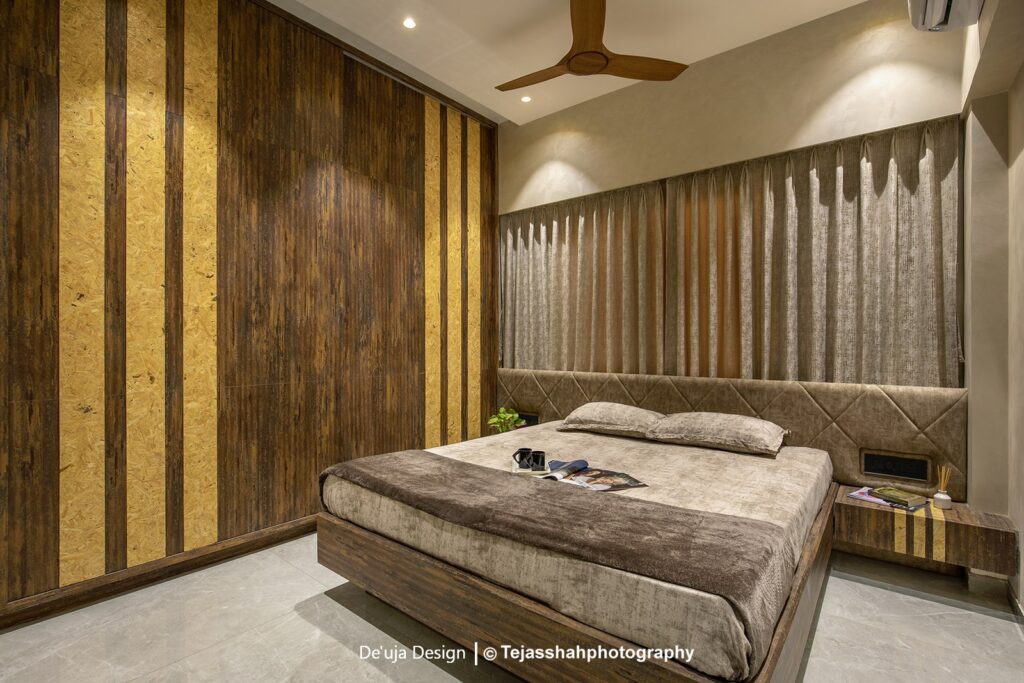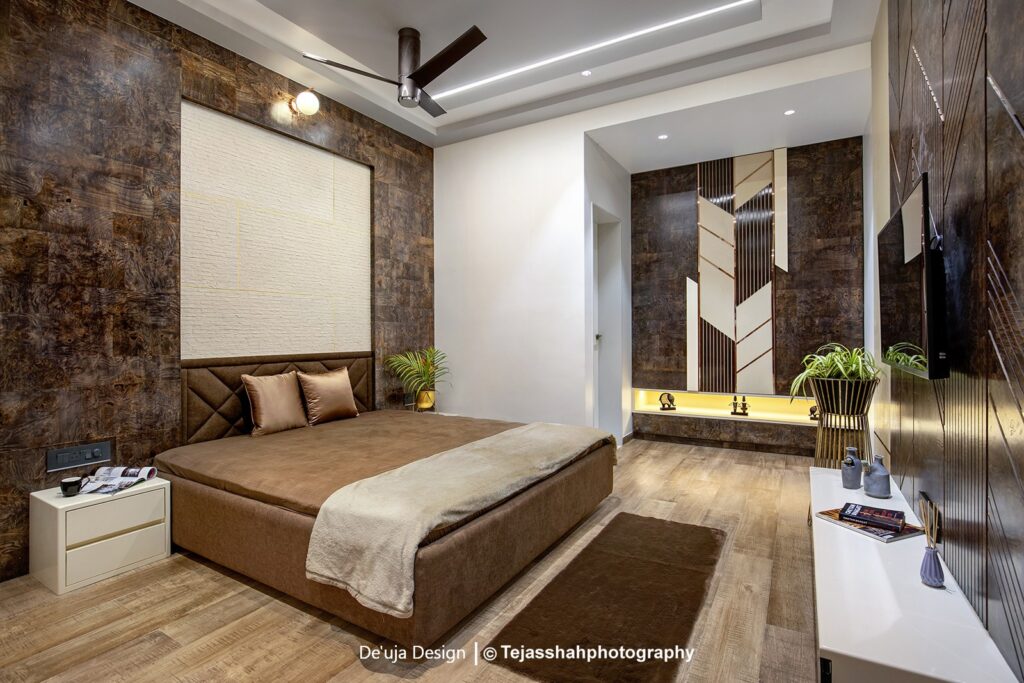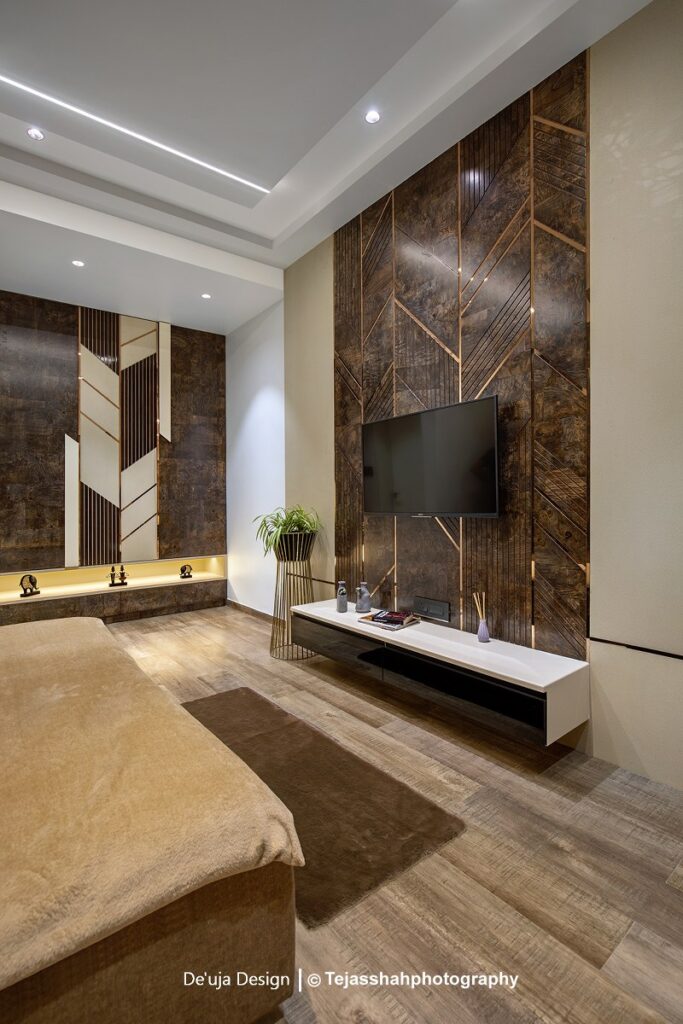 Kitchen & Dining – The users of the space don't really need anything to relax but to just lookout to take a chill. Pleasant to the eyes, the view is beautiful at different times of the day, and changing seasons.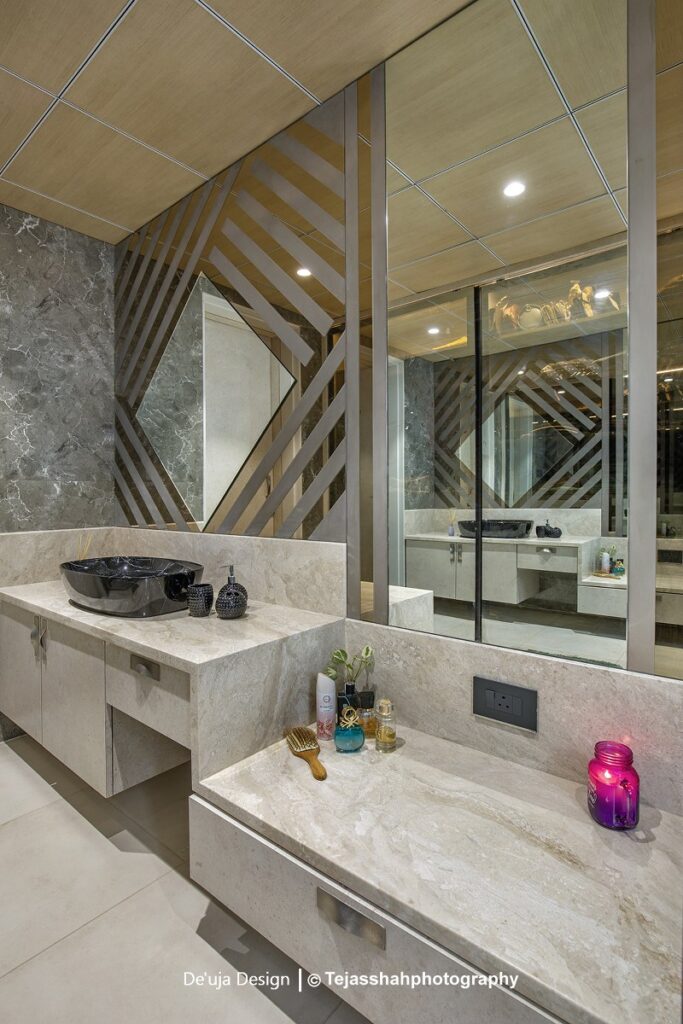 Gazebo – We went ahead, in keeping the entire eastern facing gazebo open to the view, letting it that lovely morning sun. Wooden finish swing invites through the entrance. Whereas another wall was decorated by FRP art piece (of Lord Buddha) and surrounded by the fortune jade and Groot syngonium plant which leads to the peace of mind. Sit out area merges with the rustic metal roof and acts as the main element of the design, by providing a fresh view to the sight.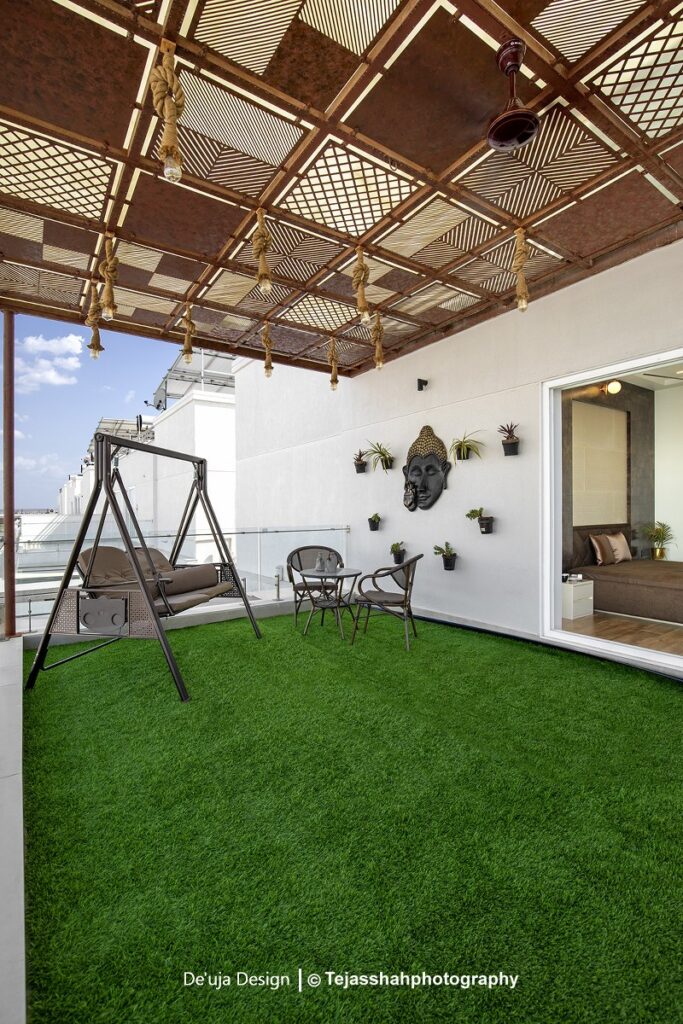 We feel elated and satisfied that we could make the dreams of our client come true through our architecture and interior design practice.
FACT FILE :
Designed by : Deuja Design
Project Type: Residential
Project Name: Somany House
Location: Vadodara, Gujarat
Year Built: 2020
Duration of project: 6 months
Plot Area: 1700 sq.ft.
Built up: 4220 sq.ft.
Project Size: sq feet: 4220 sq.ft.
Project Cost Appx: 65-70 Lakhs
Principal Architect(s): Hemali Soni & Dev Soni
Team Design Credits : Twisha Shah & Kunal Baladaniya
Photo credit – Tejas Shah Photography
Material Palette of the project: MDF | HDF, Veneer | Stone Veneer | Cement Sheet | Laminates | Strectch Ceiling | M.S for Gazebo Roof | S.S for Railing | Back Painted Glass | Bronze Mirrors | Artificial Grass
Color Palette for each area : Living area : Semi Gloss Natural Finish PU Polish, Duco Paint, Stucco Texture & Royal Paint.
Staircase area : Stucco Texture
Ground floor guest room : Royal Paint Texture
First floor guest room : Royal Paint Texture
Children's room : Duco Paint, Acrylic Texture Paint Finish
Master bedroom 1 : Calce Cruda by Asian Paints, Semi-Gloss Natural Finish PU Polish & Royal Paint
Master bedroom 2 : Semi Gloss Natural Finish PU Polish & Royal Paint
Terrace gazebo : Archi Concrete by Asian Paints & Rustic PU Finish by ICA Paint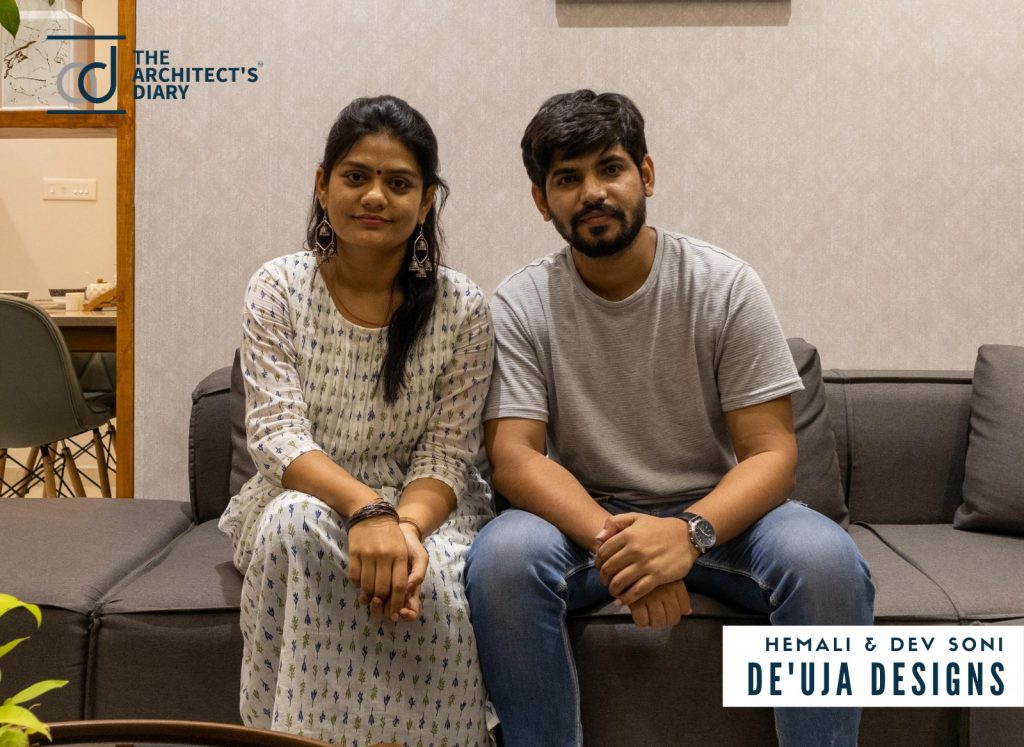 Website: www.deujadesign.com
Facebook: https://www.facebook.com/deujadesigns/
Instagram: instagram.com/deujadesigns/