A zest of Sanskruti' in a 'Kriti'| Studio 603
This restaurant is named 'Sanskruti', an echo of the socio-cultural dialog of the neighborhood, situated on verge of Kadi –Nandasan Village.
The client brief to emphasize traditional design which reflects a way of life and entice people from nearer places as well as a traveler with a familiar impression. The design ensued was imagined traditional interpretation of contextual influence and fusion with the contemporary character of the exterior building linguistic. The building exterior with exposed red brickwork, bold grooving pattern, bands of concrete, glass façade speaks of simplicity and modern look along with strong roots of earthen touch.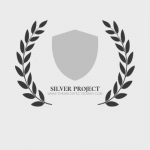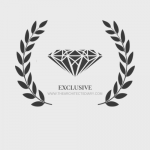 Visit: Studio 603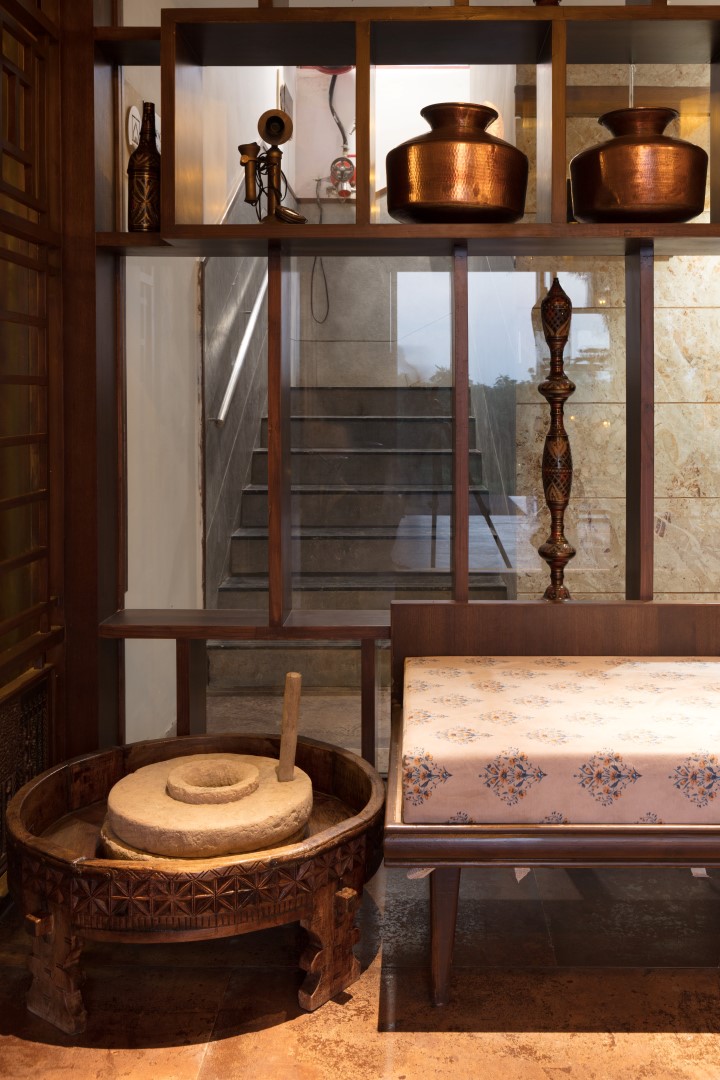 The restaurant emerges with important characteristics of various elements. Each corner is explored with a phenomenal understanding of need woven in theme. Different textures of various materials portrayed in the optimum color palette frame a complex experience into a simple but thoughtful play of space.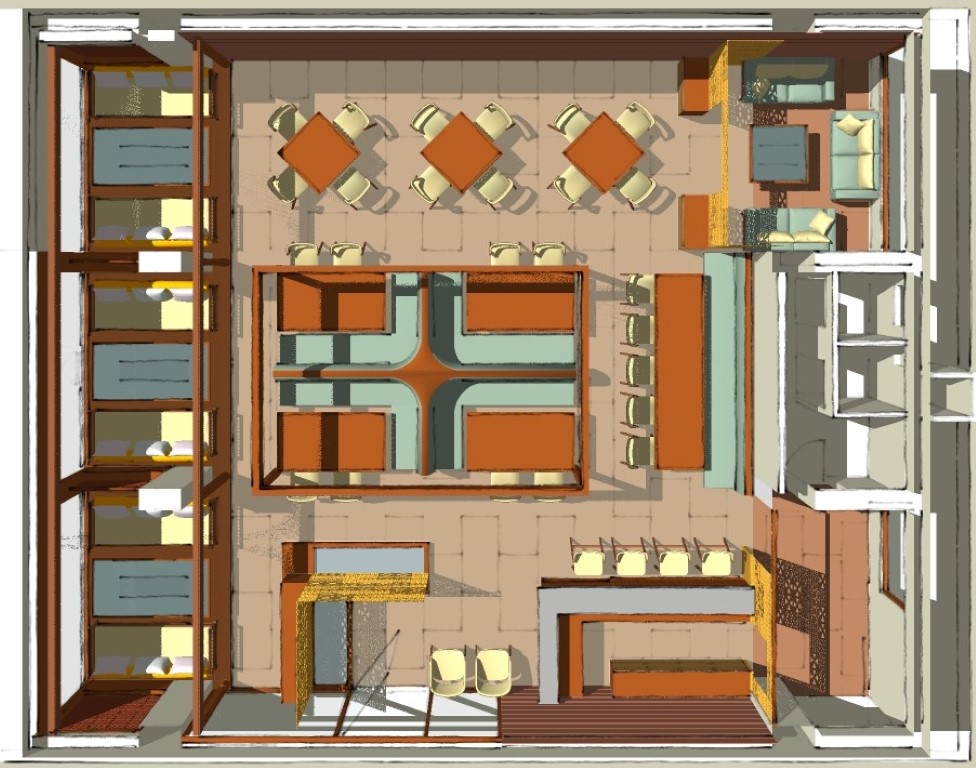 The waiting – entrance threshold intricate with clay, mural art, artifacts, carving door, and vivid wooden panels make the setting of cultural inherence. The entrance façade crafted with perforation in graphics give you visual interaction inside along with an intimate feel of the outside waiting foyer. At the same time, an enormous solid entrance door with a touch of soft carving signifies a strong and curious presence of another side. Rustic Mild steel screen of the triangular pattern barrier leads to surprising experience immediately after opening the entrance door.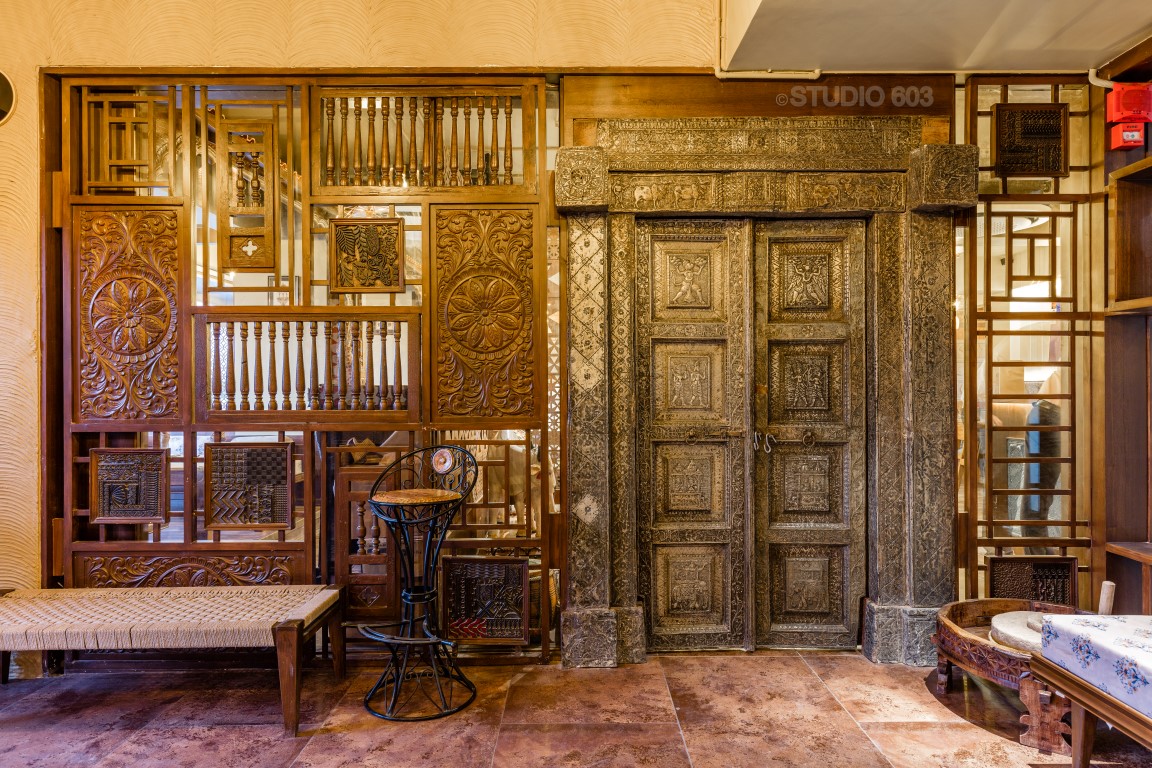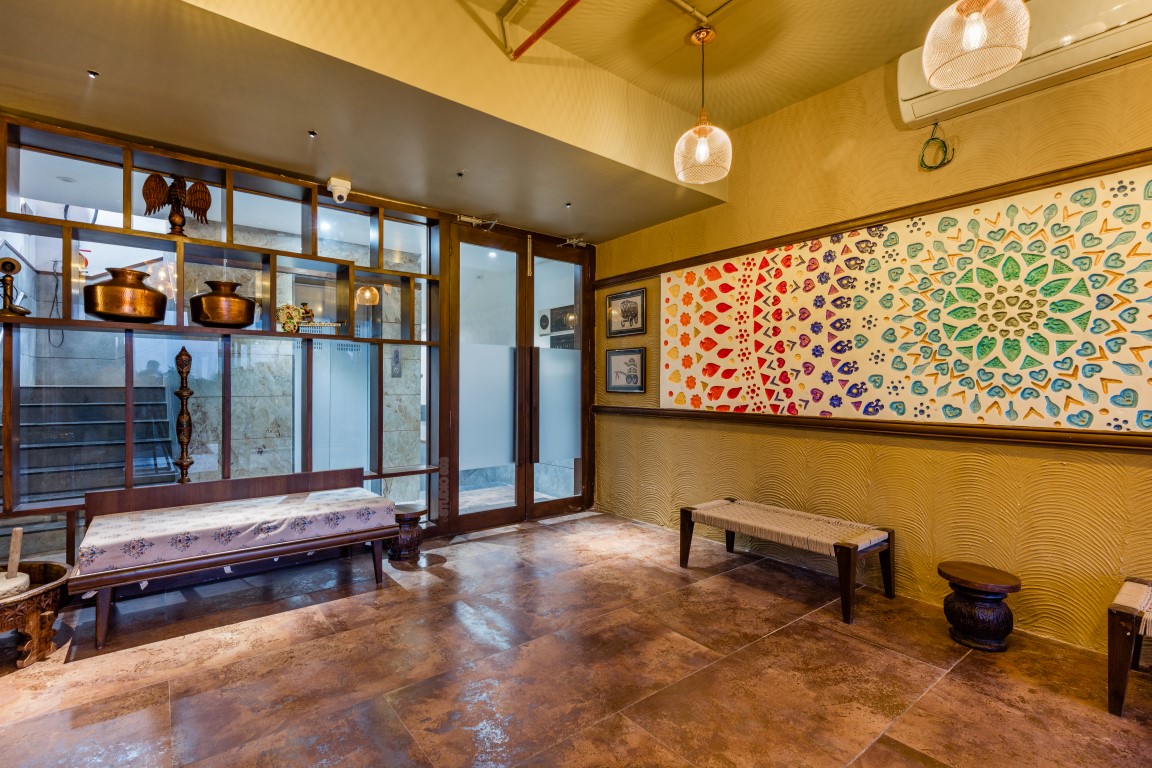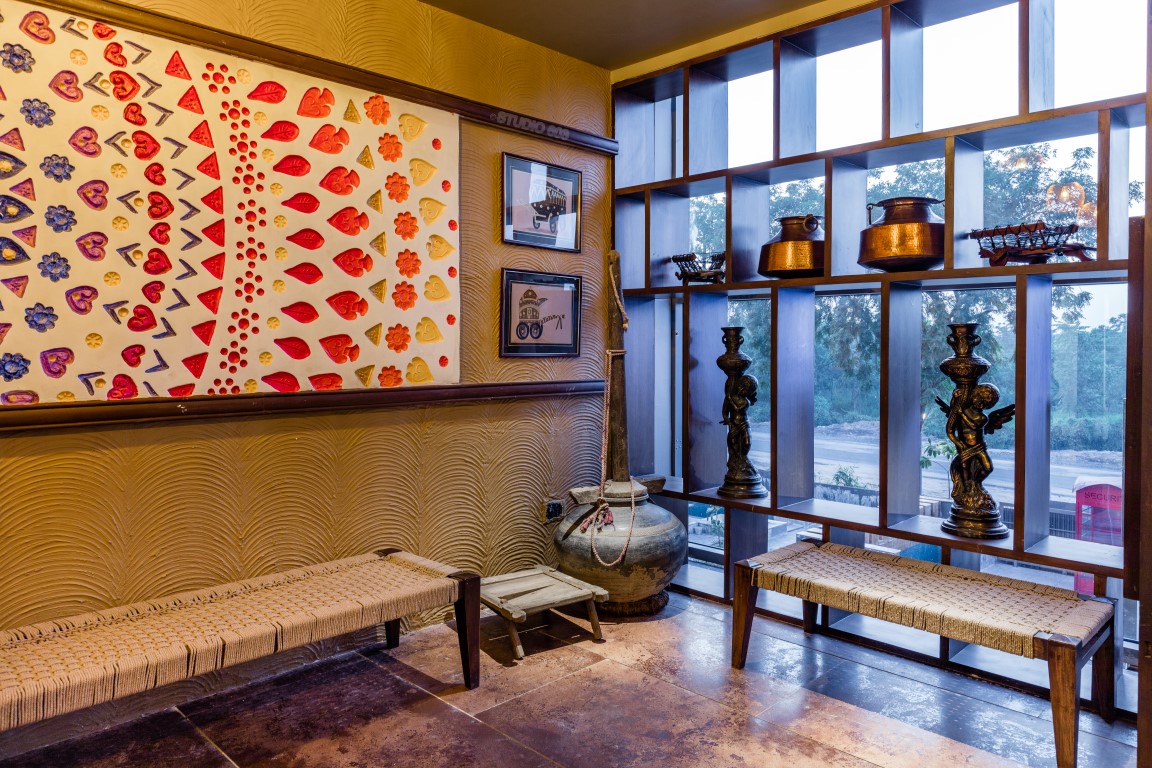 Vessels and other old elements like 'Chakki' – millstone flour grinder, pots, 'Valovanu'- wooden blender/churner, 'Khatiya' traditional seat, 'Sambelu' – 'Khandaniyu'- wooden spices maker are decorated in shelves and corners.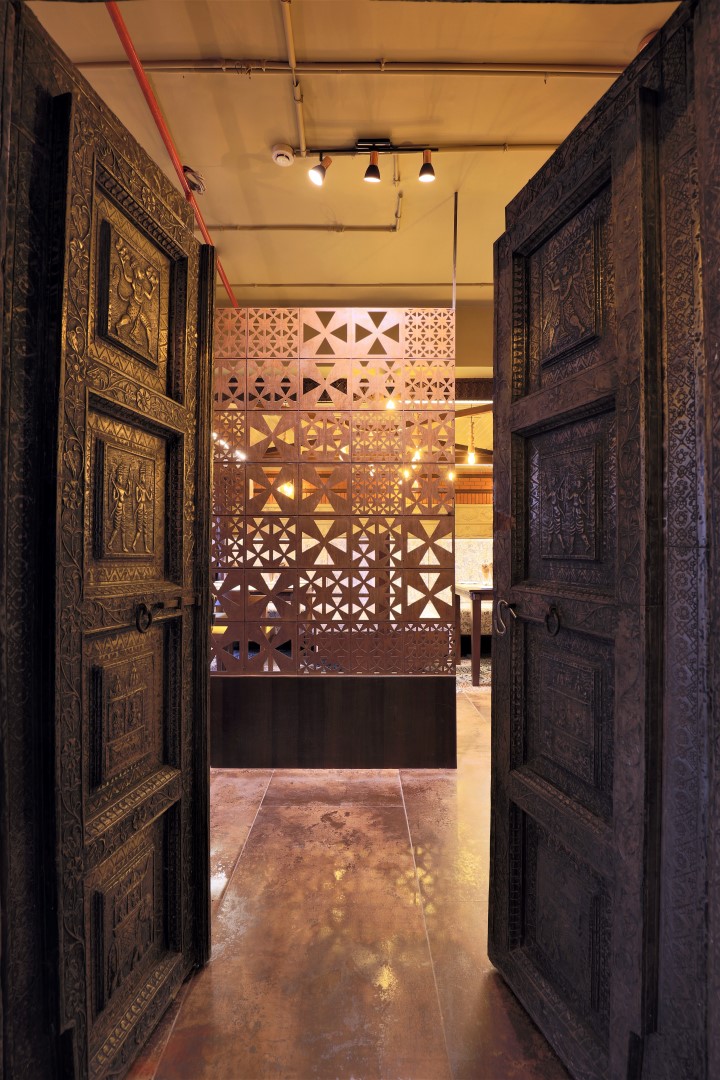 The leading path introduces one to the reception/Desi bar which gives glimpses of the prominent language of the interior. Red bricks vertical cladding on the wall was dressed as the formal backdrop of special bar arrangement to poise fusion of informal seating with formal setup. Bar counter made of wood and cladded with metal tins.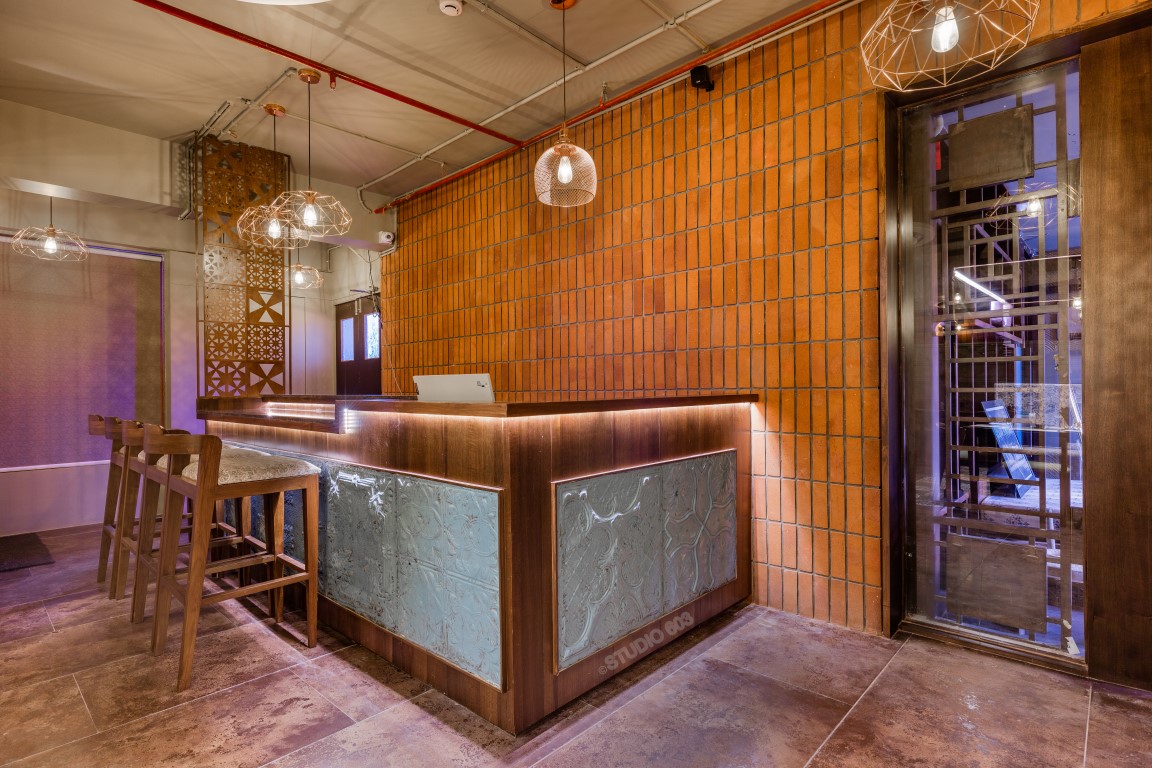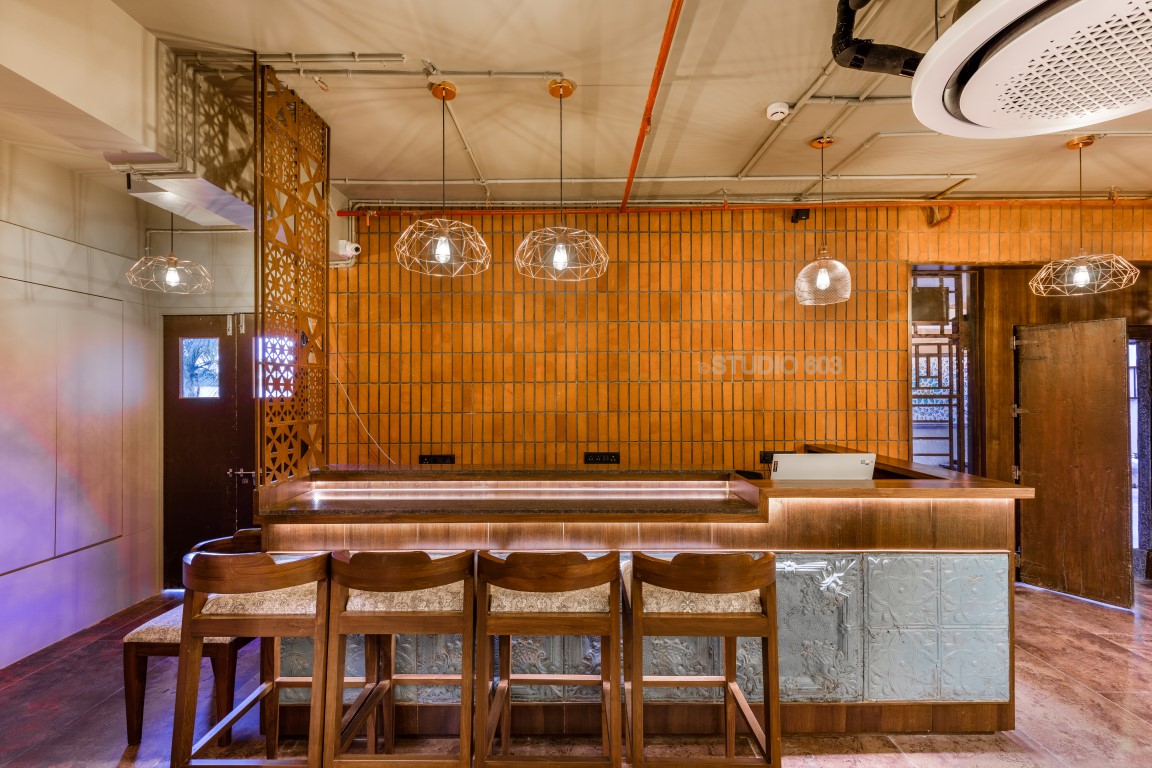 The spatial arrangement of the restaurant signified by a division of sittings with elements that create thin invisible lines. The flooring is dark brownstone finish tiles and central area with small deco tiles matches with a color palette. Also, identify the movement path around it for easy excess to intruders and serving.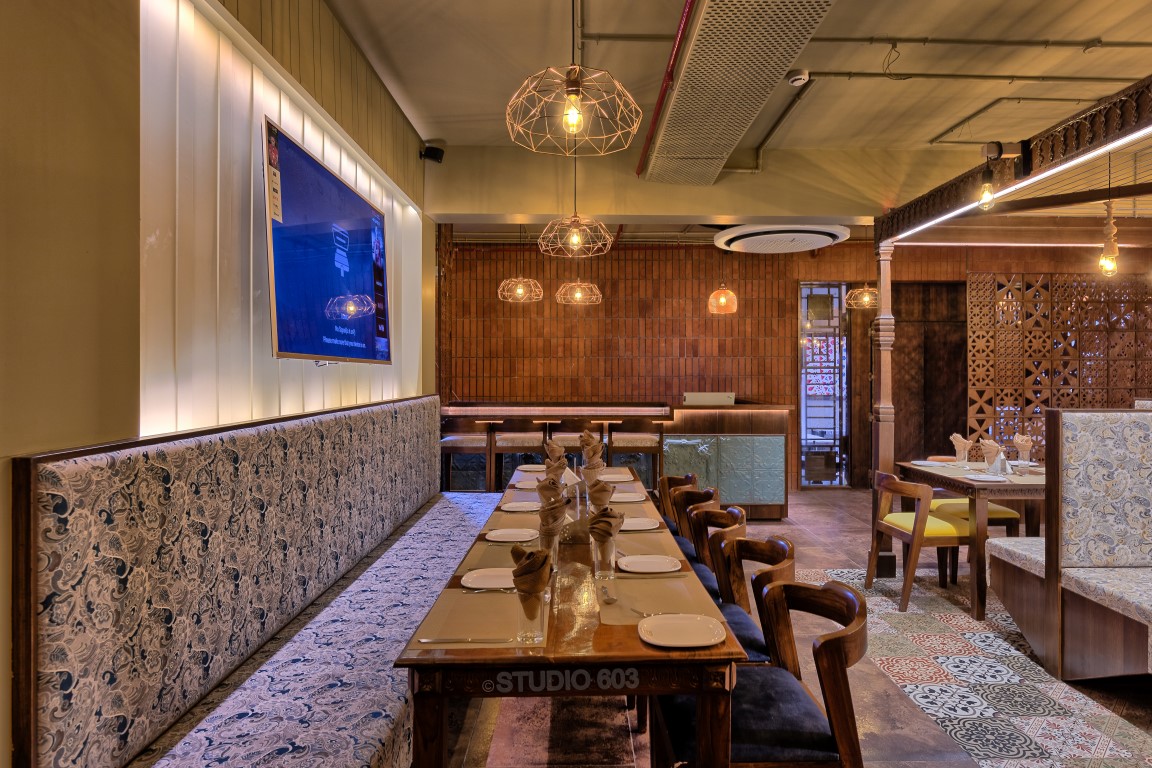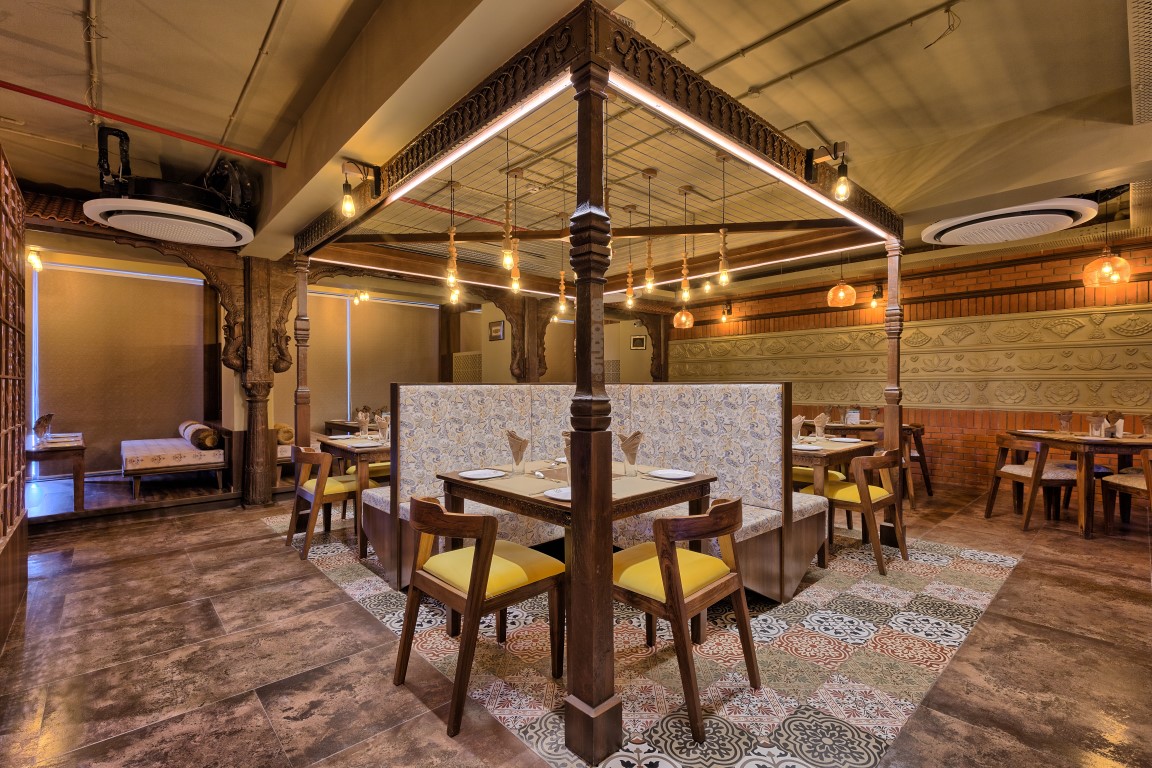 'Mandapa' made of four wooden columns with a peripheral carving band on top along with distinct flooring of small tiles in central area distinguish four group sittings. Each sitting shares back with other adjoining and creates a talk with the surrounding.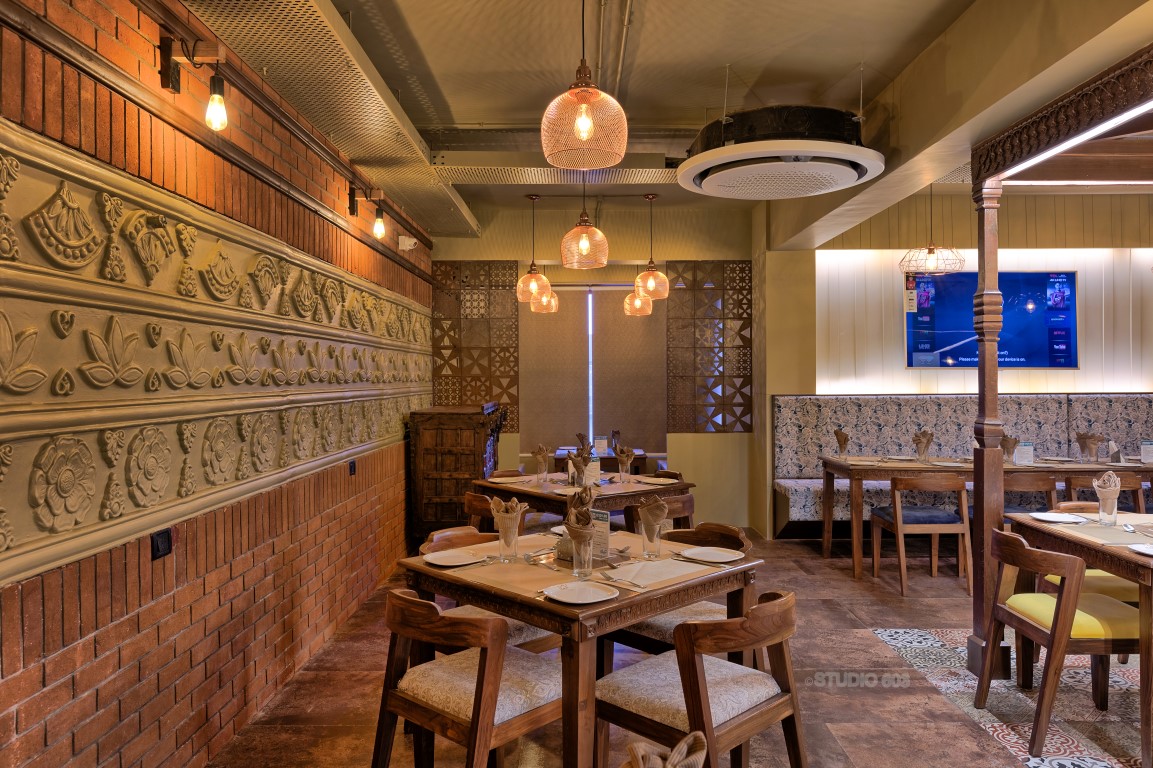 The wooden Arches, columns, circular pattern screens in between of each sitting on the left make niches and cozy spatial arrangement for individual 6 persons gathering. Raised plinth with one step wooden deck gives pause in flooring and draw the territory of change in a sitting.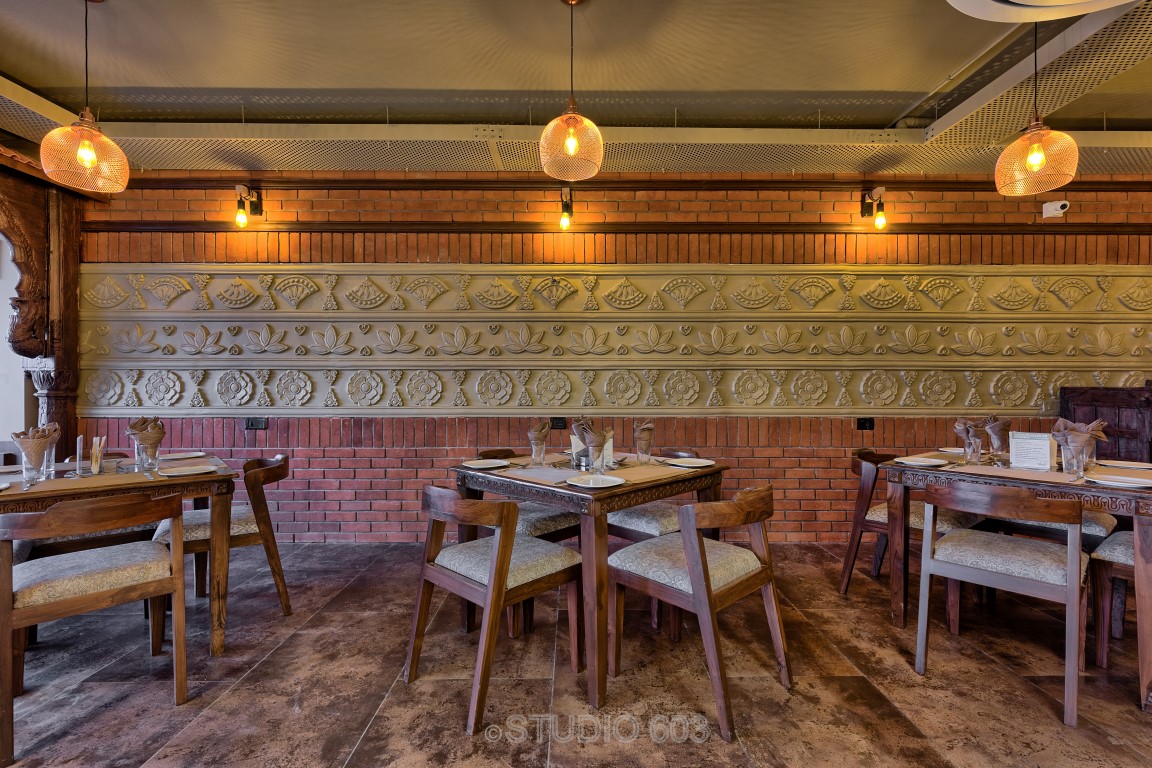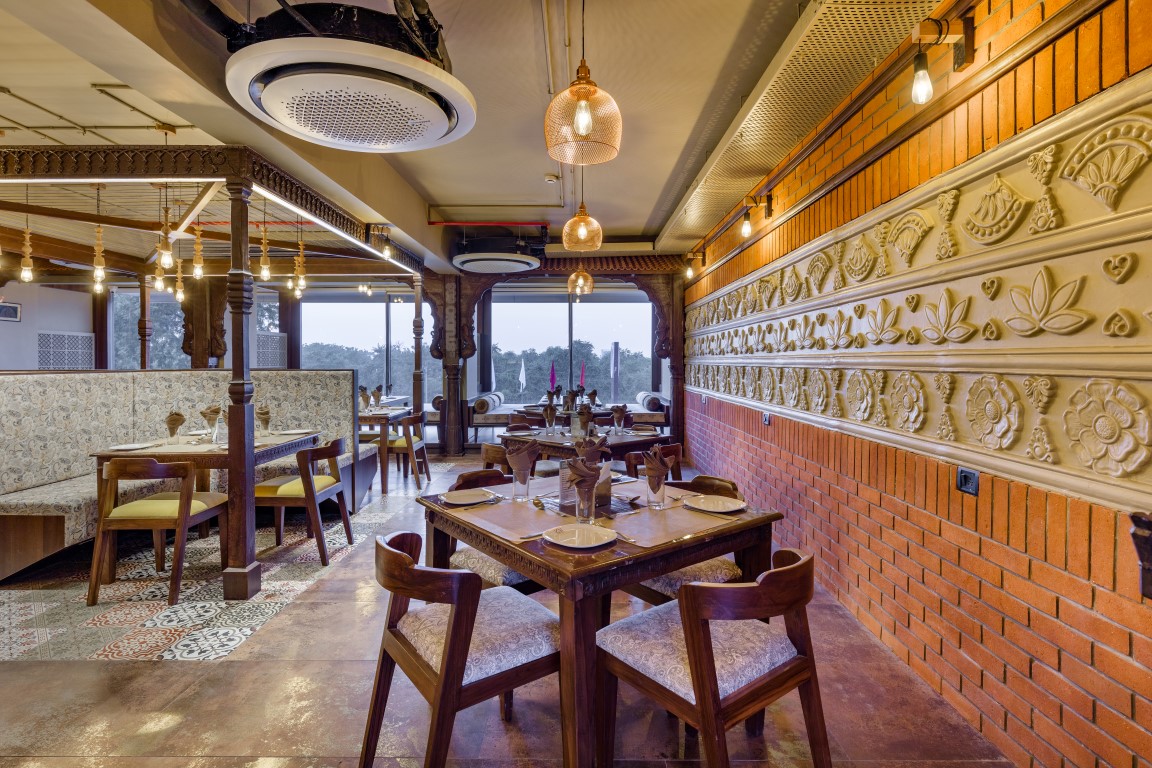 Accent wall finished of wooden bands, pop imprint bands, red bricks. The materials and graphics defined by bold grooving lines; ornamented forms represent a simple approach of a complex assortment of styles.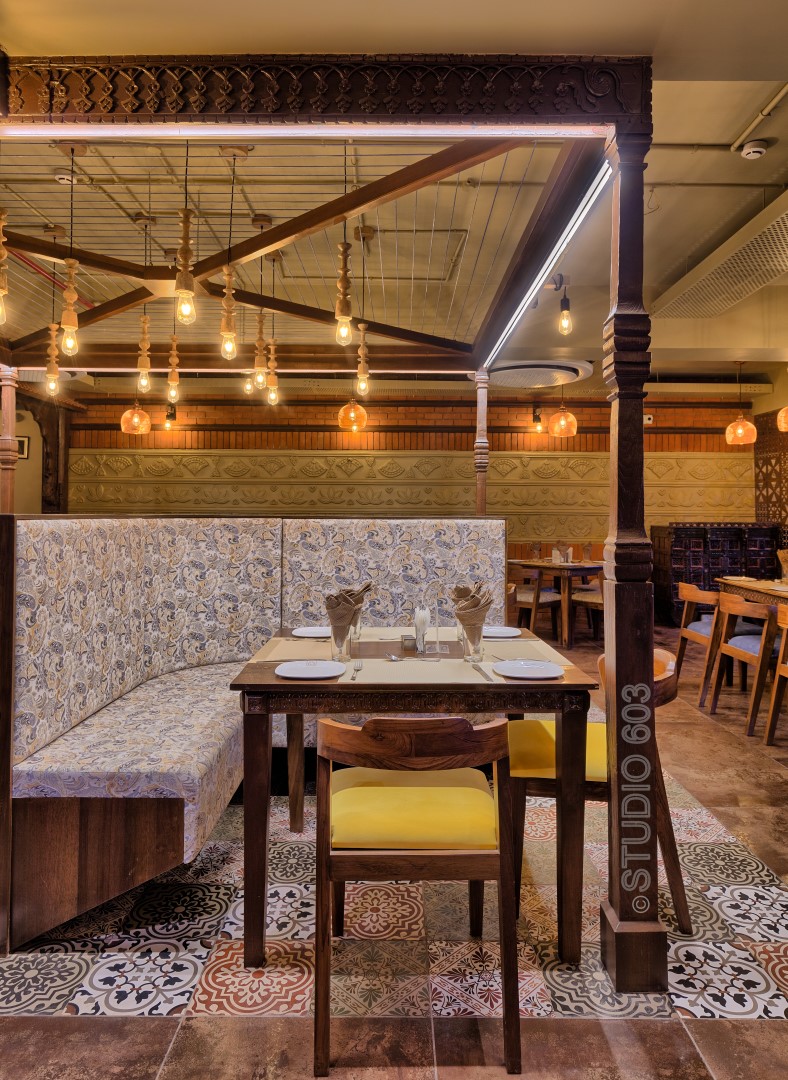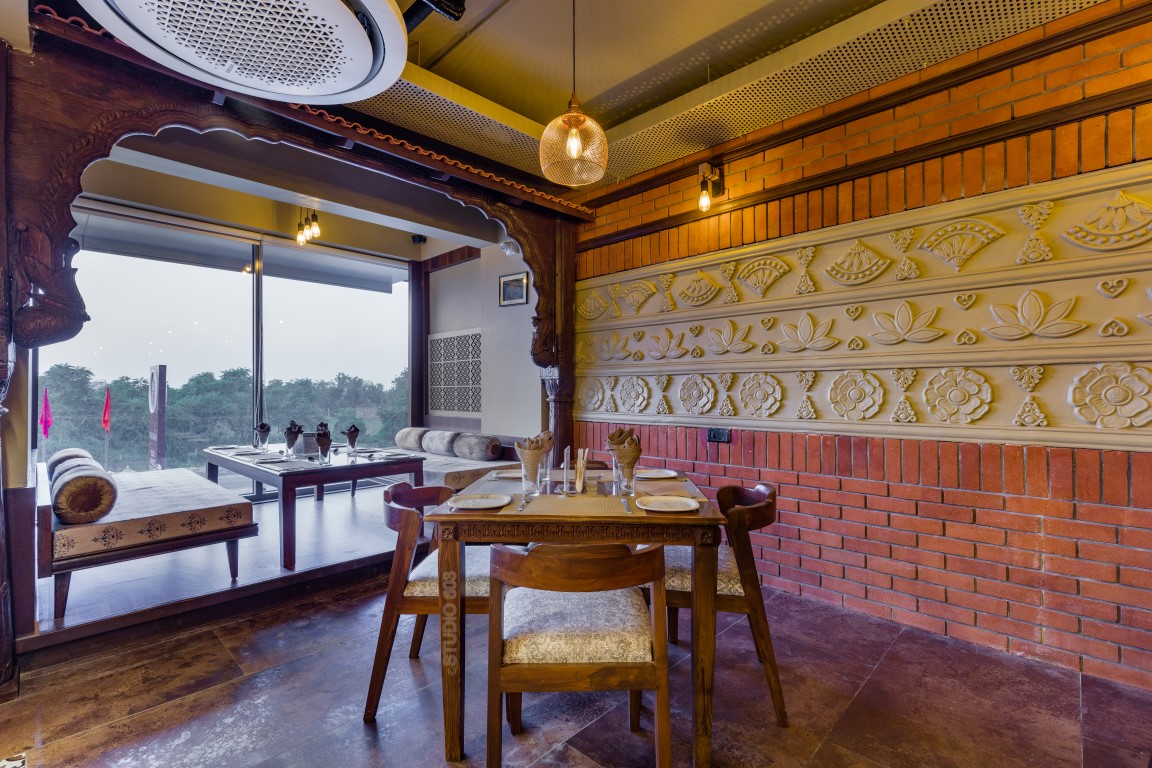 Each furniture is detailed identical to interact with other elements. The sides of each table are molded with wooden carving bands. The 'Baithak 'is in the combination with; low table made with old doors as tabletops and low height wooden seats with 'Gaddi' – mattress and 'Takkiya'-Bolsters as a backrest; in Indian style sitting. The cloth for tapestries is chosen to add colors and fine design.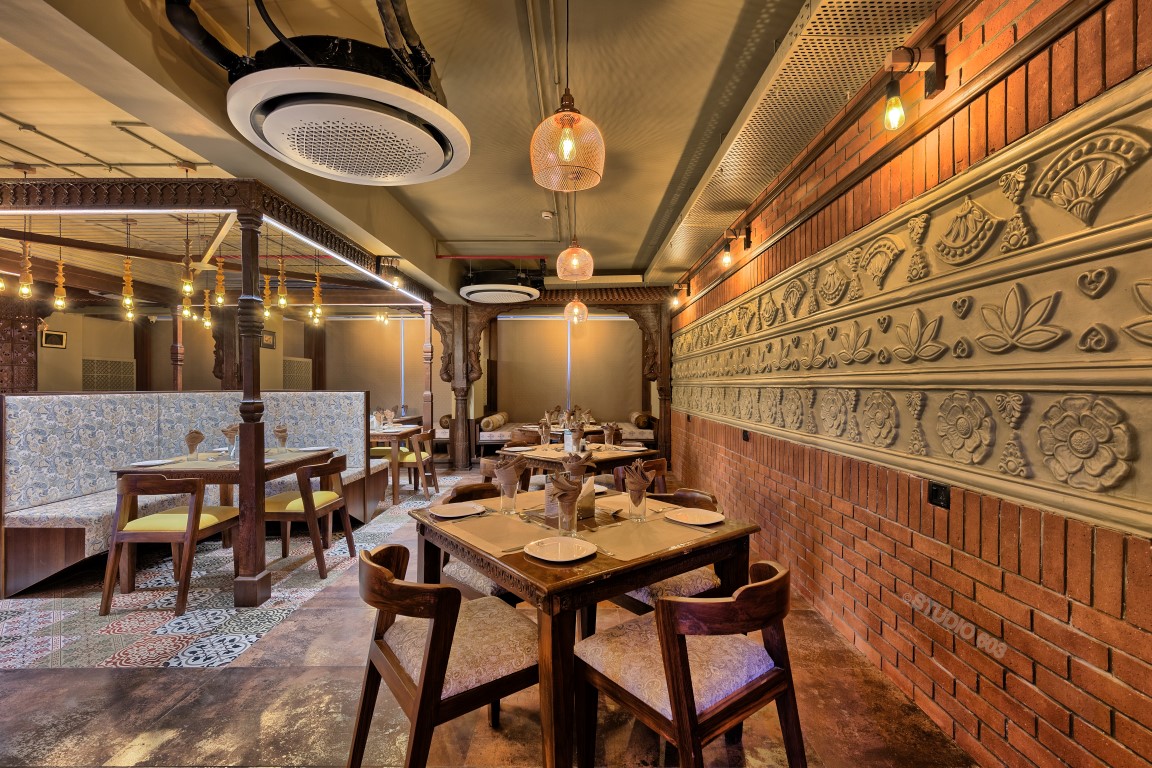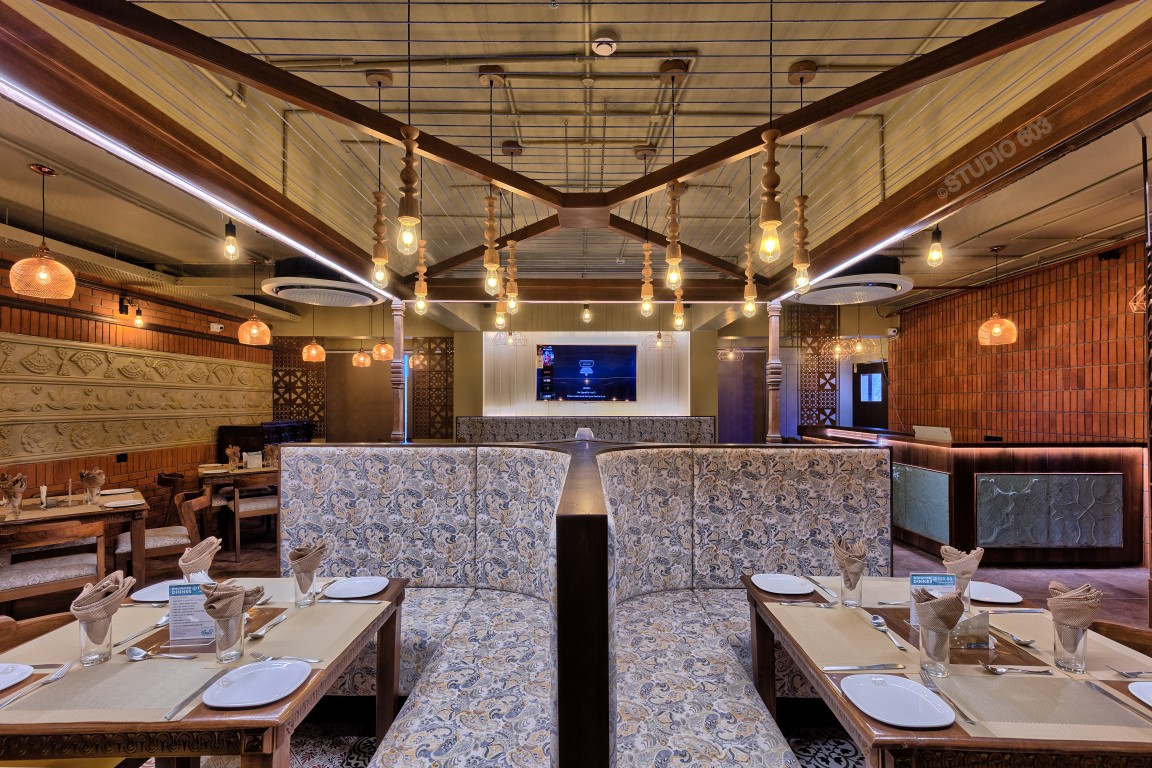 Lightings are adding drama to each area with a specific design. The bare ceiling finish highlights conduit design, thread work and directs the focus of visitors towards vertical surfaces, floors, and furniture.
FACT FILE:
Name of the restaurant: Sanskruti @ Kadi.
Design Firm: Studio 603
Design team: Alap Shah, Chintan Shah, Priyal Shah, Nidhi Kathiyara, Chirag Panchal
Area and seating of the Restaurant: 1620 Sq.ft.(approx. 70 persons)
Photo Credits: Inclined studio