The home pairs a captivating style with a large collection of art and accessories along with warmth and a sense of Indianness, that is inhabited by colorful people. Every aspect and aesthetics of this house has been designed keeping in mind their colorful energy and vibrancy. The family wanted a mix of styles playing around their home, making each space look lived -in and be spoke with every corner different from the other, for the daughter Harry Potter theme and for son Marvel's theme along with the spaces filled for relaxation and entertainment. We thus went ahead with a minimalistic design for this 4bhk residence radiating luxury and Indian aesthetics.
A Minimalistic Design For This 4BHK Residence Radiating Luxury And Indian Aesthetics | MAK Designs
VISIT : MAK Designs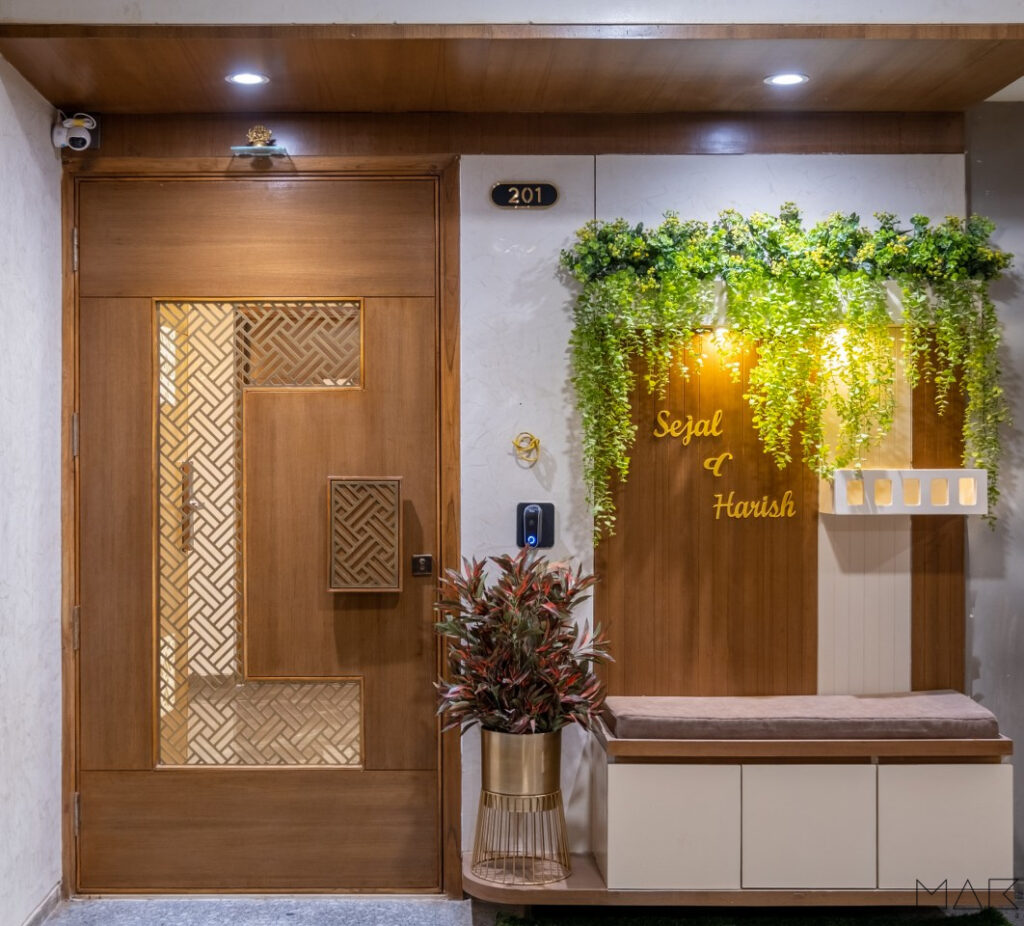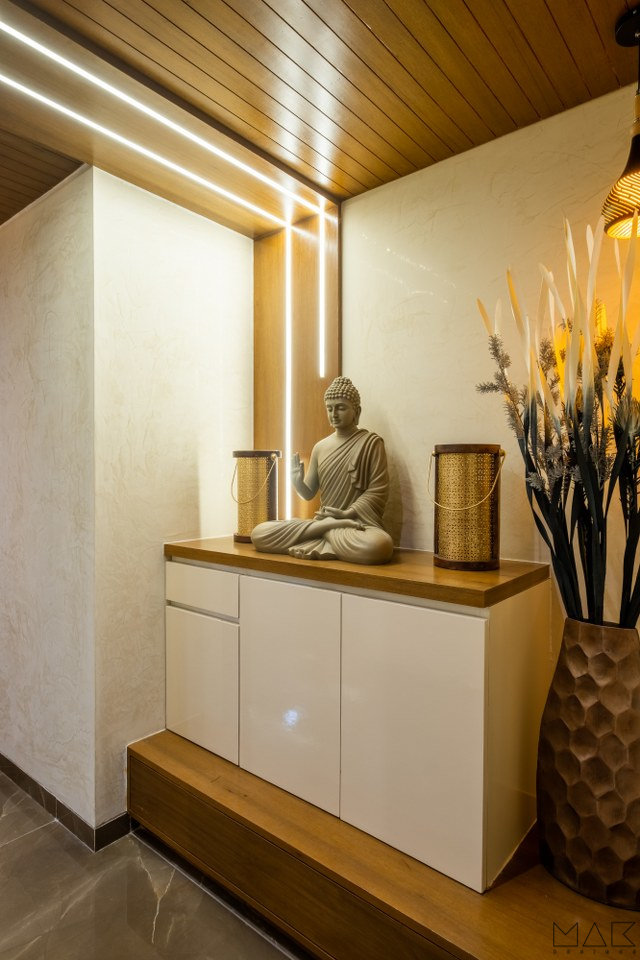 The heart of the house, the living area, it is specially designed with a theme of wood, marble, traditional moulding details, and highlights of color enrobed in textured upholstery to echo the individuality and styles of the owner.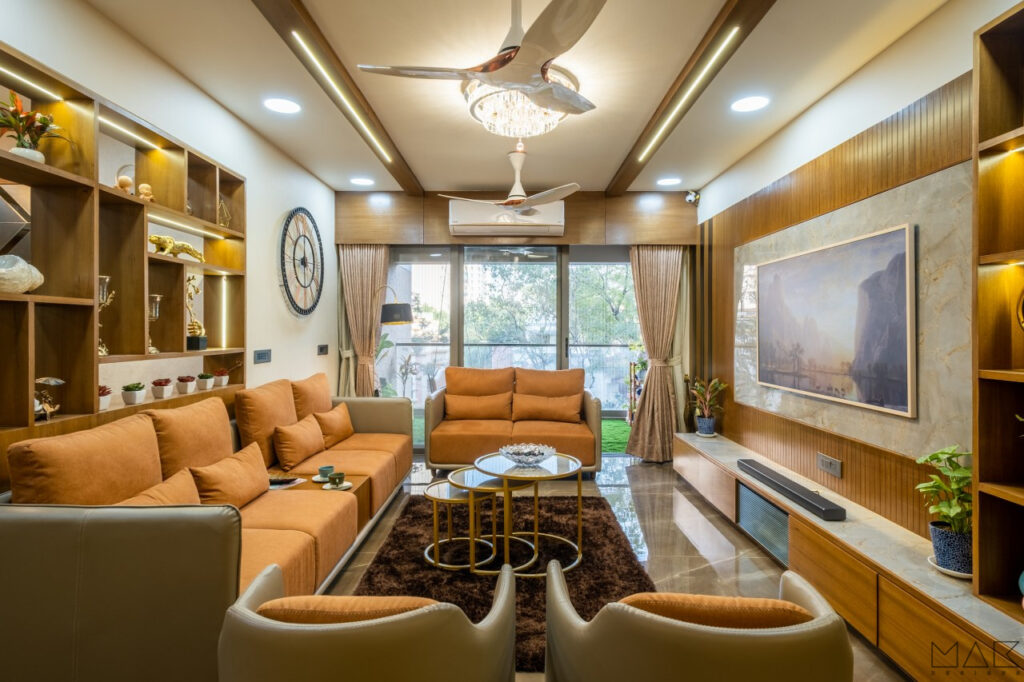 Each section has a balanced combination of dark tones, subdued accents, and a unique aesthetic along with distinct visual palette.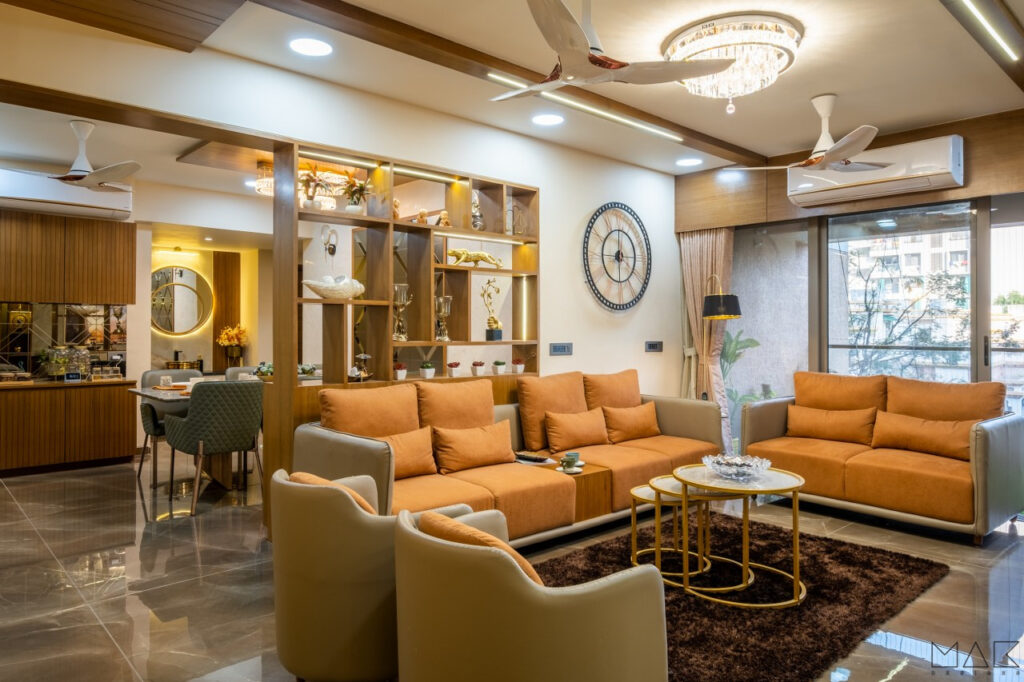 The dining space is a voguish assemblage, where like the living, individual elements with layered aesthetics are weaved together. For instance, the dining table has a texture Italian marble top that sits on a cuboidal volume of metal.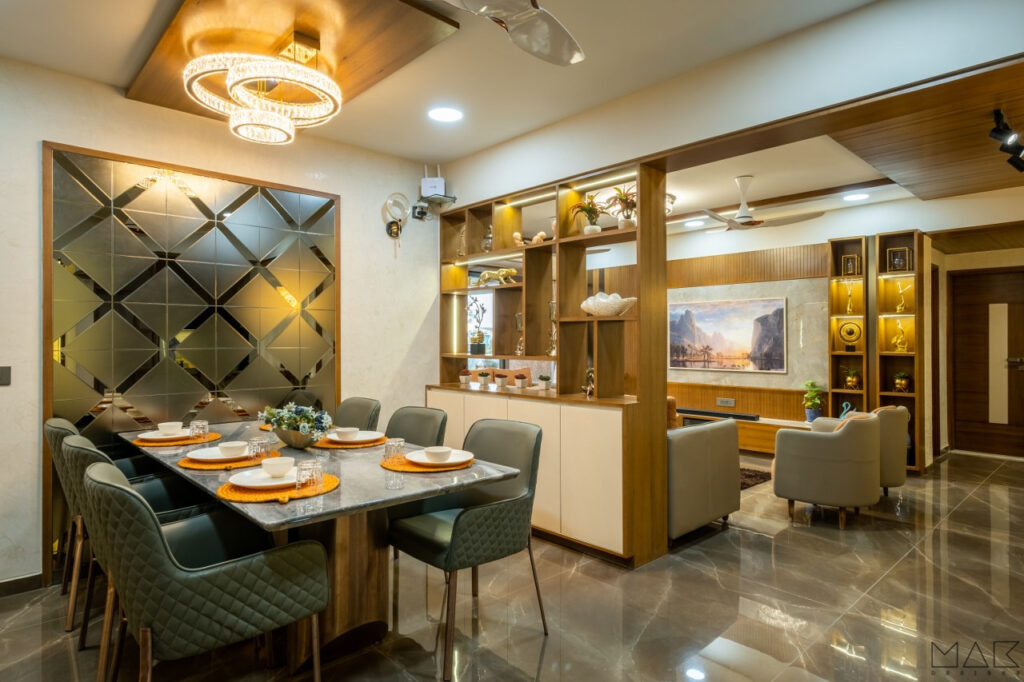 This is paired with chairs that have a solid body upholstered in a granite green fabric supported on sleek copper legs. The texture of diagonal grooves on the body breaks the visual mass and adds texture to the frame.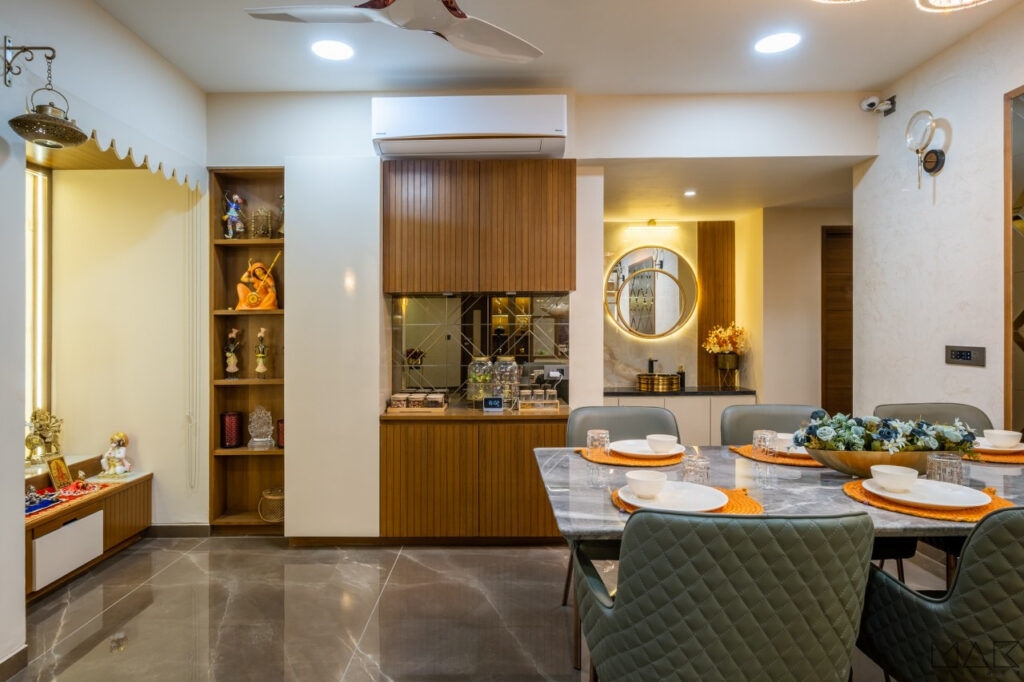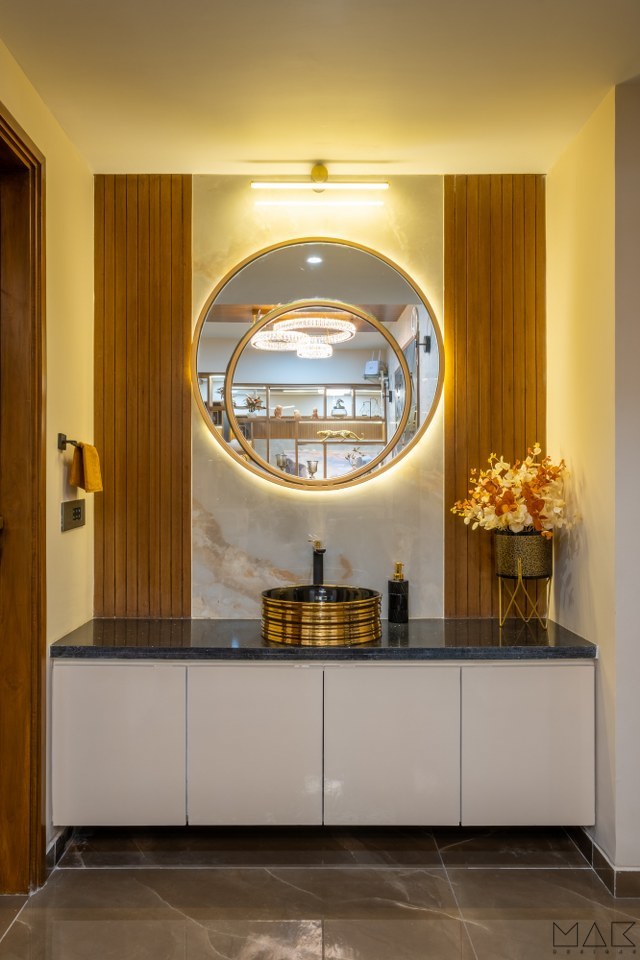 The cherry on the top is the contemporary chandelier with golden accents reflective glass backdrop that hangs atop the setup. Holy space, contemporary and minimal spatial parody layered with Jaisalmer natural stone carved with Krishna and mantra on it'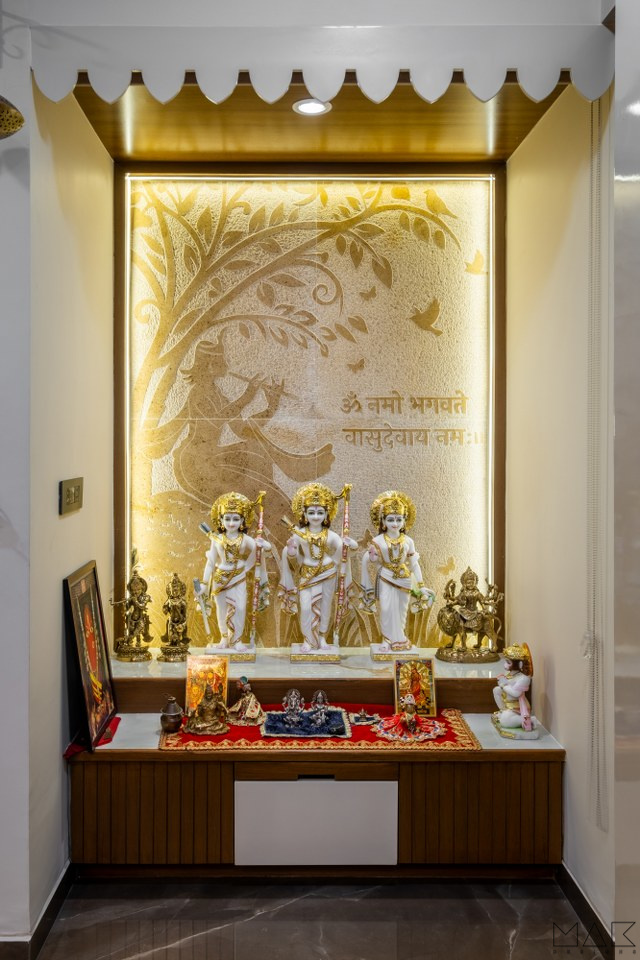 Simple yet elegant modular kitchen designed with neutral color has beige PU and back painted fluted glass finished shutters, detailed with light beige quartz, dark Armani brown tiles for the flooring.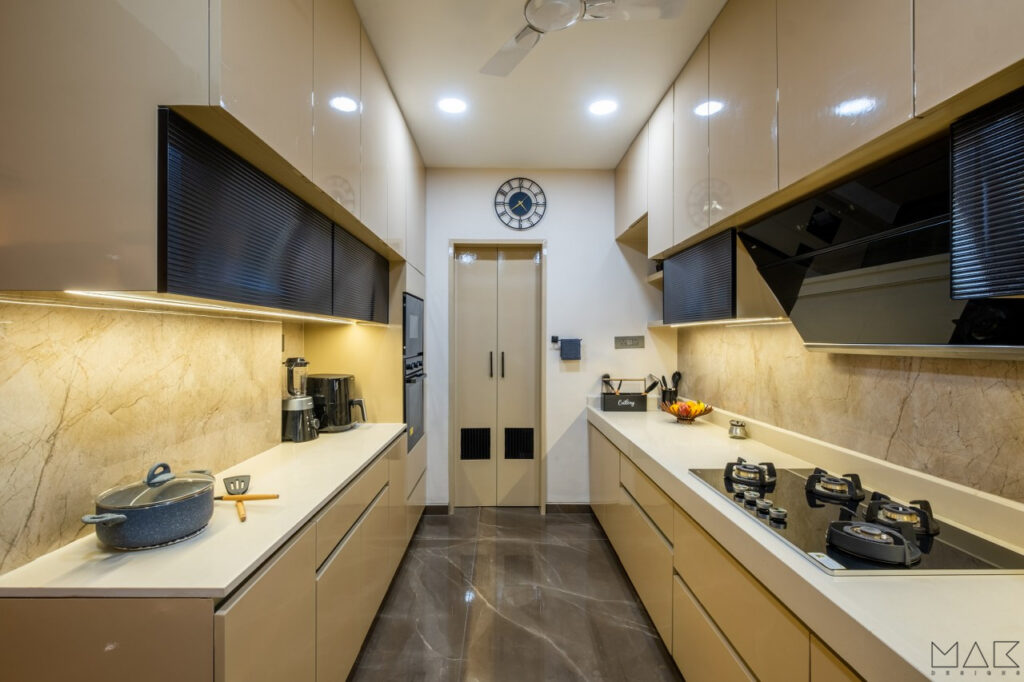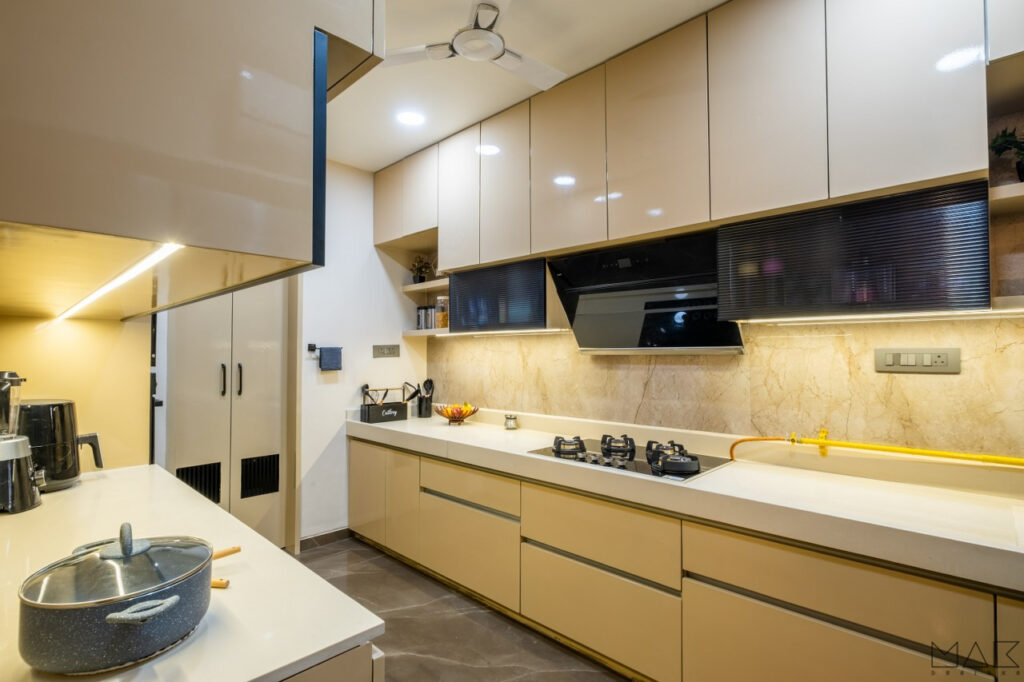 |All the magic is in the rustic| Offsetting the crisp white backdrop, a space layered with textures, color art and combing it with the right décor elements which abode the right balance of drama and character for a lovely family, that defines a home – warm and full of life.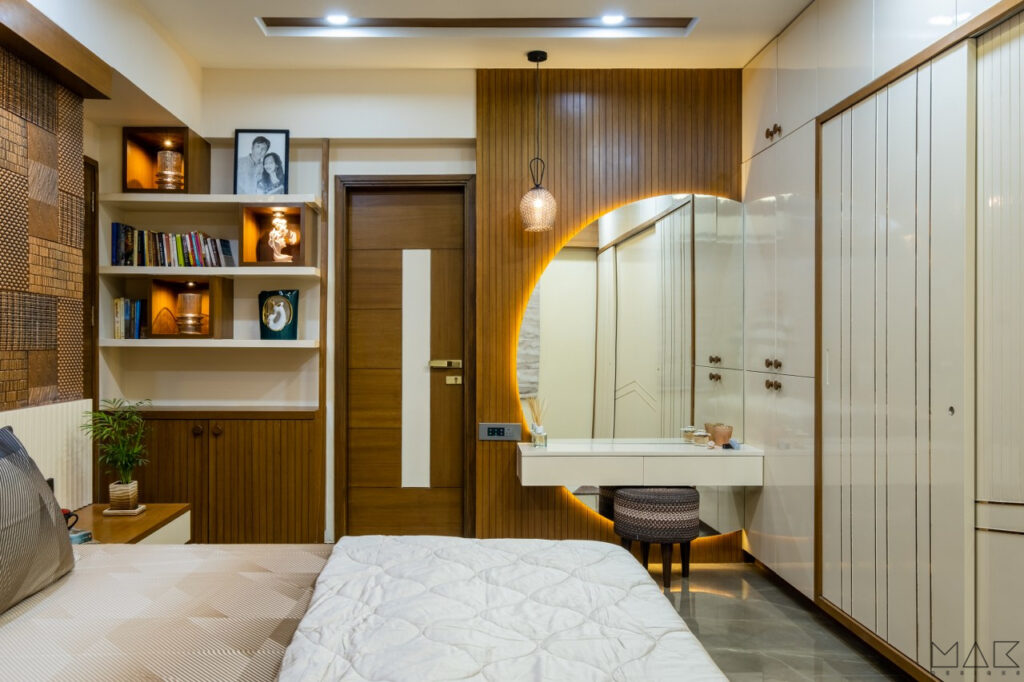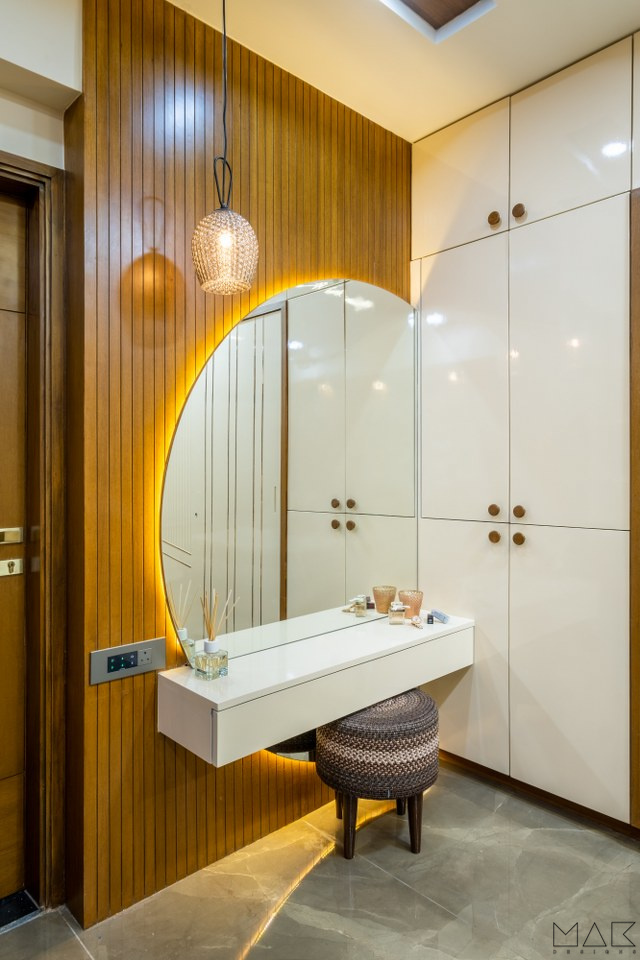 An exclusive retreat for girl kid soaked in a subtle color tone based on eclectic space full of fancy & imagination based on the Harry Potter theme.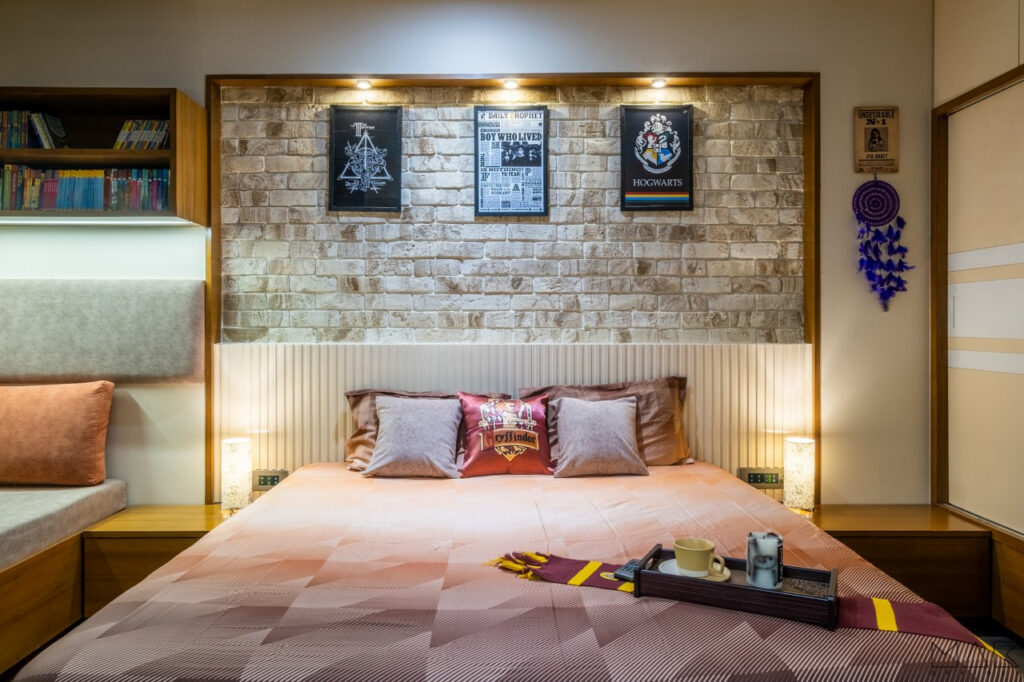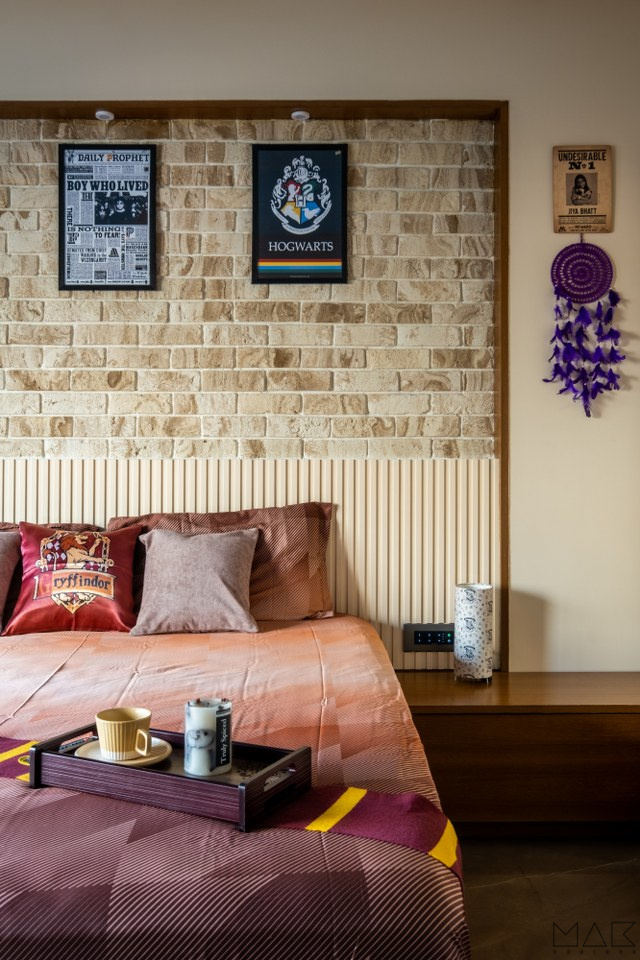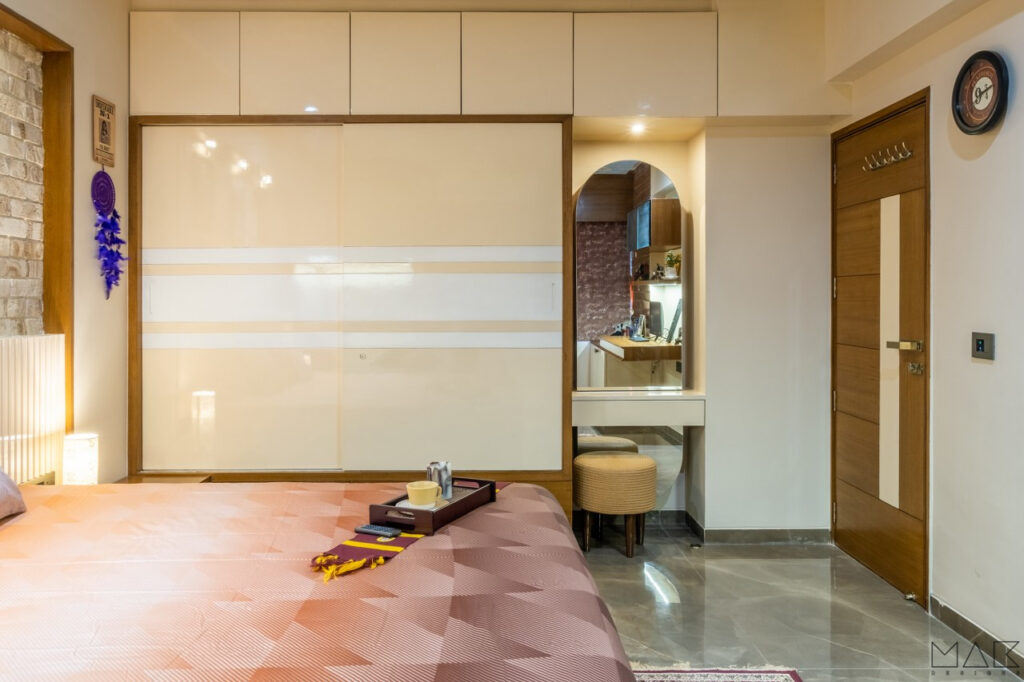 Space with exquisite engraved, wooden wall panel along with the vibrant geometric pattern to subtle the dashes of creativity based on the Avengers Marvel theme for the boy kid.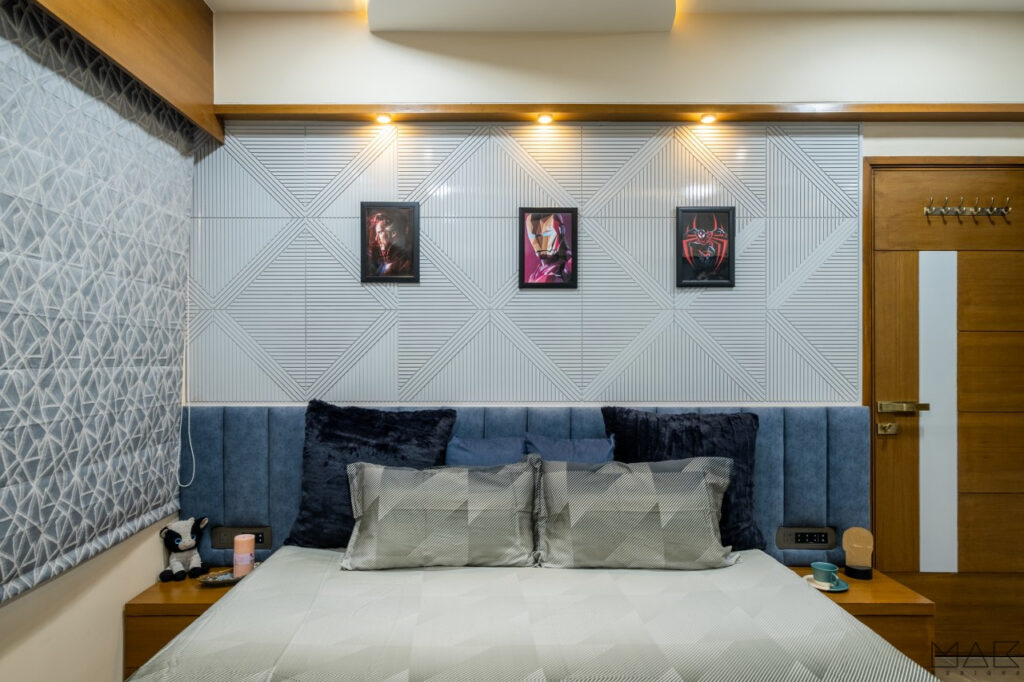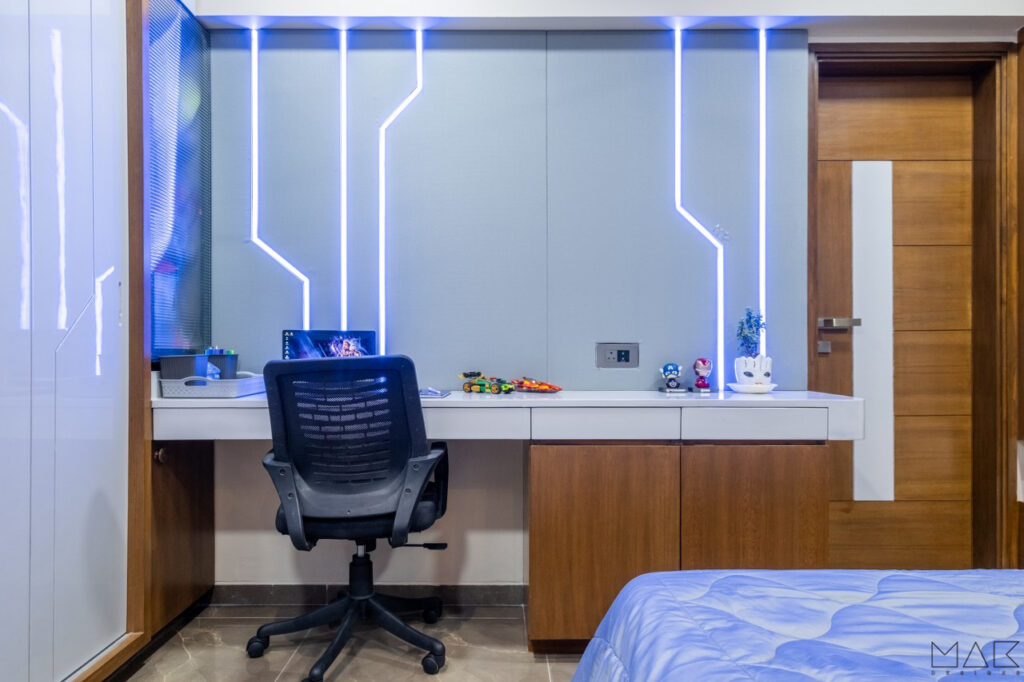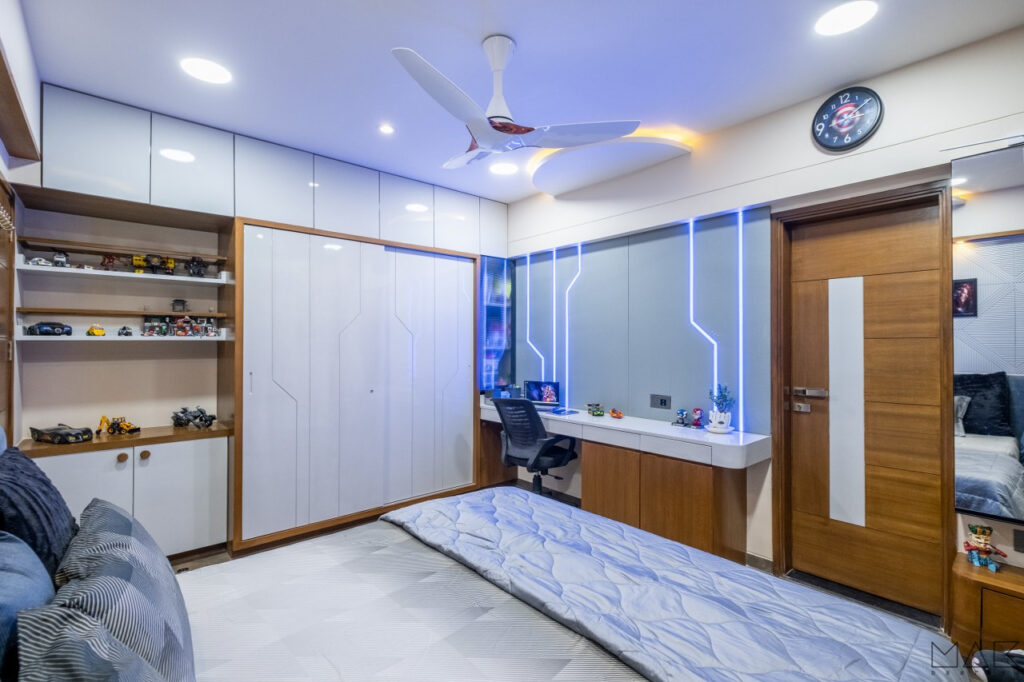 A comfortable sitting arrangement, a giant TV unit and ample space to relax. The minimalistic approach with green palm leaves wall art by MiRak Arts giving tropical vibes that make entertainment room look stylish, comfortable.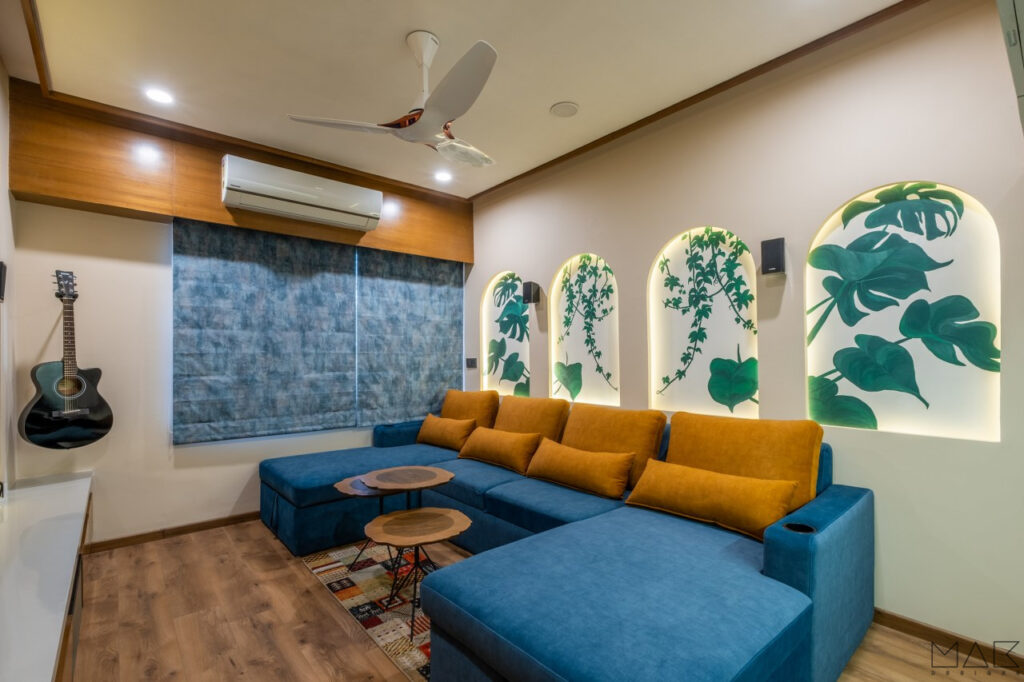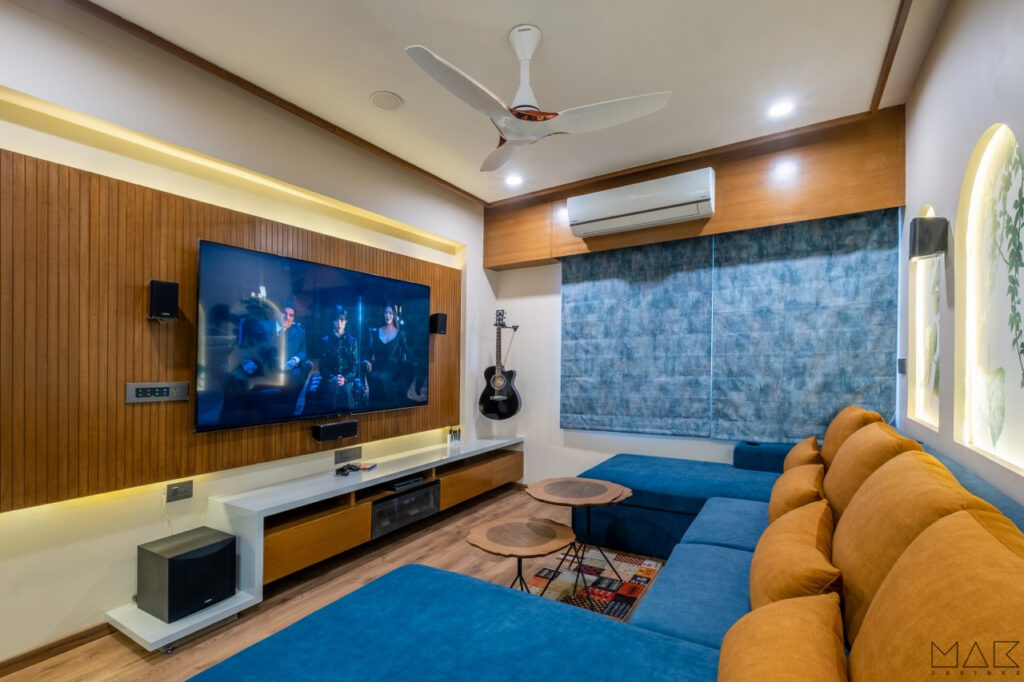 Our idea for the Powder room was to create a dimly lit space to exude the right mood and emote luxury. We achieved that by cladding the walls with metal mirror paneling. The space is adorned through the statement light and the metal framed mirror that feeds the overall drama.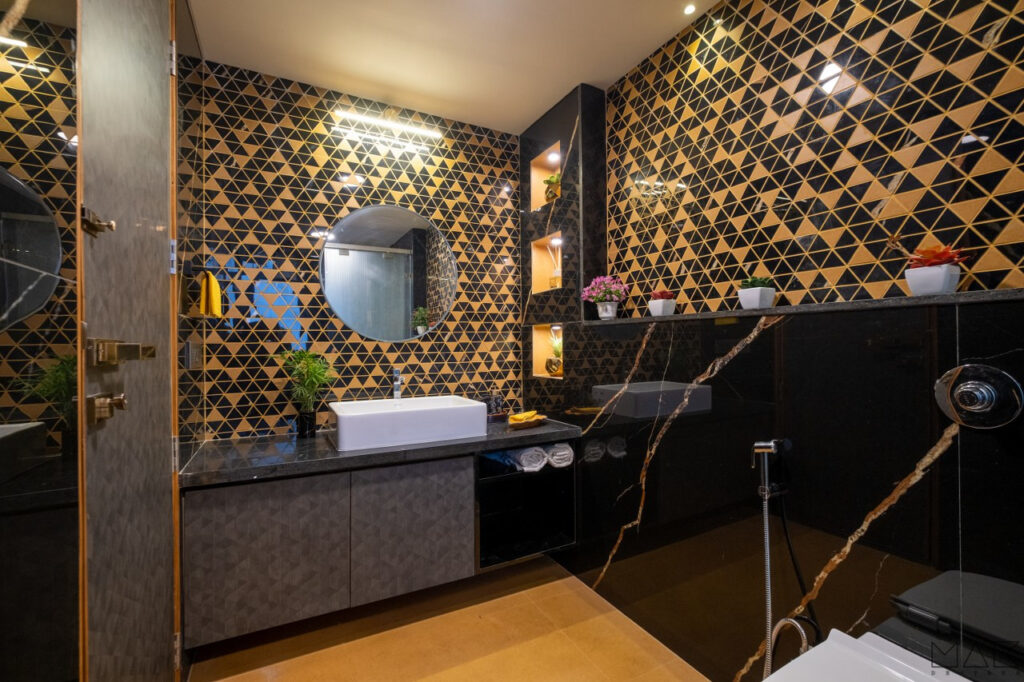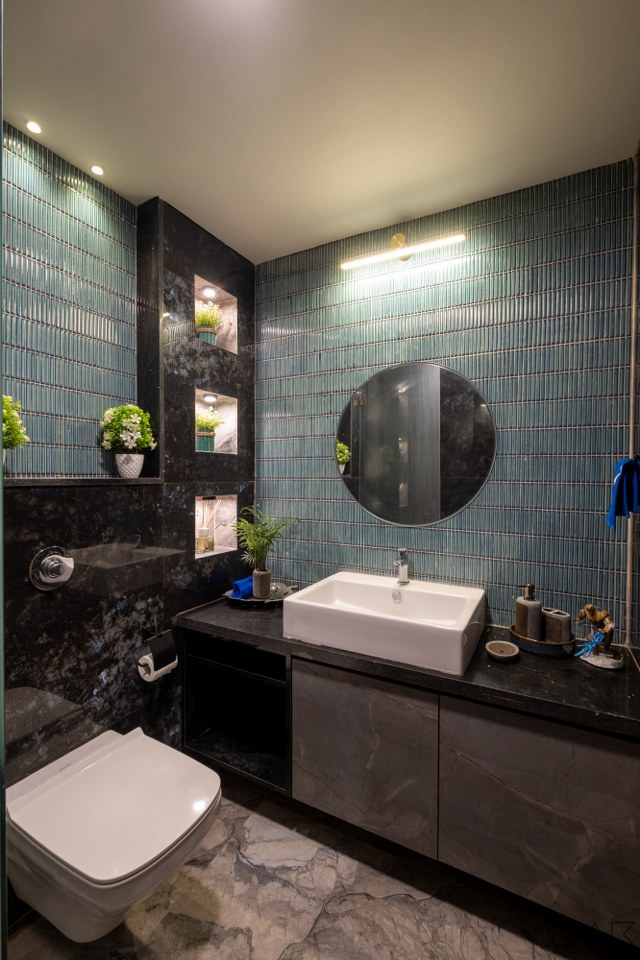 FACT FILE
Designed by : MAK Designs
Project Type : 4 BHK Residential Interior
Project Name : House for Sejal Bhatt and Harish Bhatt
Location : Shilp Shaligram, Ahmedabad
Year Built : 2022
Duration of the project : 6 Months
Built-up Area : 1800 Sq.ft
Principal Architects : Ar. Bhavin Khatri & Ar. Axesh Patel
Team Design Credits : Ar. Manisha Sharma, Jinal Patel & Akash Prajapati
Photograph Courtesy : Abhishek Shah
Products / Materials / Vendors : Execution – Ease My Interior / Wallcovering / Cladding – Flex Stone and World of Stone / Lighting – Syska / Flooring – Simero / Wall art – MiRak Arts / Hardware – Ebco.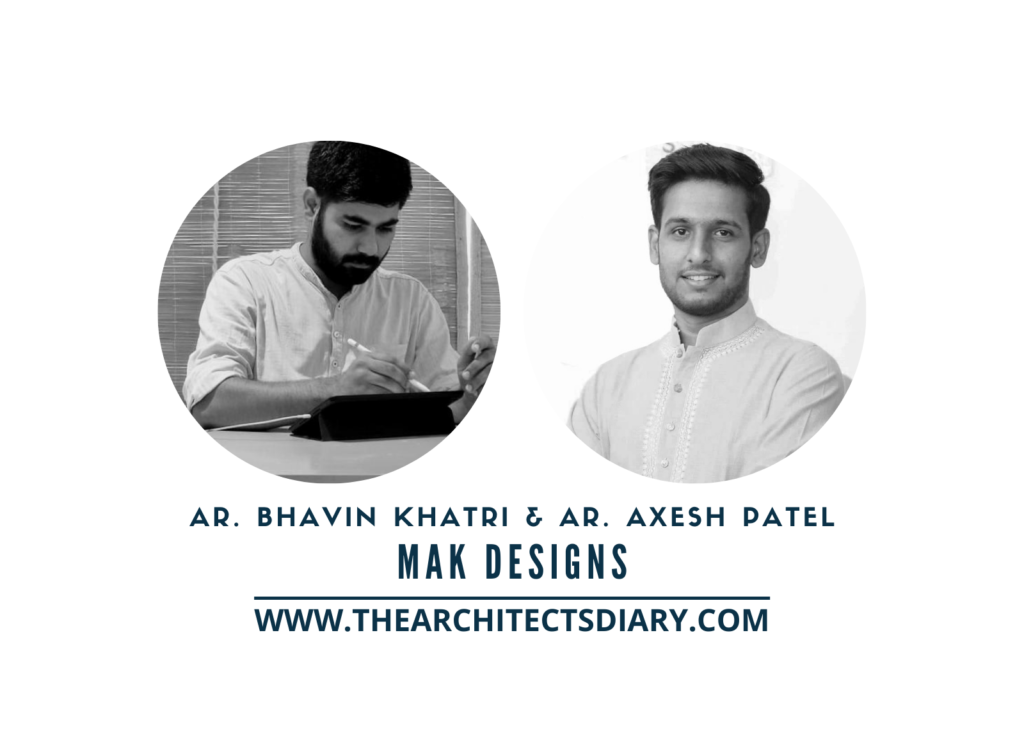 Firm's Instagram Link : MAK Designs
Firm's Facebook Link : MAK Designs
For Similar Project >> ECODEN 9B, A MODERN 3BHK APARTMENT FOR A YOUNG FAMILY OF FOUR