&nbsp
A Minimalistic And Chic Residential Design | F+S Designs
With changing times comes changing lifestyles and changing demands on spaces. 38 Krishna is one such residential property that needed to be transformed to cater an affluent couple in the city of Hyderabad, living with their two young sons.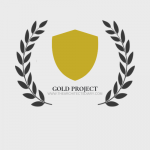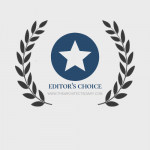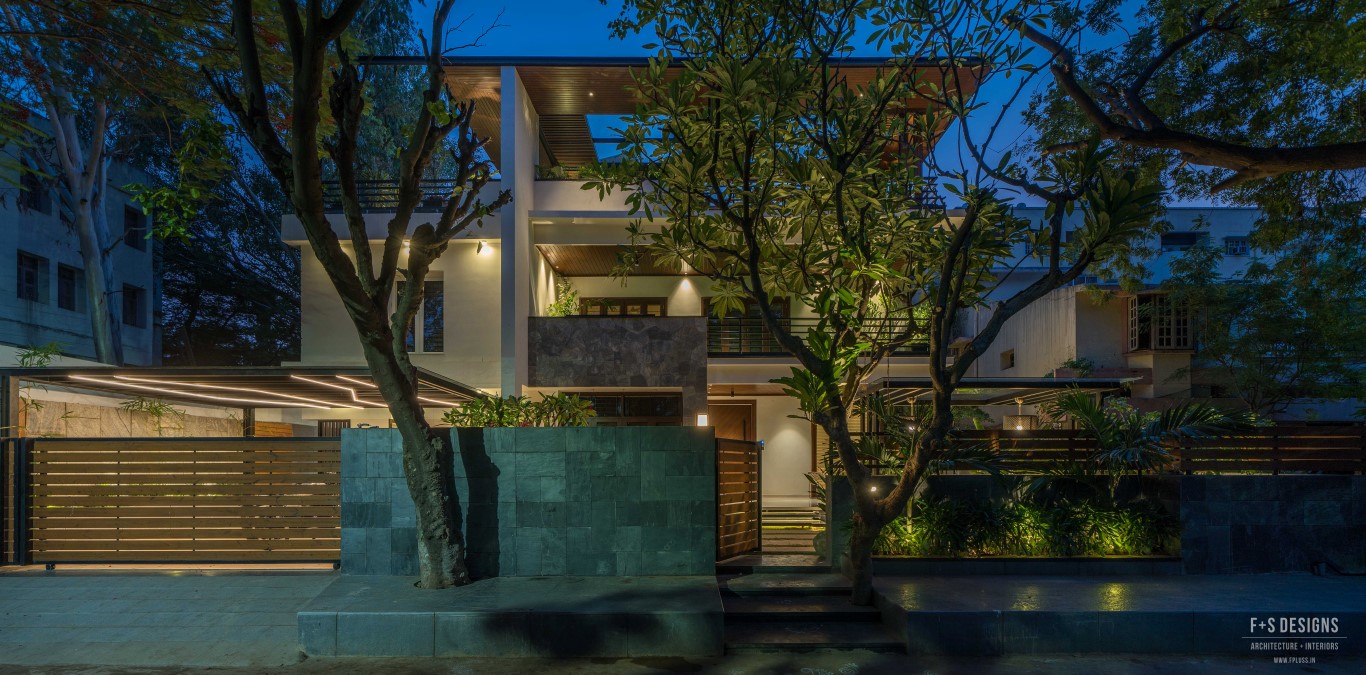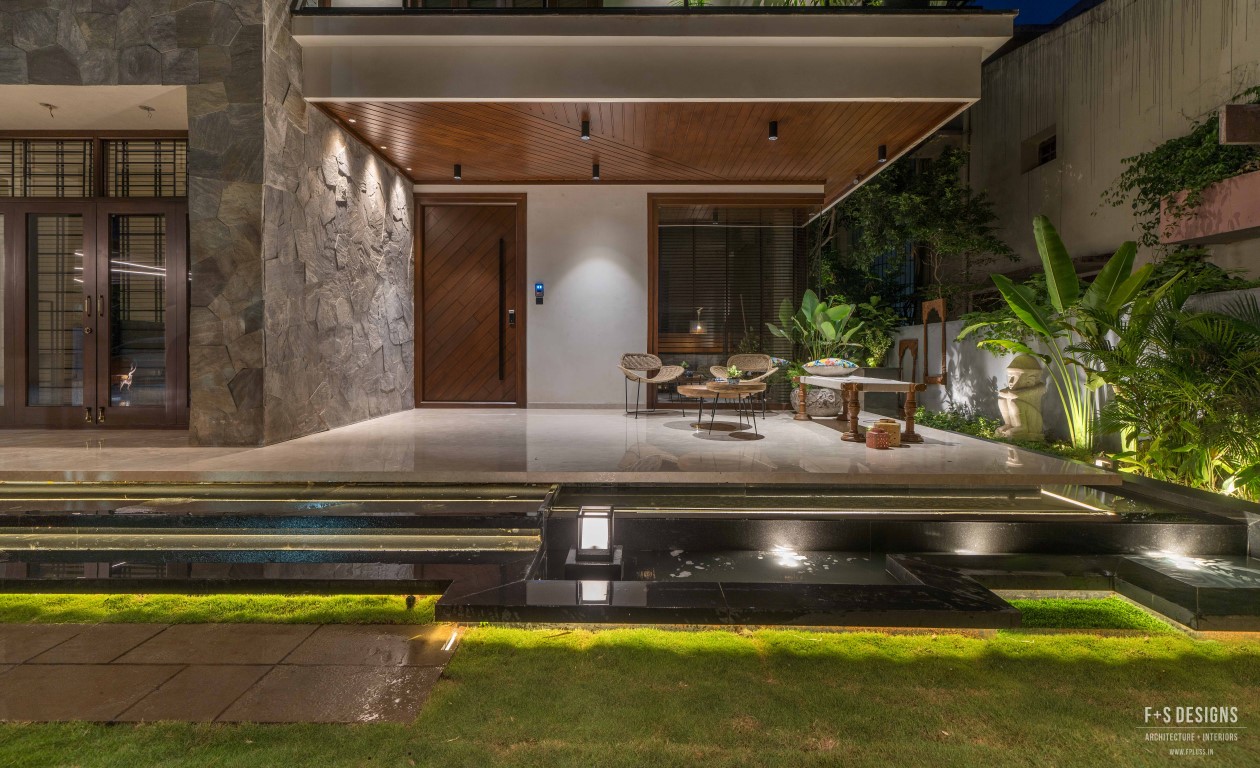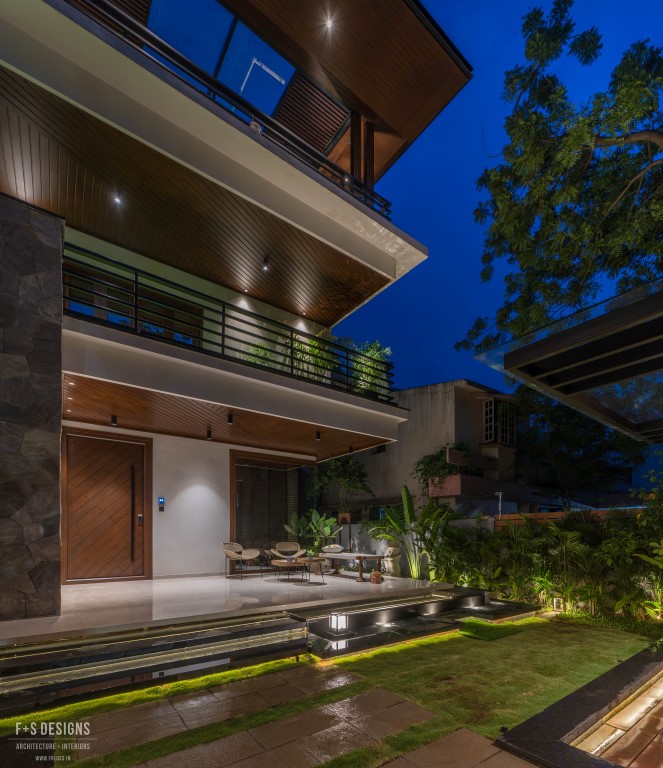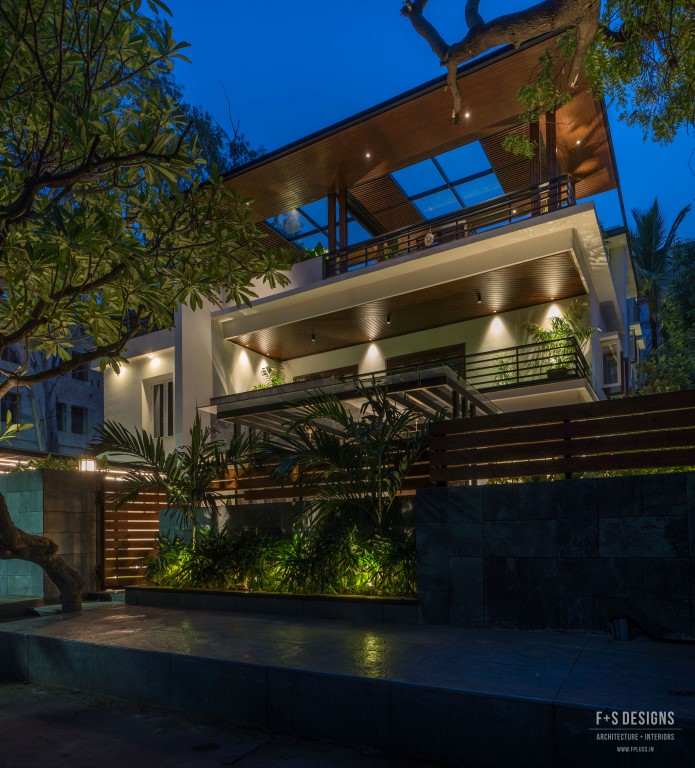 38 Krishna is a modern home in its true sense, it's clean simple lines and uncomplicated design defines the space, which is homely, uncluttered and is a visual delight. A minimalistic and practical design approach has enabled us to hero the inherent quality and depth of materials through various planes and surfaces, bringing clarity and richness to the house.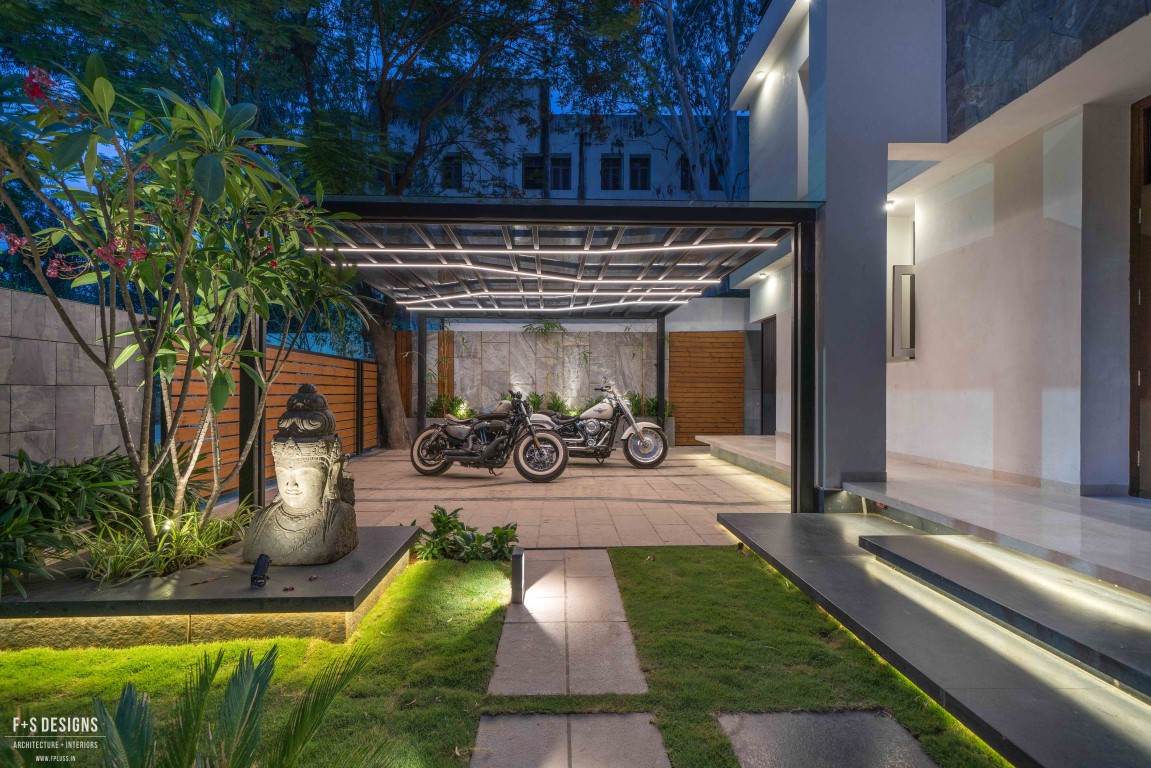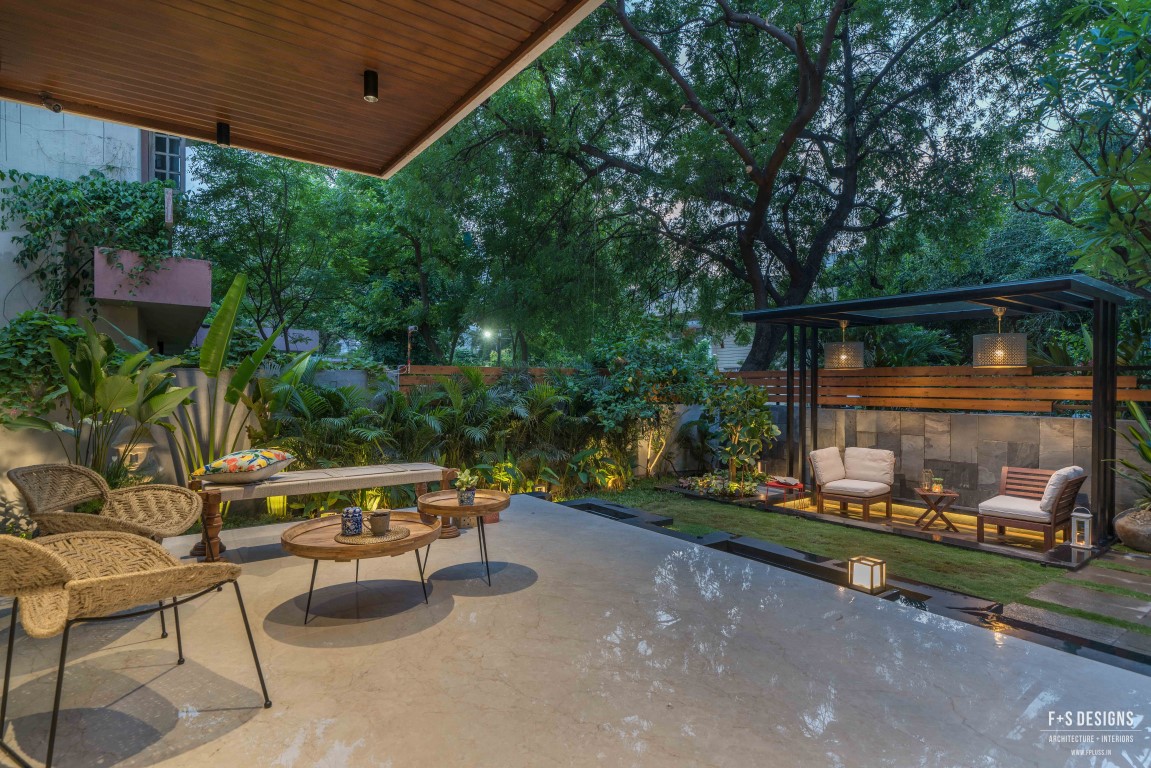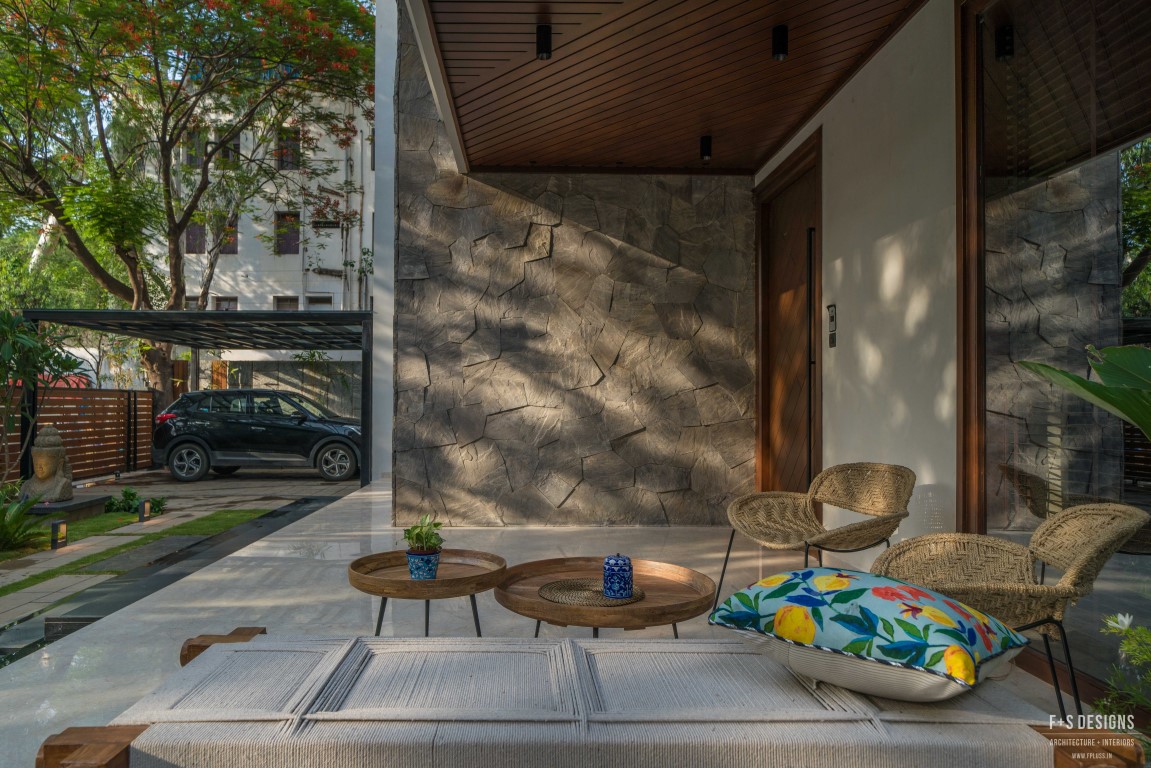 The free movement through the various living spaces heightens the sense of openness and grandeur. Cut-outs placed strategically in the slabs on each floor in the Living area creates a lung-space which beautifully connects the entire 3-storeyed, 11000 s.ft. house together.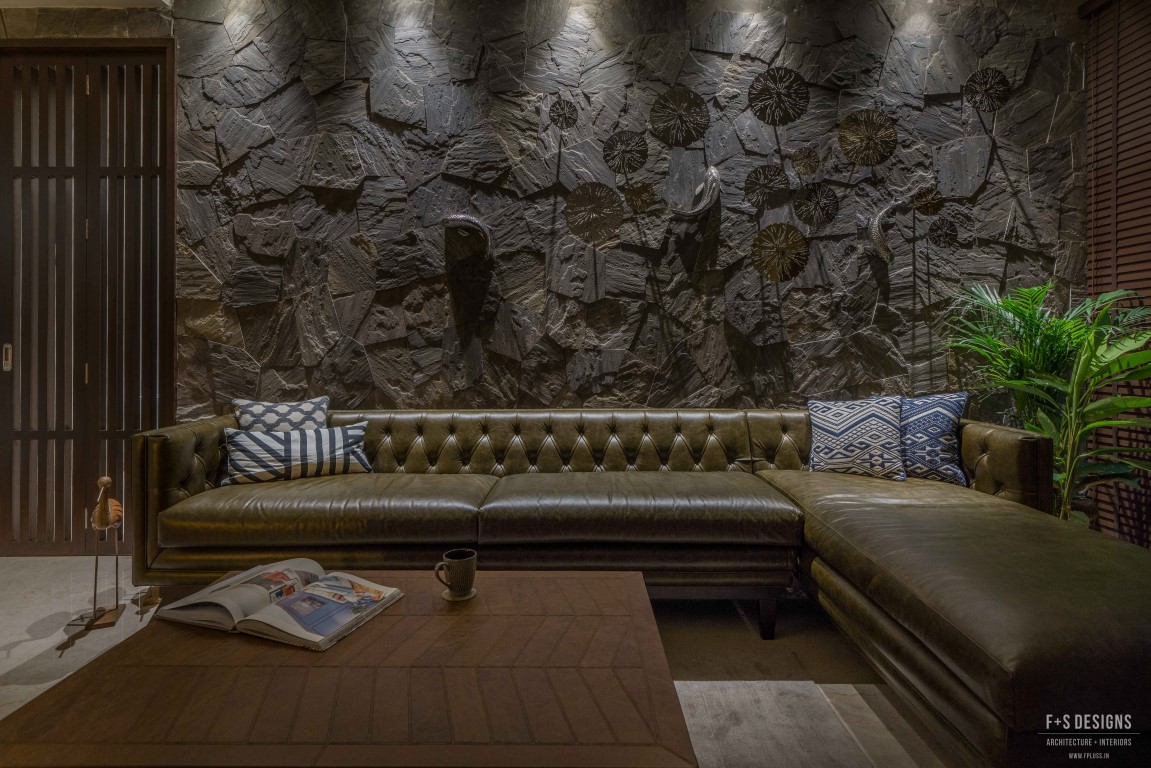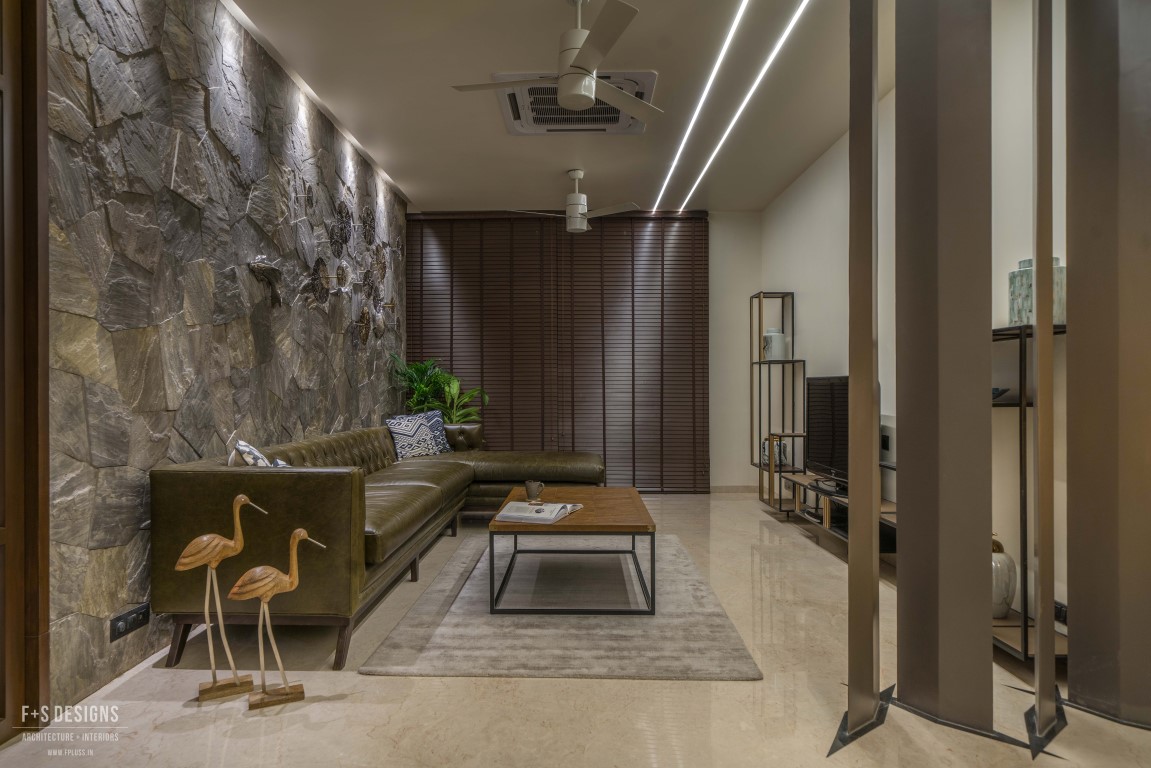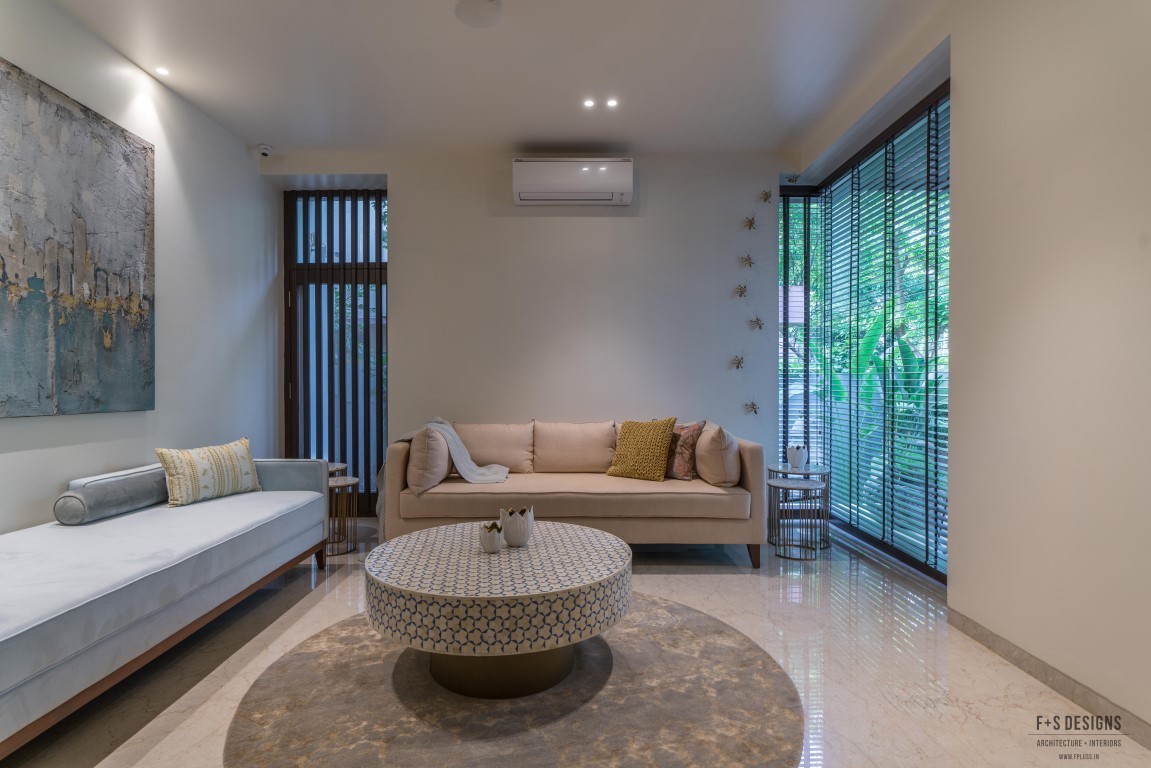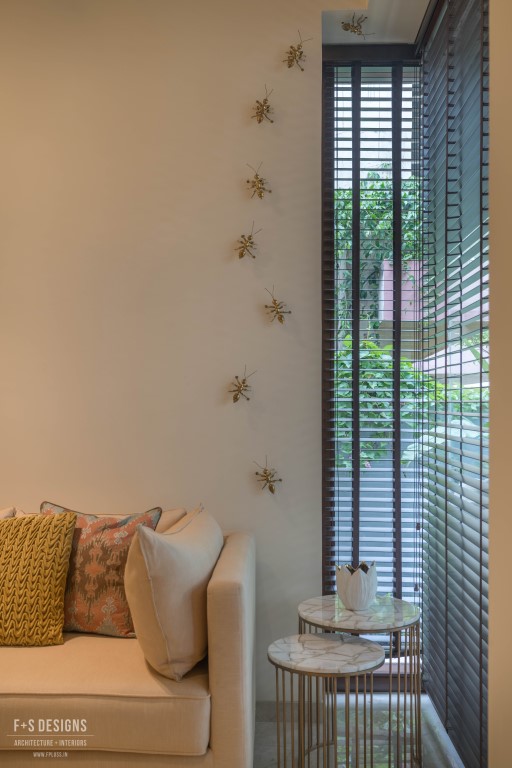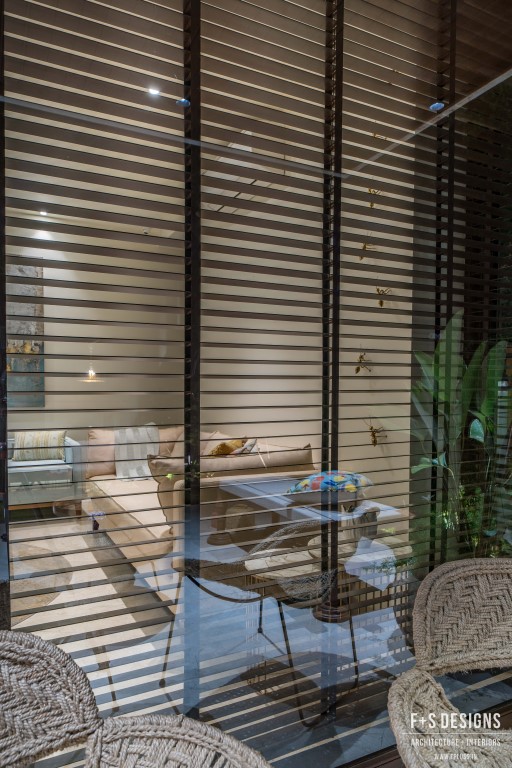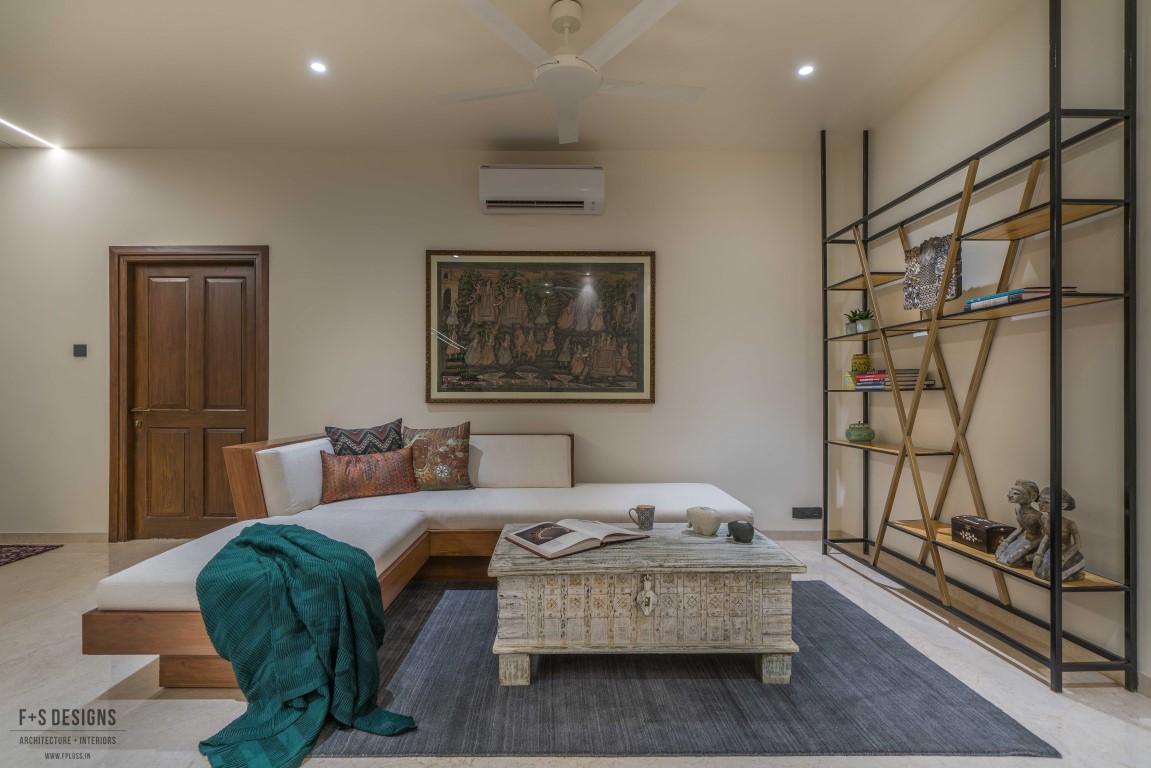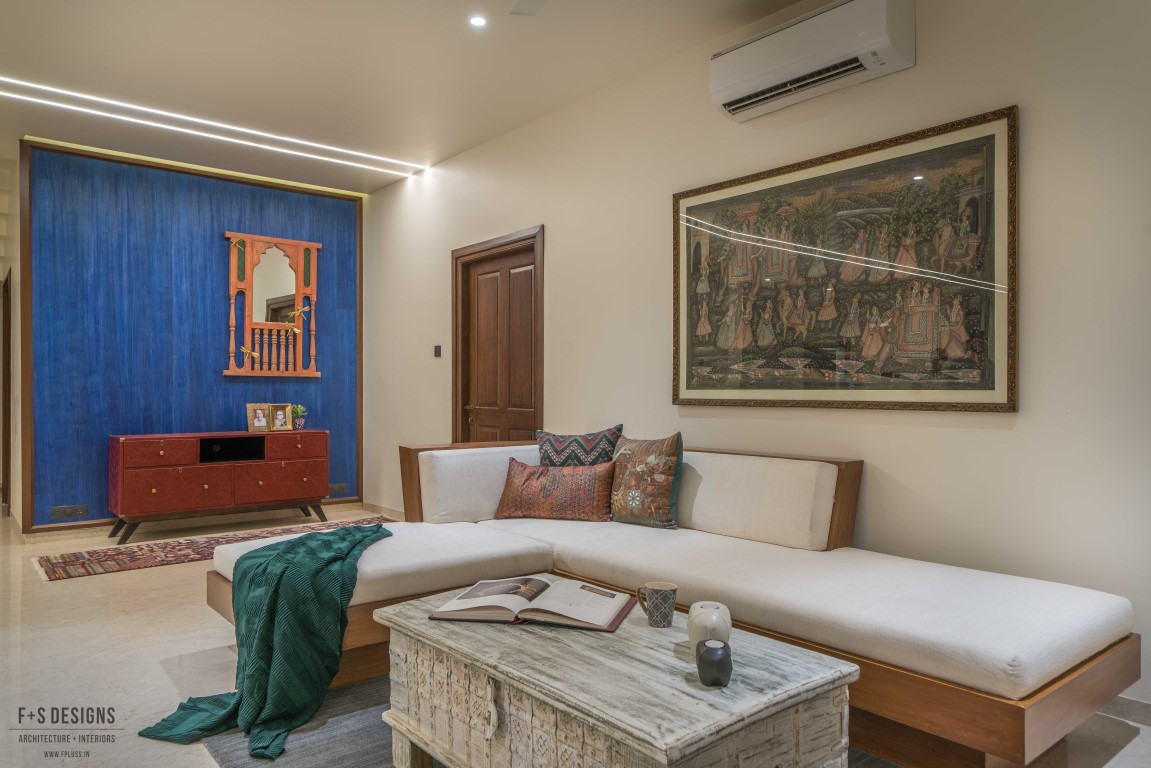 The weaving of the beautifully landscaped outdoor spaces with the interiors by introducing large openings and extended living spaces present an equilibrium between modern living and a connection with nature.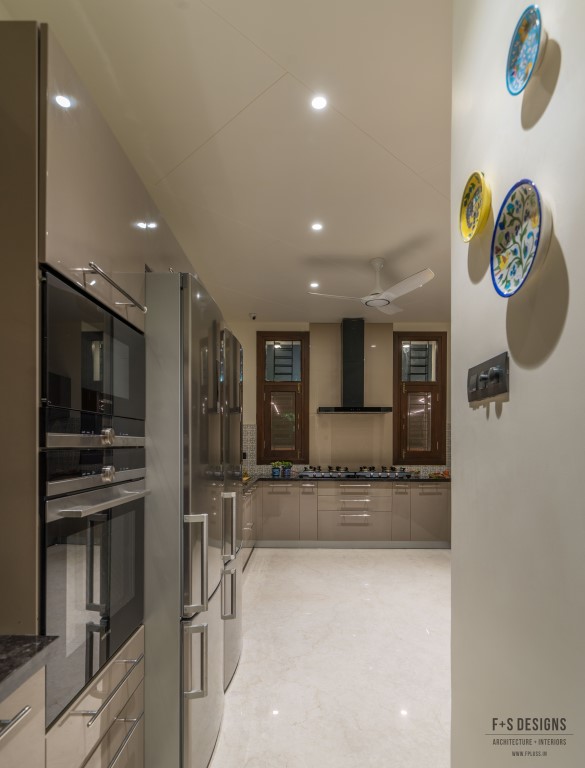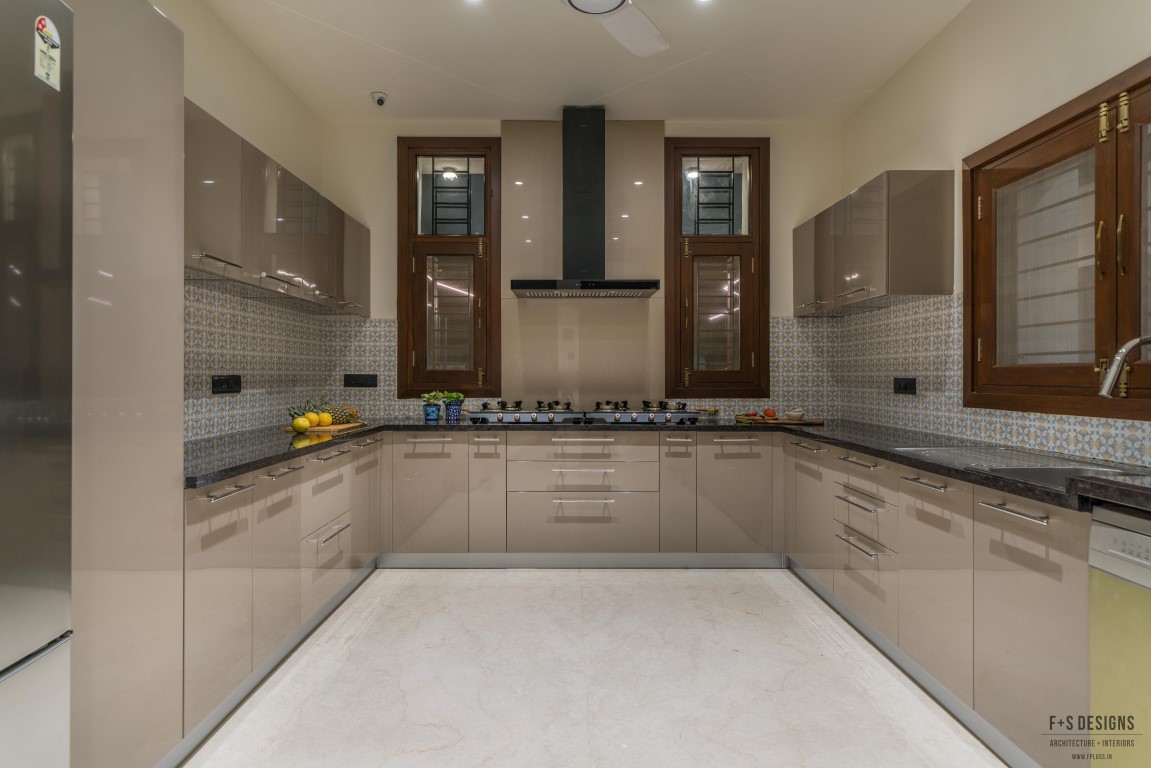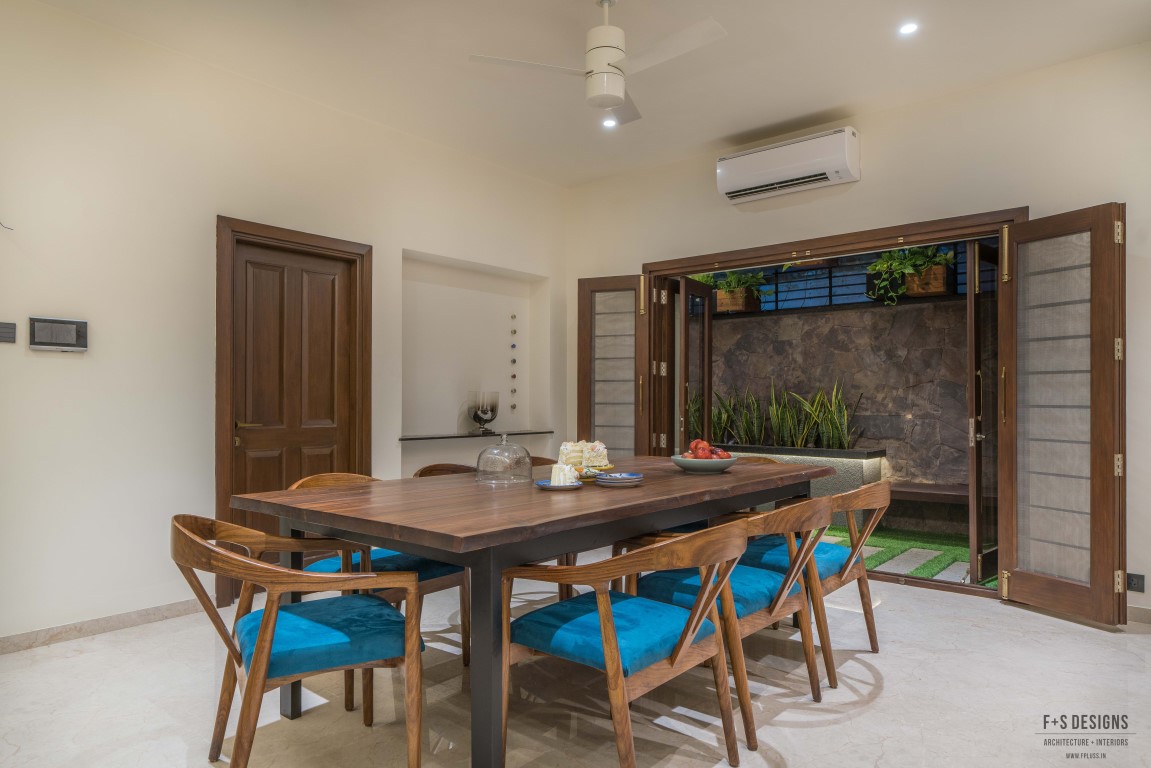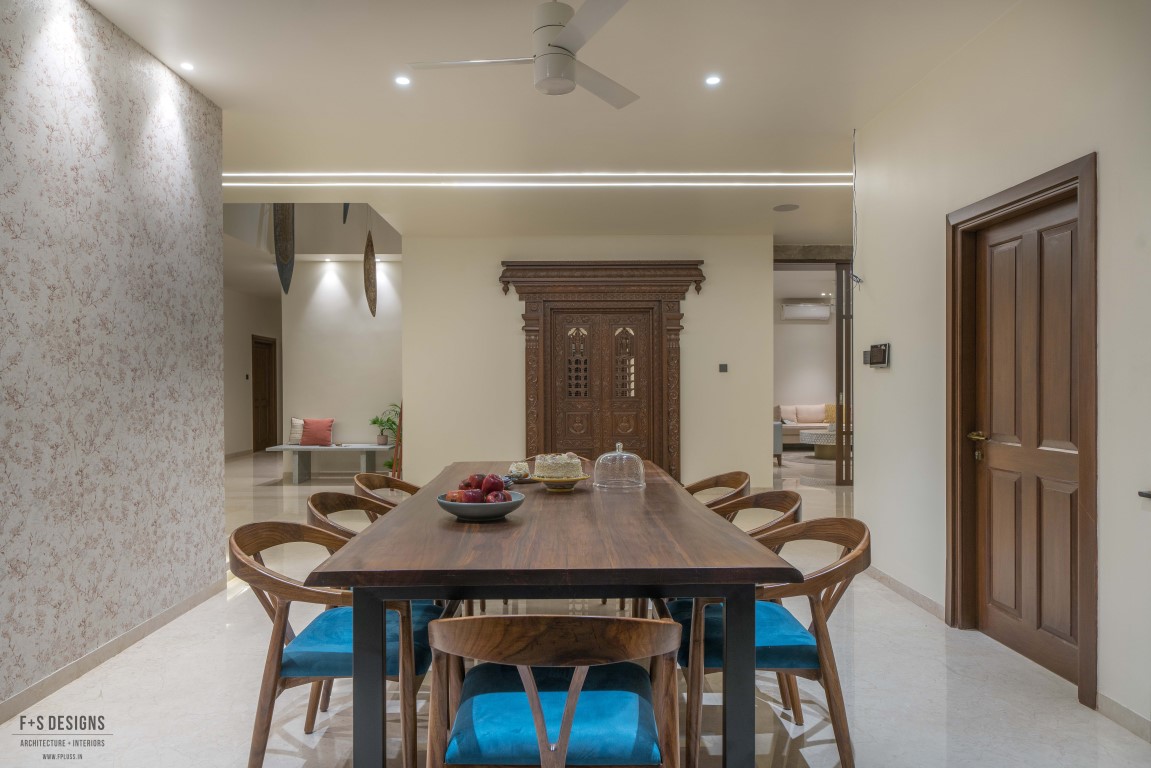 The functional requirements for the family of four- specified four en-suite Bedrooms, Living room, Family room, Dining room, Kitchen and  Entertainment spaces such as a Home-theatre, Library and Terrace gathering spaces. In addition to meeting the requirements, lush green balconies, a double-height courtyard space and outdoor seating on all floors have also been added.
To create the requisite warmth, the lighting throughout the house is effected in warm 3500K yellow-light, featuring a combination of ambient, linear light, spot lights and pendants as per requirement of the design and space. Two streaks of 40-ft long linear lights running across the Living, Dining and Library areas not just visually connects the spaces but also creates a statement.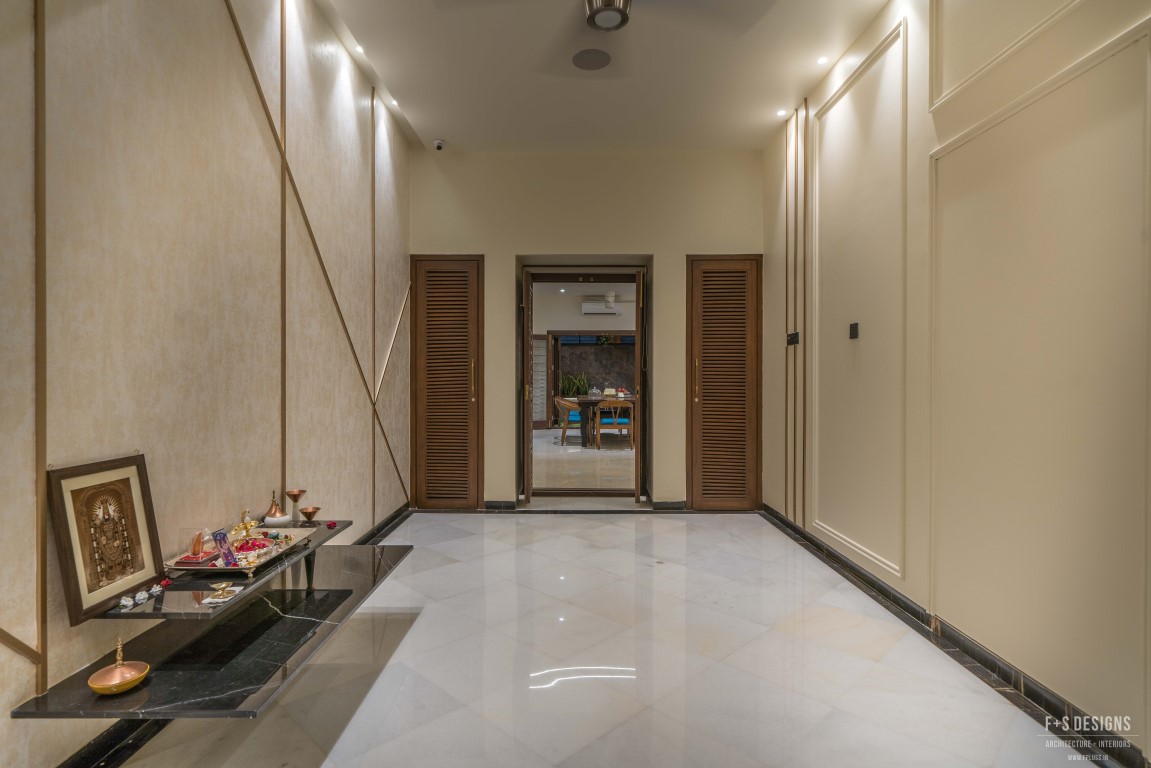 The Pooja room door was left untouched since it's a beautifully carved traditional- pure Burma teak door and holds a sentimental value to the family. Artefacts and accessories that are close to the clients have been carefully placed along with modern elements throughout the house.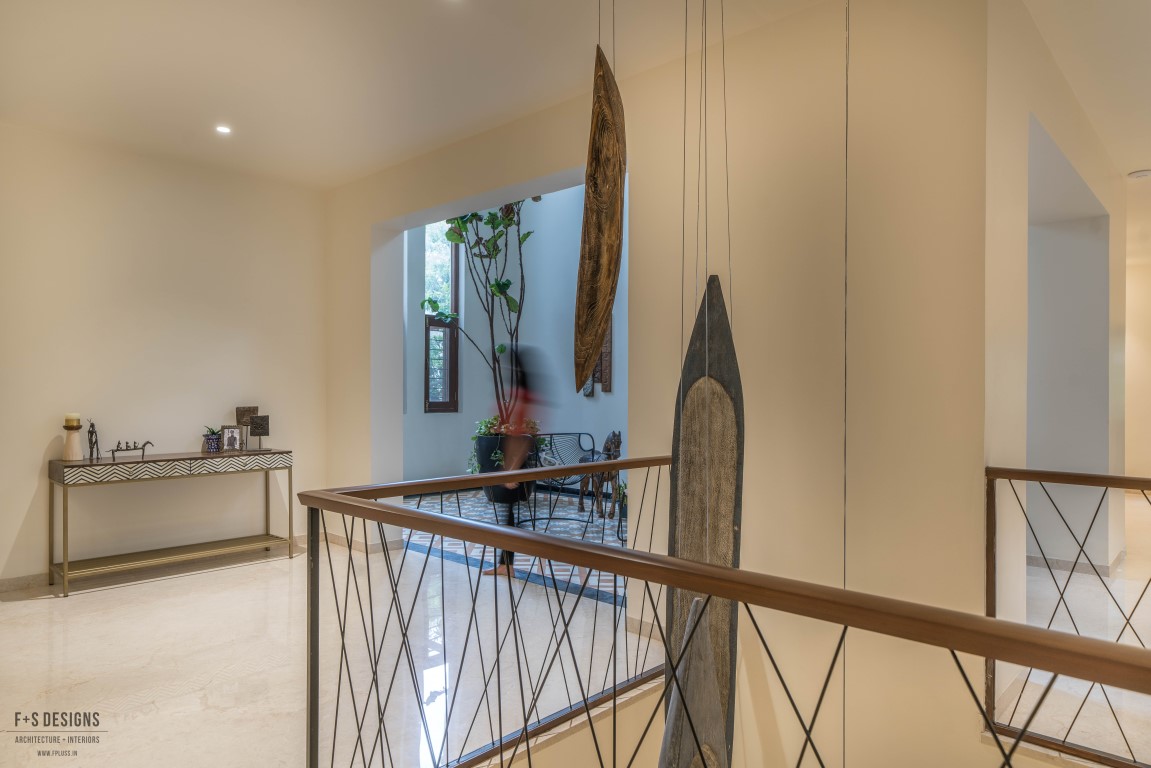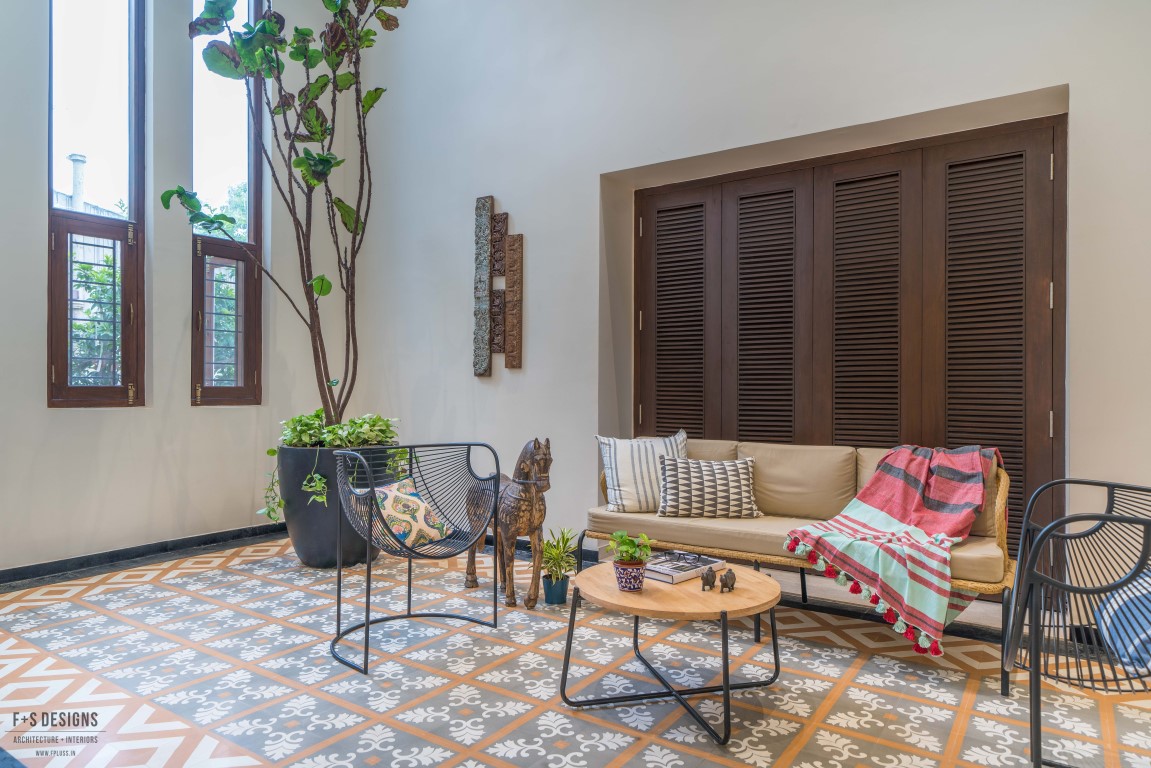 Three rustic boats hanging at different heights through the ceiling cut-out on the ground floor makes for a memorable installation. The double-height Courtyard is a memorable composition of 3 tall windows that accentuate the height of the space, with earthy patterned flooring and modern rustic furniture.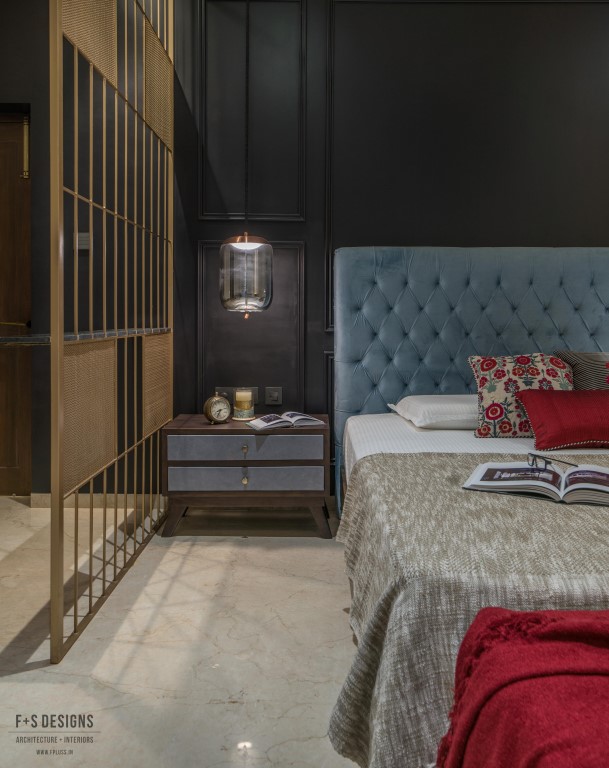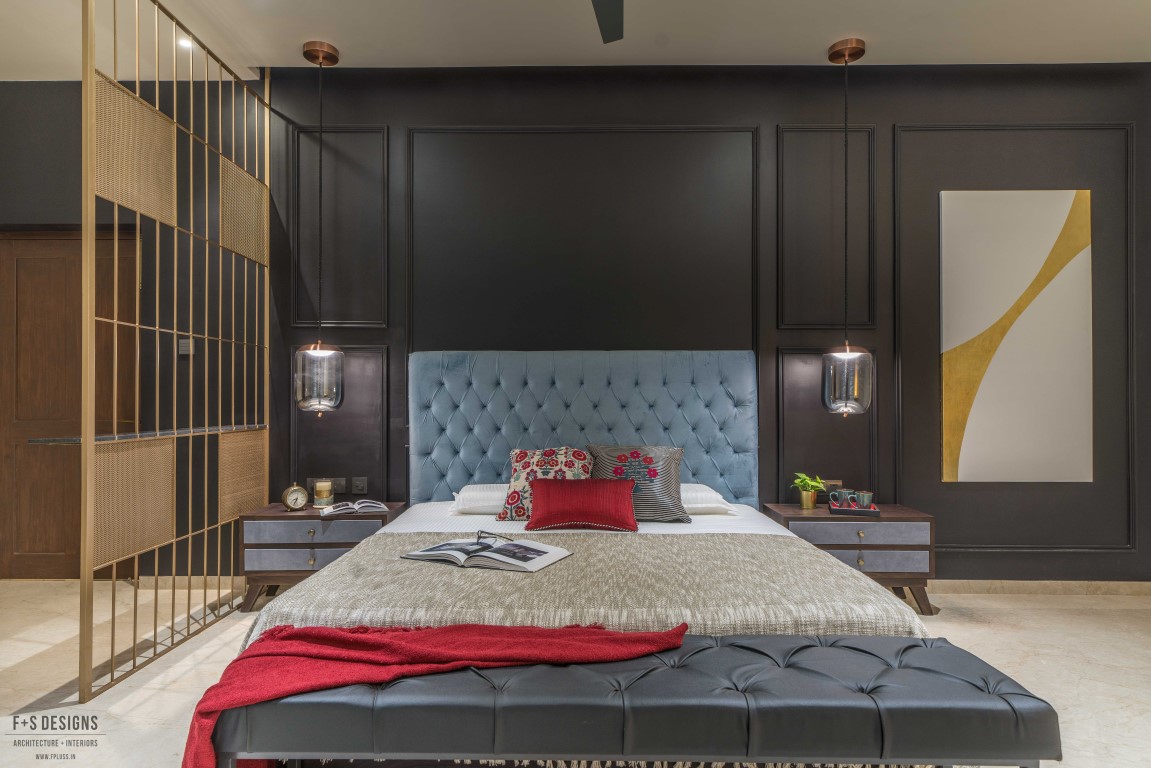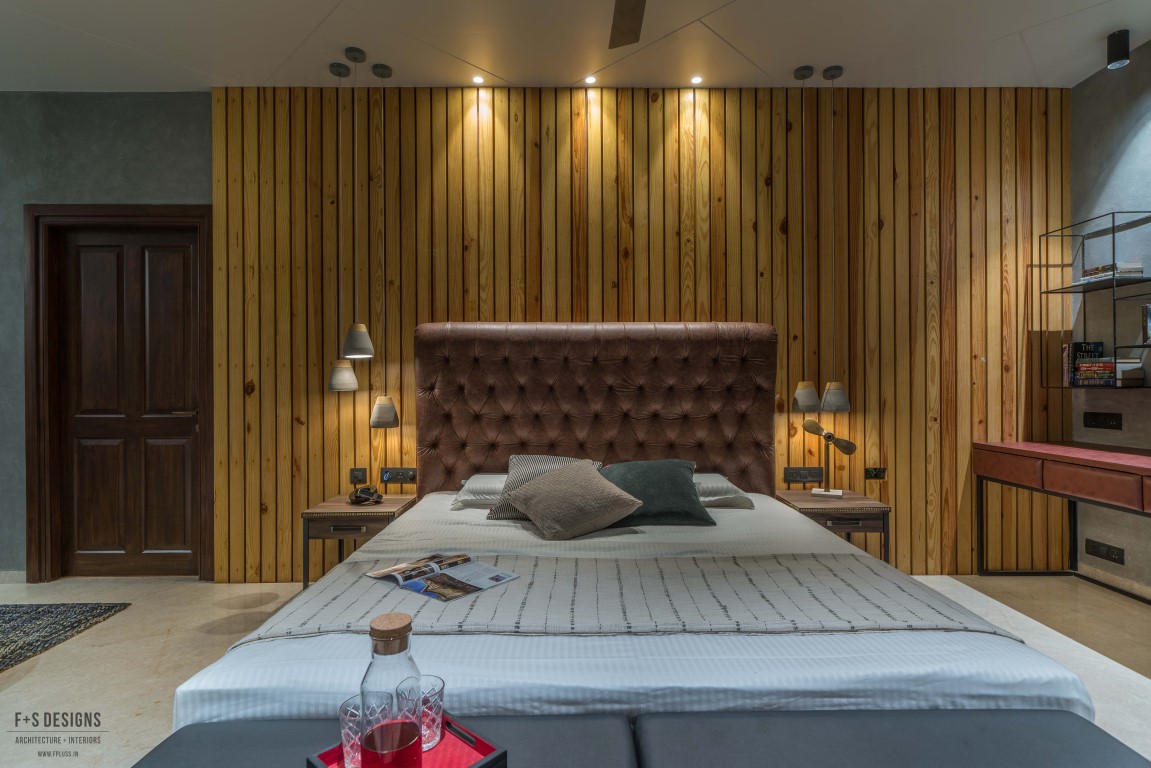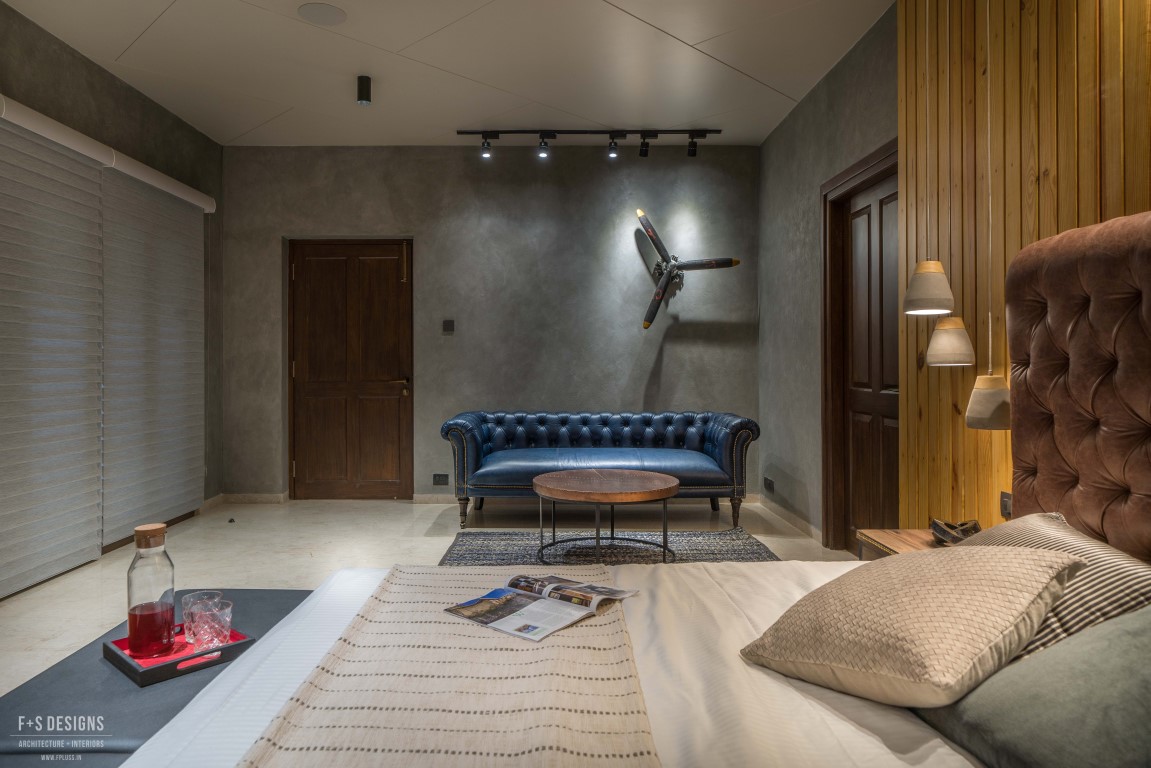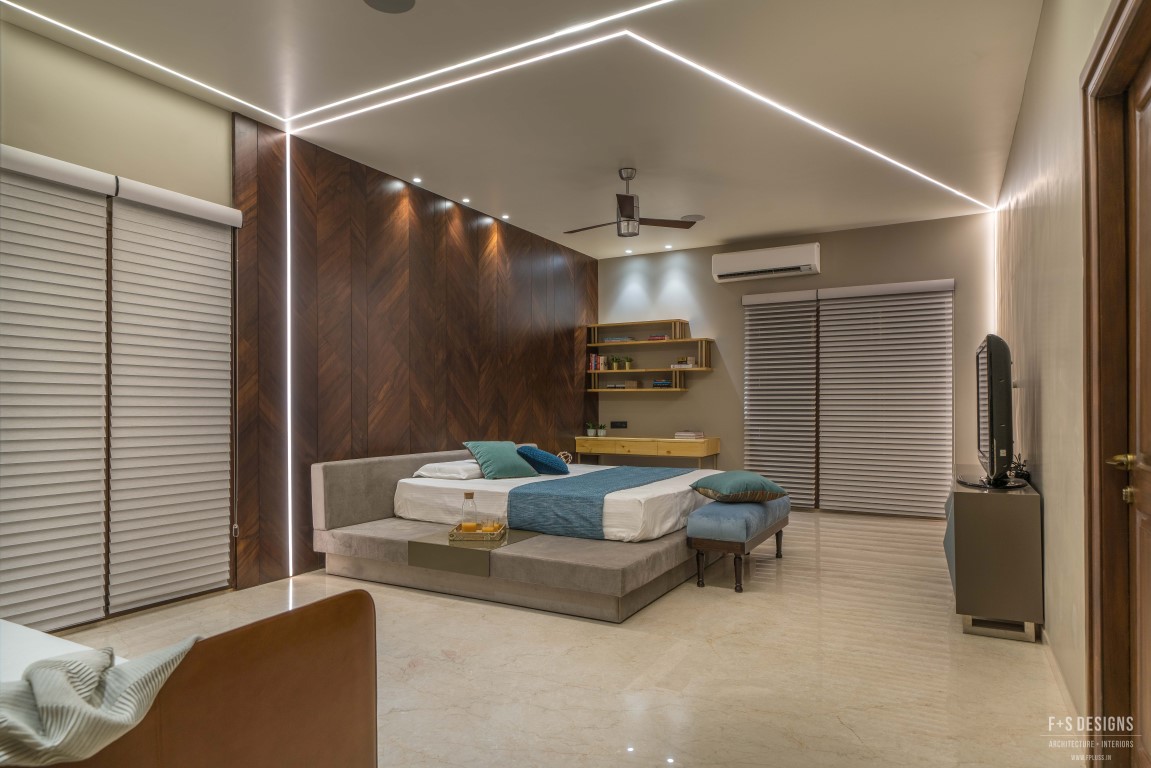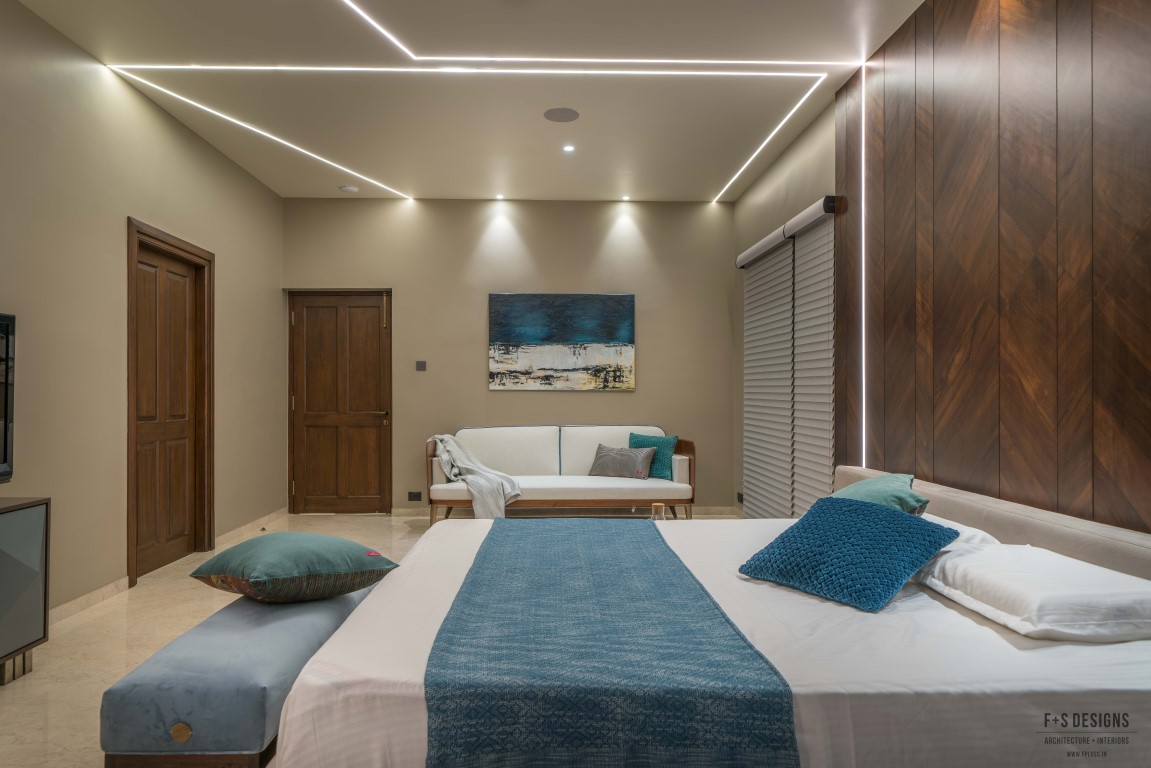 A plush wood-panelled back wall creates the backdrop for the Master Bedroom composed along with rich textures of Rose-gold metal and a sea-blue fabric headboard. The sons, both being in their mid-twenties have been given a modern minimalist chic bedroom space, with a different approach each. Warm brown tones of wood panelling, beige brown walls,  a sleek white sofa and clean linear lights encompass the first son's bedroom. Rugged tones of textured cement walls, with raw wood and deep-colored leather finishes creates a contrasting Bedroom space for the second son.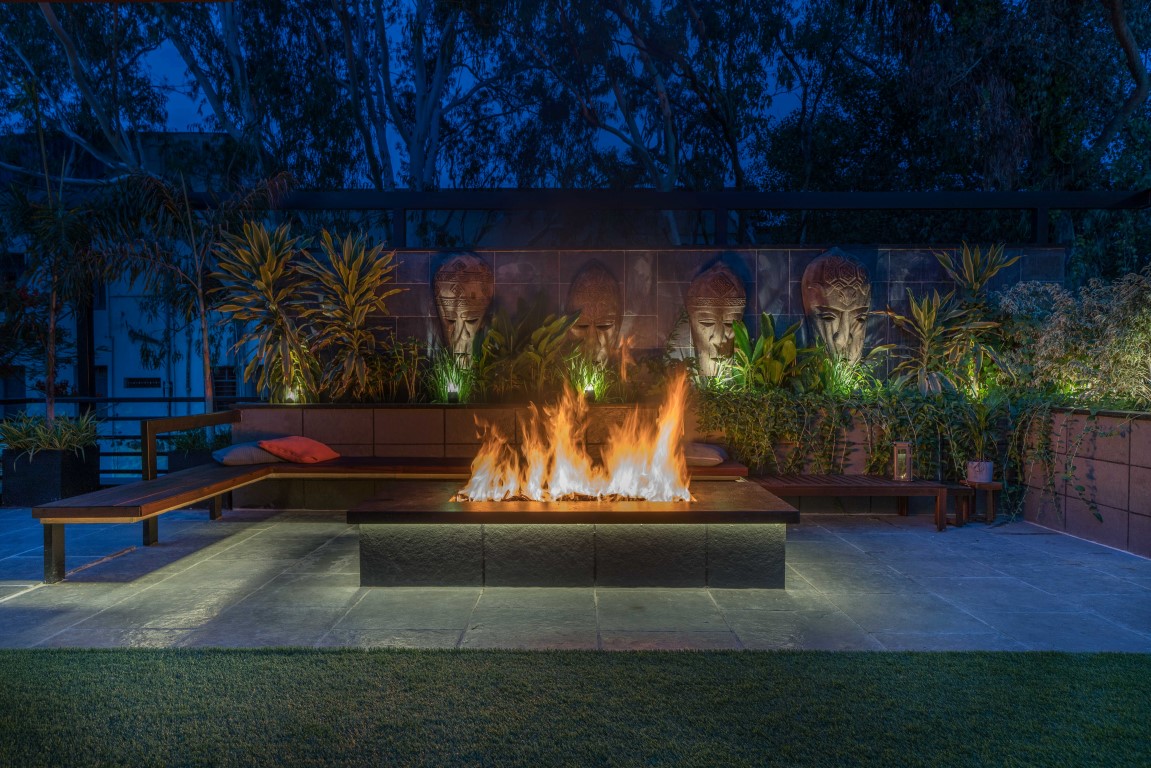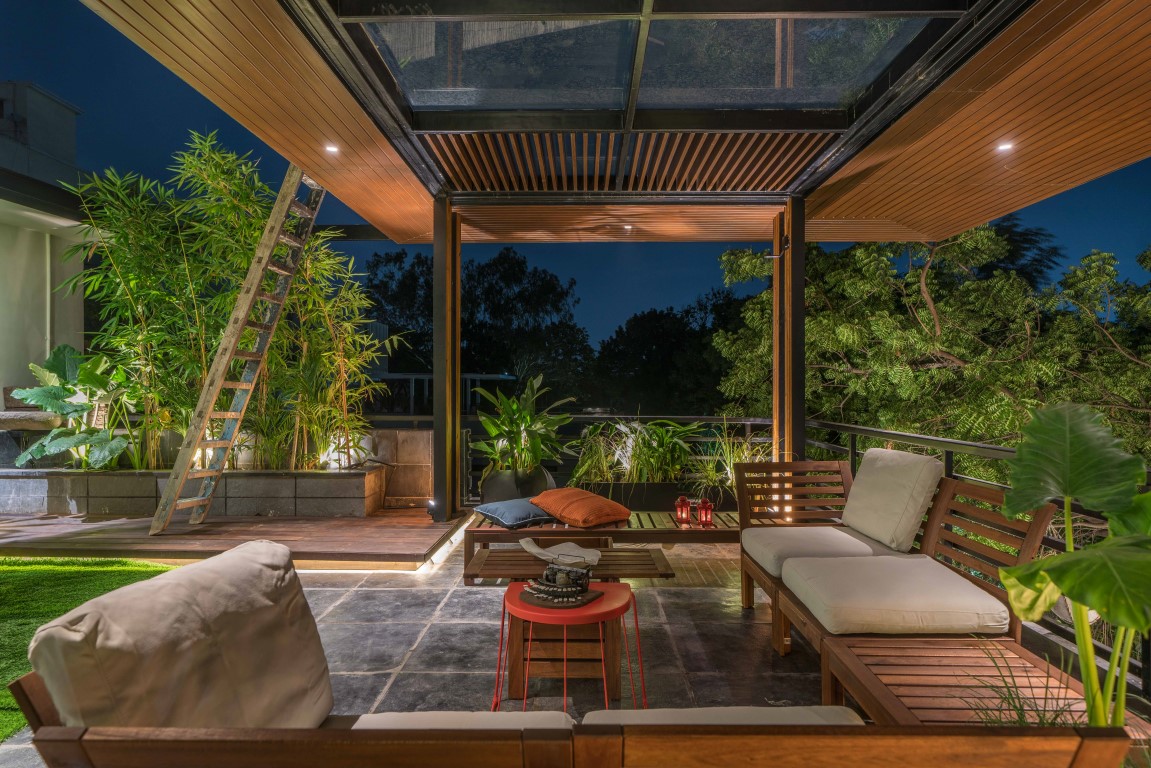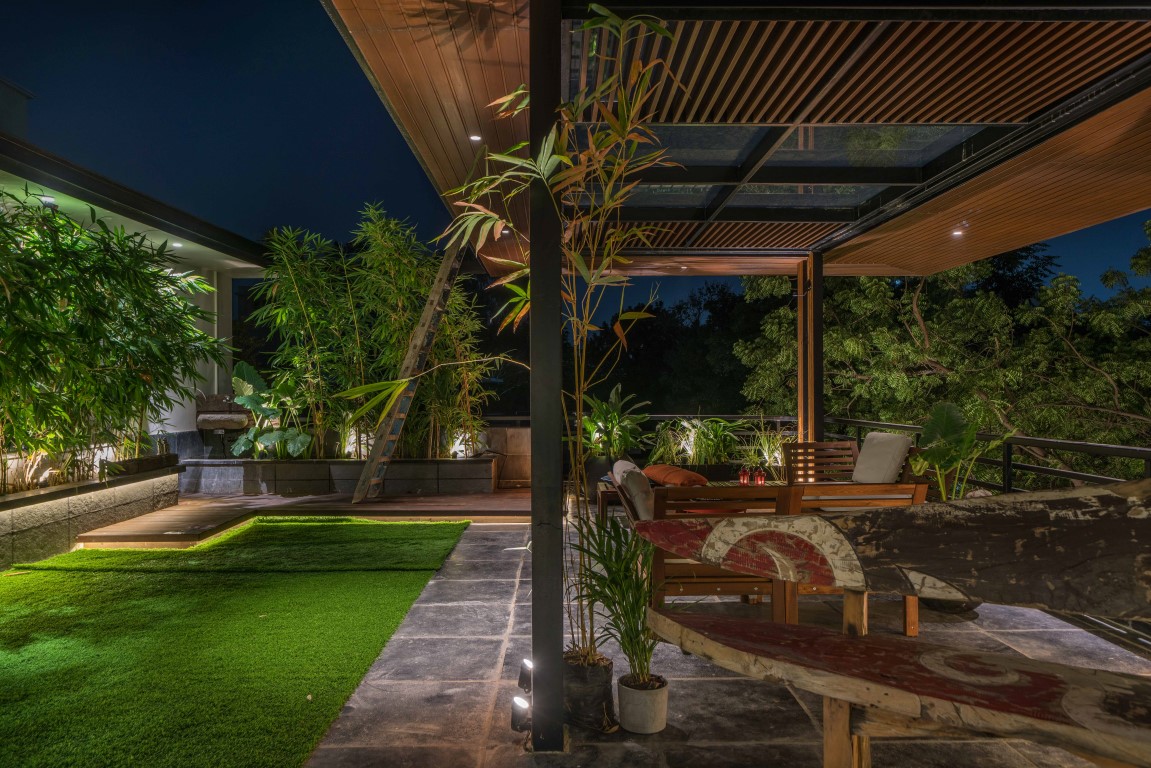 An earthy stone fireplace added to the seating area in the terrace with the backdrop of beautiful Balinese masks is one of the highlights of the house. Each individual space is designed with a contemporary fusion-style aesthetic with bespoke furniture and metal-work details.
The Electrical, air-conditioning and landscaping for the entire house has been automated for the clients convenience. The exercise of reimagining the space has been a triumph. to such an extent in fact, that the clients find it hard to remember what it was originally!
Fact File:
Project name:  38 Krishna
Firm: F+S Designs
Project Location: Hyderabad
Completion: 2019
Built Area:  11000 sq.ft
Photo credits: Ricken Desai
About Firm:
We are F+S Designs! A young & passionate design firm founded by Faisal Vohra & Shamila Meeran. Our Architectural and Interior design work ranges across Residential, Corporate Offices, Hospitality, Retail and Institutional spaces across various cities in India. At the core of what we strive to do, is a belief that great design is a catalyst in enhancing the interactive experience of people with their surroundings. This drives us to constantly look for newer means and materials to provide the very best in design with a keen understanding of the cultures and communities we serve.