&nbsp
A Luxurious Villa with Brass-Gold Details and Timeless Monotones | AURA Interiors
Visit : AURA Interiors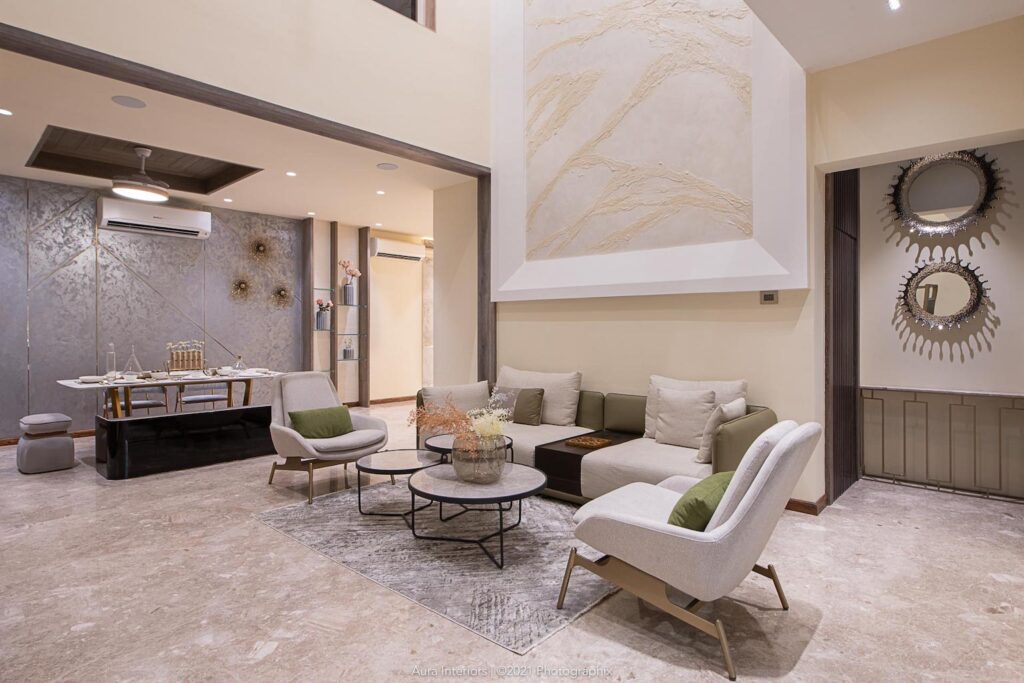 Right from interiors to detailing to styling, this project is an exemplar of a 'modern sophisticated beauty'. It perfectly juggles between its timeless monotonal accents and lavish spatial attributes. Here is a 4 BHK villa by Aura Interior, Raipur located in a posh area in the city; for a small family of five. It is undeniably lavish, jubilant, contemporary, ethical, and luxurious to its core. The vestibule lies post a double shutter- brass-gold beaded front door. With its soothing colours and textures, it emits a tranquilizing aura aided by a buddha statue; further backed by a statement installation. This installation transcribes Lord Buddha's aura and its reverberations into a physical form.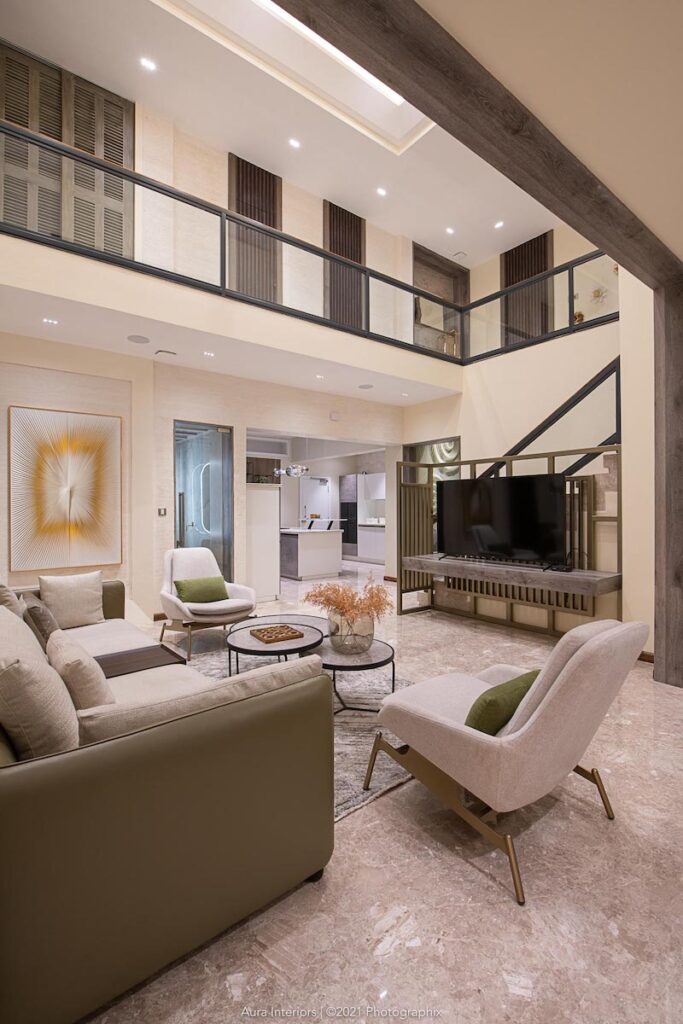 Adorned with sun-kissed gardens, this villa envisages a 350 sq. ft. living space at the core of its built-up. Truly manifested to appropriate its location, this family space is double height permitting the natural light to adorn the interiors and furnishings. Openness and visibility with the adjacent spaces and circulation areas make it worth the resulted spatial perception and the beige undertones. The main idea was having minimal civil changes to fully utilise the floor area on the ground floor. Though co-sharing the same flooring, all the spaces perceptually retain their individuality and characteristics. A touch of brass-gold in the detailing of the spaces and furnishings assign a next level of opulence. 
The dining space creates another micro-environment in itself with astute material exploration and defining forms- explicating high living standards. Cast iron frames are jabbed against the glass-wood showcases complimenting an adjacent metallic finished wall and a minimal quartz table. Though vividly textured, the colour palette restricts itself with its monotonal value and hence the resulted sense of aristocracy and intrepid gets instated.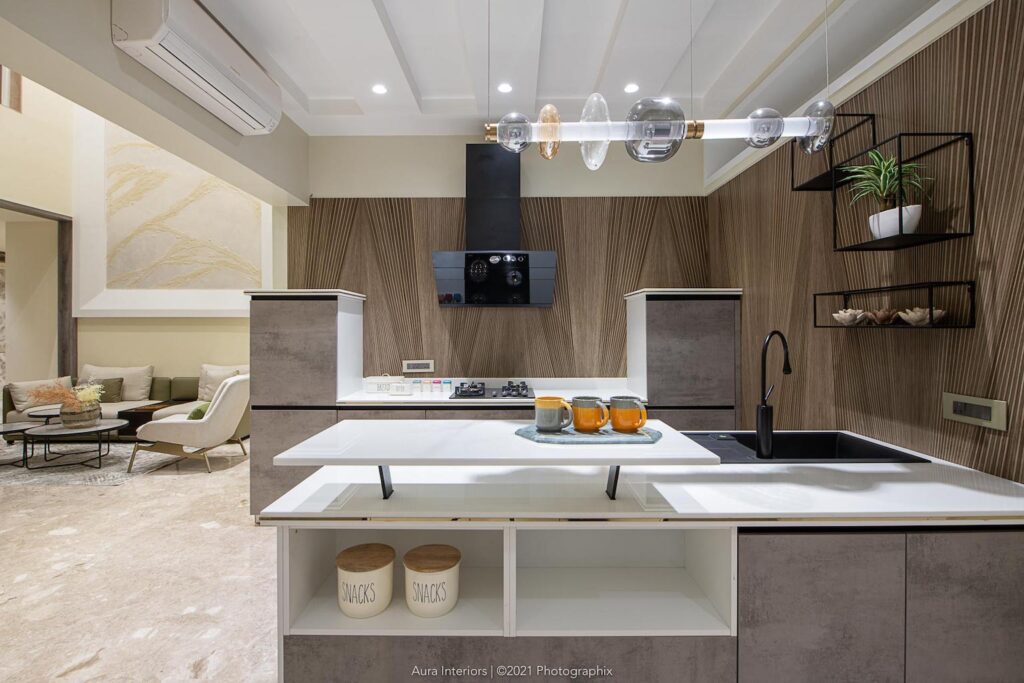 The concept with a statement island platform, subtle tones, and finishes is adopted for the kitchen. It is majorly white and well-lit for convenient cooking curating a unique form of modernity and class with its neat design.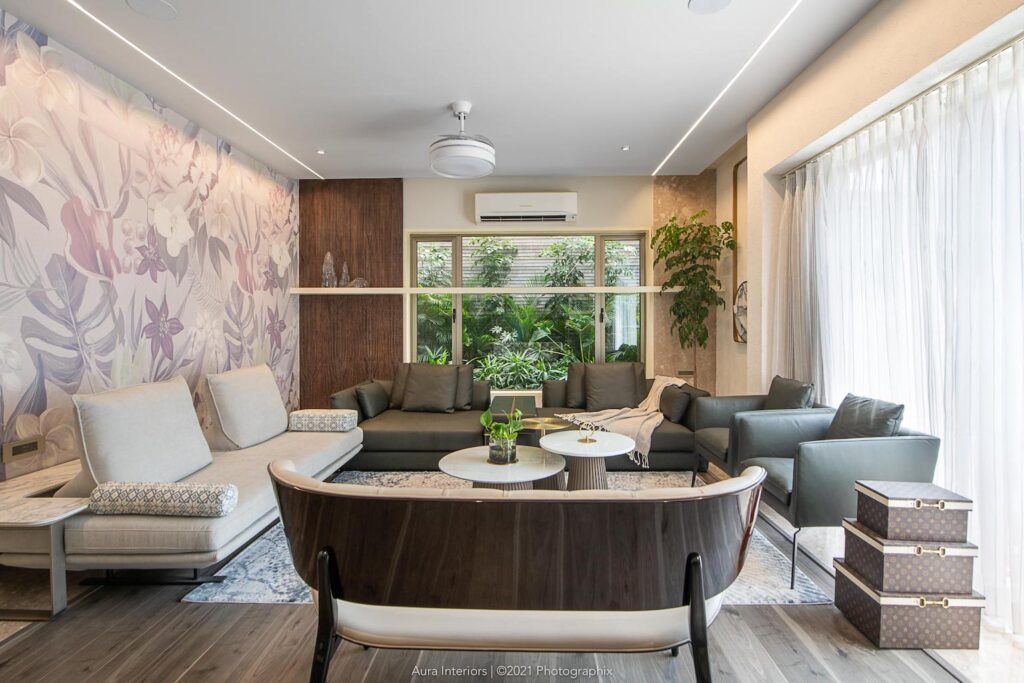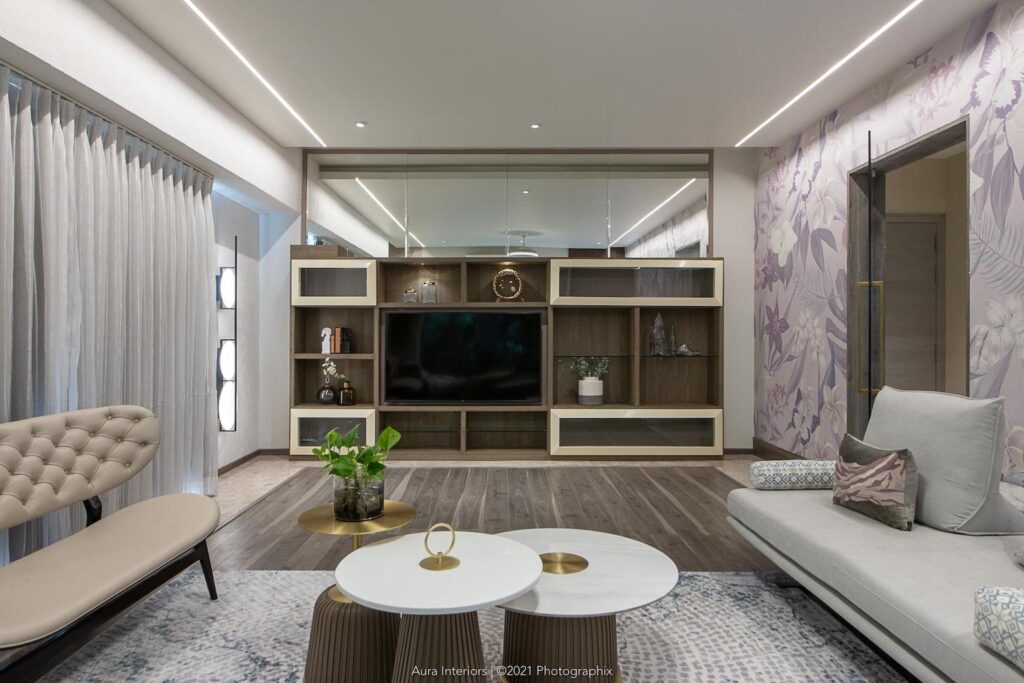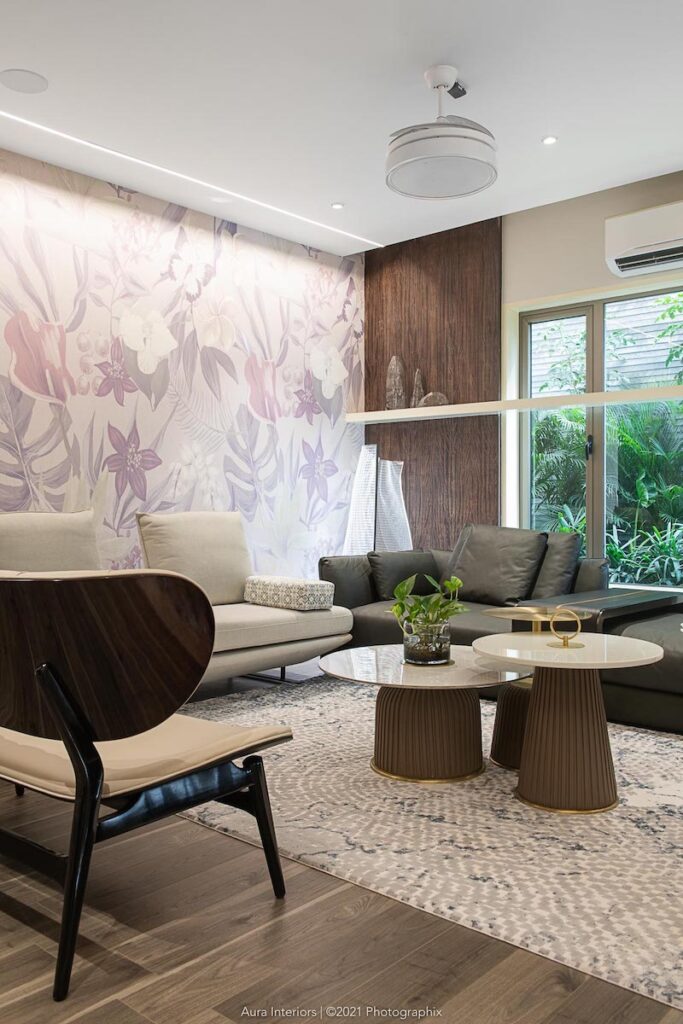 The private living room is a placid retreat with its jubilant surfaces and an extended open-to-sky garden. Rough wall textures alongside metallic finishes and furnishings blend to exemplify opulence and grandeur. What creates a statement style fusion here is the floral wallpaper emitting a soothing vibe into the arena; hand-in-hand with natural light and wooden textures. The furnishing here is left minimal and plush with intricately contemporary forms.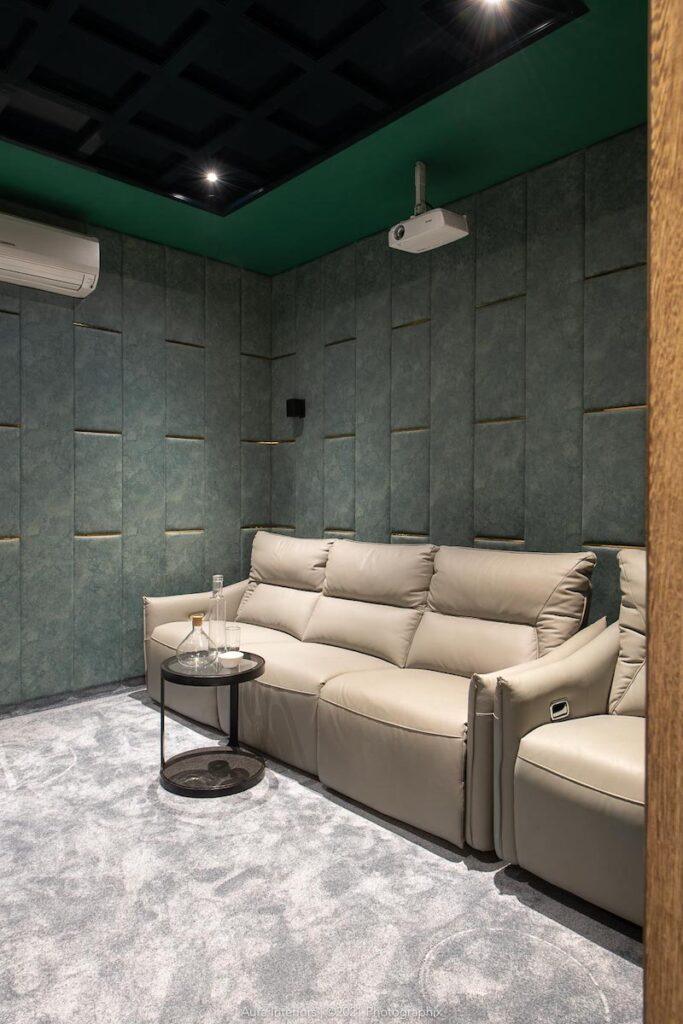 The villa is equipped with an acoustically sound home theatre. Its rose gold beading in an olive fabric wall paneling is such as to define the verticality of the space. Cozy beige seating and warm lights set a perfect mood for those lethargic retreats in here! The temple area takes a surface approach with marble claddings on the walls. It attains a classic touch with a cornice and a detailed skirting.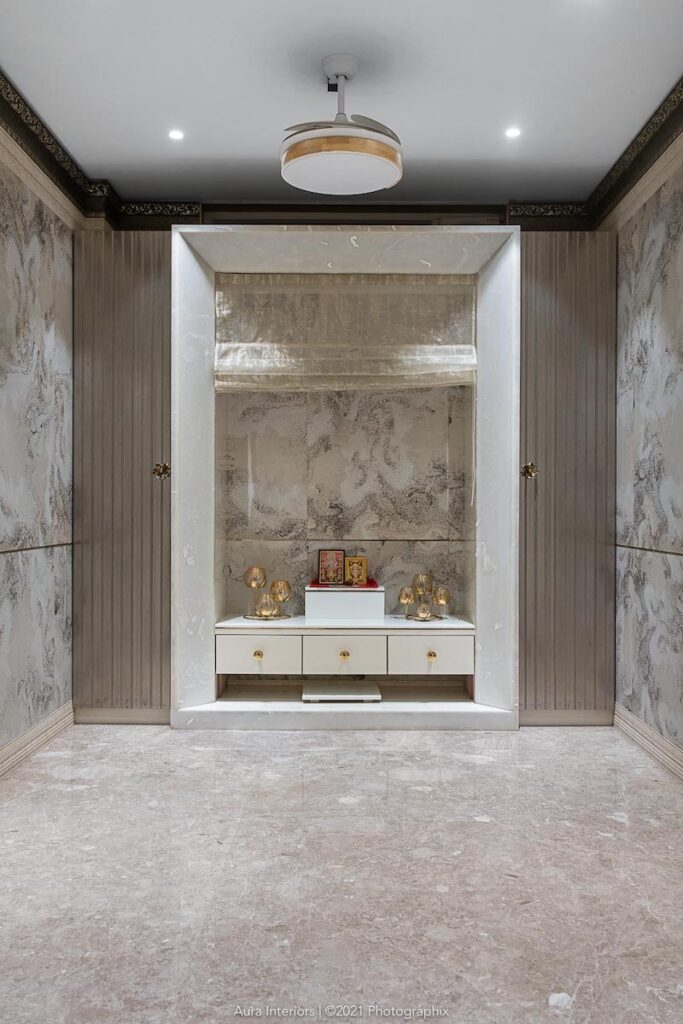 The first glance of the master bedroom would leave one awed! It offers so much grandeur to gasp in a moment. The double heightened proportions that are amplified with the fabric paneling detailed in brass-gold beadings to further define the verticality of the space. The fabric paneling also works acoustically in absorbing the reverberations created by the marble-wood flooring. The timelessness of the setup lies in its monochromatic beige palette and soft undertones and texture. All the doors here and across the villa are designed to get camouflaged with its adjacent attributes creating a unanimous look.
The son's bedroom takes a rustic theme with a robust wooden floor and a definite introduction of colours. A mustard leather finished bed with slender legs centralizes the space to be surrounded by crude veneers, grey fabric panels and vertical wooden battening. A voguish aqua lounge with a minimal brass-gold base introduces a sense of allure and jubilance into the space; pertaining to the taste of the user. The dressing area with see-through wardrobes and reflective surfacing perceptually magnifies the space by manifolds.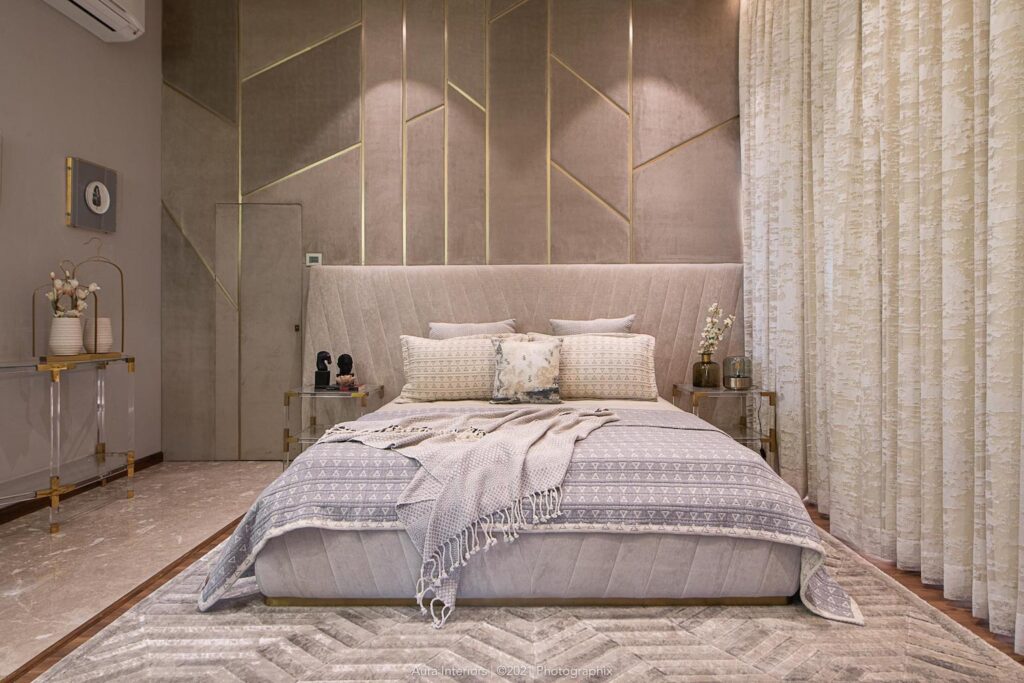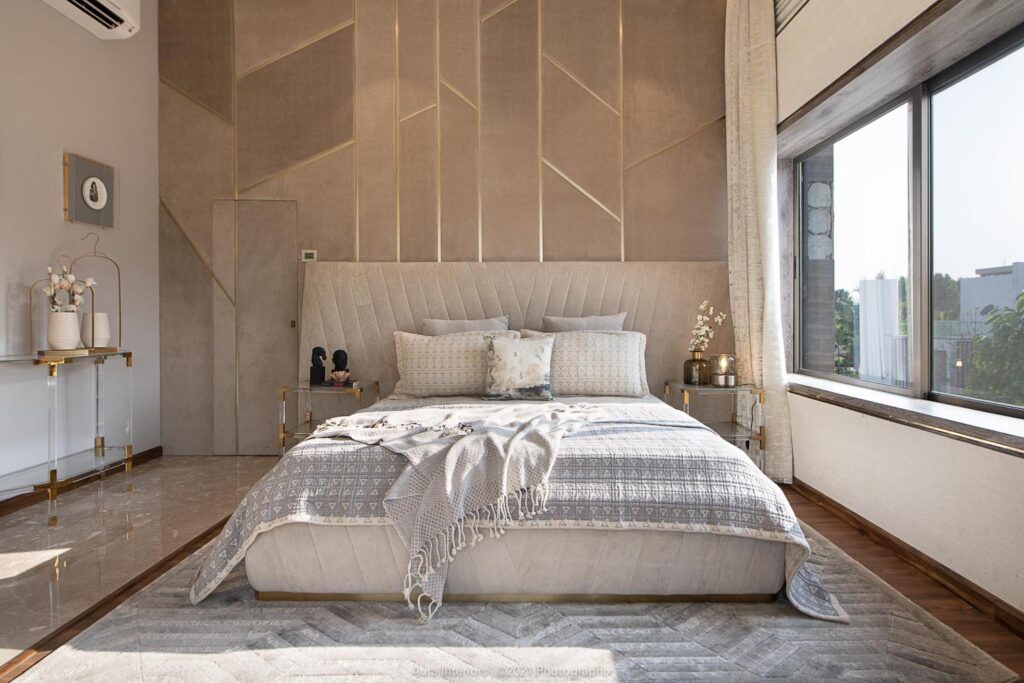 The grandfather's bedroom speaks of its softness and neat approach. It is manoeuvred with a buttoned bed-back against a tiling arrangement generating a catchy pattern by itself. The beige wall texturing and protruding pelmets give the space a unique identity. All these features and functionality come together to imbibe a classic touch to the room.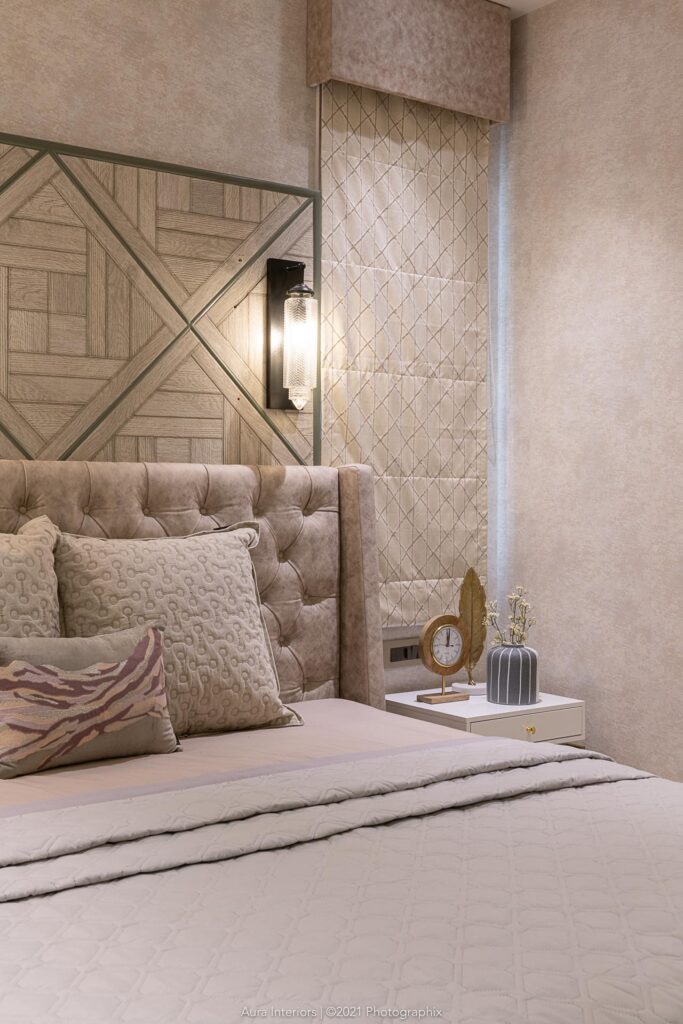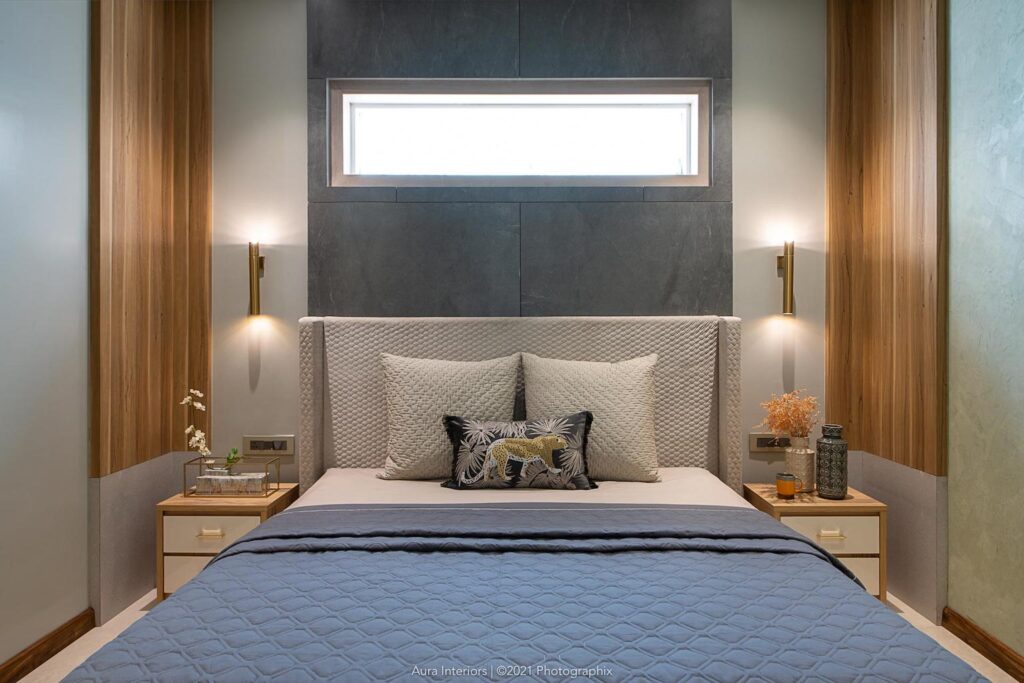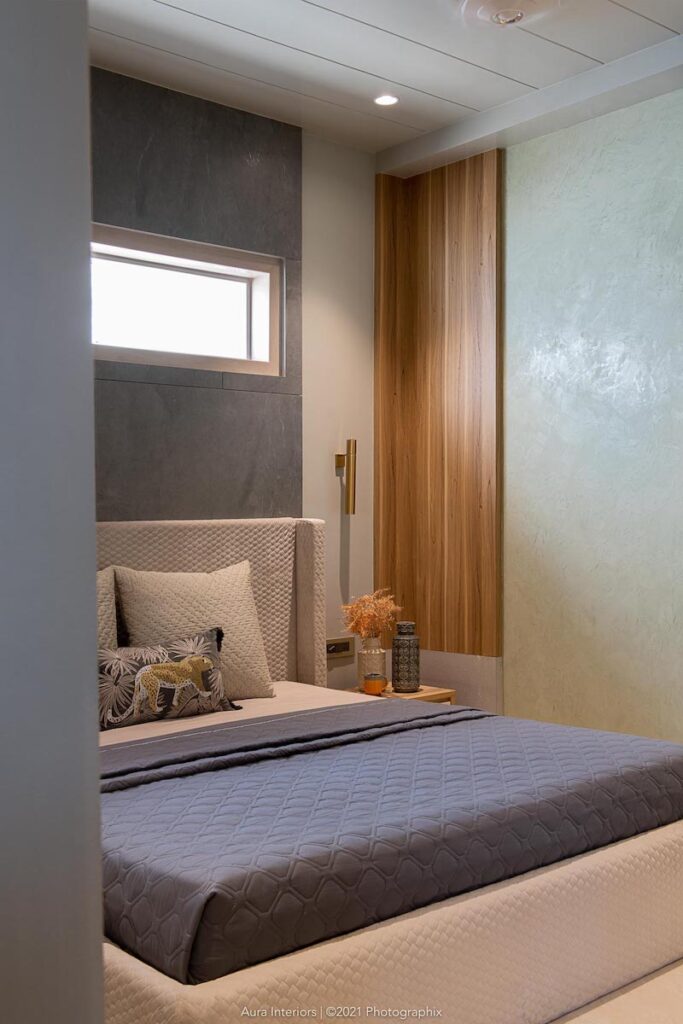 The fourth bedroom is for the guests- designed in a way that it offers versatility and class. It is an amalgamation of profuse materials such as wood, tiles, fabric and of course- texturing and brass gold detailing. The lighter shade for the wood infuses a blazing vibe aided by the natural light from the slit window.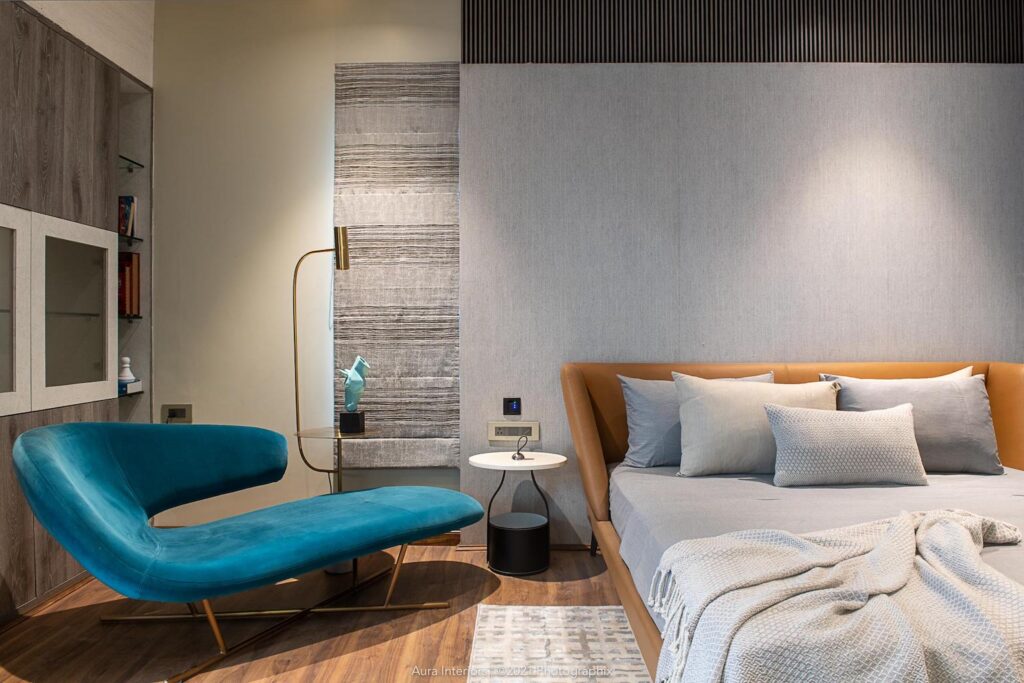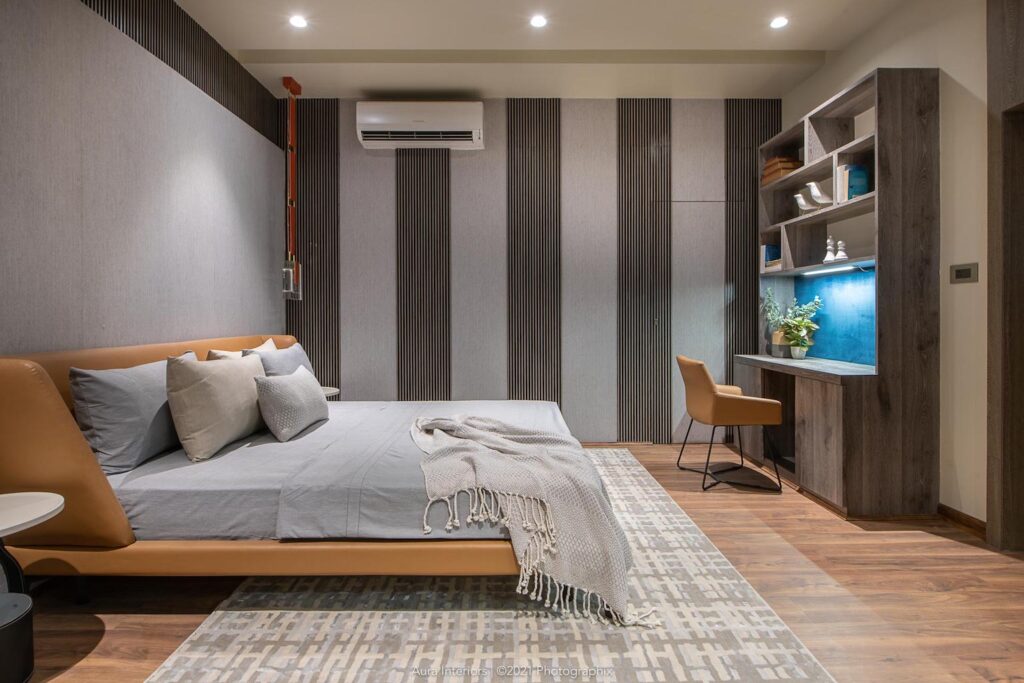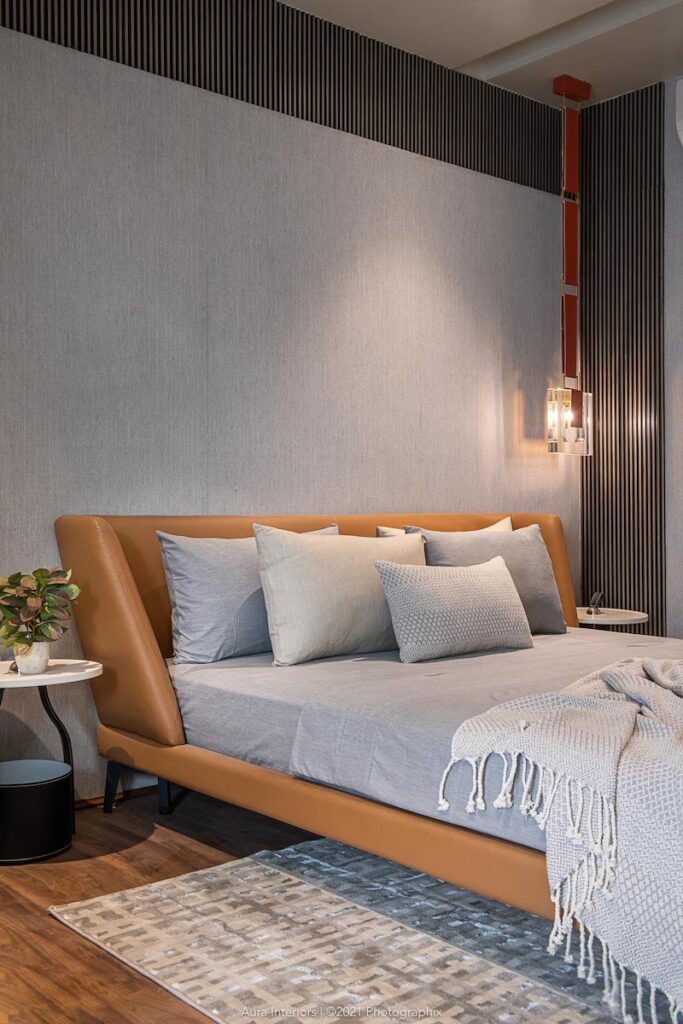 This project demanded much research as the furnishings, lighting, art and décor, carpets, wall paintings are procured from different parts of the world- only to rightly secure their part in this sumptuous expanse. Also, a lot of efforts on styling to rightly amplify every design element even in this monotonal concept of beige is indisputable. Indeed, a villa with a perfect intertwining of monotones, textures, lights, materials, and their signature brass- gold detailing!
FACT FILE:
Designed by: AURA Interiors

Project Type: Residential Interiors
Project Name: Villa at Swarnbhoomi
Location: Raipur, Chattisgarh
Year built: 2021
Size: sq feet: 4058
Project Cost appx: 1.25 Cr
Principal Designer: Ruchi Burman
Photograph courtesy: Phxindia
Text Credits: Megha Hirani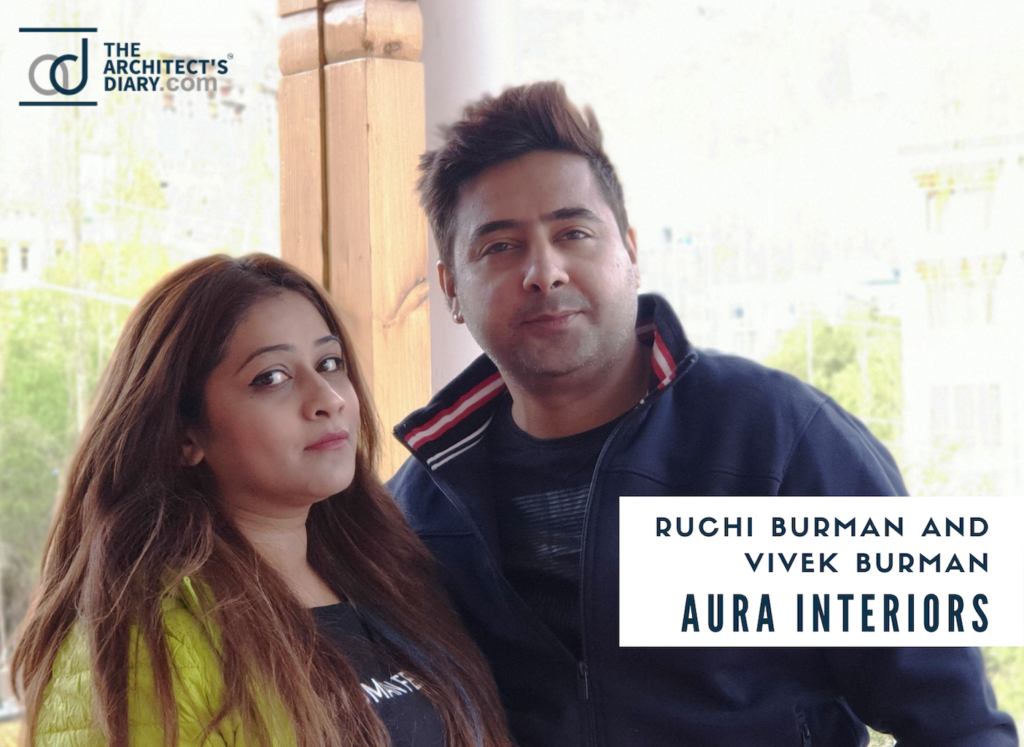 Firm's Facebook Page : https://www.facebook.com/vraurainteriors
Firm's Instagram Link : aura_by_ruchi